[This post may contain affiliate links where we earn a small commission. Please see our disclosure for more information and thank you for supporting our site so we can continue to bring you awesome content for your travel inspiration!]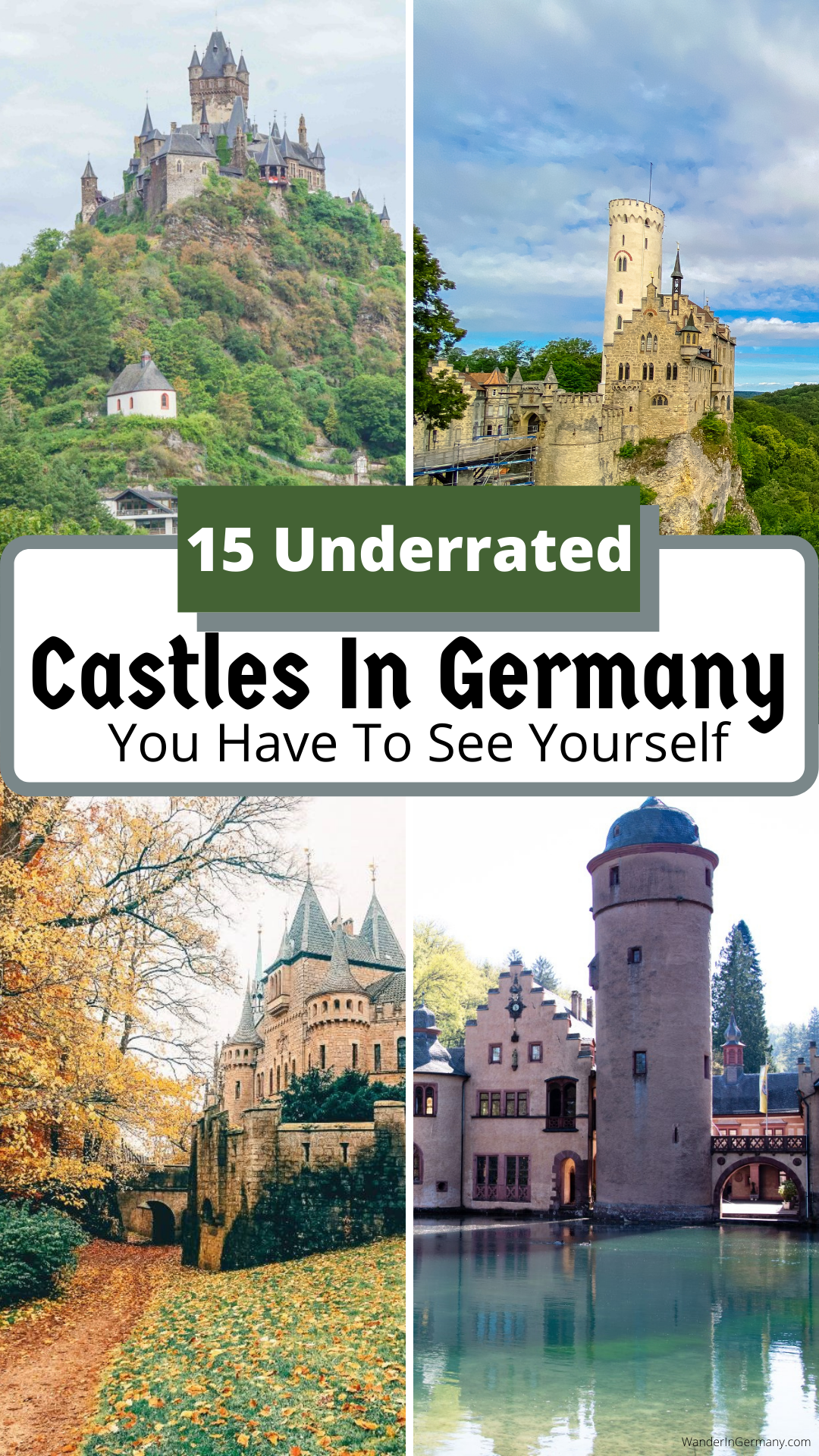 ^Planning Your Trip To Germany? Don't Forget To Pin It!^
Whether you are looking for the most enchanting fairytale castles in Germany to play prince and princess at, the oldest castles in Germany to discover (that official title goes to the Meersburg Castle on stunning Lake Constance (Bodensee), beautifully ruined castles covered in moss, or classic moated medieval castles in Germany that have you stepping back in time, it's safe to say that exploring the best German castles is a favorite activity while visiting Germany.
Taking the Trains Around Germany? Read My Train Travel in Germany Guide
How Many Castles In Germany?
It's reported that there are anywhere from 12,000 castles (both standing and in ruins) which include classic castles as well as the German "Schloss" (or palace) to 20,000 castles in Germany.
Germany's Best Castles
So, to narrow down 20,000 to a list of the "Best Castles in Germany" is a bit challenging, and can greatly depend on personal interests, styles, and travel preferences.
After all, some of my personal favorite castles in Germany are often times ruined castles that make me use my imagination and bring to mind visions of beautiful countesses in flowing dresses (I choose to block out the reality of stepping in horse manure, no showers and no Doner Kebabs to grab n go). However, these castles are often small, off into the countryside, and are best discovered by simply asking the locals where you are visiting since they are so plentiful (it would be near impossibly to create a list!)
However, that still leaves us with thousands of other famous castles of Germany to choose from, both well known and many not so well known! So I asked some fellow castle lovers what their best castle in Germany to visit was, and here is what we found
Planning a Trip to Germany? Join Our Fantastic Traveling in Bavaria Facebook Group!
Germany Castles Map
Linderhof Palace (Schloss Linderhof)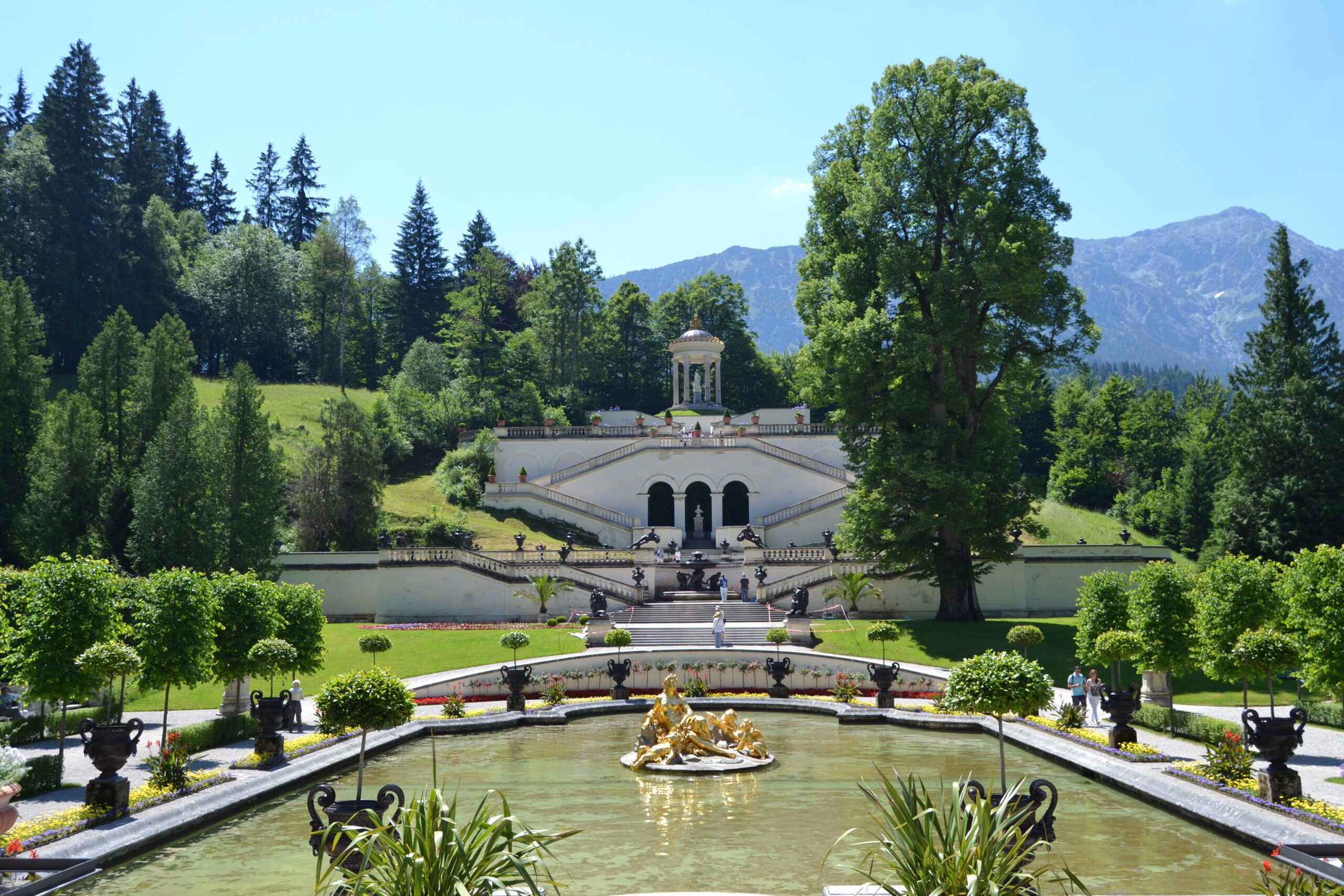 Location: Ettal (Bavaria)
Linderhof 12, 82488 Ettal
Often greatly overshadowed by big brother "Neuschwanstein" I actually love recommending doing Linderhof in the morning and Neuschwanstein in the afternoon as one of my favorite Day Trips From Munich and is the perfect pairing of Ludwig castles in Germany.
This is just one of the many Ludwig German Palaces but is set in just as stunning scenery as Neuschwanstein (in the foothills of the Alps) and is on huge, expansive grounds, so while it is definitely not nearly as touristy (it's not completely off the beaten path either) you can steal away from the people and it definitely feels way less crowded and overrun.
You could easily spend most of your day here, but even just half a day will suffice. Take a tour of the gorgeous interior of the Schloss and then wander the impeccably manicured gardens and grounds. There is even a Grotto to tour as well!
Insider's Tip: You can also pair this with the fabulous Ettal Abbey, just 10 minutes away (which also has a restaurant that you can drink deliciously monk-brewed beer!)
Hohenzollern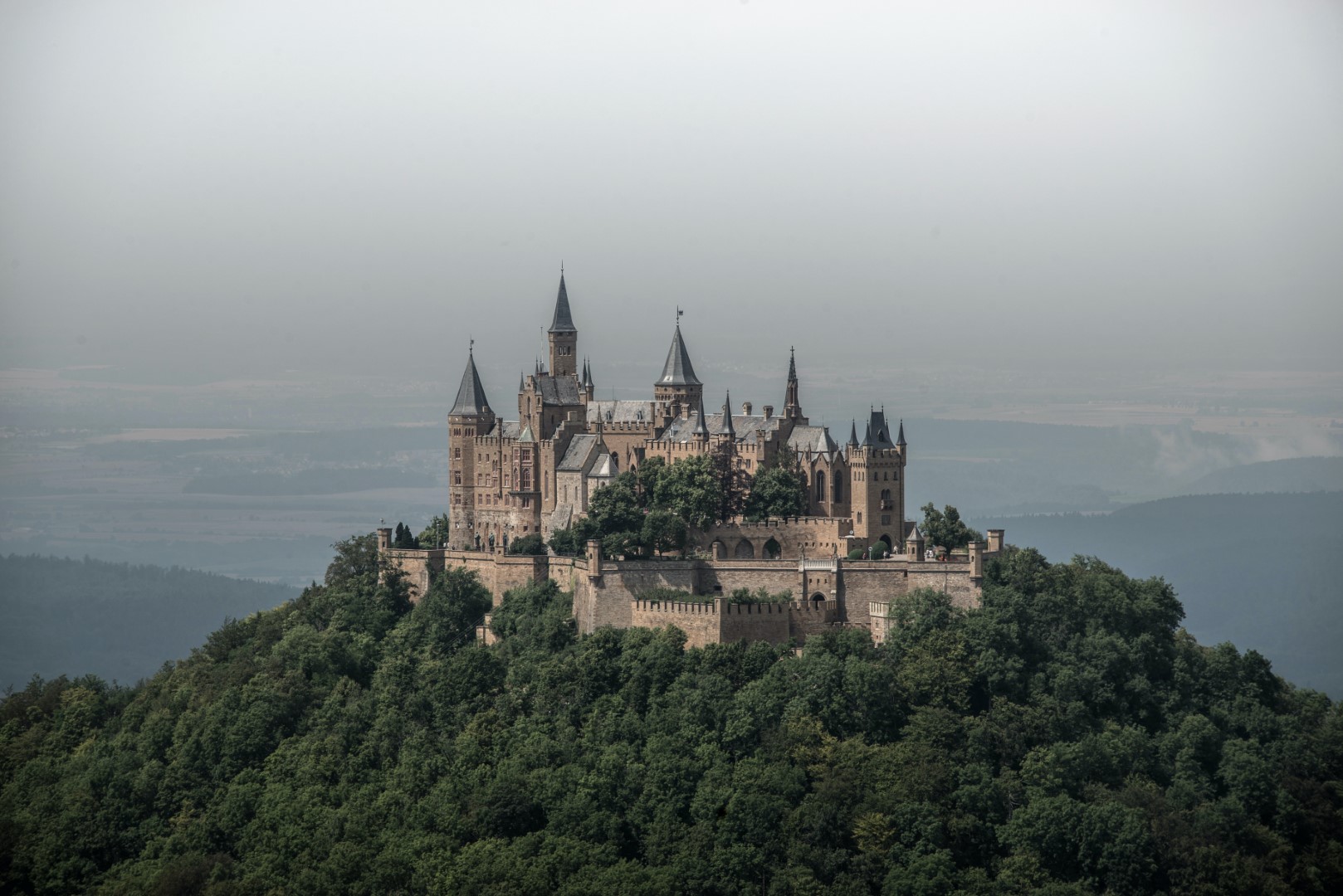 Location: About 1 hour South of Stuttgart (Baden-Württemberg)
72379 Burg Hohenzollern
This beautiful Germany castle might arguably be one of the best castles of Germany. With its many spires as it gracefully dominates the top of the "Mount Hohenzollern" it's easy to see why it's another Fairytale Castle in Germany. And as you peer out for as far as the eye can see, you'll feel slightly regal yourself!
Due to its perched location, you can either choose to walk a decently steep path to storm the castle or just take the shuttle bus from the parking lot (a few Euros one way). And then you get to walk across the drawbridge, walk up the enchanting spiral tower, and come into the vast courtyard.
While this German castle has had to be rebuilt many times, it still feels enchanting and medieval to today's tourists, especially as you get to tour the inside, the chapel, and the treasury.
While you are there, slow down for a bit and eat some local favorites, like Swabian Maultauschen (Here are 20 Local Foods To Eat In Germany– several of which can be found on the menu at the Biergarten)
This is a popular day trip from Stuttgart (and I recommend pairing it with the below Lichtenstein Castle for a day trip!) and even supposedly has an insanely romantic Christmas Market in the winter.
Lichtenstein Castle (Schloss Lichtenstein)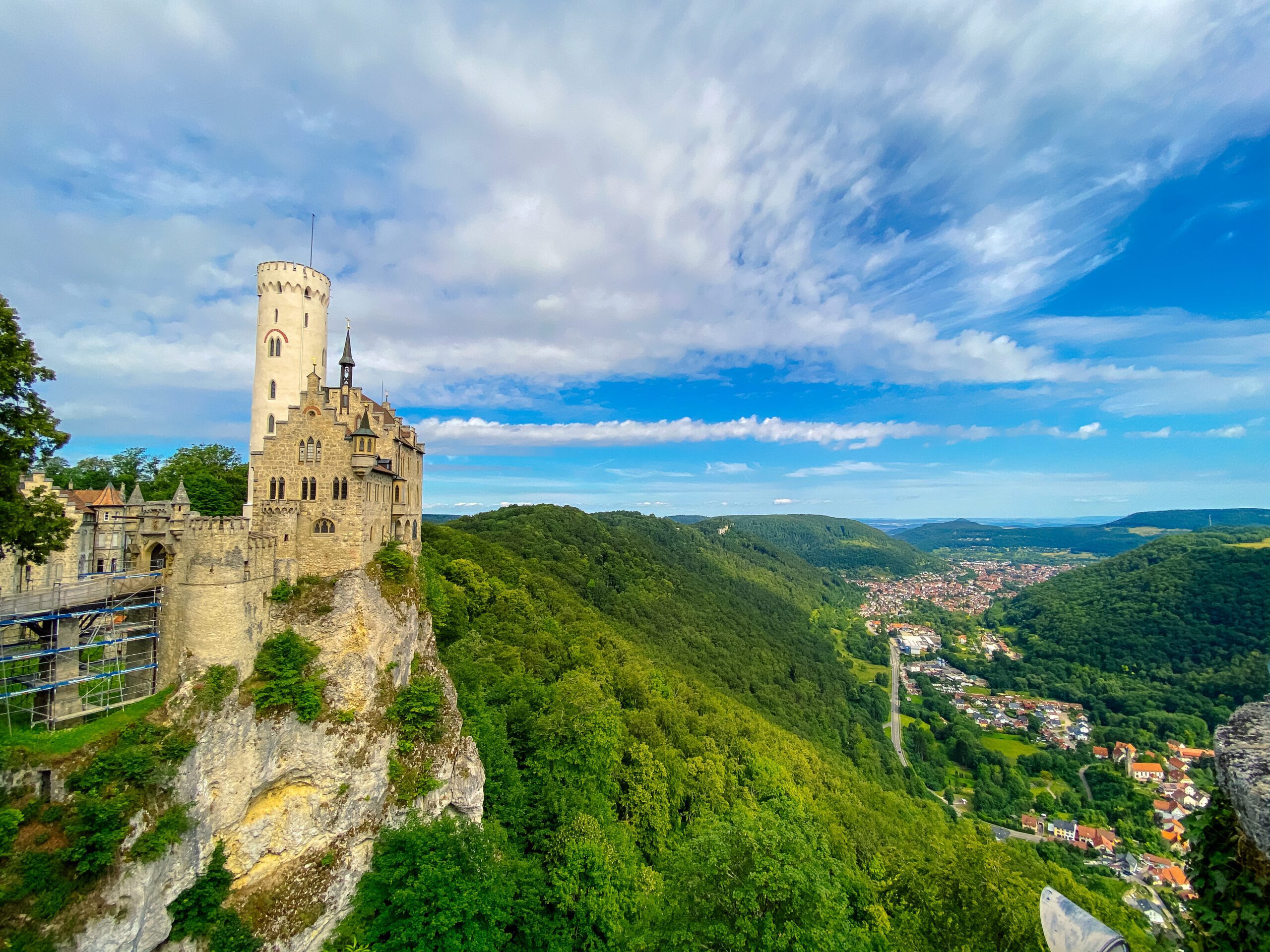 Location: About 1 Hour South of Stuttgart (Baden-Württemberg)
Schloss Lichtenstein 1, 72805 Lichtenstein
If you are looking for fairytale castles in Germany, this one HAS to be at the top of your list! (No, not to be confused with the country of "Liechtenstein") I can just envision Rapunzel herself sitting atop the tall tower that juts out high on top of the cliffs as she peers out into the steep valleys of the Swabian "Alps" below.
Visiting the Lichtenstein Castle is the perfect day trip from Stuttgart and is paired wonderfully with a half-day to the above mentioned Hohenzollern (yes, you can do one in the morning and one in the afternoon!)
While the castle has had a few iterations throughout history, today it is plucked straight from the fairytale books of middle ages and neo-gothic architecture. There is a short tour of the inside of the castle (only in German but with an English handout) and the grounds around the castle are beautiful and fantastic to have a short walk around.
If you'd like to spend a slower day here, there is a nice Biergarten on-site as well as a Ropes Course (Klettersteig) that is right along the road up to the castle.
Ludwigsburg Residential Palace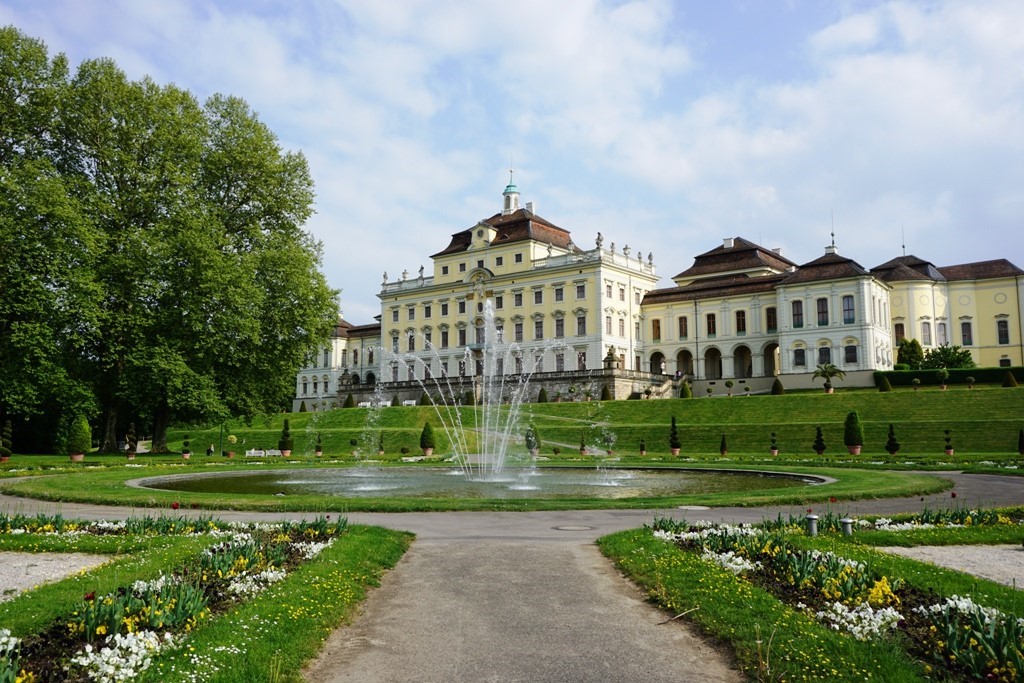 Location: About 30 minutes North of Stuttgart (Baden-Württemberg)
Schlossstraße 30, 71634 Ludwigsburg
This magnificent palace is situated near Frankfurt in Baden Wurtemburg and is a blend of three architectural styles – Baroque, Rococo, and Neoclassical and was lavishly built. Work began on the central part in 1704 when it was planned to be a hunting lodge. The palace was not completed for many years and was much, much larger and was to be used as a summer residence for royals and the nobility.
Ludwigsburg Residential Palace is breathtakingly opulent and all the rooms, the Marble Hall and Palace Theatre have been richly decorated and furnished. The palace is a popular tourist attraction as it contains wonderful museums and exhibitions. The Modermuseum (Museum of Fashion) traces the changes in fashion from the 18th century until the 20th century. There are gorgeous period ball gowns and silk dresses and mini skirts from the 1960s and haute couture of top designers including Coco Chanel and Christian Dior. The Keramikmuseum (Ceramic Museum) has a large collection of more than 200 pieces of Ludwigsburg porcelain as well as medieval stoneware and modern ceramic art. Whilst the Barockgalerie showcases the works of various Baroque artists.
If you are visiting the palace with children, the Kinderreich is a fun museum with a fascinating selection of interactive exhibits for all the family to enjoy. The private apartments of Duke Carl Eugen are interesting as they have the original décor with priceless furniture and ornaments. For fun, children can dress in period costumes and learn what life was like in the Duke's court – including sights, sounds and the games children played..
On three sides of the palace is the Blühendes Barock, These beautiful gardens were created in 1954 for the 250th anniversary of the palace and are in historical designs. The gardens include the enchanting Märchengarten (fairy-tale garden).
And don't forget to check out the annual Ludwigsburg Kurbis Festival every autumn. It's the largest pumpkin festival in the world.
Contributed by Chrysoula from Historic European Castles
Sanssouci Palace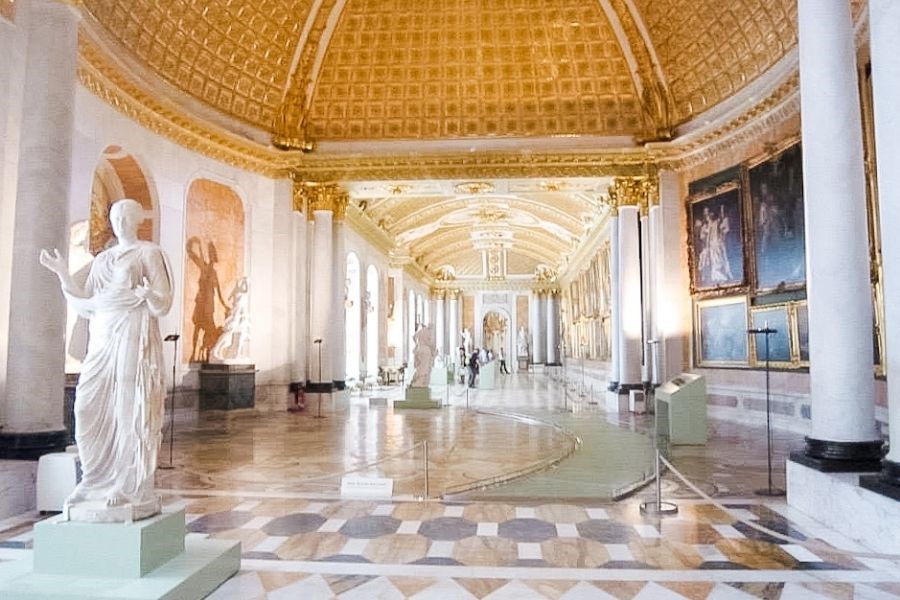 Location: Potsdam (Brandenburg)
Maulbeerallee, 14469 Potsdam
Sanssouci Palace is a beautiful summer palace and one of the many things to do Potsdam, Germany, not far from Berlin. It's a UNESCO World Heritage site included as part of the Prussian Palaces and Gardens in the region, which is why millions of visitors go to see it every year.
"Sans souci," means without concern or carefree in French. It's believed that it got the name because the palace was not intended as a seat of power but it was built to be a place for rest and relaxation.
The palace was built in the mid-18th century for Frederick the Great of Prussia. He was known as the "potato king" as he introduced this crop to his resistant country of bread lovers. As the story goes, he had them planted on the grounds and allowed people to "steal" them, which finally led to their acceptance as a staple food. He is buried on the ground of Sanssouci, his favorite palace, and people leave potatoes on his grave in honor.
Sanssouci Palace was built in the Rococo style that was popular at the time both inside and outside. It's one story and surprisingly only contains ten main rooms, though all of the rooms are large and opulently decorated. This palace was built to rival the French Palace of Versailles. Though it's much smaller, it's just as stunning.
As incredible as the palace is, the grounds are nearly as breathtaking. The gardens are a highlight and Sanssouci Park features a terraced garden leading to a beautiful fountain. Also on the grounds is the New Palace (Neues Palais), built as an official royal venue with all of the trappings of grandeur expected.
There are a number of smaller but impressive structures on the grounds including the magnificently gilded Chinese House and the Picture Gallery with its extensive painting collection and French sculptures. There is also a Neptune Grotto, Roman Baths, and more. You could spend an entire day just exploring the grounds of Sanssouci.
Visiting Potsdam to see Sanssouci Palace is a popular day trip from Berlin, and it's easy to get to on public transportation. It's a must-see when you visit Berlin.
Contributed By Samantha from My Flying Leap
Neuschwanstein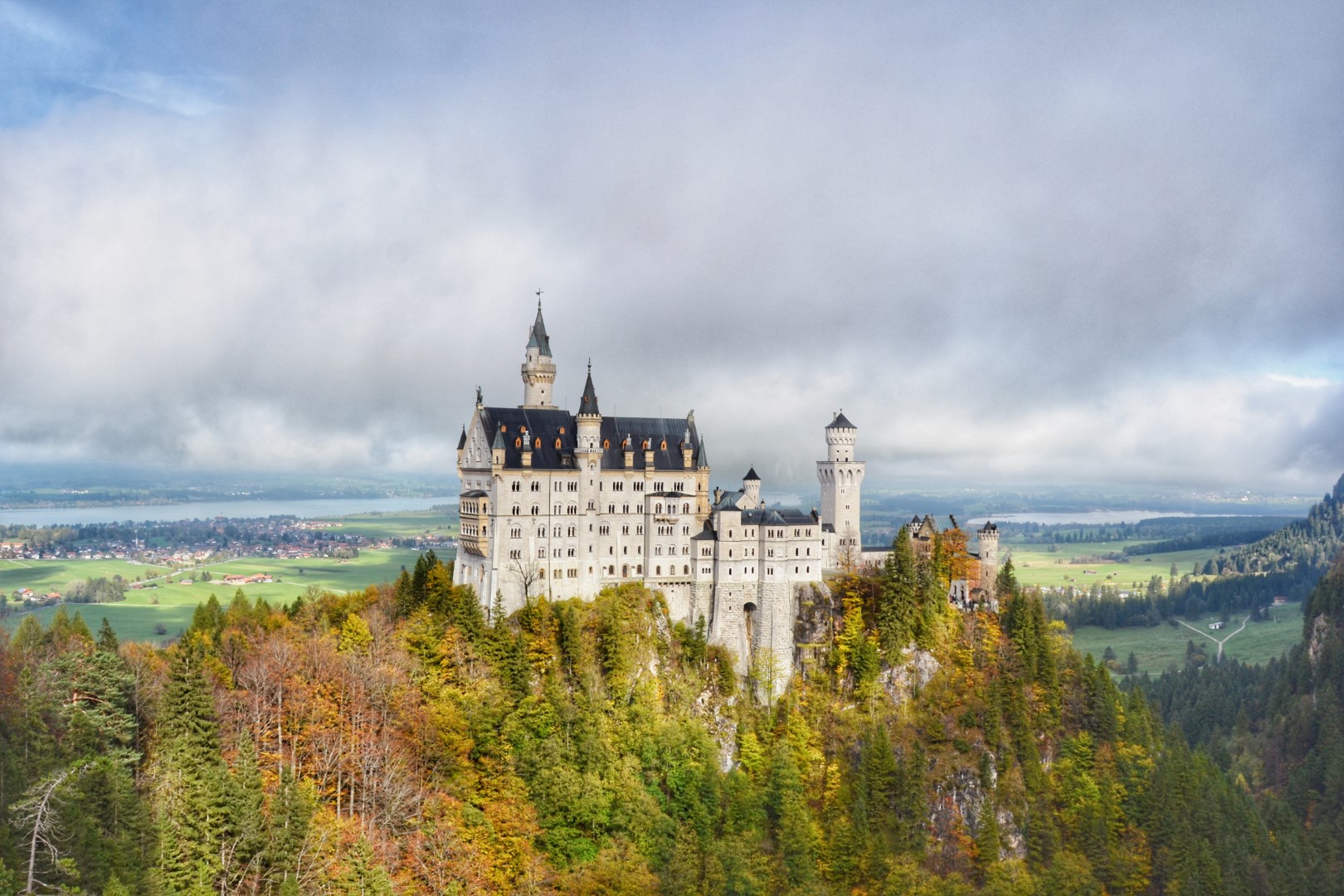 Location: Schwangau (just outside of Füssen) Bavaria
Neuschwansteinstraße 20, 87645 Schwangau
No list of famous castles in Germany is complete with the fairytale Schloss Neuschwanstein, and for good reason. Despite it being completely overrun by tourists today, it is still so swoon-worthy and gorgeous that it is an absolute MUST visit while in Bavaria.
(Here are some of my tips and tricks to avoid some of the tourists at Neuschwanstein)
What makes this Disney inspired castle so amazing? Even though you can actually only tour about 14 of the rooms inside the castle itself (the rest have actually never even been finished), the sheer size, details, and complete lavishness of the palace truly is breathtaking. Plus, how can you not fall in love with one of the most beautiful castles in Germany when your backdrop is none other than the German Alps!?
And there is so much to see other than the actual castle itself. Some of the best views are on the Marienbrucke, where you can get those iconic selfies with the entire castle behind you. Why not hike down in the stunning Gorge below as well? And also, many people often forget about Neuschwanstein's next-door neighbor, Hohenschwangau (more on that below)
And Neuschwanstein isn't JUST for prince and princess wanna-bes. For all you adventure adrenaline junkies, why not Paraglide over Neuschwanstein Castle!!?
Other Neuschwanstein Helpful Posts:
Schloss Mespelbrunn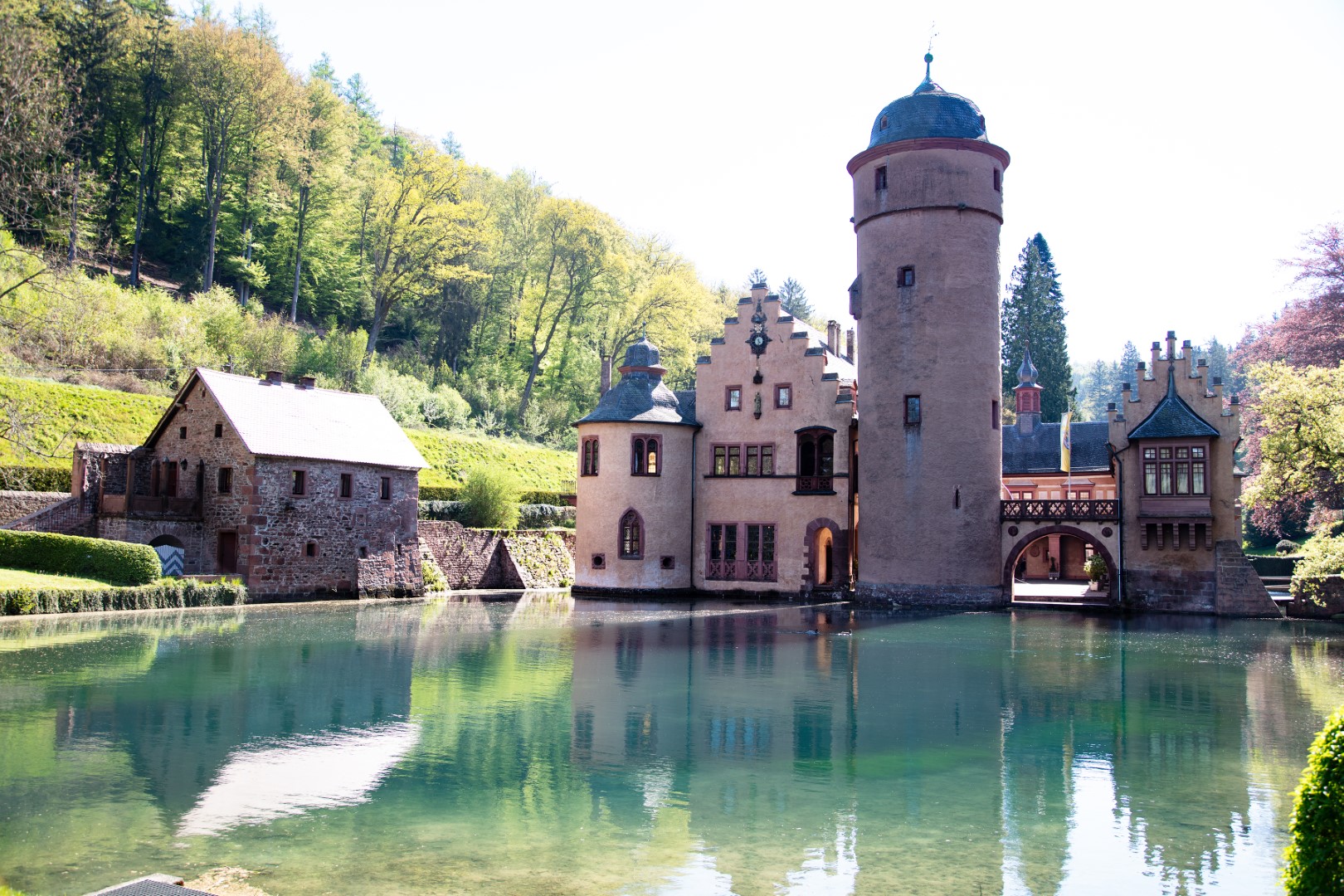 Location: Between Frankfurt and Wurzburg (Bavaria)
Schloßhof 2, 63875 Mespelbrunn
Mespelbrunn Castle, or Schloss Mespelbrunn, is a lovely little castle in Germany tucked away in a small river valley not far from the A3 Autobahn about halfway between Frankfurt and Wurzburg. It makes a perfect stop for a light lunch and a tour of the castle.
Driving by car is probably the best way for visiting the castle, however, public transport can get visitors close by taking the train to Aschaffenburg and then bus 40 to the town of Mespelbrunn. From the "Abzw. Schloss – Mespelbrunn" bus stop, it is a short ten minute walk to the castle.
Touring the castle and the beautiful grounds will take about an hour and costs Euro 5.50 for adults and 2.50 for students and school age children. After the castle, stop in at the Pferdestall for coffee and cake. This converted, half-timber building near the castle was once the horse stalls. Now it is a cozy little cafe where you can even try one of their specialty Wildschweinbratwurst, or Wild Boar sausage; delicious!
For a special treat, why not stay at the castle overnight? Rooms are available in the tower or in the old mill on the castle grounds. Overnighters are in good company as this is also where the Brother's Grimm were said to have stayed when traveling through the area. I'm not sure if there are any ghosts wandering the night, but given the age of the castle, 400 years, it is a real possibility.
It's not hard to imagine Mespelbrunn as the setting for an old fairytale. In fact, the tower is said to have provided the inspiration for the Rapunzel fairy tale. Don't worry though, you won't need to let your hair down to climb into or out of the tower. These days a wrought iron stairway does the trick.
Contributed by Jim Vail from Reflections Enroute
Kronberg Castle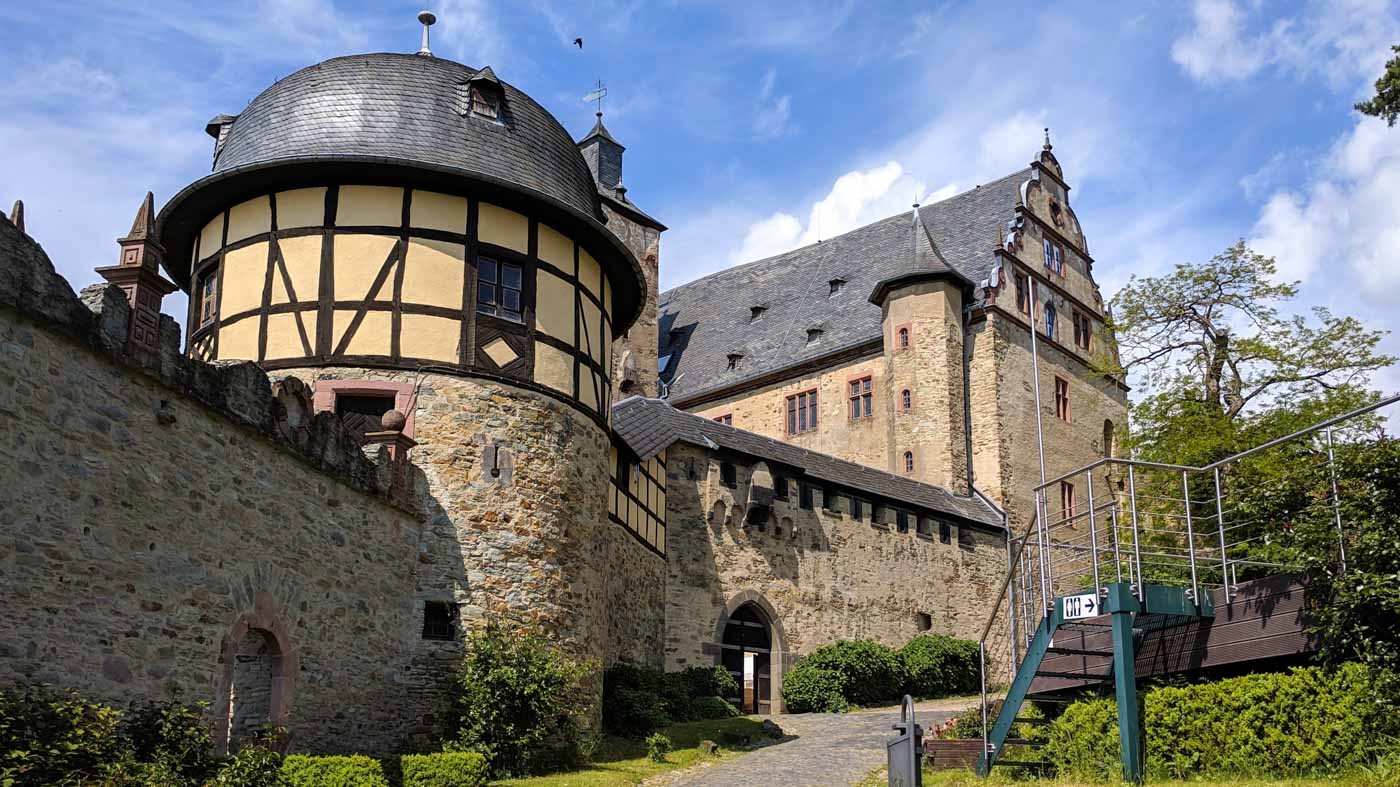 Location: Near Frankfurt (Hessen)
Schloßstraße 10, 61476 Kronberg im Taunus
If you are on the lookout for cute German castles, you should head to Kronberg Castle. Due to its proximity to Frankfurt, you can explore it on a half-day trip – perfect for anyone who doesn't have much time to spend in the area.
Burg Kronberg, as it's called in German, dates back to the High Middle Ages and construction started in the early 1200s. Back then, the castle served as a fortification along the trade road that connected Frankfurt and Cologne.
When visiting, you'll see remains from that time in the Upper Castle, on top of a small hill. If the tower is open, make sure to go inside and climb to the top. On clear days, you have a fantastic view from up there and can even see the skyline of Frankfurt in the distance.
In the 14th century, the Cronberg family, who lived in the castle, wanted a more modern living space and started constructing the Middle Castle. They expanded the building multiple times over the following centuries, and today, you can visit the inside with a guided tour. Pay attention to the painted walls and the impressive Gothic kitchen on the ground floor.
Outside the castle, you can stroll through the castle gardens. The grounds might not be very big, but they offer an excellent view of the town of Kronberg below.
The best way to visit Kronberg Castle is by public transport. From Frankfurt, take the S-Bahn towards Kronberg Bahnhof. The ride takes about half an hour from the city center, plus you then need to walk for about twenty minutes to reach Kronberg Castle.
If you have a car, you might experience difficulty finding a parking spot in the Old Town of Kronberg. Try to stay in the parking lots towards the edge of town and walk to the castle, or come by public transport, which you might find easier.
Contributed By Daniel and Ilona from Top Travel Sights
Burg Eltz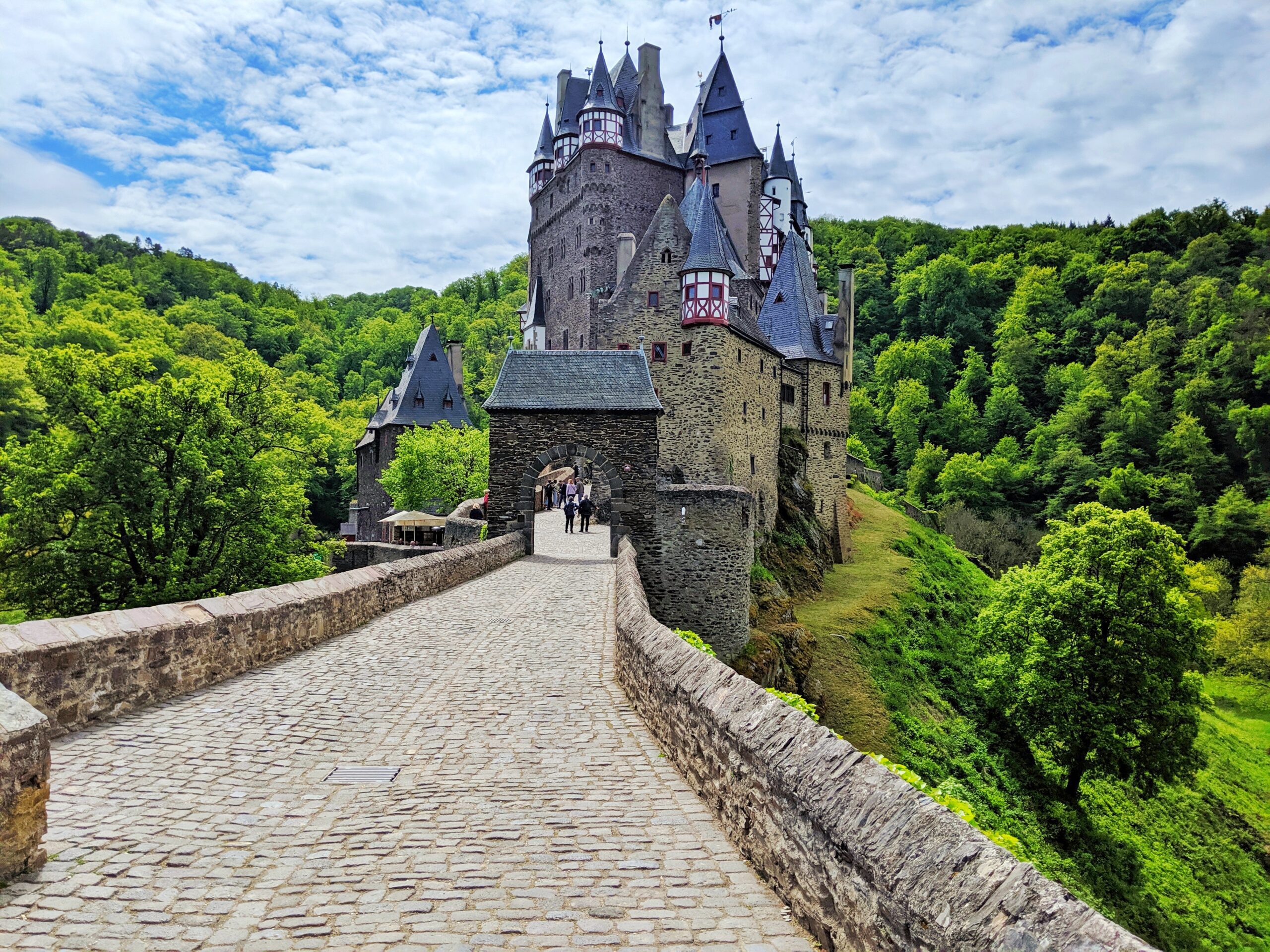 Location: About 40 minutes Southwest of Koblenz (Rhineland-Palatinate)
56294 Wierschem
While there is stiff competition, Burg Eltz is arguably one of the most beautiful castles in Germany, especially on foggy, autumn days. It's got all the ingredients for classic Germany castles: Perched high on top of a hill, old stone mixed with half timbered elements, all set in fairytale forests. There is just something about the gorgeous cobblestone bridge that leads right up to the stunning castle that screams for photographers to take all the moody photos!
While Burg Eltz Castle has risen in popularity in recent years, that doesn't mean that it is easy to get to by public transportation, therefore, it's best to have your own car to drive to (Worried about Driving in Germany? I've got you covered!). Once at the castle, you can choose to walk through the beautiful forested path that opens up to stunning views of the castle or take the shuttle. Alternatively, there are some really fantastic hiking paths all around the valley of the castle, which are worth looking into as well!
Unlike so many other popular Germany castles that have been destroyed and rebuilt over time, Burg Eltz, which was built around 1157, is actually the original! This is why taking one of the guided tours (the only way to see the interior) is really worth your time and money. Talk about stepping back in time!
Marienburg Castle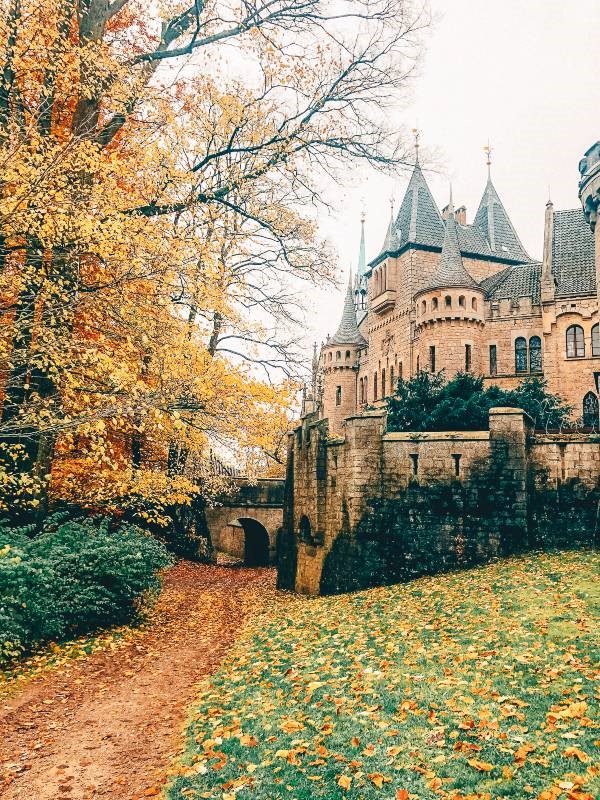 Location: Near Hannover (Marienberg 1, 30982 Pattensen)
Neuschwanstein Castle or Eltz Castle are probably castles that most people have heard of before. However, there are many more noteworthy castles around Germany that need to be on your castles bucket list!
Marienburg Castle is just as beautiful and looks like it is straight out of a fairy-tale but it doesn't have the same crowds of tourists.
Located 30km from Hannover just out of the small town of Hildesheim you will find Marienburg Castle high up on a hill. From Hannover, you can take the train or the bus to Nordstemmen train station. The Castle is located 2.7km from the train station. While it is possible to walk it is easier to take a taxi. During the summer, tours run from Hannover every day as well.
Marienburg Castle was built between 1858 and 1867 by King George V as a gift to wife, Queen Marie, who wanted a romantic summer residence. Sadly, King George V and Queen Marie were only able to live in the castle for a year as King George V was exiled to Austria.
These days the castle is one of the most well-preserved castles in Europe as no one lived in the Castle again until 1945.
During your visit you can visit the state rooms, the private rooms of the Royal family and the kitchen. The most beautiful room in the Castle is the Queen's library (unfortunately, you cannot take photos in the library).
When planning your visit, allow for 3 – 4 hours. Your visit inside the castle (and up the tower if visiting in the summer) will take you a few hours but you will want to allow some time to also sit in the old horse stable which has been converted to a restaurant and to explore the forest that surrounds the castle.
Marienburg Castle is one of the best places to visit in Germany, especially during the autumn when the leaves are bright colours!
Contributed By Fiona From Traveling Thirties
Schloss Drachenburg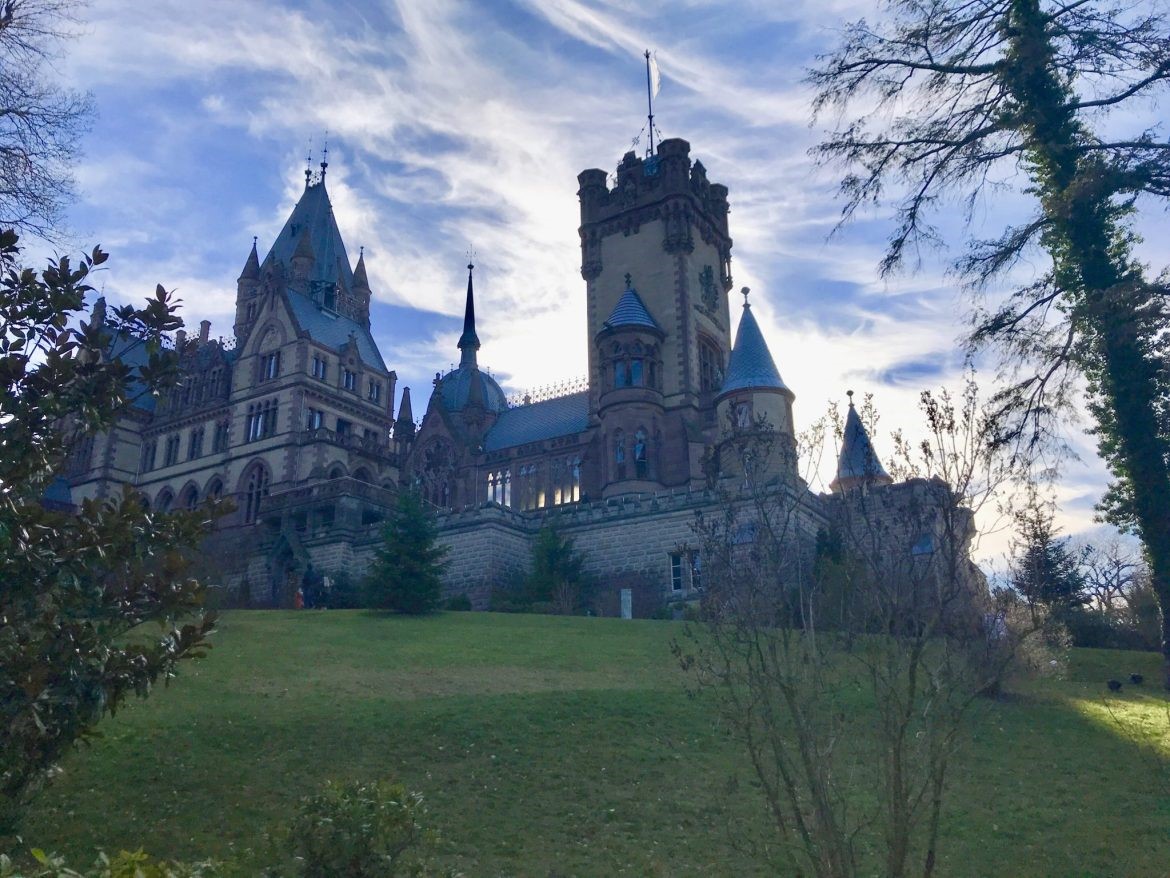 Location: 20 Minutes outside Bonn (North Rhine-Westphalia)
Drachenfelsstraße 118, 53639 Königswinter
Schloss Drachenburg is a castle that is unlike any other you will come across. It looks mesmerizing and intriguing with its age difficult to decipher and that's because it is fairly modern but built in the spirit of many different ages. Situated near Bonn, Schloss Drachenburg is perched high up on the cliff tops overlooking the beautiful town of Königswinter.
Packed full of character this castle immediately looks as though it would fit in perfectly in a fairytale. It has all the perfect components including turrets, sweeping staircases, and looming towers. Conceived by Baron Stephan von Sarter in the 19th century but he never got to actually live here. It is full of his ingenious ideas though including plaster ceilings that are made to look like wood and an organ that can't actually play. The building itself has had many guises too, from family home to training school to an elite junior branch of the Nazis. In fact, it was its latter role that led to it being extensively attacked in the Second World War and much of its stained glass was lost.
If you are visiting
Cologne with your family
, it also makes the perfect day trip and your kids will love the chance to spot the little quirks throughout this castle. There are often events put on here including using the site as somewhere to display modern art which only adds to its slightly odd feeling as you turn corners and come across a piece of art.
There is something about Schloss Drachenburg that will make you want to find out more. It really is a castle unlike any other. To get here there are good train links to Königswinter from Bonn so it's a great way to get into the town and just a short walk from the train station to the bottom of the castle. It's also only about 40 minutes by car from Cologne. From here it's a fairly steep walk to Schloss Drachenburg or you can take the funicular which shunts people up and down the hill.
Contributed by Nichola from Family Hotel Expert5
Cochem Castle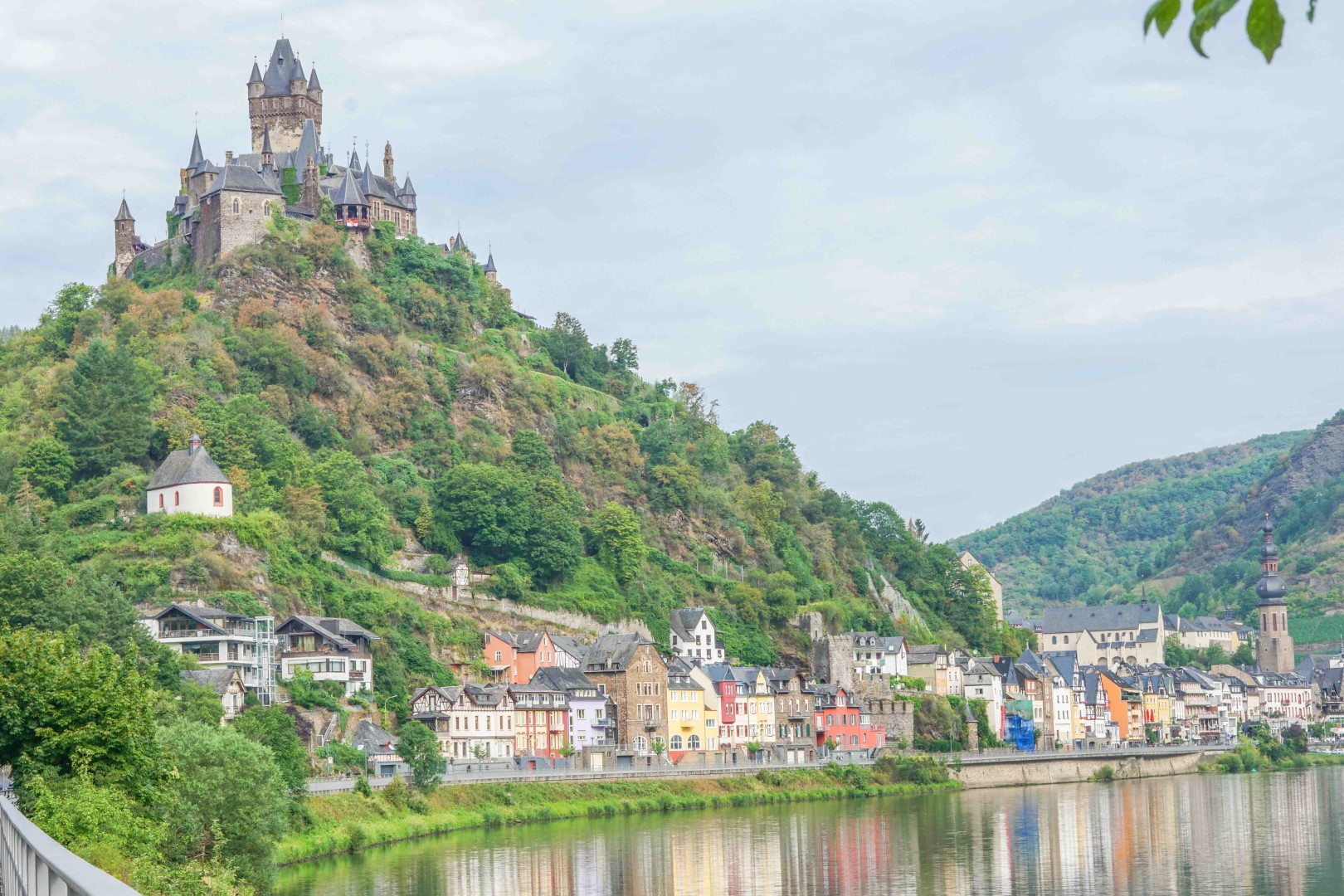 Location: Mosel Valley (Rhineland-Palatinate)
Schlossstraße 36, 56812 Cochem
Cochem might be one of Germany's hidden gems you won't want to skip on your next vacation. Looming out and above the Moselle River, the small and colorful town has a hilltop castle overlooking the Moselle Valley dating from around 1000.
One of the highest hill castles on the Mosel River, Cochem stands between vineyards and above colorful houses, being the perfect destination for those in the search of a relaxing escapade. While the current structure of the castle is not the original one, having been restored in the 19th century in a neo-gothic style, you can still learn about its sumptuous past when visiting the castle's garden and its interior.
If you are looking for a special experience, come on a Friday or a Saturday, where the castle is prepared for the "Knights' Feast" – a medieval 4-hours program that will take you back in time and make you feel like royalty! (Or come and get married inside the castle!)
No matter the season you choose to visit the castle, its surroundings will surprise you with their colors and beautiful landscapes, for example, before Christmas. The traditional Christmas at the Castle organized every year and should not be missed!
Cochem Castle is located in the Cochem-Zell district in Rhineland-Palatinate, a 2-hours drive from Frankfurt or a 1.5 hours drive from Cologne. While renting a car and driving along the vineyard-filled hills of the region would be the best choice, you can easily get to Cochem by train from Cologne or Frankfurt (with one change in Koblenz)
Contributed By Ingrid at IngridZenMoments
Heidelberg Castle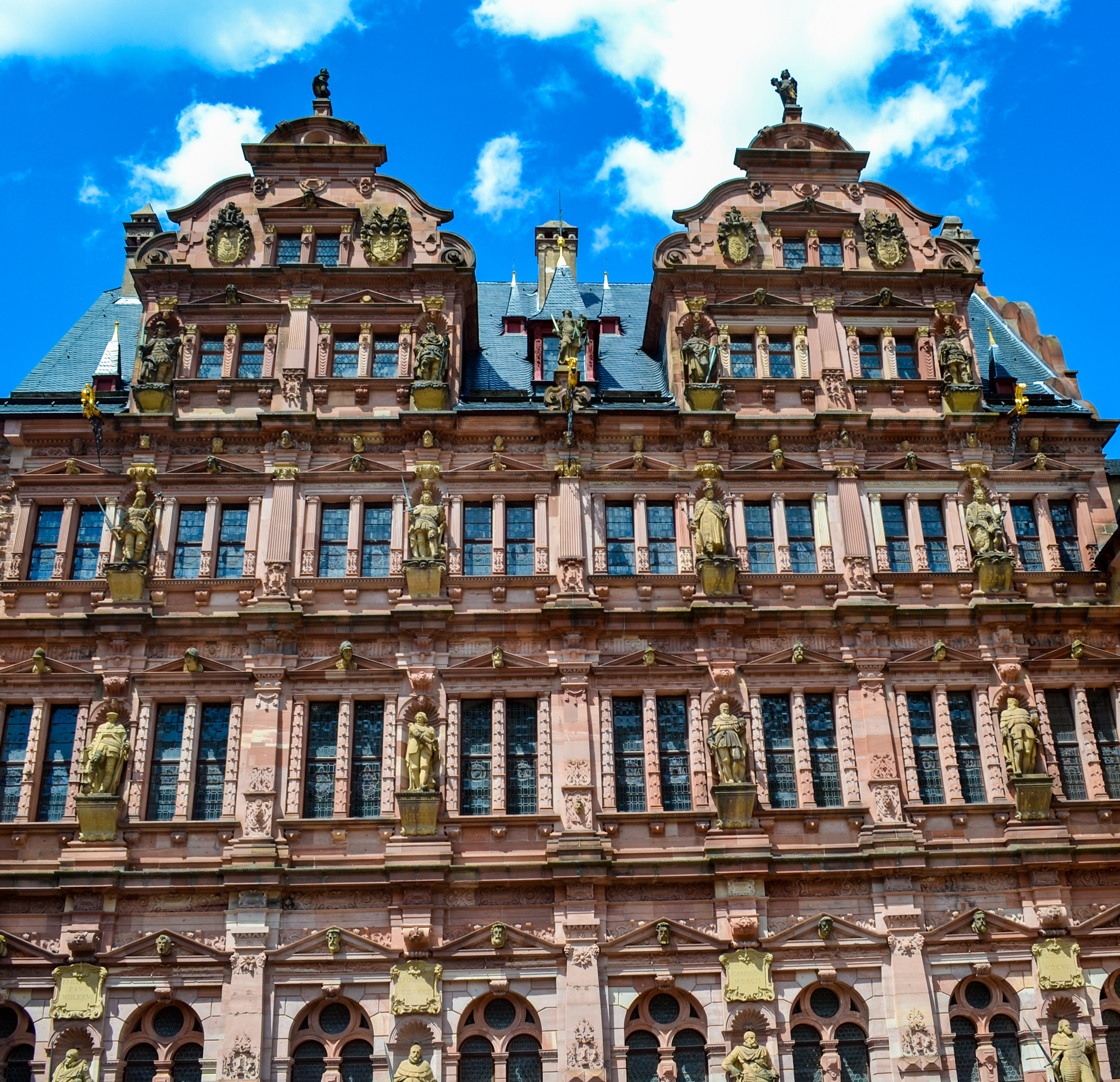 Location: Heidelberg (Baden-Württemberg)
Schlosshof 1, 69117 Heidelberg
Heidelberg Castle, perched atop the green hill of the Jettenbuhl, dominates this most romantic town. Its red sandstone walls draped in
patches of ivy have been standing guard over the old town for more than seven centuries. Standing at the castle walls, gazing down on the red rooftops and the slow-moving Neckar River below, one could be forgiven for feeling like they were in a fairytale, for Schloss Heidelberg is the very epitome of German Romanticism.
Built and destroyed, rebuilt, stormed by invaders, rebuilt, hit by lightning, burned, rebuilt and expanded, sacked by invading armies, rebuilt and hit by lightning a second time, causing an even worse fire, this huge pile of red sandstone still stands, proud and beautiful; a symbol of the town's resilience.
Mark Twain, in his classic "A Tramp Abroad," captured Heidelberg Castle's essence: "Deserted, discrowned, beaten by the storms, but royal still, and beautiful."
Since it was built and rebuilt over so many centuries, the castle is a conglomeration of buildings, facades, and fortifications. Part fortress, part royal palace, it is a genuine hodge-podge of building and decorative styles from various periods. The castle has drawn famous visitors to its romantic walls. Victor Hugo wrote about it at length. Goethe came to gawk as well. And J.M.W. Turner, the famous English Romantic painter, came many times and painted the great sandstone pile from several different angles.
Today, the castle opens its gates to visitors, inviting them to wander
through the courtyards and gardens, stare up at a Renaissance wall full
of glass-less windows open only to air beyond.
Only one part of the castle has been restored to its former splendor. The Friedrich Building shows how a royal family lived during the German Renaissance with elaborately carved and painted ceilings, parquet floors, stained glass windows, and rich furnishings.
After walking around the grounds, be sure to visit the German Apothecary Museum, which houses over 20,000 pharmacy-related objects, including some items that are 2000 years old. Then head down to the cellar to see the Heidelberg Tun. This is the world's largest wine barrel, made from 130 oak trees. It stands more than 20 ft (7 meters) high and can hold some 220,000 liters. Its original purpose was to hold the wine tithes from local winemakers.
It's possible to walk up to the castle from the town. However, that involves going up a steepish hill with 315 marked steps. An easier way
up is to take the 19th-century funicular from the Kornmarkt. Get off at the first stop and you will be just steps from the entrance to the
castle. Your ticket includes entrance to the castle grounds and is good for a round trip, but if you want to walk back down, it's about a 15-minute hike.
Contributed by Donna from Nomad Women
Burghausen Castle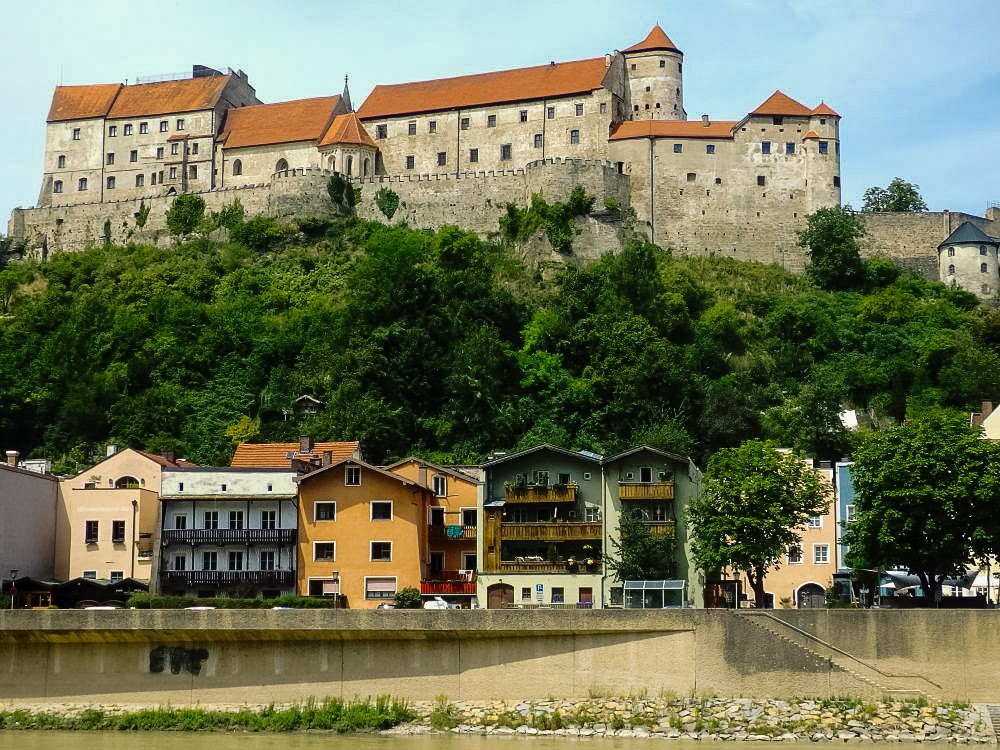 Location: Burghausen, right along the Austrian border (Bavaria)
Burg 48, 84489 Burghausen
What makes Burghausen Castle special isn't just that it's the longest castle in the world – just over a kilometer from end to end – or that it's perched picturesquely atop a ridge. It's the atmosphere of the place. Once you enter the castle at one end, you've arrived in a peaceful zone of centuries ago.
Burghausen also isn't just a single castle building. The first structure dates to the 13th century but was extended and expanded over centuries, adding more buildings, stronger fortifications, and more living space.
Today, visitors walk backward in time along the ridge, entering at the most recently-built end and walking toward the oldest part. The newer end has, in part, been privatized, so some lucky people live in the small houses around the "fifth courtyard," the first stop inside the entrance. At this point, it looks charming, but more like an old town than a castle! The "castle-ish" look begins in the fourth courtyard, with its tiny late Gothic church and fortifications around the outside.
Continuing along the ridge, the courtyards get smaller and include stables, guard towers, an armory, and what used to be the castle's brewery. The views over the landscape and the town below are spectacular from here. Between courtyards – especially between the second and first courtyards – tall gateways loom. There's even a dry moat. This was a well-defended place!
The last gate leads from the first courtyard to the courtyard of the castle itself, and it looks like it's straight from a storybook involving princesses and knights. Most of the inside is now a museum, and the best part of the museum is the roof, allowing a bird's-eye view in all directions. From here, you can see the whole string of buildings and fortifications that extend a full kilometer along the ridge.
Below the castle is the town of Burghausen, also well worth a visit. Beautifully-restored buildings from the 15th and 16th century line the long main street, many painted in pretty pastel colors.
Burghausen is on the German-Austrian border, about an hour north of Salzburg, Austria, and makes for a great day trip from Munich. The easiest way to get there is by driving, which will allow you to get quite near the entrance to the castle. Otherwise from Salzburg main station, you can take a train to Mülhdorf, then change trains to Burghausen. That trip will take about two hours. From Munich, you can take a bus from the main station in about two hours, also with a change in Mülhdorf. Either way, you'll need to climb the hill from the town of Burghausen.
Contributed by Rachel from Rachels Ruminations
Hohenschwangau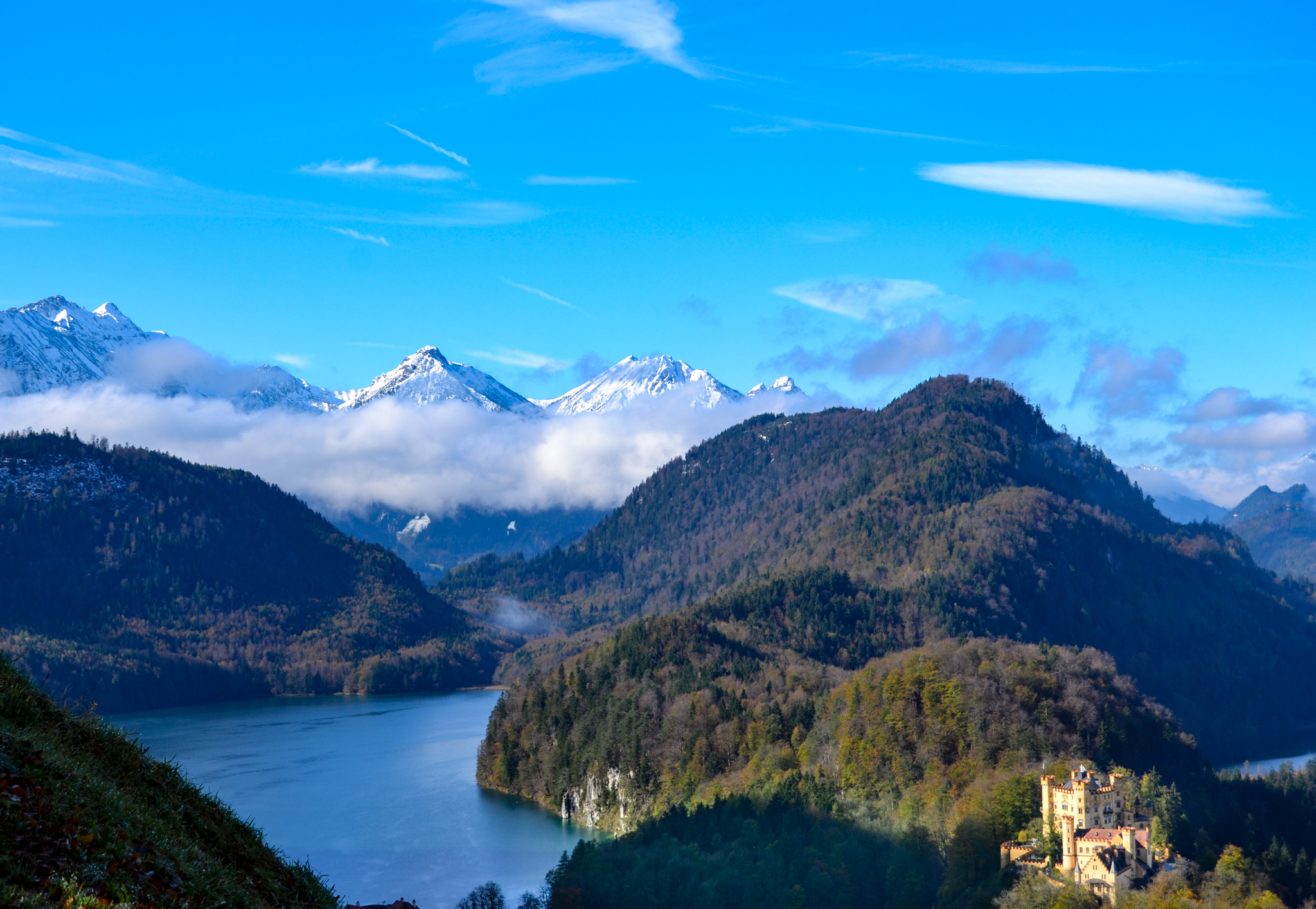 Location: Schwangau (Bavaria). Right next to Neuschwanstein
Alpseestraße 30, 87645 Schwangau
You know you are dripping in opulence when you own two of the most famous castles in Germany, and they are just a stone's throw away from each other.
While Neuschwanstein often gets all the praise for the Disney castles in Germany, it's next door neighbor, Hohenschwangau is secretely my favorite out of the two.
Why? Well, it is much more "lived in" than the fairytale castle up the hill. That's one of the reasons why I suggest people actually skipping the Neuschwanstein Interior tour (you only get to see a small handful of rooms anyway) and to do the Hohenschwangau inside instead while enjoying ALL of the fantastic views from the outside of Neuschwanstein. And while nothing around Neuschwanstein is going to be NOT touristy, I'm always amazed at the amount of people that don't know that Hohenschwangau exists! You can literally see it FROM Neuschwanstein!
From Neuschwanstein, it's only about a 20 minute walk, so why wouldn't you combine the two on your outing!? You can get the ticket that covers them both as well, making it for the perfect castle afternoon.