[This post may contain affiliate links where we earn a small commission. Please see our disclosure for more information and thank you for supporting our site so we can continue to bring you awesome content for your travel inspiration!]
To visit Neuschwanstein castle in winter or not to visit Schloss Neuschwanstein in winter. THAT is the question!
Ok, no, it really isn't. Or at least, it really shouldn't be a question at all. Because, YES. 100 Times yes! Visiting Neuschwanstein Castle in winter is one of my favorite times to see one of the most famous castles in the world and is a must.
If you are thinking that it might be too cold, or that you won't get that perfect Insta pic because the Marienbrucke might be closed so it's just not worth it, then read on and let me change your mind.
If you haven't read my "Ultimate Guide to Neuschwanstein Castle" yet, please do so. In there I cover ALL the basics, as well as the nitty gritty details of the castle such as:
How to get to Neuschwanstein from Munich (by train, car, DIY, or tour)
When and how to get tickets (and what NOT to buy tickets for!)
Where to take the best photos of Neuschwanstein
More Insider tips to visiting Neuschwanstein
Have you Joined Our Travel in Bavaria Facebook Group Yet? Come Get Answers to All Your Questions!
Why You Should Visit Neuschwanstein in the Winter
Yes, I agree, a warm tropical island in the winter is typically more of my jam when it comes to winter travel, but if you are in Germany in the winter already, then Neuschwanstein really should be a top priority. You can make a whole weekend of it and visit other sites nearby as well or go Tobogganing on the longest Rodelbahn route in this region of the Alps!
Alternatively, you could stay in Garmisch where you can ski at the tallest mountain in Germany and then make a day trip over to the "Disney Castle" in Winter for an amazing long weekend trip!
Garmisch to Neuschwanstein: 1 Hour Drive
It's Magical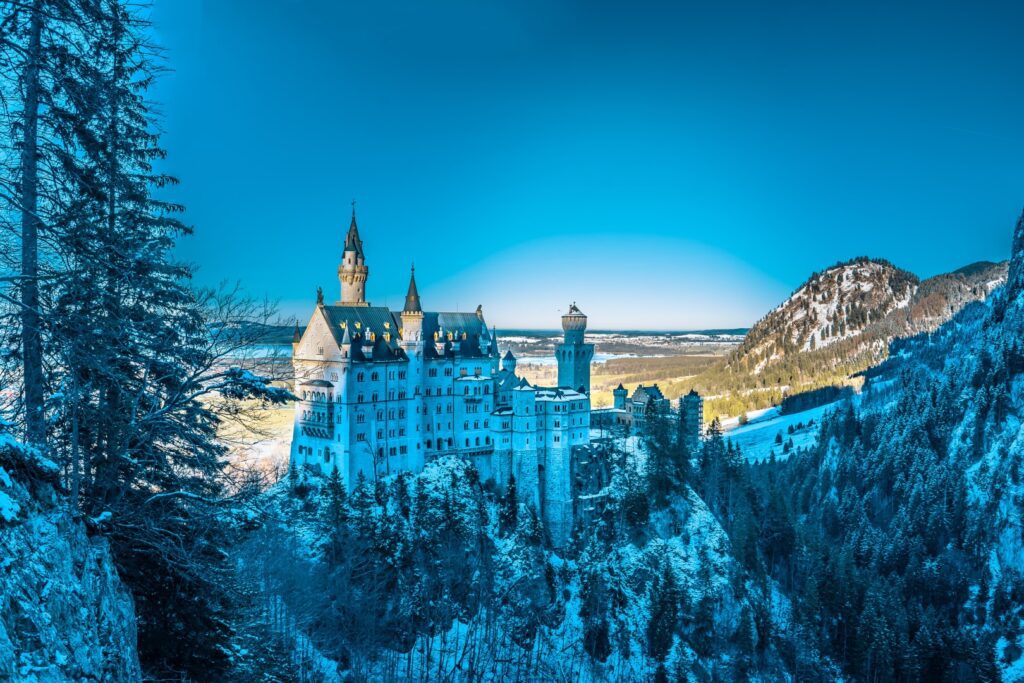 Ok, I'm going to REALLY try to limit the usage of that word (immediately goes to Thesauraus.com) but it really is the best way to describe the "German Disney Castle" in general. But when you add snow drifting down in perfectly symmetrical snowflakes all around you, or fresh white snow capping the Bavarian Alps surrounding you, the enchantment soars through the roof.
It's as if they took all the magical (oops, there it is) feelings from every Disney movie and put an Elsa and Frozen Filter over it and Bam- you've got Neuschwanstein in the winter.
The first time I ever visited Neuschwanstein was when I was just a young, impressionable 15 year old. It was a cold December day and just as we began our ascent to the castle, the flurries started. It was then that I fell in love with the famous German castle, Neuschwanstein in winter.
Less Crowds
Alright guys, notice I said LESS crowds here. Not "No crowds."
Schloss Neuschwanstein is not only one of the most famous castles in Germany, but arguably in the world. Over 1.3 people visit Neuschwanstein a YEAR. So, no, you are never going to have this German fairy tale castle all to yourself, but it will be better than high tourist seasons, like July, where you could be battling upwards of 6000 other wannabe princes and princesses!
Neuschwanstein Castle Winter Pictures
While no season is a bad season for taking the best pictures of the castle, Neuschwanstein, winter will undoubtedly audibly take your breath away.
Snow Capped Scenery
I know I've already touched on this, but if you haven't been to the Alps before in the winter, it is just gorgeous and deserves its own mentioning. There is just something about this part of Bavaria that is so beautiful in the winter. The icy lakes, the snow dusted evergreens, and the glow of the fading winter sun on the cobblestone streets in the villages has got to be where the term "winter wonderland" comes from!
The Gluewein, Wursts and Quarkballen
If you've been around this site, then you know I'm all about the German food!!! If you are lucky enough to be in Germany over the advent season, you won't be a stranger to the deliciously warm Gluhwein(Mulled German wine). If you are at Neuschwanstein Castle in December, you might even be able to snag a mug of Gluhwein at the foot of the castle before heading up the loooong hill.
While there are never really great food options at the castle, it can be even harder to find something to eat at Neuschwanstein in the winter. I always recommend people stopping at a Backerei (bakery) before their long day and get some pastries, sandwiches, Leberkase, some Pretzels, or whatever looks particularly decadent in the case that day (typically ALL of it!) for some picnic options and snacks. But, there is often one or two (overpriced) stands at the bottom of the castle. Here, you just might be able to get a wurst to chow down on and, in the wintry months, a mug of Gluhwein to sip on. Sometimes, there are melt in your mouth Quarkballen to nibble as well. A quarkballen is Germany's equivalence of a donut hole. It's a delectably light and airy fried dough made with quark (which is most similar to an American cream cheese mixed with a sour cream)
Again, there is just something magical (ok, that MIGHT be my last time) about walking around with a hot mug of spiced wine, watching the steam rise from the mug while the snow falls from the sky that will make you pause in your tracks and say, "Is this real life!?"
How to Get to Neuschwanstein Castle in the Winter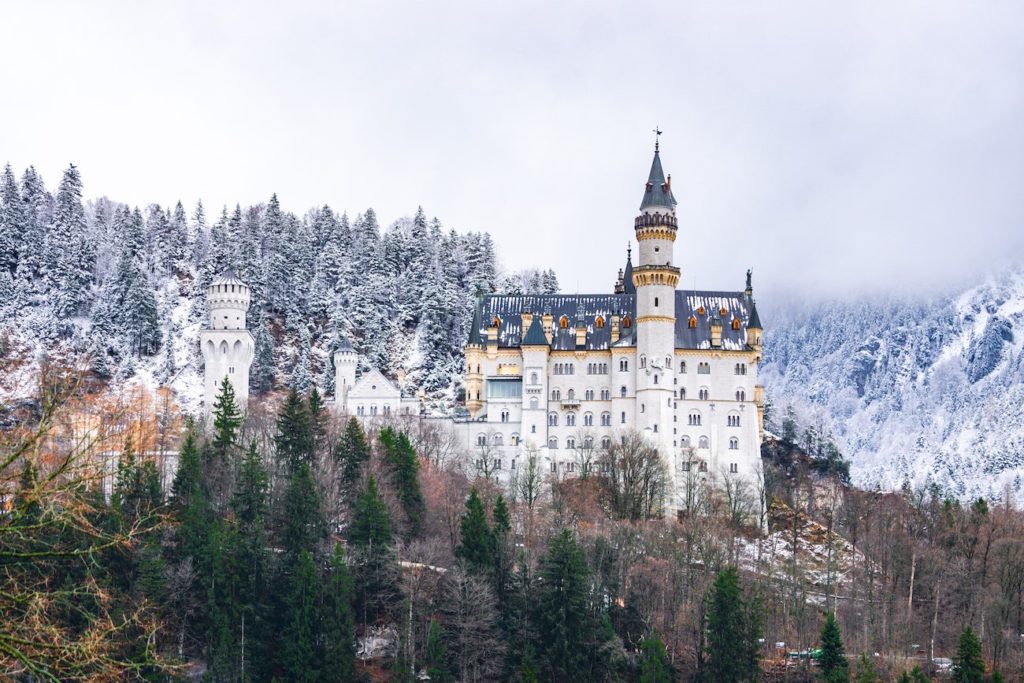 If you've already read my Best Way to Get to Neuschwanstein Castle article, then you know that the 3 main ways to get there are:
Car
Tours
Public Transportation (train and bus combo)
The good news is that all of these are still possible and safe to do in the winter.
You may be wondering if it is safe to drive from Munich to Neuschwanstein in the winter, especially as you get close to the Alps, but the answer is generally, yes.Driving in Germany is pretty easy/good any time of the year. The roads are extremely well maintained and cared for and even the windy roads closer to the castle are not treacherous Alpine drives. However, it's safe to say that you should always play it by ear. If there was recent snowfall, ask the locals (like your hotel desk or AirBnB host, etc) the day of your trip if they think it is still safe. If there is ice, just drive slow and use smart driving skills.
Is Driving To Neuschwanstein Castle in the Winter Safe?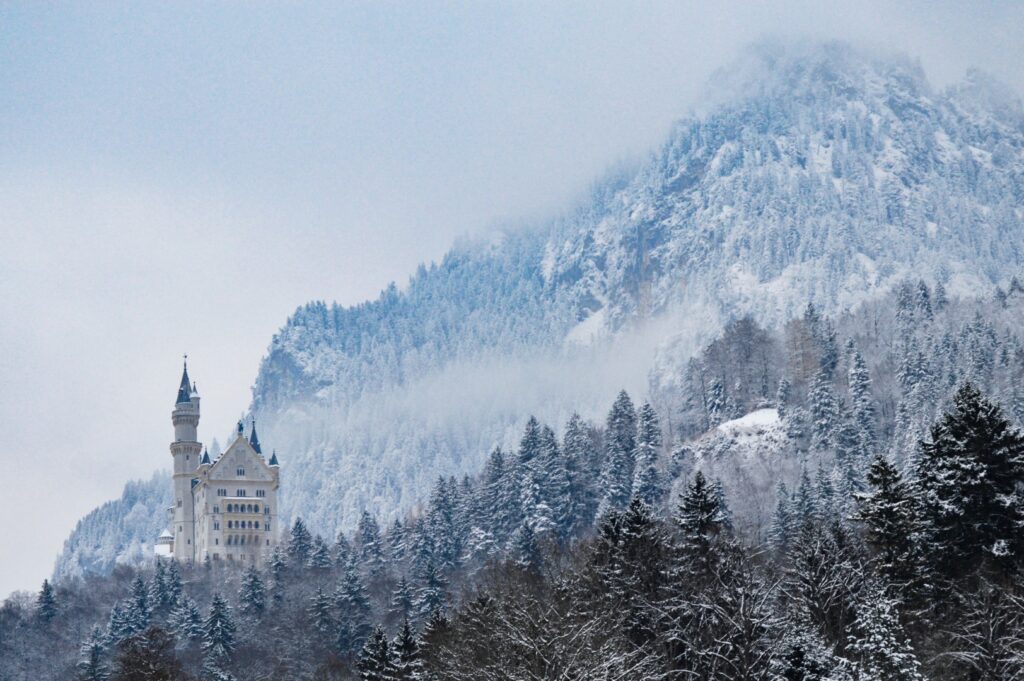 Coming from a gal that grew up in a location with blizzards in the winter every year, I feel confident in my winter driving, but I also completely understand that not everyone has had that experience to boost their confidence.
But good news! While yes, there may be snow, it is GENERALLY (notice that is a sweeping, statement) still safe and easy to drive to the castle. Rarely will it be icy enough to make it unsafe (again, that is a GENERAL statement) and the snow typically isn't deep enough to be worrisome.
Renting a Car to Drive to Neuschwanstein in the Winter
Many people ask if they need a special kind of car, tires, or chains when driving to Neuschwanstein in the winter. Neuschwanstein is not deep or high enough into the Alps to need chains. However, when you rent your vehicle, do make sure that it has all season, or better yet, winter tires on the vehicle. This shouldn't be an issue, since it is actually required by law for vehicles to have a winter safe tire during winter months.
Find Affordable Car Rentals Here
How to Get UP To Neuschwanstein Castle in the Winter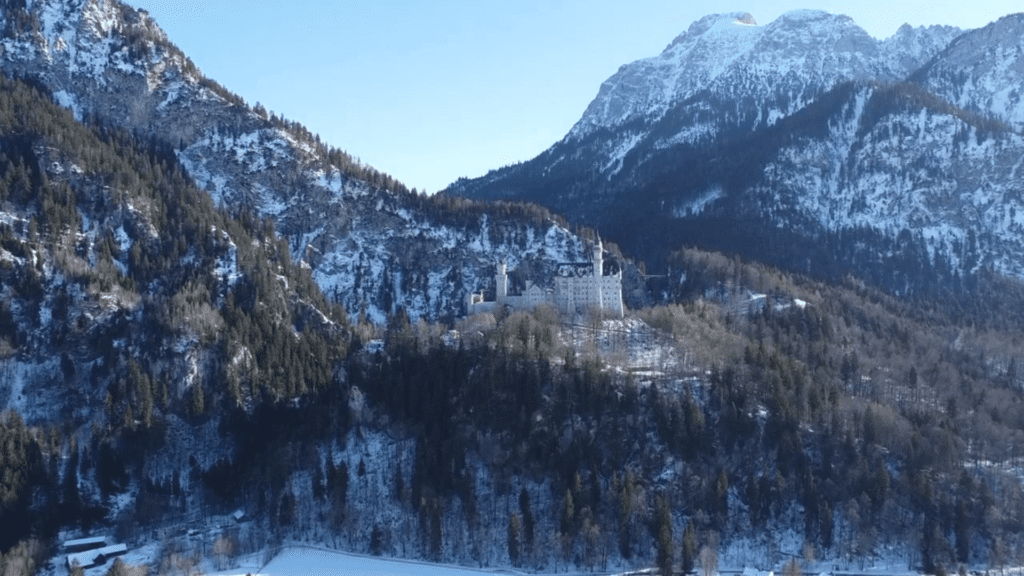 Since you've now read that entire previous post on all the ins and outs of Neuschwanstein (riiiiiiiiight!?) then you now also know that just because you arrived at Schwangau, that you aren't yet UP to the castle!
Here is where winter is a slight bummer compared to other seasons for visiting. In the winter, there is no shuttle or horse-drawn carriage rides from the parking lot or ticket office up to the main entrance.
This means you will have to walk. It only takes about 30 minutes but it is a pretty steep hill and yes, in winter, that means potentially ice. However, remember this is a very touristy location. The staff does it's best to make sure that as much ice as possible is removed for safe walking.
Pro Tip: Wear REALLY durable, comfortable, and wet proof shoes. It's not like you are hiking, but if it is snowing, then that means wet feet. Cold, wet feet are absolutely no fun, no matter how beautiful your scenery is! And since you will be walking a bit, you'll want very comfortable shoes.
Read My Germany Winter Packing List Here
What If the Marienbrucke Is Closed?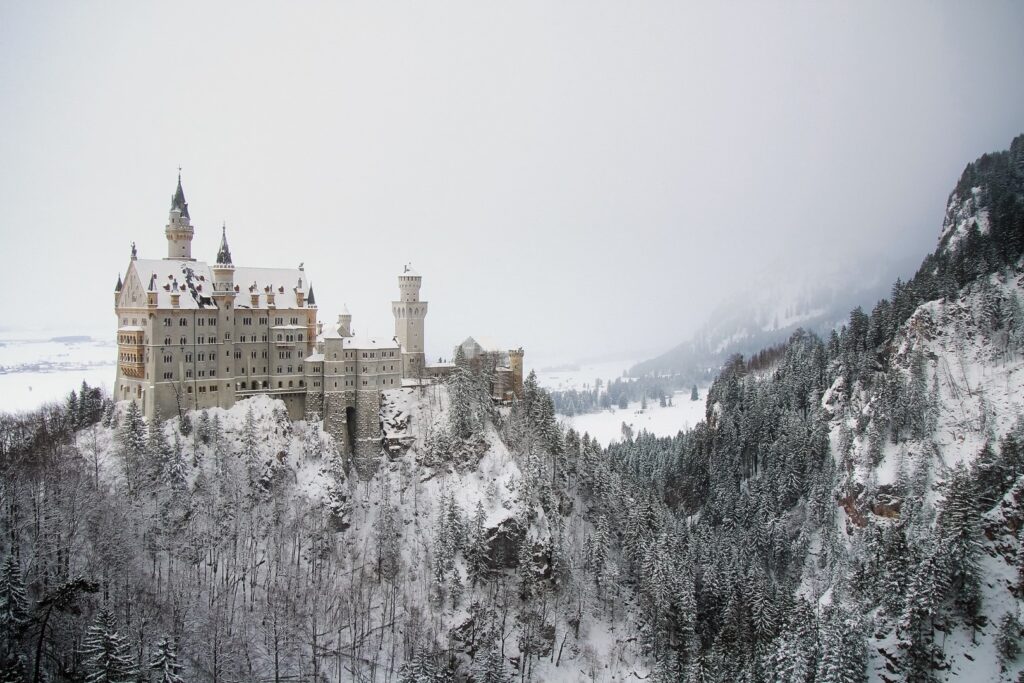 Alright, as mentioned previously, there is no debate on whether or not you should visit Neuschwanstein in the winter. However, there IS a hot debate on the internet about if and how tourists should get to one of the best viewpoints of the castle, the Marienbrucke if it is closed. You might be wondering if it is even worth going to the castle if the bridge is closed (especially if you are a "Pics or it didn't happen" kind of person). This is, in fact, the most famous spot for UUUHMAZING pictures.
However, it is often closed after the first snowfall in Germany and for the remainder of the winter. The catch is that there are no hard guidelines on this. So, that means that it very well could be closed one day and open another. Often times, you won't even know until the day of your trip on what the decision is.
I'm not your mother, I am not going to tell you what to do, so here are your choices if it is closed.
1. Marienbrucke Is Closed- that's that.
There is a good reason why they close off the Marienbrucke and it's not because they just feel like it. Remember guys, you are in the foothills of the Alps. There are steep cliffs. There is slippery snow. There is an icy bridge hovering over a raging gorge hundreds of feet below you. I'll let you do the math.
After all, do you want to be added to this insanely long list of selfie induced deaths from stupid travelers?
2. How to Get to the Marienbrucke Even if it's Closed
Alternatively, there are some controversial ways to sneak around the rules and still get up to the bridge. Now, in my younger days, I've had my fair share of "squeeze around this little "closed" sign" in the name of adventure. And that's often what the young Instagrammers use as an excuse as well. These people that do this claim it's the perfect time to go to the bridge because there are no tourists there, you have the place to yourself, etc.
Technically, there are no guards or supervisors watching out over the closed gates and there are even some "paths" that clearly go up.
But it just seems a bit disrespectful and reckless and well, it CLEARLY states that you would be trespassing. The reality is that the castle is so stunning in the winter that you'll quickly realize that no matter what shot or angle you get, it's going to be a beautiful one!
So, is it technically possible for you to get up to the Marienbrucke by just bypassing a few "closed" signs? Yes. Should you? No.
What To Expect From Neuschwanstein Castle Weather in the Winter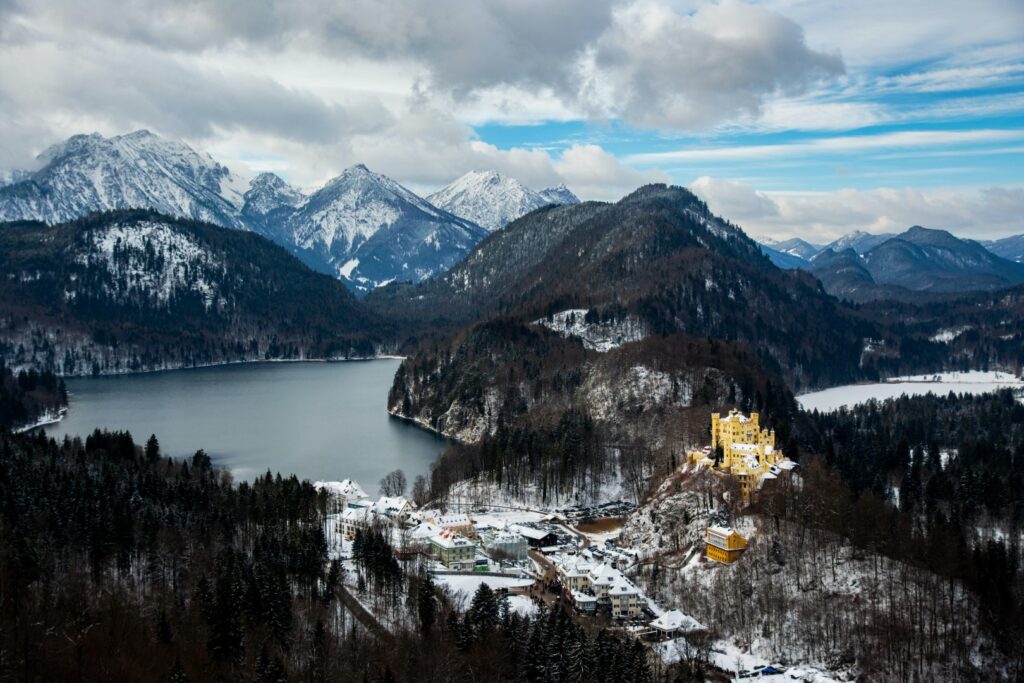 (Read until the end for my suggestions of what to wear to Neuschwanstein in the winter)
Temperatures
Germany in the winter really isn't a shabby time to be in the country. Coming from Nebraska, I find Germany to actually be quite "mild" in the winters. What I mean by that is that on AVERAGE, winter month temperatures don't drop below freezing all the time (it does happen though here and there!)
You might expect temps to be anywhere between mid 20s (Farenheit) to mid 40s. While that may seem really cold to some, what I find nice about Germany winter days is that it doesn't often get blustery or have bad wind chills, which could make it feel MUCH MUCH colder. Therefore, if it is 35 degrees, you can expect it to really feel about 35 degrees (not 35 degrees but FEELS like 20!)
Snow
When considering Neuschwanstein weather, remember that you are in the foothills of the Bavarian Alps. Therefore, it's not uncommon to start seeing snow as early as October and possibly even throughout April, but when it does snow, it is often only about an inch or so at a time, so you aren't facing blizzard conditions (typically).
Likewise, is it possible for roads to get icy during a snowstorm? Of course, but outside of that, the roads and routes to the castle and surrounding areas are extremely well maintained. If you foresee a possibility of a snowstorm during your trip to Neuschwanstein and are concerned about road conditions, it's best to ask some locals if they suggest the trek.
Fog
Fun Fact! An old German word for the month of November was "Nebel-mond" aka, "Foggy month" which is often when foggy weather in Germany starts (and I might argue could be one of the foggiest months) Therefore, another concern for many is if it will be too foggy to make it worth it. There are days where the clouds roll in and cover the castles in grey and dreariness. Some people find this to be an alluring and mystical look and feel to the castle. Others get downright pissed that they missed the perfect Instagram photo. I suppose it depends on your goal for visiting the castles. The good news is that even if the Neuschwanstein is shrouded in fog from afar, you still have decent luck getting some (grey) photos from closer vantage points. Your best bet is to just keep an eye on the forecast when you are there to see if it looks hopeful. After all, there are some absolutely beautifully sunny days as well so you aren't always guaranteed fog in the winter at Neuschwanstein.
Neuschwanstein Castle Winter Hours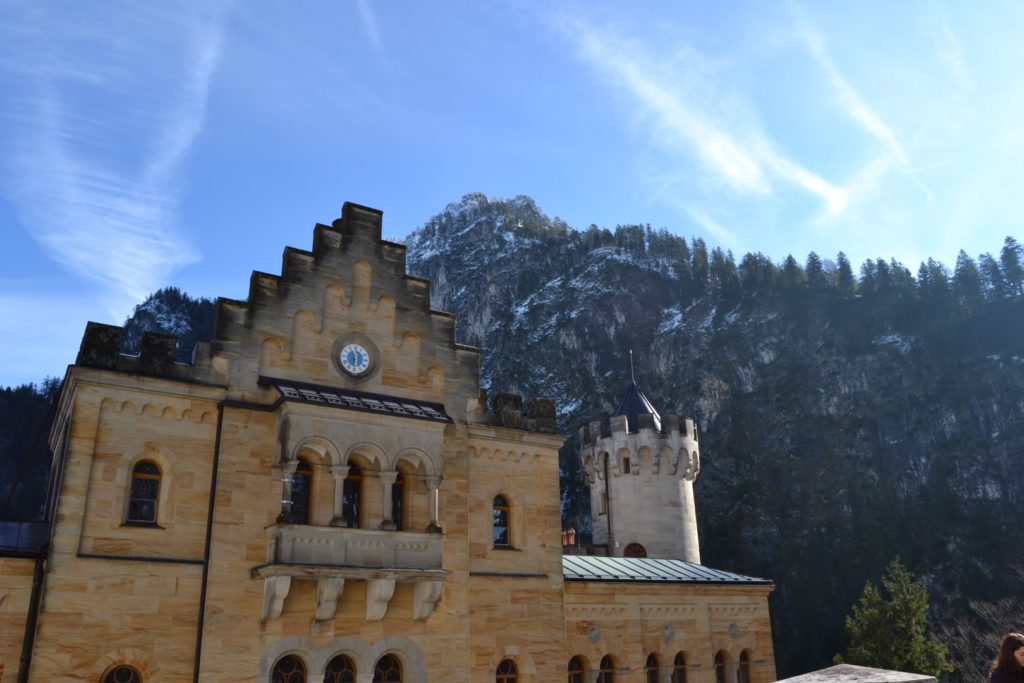 Winter Season (and hours) at Neuschwanstein is considered to start October 16 and runs to March.
Open 10am-4pm
Note: The ticket office (in Schwangau) opens and closes one hour earlier than the castles (9am-3pm)
Closed: The castles are open daily except for December 24th, 25th, and 31st as well as January 1st (Christmas Eve, Christmas Day, New Years Eve and New Years Day)
From April to October 15 the castle is open from 9am-6pm
Neuschwanstein Admission and Costs
13 Euros for a 35-40 minute tour inside
Children and people under 18 can get inside for free
Königsticket: 25 Euro (Includes guided tour of both Neuschwanstein and Hohenschwangau)
Note: Everything outside (including all the outside grounds, viewing platforms, Marienbruke, etc) are free. Read more about why I suggest skipping the inside tour of Neuschwanstein here and what castle to tour inside instead.
What To Wear to Neuschwanstein in the Winter
Whether you are visiting Neuschwanstein Castle in January or April, you'll want to be prepared for winter weather gear. The best way to do this is to wear layers.
Start with a good layer of long underwear underneath everything, like these.
Quick dry outer layers are great options for pants. I like ones like this.
Depending on just how cold it is, I find a good fleece layer in between my long underwear and coat to be a good insulator.
I love smart wool socks for cold winter months because nothing is worse than frozen feet! They've become an absolute packing necessity for the winter
You'll want a rain resistance winter coat.
Of course, don't forget to pack your hat, gloves, and a scarf.
Finally, many people forget just how important comfy, but weather-resistant shoes are! I love my Merrills, which keep my feet dry but also I can walk, hike, and sightsee for hours a day comfortably. These can double as your everyday walking pair as well as a sturdy boot, which is perfect for traveling and wintery days so that you don't have to bring along more heavy shoes than you need.
Throw in an umbrella for good measure because, well, you are in Germany after all!
While jeans and tennis shoes are becoming more common, you don't typically see Germans wearing this kind of clothing. Plus, I would avoid jeans for Neuschwanstein in the winter, as denim when cold and wet would be "Nicht gut!"
FAQs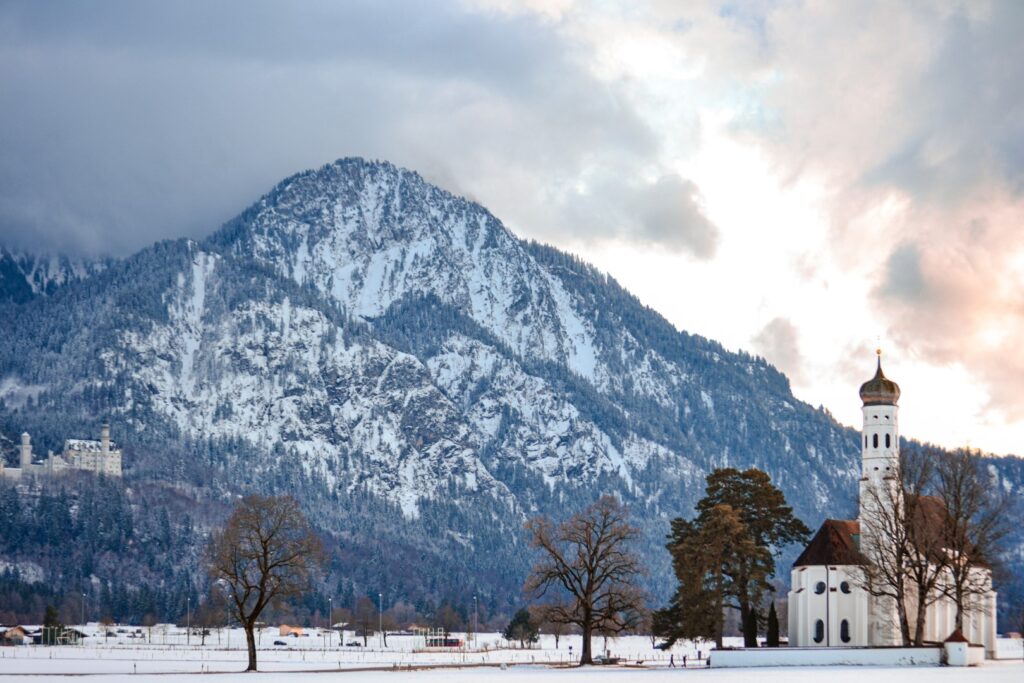 Is Neuschwanstein Castle open in December?
Many people wonder "Is Neuschwanstein Castle open in winter?" Yes! While Christmas at Neuschwanstein Castle isn't possible, as it is one of the few days it is actually closed, visiting Neuschwanstein castle in December is an absolutely enchanting month to wander the grounds with your Gluhwein! The castle is open every day in December except for Christmas Eve, Christmas Day, and New Year's Eve. (Dec 24-25th and 31st)
Can You Visit Neuschwanstein Castle Without a Tour?
No. While you can walk around just about everywhere else (the grounds, Marienbrucke (when open), the viewing platforms, etc) in order to see the inside of the "Disney Cinderella Castle" in Germany, you must purchase tickets. (You can read all about this, where to buy tickets, when, and what other castles I recommend more for the inside at our complete guide)
How Much Time Do You Need at Neuschwanstein Castle?
For the actual tour of the castle itself, you only need around 45 minutes (you only get to see 14 rooms in the entire palace). However, allow for plenty of time for waiting in line for tickets (plan on at least one hour, even in the winter and even if you have pre-purchased vouchers), walking up to the castle (approx 30-40 minutes), walking around the castle and the grounds (another 30-45 minutes) and at least another 1.5 hours if you plan to also go over to the Hohenschwangau Castle.
All in all, you can easily spend a 3 rushed hours to 5 leisurely hours depending on your interests, weather, etc.
Is it Worth Going Into Neuschwanstein Castle?
Ah, the age old question!!! To be honest and to get to the point quickly, my vote is to spend several hours wandering the grounds and spend time at the Marienbrucke (if open) but skip the actual inside tour itself. Instead, do the tour of the much more "lived in" Hohenschwangau. However, I totally understand the people that say, "I came all this way, why WOULDN'T I go inside!?"
Well, my reasonings are:
The tour can be as short as 30 minutes
Other nearby castle interiors are surprisingly more impressive
You can't take photos inside
But obviously, the choice is yours and if you have the time, then of course, why not go inside for the tour?
Can You Stay at Neuschwanstein Castle?
As dreamy as that sounds, the closest you can stay to the castle is in the village below of Schwangau or in nearby Fussen. The castle is for tours only, not for accommodation and lodging.
To see where I suggest staying nearby Neuschwanstein, go back on over to that trust Everything You Need To Know About Neuschwanstein Guide. Yup, you guessed it. It's in there 🙂
Should I Go To Neuschwanstein In the Winter?
Hopefully, I haven't scared you off too much with the weather info or foggy pictures. I really do think that you should strongly consider going to Neuschwanstein, yes, even in the winter. Is there a possibility of bad weather? Of course, but that is going to be true whether you are wanting to go to the "Disney German Castle" or Oktoberfest in Munich or anywhere else in Germany from November throughout the winter. While there are plenty of amazing places to visit in Bavaria that aren't as touristy, Neuschwanstein is still a sight to behold….any time of year!