[This post may contain affiliate links where we earn a small commission. Please see our disclosure for more information and thank you for supporting our site so we can continue to bring you awesome content for your travel inspiration!]
The Black Forest is known for a lot of things. Gorgeous trails through enchanting style forests. Castles. Thermal Spas.
And Baden-Baden, located in the North of the German Black Forest has all of that. Just a few minutes away from some of the most famous Spas in Germany is the beautiful Hohenbaden Castle (Altes Schloss). From here, you can enjoy simply breathtaking views of the surrounding Black Forest, scurry along ancient castle ruins, and immerse yourself in that feeling that you are here. YOU are in the Black Forest!!!
There are technically two Baden Baden Castles. In this article, I am specifically talking about the Altes Schloss (Old Palace), not to be confused with the Neus Schloss, which is actually right in the middle of town and also worth stopping by. In this article, I'll go over why you should absolutely add the Burg Hohenbaden to your list of things to do during your 2 Days in Baden Baden, exactly how to get there, what to do at the castle, how much it costs, and the PERFECT hike unlike any other in the area.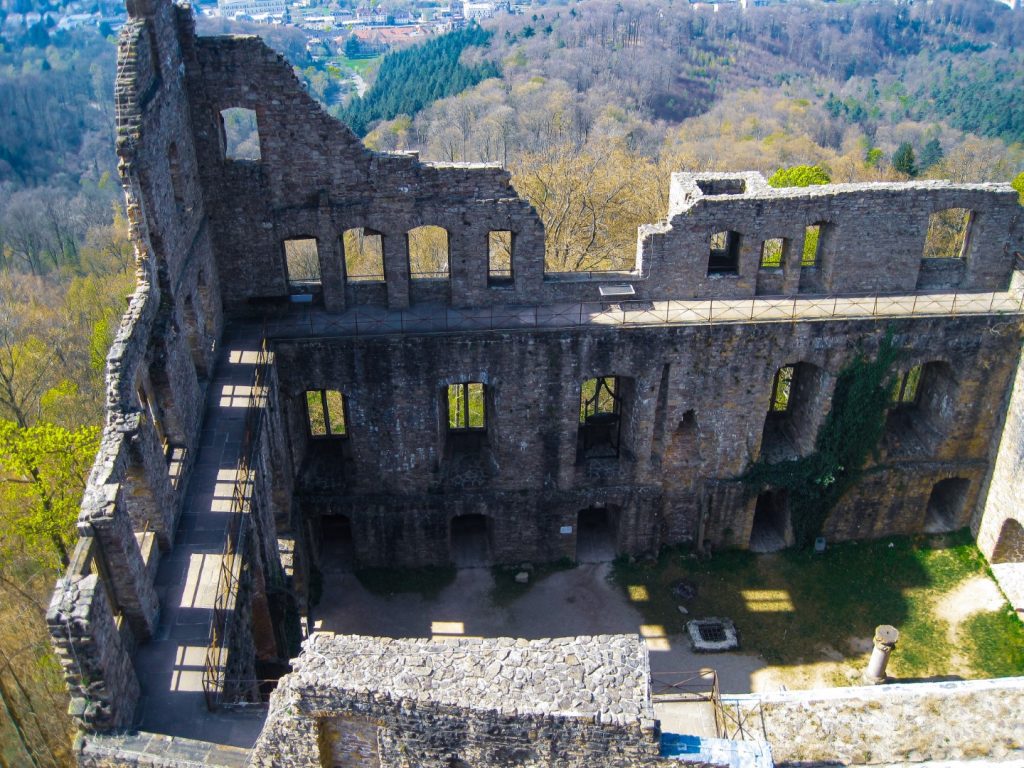 You Might Also Be Interested In Reading:
All of my Germany Spa Guides:
Hohenbaden Baden-Baden Location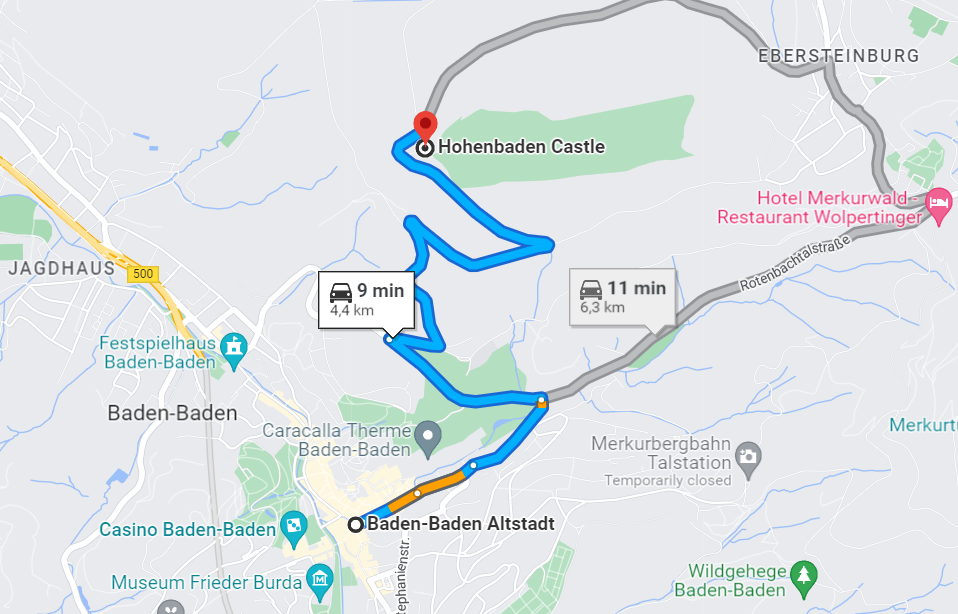 Address: Alter Schlossweg 10, Baden-Baden
How to Get to Hohenbaden Castle
By Car:
The easiest and fastest way to get to the castle is by driving. which only takes about 10 minutes. The Hohenbaden Castle Parking lot is basically right at the base of the castle, making it super easy to go by car.
By Public Transportation:
Surprisingly, there is not a good bus route to the castle. If you don't have a car, but still want to see Hohenbaden, you'll have to plan on a decent amount of walking. Even with the bus, expect about 30 minutes of walking to get there.
Take the 244 Bus in the direction of Gernsbach Bahnhof
You'll ride the bus 6 stops and get off at the "Ebersteinburg Kapelle" Stop
From there, I highly recommend finding the Oberer Battertweg route, which leads you past stunning rock formations on the way to the castle
Hiking:
Hiking in the Black Forest is one of the things I love to do when going to Baden Baden. From the Old Town of Baden Baden to the castle, you can hike through the Black Forest and get there in about 45 minutes. (In fact, depending on exactly where you start in Baden Baden, just walking from the Altstadt may even be faster than taking the bus and then walking.)
There are a few routes that lead up to the castle and they offer great views out over Baden Baden and the Black Forest. While none are technically difficult, it is still a decently steep climb.
Tip: Start at the Neus Schloss. This way you get to see that palace as well! From there, you can follow the signs that lead to the trails for the Altes Schloss.
Hohenbaden Hours and Cost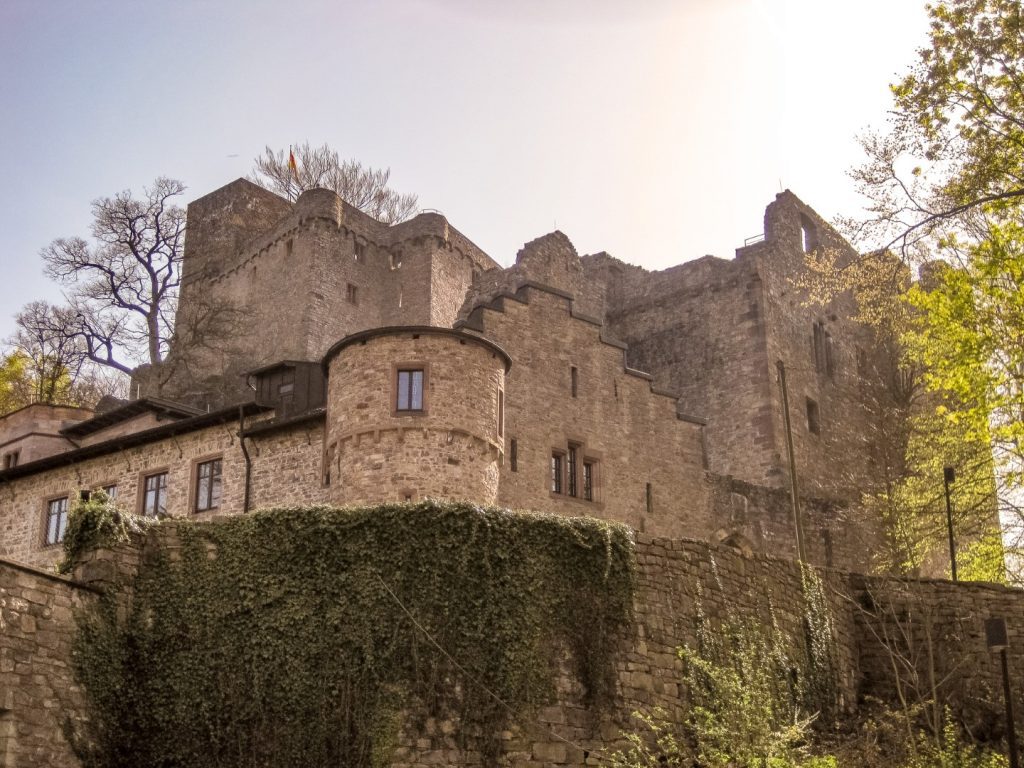 Open Daily 8am-8pm
Hohenbaden Castle Entry Free/Admission Cost: None. It is free to wander around the Schloss Hohenbaden
Visiting the Altes Schloss Hohenbaden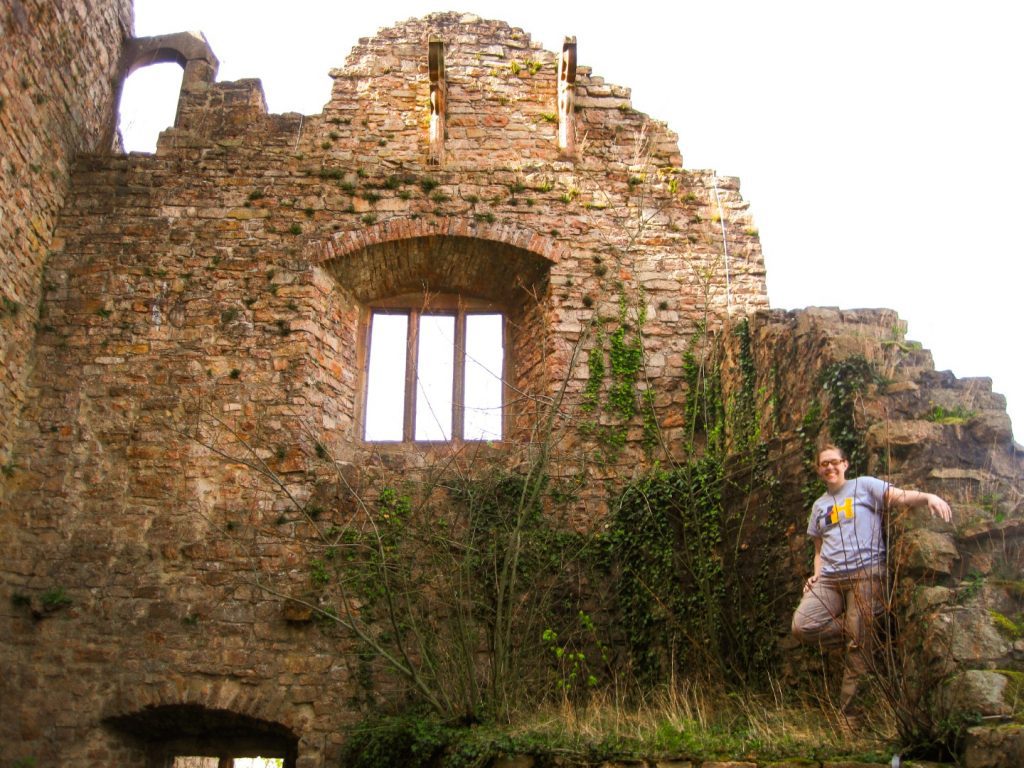 The first time I visited the Baden Baden Castle, it was during my first trip for the Baden Baden Spas. We did 2 days in Baden Baden, which was the perfect amount of time to spend relaxing in the Spas and Irish Baths but also enjoy the beauty and nature of the Black Forest in the area.
We woke up early and had a fantastic breakfast at our hotel (we were staying at the Holiday Inn, one of my Top Recommended Baden Baden Hotels). After filling up on yummy German pastries and several cappuccinos, we hopped in the car and made our way to the Hohenbaden Castle.
Clocking in at almost 950 years old (yes, almost 1000 years old!!!!) the original castle was built and in the late 1400s the "Lower Castle" was built. In it's heyday, there were upwards of 100 rooms to this impressive castle!! Unfortunately, like so many castles and buildings of the time, a fire destroyed much of the Schloss in 1599. However, today you can still wander through much of the structures including the tower, the lower castle, the Knight's Hall, and many indiscernible rooms.
The Castle Ruins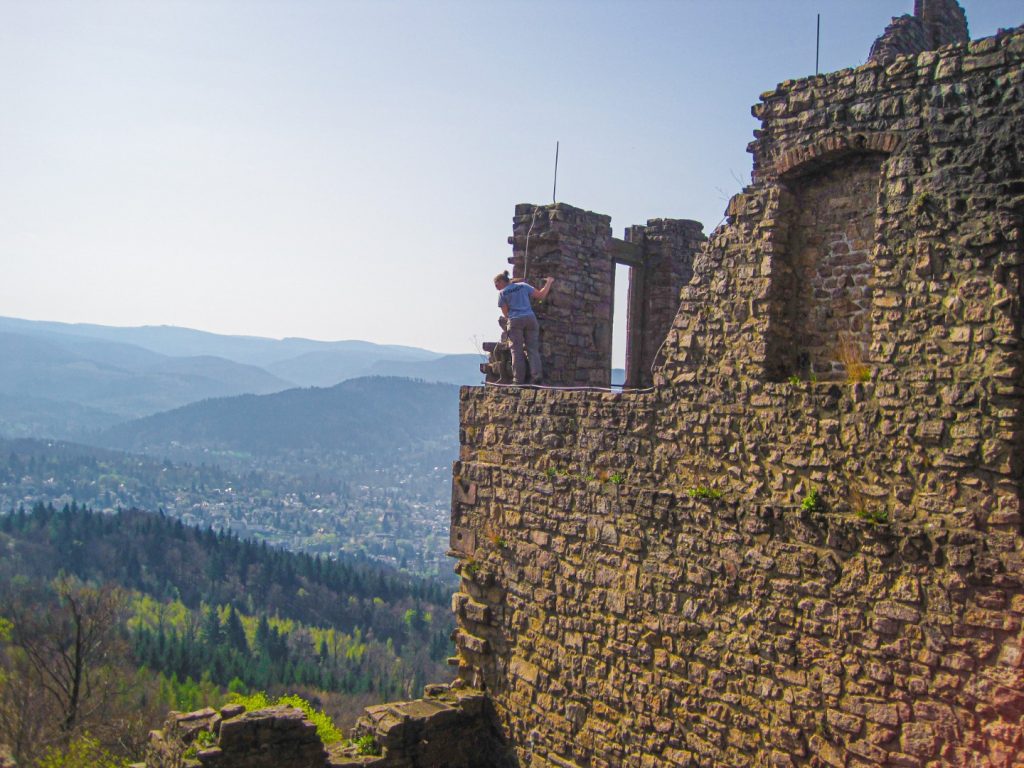 There are So Many Great Castles In Germany. While I wouldn't necessarily put the Hohenbaden Castle at the top of that list, I also wouldn't be so quick to not make it a priority of Things to Do in Baden Baden. You see, (for generalized purposes) there are 2 kinds of "castles" in Germany (ok, maybe I'd throw in a third for "Fortresses"). There are the big, beautiful, still furnished palaces. Some can even still be lived in (although by now, most are just museums) Then there are the castle ruins.
To be honest, these are the types of castles I prefer. Oftentimes, they are completely open for exploration on your own (like this one) and there is just something about the almost blank canvas of stoned walls and rooms that practically forces my imagination to take off and pretend like I can fathom what it might be like to be a Lord of a castle!
The Hohenbaden Castle is just this. It is completely free to enter and you can explore as much as it as you'd like and even climb up onto the walls that then overlook the sprawling Black Forest. There are enough walls and structures to let your imagination run wild and the views you get over the town and forest are fantastic!
Inside the castle is a unique wind harp as well (in the "Knight's Hall") in the Old Castle. I'm not exactly sure on the history of this, only that there used to be one all the way back in the 1950s. Although, the one you see today (considered to be Europe's largest windharp) is actually only about 20+ years old. As the wind blows through the 120 strings, you can close your eyes and enjoy the peaceful sounds.
Restaurants
There is a Biergarten on sight but it is only available during good weather. If the weather is nice, they will be open:
Tue. – Fri., Sat: 5:30 pm – 10:00 pm
Sundays and Holidays: 11:30 am – 10:00 pm
Hiking Near the Castle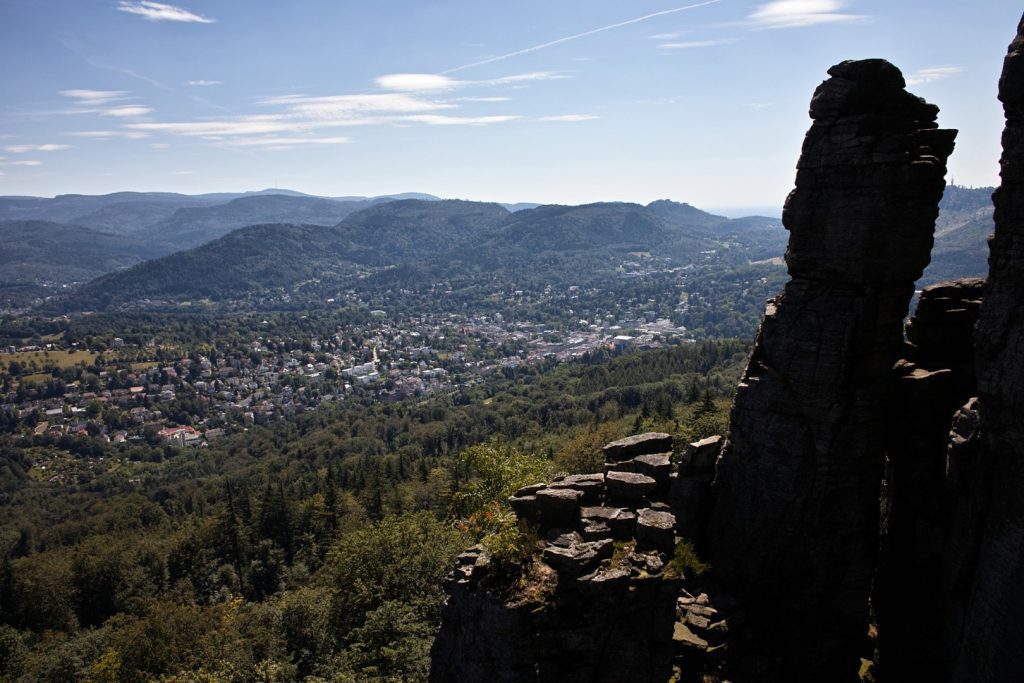 Honestly, if you've got a little bit of time, you absolutely need to do this hike after you've had some time exploring the castle itself. In fact, the views you get with this hike may be just as impressive as the castle itself! Here's how you'll do it:
Trail Name: Battert-Rundweg(Battert Roundtrip)- follow the Red Trail
Time: About 1.5- 2.5 hours
Type: Circular/ Roundtrip
Difficulty: Easy-Medium (suitable for kids but not strollers)
The first time I saw these giant "Rock Needles" and "Rock Chimneys" in Germany was at the Bastei Bridge near Dresden. Despite being just a few minutes from the town of Baden Baden, you'll feel like you are in a totally different environment and place. These rock formations are truly something you can only understand by seeing them.
These giant rocks are something like 200 million years old, created by volcanoes. Obviously, overtime, these mountains have changed drastically leaving towers of rocks upwards of about 200 feet (60 meters) tall!!! There are "rock bridges" and walls that are just insane to see.
And for you Instagrammers out there, sitting on top of one of these rock towers overlooking the Black Forest truly is pretty incredible!
Rock Climbing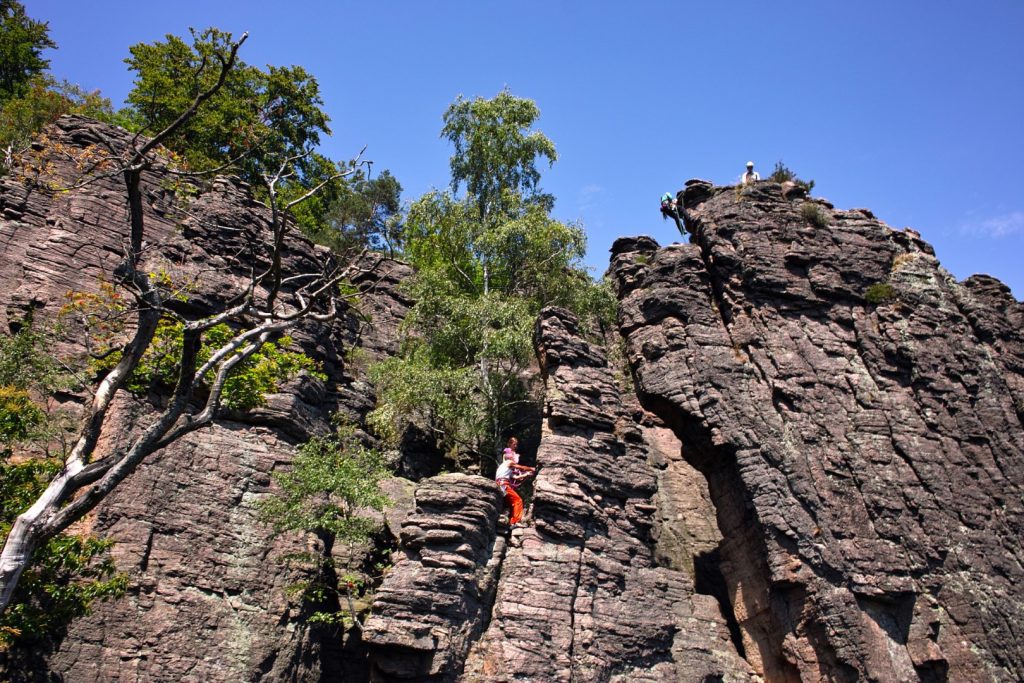 Along the trail, you may even encounter some rock climbers. Due to the geology of the rocks, you'll find several levels of varying difficulty, so if you are a rock climber, this is a fantastic place to head!
You can see the exact hiking route/map here