[This post may contain affiliate links where we earn a small commission. Please see our disclosure for more information and thank you for supporting our site so we can continue to bring you awesome content for your travel inspiration!]
Baden Baden Spa Germany and The Thermal Baths
What is more relaxing than a spa weekend getaway!?
Whether it is a girl's weekend, a couples retreat, or just a self care day, the perfect place to relax and rejuvenate is at a Baden-Baden Spa (or actually the German Spa Town of Baden Baden, which includes some of the best spas in Germany).  But with several choices, how do you know what is the Best Baden Baden Spa?
In this guide, I'll break down exactly how to enjoy the Baden Baden Spas, compare the main ones, give you tips on overcoming the German nude sauna fears, and give you suggestions on how to look and act like a local at the saunas, and more.
Never Been To a German Spa?  Read My Complete German Spa Etiquette Guide Here
You Might Also Be Interested In: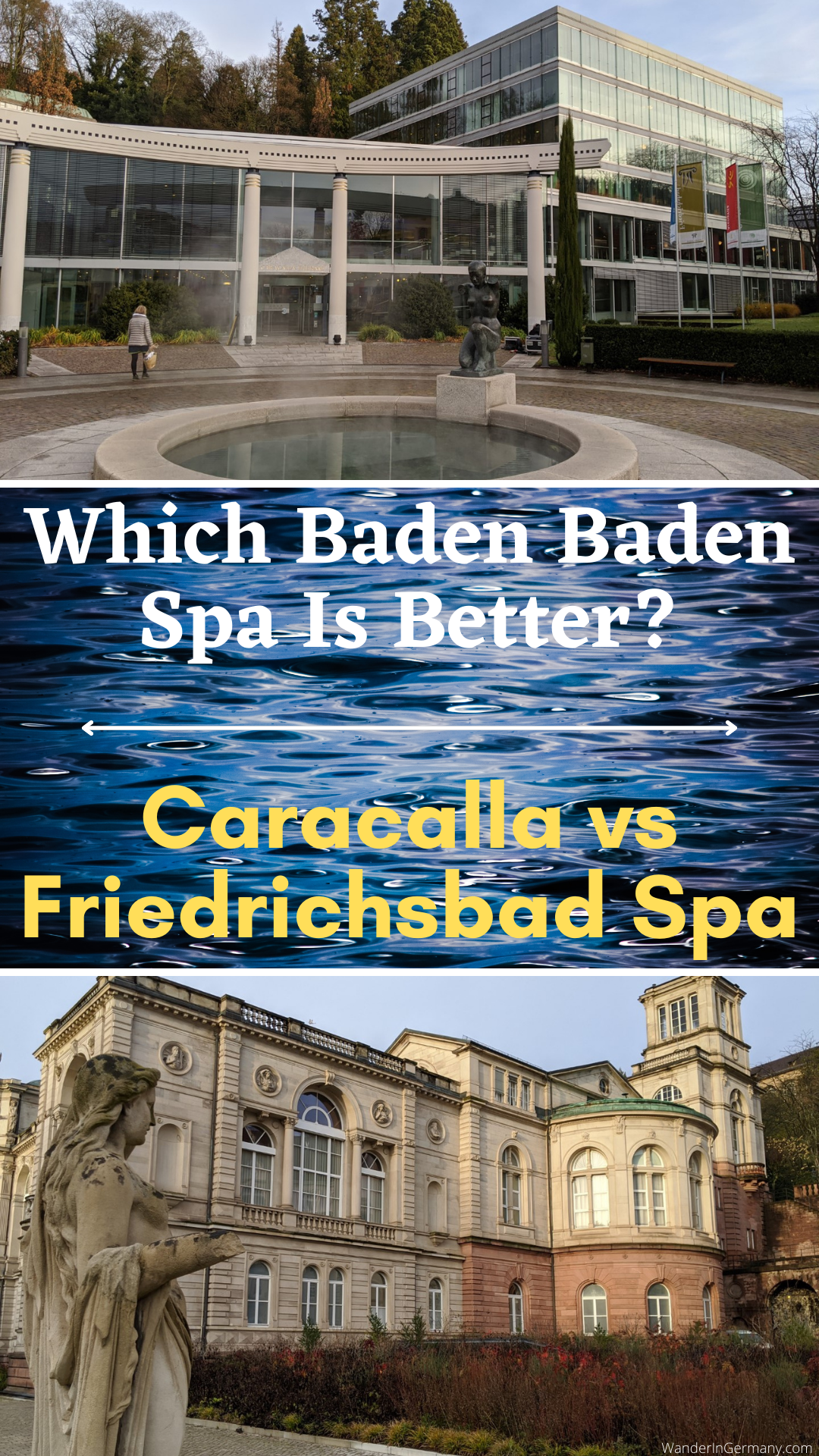 Friedrichsbad vs Caracalla Comparison At a Glance
Another thing to note on the differences between Caracalla and Friedrichsbad is that at Caracalla, you are free to roam about as you wish.  You can go to whichever pools you want and for however long in the thermal area and in the saunas, you can choose which ones to sit in at your leisure.
Alternatively, at Friedrichsbad, there is a "Circuit" that you are supposed to follow for optimal "results."  There are signs with instructions, so for example, you start out in pool one for a certain amount of time, then go to the next room for another designated period.
What Is the Best Baden Baden Spa?
I'll go into details on each spa below including exactly what to expect so that you can get a better feel for what each has to really offer.  But here is just my own personal two cents real quick:
Go To Both!!
I can't recommend a full weekend in Baden Baden enough.  Do one spa on one day and the other on the next.  You can even plan in some time to do some other things in Baden Baden in the mornings (suggestions for these things below). My Full 2 Days in Baden Baden Itinerary covers it all in detail.
However, I also totally understand if you are short on time.  If you only have one day, I still recommend doing both.  You'll just be a little more rushed and you'll want to start early.  Begin at Caracalla and spend 3-4 hours there.  Next, grab a meal at their restaurant on site.  Since Friedrichsbad is open until 10pm, this gives you a lot of time to be able to do both, so head there next for another 3-4 hours for a fun, full day of spas.
Picking Just One
If you only have a few hours and NEED to pick just one, this is all going to come down to personal taste and style.  Here are my recommendations on picking the best spa in Baden Baden if you are limited on time:
If you absolutely do not want to try the naked German Spa experience out, head to Caracalla where you can still do several saunas and steam rooms plus thermal pools all with a bathing suit on
If you like something more modern and laid back, Caracalla is also a better option
If you want a truly unique and special experience that you won't find anywhere else, Friedrichsbad is definitely the way to go!
If you like architecture, Friedrichsbad is gorgeous
Personally, I LOVE Friedrichsbad and if I HAD to choose one spa in Baden Baden to do, that would be my top pick because it is just so unique.  However, when I went with my best friend once, she said she preferred the Caracalla Spa!  So, there is no one clear winner and it will all come down to what YOU want to experience.
You'll Find In This Article:
Where Is The Baden Baden Germany Spa Town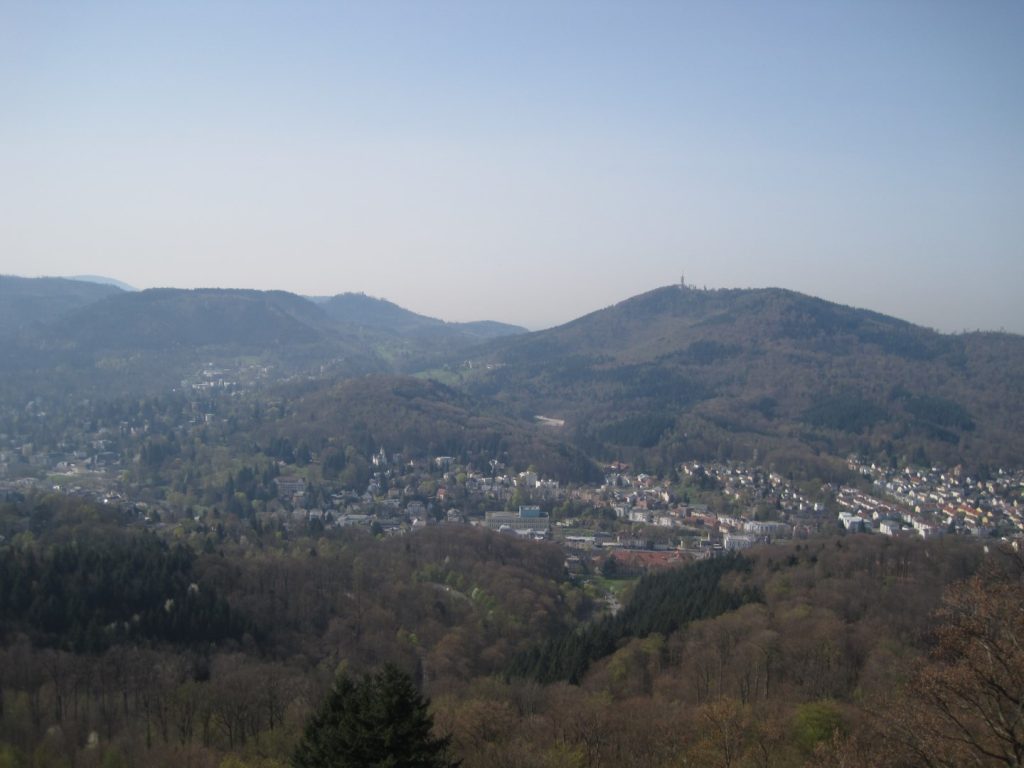 Germany is not lacking in amazingly beautiful areas, but this Black Forest Spa town, is set in a truly stunning region of Germany (but more on that below in the "Hiking In the Black Forest" section.)
The Baden Baden thermal baths and the town itself are really accessible and easy to get to.  We personally drove the easy 4(ish) hour drive from Bavaria. It's also pretty easy from other nearby cities as well:
Only about an hour from Strasbourg, France

1 Hour and 45 minutes East of Stuttgart
2.25 minutes from Frankfurt
Less than 2 hours from Ramstein Air Force Base
1.5 Hours to the Triberg Wasserfall
Driving in Germany? Read My Ultimate Guide To Driving in Germany
Baden Baden Train Station
If you are taking the incredibly easy to use Deutsche Bahn trains in Germany, the Baden Baden Bahnhof is also easily accessible.  There are plenty of routes from other major and nearby towns.  Once you arrive at the train station, right from there, just grab the 201 Bus (runs about every 10 minutes) or any bus that takes you to "Leopoldsplatz" which will take you into the city center.
Getting Around Baden Baden
If you drove, then getting around Baden Baden is obviously pretty easy.  However, even without a car, the town is still extremely walkable and has a good bus system that you can use as well.
The Two
Baden Baden Baths
Many people think there is just one thermal spa in Baden Baden, but there are actually two main ones and they are each equally amazing and worth going to both, as each offers something a little different from the other.  They are operated by the same organization and are literally right next to each other.
While there are some other spas in town (like at hotels) and thermal baths, Baden Baden has two main spas:
Caracalla Therme
Friedrichsbad  Roman Irish Bath
I'll cover a few of the lesser known spas below as well…
Baden Baden Spa Caracalla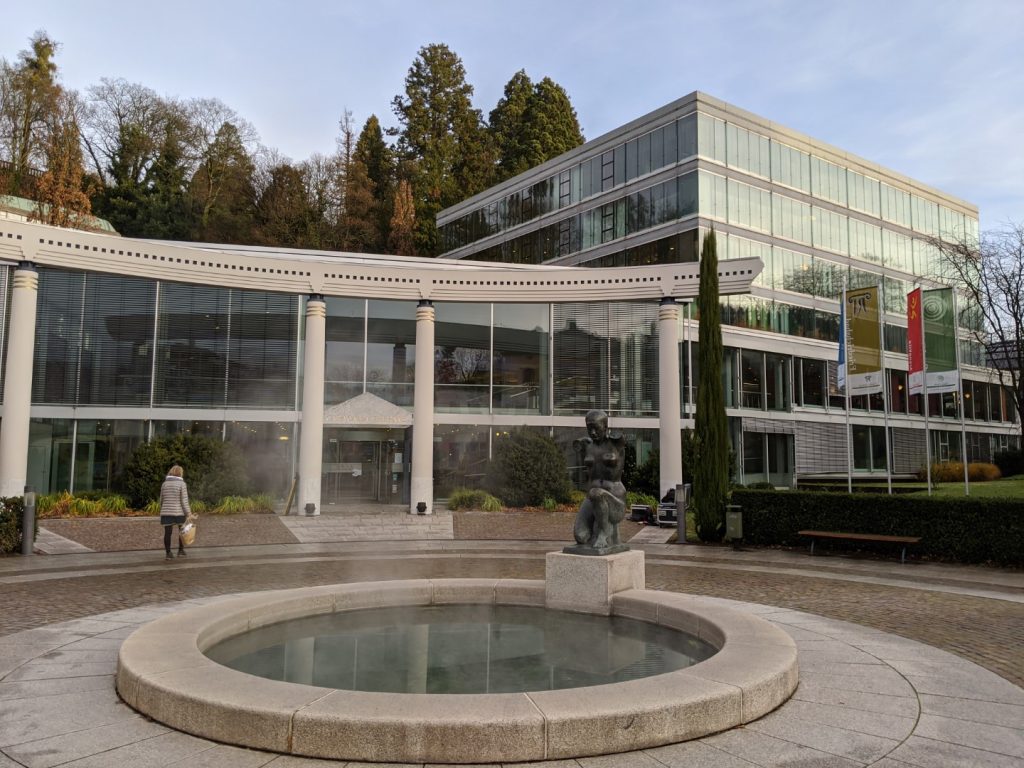 Caracalla day spa is a massive facility that holds just about any type of pampering and pool you may want.  The gorgeous turquoise and blue water at every turn instantly puts you into a hydrotherapy mood.
There are many different passes available, but we went with the day pass, as the spa is open late, until 10pm.  We knew this would give us plenty of time to soak and relax in the thermal spring waters.  You can choose to pay by the hour to use the fascilities, get a day pass, only visit the pools, just do the saunas, or do a combo, etc.  As you can see, it's quite variable.
When you enter, you can pay by cash or card and you'll get a handy-dandy wristlet.  This is not only the lock for your locker, but you can also charge food and drinks within the facility straight to your wristlet, so you don't have to worry about carrying around cash or be paranoid about your goods in the locker room!  (How has this not caught on in the States!?)
Just take your bracelet and place it on the lock and it will automatically lock and unlock it for you.  No need to carry around a key!
At the end of your stay, you'll settle up your bill as you exit the building.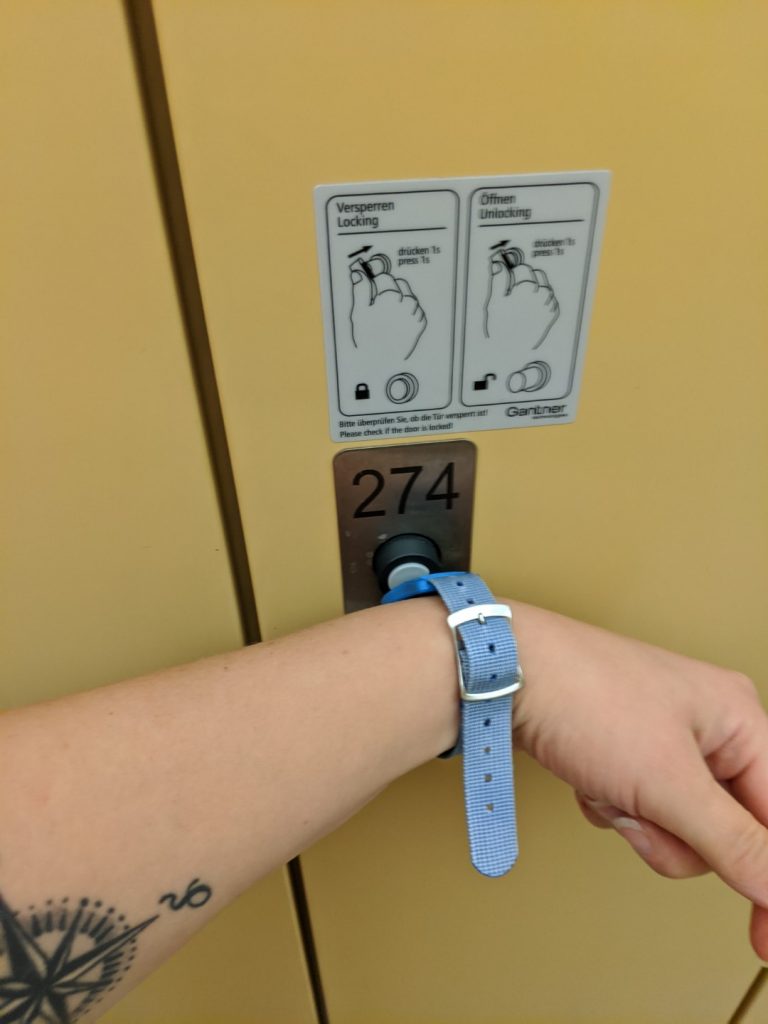 The Baden Baden Swimming Pools at Caracalla
After you get through the locker rooms, you can enter into the swimming pool area.  In here, you'll find one huge, circular pool that extends out into the outside as well as several other smaller pools of varying temperatures throughout the ground floor.  Since the pools are thermal hot springs, you can enjoy the outdoor pools all year.  There's even a beautiful grotto area inside, complete with rocks and waterfalls.
If you want a great spa day without the Baden Baden Nude Spa aspect, the entire main floor is swimsuit mandatory.  There are even several saunas and steam rooms on this level like a salt room and a lavender-infused sauna.  While you won't get the full Saunahof Experience, it is still a great way to dip your toes into the German Spa Culture while in the comfort of your swimsuit.
You can also just kick back and relax in this area as well.  There are hotbeds where you can just lounge and read or you can pay for a few minutes in a tanning bed.
Can Kids Go to the Caracalla Pool?
Kids under 6 are not allowed in the Caracalla pools.  And even if you do bring your kids, remember this isn't a swimming pool in the sense that kids go to run, romp, splash, and play.  It is still very much a quiet and relaxed atmosphere.
Caracalla
Baden Baden Sauna/ Adult Only Sauna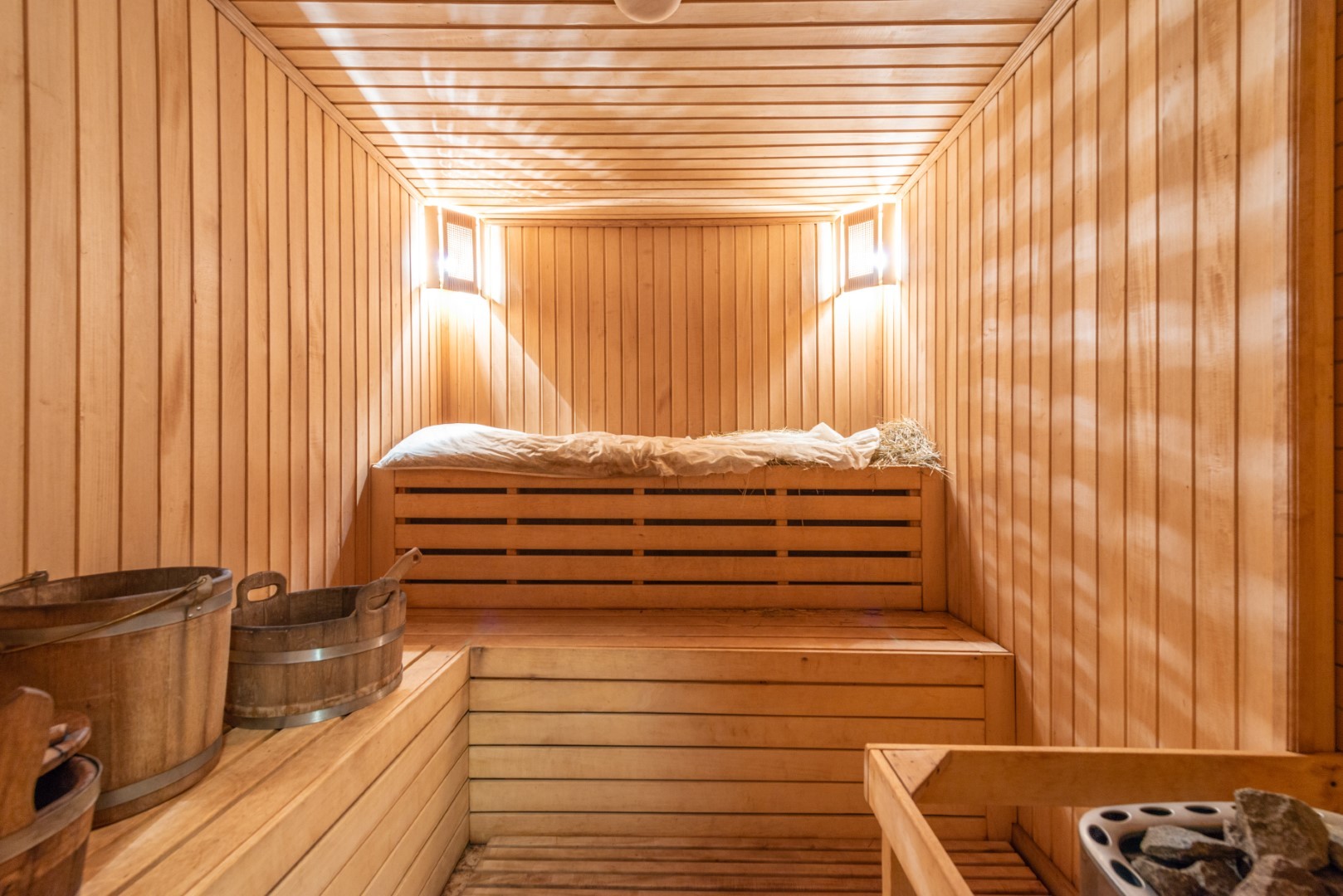 The adult only Saunahof area is not to be missed at the Baden Baden Spa. Nude is the only option in the upstairs Sauna area though.
Buff-bathing, textile-free….whatever you want to call it, we're talking about the completely NAKED portion of the Baden-Baden Spa. If this sounds terrrying, read my tips on how to overcome the fear of being naked in a spa.
You'll walk up a set of stairs and be faced with a sign that clearly states "No Bathing Suits" in all languages.  So, off go your swimsuits and on go your Birthday Suits! (I cover how to deal with the fears of the naked German sauna in my German Spa Guide as well as how to minimize skin coverage as you wander around).
In this area, you can go to a number of saunas, all of varying temperatures, head to the salt room, take a dip in the hot and cold plunge pools, sit by the foot massaging pools, and hang out in the trippy neon lit room that makes you feel like you are in another world and more.  Here is everything they have on tap:
Plunge Pools: there are freezing cold plunge pools all over the Sauna area.  I still don't fully understand the healing effects of going from sweltering hot to ridiculously cold….but supposedly there are some!  Apparently, it has to do with the way your blood vessels expand and restrict with the variation of temperatures.
The Saunas: There are so many saunas at Caracalla.
The Spectaculum: a dry sauna that gets up to 90° C (yes, that is correct- 194 Degrees Farenheit!?)

The Vitality Sauna: another crazy hot, 194

° sauna 

The Fire Sauna: A beautiful little sauna out in the garden that somehow heats it up, even more, all the way to 95

°

 C
Forest Sauna: "Cool Down'" to only 85

°

C (185

° F) out in the garden

The Aroma Sauna: Also 85

°

C and has amazingly scented aromatherapy
Meditation Sauna: If melting your face off hot doesn't sound appealing, spend your time in here (65

°

C/ 149

°F) where nature sounds help you to kick back a bit.
And of course, don't forget the famous German Aufguss, which is an intense process of heating up and humidifying a sauna room to excruciatingly insane temperatures….hey, all in the name of "health!"  They offer several different kinds of Aufguss, so make sure you check out the schedule on the boards inside and od not miss one, they are truly an interesting experience!
Relaxation Rooms: After all that sweating, you'll want some time to kick back
Sanarium

:

This

 

trippy neon lit room makes you feel like you are in another world and uses humidity instead of steam
Blue Space Room: Blue walls, quiet, soft sounds and lounge chairs makes you feel super chill
Green Room: A solarium with amazing views into the Black Forest
You could easily spend the entire day in the Saunahof!  Just get over the nude part and you are sure to have a relaxing day.
Other FAQS About the Baden-Baden Caracalla Spa
Is there a restaurant at Caracalla?
Yes.  There is a wonderful cafe inside the pool area so that you do not have to leave the facility.  They have things like sandwiches, pasta, pretzels and more.
Before paying for admission, there is also a fantastic restaurant in the atrium of Caracalla which has great, local and german food.
Can I Leave and Return Caracalla?
No.  Even if you get an all day pas, this just means that you are free to stay as long as you want but you can not leave and come back.
What Are the Current Covid Restrictions at Caracalla?
Here is the Baden Baden Coronavirus information website, including what is open, where you need tests for entry (and where to get them) and more.
Do I Need To Make Reservations for Caracalla Spa?
Typically no, however, check the official website for Covid regulations that may influence how many people can enter.
What Areas of Caracalla are Nude Only?
Just the upstairs Sauna area.  Everything on the main floor is swimsuit required.
Do I Need My Own Towel?
Yes.  Otherwise, you can pay about 6 Euro to rent one for your stay.
What are the Caracalla Baden Baden Spa Prices?
Swimming/ Bathing Pool Area Only:
1,5 hours: €

15,00
2 hours: €16,00
3 hours: €19,00
Pool and Sauna Area
1,5 hours: €

19,00
2 hours:

€20,00

3 hours:

€23,00
While this video is in German, you can visually see all the amazing different areas of the relaxing spa, pools, saunahof, and even some beauty treatments that are offered
Baden Baden Friedrichsbad Spa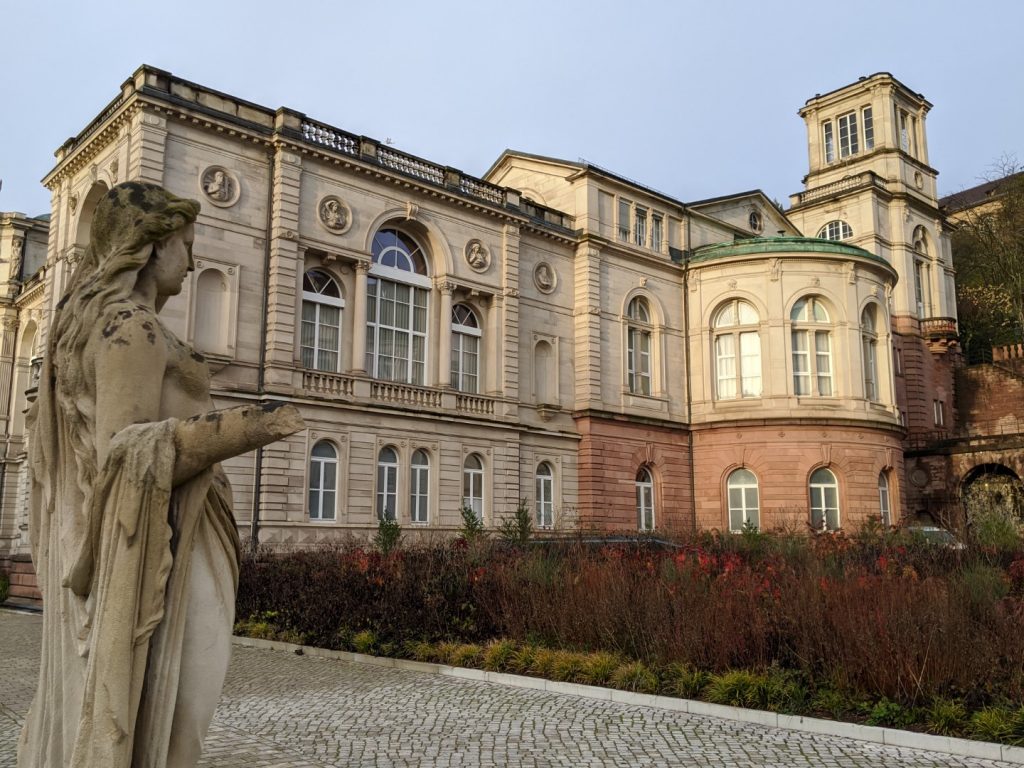 Friedbrichsbad is considered the "Baden Baden Roman Baths" since this was the location of a Roman bathhouse centuries ago that sat over the Baden Baden hot springs and the process today is still similar to what the Romans did for their bathing rituals way back when.
The Roman-Irish Baths (adult only) was unlike anything I'd experienced before.  If you go to this spa before Caracalla, then jumping head first into this all nude spa may really have you on edge.  Again, read my above German Spa Experience article (linked above) to help calm those fears.  I promise, after a few minutes, you'll realize that nobody cares about nudity.
After all, instead of looking at each other, you'll be too busy staring at all the beautiful frescoes and architecture of the building.  The overall atmosphere and sheer beauty of the old building combined with the calming baths will put you into an almost trance-like state of pure relaxation immediately!!!
17 Steps of the Friedrichsbad Baden Baden Thermal Spa
For the Roman Irish Baths in Baden Baden, there is a very intentional, 17 step sequence/ circuit of pools to go.  You go to one for a certain amount of time before moving on to the next specified one.  Granted, you can come and go to each as you wish and for however long you want, but the purpose is actually based on ancient medicinal beliefs about the healing process of thermal waters and the healing effects of the various temperatures.  You'll go through a sequence of saunas, showers, pools of varying temperatures, lie in a luxurious relaxation room and end in the reading room.
The 17 Stations:
Shower in the thermal waters
Warm Air Bath : "Bathe" in 54 Degree C (129° F) Air which slowly starts to raise your body temperature
Hot Air Bath: Body temps continue to rise as your body begins to sweat
Shower again
Soap and Brush Scrub (Optional and booked in addition): This is similar to a scrub and massage in a Turkish Bath/ Hamam where an attendant scrubs meticulously at your body while the brush "massages" your body. This creates a skin peel of sorts as well as gets your circulation flowing
Shower again
Steam Bath: Let the moist hot air from the thermal waters flow over your body
Another Steam Bath: This one gets a bit hotter, continuing to slowly raise your body temperature.  Rinse off any sweat before entering the…
Thermal Bath: This first thermal bathwater starts at 36° C (96.8° F) you begin to soak your whole body in the warm, therapeutic Baden Baden thermal spa waters
Thermal Whirlpool: These waters are just slightly cooler but the jets and swirling waters feel fantastic
Thermal Exercise Pool: This pool feels like quite an icy shock at only 28°C (82°F) but the absolutely stunning dome will feel like you are transported to Rome itself and soon the cooler waters won't bother you as much.
Thermal Showers
Cold Water Bath: Dip into the cold 18°C (64°F) waters which gets your blood pumping and skin tingling for sure!
Dry Off: Use the towels provided to dry off
Lotion Up: After all the waters and steam rooms, you'll moisturize your body with the provided lotions (avoid any Silence of the Lambs Quotes during this time in order to maintain a pure state of relaxation 😉 )
Relaxation Room: The attendants will take a warm blanket and will wrap you in a cocoon of pure blissed out quiet and relaxation to lay in an absolutely silent room (except for the faint sound of church bells off in the distance) for maximum serenity
Reading Room: Finish with a cup of hot tea with a good book or magazine overlooking the Black Forest
While all the steps are glorious, a few stations particularly stood out as extra special and truly unique, something that I've never experienced before.  The "Cold Bath Room" is breathtakingly beautiful with its huge dome.  No words in a blog can describe the tranquility and beauty of this experience.
And then the "Relaxation Room" was certainly odd/ unique.  You'll enter a large room where you'll be shown a bed-like feature to lie on.  There, an attendant will basically bundle you up, cocoon style.  I mean, we are talking full blown, tuck you in, wrapping you up as if you were a 3 month old baby ready to be swaddled.  It feels so strange having a grown adult tucking you in, but once you are fully immobilized in this tight cocoon, you'll feel miraculously calm and content! (No wonder babies love to be swaddled!!)
After all was said and done, all I know is that I sure felt cured of any exhaustion (both mental and physical) by the time we were done with it all!!!
Overall, it takes about 3 hours to go through the whole process.  You are free to go back to previous steps or stay longer than the "designated" time suggested so you can absolutely spend more time here as well.
Other FAQS About the Friedrichsbad Spa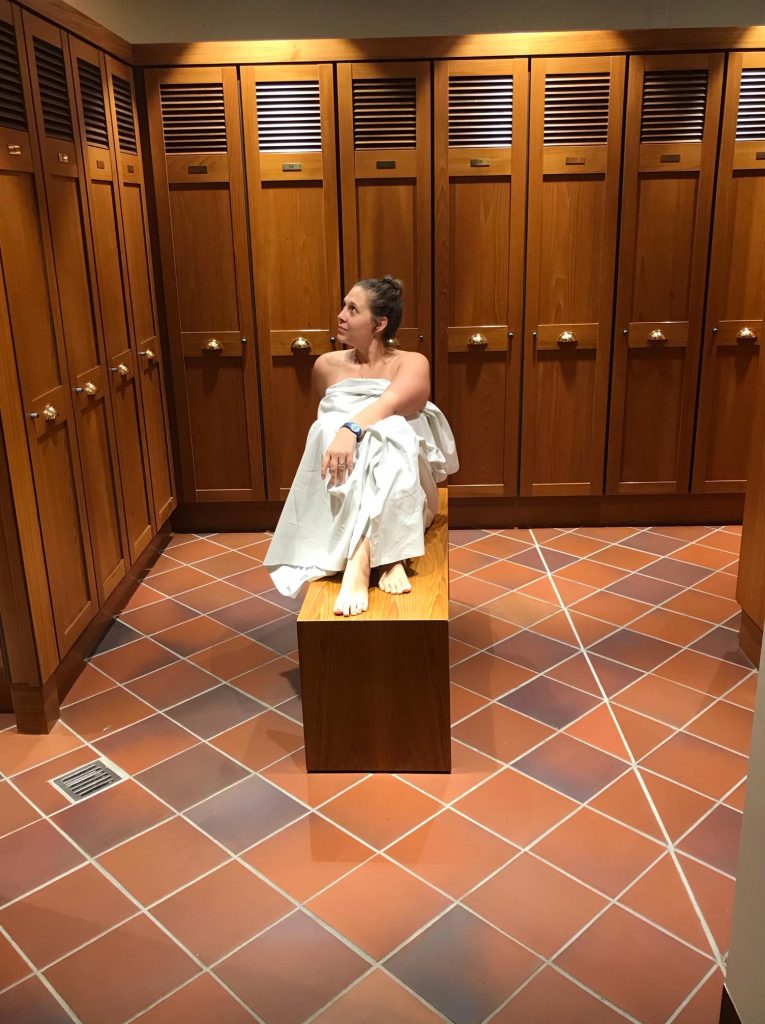 Are the thermal baths mixed or single sex?  Is there a Friedrichsbad women's day?
After the initial hesitancies, we realized nobody cared about the naked baths! Nobody was looking, and everyone was just there for one purpose: relaxation, and that was all.  However, if you still feel more comfortable not bearing all in front of the opposite sex, you can go on days where there are designated male and female rooms.
Tuesday, Wednesday, Friday, Sundays, and public holidays are mixed days (the dome room is always mixed).  There are separate rooms for males and females to maintain the separation on Mondays, Thursdays, and Saturdays. On holidays, it is always mixed gender.
Do I Need To Make Reservations for the Friedrichsbad?
Typically no, however, check the official website for Covid regulations that may influence how many people can enter.
(Note: due to Covid, Friedrichsbad has been closed- check the site for updated info)
What Areas of Friedrichsbad are Nude Only?
The entire Friedrichsbad Roman Irish Baths are nude only and naked baths.
How Old Do You Need To Be to Go to Friedrichsbad?
17 years old
Do I Need My Own Towel?
You don't need to bring a single thing! The spa provides bathing shoes, towels, blankets, and lotion.
What are the Friedrichsbad Spa Prices?
You won't pay by the hour like at most German Spas.  Instead, you have as much time as you need or want to complete the full 17 Stations.  Typically, this will take about 3-4 hours, but you can obviously speed it up a bit by not staying at each station as long, or you can choose to draw it all out and stay longer….or go back and do your favorite stations again!
Note: The baths are open Monday – Sunday from 9am – 10pm. Final admission is 2 hours before closing.
17 Station Roman Irish Bathing (No Soap and Brush Massage): €27,00
17 Station With Soap and Brush Massage: €39,00
17 Station With Soap and Brush Massage PLUS Skin Care Service: €51,00
17 Station With Soap and Bursh Massage, Skin Care Service and Meal: €61,00

Meal includes 1 meal and 1 drink at the Caracalla Spa restaurant next door.
Getting Nude at the Baden Baden Spas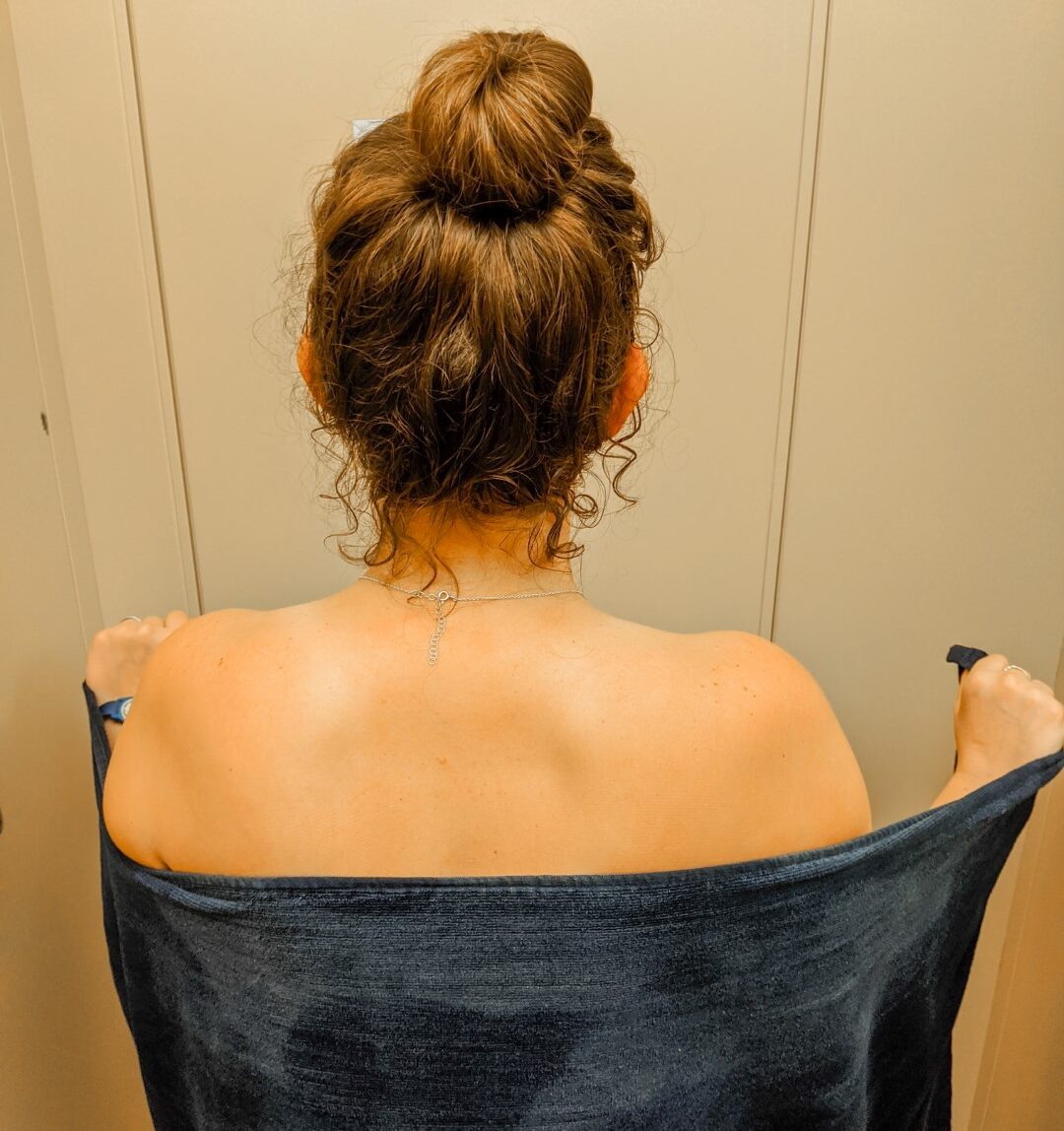 Most Westerners start out extremely hesitant about going to a nude spa.  We've been taught to believe that nakedness equals sexuality.  As a women, we've also been conditioned to believe that our bodies are flawed in some way.
But Europeans really don't see nudity in the same way.  Bodies are just that; bodies.  A breast or other private part is something that we all have, so what's the big deal about seeing one?
I have yet to meet an American that wasn't hesitant about bearing all to see.  But I also have to say that I have yet to see anyone actually go to a German Spa and end the day STILL feeling hesitant.  In fact, it's often the exact opposite!  By the end of their time in the saunas or nude baths, they are all saying, "I can't believe I was so worried about that!" As soon as you walk into the spas, nobody gave a care in the world if we were naked, fat, had moles in strange places, or had unruly hair in a variety of bodily locations.  Men and women alike roamed around from hot tub to hot tub and sauna to sauna like it was just another day at the park.
If you are still squeamish of nude spas: No matter how much someone on the internet tells you that the textile-free spas are no big deal, I get that some people are still going to be completely unsure, or even turned off by the idea.  If that's you, know that if you want to forego the pools (in the Sauna area) or plunge pools, you can wander from Sauna to Sauna or relaxation room with your towel tightly wrapped around your body the entire time.
The German Spa Culture and Etiquette
Now that we know a bit more about the Baden Baden Spas and we are slowly getting over the fears of being in our birthday suits, there are some basic "rules" or etiquette that everyone going to a German Spa needs to know.  (Again, this is all covered in my German Spa Guide, but here are a few of the basics)
Bring Your Own Towel: Use this to both cover up your body as you walk around, but also it is required to lay down the towel on the wooden benches in the saunas
Wear Pool Sandals: Wear your shoes the whole time and take them off right before entering each sauna or pool.
Don't Be Loud: Even if you go with some friends, remember to always talk in quiet voices
Shower In Between Saunas: Ideally, you'll take a freezing cold shower (they are all about that blood circulation) but if for no other reason, you'll need to rinse off the sweat for sanitary reasons before heading to the next one
Don't Stare: Your eyes will probably wander naturally, but just like you not wanting to be oogled at, have the same courtesy towards others
—————————————————————————————————————————————–
Planning a Relaxing Weekend in Baden-Baden?
Don't forget to research other cheap things to do on TripAdvisor and book affordable Hotels at Booking.com
---
Know Before You Go
There are several things that I think are handy to know before heading to the Spas, either for planning purposes or just so that you can walk in with confidence (since it IS a different experience than anything I'd ever done in the US!)
The Locker Rooms
Co-Ed
The locker rooms ARE co-ed.  However, that doesn't mean that you can't have privacy if you don't want it.  When you enter either facility, you'll enter the locker rooms after paying.  At Caracalla, in order to get to the actual lockers, you'll walk through a line of dressing rooms.
Typically, you have to go through the individual little rooms regardless to get to the other side for the entrance to the facility.  It may feel a bit like a maze, but after you go through a set of little changing rooms, just look for signs to the pools or saunas.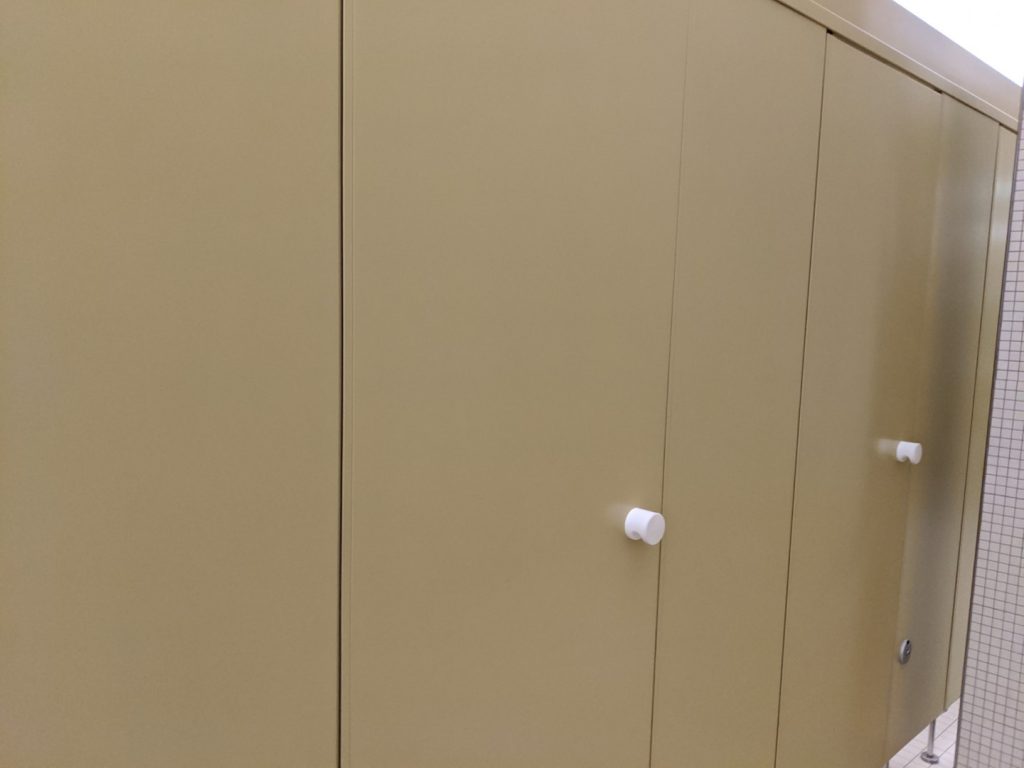 Expert Tip:  You'll lock the door at the BOTTOM with a little lever.  But be sure to check both doors, as sometimes you need to lock them individually! (Yeah, I learned that one the hard way!)
Restaurants
At the Caracalla Spa there are two restaurants open to everyone.  The first is before paying and in a general "lobby" area but has really good food (I had a fantastic goulash!) The second serves similar food but is in the pool area.
There is a third snack bar in the Sauna area where there are some munchies (meat sticks, pretzels…you know, all those stereotypical German snacks!) and juices you can choose from but not full on meals.
There is not a restaurant at the Roman Baths, but plenty of places just outside within a short walking distance to choose from.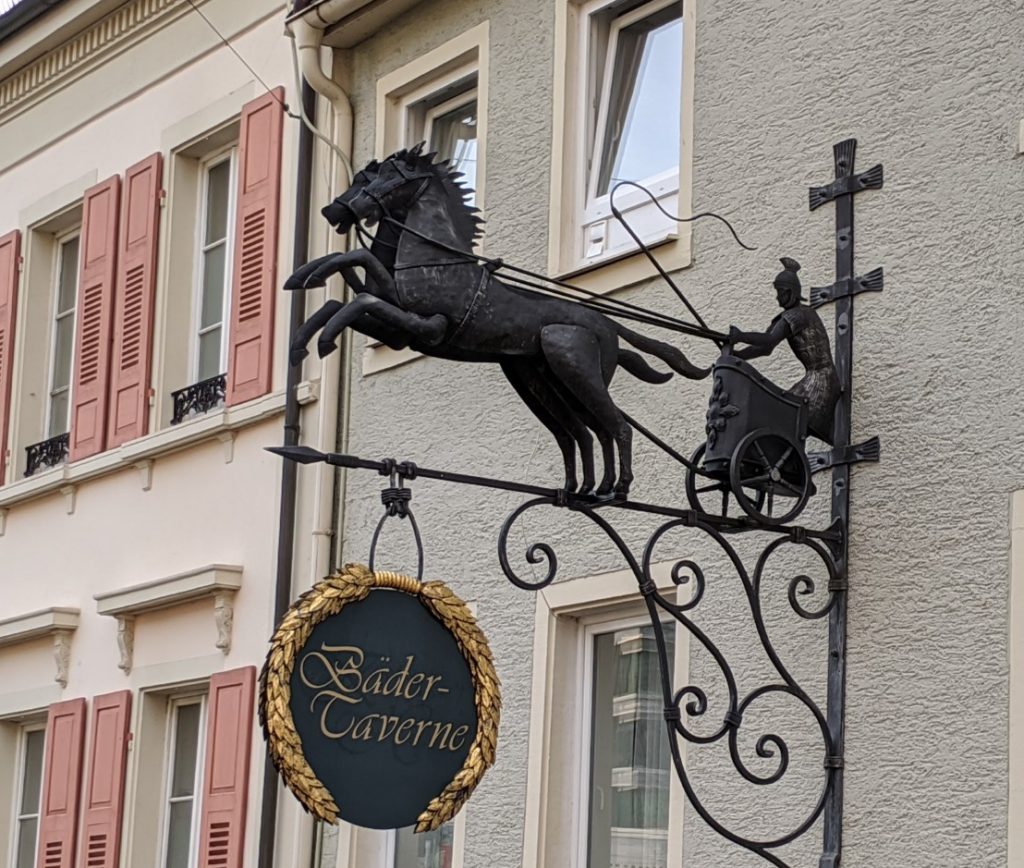 Other Spas in Baden Baden
Caracalla and Friedrichsbad are the two main and most popular spas for Baden Baden Wellness, but there are a few other locations to consider in town as well.
Salina Sea Salt Grotto Baden Baden
This isn't what most people consider a "Spa."  Instead, the Grotto utilizes the incredibly healing effects of sea salt to help relax people but also give them supposed health benefits.
You'll sit in a room that is like a cave filled with salt from the Dead Sea and Himalayas.  You'll sit back and breathe in the air, which is perfect for people with seasonal allergies, respiratory issues, and even skin conditions.  They tout that you'll leave feeling deeply relaxed, that your immune system will have gotten a huge boost and even that you'll feel more able to concentrate better!
Baden Baden Spa Hotels and Resorts
There are plenty of great Hotels in Baden Baden that I recommend.
Many people go to German Spa Towns to get the full blown spa experience, including luxurious hotels that offer spa services as well.  There are a few that are extremely popular and well known in town.
Brenner's Park Hotel and Spa
If you are wanting to have the utmost of pampering and pure luxury during your Spa weekend, then the Brenner Park Hotel is a must and is considered one of the best hotels in Baden Baden.  This "Old-world," lavish hotel is top notch and will round out your decadent time in Baden Baden.  While they do not have the actual Baden Baden thermal baths (the pools are not the spring waters) they do still have an elaborate spa area with a 500-square-metre sauna, an indoor swimming pool, the plunge pool, a private gym, and even a women only sauna.
The spa also focuses on wellness programs such as detoxification, medical treatments and even weight loss.
At the hotel is also what is considered one of Baden Baden's best restaurants as well.
If you are wanting absolute luxury on your weekend, consider a stay at Brenner's.
Click Here For Current Prices
Maison Messmer
Another very popular and lavish spa resort hotel in Baden Baden is the Maison Messmer hotel.  The spa area of this hotel is absolutely gorgeous with tiles and beautiful natural lighting. They also have an indoor pool, foot baths, steam baths, saunas, relaxation rooms and more.  They also offer standard beauty treatment services and a gym as well.
Click Here For Current Prices to the Dorint Hotel Maison Messmer
Baden Baden Things To Do (Other Than The Spas)
If you are wondering what to do in Baden Baden other than the spas, there are still several things to do and explore.  It's well worth spending the whole weekend in town and doing some exploring.
You can read my full list of Best Things To Do in Baden-Baden or here are a few of the most popular things to add onto your spa day or weekend.
Roman Bath Ruins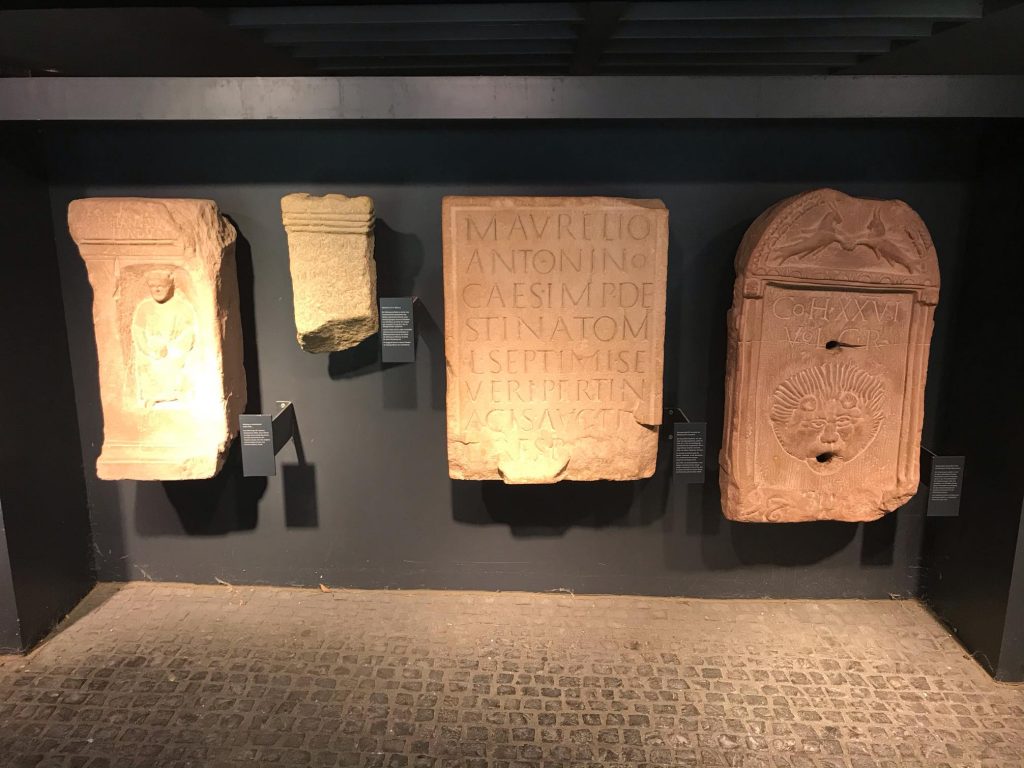 Underneath the Friedrichsbad Spa are actual excavation sites from the original, ancient Roman Baths.  There isn't a TON to see here, but it's fun to walk passed and look around, especially on your way from one spa to the other.
Baden Baden Old Town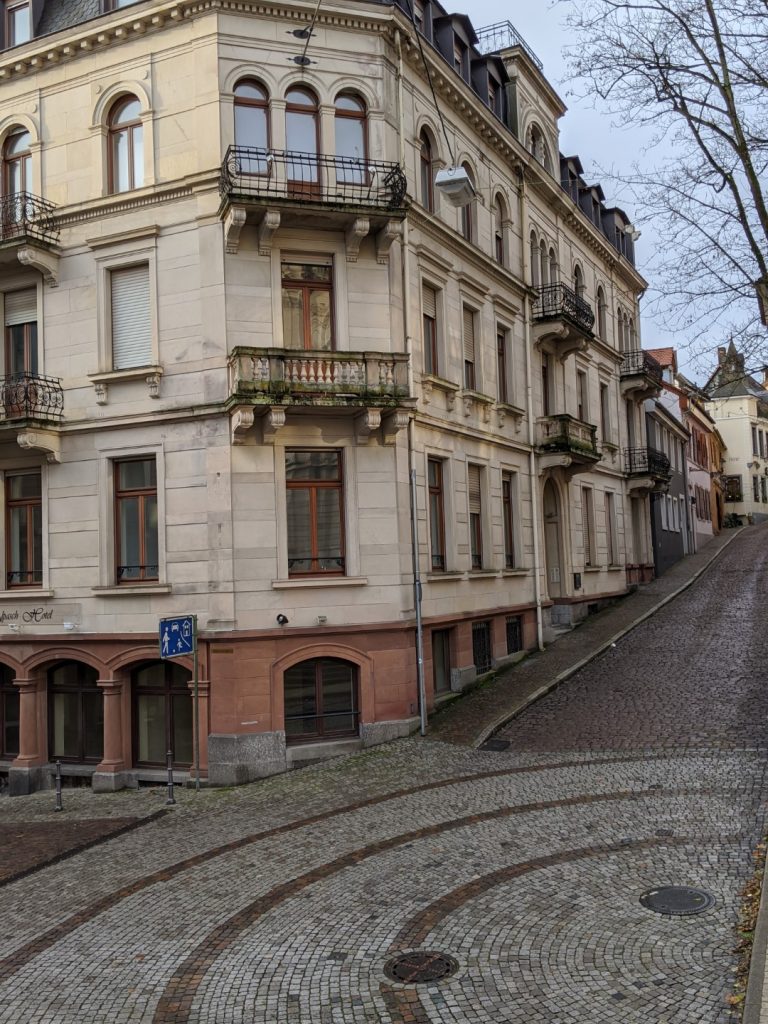 This charming Baroque styled town is perfect just for wandering around, taking in the picturesque buildings, and doing some window shopping at all the little antique and jewelry shops.  Stop in at any of the numerous art galleries or pause at a café to enjoy your time.
Hiking In the Black Forest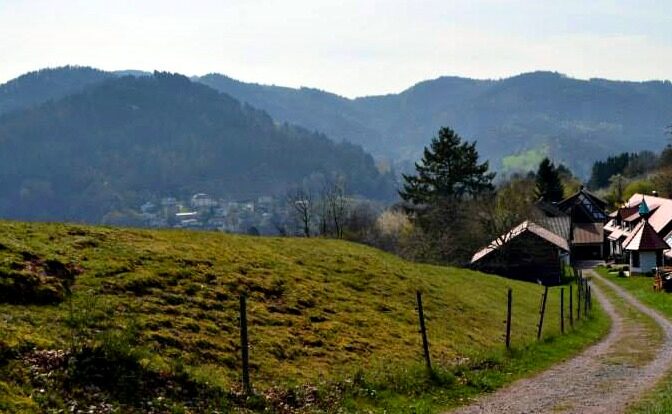 We put on our hiking shoes and went to the Merker BergBahn.  We actually didn't take the train car up, but instead followed the signs for the "Wanderweg" (hiking/ walking trails) and spent the morning exploring by foot.
While not hiking in a strenuous, mountainous location, it was absolutely beautiful and stunning to hike in the famous Black Forest.  It was so peaceful to be in the middle of nature, smell the pines and dirt paths and start our weekend focused on our own health and well-being, both physically and mentally.
Hohenbaden Castle
Despite having lived in Germany for several years already, one might think that I'd be castled out.  However, I have always had a weak spot for the beautiful, old, ruined castles that are intact just enough that I can still climb all over and then use my imagination to envision life as it was hundreds of years ago.
The Altes Schloss (old castle)/ Hohenbaden Castle is the perfect place to do just this as the castle is stable enough to walk around on, climb the towers, and peer out over the simply stunning panoramic views of the Black Forest. You can read exactly how to get there (by car, hiking, or public transportation), how long to spend, what to do at the top, and even a fantastic easy hike you can't miss all on my Guide to Hohenbaden Castle.
Looking For Other Amazing Castles to Visit in Germany?  Here are My Top 15 Favorite Ones
Baden Baden Casino
Depending on your length of stay and interests, many people love to go to the Spielbank, Baden-Baden's famous casino.  Even if you are not into gambling, it is still worth a look inside at the beautiful building.
Frieder Burda Museum
If you love artwork, don't miss the classical modern and contemporary art museum.  With over 1,000 pieces of work, including those of Andy Warhol and Pablo Picasso, there is plenty to see and appreciate here.
Geroldsau Waterfall (Wasserfall)
About 15 minutes south of town is a beautiful little waterfall.  A short little walk from a pullout on the road will lead you down to the Grobbach Creek where you'll find the tranquil Geroldsauer waterfall (also known as the Geroldsau).
Trinkhalle
In town, there is the beautiful collonade, which was built in 1839 where original spa attendees would go and actually drink the mineral spring waters, which many people believe to have therapeutic effects.  Today, you can see beautiful mural paintings and stunning columns.
Next door is the Kurhaus, which was once the main spa building and today can still be seen amongst a beautiful garden.
See Other Top Places and Where To Eat In Baden Baden On Trip Advisor Here
Baden Baden Hotels and Where To Stay
There are plenty of hotels in Baden Baden, Germany all within a wide variety of budget options.  This is, by no means, and exhaustive list.  Check out TripAdvisor or Booking.com to see all the different hotels in Baden Baden.
Just an FYI, Baden Baden is one of the few towns in Germany to have an additional city tax of €3.50 per night.  Technically, it is called a "Kurtax" and is sometimes found in other spa towns as well.  Sometimes, it's not fully disclosed, but just don't be surprised when you see it on your final bill.
Luxury Baden Badden Spa Hotels
Brenners Park Hotel and Spa: If you are wanting to have the utmost of pampering during your Spa weekend, then the Brenner Park Hotel is a must and is considered one of the best hotels in Baden Baden.  This "Old-world," luxury hotel is top notch and will round out your decadent time in Baden Baden.  Click Here For Current Prices
Dorint Hotel Maison Messmer:  This is another posh hotel that actually has it's own spa, sauna, and steam room it the hotel itself. Click Here For Current Prices
Midrange Hotels
There are abundant mid-range budget Baden Baden accommodation options.  In fact, way too many to list here.  However, with a few filters on Trip Advisor or Booking, you'll be able to narrow down a few really great rated and affordable places.
Budget Hotels
Holiday Inn Express: Since we use points and miles to Travel Hack as much as possible, when there was a points deal at the Holiday Inn that would only cost me $15 a night, I booked it immediately!!  However, even without points deals, Holiday Inn is a really affordable place to stay in a spa town and this particular one was a REALLY nice hotel! Click Here For Current Prices
Again, there are TONS of great hotel and pension options in the budget range, so just have a gander and pick which one looks most appealing to you.
Hostels
Werner-Dietz Jugendherberge: This hostel is a steal of a deal for anyone looking to stay at a Baden Baden hostel.  There are mostly dorm style rooms and shared bathrooms, but for €22.50/night (which includes breakfast!) that isn't too shabby!
Click Here To Search Booking.Com For the Best Prices on the Best Hotels in Baden Baden Germany
Whether you choose to spend all day at the spas, take some time for nature or take your chances at the casino, you are bound to leave Baden-Baden relaxed and rejuvenated (that is, unless you lose big at Black Jack!).