[This post may contain affiliate links where we earn a small commission. Please see our disclosure for more information and thank you for supporting our site so we can continue to bring you awesome content for your travel inspiration!]
I have called Bavaria home for years now. There are plenty of reasons to visit Germany but there is just something about this corner of the country that has stolen my heart. So, naturally, I'm a bit biased when it comes to recommending what to do in Germany and why everyone NEEDS to visit Bavaria.
Planning a Trip to Germany? Join Our Fantastic Traveling in Bavaria Facebook Group!
A Culture Of Its Own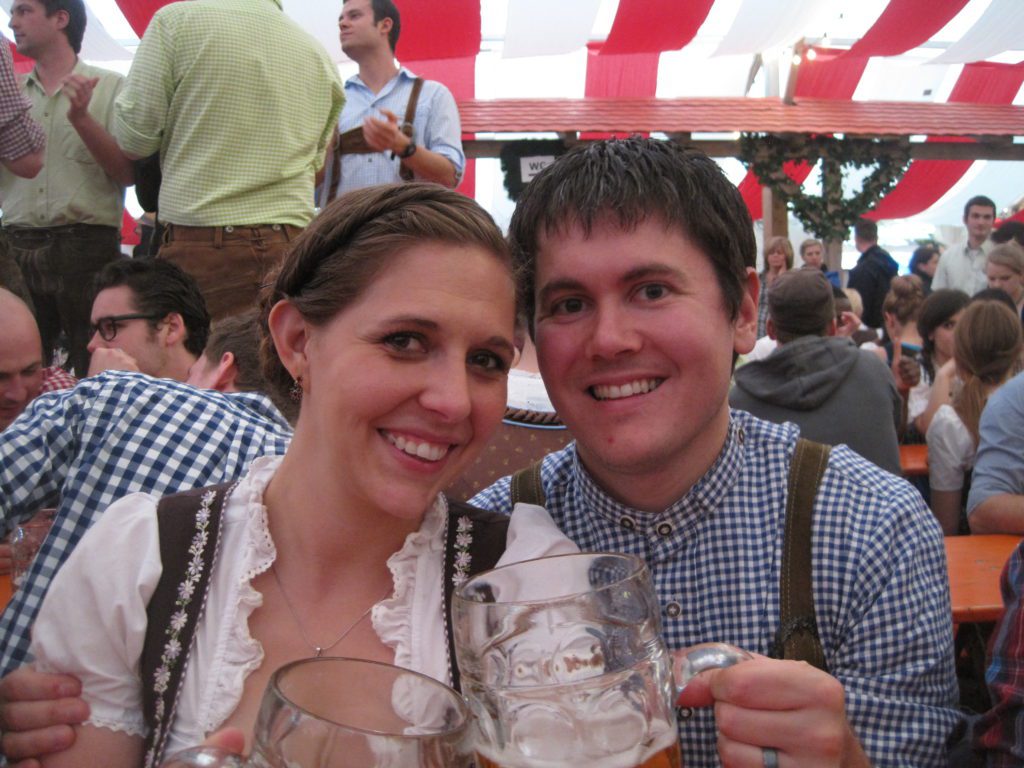 Bavaria is described as being the "Texas of Germany."
Meaning, Bavarians often consider themselves Bavarians before Germans. It once was it's own free state before it became a part of Germany and because of that, there are some pretty unique cultural differences in Bavaria compared to the rest of the country.
And, just like a Texan will don his cowboy hat and cowboy boots proudly, Lederhosen and Dirndls are not just some over-exaggerated stereotypes in Germany. No, it's a common outfit, particularly during fest seasons! I'll never forget my first autumn in Germany seeing the elderly of the town just walking around in their Trachten like it was no big deal!
Local Life
One of my favorite parts about travel is just slowing down and enjoying the local life, and Bavaria is great at that. In many towns, stores close by about 8pm and are also not open on Sundays. It gives everyone a chance to take a pause and put things like family first. Bavarians work hard, but also play hard. Head to any lake and you'll see them out enjoying some sunbathing, possibly swimming (pending summer temps), and more.
Find the local parks, like Munich's English Gardens, where local life is in full swing. Find an off the beaten path beer garden and sit with the locals just enjoying their afternoon or duck into a small cafe to enjoy a cappucino. Stop to people watch and stop to truly enjoy your time in Bavaria.
Geography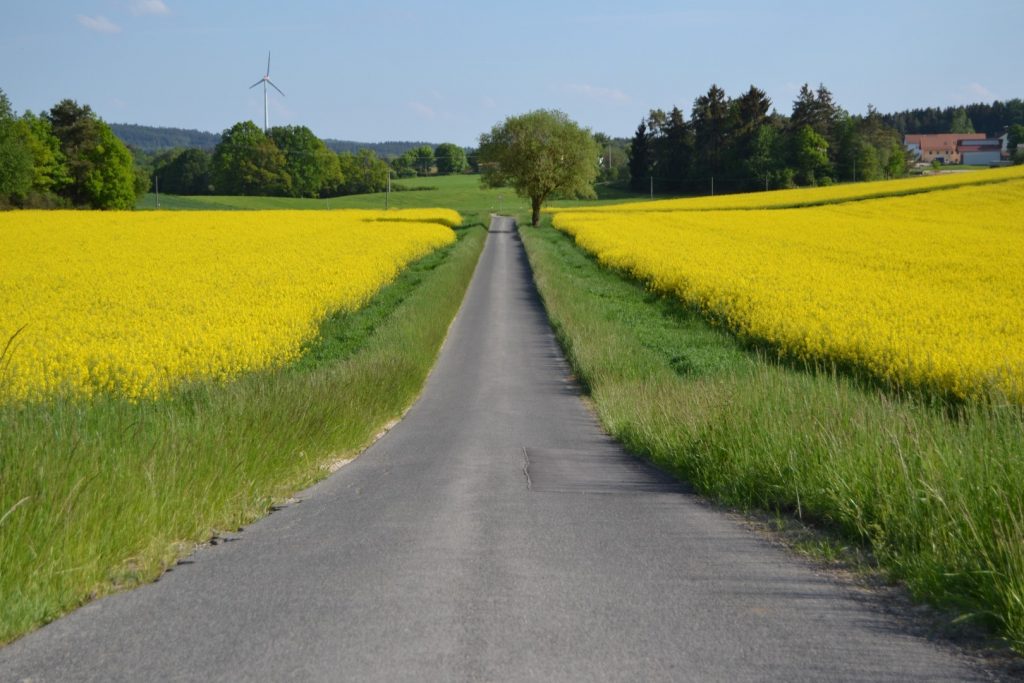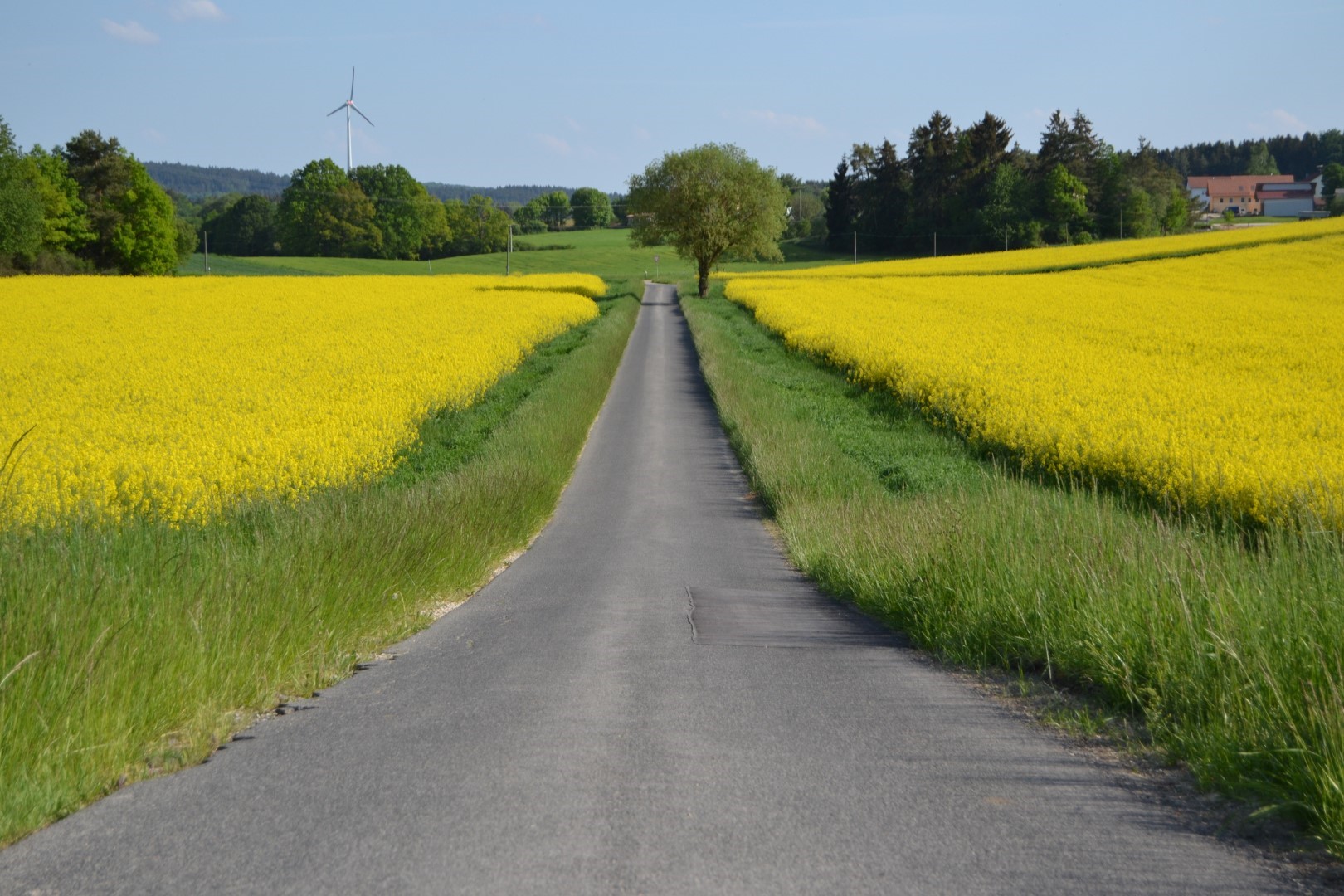 One of my absolute favorite reasons for visiting Bavaria is the diverse Geography. In just one small state of Germany, you can find
Mountains
Rolling countryside
Farmland
Cities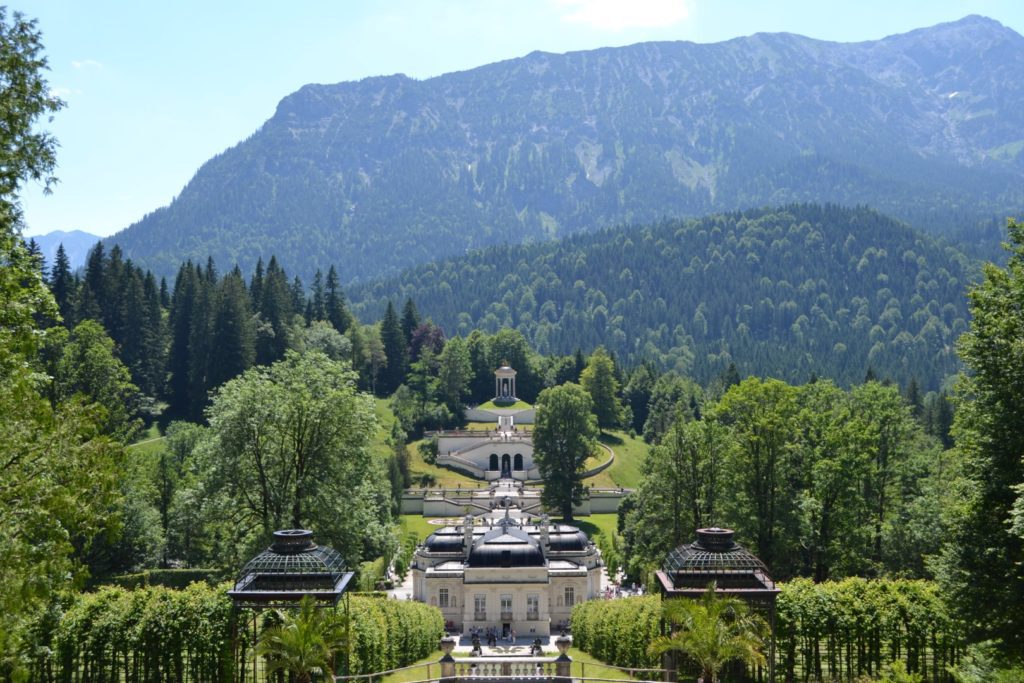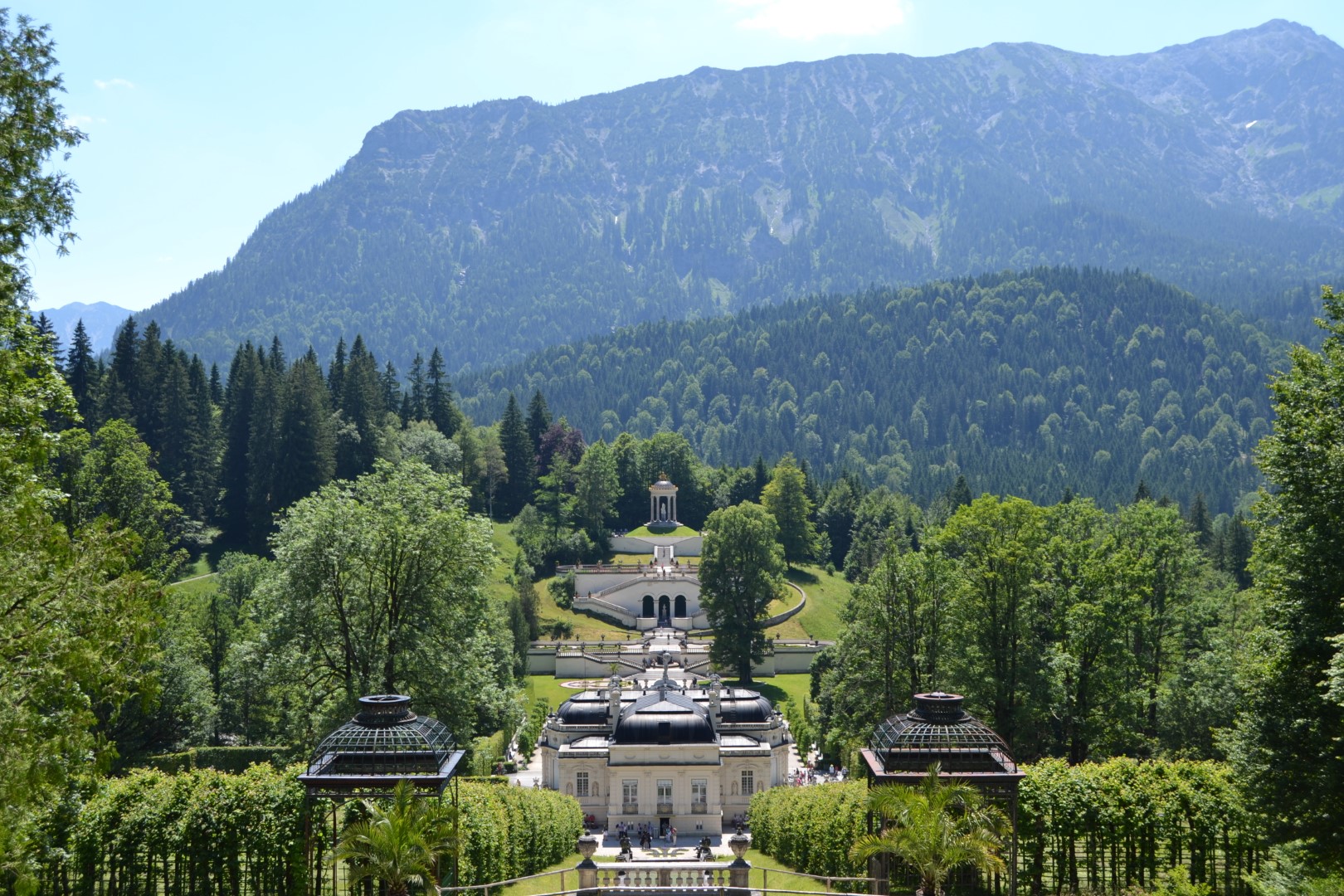 The tallest mountain in Germany is found in Bavaria at the Zugspitze, near Garmisch in the Bavarian Alps. But whether you are looking for a day of great skiing or some Alpine hikes, there is no shortages of fantastic places to go to in Bavaria to find stunning Alpine views.
Alternatively, if you can take a drive through the German countryside, you are in for a real treat. I personally think that the fall is the best time to visit Bavaria, one reason being when Autumn puts on a full show. My second favorite season is Spring, particularly May when the canola fields burst into blinding shades of yellows. As you twist and turn in the rolling farm fields and wind around small villages you'll be blown away by its beauty.
Beer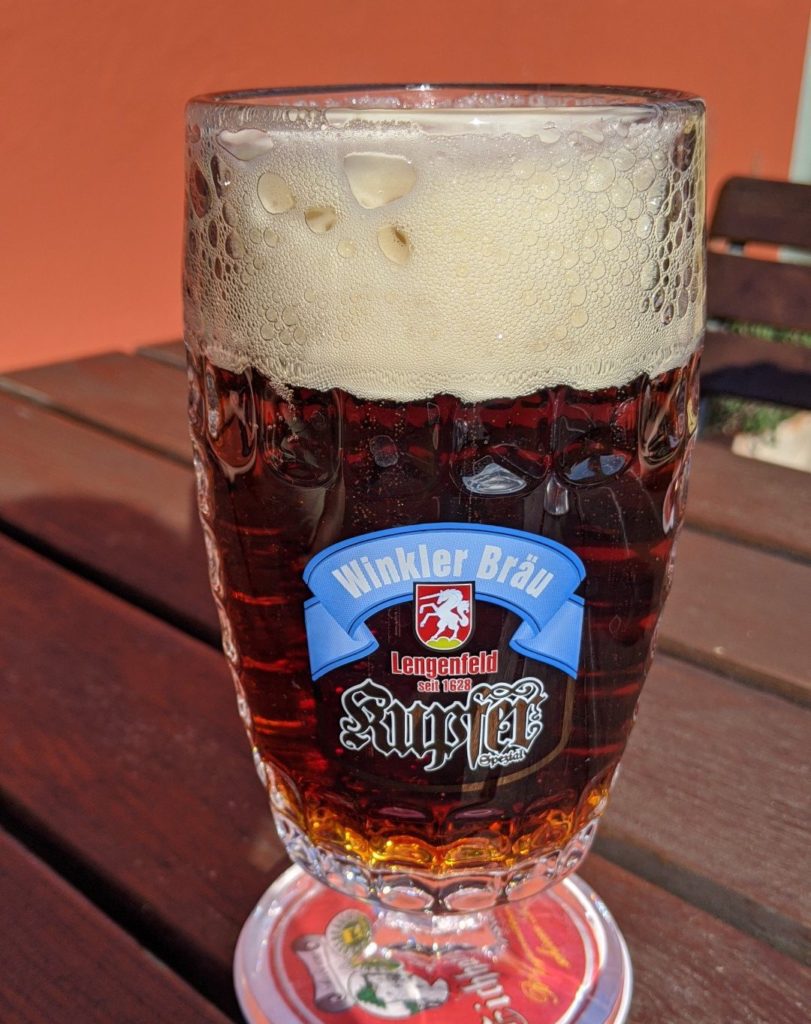 When you think of Germany, you often think, "Beer!" But, Bavaria put the standards on the map as to what a true German beer should be comprised of when they implemented the "Beer purity law" or "Reinheitsgebot" back in the 1500s. And guess what? In Bavaria, they still follow the strict rules today that a beer will only be allowed to have three ingredients:
Water
Barley
Hops
Yup, that's it!!! No hip microbreweries with odd flavors. Just the classics like Helles, Dunkel, Heffeweissen, and occasionally a Pilsner. Beer is such an engrained part of Bavarian culture that many counties actually have their own breweries and distribute only locally.
That means you get the freshest beer! If you are traveling in Bavaria, I highly recommend going away from big brands like Pauliner and Hofbrau because while there is absolutely nothing wrong with that, you'll probably really enjoy the local beer a lot more!
And then there's the town of Bamberg, which has taken beer making to a whole new level!!! Bamberg has one of the highest breweries per capita and even has the famous "Raucherbier" or "Smoked beer" Yes, beer…that is smoked! (It's definitely an acquired taste!)
Wine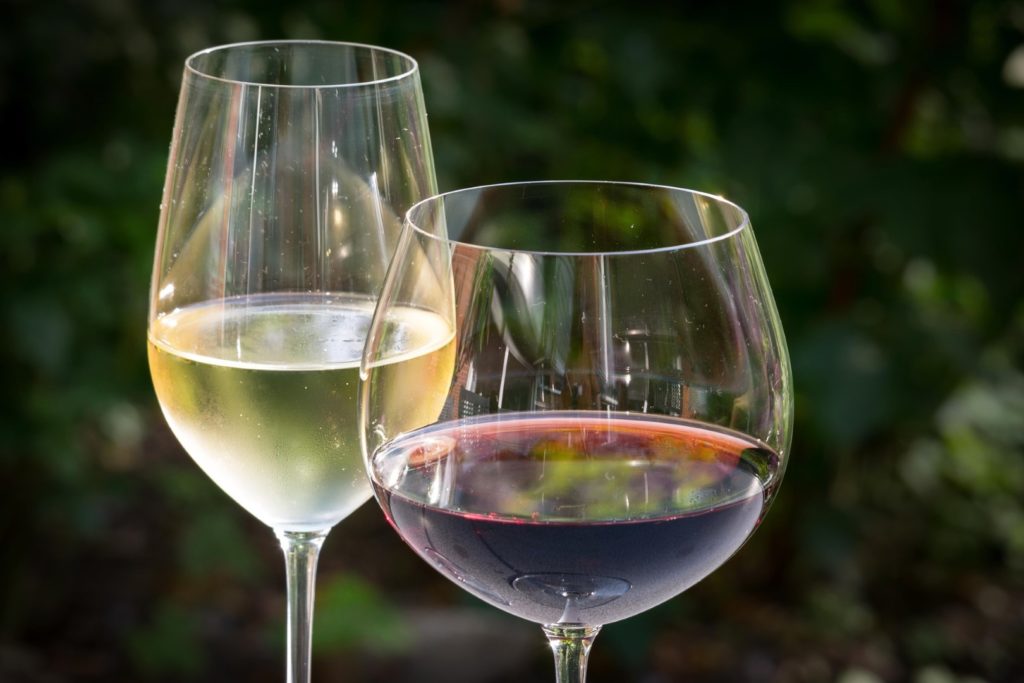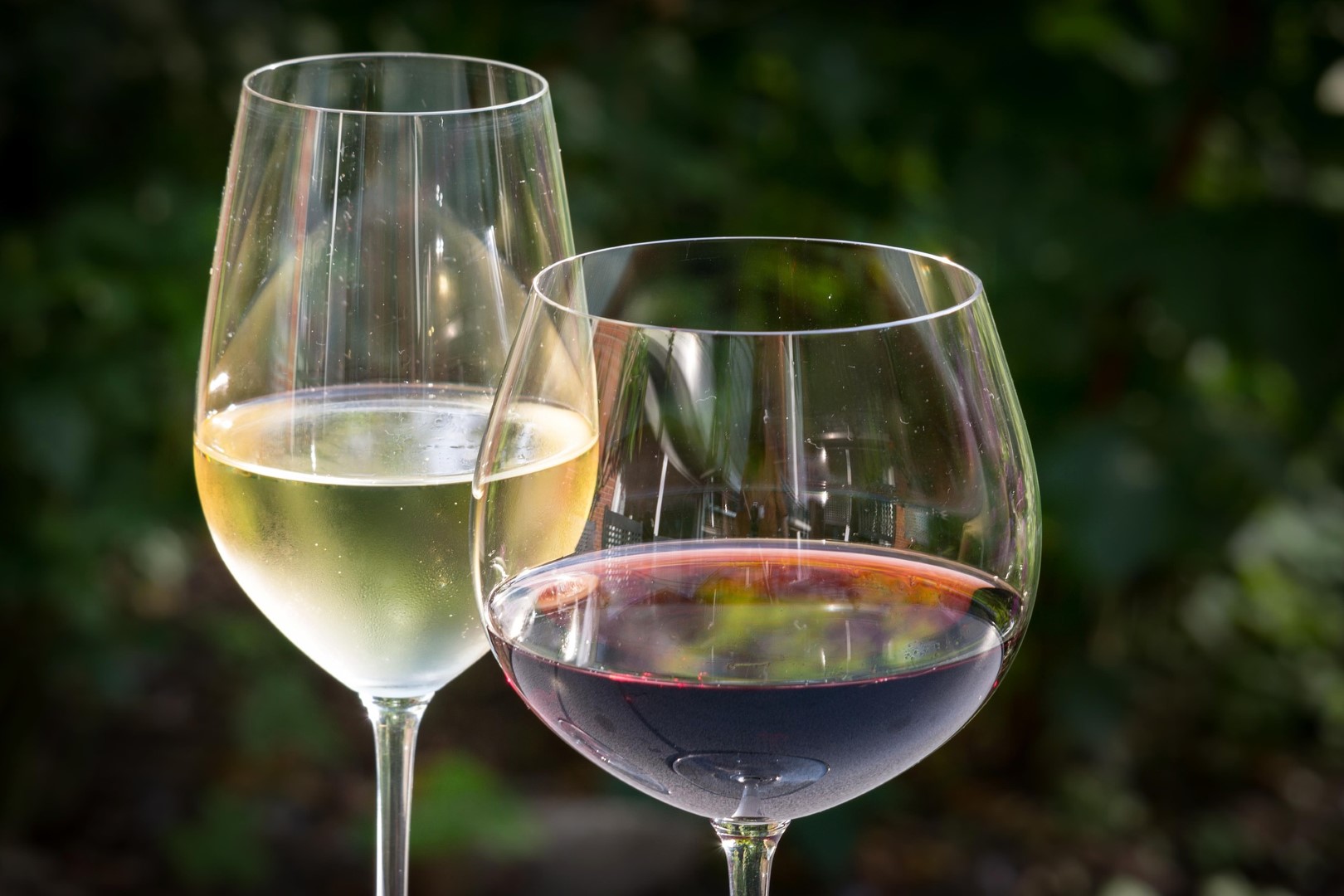 Oh, you thought Germany was just all about beer? Nein!!!
While other parts of Germany may have a bit more wine notoriety (the Mosel valley for example is renowned for its Rieseling), don't skimp on the vino quite so fast in Bavaria.
Parts of the Germany region of Franconia lie on the borders of Bavaria and here you can find spectacular white wines. While you are probably familiar with the popular Reisling, don't forget to keep your eyes peeled for the following Franconian wines to really get a flavor of the land and specialties! Some of these wines you typically can't even find outside of this region of Germany.
White Wines to Look For From Bavaria (Franconian Region):
Müller-Thurgau
Silvaner
Bacchus
Riesling
Kerner Weißer
Burgunder
Scheurebe
Red Wines to try from Franconia
Domina
Spätburgunder
Dornfelder (This is my absolute favorite German red wine! Slightly sweet and perfect for sipping!)
Regent
Schwarzriesling
Picturesque Towns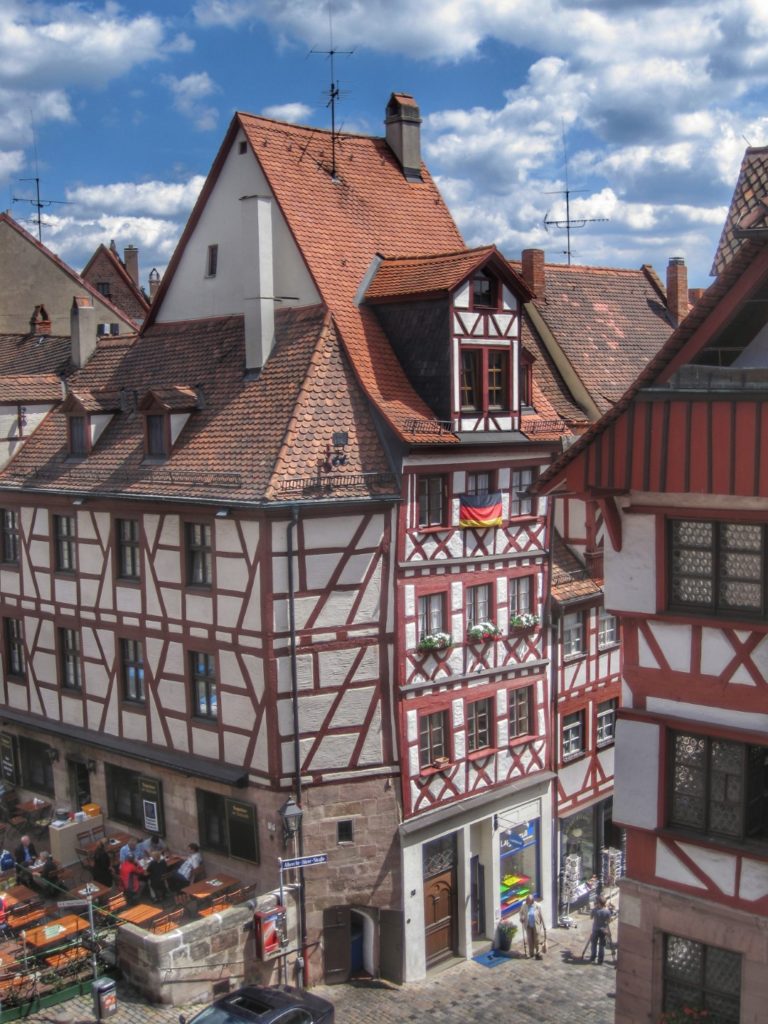 Germany as a whole is no stranger to fairytale looking towns. But Bavaria holds some truly stunning picture-perfect villages (Here's my list of Beautiful German Towns to visit, many which are right here in Bavaria). Whether they are
Nestled in the rolling hills,
Sitting at the foot of mountains
Dotted with latticed homes or
Mave painted murals throughout the village
Bavaria's towns are charming, captivating, cozy, and are a treat to photograph or just wander taking in the beauty.
Fests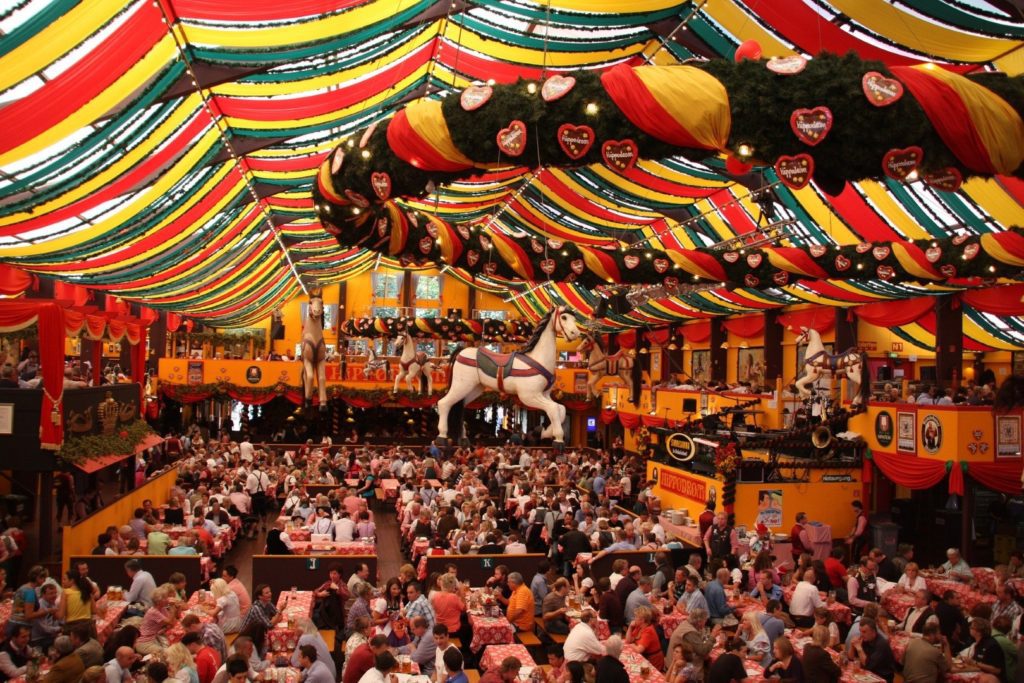 You can't go to Bavaria and NOT find some sort of festival!! Sure, Oktoberfest is Bavaria's (ok, the world's) most famous beer festival, but just about every Bavarian town, big or small, has its own fest each year as well. They all have huge beer tents, delectable foods, fun rides, and amazing times to be had. Here are 23 Festivals in Germany Other Than Oktoberfest throughout the whole year.
And if you aren't into the beer fests, have no fear. There are plenty of other fests to make memories at:
Head to the Alps for an annual Almabtrieb, which is one of the most unique festivals I've ever been to when the "cows come home" for the winter from the high mountain tops
Slay the dragon at the Medieval Drachenstich Festival (Dragon Slaying Fest)
While not a fest, enjoy a Christmas market in the wintertime.
Find a music festival with classic oompah bands
Go back in time to an authentic Rennaissance festival
While not in Bavaria, another fantastic fest to go to in the fall is the World's Largest Pumpkin Festival (near Stuttgart)
Your possibilities are endless and they don't all need to require chugging liters of beer!
Beer Halls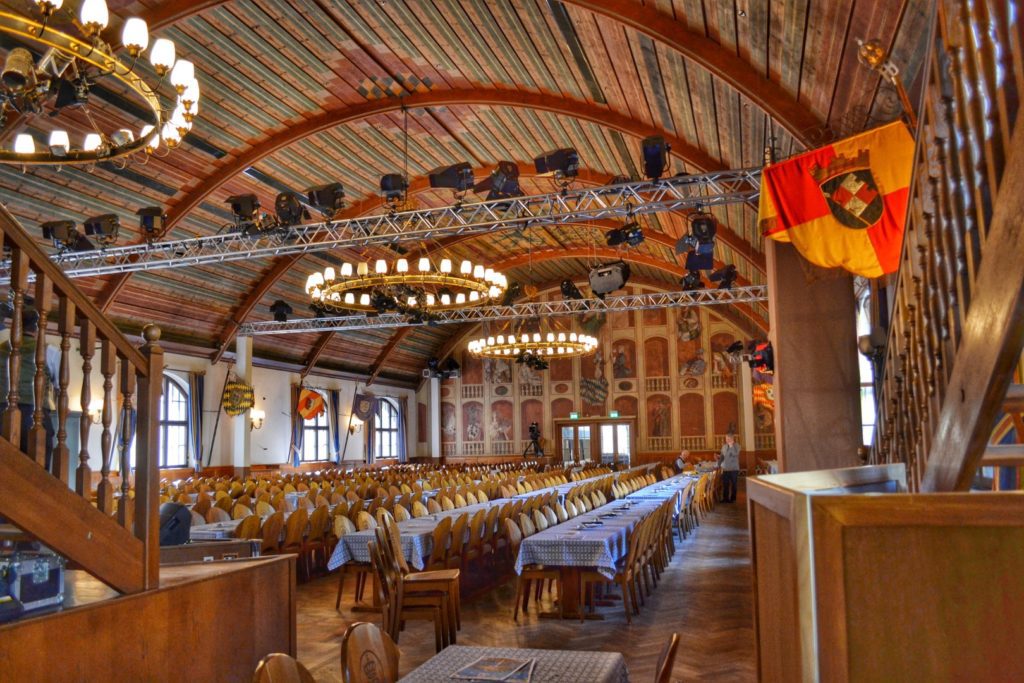 But speaking of beer, if that IS your thing, then you absolutely HAVE to go to a classic Bavarian beer hall. While the most famous is, no doubt, the Hofbrauhaus in Munich, in my Munich Itinerary I suggest a much more local alternative.
Now, if you want to know a little secret of mine, one of my absolute favorite, hands down, beer halls isn't actually in Bavaria at all (shh). I have literally made day trips just to go to this beer hall. The food is sooo good, the beer insanely fresh and the Gemutlichkeit (cozy atmosphere) perfect. The Augustiener Brau in Salzburg will always be one of my favorite beer halls. And while it's not IN Bavaria (Ok, it's not even in Germany!) you CAN get to it (Salzburg) on the Bayern Train Ticket!!! From Munich to Salzburg on the Bayern ticket, it's only about 1.5 hours.
Fresh Spetzi
Alcohol isn't everyone's jam, so Germany has another interesting drink that can come in a Maß as well! Spetzi is a cola and orange soda mix. Don't knock it 'till you try it.
It tastes like diabetes in a bottle from so much sugar from the two drinks mixed together but It. Is. Delicious!
But here is where Bavaria stands out. You can get Spetzi all over Germany (Mezzo Mix is a popular bottle found at stores), but you'll often find it being locally made in Bavaria. Sometimes breweries will even do batches and, just like beer, there is something about a fresh Spetzi that is so refreshing!
Food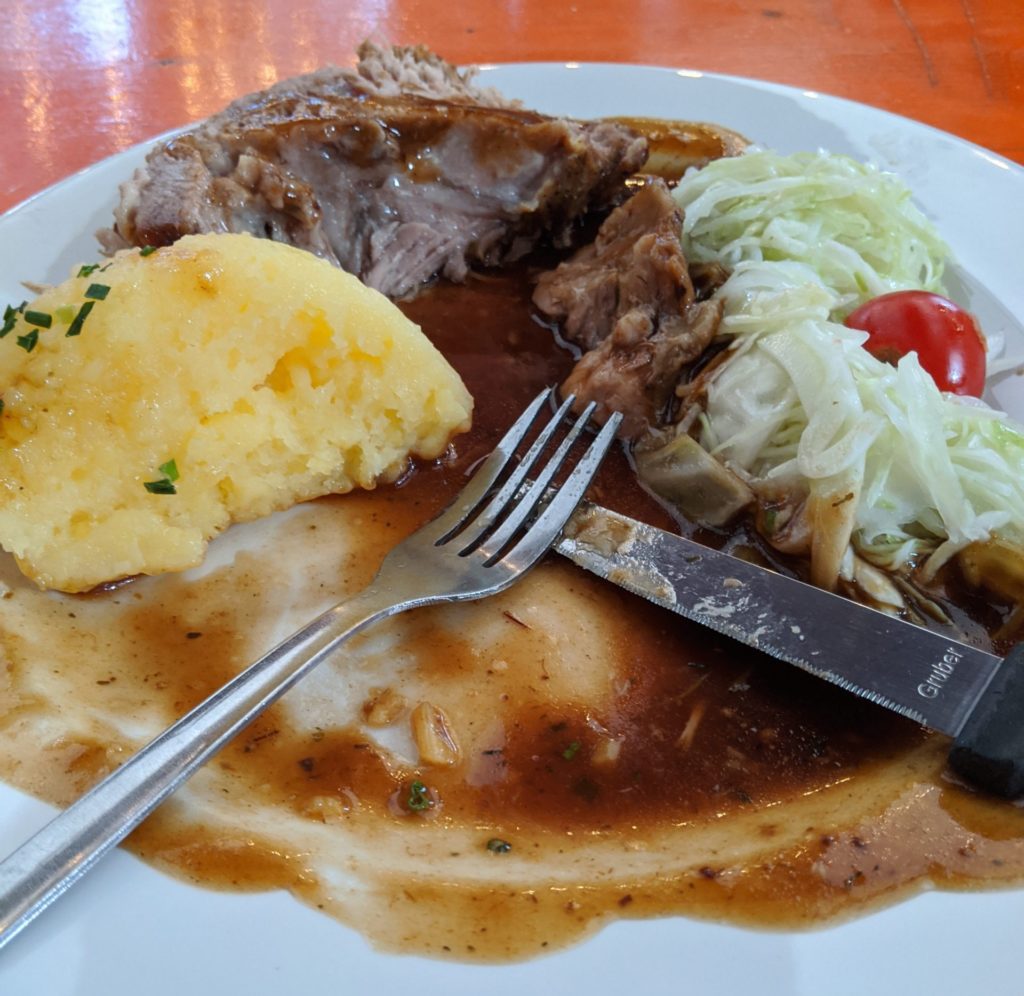 How have we not even mentioned food yet!? I hear SO many times from people coming to visit that they "don't really like German food"
Uuuh ….what!?
The problem is, they think it's just a bunch of dense meats and sausages that is then swished down by liquid bread. While they aren't wrong that that DOES exist in Germany, they have yet to be opened up to the whole culinary world of German delicacies. I can't even describe how amazing Bavarian food is in this small section, so you'll have to read all of my Favorite, Authentic Foods You MUST Try In Bavaria and Germany here.
But, to give a glimpse into some Bavarian foods NOT to be missed, here are some of my all-time favorites that originated in Bavaria or are extremely popular in the region:
Obatzda: A favorite beer garden food. A mix of creamy cheeses with some paprika. Grab your giant pretzel and dig in!
Maultaschen: Move over ravioli, there's a new pasta in town. This comes from the Swabian region (which overlaps with Bavaria)
Kasespaetzle: While not Bavarian, it's hard to miss this famous German dish at most Bavarian restaurants. Think "gourmet mac and cheese" but better!'
Schweinebraten: Roasted pork with the perfect gravy on top, typically with some sort of dumpling on the side to make sure no drop of gravy goes uneaten
Shupfnudeln: Oh….my….God. These "finger dumplings" are so freaking delicious. There are several varieties, but one of the most classic is the sauerkraut with bacon.
Damfnudeln: This sweet roll oddly doesn't have a lot of flavor, but when you add things like a vanilla custard or cherry sauce on top, it becomes quite the treat
Kaiserschmarrn: This lightly fried "pancake" is another great treat with a variety of flavors and multiple ways to eat it (chocolate drizzled, with fruit, etc)
Weisswursts: Sure, you'll find sausages all over Germany, but you can't get any more traditional Bavarian than a Weisswurst breakfast. Slather on some sweet mustard and wash it down with a hefeweissen beer (yes, for breakfast) and you'll look like a true local!
The Germany Disney Castle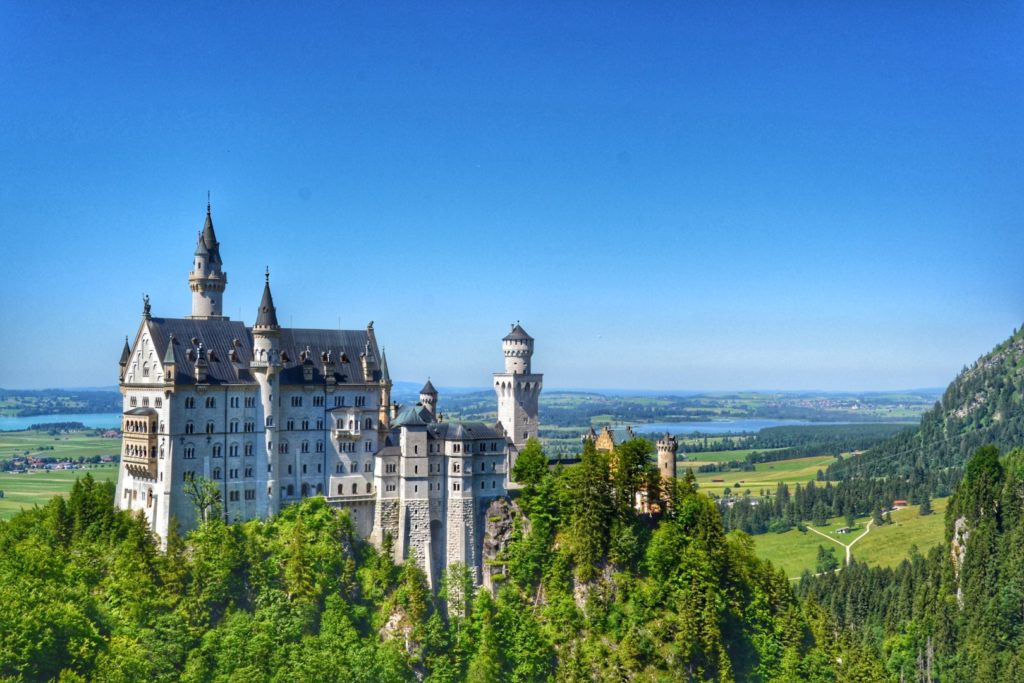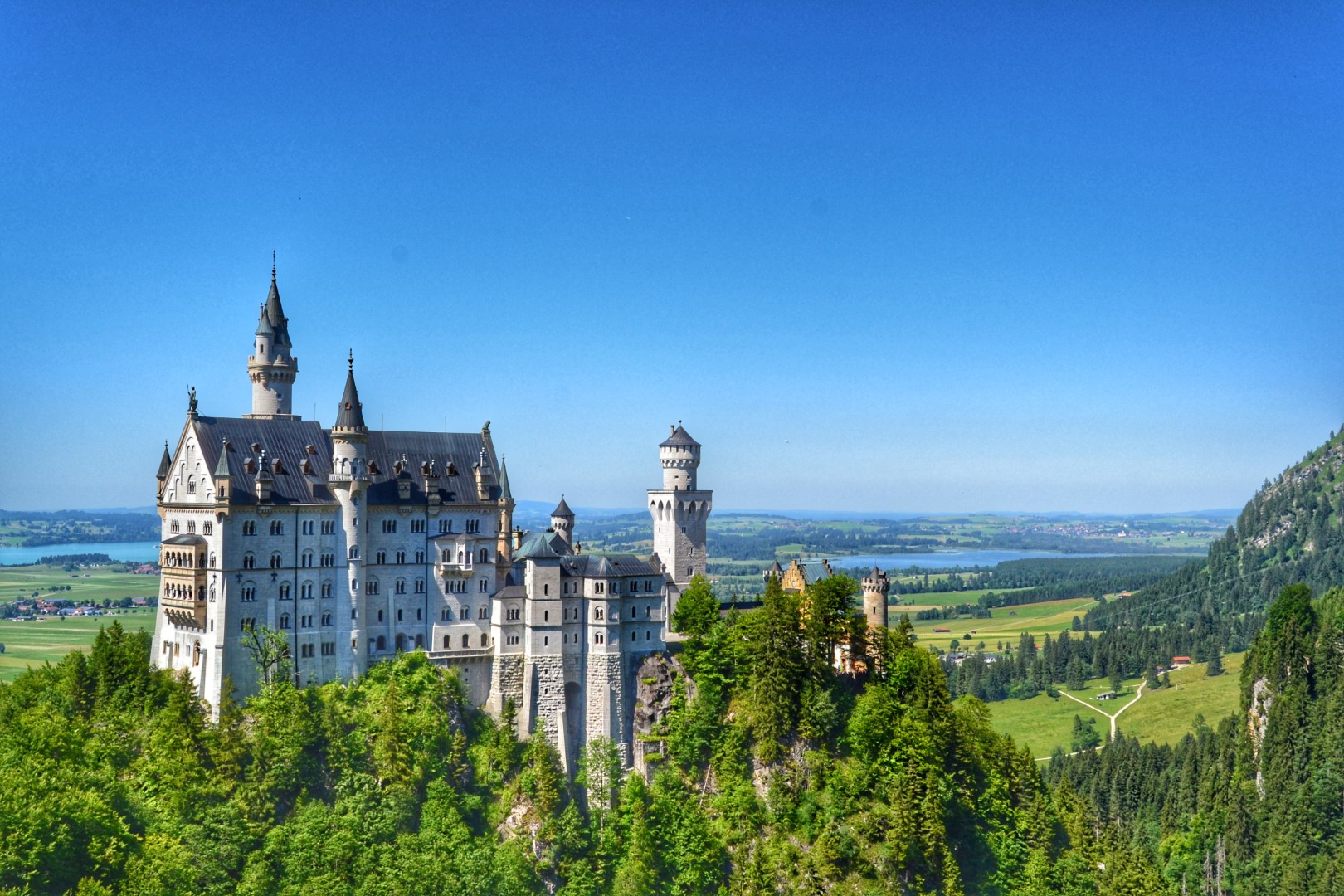 People often say that the stunning Neuschwanstein in the Bavarian alps is the "Real Disney Castle." Some say it is the inspiration for the Disney Castle at the theme parks, others say it was Sleeping Beauty's castle. Whichever princess gets a claim to it, one thing is sure, this castle is breathtaking! (Read My Complete Neuschwanstein Guide Here, including how to get to it, what to skip, and when to go)
But the reality is, there are MANY German castles in Bavaria. Some are in various states of ruin, allowing you to use your imagination to a time gone by, others are grand palaces still fitted with elaborate furniture and treasures. But they are all hard to drive by without wanting to stop for some further exploration!
Cobblestoned Streets
Again, while cobblestones are not exclusive to Bavaria (or Germany), if you love those quaint cobblestoned streets, you are sure to find them in most Bavarian towns! They add to the alluring charm of many villages and give you this true European vibe. Granted, they can be a pain with travel strollers, but dang are they cute! (Keep reading for my top suggestions on places with picturesque cobblestone streets to visit in Bavaria)
Celebrations
Luckily for tourists, many traditions can still be found with fests. That means that by attending a festival, you will most likely see a side of Germany that is steeped in years of tradition. From the Trachten (Lederhosen and Dirndl outfits) or "Whipcrackers" performing to even just the way that they all do a "Prost!" (Cheers) with their beers, there is a tradition in it all.
Of course, there are so many other fantastic traditions to be on the lookout for. Some of my favorites are:
May Poles (Maibaum): Look up and around and you'll see the Maibaum (often decorated in the Blue and White Bavarian colors). For weeks before May 1st, the special pole has been guarded carefully by the young men of the town as to not have it "stolen" by nearby towns. If it does just so happen to get "taken" then the village must invite the other village over on May 1st for beer and festivities to "get it back." It's probably not shocking that there is often a parade, dancing, music, and fun times to be had by all!
Catholic Holidays: Bavaria is an extremely Catholic state. I often joke that you can find a church or a cross on just about any street corner. Therefore, Bavaria celebrates all national holidays, but also takes off for all Catholic holidays as well, many coinciding with special celebrations. A very popular one is the Epiphany (Three Kings Day) on January 6th, where you will see kids all over town dressed as the Three Kings. They go house to house to collect money for charities and in turn, will bless the home. If you see white chalk markings above a door, you know that they participated in the Three Kings Day tradition.
Krampus. Santa is just too jolly for those stoic Germans. They need something out there to really make sure the kids appreciate the kindness and generosity of the Christkind (an angel that brings the Christmas gifts). Enter: Krampus. This devilish beast will steal your children and beat them if they are bad (or so the kids grow up believing). Yup. Classic Germany! Krampus festivals often take place at the beginning of advent (Krampusnacht is officially December 5th) and these fests can be quite the scare!
The History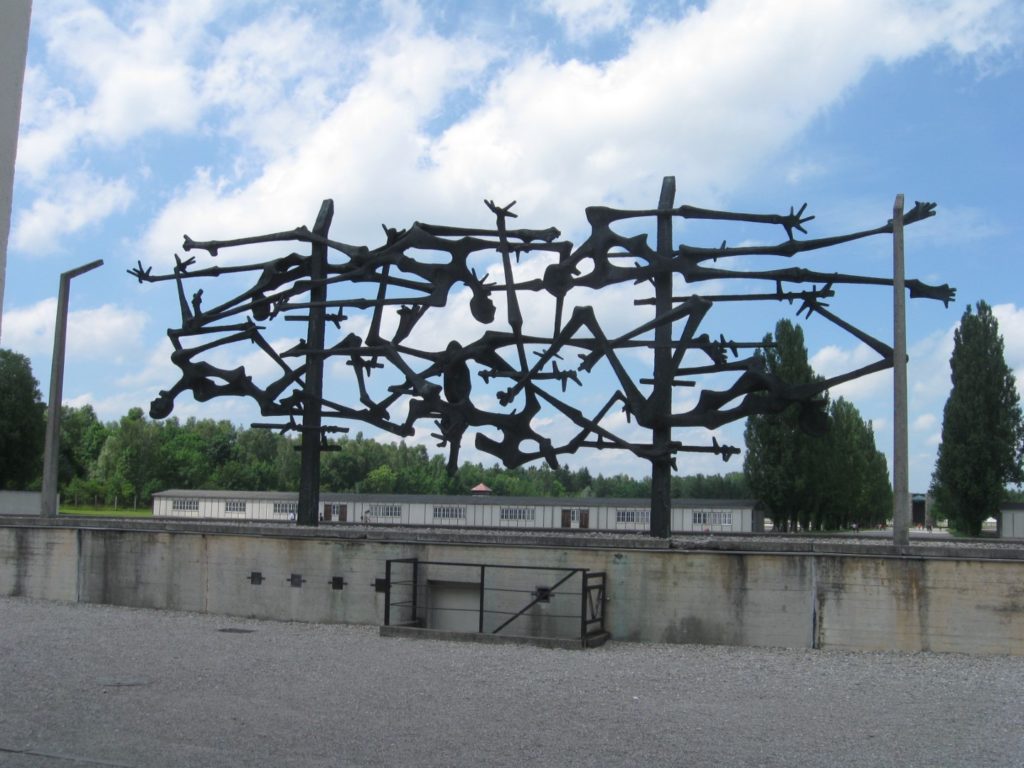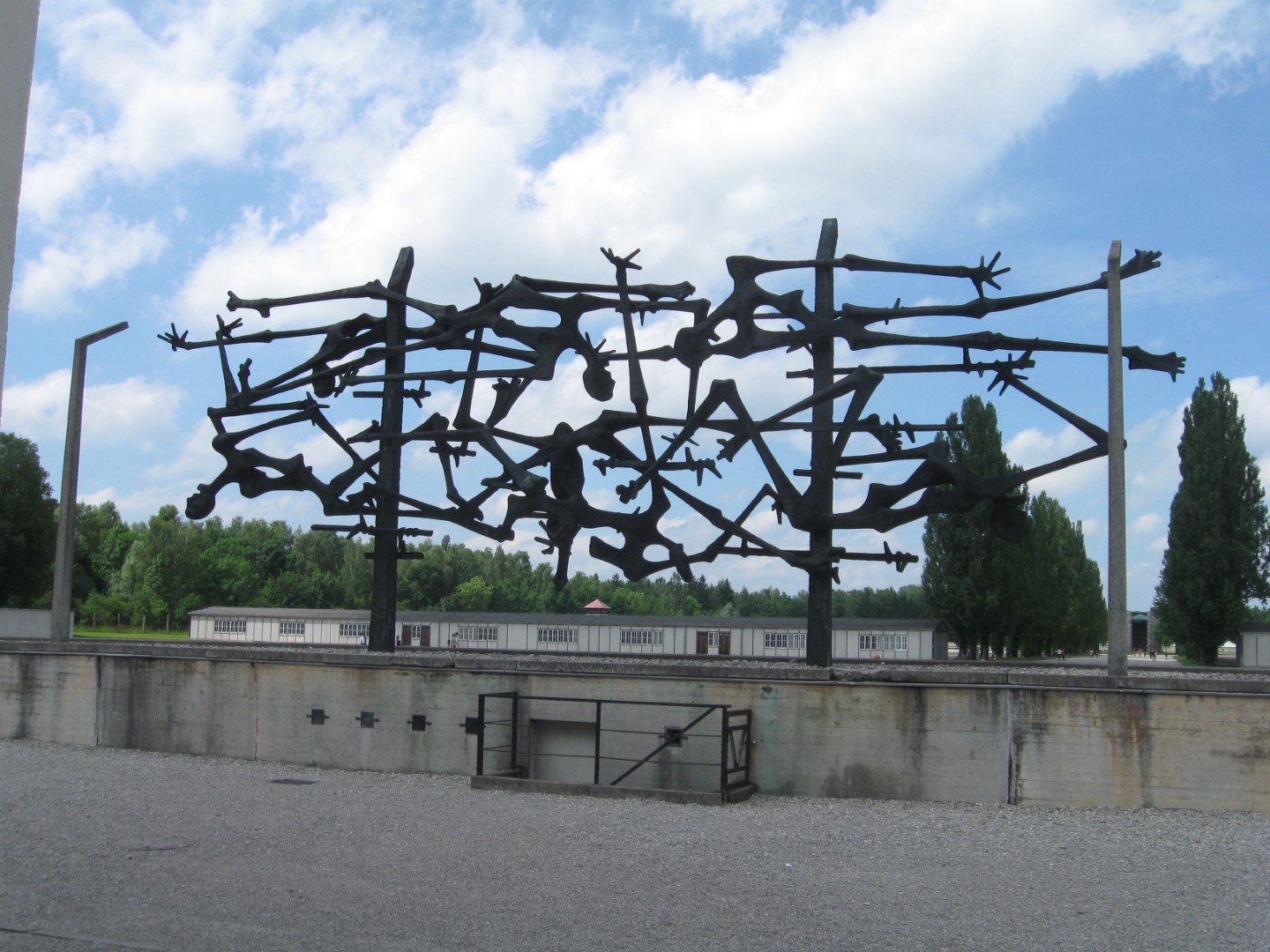 You can't escape history when exploring here, in fact, history is often one of the biggest reasons to go to Germany for many people. Naturally, WWII is some of the freshest history in our minds.
Head to Nuremberg for one of the best Holocaust museums I've been to. It explains so well how someone like Hitler could successfully take over an entire country with relative ease. While in Nuremberg, walk the Nazi Rally Grounds and see the full scale of what Hitler had planned for propaganda.
As part of the education system in Germany, it is a requirement for all students to visit a concentration camp. It is a strong reminder of why we can not forget history. The Dachau Concentration camp, just outside of Munich is a remarkably well-done concentration camp to visit and easy to get to from the city.
While WWII can seem to dominate the scene, there is SO much history in Bavaria. Remember, Bavaria used to be its own proud country before being dissolved into Germany. Places like the Walhalla (near Regensburg) is an impressive homage to past Bavarian rulers and important German figures.
The Upper-Germanic Roman Limes runs over 500 KM and can be dated back some 2000 years ago to the ancient Roman civilizations!
Many Bavarian towns still have glimpses into when the Roman Empire ruled the world.
Stumble upon just about any ruined castle in Bavaria and be rewarded with local history telling about the local rulers, customs, and traditions of the area.
Hikes and Wanderwegs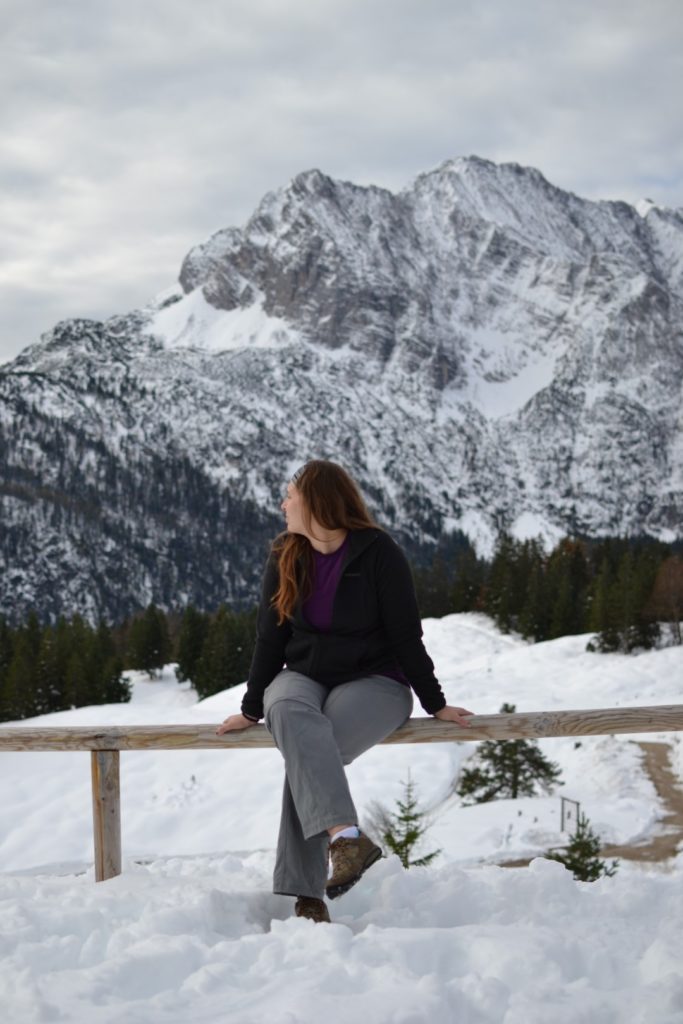 Bavaria is the perfect place to visit if you love nature. There are places like "Little Switzerland" which is in the Upper Franconian part of Bavaria. It gets its name from the stunning karsts, valleys, and geography. Or, stop into the Partnach Gorge near Garmisch for a beautiful walk.
While you are near the mountains, why not find a breathtaking "wanderweg" through the Alps?
Or, just find a forest. Some of my favorite hikes and walks have been near small villages where you can just wander in the woods surrounded by pure Bavarian beauty!
FAQs about Bavaria
Is Bavaria In Germany
Hopefully, by now, you've concluded that yes, Bavaria is, in fact in Germany. Bavaria is in the Southeast section of Germany and is the second most populated state in the country.
Where is Bavaria in Germany?
Bavaria is in the Southeast section of Germany and is the second most populated state in the country. It borders parts of Lichtenstein, Austria, and the Czech Republic.
What is the difference between Germany and Bavaria?
Bavaria is a PART of the country of Germany. Bavaria is a state of Germany. For example, New York is a state in the United States just as Bavaria is a state within Germany.
What is the best airport to fly into Bavaria?
The two main airports in Bavaria are Munich and Nuremberg. However, Franz Joeseph Munich is the much more used international airport and Nuremberg is good for inter-Europe flights.
You can also fly into Frankfurt, depending on your destination in Bavaria. I often find flights cheaper in and out of Frankfurt than Munich.
If you are planning on flying elsewhere in Europe, you can also find some decently cheap flights out of Memmingham Munich (Still about 2 hours from Munich though)
Where Should I Visit in Bavaria?
There really are no wrong towns to visit in Bavaria, they are all wonderful! However, some of the most popular towns and considered "Bavaria Must See" destinations are:
Munich
Garmisch Partenkirchen
Rothenburg ob der Tauber
Passau
Regensburg
Nuremberg
Is Bavaria Very Touristy?
Bavaria Germany tourism is booming, but for good reason. What I love about Bavaria is that while you may find throngs of tourists in places like Munich (Oktoberfest, for sure), Nuremberg, and Rothenburg, you can still manage to still find a piece of authentic Bavaria in all those places as well.
What is Bavaria Best Known For?
While this answer can vary wildly, most people associate Bavaria with Beer, Liederhosen, Wursts and Oktoberfest.
Was Bavaria Apart of East or West Germany
Bavaria was originally part of West Germany. Because it was under US occupancy, there are still many US military installments throughout Bavaria.
What is Bavaria Famous For
When you think of Germany, you probably are thinking of Bavaria. Sausages, Lederhosen, beer fests, and stunning scenery are all things that make Bavaria a wonderful place to visit.
What Language Is Spoken in Bavaria
German is the language of Bavaria. However, there is a strong "Bayerish" (Bavarian) dialect spoken in Bavaria. In fact, many Bavarians joke that they can not understand even the next town over's Bayerish.
However, all students in school are taught "Hoch Deutsche" or "High German" which is the formal way of speaking. If you use High German words anywhere in Bavaria, you will be understood. However, if you use Bayerisch words outside of Bavaria, you may get looked at very strangely!
It is often common in tourist locations to know English when traveling in Germany as well. In fact, even in some of the smaller villages, English is still a widely known language.
How do you say Hello in Bavaria?
One of the most common Bavarian greetings is "Gruss Got" (roughly "May God bless you) but you can use other standard German greetings in Bavaria as well, such as "Hallo" or "Guten Tag"
Another (more Southern) Bayerish greeting is "Servus" (roughly "At your service!") which isn't heard commonly outside of Bavaria.
How do you say Goodbye in Bavaria?
You say Goodbye in Bavaria the same as most of Germany. "Tchuss" or "Wiedersehen" and even "Ciao" are the most common farewells.
There are so many reasons to visit Bavaria! In my opinion, no trip to Germany is truly complete without a taste for the local culture of Beautiful Bavaria!