[This post may contain affiliate links where we earn a small commission. Please see our disclosure for more information and thank you for supporting our site so we can continue to bring you awesome content for your travel inspiration!]
Move over Daenerys Targaryen. There's a new Dragon in town. The town of Furth im Wald, to be exact at the annual "Drachenstich Furth im Wald" (Dragon Slaying Festival). And ok, it's actually not that new at all, but it IS the largest walking robot, sooo that's pretty bad ass.
What is the Furth im Wald Drachenstich?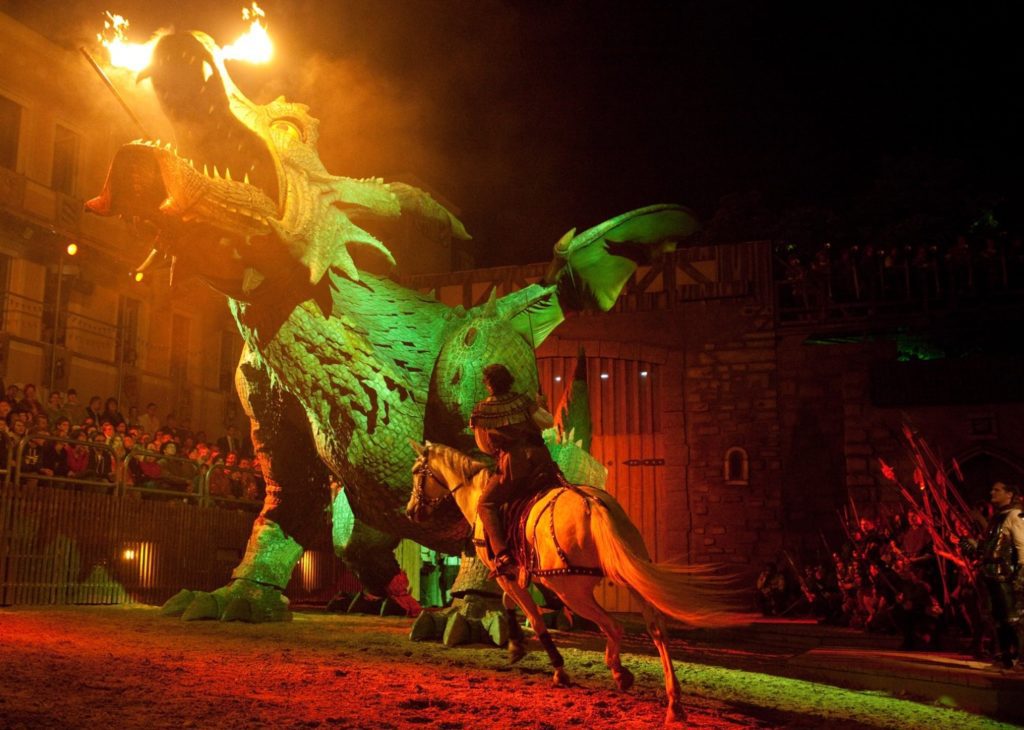 Germany is no stranger to amazing festivals. And while fests like Oktoberfest and seasonal fests like the Christmas markets often take the main stage of German fests, the Furth im Wald Dragon Festival is truly unique.
The entire town transforms into the "City of Dragons." Just walking into the town square will have you feeling transported to some medieval time warp destination. The brightly colored buildings that line the main square look down on the street, now covered in dirt, giving it a truly renaissance style feel. People (both workers of the festival as well as guests) wander the streets in amazingly, beautiful, and intricate time period outfits that will have you double checking that you truly are still in the 21st century!
There is so much to do at the Drachenstich in Furth im Wald. Below I've listed most of the main events. While the festival itself spans from about the end of July to Mid August (check the website for dates for the current year), some events (such as the Kids Festival) are only on certain weekends, so you'll want to plan accordingly.
If you arrive and are still unsure about your plan of attack, you can always stop into the Tourist Information Center to get your bearings.
Furth Im Wald TI: Schloßplatz 1
Email: [email protected]
Looking for more off the beaten path things to do? Join Our Fantastic Traveling in Bavaria Facebook Group!
The Drachenstich Volksfest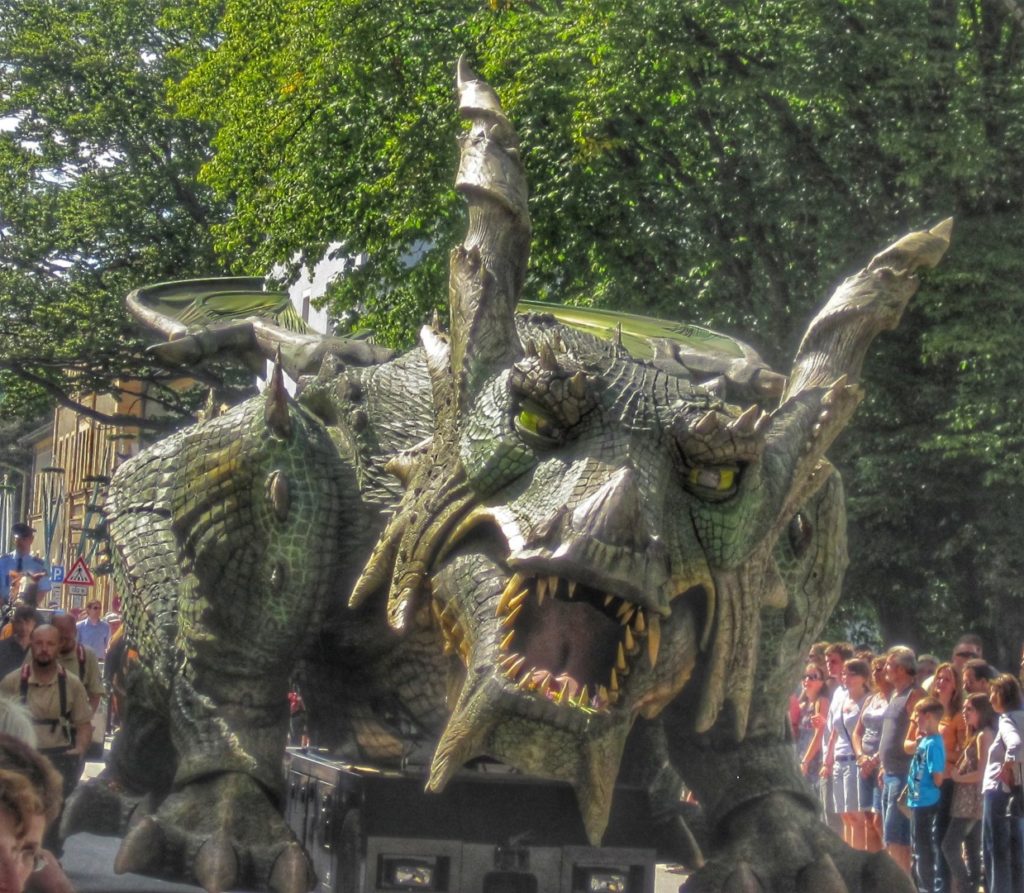 While the entire town is completely transformed into a medieval festival, this is still a German Fest! In addition to all of the really cool time period events, there is the classic fest. Head to the fest grounds for everything you would expect in a good ol' Bavarian fest:
Bierhall
Fest beer
Fest foods
Music events
Rides
The Drachenstich Play
For over 400 YEARS (since 1590) the town of Furth im Wald has been doing a Dragon Slaying play.
And today, to say this is some community style performance would be a slap in the face to these actors. This show is intense! While, sure, it's all in German, it is still fun to watch.
You've got angry, flesh eating dragons, a young girl sacrificing herself in hopes of saving her city, knights barreling down the dirt roads on their horses, yelling, screaming, oh, and did I mention the flesh eating dragon? Yeah, that's a big part of it.
Note: As impressive as the play is, as a respect to the actors/ actresses as well as the viewers around you, they currently do not allow for photography and videos during the play. However, afterward, there is a photo opportunity with Tradinno (the Dragon) but be prepared to fight off all the other excited dragon enthusiasts that also want that perfect photo.
The play is quite long coming in at about 2 hours and 15 minutes.
Every Friday and Saturday from 8pm-10:15pm
Once a festival there is an afternoon showing of the play 3:45pm-5:30pm. It was scheduled for August 8, 2020.
There are typically a few dates throughout the festival that also has the play on a Monday and/or Tuesday evening.
You can see the exact dates and times of all the events, including what times the plays are in the Festival Program.
Costs
While the festival itself does not have an admission price, the play does. The arena that holds the play is quite large, so there is often plenty of seating. To be honest, they've done such a great job of fine tuning this play that there are few bad seating options in the arena. Some people like being in section D for a head on view of the stage but I also think section B is good to give you more of a panoramic view of the show.
Adults:
$16.00-$31.00 (pending section)
Children (4-14 years):
€ 6 discount on all seats
Wheelchair Accessible:
€ 6.00 discount on prices for grandstand A (only available at the office)
Group Pricing:
10% off all tickets after the 16th ticket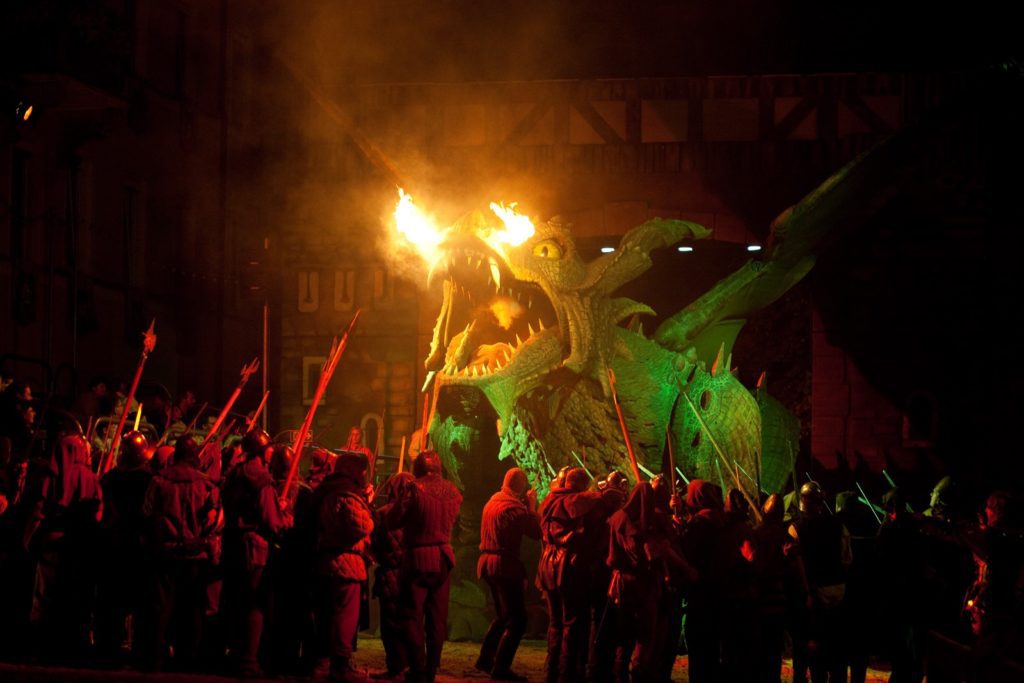 Children's Production of the Dragon Slaying
Whether 8pm is past your bedtime (hey, I don't judge!) or past your kiddos' bedtime, there is another, less intense version of the play specifically for children. While it is the same story line, there is quite a bit less yelling, flesh eating, blood spewing, and children sacrifices happening.
This play typically happens on the last weekend of the festival on both Saturday and Sunday from 1pm-3pm and is located at the Dragonstitch Arena in the middle of Further Stadtplatz.
Cost:
Children: Free
Adults: 4 Euro
The Drachenstich Kids Festival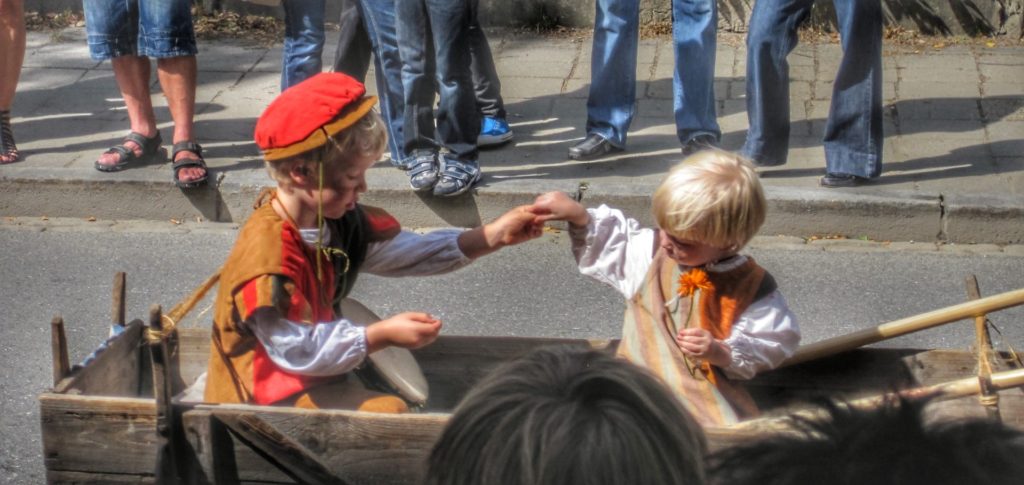 Immediately after the children's production of the play, the Kinderfest kicks off with plenty for the youngins' to do. In the same arena as the play, kids can throw items into the dragon's mouth, shoot crossbows, win wooden swords and other fun time period toys. As you play prince and princess for the afternoon, listen to the renaissance style music from live musicians and look at all the beautiful handicrafts.
You can even get knighted!!!
Note: The Kinderfest is only one weekend of the festival, typically the last one, however, check the official website for current dates and programs.
The Medieval Market
One of my favorite parts about going to a European Renaissance Fair is going to the camp and market. These aren't actors. These are people that have a passion for Renaissance Cosplay. Often times, they travel from festival to festival and set up "camp" and live like one might have in the 15th century (I wonder if they go inside for the bathroom……?)
As you walk around, you'll often be able to see inside their tents and see their fur skinned beds, watch as they cook their stew and bake their bread over a fire. Sometimes, you'll be able to see them making handicrafts or playing a game. Or, watch out, there might even be a jousting tournament.
There are over 100 stalls of handicrafts as well on display for viewing and purchasing. I always love gawking at these, as they are different than your typical fest stalls (which are often mass produced stuff). Typically, the person who created the piece, clothing, artwork, food, or more is the person who is there selling their goods.
Address: Eschlkamer Str. 7, 93437 Furth im Wald (right by the Drachenhöhle)
The Drachenstich Parade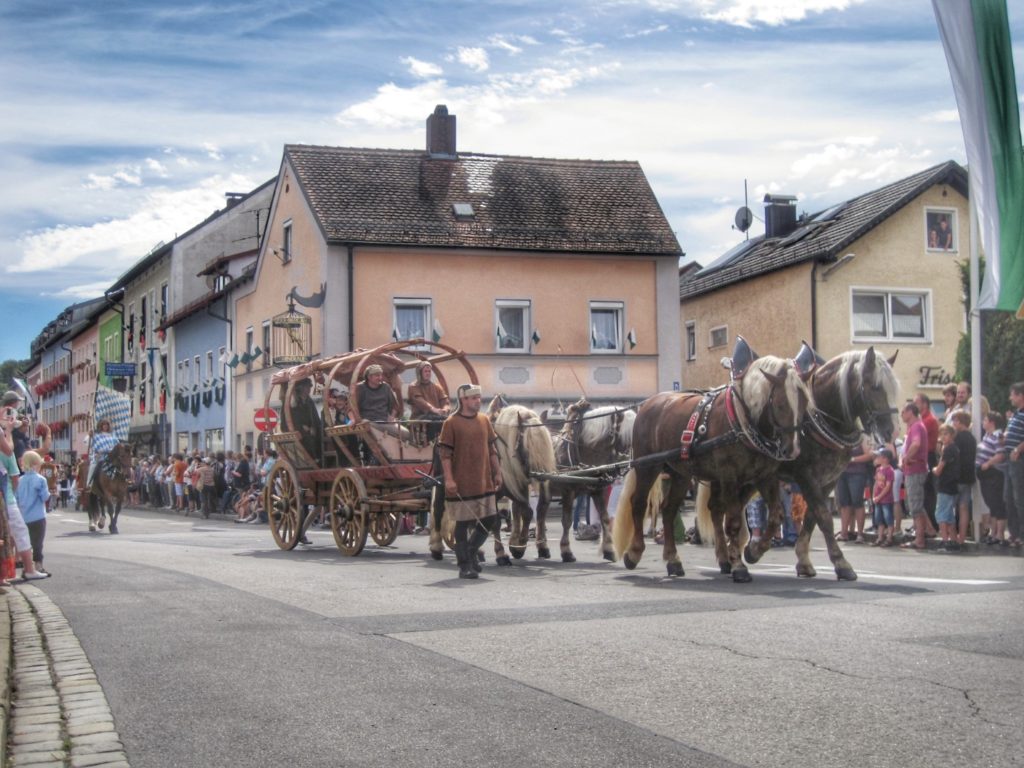 Once a festival, there is the "Festzug" (Parade). While this is one of the busiest weekends to come, it is DEFINITELY worthwhile! If you've ever wondered what over 1000 people in time period costumes, 250 horses, medieval-style wagons, and music all looked like parading down a street with a dragon, well, here is your chance!
The parade starts at 2pm, but arrive early so that you can have a good spot on the side of the street for prime viewing. Here is a map of the parade so that you can find a good spot to set up camp.
The parade does have a small admission fee, but if you are there for the fest, I think it is well worth it, especially if you are going to skip out on the play.
Parade Admission:
Adults: € 4.00
Children: € 2.00
Furth Im Wald Logistics
Where is Furth im Wald?
Furth Im Wald (literally translated to "Furth in (the) Forest") is in the Bavarian Forest (Bayerischer Wald), which is, obviously, in Bavaria and located a stone's throw away from the Czech border. There are several cities nearby:
Cham to Furth im Wald: Approx 20 minutes
From Munich: 2.5 hours
From Passau: A little less than 2 hours
From Pilsen (CZ): A little over 1 hour
How to Get to Furth Im Wald
Driving: I found it quickest and easiest just to drive to Furth im Wald. It is a really easy drive and quite beautiful along the highways as you get closer the Bavarian Forest. The biggest downside to driving to the festival is finding parking. There are plenty of parking lots, but if you are there at a particularly busy day, it can be a challenge.
By Train: There is a train station in Furth im Wald and from the train station, everything for the fest is within about a 20-30 minute walk. There are some direct trains, such as from Regensburg, but many of them will have transfers, so while you don't have to deal with driving and parking, it is likely to take longer to get there.
Use the search box below to see what train connections are available from your home.
Where to Park for the Drachenstich Festival?
Most of the main city is closed off for the festival. Therefore, after arriving in town, you'll need to find a parking area. Here is a map of all of the current parking lots (daily fees may apply)
FAQs
Is the festival kid friendly?
Yes! Kids will love all of the reenactments and if you go on the Kinder Weekend, they can even be knighted themselves! (More info on if the play is kid friendly below)
Like most festivals, if you have younger kiddos, I always recommend baby wearing, so you don't get stuck in large crowds trying to maneuver your stroller. I don't travel anywhere without my Tula
Questions about the Play
What happens to the play in inclement weather?
The play is held in an open air arena and the show must go on, regardless of the weather. Umbrellas are NOT allowed, so if the weather looks iffy (and this IS Bavaria after all), pack rain ponchos and gear and plan accordingly.
Is the play kid friendly?
The play itself is over 2 hours long. This in and of itself may be a determining factor for kids. On top of that, there is A LOT of "blood spewing," sword fighting, a human sacrifice, etc. I personally would not take young children to see it.
Are dogs allowed in the play?
While you can bring the pups to the festival, dogs are not allowed in the arena for the play
Can you buy the tickets for the Drachenstich play online?
Yes. You can also return them up to 8 days prior to your showing for a 3 Euro return fee. Purchase them here
Can I film or photograph during the Drachenstich play?
No. However, there is a short photo opp after the play for guests to photograph the dragon. However, you MAY film and photograph during other events, such as the parade, which also has Tradinno,
Other Things to Do In Furth Im Wald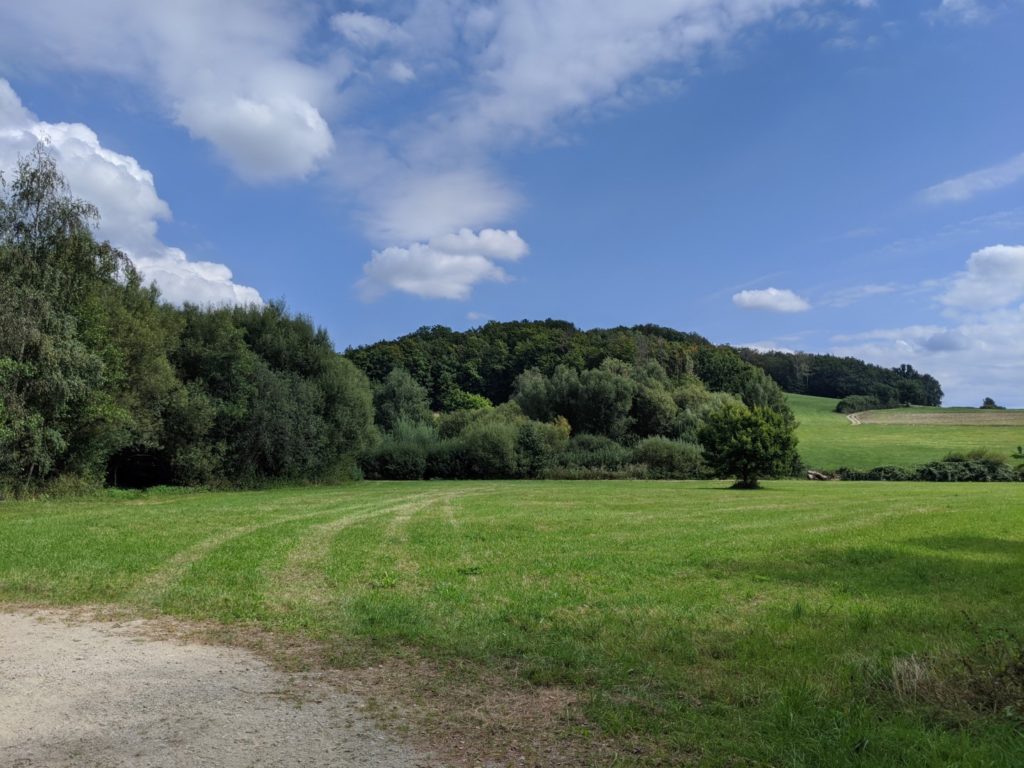 Why not make a whole trip out of your excursion?
Wander the Wildgarten. It's a really fascinating educational walk through the woods and the kids will love it! Here's how our day went at the Furth im Wald Wildgarten
Go to the Furth im Wald Drachenhöle (Dragon's Cave) at the fest platz (open year round. Closed Mondays)
Spend some time at the Drachensee Furth im Wald (a really nice lake right by the Wildgarten)
Watch the Glockenspiel "show" (only at 11am and 6pm) across from the Rathaus
Furth Im Wald Camping: Right at the entrance of the Wildgarten is a nice looking campground. This could make for a great base for a weekend of exploring the Bavarian Forest!
Hotels in Furth im Wald
If you are planning on staying in town, you'll want to book your hotels and lodging WELL in advance.
Click on the map to see what hotels are available for your dates.
AirBnBs
While there aren't a ton of AirBnB options directly in Furth im Wald, there are plenty that are a hop, skip, and a jump over to town.
Camping Furth im Wald
If you are looking for a bit of nature, camping is a great alternative for lodging.
Einberg Camping Platz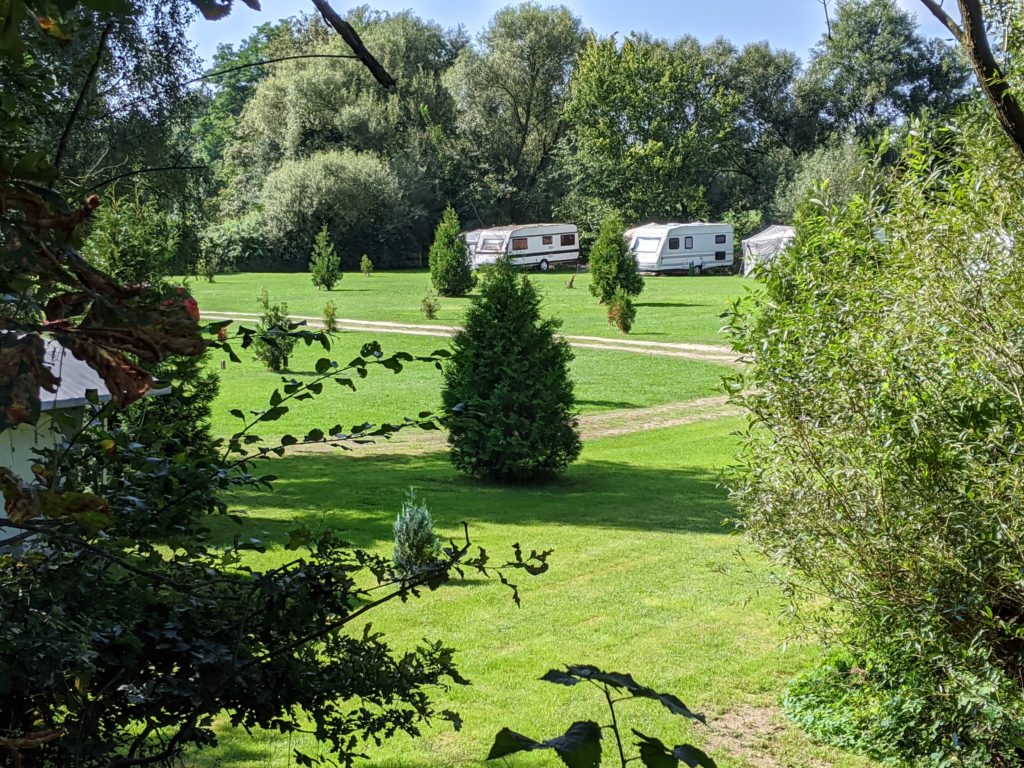 This campground is located right at the entrance of the Wildgarten.
There are tent camping spots as well as rv and mobile home options.
Drachensee Camping
You can contact the authorities and get permission/ register to camp along the shore of the Drachensee. Email them to see availability: [email protected]
Note: Camping at Drachensee is currently on hold due to Covid
Landhotel Waldesruh Camping
Another option for camping is at the hotel Wldesruh which has tent and motorhome sites available as well. See their current camping prices here.
You can also book a room at the Landhotel Waldesruh as well if there are no camping spots available.
More About Tradinno The Robot Dragon
One of the highlights for just about everyone, young and old, at the festival is seeing the ginormous, larger than life dragon, named Tradinno. This bad boy walks, bleeds, breathes fire, makes facial expressions, lifts it's impressive wings, and makes you feel like you are in a real life Game of Thrones set!
Tradinno cost over 2 million Euros just to be built and takes 5 men to control the largest walking robot in the world.
You can see Tradinno during the parade, at the play, and you can take photos with it shortly after the play is over.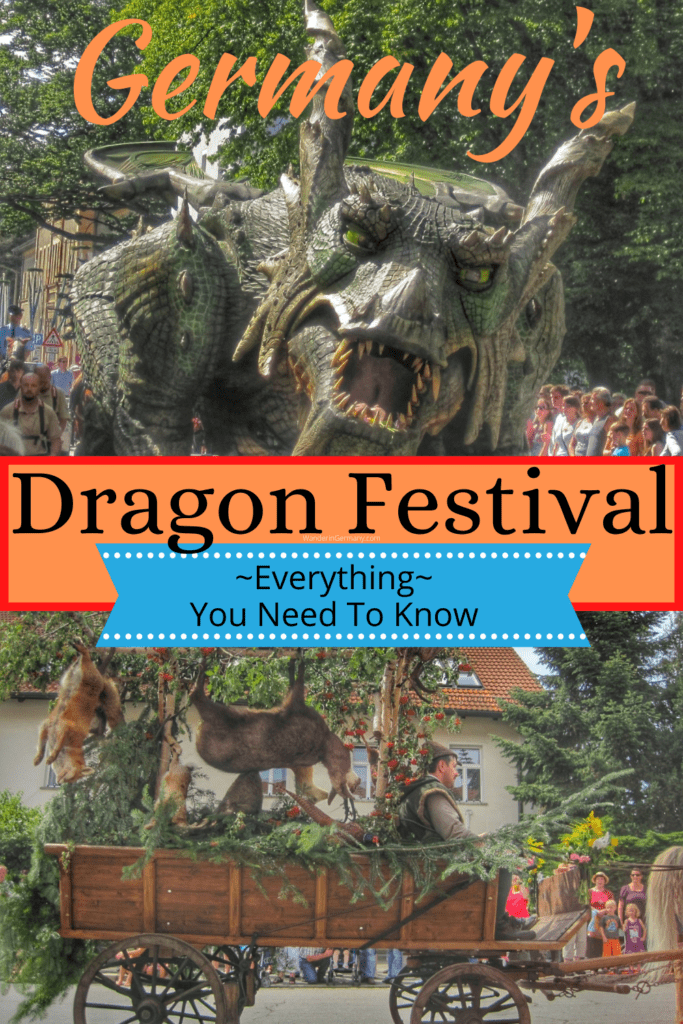 ^Planning Your Germany Trip? Don't Forget to Pin It!^