[This post may contain affiliate links where we earn a small commission. Please see our disclosure for more information and thank you for supporting our site so we can continue to bring you awesome content for your travel inspiration!]
In 2021, Baden-Baden received the very fitting "award" of being added as a UNESCO World Heritage Site, and I'd say it absolutely deserves the praise! Every time I go to Baden-Baden, it feels like I should be transported to a time where I should be wearing pearls, sipping out of a martini glass, or walking around with some high elites of the European Royals! Now, I don't feel this way because everyone in town are rich snobs or because it's a super expensive city to visit. No, it's because everywhere you look, the architecture transports you right back into the gorgeous Baroque 1800s…shoot, even the Casino looks like it could be a fancy palace!
Today, one of the most popular things to do in Baden-Baden is, of course, the spas! It is the natural hot springs and thermal waters that brought so many of Europe's elites to the town for the last several centuries. With their money also came a rise in cultural events and beautiful architecture in town. Today, when visiting Baden-Baden, in addition to the relaxation of the spas, you'll almost always find a great performance on at the theater! And of course, don't forget that you are on the border of the famous Germany Black Forest, which means that in addition to all that wonderful relaxation, you can get out into nature to have a complete wellness getaway in Baden-Baden!
Baden-Baden Things To Do
In this guide, I'll go over the Baden Baden Top Attractions as well as some of the more lesser known things to do. You'll also find more specific things to do in Baden Baden like Nightlife Activities or check on the section on What to Do With Kids if you are traveling in Germany with kids.
While I have a perfect 2 days in Baden Baden Itinerary, I understand that some people like to adjust their time more specifically to their own specific interests, so feel free to play around with that itinerary and swap out anything from this list
Other Articles that Might Interest You:
Caracalla Spa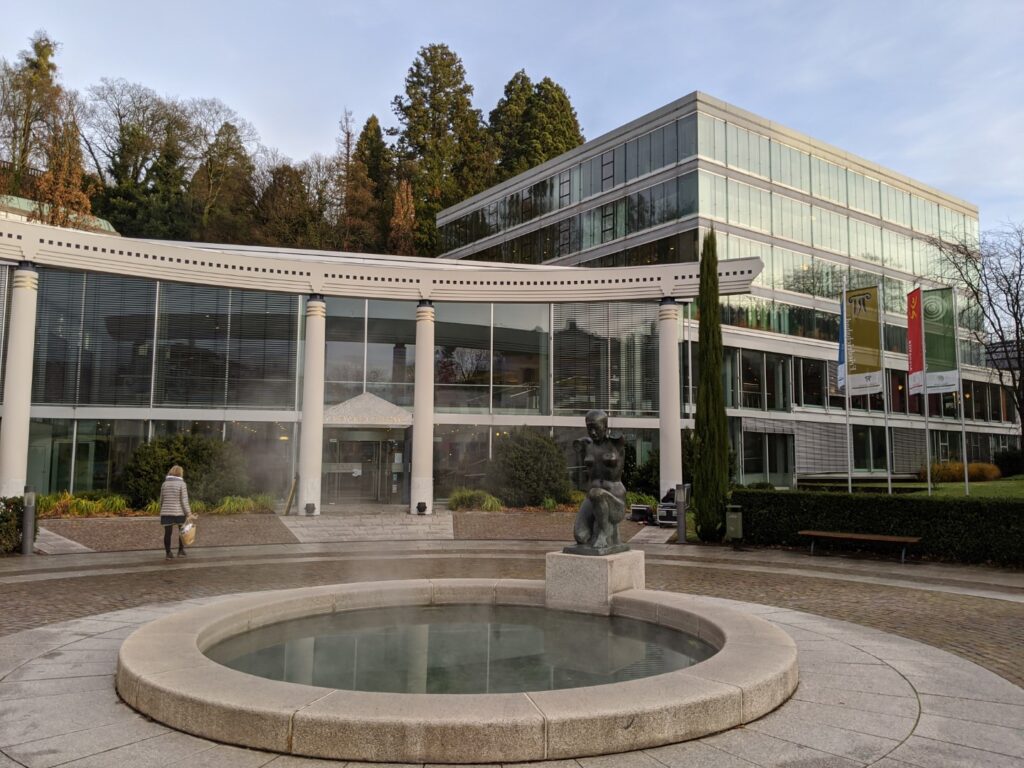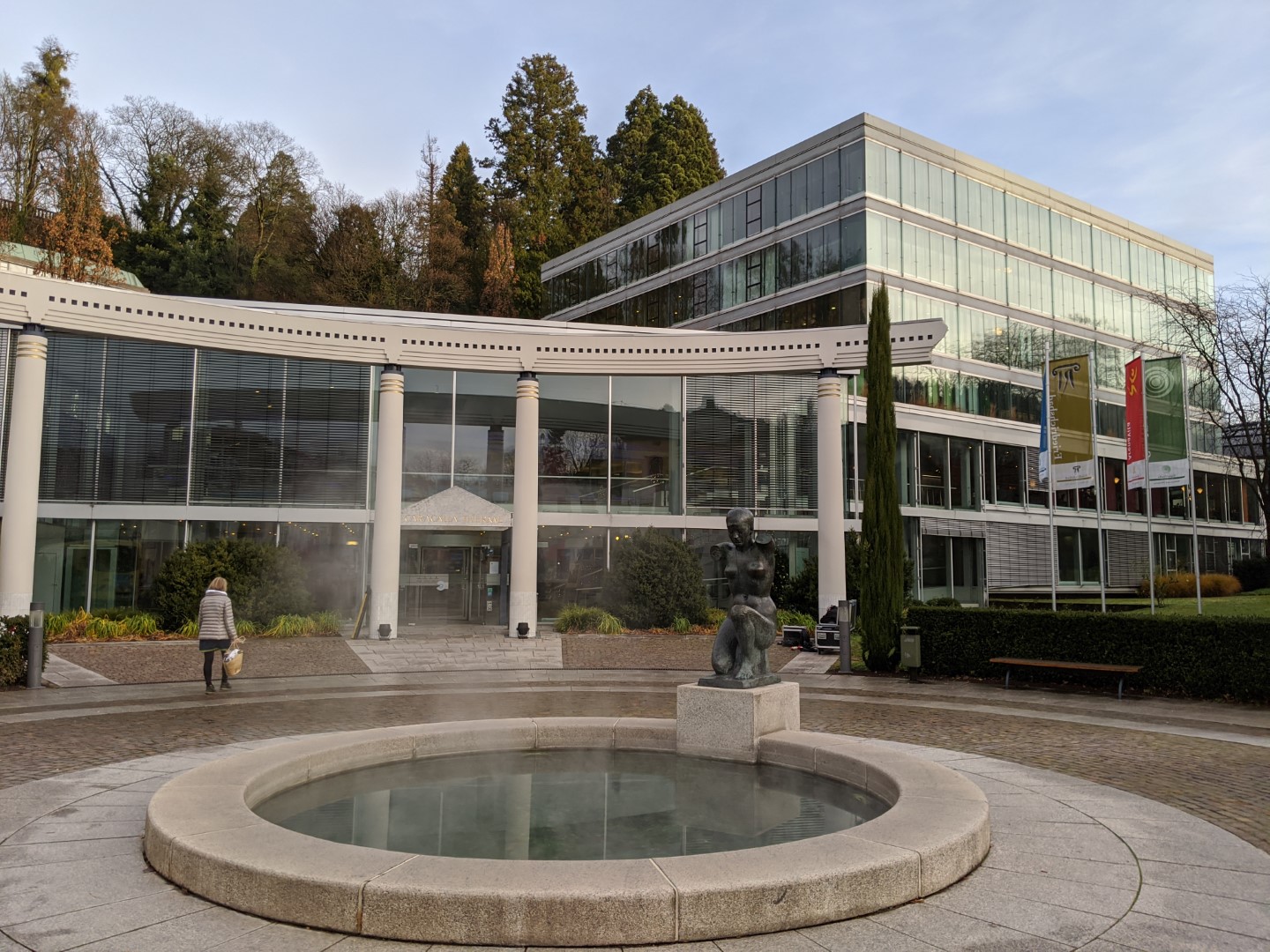 Absolutely NO list of things to do in the most famous Germany Spa Town would be complete without, well…the SPAS!
The first is the Baden Baden Thermal Pools and the Saunas at the modern Caracalla Spa.
There are two main areas of the Spa:
The Thermal Pools
On the main floor of Caracalla, you'll find numerous pools. There is one large, pool that goes outside as well as several other smaller pools of varying temperatures throughout the ground floor inside. There are warm pools, cooler pools, and even a grotto pool with a waterfall!
What is appealing to many people is that in this section of the Baden Baden Spa, swimsuits are mandatory. In addition to the pools, there are a few saunas and steam rooms in this section for those not ready to take the plunge into the nude German sauna culture yet.
You'll find plenty of people tucked warmly into their robes as they snooze on some lounge beds or reading books as they listen to the soft sounds of the waters. You can also do things like hop in a tanning bed for a few minutes as well.
The Adult Only Spa/ Saunas
While the thermal pools are fantastic, there is just something about the German Saunas that truly are an amazing experience. However, many tourists get squeamish when they find out that no swimsuits are allowed. While it sounds terrifying, you have to remember that Europeans don't see nudity as a sexual thing at all. I promise, you are more worried about the way you look than anyone else wandering around.
In this sauna/spa area, you can go to a number of saunas, all with varying temperatures, take deep breaths in the salt room, take a dip in the hot and cold plunge pools, do foot soaks, or hang out in the neon lit quiet room. There truly is something for everyone looking for a bit of R&R.
And of course, don't forget the famous German Aufguss, which is an intense process of heating up and humidifying a sauna room to excruciatingly insane temperatures. It sounds like torture, but it actually is insanely refreshing! There are many different kinds of Aufguss, so make sure you check out the schedule on the boards inside and do not miss one, they are truly an interesting experience!
Personally, I like to spend at least several hours in the pool portion of Caracalla and at least 3-5 more hours in the Sauna portion.
Caracalla Spa Costs
2 hours: €19.00
3 hours: €23.00
All-day admission: €31.00
Caracalla Location: Römerpl. 1, 76530 Baden-Baden
Friedrichsbad Roman Baths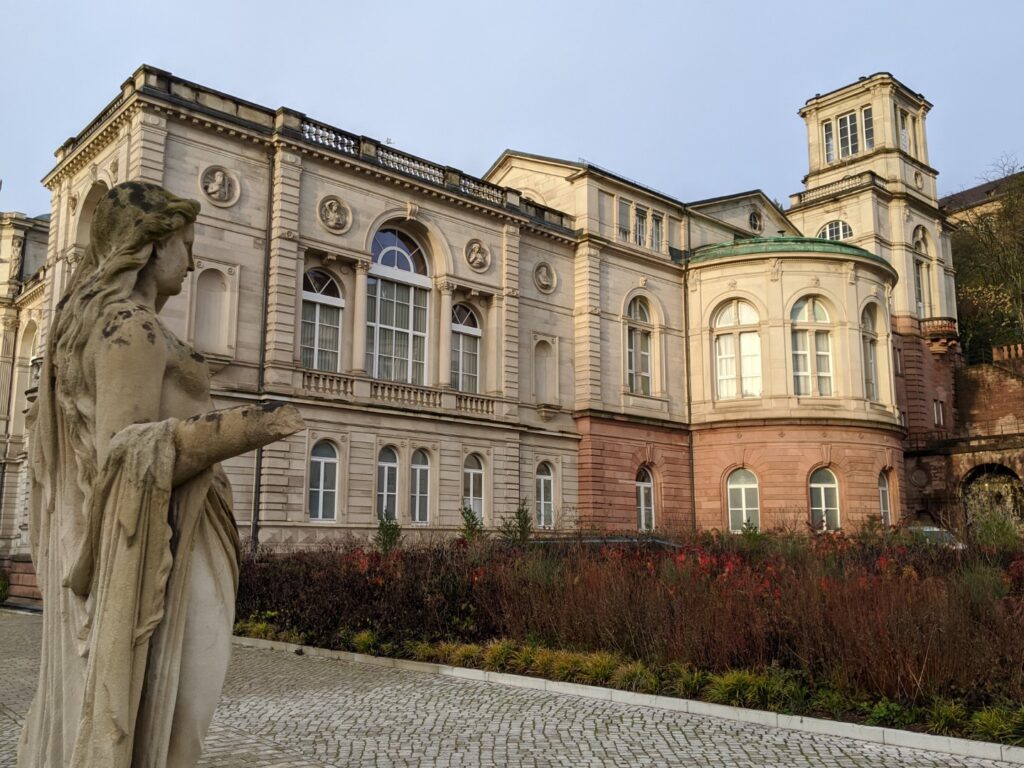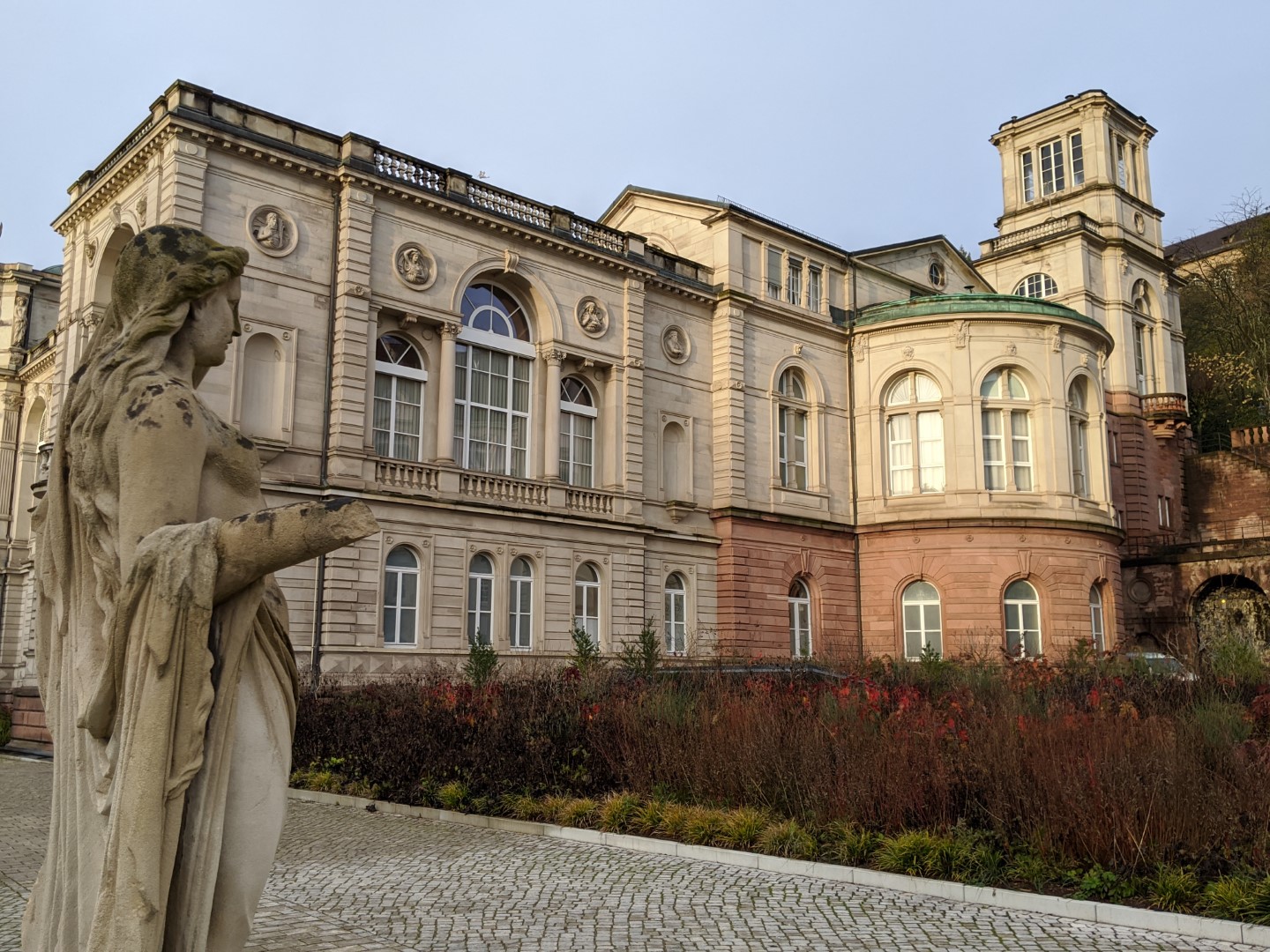 The Baden Baden thermal baths are still located at the original Ancient Roman Baths location, where the hot springs still are today! I have been to my fair share of Germany Spas and I have to say that the Baden Baden Roman Baths are, hands down, unlike no other! Well, while it is similar to many other spas in Germany that are completely textile free (AKA Nude) and adult only, the Baden Baden Friedrichsbad is true to it's Roman-Irish Bath "protocol."
At most saunas and spas, you are free to roam around to any sauna or pool your naked little heart desires. And while nobody is going to yell at you for going out of sequence at Friedrichsbad, there are actually 17 stations that have a precise order for maximum health benefits. You'll go through the maze of absolutely gorgeous pools set under enormous domes, dive into plunge pools surrounded by Roman statues, sit in quiet rooms with intricate mosaics and sweat it out in steam rooms. You'll finish by being tucked in by a worker in the most magical cacoon of blankets as you sit in silence relaxing.
If you are looking for a truly unique German experience- this is one not to miss!
Friedrichsbad Hours: Daily 9.00 am – 10.00 pm (Last entrance is 3 hours before closing)
Cost: 35 Euros
Location: Also Römerplatz 1, 76530 Baden-Baden (right next to Caracalla Spa)
Ancient Roman Bath Ruins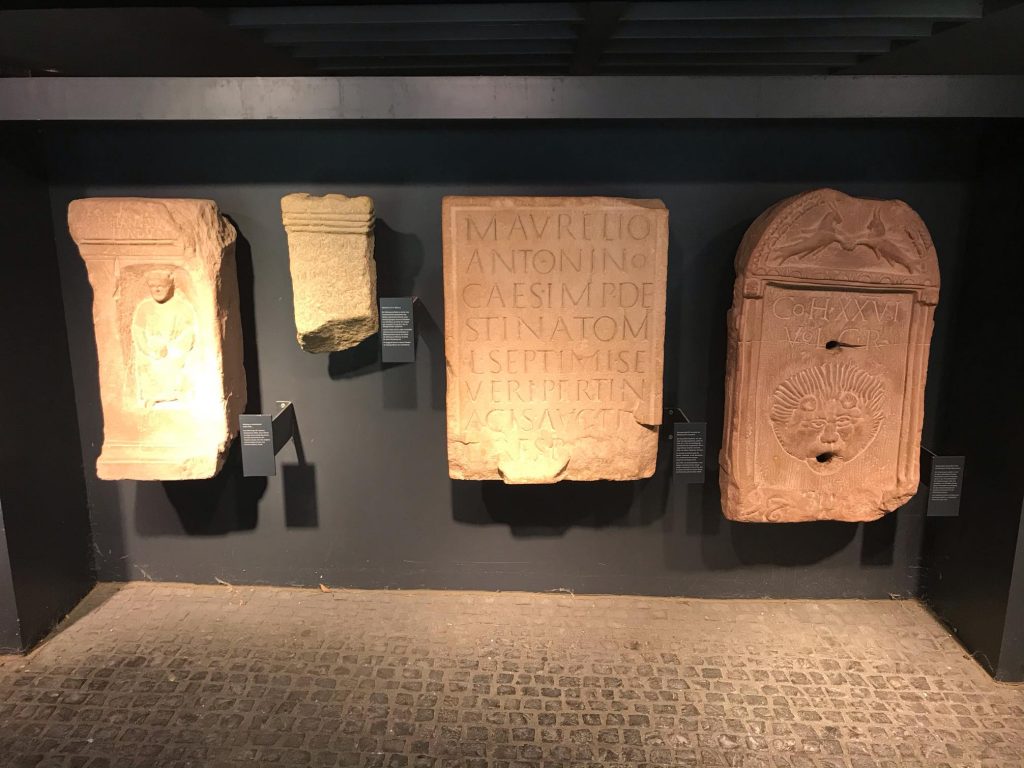 Literally right underneath the Friedrichsbad Spa is the actual site of where the ancient roman baths were. In fact, you can still see the 2000 year old baths!!! Just imagine walking on the same ground where the Roman soldiers enjoyed a healing dip after a long day of work.
You can see some of the artifacts just by walking in the hallway that connects the Caracalla Spa to the Friedrichsbad Baths. But if you really want to see the actual, in-tact remains of the ancient excavation site, you can do a tour of the ruins
Tours Run:
Daily from March 16-November 15 only
11am, 12pm, 3pm, and 4pm tour times
Guided tours available for €7.50 on the 2nd Saturday of the month at 2pm
Walk The Kurgarten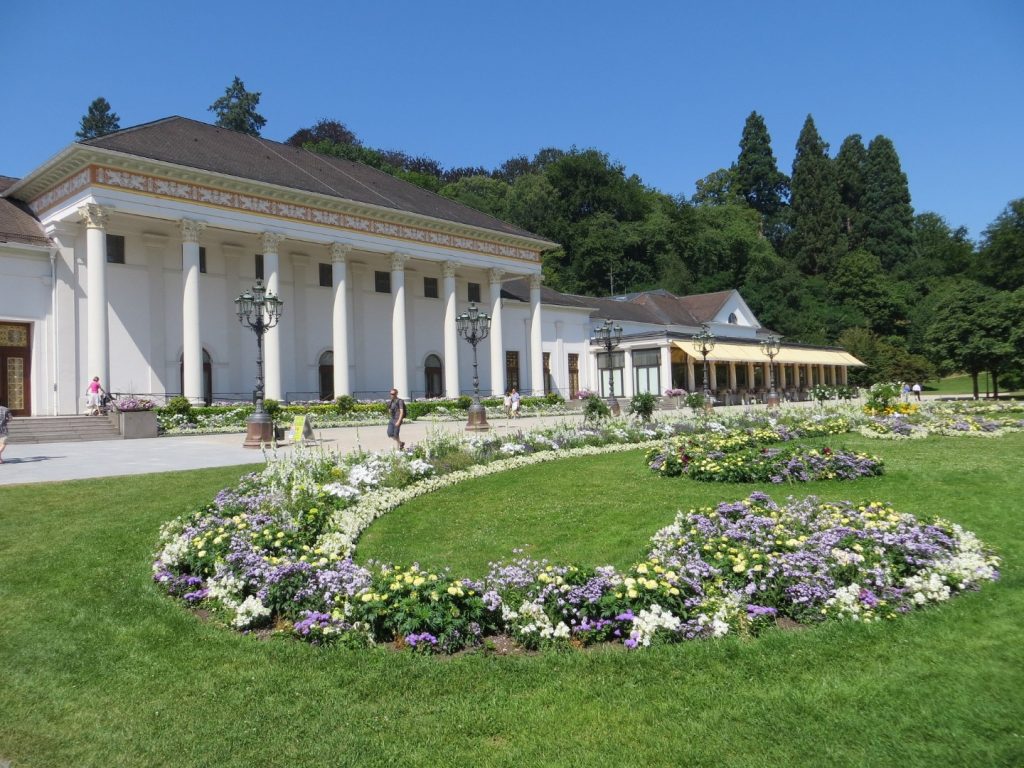 Just a few minutes from the spas are the Kurpark, which is a beautiful grean-space park to enjoy. While just wandering is best to enjoy the flowers and beautiful buildings, a few things to be on the lookout for are:
Michaelsberg: rolling hill within the Kurpark. There is a small "waterfall" from the stream that leads from the Trinkhalle
Stourdza-Kapelle (Roman Chapel): located at the Michaelsberg is a beautiful Roman Orthodox Chapel
The Trinkhalle (Pumproom)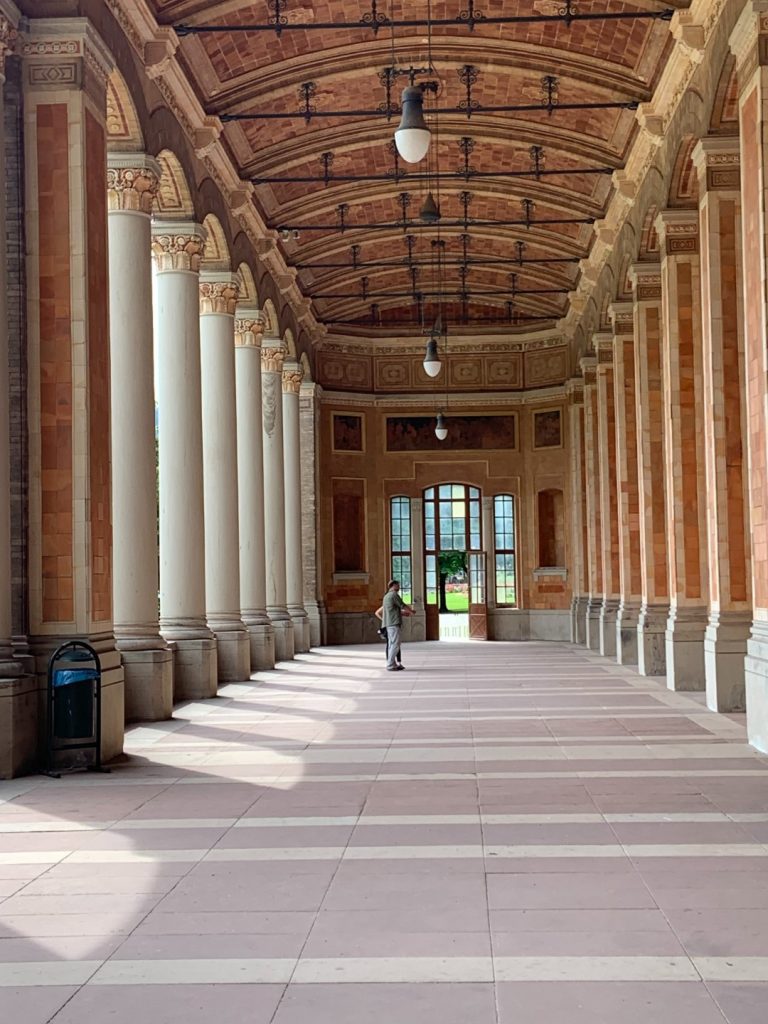 While technically within the Kurpark, I think the Trinkhalle deserves its own mention because of the beauty and (previous) function of this building. The Trinkhalle (Literally the "Drink Hall") is where people used to come to sip on the medicinal thermal waters. The hot springs, rich in minerals, is believed to have numerous healing effects, so it was believed that by drinking it, it could help relieve a plethora of ailments.
This 90 meter long building lined with columns and beautiful murals inside faces out to the lovely Kurpark and gardens.
Address: Kaiserallee 3, Baden-Baden
The Baden Baden Casino
Perhaps after the spas, one of the biggest Baden Baden tourist attractions is the "Spielbank," or casino. Even if you don't like or even don't want to gamble, it is well worth going inside (there are tours in the mornings just to appreciate the decor and architecture). You might just forget that you are in a place of betting and gambling and think you are in a palace instead, it is THAT stunning inside!
For tours of the casino, you can email them for more information (info@casino-baden-baden.de)
If you do want to spend some time at the tables,
You must be 21 years to enter
There is a 5 Euro "Cover Charge"
You need to show your passport upon entry
There is a dress code: Men need a jacket and tie. Women need to be dressed "Smart Casual"
Address: Kaiserallee 1, 76530 Baden-Baden
Enjoy the Lichtentaler Allee
This isn't just a park. This is an amazing location and huge space in Baden Baden where locals and tourists alike come and enjoy some beautiful nature right inside the city itself. With a promenade that stretches almost 2.5 kilometers, it's the perfect place to imagine the aristocrats of the past with their little parasols going for a walk. Today, you don't need wealth to enjoy this park. Walk along the paths and see the wide variety of plants and trees and be sure to go to the Gönneranlage section of the park- which is just an absolutely stunning garden.
Take a Unique Carriage Ride
If you are looking for something really unique, take a Baden Baden Sightseeing tour- by horse drawn carriage!!! Depending on how long of a tour you take, It can take you through and by most of the above mentioned sites, like the Kurpark, Licthentaler Allee, through the Altstadt, and more. When you go to get a carriage, just ask the driver where all they will take you.
It's a really romantic and different way to view the city!
You can find the carriages waiting outside the Trinkhalle Collenade (there is also a Tourist Information Center right there at Kaiserallee 1 that you can ask for help if needed). Or, you can email [email protected] for more specific information or booking.
They typically run daily upon request from about 10am-6:30pm
Costs:
20 Minutes:

€65

30 Minutes:

€90

45 Minutes:

€135

60 Minutes:

€180

90 Minutes:

€270
Location: Outside the Kurhaus Trinkhalle
Walk the Altstadt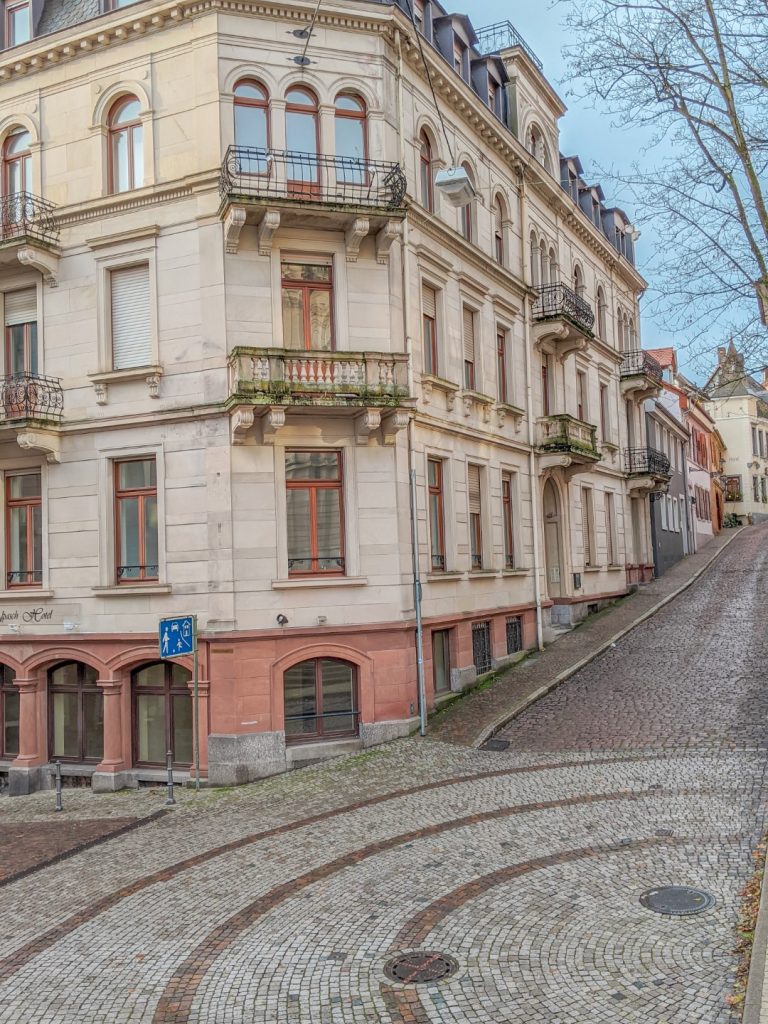 This charming Baroque styled town is perfect just for wandering around, taking in the picturesque buildings, and doing some window shopping at all the little antique and jewelry shops. Stop in at any of the numerous art galleries or pause at a café to enjoy your time and to people watch. It's a gorgeous town that deserves even just a little bit of exploring in between all that spa time!
Go Golfing
While the wifey is off getting pampered at the spa, maybe you want to hit the green at one of the oldest golf courses in Germany. Since golfing is not a hugely popular sport here, if it is something you are interested in doing, then check out the Baden-Badener Golf Club. Located at the bottom of the Fremersberg (mountain), you can expect a decent amount of difficulty and fun at this course while surrounded by the Black Forest nature.
Museums in Baden Baden
Museum Frieder Burda
If you love contemporary or classical modern art, then this museum is one that could really pique your interest. The German art collector, Frieder Burda collected over 1000 works of art from famous artists such as Warhol, Picasso, and many more. There are also many German paintings as well.
Address: Lichtentaler Allee 10
Fabergé Museum
In the mid 1800s, Peter Carl Fabergé became the official goldsmith to the Russian Imperial Court. He spent much of his time creating elegant and ornate pieces of jewelry, most notable being the "Imperial Easter Eggs" (now often referred to as a Fabergé Egg). It started as a commissioned gift from one of the Russian royalties to his wife. The egg is a piece of artwork in and of itself and inside housed a valuable gem, like rubies or diamonds.
While the Imperial Eggs are what Fabergé is possibly most famous for today, he also created many other jewelry pieces and items, which can now be seen at the Fabergé Museum.
Address: Sophienstraße 30
Festspielhaus
The local theater is another beautiful sight to be seen inside. As mentioned already, Baden Baden has become a great cultural hub for the fine arts. Therefore, it is no surprise that there is almost always a performance on the schedule. From philharmonic concerts to ballets and more, if you want to add a bit of culture to your spa trip, definitely see what is currently playing.
Address: Beim Alten Bahnhof 2
Hohenbaden Castle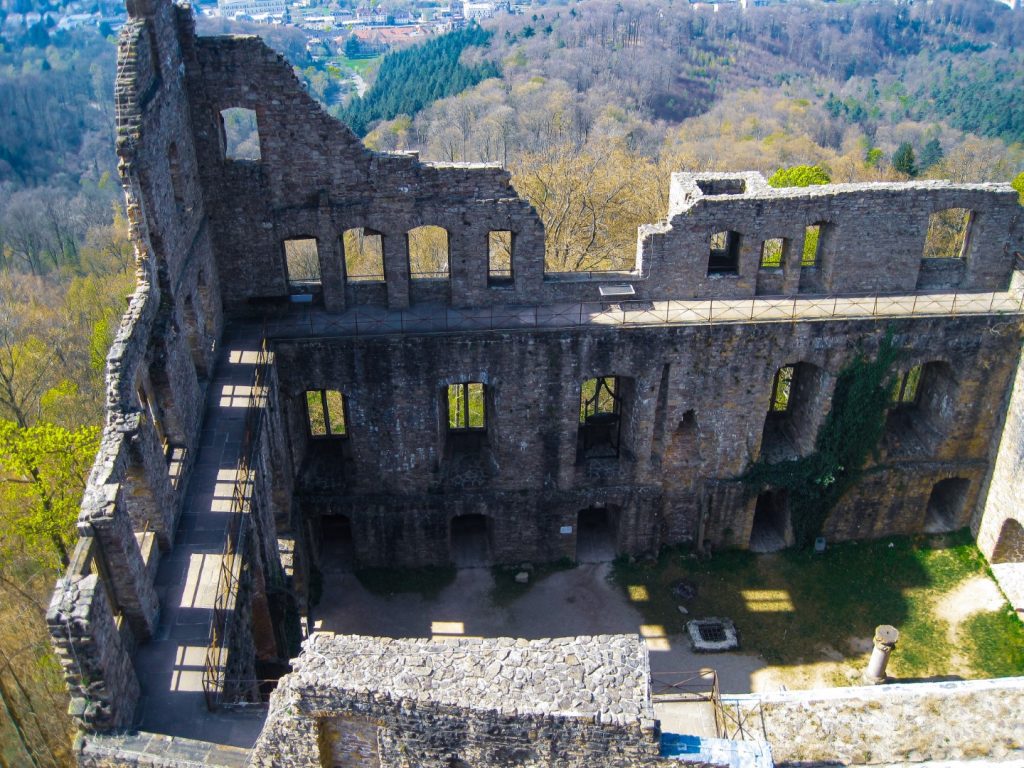 There are plenty of Amazing German Castles to Visit, and I think the Altes Schloss Hohenbaden is a fantastic one to do! Just a short, 10 minute drive from the Altstadt, it's definitely a worthy thing to do in Baden Baden. This "Ruined" castle is fantastic for climbing in and around. From the top of the castle walls, you'll get commanding views out over the Black Forest and Baden Baden. If you are hungry, there is a small cafe as well.
Hohenbaden Castle Hours: 8am-8pm Free Entrance
Merkerberg Funicular
Going up to the Merkerbergbahn is a popular activity, not only because you can be on a Black Forest mountain, but because the Funicular is an event in and of itself! After all, it is the steepest funicular in Germany.
There is a restaurant, playground, and plenty of hiking trails to explore at the top. There is also the tower you can climb to get even higher to get some of the best of Baden Baden viewpoints.
Address: Talstation: Merkuriusberg 2, Baden-Baden
Black Forest Hiking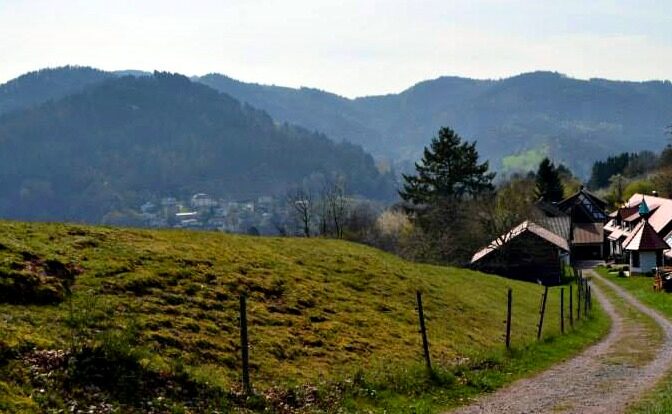 There are so many fantastic hikes in the Black Forest and hiking from Baden Baden. Personally, I chose to skip the above mentioned Funicular and instead hiked along the Panaramaweg around the the Merkerbergbahn. It was an easy hike but gave absolutely stunning views of the Black Forest. The walks in the the wooded forests were peaceful and serene, there is a wildlife reserve with animals such as deer, and you can even see the vineyards of the area! It's the perfect hike!
Of course, there are plenty of other hikes in the Black Forest near Baden Baden as well ranging from easy and short to difficult and long!
Take a Hot Air Balloon Ride Over the Black Forest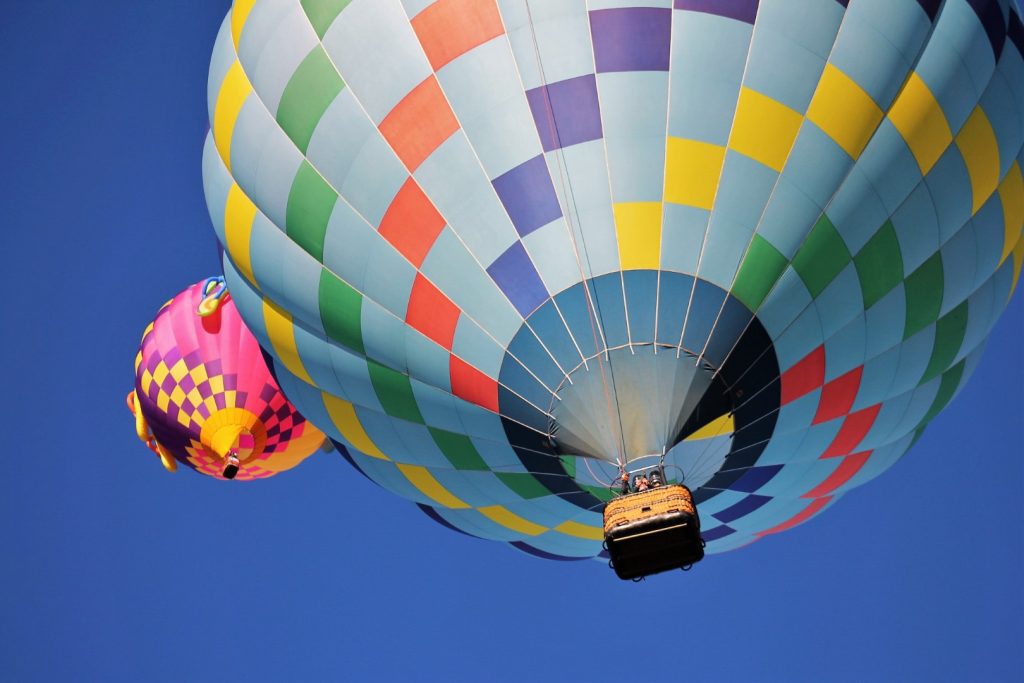 If taking a Funicular up doesn't get you high enough, how about flying in a hot air balloon as you soar over picture perfect half timbered German houses, vineyards, the Black Forest and can see all the way to France!? After the wind takes you where it wants, the pilot lands and you can have a picnic in gorgeous scenery. Talk about a once in a lifetime experience!? 295 Euro covers a 1-2 hour flight, transportation, and a picnic.
Ballooning 2000, is the company who commercially flies out of Baden Baden. You can contact them here.
See the Geroldsau Wasserfall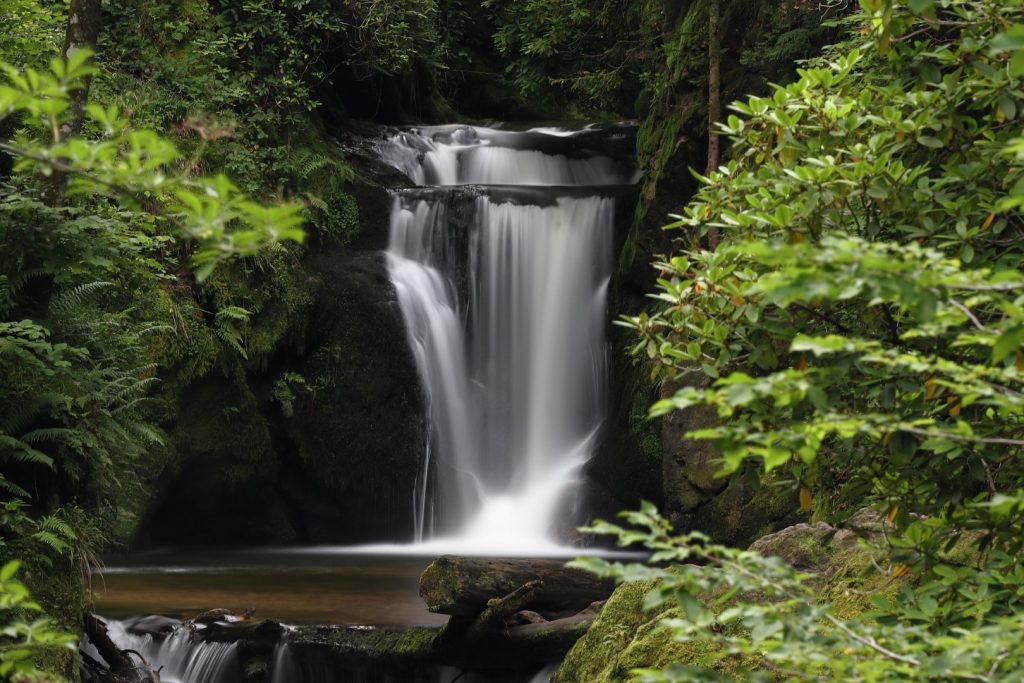 While not right within Baden-Baden itself, the Geroldsau Waterfall is less than a 20 minute drive from the town. While I'd argue there are better waterfalls in Germany, like Triberg (also in the Black Forest) if you love waterfalls or are even looking for a really easy hike with great sights, then going to this one is a fantastic option! You can do a circular walk in about an hour that leads you along the babbling creek, to the waterfall, through the Black Forest, and back.
Insider Tip: If you can go between May and June, the gorgeous rhododendron flowers are typically in bloom and are magnificent in the forest!
Things to Do in Baden Baden in Winter
The Spas
It's probably no surprise that Baden Baden in Winter is a popular choice because all of the spas can be enjoyed inside! I've been to Baden Baden in Winter and it was a fantastic way to escape the cold outside by sitting in the steamy saunas inside! At Caracalla, there are even a few steam rooms that you can walk to through the Garden. The day I went, it was actually snowing. You might think that sounds cold and horrible, but with a warm robe tucked all around you, strolling on the paths with the snow lightly drifting down was actually almost magical. And it felt AMAZING to step out into the cool, fresh air right after a hot sauna!!!
The Thermal Pools
Likewise, since all the pools at Cararcalla are thermal hot springs, that means you can enjoy both the indoor AND the outdoor pools all year round!
Alternatively, the Friedrichsbad Roman Baths are the perfect chilly day activity since everything is located inside the beautiful building.
Stay at a Swanky Spa Resort
If you are wanting to really escape from the winter blues, just go to one of the many Spa Hotels in Baden Baden. You won't even need to leave the premise or go outdoors at all if you stay at one that has a full spa on site and you'll be pampered, stuffed full of good food, and relaxed by the end of your trip!
See my Top Recommend Baden Baden Spa Hotels Here
Visit the Christmas market
While there are so many Great Christmas Markets in Germany, if you are in Baden Baden around Christmastime, then absolutely do not miss a walk through the Weihnachtsmarkt! Located at the Colonade, it's a truly unique setting, fit for a Black Forest winter dream! Warm up on delicious Gluhwein, browse the stalls and stands selling crafts and goods, and fill your belly with Christmas Market Foods like brats, candied almonds, and more!
Go Tobogganing
Head up the the Merkerbergbahn in the winter and then zip down on a toboggan! Ask your hotel for recommendations on where to get the sled.
Spend a Day Skiing
Baden Baden skiing is perfect for kids or beginners. Head south about 30 minutes to the nearby Mehliskopf for some easy pistes to get your ski legs!
The Museums
Any of the museums in Baden Baden mentioned above are also the perfect winter day activity. You can spend several hours in each of them to get out of the cold.
Nightlife in Baden Baden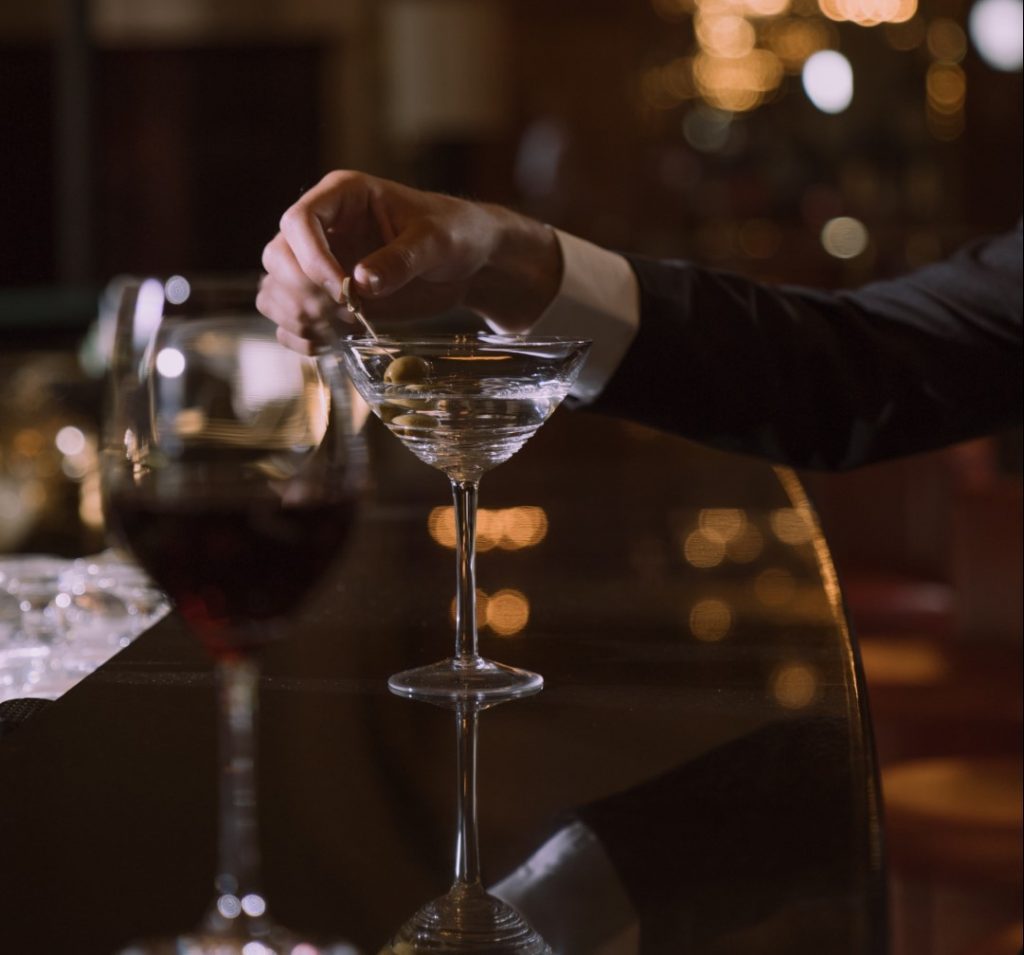 After a long day of soaking in the thermal pools, you might be ready to hit the town after the sun goes down! Baden Baden is the perfect place to put on a fancy outfit and head to a local bar or club. There are plenty that offer really unique settings so you are sure to find a place to have fun in Baden Baden at night.
Equipage
Equipage is possibly the most extensive Baden Baden nightlife scene and the town's main club. It touts the "longest bar in Germany," has DJs or live music, often has special events like Halloween and New Years celebrations, and has quite an extensive list of cocktails.
Located in the Kurhaus, Equipage is a unique location as well and is conveniently right next to the casino!
Open Wednesdays through Saturdays: 9pm-4am
The Spielbank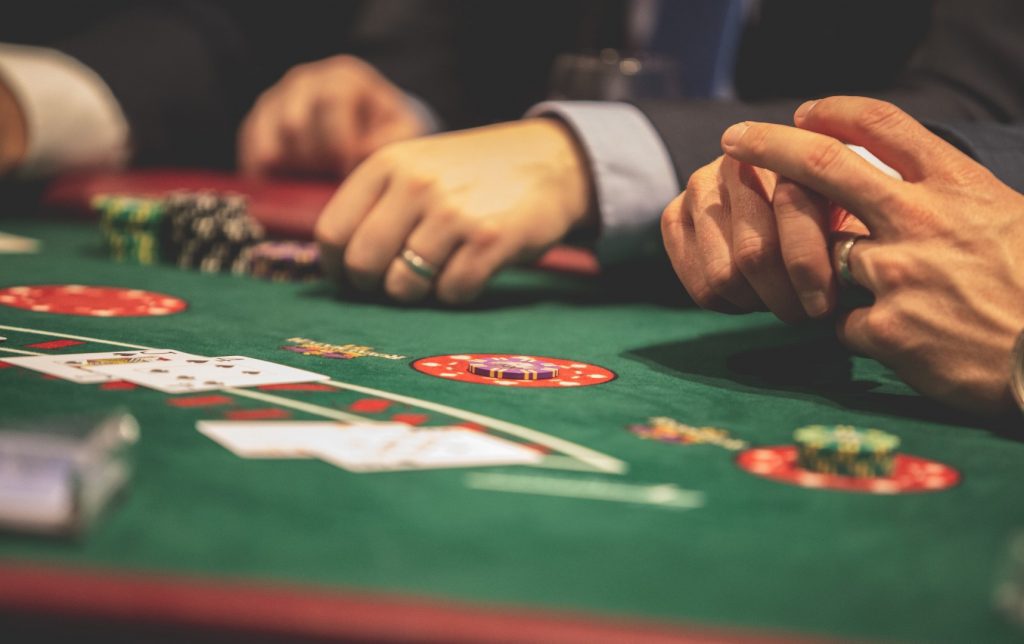 As mentioned above, the Casino is the absolutely perfect thing to do in Baden Baden at night! Grab your suit and tie or your little black dress and try to win some cold hard cash. Alternatively, just go and have some drinks and watch as everyone around you loses their own money!
Roomers Rooftop and Pool Bar
If you'd like a drink with a view, head on over to the Roomer's Rooftop Terrace. But don't forget your swimsuit because there is a pool you can enjoy as you sip on your cocktails!
Fritz and Felix Bar
Located inside the Hotel Brenner, you can step back into the roaring 20s in the luxurious Fritz and Felix bar. What makes this a unique Baden Baden nightlife spot is that they are doing some seriously creative and modern twists on classic drinks. They even have a homemade vermouth and if you like gin, the bar has the largest collection of options in Germany!
Things to do in Baden-Baden With Kids
While at first glance, Baden-Baden seems like the perfect couple or solo adult retreat town with all the Spas and nightlife, but you might be surprised by how much your kids can do in Baden-Baden.
Caracalla Spa
Kids over 7 are allowed to go into the thermal pool area of the spa. However, it's not a swimming pool like kids may be used to. It is more for floating, relaxing, and hanging out in, so if you're kiddos love to splash and run around, you'll have to remind them this isn't the place for that. Also, kids between 7-14 have to still be with their adult at all times.
Alternatively, if you want to spend time at the spas by yourself, kids between 1.5 years and 12 years old can go to the Kinder Paradies, which is basically a kids club right there at Caracalla.
City Pools
While they may not be the relaxing thermal pools, if you are still looking for some H20 time, there are several local pools that are great for families in the summer. I personally recommend the Hardbergbad. This pool is huge with several separate areas. There is a diving pool with high dives, a huge, twisty side, a lap pool, a wading area perfect for little ones, a mushroom water structure, and plenty of green space perfect for lounging or running around.
Citybahn Baden-Baden Train Tour
Hop on the cute little street train for a 50 minute tour through the town. It's a great way to get in your Baden-Baden sightseeing while still entertaining the little ones! (and not having to hear them complain that they are tired!) You can get more information at the TI office next to the Kurhaus.
Note: This only runs in the spring and summer months
Cost:
Adults:

€9.50

Children:

€6.00

Family Card:

€26.00 (Covers 2 adults and 2 children)

Guest Card:

€9.00

(Ask your hotel about the Baden Baden Guest Card that gives discounts on tours and other things in town)
Torccarion Children's Musical Festival Hall
There is something magical about watching a child play an instrument or experiment with making their own music! At Toccarion, kids get a hands on experience with all things music! They can explore playing classical instruments or dance on the giant floor piano!
The only catch is that this is not an "open museum." Therefore, you do need to go in with a tour or workshop (contact them directly for English requests). You can purchase tickets on their website.
Group Tours:
Daily at 11
Saturdays: 10am
Sunday: 11am
Miniaturwelt (Sima's Cafe)
The first time I went to a Kinder Cafe, I was like "WHY ISN'T THIS A THING EVERYWHERE!?" While the kids go have fun, I could sit and have a coffee in quiet! It was amazing! And Sima's Cafe takes this concept to the next level with a complete Miniature World! There are all sorts of different "minature worlds" that kids can interact with including a mini Black Forest, Alpine world, a fair, and more. The kids can watch miniature trains zip around these little locations that look so real. Kids (and kids at heart!) have so much fun with them! The only downside is that it is coin operated in addition to an admission fee (and extra cost for food)
Cost:
Adults: €5.50
Children 3 to 14 years: €3.50
Children 1 to 3 years: €2.50
Family Ticket (2 adults + 2 children): €16
Open:
Fridays: 1pm-6pm
Saturdays and Sunday: 11am-6pm
Address: Hermannstraße 9, 76530 Baden-Baden
Pick the Perfect Family Hotel in Baden Baden
One secret to success to going to Baden Baden with kids is picking the perfect hotel. If budget is not a concern, you seriously can't beat Brenner's Hotel if you have a family. There is also an indoor play area just for the kiddos and the hotel has a kid's club as well where they make sure that even the littlest of guests are welcome and taken care of. Want some of your own R&R? Baby/child sitting services are available!
A slightly more affordable option for families is to look into the Helio Bad Spa Hotel, where families absolutely feel taken care of and pampered. You can add extra beds for the kiddos or request baby sitting services as well.
You can see my complete list of Where to Stay in Baden Baden Here
FAQs
Is Baden Baden Worth Visiting
If you love Germans Saunas and Spas, then yes, Baden Baden is absolutely worth visiting! While there are other things to do in Baden Baden, I would argue that the Caracalls spa and the Freidrichsbad are the main draws though, so if you are squeamish about the nude-aspect of the Thermes, there might be other better towns to visit in Germany.
How Many Days in Baden Baden
You need an absolute minimum of 1 day in Baden Baden if you are JUST going to do the spas (and even then, you could spend 2 whole days just in the spas- 1 at Caracalla and 1 at Freidrichsbad). However, even with just 2 days in Baden Baden, you can still get the perfect balance of nature AND spa time while seeing some of the town's highlights. If you want to spend more time hiking and walking the Altstadt and the local gardens, 3 days in Baden-Baden would be ideal.
Is Baden Baden Expensive
For being considered a "resort town" in Germany, there is a surprisingly wide range of options for accommodation in Baden-Baden for all budgets. I find Baden-Baden more reasonably prices than places like the Alps.
In addition, Thermes and Spas in Germany are SO affordable! You can spend the entire day at Caracalla Spa for only €31!!!
Is Baden Baden Good For Kids
While you absolutely will find things to do with kids in Baden Baden, it actually isn't my top pick for places to visit in Germany with Kids. It definitely has a more "posh" feel to the town and it's main clientele are definitely spa-goers. Here are my other picks if you are looking for great places to go with a family:
Day Trips from Baden Baden
Schloss Favorite
Not really so much a day trip as it is just a thing to do near Baden Baden is the beautiful baroque "Schloss Favorite," located just 20 minutes away from Baden Baden. "Schloss Favorite" is also known as the "Porcelain Castle" due to its extensive porcelain collection. With vibrant porcelain blue tiled walls, a massive chandelier, muraled ceilings, and architecture to rival french palaces, it's easy to see why this is a "Favorite." If you are looking for some gorgeous castles to visit while in Germany, this is a very underrated one, just outside of Baden-Baden. And while the palace itself is truly beautiful, it is also set on the wonderful grounds of the palace garden, which are fabulous to stroll around in.
Address: Am Schloß Favorite 5, Rastatt, Germany
Heidelberg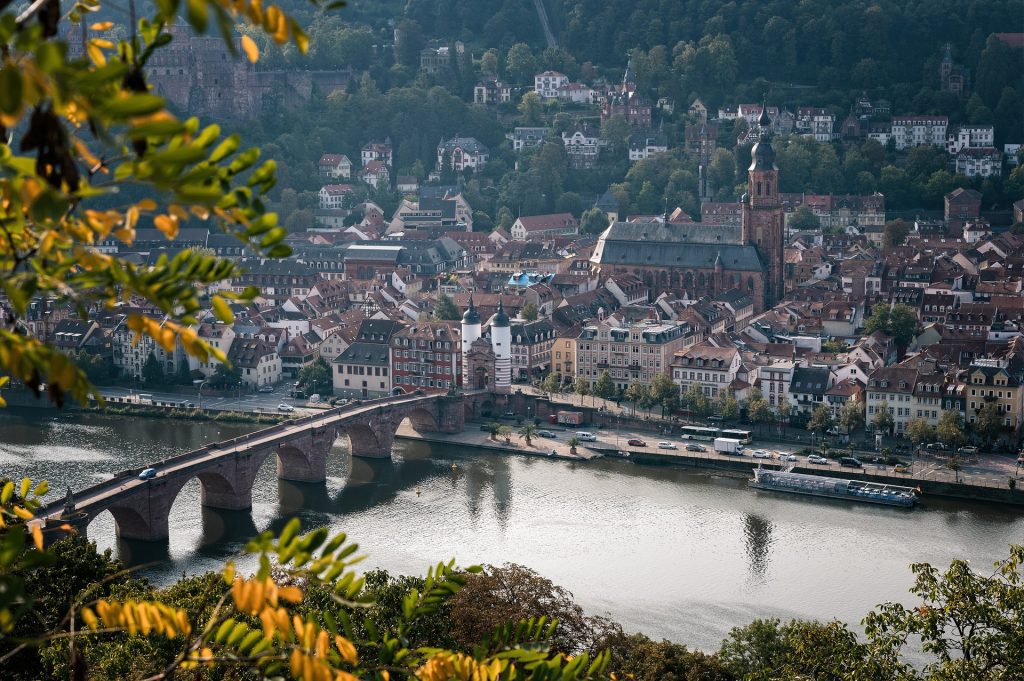 Heidelberg is a perfect day trip location. Despite it often being known as one of the most romantic towns in Germany, you can still enjoy most of the main sights in a day if needed. The fantastic castle, a GIANT beer/wine keg, the gorgeous old town, and the beautiful bridge over the river are some of the highlights of Heidelberg.
Baden Baden to Heidelberg: Approx 1 hour by car/ less than 2 hours by train
Freiburg im Breisgau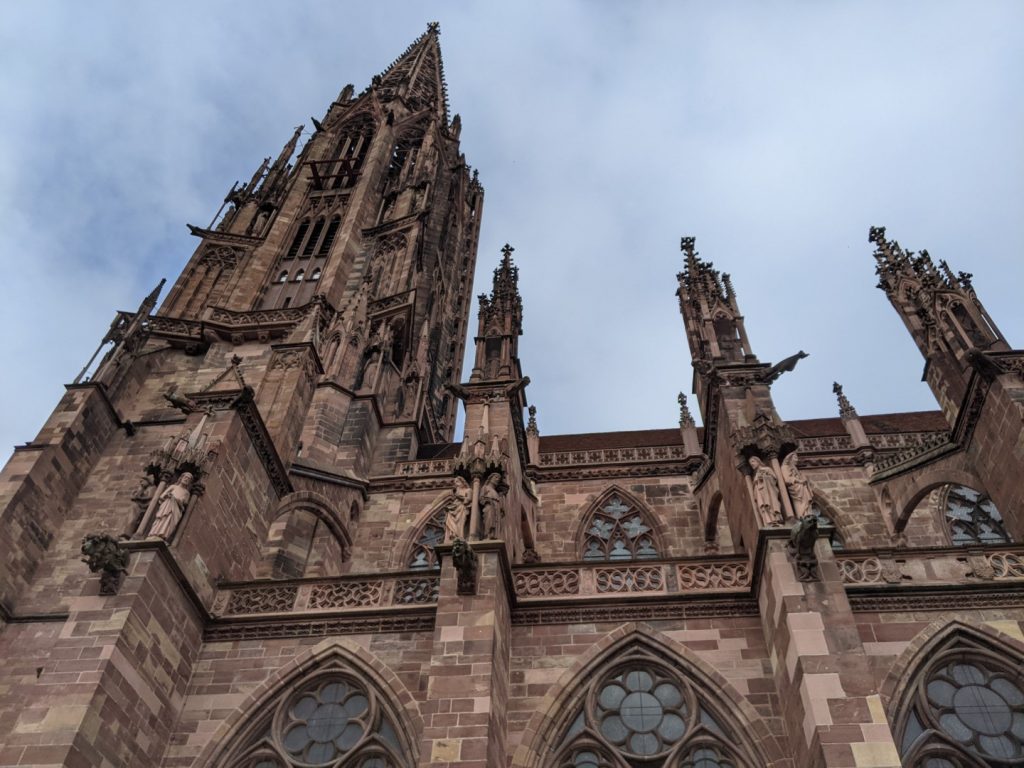 With a huge, commanding cathedral dominating the town's skyline, fun little streams that carry water (and even sometimes a rubber ducky race!) throughout the Altstadt, medieval town towers, and charming cobblestone streets are just a few of the things that draw people to this Black Forest town, which is just a stone's throw from the french border. 1 Day in Freiburg is the perfect amount of time to explore the city before enjoying other nearby towns. See my full list of Things to do in Freiburg im Breisgau Germany Here
Baden Baden to Freiburg: Approx 1.5-2 hours by car/ a little over an hour by train
Tübingen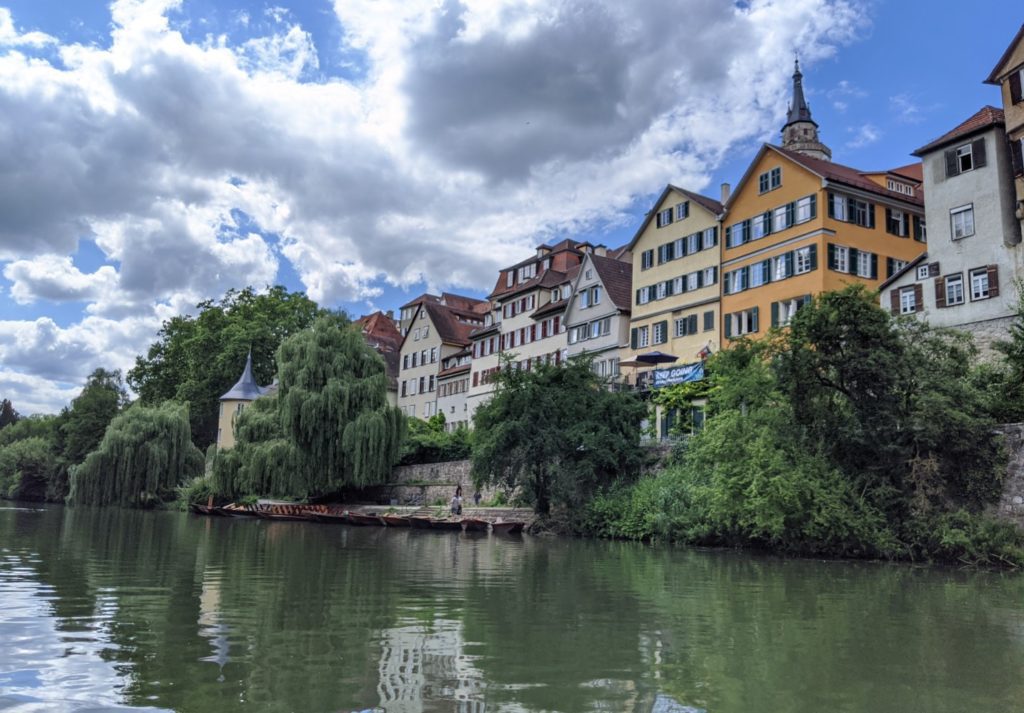 Tübingen is one of my top, underrated gems of Germany. It's also on my list of most picture perfect villages in Germany as well. This pastel colored town looks like it was plucked right from a fairytale. I could just imagine Belle reading her book at the town square's fountain, lined with half timbered houses and cafes. And no day trip to Tübingen would be complete without a dreamy boat ride down the gentle river as the locals paddle you along (and maybe even belt out a song or two, Venetian Gondola- style!)
Baden Baden to Frieburg: Approx 1.5-2 hours by car (not recommended by train)
Lichtenstein Castle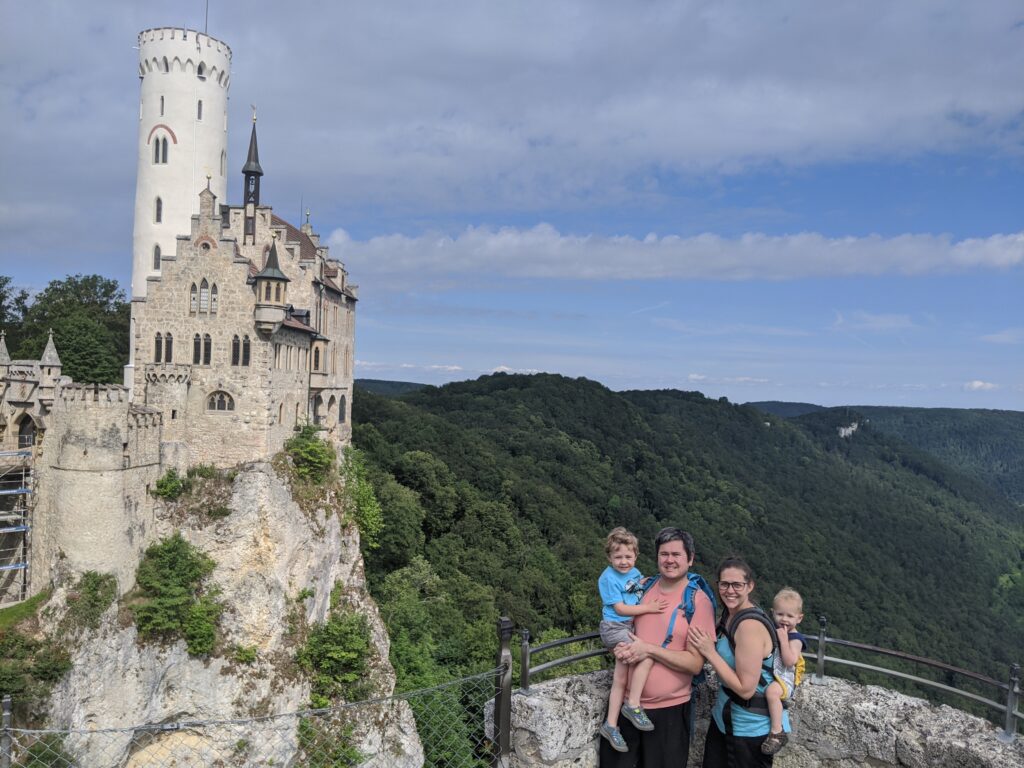 While not technically in the Black Forest, visiting Lichtenstein Castle is a must if you are in the area. Often referred to as "Neuschwanstein's little sister," it gets its name because both the Neuschwanstein Cinderella Castle and Lichtenstein Castles both have similar architectural structures (and both look absolutely fit for a princess!!!). It's one of my favorite castles to recommend to people visiting Germany!
Baden Baden to Lichtenstein Castle: Approx 2 hours by car (not recommended by train)
Hohenzollern Castle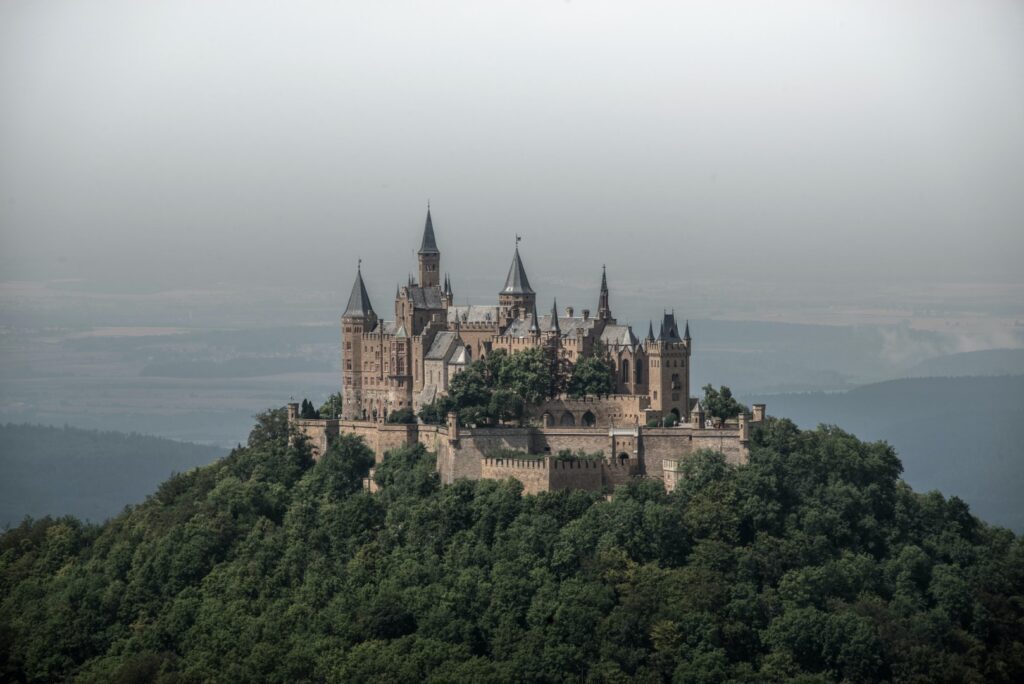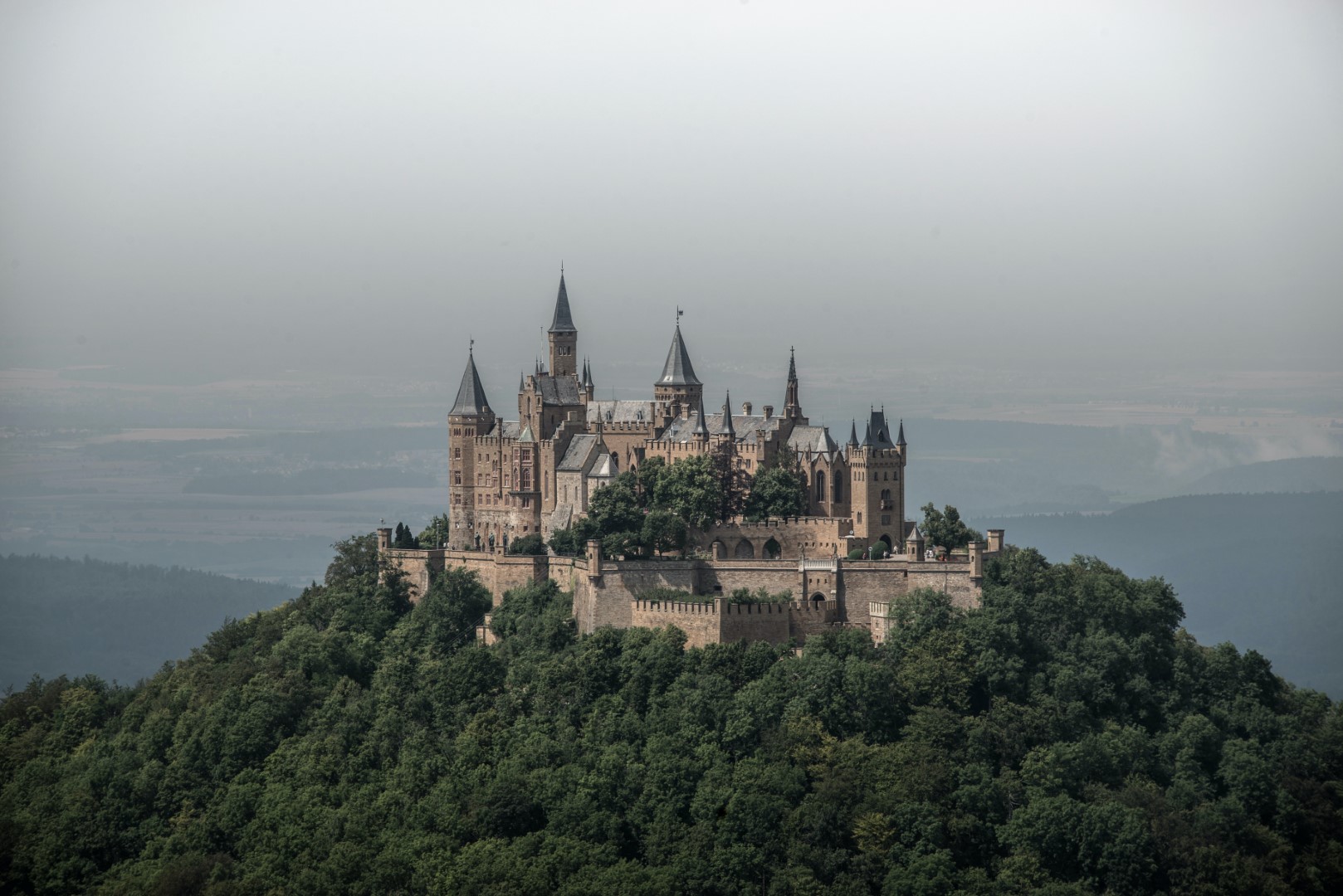 If you really want to make the most of your day you can easily combine the Lichtenstein Castle with a visit to the breathtaking Hohenzollern Castle. I recommend doing one in the morning and the other in the afternoon. Perched on top of a mountain, Hohenzollern, with its spires and giant fortress style walls would give Hogwarts a run for its money!
Baden Baden to Hohenzollern Castle: Approx 2 hours by car (not recommended by train)
Europa Park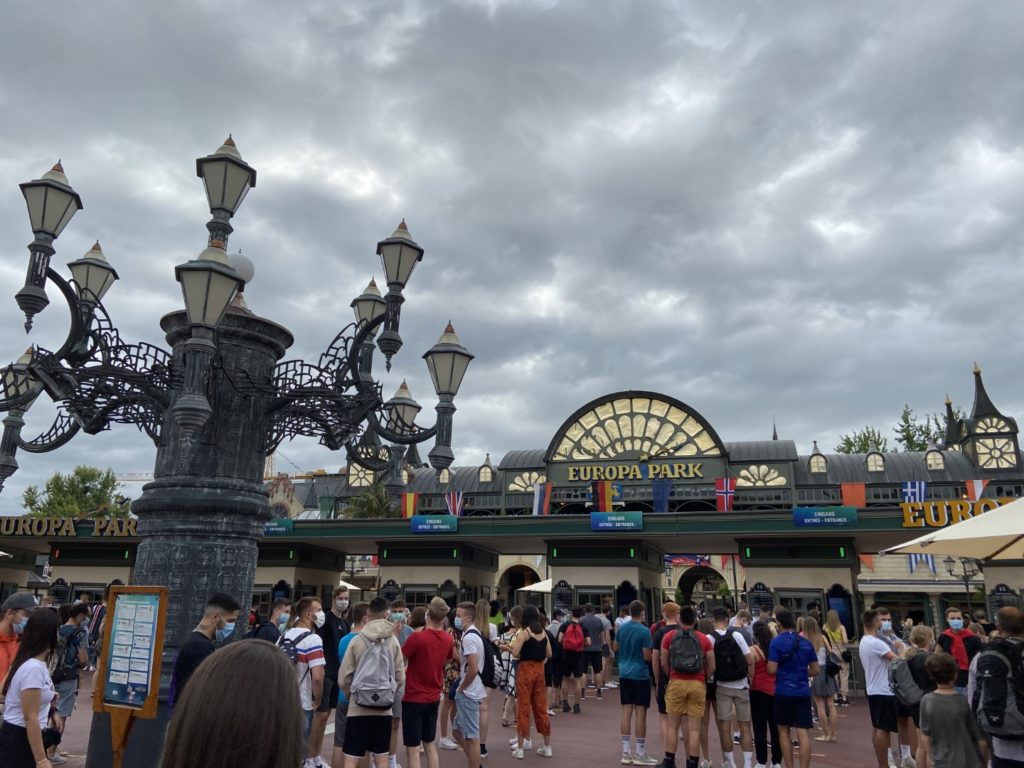 Whether you are traveling in Germany with kids, or just love theme parks yourself, do not miss the thrill seeking Europa park. We loved every minute of our time at Germany's largest amusement park and there was truly something there for all ages.
Baden Baden to Europa Park: Just under 1 hour by car
Triberg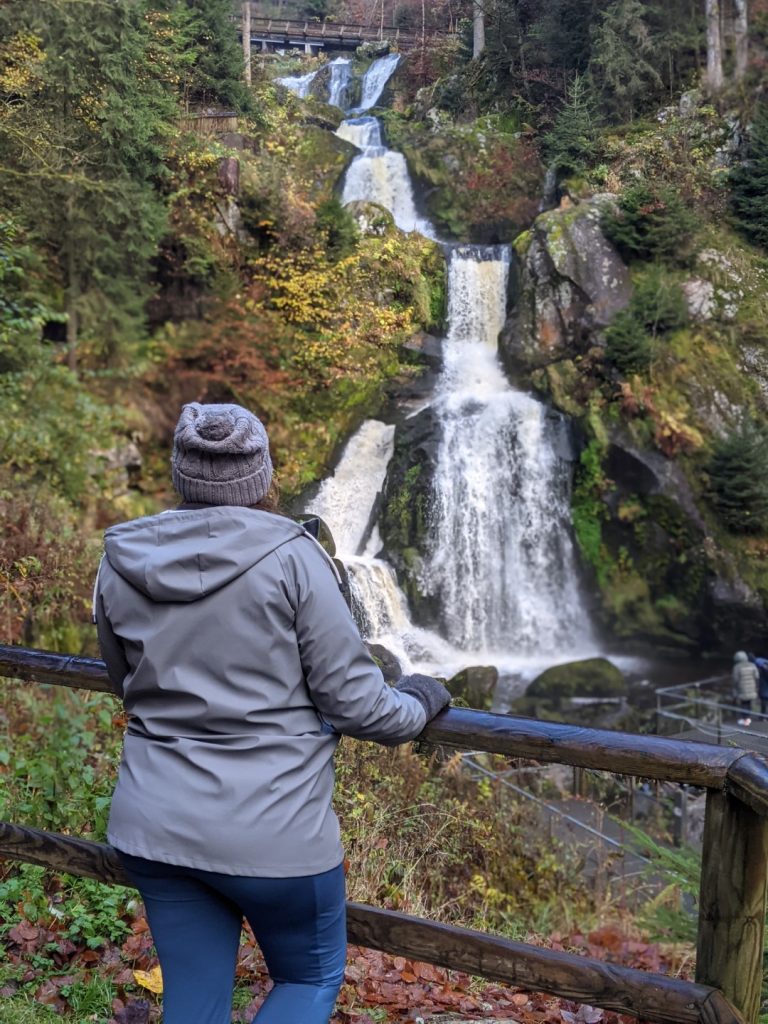 No visit to the Black Forest is complete without going to the famous Triberg Waterfalls (supposedly the tallest waterfall in Germany, but I have my doubts). While in Triberg, you can't forget to see the world's largest cuckoo clock and eat some Black Forest Torte as well!
Baden Baden to Triberg: Approx 2 hours by car or train
Colmar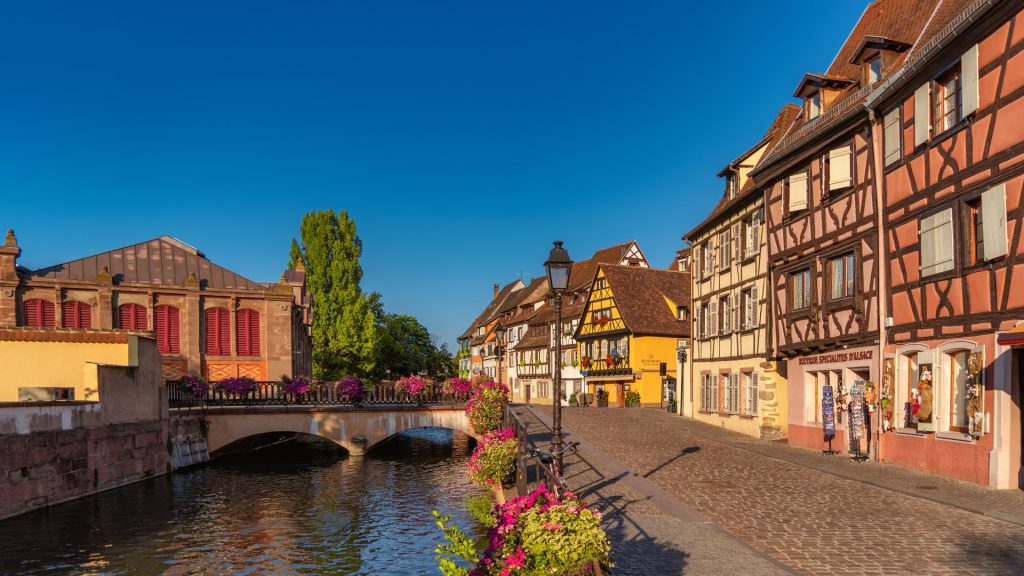 Considered one of the most beautiful towns in France, you couldn't imagine a more beautiful backdrop to your European adventures! The half timbered houses rise above the cobblestone streets, making every postcard you've ever seen of France come right to life in front of you!
Baden Baden to Colmar: Approx 1.5 hours by car or just less than 2 hours by train
Strasbourg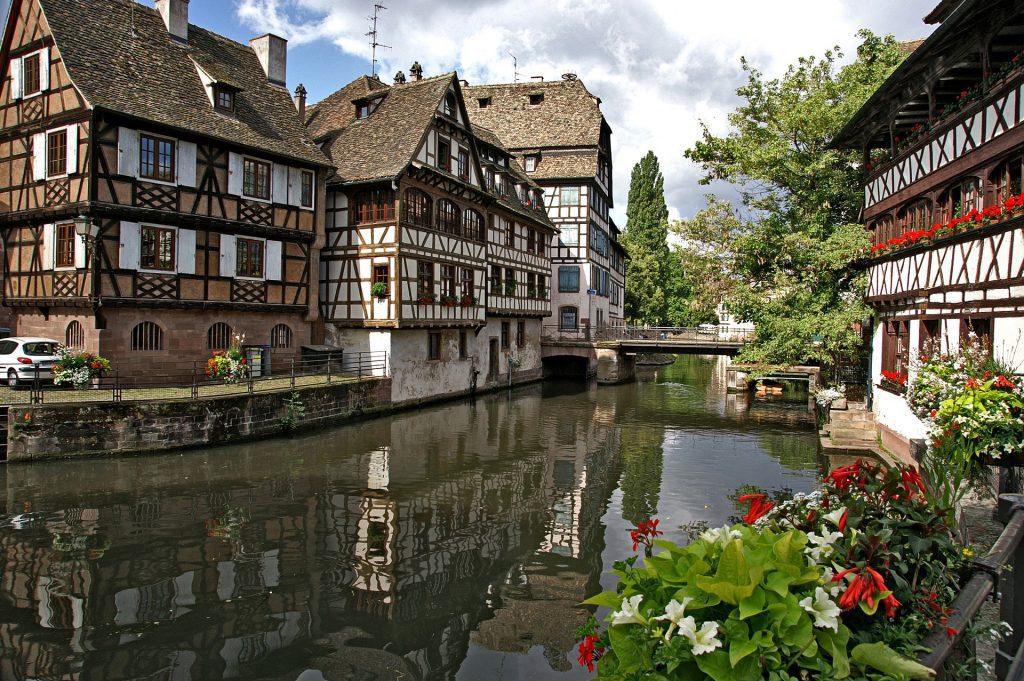 The region of Alsace, France is the perfect blend of French and German cultures, cuisines, and architecture and Strasbourg embodies it all perfectly! Literally right over the border into France (and what used to still BE Germany) lies this picture perfect village to explore whether you plan on diving deeper into France, or are just wanting to make a day trip to cross countries. The half timebred houses and canals that run through the town make it the perfect day trip from Baden Baden!
Baden Baden to Strasbourg: About 1 hour by either car or train