[This post may contain affiliate links where we earn a small commission. Please see our disclosure for more information and thank you for supporting our site so we can continue to bring you awesome content for your travel inspiration!]
The Black Forest in Germany has this magical allure to it. I'm not sure if it is because it (for some reason) conjures up images of moody, dark forests or if the idea of Cuckoo Clocks and waterfalls is appealing to tourists, or if people just simply like eating boozy cakes. No matter the reason, people often put going to the Black Forest, Germany on their bucketlist when planning out their Germany trip!
A Black Forest road trip is THE way to go about it! So, in this article, I'm going to go over everything you need to know from renting your car, where to stay, what to see, and will give you the perfect Black Forest Itinerary (actually, I'm going to give you 4 Road Trip in The Black Forest options to choose from!) which obviously includes the best things to do in the Black Forest.
Other Black Forest Germany Trip Planning You Might Like:
You'll Find In This Article:
Where is the Black Forest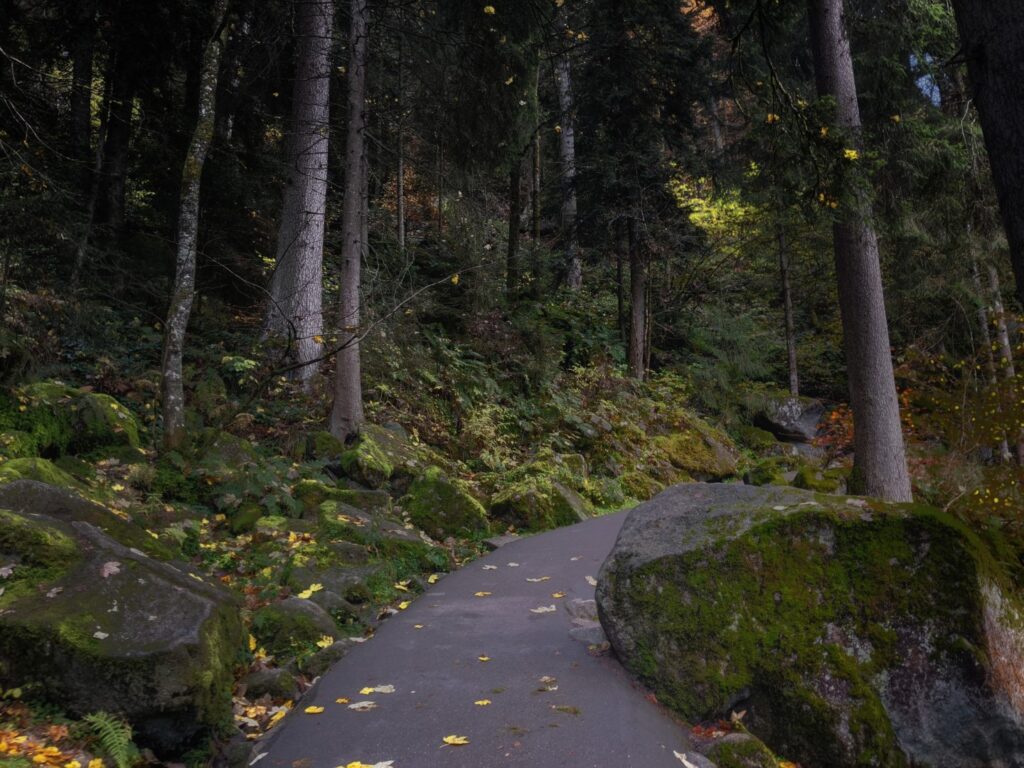 I had this vision of the Black Forest of Germany being a specific, designated location that you could draw a nice neat circle around and say, "Here. This is Germany's Black Forest!" (This IS Germany we are talking about….everything has its rules and place after all, right!?)
So I guess I was a little surprised to find out that it was more of a generalized, very spread out area throughout the South Germany state of Baden Württemberg, which borders both France and Switzerland. In fact, the Baden Württemberg Black Forest and mountain range covers a good chunk of the state, which is why it's a little difficult to come up with a definitive list of things to see in Black Forest, but more on the logistics of that in a minute…
To make it even a bit more confusing on where to go, there is the actual "Black Forest National Park" but then there is also the Hochschwarzwald, which is where a lot of the popular Black Forest Attractions are located.
How To Get To the Black Forest
Closest Airports
Getting to the Black Forest is pretty easy. If you are flying, Zurich is actually the closest airport to the Black Forest, especially if you are staying in Hochschwarzwald, where a lot of the main things to do in Black Forest Germany are.
However, if you are wanting to go to the Baden Baden Black Forest area (more northern), then Frankfurt is the closest international airport.
I like to keep an eye on Scott's Cheap Flights, as there are often some good deals for flights to Zurich.
Getting Around The Black Forest
By Car
Having a car is the easiest way to get around the Black Forest. You can get to a lot of the main towns I've mentioned in this post by train, but to get to places like the huge Cuckoo clocks, for example, you'll need a car.
Driving in Germany is really enjoyable, especially in this part of the country, where it is just so beautiful!
Click Here to See the Lowest Comparison of Car Rentals for the Black Forest
By Train
I love taking the trains in Germany! You can actually get to quite a lot of the main towns in the Black Forest (Karlsruhe, Triberg, Freiburg, Baden Baden, etc) by trains and buses.
Tip: If using public transportation, look into the using BWEinfach (Baden Wurtenburg One Way) ticket or see if the town has it's own local tickets that may even be cheaper.
However, there are a few main issues with taking the train in the Black Forest:
Depending on where you want to go, it can take much longer to get to via train due to the train schedules as well as the terrain of the area
You won't be able to get to a lot of the really great locations that are a bit more off the beaten path (IE All Saints Abbey, the Giant Cuckoo Clocks, etc) because there is no (or no good) public transportation to those locations
For us, the perfect alternative was using public transportation when we could. However, using a car as our primary mode of transportation, made doing the Black Forest Road trip more flexible and allowed us to get to more desirable locations that wouldn't have been possible without a vehicle.
Check Out DB Train Ticket Prices Here
Map of Germany Black Forest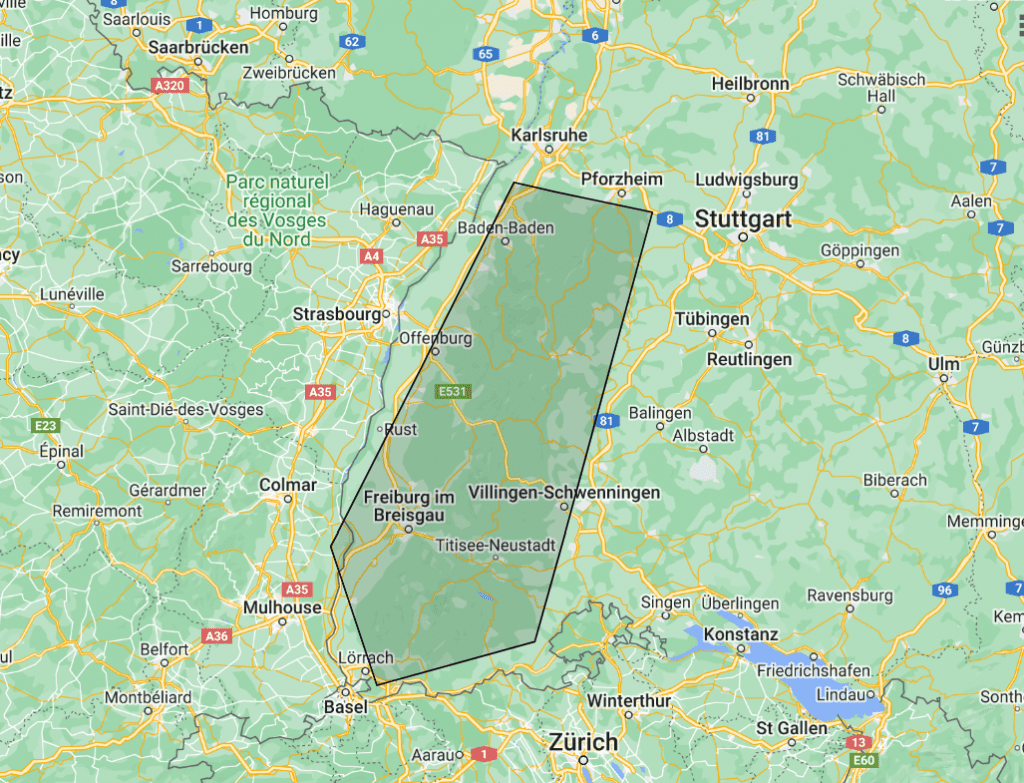 Tips For Visiting The Black Forest
Focus on One Area
Determining YOUR perfect Black Forest itinerary may be a bit different than somebody elses' based on your tolerance for how far you are willing to go, drive, or take a train for a day trip. If you don't mind going 2 hours one way, that opens up much more to what you can do. For us, since we have kids, we prefer not to spend more than about 45 minutes to an hour in the car when doing day trips while on a holiday.
So, for simplicity's sake, I would look into it as North, Central, and Southern Black Forest. I'll give examples of a Black Forest 3 Day Itinerary for each of those below. Obviously, if you have more time, you can bounce around a bit more, combine a few of them, etc.
Stay In One or Two Towns (and then do day trips)
Depending on exactly which itinerary you choose, this may influence where you decide to stay. For us, it made perfect sense to make Triberg our "home base" since a lot of things to do in the Black Forest aren't too far away from there.
Where to Stay in the Black Forest
Triberg is pretty central
Freiburg is popular, especially if you want to make a day trip into France
Baden Baden is a popular spa town and is a great base for more of the Northern parts of the Black Forest
Below I suggest specific hotels that I recommend booking for each of the areas.


Drive and Then Take the Trains When Possible
A very common question in my "Traveling in Bavaria" Facebook Group is "How do I decide between taking the trains in Germany or Driving in Germany?"
While this may be a tough answer in other parts of Germany, for the Black Forest, I absolutely recommend having a car. It's not that the trains aren't good in the area, but there are a lot of really great gems that just aren't as easily accessible in the area.
Having a car allows you to get a little more "off the beaten path" and to attractions that just simply aren't feasible with a bus or train in the Black Forest
It gives you more flexibility and choices on where to easily go
You can pack way more into your days since the trains can take a long time from destination to destination due to the "mountainous" terrain
However, there are some famous train rides in the Black Forest that are simply stunning (and are the main event and thing to do for the day in and of itself) and there are a few places that you can easily get to with a train. Therefore, I recommend having a car to get you around for the majority of the time, and then using a train here and there (I explain below when this would be) to give you that "train experience" as well as to save a bit on gas.
Tips For a Black Forest Road Trip
Know The Driving Rules of Germany
No, driving in Germany isn't that much different than in the States. In my "Everything You Need To Know About Driving in Germany" guide, I go over all the important things that you, as a tourist, absolutely need to be aware of when driving in Germany.
Have The Obligatory Items in Your Car
There are a few items that, by law, are required when driving anywhere in Germany. If you have rented a car, just make sure you have double checked that they are in there. You will need:
Orange safety vests
Caution triangle
First Aid Kit
Insurance documents
Current driver's license
The Roads Can Get Small and Windy
While the Black Forest Mountains are not really comparable to say, the Bavarian Alps, you do have some decent altitude here! I was really shocked at just how twisty and windy the roads were at times. While this made for some pretty beautiful scenery, if you've got even an ounce of being prone to car/motion sickness, you'll want to be prepared. Be sure to have Dramamine or Sea Bands packed and ready just in case!
Have a Real Map
Like most Millennials (yeah, that's right….I'll own up to that title!) we have become almost completely reliant on just using our GPS or phone GPS when traveling. However, there were countless times that we found ourselves with absolutely no GPS signal due to the terrain. Granted, it wasn't a huge deal since we always had a general idea of the directions we needed to go, but having an actual, real, paper, old school map of the Black Forest would have been a good back up, especially for tourists.
Be Prepared for Inclement Weather
We were in the Black Forest at the very end of October/ beginning of November. Where we live in Germany, this means it can be chilly but rarely have I seen snow that early.
But, like I mentioned above, you are at a pretty high altitude in the Black Forest, so we were a bit surprised to already see snow (not a lot). However, what is more important to note for driving in the Black Forest was that early in the morning and after it got dark (and the temps dropped), there were a few times that out on those small, country, windy roads, we did hit black ice a few times at completely unsuspecting times.
So, drive cautiously, even when you think it is safe!
Black Forest Itinerary Suggestions
The way I've written this post is that you can choose to do about 3 days in each area of the Black Forest. That means you can choose to string a few of them together to make for a longer road trip or just choose one itinerary to do on its own for about three days. The rest of your Germany itinerary will probably influence just how much time you have for this region. You can spend as little as a weekend in the Black Forest or a little over a week even!
Itinerary 1: Central Black Forest 3 Day Itinerary
Day 1
Tip: As always, when you are planning a trip that is jam packed full of things to do, I recommend starting your day early. Even though the daylight hours can be very long in the summer, you'll want ample time to spend at all your stops. And hey, if you find yourself realizing you have more time on your hands, just go find a Biergarten and enjoy local life!
Triberg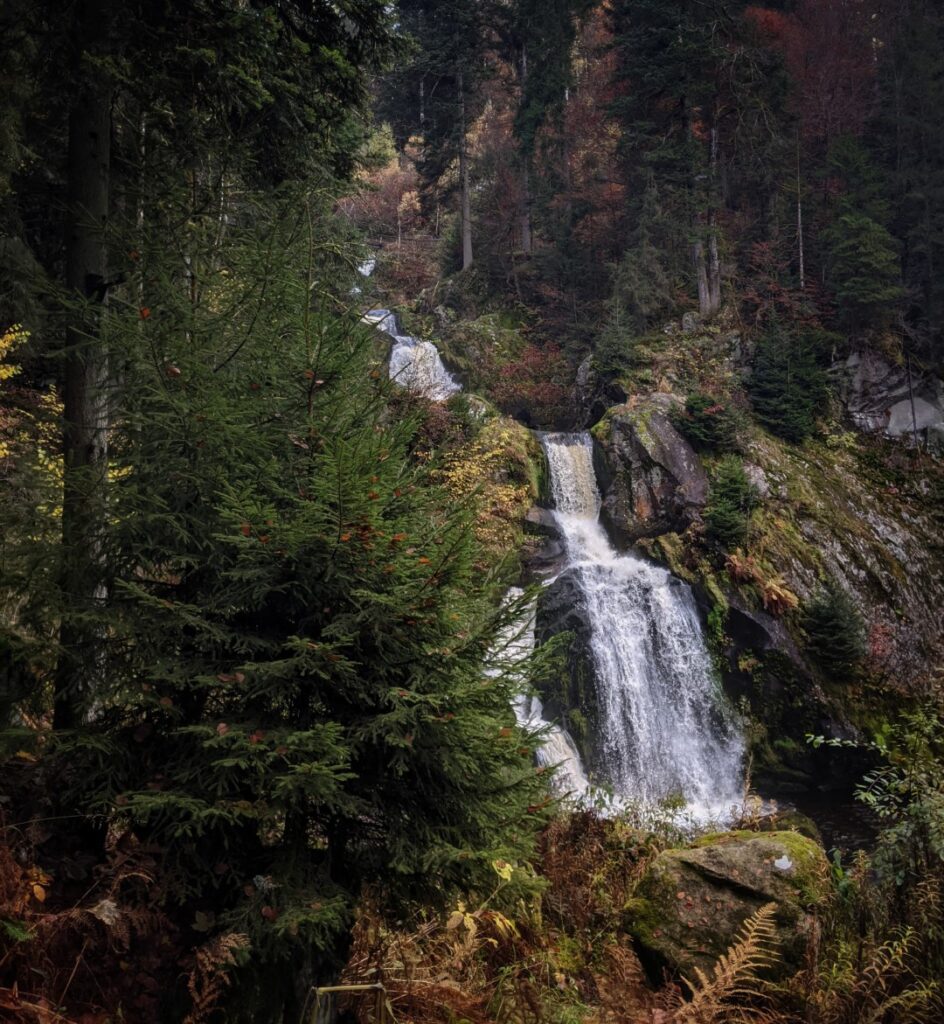 We chose to use Triberg as our "home base" for this 3 day Black Forest Itinerary. Well, technically it was a tiny village just outside of Triberg. So, on day 1, we headed into town.
Since we were driving, we parked at the centrally located "Männer Parkplatz" which is right by the Edeka store. Here is how we spent our day:
House of 1000 Clocks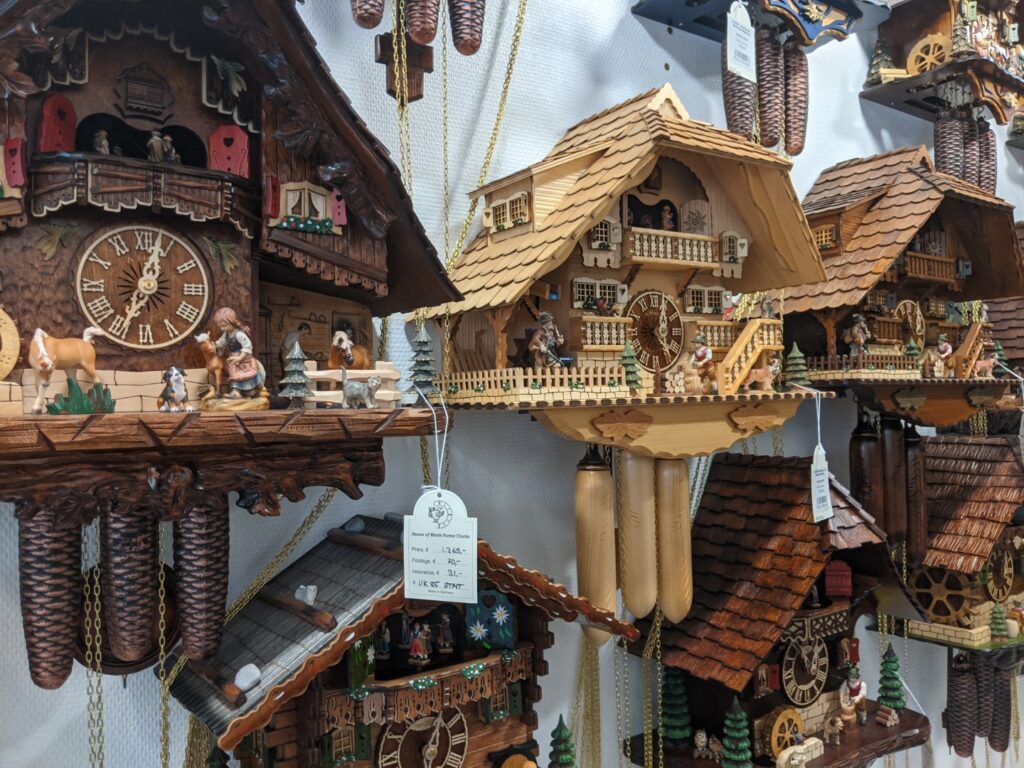 Right across the street from the parking garage is the famous "House of 100o Clocks." Sure, it's mostly there for tourists, buuuut hey, aren't we tourists!? This is one of those times that I don't mind just completely leaning into that definition! It's actually really cool to have a look around the shop.
Everywhere you look there are, you guessed it, CLOCKS! And obviously, this is the land of the Cuckoo Clock, so the majority of the store is just that.
Big, small, loud, quiet, simple, elaborate, classic, modern……what do you want in a Cuckoo Clock? It's there!!
Not surprisingly, a Cuckoo Clock is one of the Best Souvenirs From Germany that people like to get. However, not all Cuckoo Clocks in the Black Forest are created equal.
How To Tell An Authentic Black Forest Cuckoo Clock
Even though it is a Cuckoo Clock and it is being sold in the Black Forest doesn't always mean that it was actually MADE there! Ask to see (and receive!) the Black Forest Clock Association Certification for the clock that you want. Only clocks that are 100% made in the Black Forest can receive this certification. (Note that only mechanical Cuckoo Clocks can also only receive this certification)
Look for the black, white, and gold sticker that has the letters 'VDS' which stands for "Verein die Schwarzwalduhr." This is the "society" that helps certify the clocks and give is their "Stamp" of approval.
Find a "Made in Germany" stamp. And in fact, most shops that make them will proudly stamp or mark the clock as well.
If you don't see the shop name on the outside, ask to see the inside of the clock. All authentic clocks will have fully functioning mechanical gears and working pendulums. The name of the manufacturer is often stamped in here.
Note: There are actually several House of 1000 Clocks, but this is probably the easiest one to get to. Also, there are tons of other shops that are similar to this. They all have roughly the same prices though.
Triberg Waterfall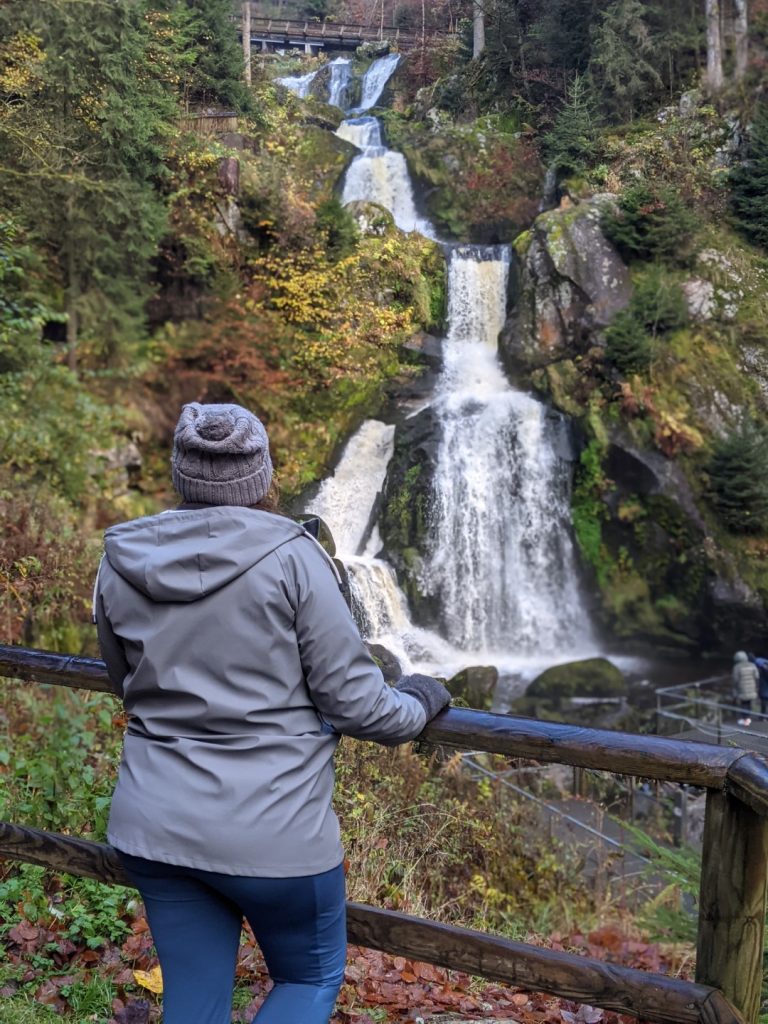 Most people looking for Things to do in Triberg are there to see the famous Triberg Waterfalls. They claim it as the "Tallest Waterfall in Germany" (Spoiler alert: It actually is NOT!)
You can read my in depth guide all about the Triberg Waterfall here. I go over exactly how to get there, hikes you can take to and around the falls and more.
This waterfall is unique and beautiful. Instead of one, big, long, plunging fall, it is actually almost 535 feet (163 meters) of 7 different cascades. Each "drop" isn't that long, in and of itself, but it winds all the way down the hill and is beautiful from all angles.
Depending on which hike you take, how much time you stop for photos, etc you can spend anywhere from a quick hour to several here.
Triberg Waterfall Costs
There are different costs for winter and summer months. Also, there are several varying discounts that can knock off a few Euros (For example with the Triberg Guest Card, Konus Card, etc.) Based on all those factors, look up the exact prices for your situation here.
Visit the Schwarzwald Museum
We personally didn't make it to this (mostly because with three little kids, museums just aren't their jam), but without kids, you'll still have plenty of time in your day to make this a quick stop (probably need about an hour). You'll get a better understanding of what life was like in previous times in the Black Forest. While Bavaria may be where the stereotypes live for Lederhosen and Dirndls, the Black Forest has its own version of some absolutely stunning Trachten (Traditional Clothing). At the museum, you can view examples of these clothings, get more history on why the Black Forest is known for Cuckoo Clocks, and more.
Address: Wallfahrtstraße 4, Triberg
Cost: €5 Per Person
Have Lunch
Just up the hill was the fantastic "Bergseestüble" where we chose to have lunch. You can either walk a very steep hill for about 10-15 minutes or just drive the 2 minute stretch.
Now, I'm no stranger to Schnitzel, but this tiny little restaurant had a fantastic one!!! (Maybe I was just really hungry from our hike??) It did look like in warmer months, they might set up the terrasse into a Biergarten overlooking their tiny little lake (more like a pond) but by November, all they had was just a few tables inside while we were there.
Eat Black Forest Cake IN The Black Forest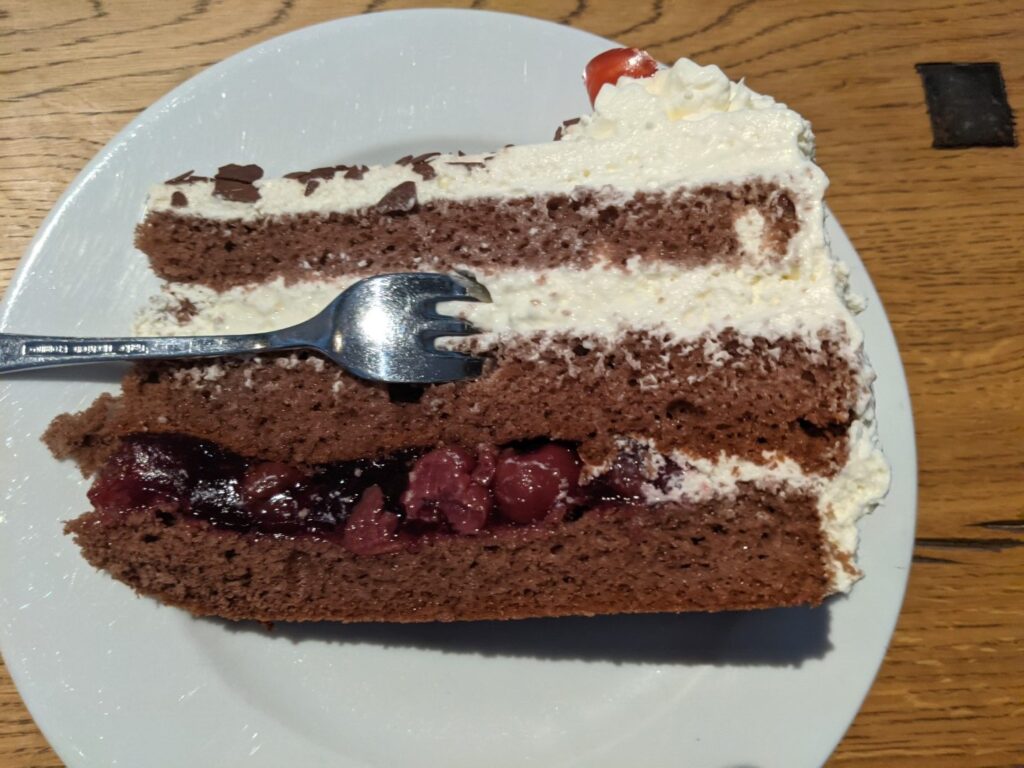 There are just certain things you must do in the Black Forest, liiiike eat a Black Forest Germany Cake!!! (Locally called the Schwarzwälder Kirschtorte). Luckily, the Bergseestüble had it on their menu. But if you chose a different place for lunch, just google a "Bäckerei" or even a Cafe and you'll find plenty of places where you can eat a Black Forest Cake IN the German Black Forest!
See The Largest Cuckoo Clock in the World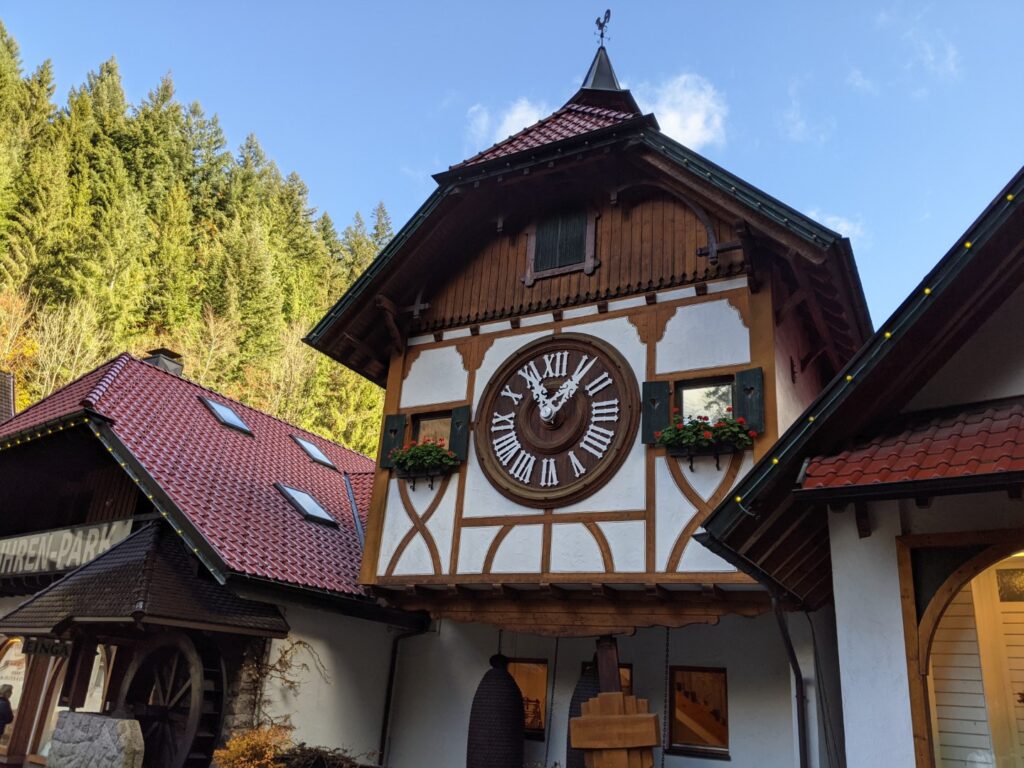 Another absolute must for your Black Forest Germany Road Trip Bucketlist is to see the "World's Biggest Cuckoo Clock!"
Let's just be honest here for a moment and all admit that this is another "Tourist Moment" but alas, we're all suckered into it and hey, why not when it's so close to our other activities for the day that it really doesn't add much time. Plus, it never hurts to be able to say, "Yeah? Well, I've seen the largest Cuckoo Clock in the world!" (I'm not exactly sure where this conversation may pop up, but might as well have it locked and loaded in your back pocket for small talk at parties!)
Tip: Arrive a few minutes before the top of the hour. That way, you can see it "Cuckoo" for as many hours as it is in the day (if you can time it for Noon, you'll obviously get all 12 Chirps!) It does "Cuckoo" at every half hour, but only once and if you blink, you'll practically miss it.
While there, pop into the (very) small museum. It's only 2 Euro and you can breeze through in 10 minutes (15-20 if you are particularly fond of Cuckoo Clocks)
The main appeal of this "Museum" is that you can actually "go inside" of the World's Largest Cuckoo Clock that you just watched from outside! It is a fully functioning "mechanical" clock, meaning that it works solely by things like weights, chains, pendulums, etc. I will admit that watching the ginormous mechanisms, gears, and pendulums all work together was pretty cool. We stayed outside to watch it go for the 12 chirps and then waited for the half hour to watch it from the inside as well.
Museum Cost: 2 Euro/Adult. Kids under 10 free
Address: "Eble Uhren-Park" Schonachbach 27, 78136 Schonach im Schwarzwald (3 minutes drive from Triberg)
Stop At the Hornberger Uhrenspiele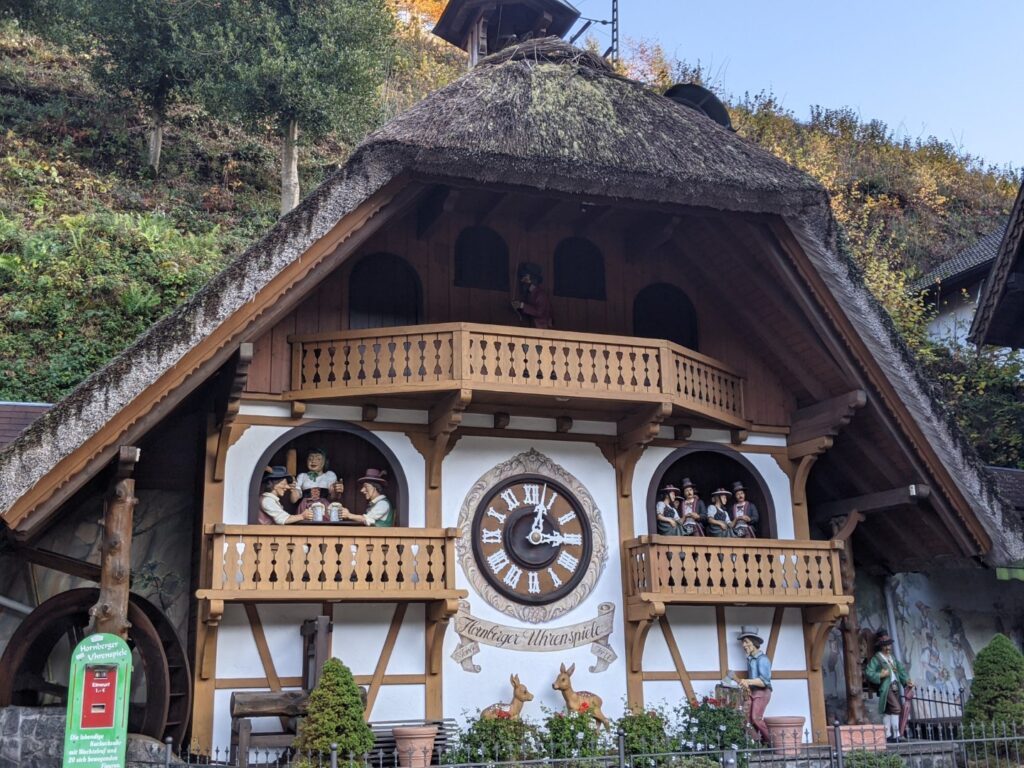 If you are Cuckoo'd out, then I have bad news for you because we've got another Cuckoo Clock Stop in store (try saying that 5 times!)
Many people confuse the Hornberger Uhrenspiele with the Largest Cuckoo Clock. I can see why. It's another, well…giant Cuckoo Clock on the side of a house!
However, I actually prefered this one to the "Legit" World's Largest (this one doesn't get that title because it is not an actual fully functioning, mechanical Cuckoo Clock)
Tip: Again, get there at the top of the hour to see the "show"
The reason why I liked this one better than the previous clock is that the other one JUST had the Cuckoo Bird pop out and "chirp" the hours. THIS clock gives you a whole song and dance (quite literally!)
There is a whole scene where the bird tells you the time by chirping the hours. Then, figurines pop out, twirl around, dance, Prost their Bier Steins, and more! Even I had fun watching the whole thing!
To get there, it's only about 10 minutes out of Triberg. Take the B33 in the direction of Offenburg and you'll pass through the tiny town of Hornberg, where it's right along the main street.
Address: Landstraße 7, 78132 Hornberg
Enjoy Dinner With A View
There aren't a TON of options right in the town of Triberg itself (there is a good Italian restaurant on the main street and I'm always down for a Doner Kebab at the local Imbiss). If you want to stay close to Triberg, then those or something in nearby Schonach will be your best bet.
But if you want some really fantastic, local food, with views out over the Black Forest hills and are willing to drive about 20 minutes, then you can head to the Guesthaus Staude (you can also stay at their Guesthouse as well if you are looking for a fabulous hotel in the Black Forest).
While you sit on the Terrasse overlooking the forest and rolling hills you'll enjoy local Black Forest food such as Goulash, Pork Steaks, Schnitzels, and of course, Black Forest Cake as well!
Day 2
Day 2 is going to be more of a "pick your adventure" kind of day! I'm going to include several options, but I recommend only choosing two; one to do in the morning and one to do in the afternoon. For us, we were already limited because we were visiting the Black Forest with Kids but also because by November, it already gets dark by about 4:45 pm. If you are looking for things to do in the Black Forest in the Summer, you will have much more flexibility on daylight hours, as it actually stays light until well past 10 pm at the height of summer!
Option 1: Go to the Vogtsbauernhof (The Black Forest Open Air Museum) and Gutach Rodelbahn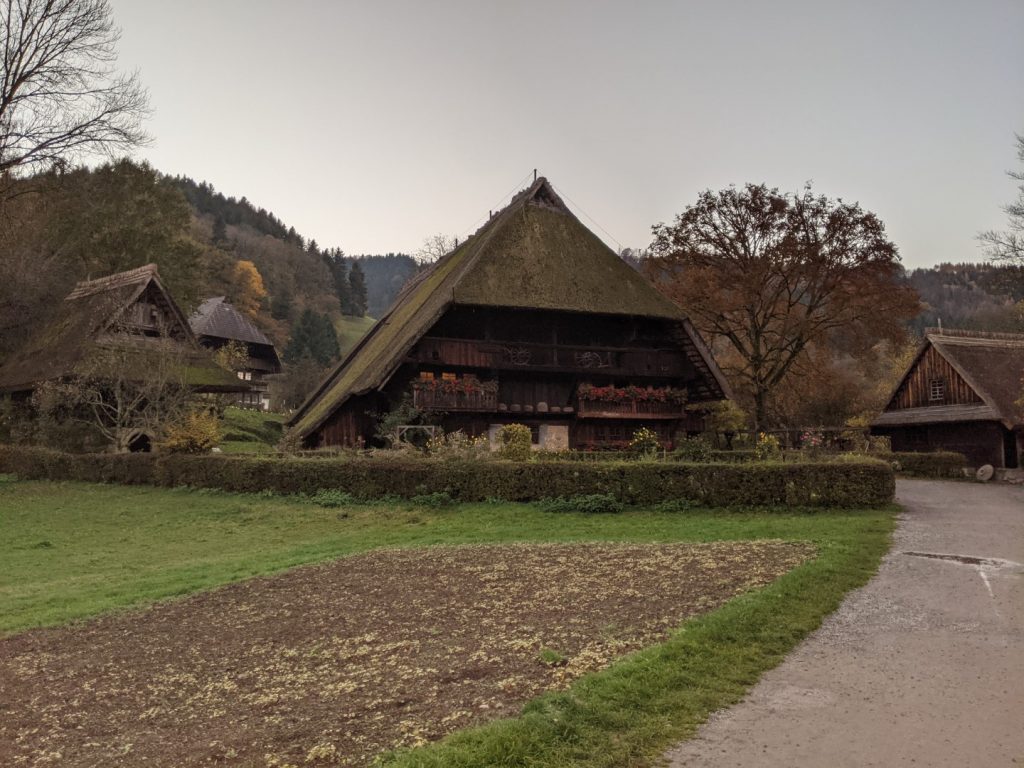 This is what we did because I am a sucker for open air museums and seeing what life was like in the "yesteryears" and I also thought the kids might enjoy it as well since there was a lot of "hands on" type of learning. If you like history, enjoy going to working farms, or just simply would like to peel back the layers into life in the Black Forest anywhere from the 1600s to current times, then I think it would be well worth your visit (regardless of ages!)
I highly recommend starting here in the morning when it opens because there really is so much to see and do here. There are usually demonstrations throughout the day, so it is best to get there and ask what they have on the schedule for the day you are there. I particularly enjoyed going into the old sod houses.
See opening hours (varies on seasons), prices, etc here
Have Lunch
There is a little cafe inside the main Vogtsbauernhof or there is a small outdoor eatery next to the parking lot.
Alternatively, there is a nice beer garden at the next recommended stop….
Coast Down the Gutach Rodelbahn
The Rodelbahn ("Alpine" Coaster) is just down the road from the Vogtsbauernhof, making it a perfect add-on for your day!
Rodelbahns are so much fun. You sit in a "toboggan" style "roller" coaster" and zip down the tracks all the way down the Black Forest mountain!!
The cost of the rides will all vary. Your total will be determined by age, how many times you want to ride, etc. Check out the current prices here (Tip: If you have a visitors card, ask about a discount. )
Option 2: Go on a Hike in the Black Forest
If you are wondering where to hike in the Black Forest, you have countless options! If you are wanting to stay close to the Triberg home base, here are some great options to start with. I love using Kamoot.com and AllTrails to help me find great hikes. What's great about this is that you can select your ability level, how far you want to go, etc. So it is completely adaptable to YOU.
Of course, you can venture even further
Around the Triberg Waterfalls: Depending on what you did yesterday, see what Kamoot suggests for hikes around that part of the forest
The Ravenna Gorge: This is a famous gorge in the Black Forest and there are some fantastic hikes in it, including a few waterfalls to spot as well!
Take a Dip at Badeparadies
I recommend this as an option if it is winter or if you find yourself in the Black Forest on a rainy day or if you just love aquaparks! If you've never been to a German Spa or Sauna, this one takes it up a level. It's got the Therme (spa) for adults but if that isn't your thing, then there is an entire HUGE indoor water park area as well with countless slides and more to fill your day with fun!
Hirschgrund Zipline
If you are a thrill seeker, then you HAVE to check out the Hirschgrund Zipline! It has the longest zipline in Germany, but also has 6 other zip lines that zip you through the forest canopy, fly you over valleys, creeks, and more! Talk about a birds eye view of the Black Forest!!!
Note: If you are a family, kids must be over 12 to participate
Alternative Day 2 If Visiting The Black Forest in Winter
A lot of things are closed in the winter in the Black Forest (like the Open Air Museum and Rodelbahn). However, skiing is very popular in the region in the winter. You won't get the huge Alp style mountains, but that means that this area is great for beginners. If skiing isn't your thing, rent some snowshoes and go snow shoeing instead! If you can walk, you can snow shoe, and it's a magical experience hiking in the forest with snow all around.
Day 3
Today, we are going to venture slightly out of the "central" part of the Black Forest.
Choose Between the Höllentalbahn or the Schwarzwaldbahn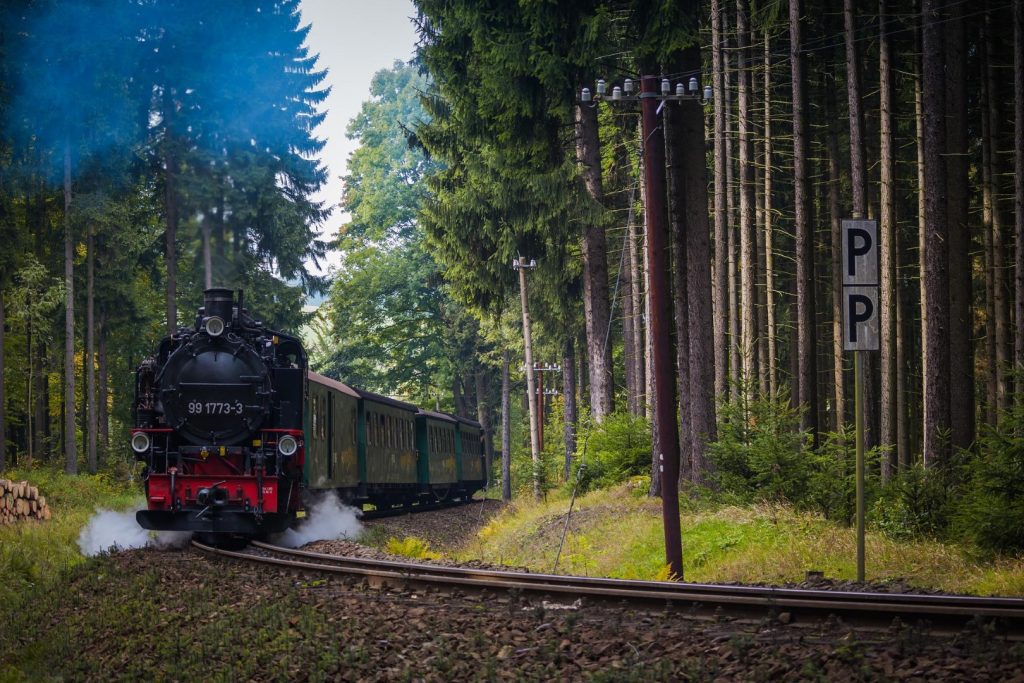 If you've ever wanted to take a train ride through the "enchanting" Black Forest, now is your time!
We had to do the Höllentalbahn because the (steam train) Schwarzwaldbahn was closed in November.
Option 1: Höllentalbahn and Freiburg im Breisgau
The Höllentalbahn is often on lists like "Most Scenic Train Rides in Germany" so naturally, it piqued my interest! While the train journey today didn't seem like it had any special maneuvers, apparently, when it was first built it was really important. Something about the track being on a really steep gradient and how that was a big deal at the time! In fact, it is still considered the steepest railway in Germany even today.
This train journey cuts through valleys of the Black Forest, zips over the Ravenna Gorge, and goes through the cliffs of the "Devil's Valley". And that is just the first half! Continue on and the "Höllentalbahn" is now the "3-See-Bahn" (3 Lakes Train) where you can go to/past three separate Black Forest Lakes.
The biggest issue with this train journey is that there is no real clear (or good) start or end, or even better, loop, options. For example, if you drive to where the train "Starts" in Freiburg, then your car is left hours away from where you end. However, the other option means taking the train about an hour and 45 minutes up and around just to get to the starting point, which actually still ends up probably being your "best" option.
To Get to Frieburg im Breisgau: There are a few options, so it's best to just double check the App, "DB Navigator" for exact times from your exact location, but from the Triberg Trainstation you can catch the:
RE2 Train in the direction of Karlsruhe, which leaves every hour
Transfer at Offenburg to the RE26 which takes you to Freiburg
Time From Triberg to Freiburg by train: About 1 hr 45 minutes.
Things To Do in Freiburg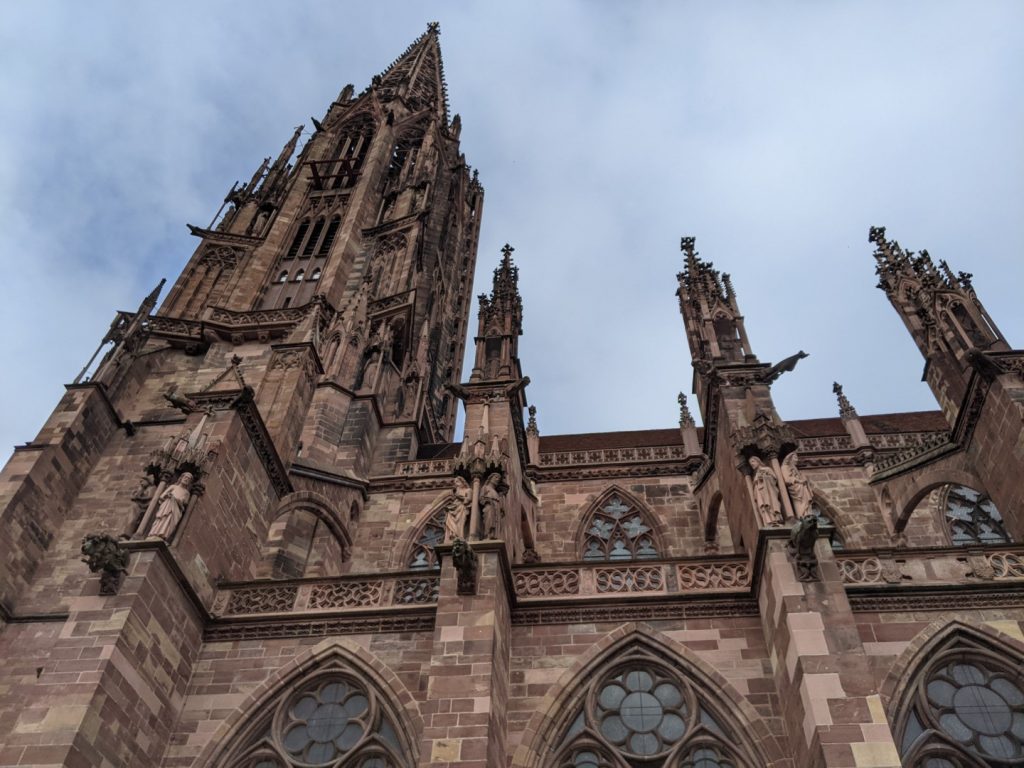 While you can spend a full day in Freiburg, I also think you can get by with a few hours as well. You can read my full list of Things to Do in Freiburg Here but here are a few of the top highlights in the Altstadt before heading back to the train station for the Höllentalbahn:
Wander to the Freiburg Minster (Cathedral) and enjoy the Platz
Münsterplatz is the square that surrounds the Cathedral and is beautiful
Take a look at the architecture of the buildings, such as the "Merchant's Hall" (also in the Münsterplatz)
Go through, under, and around the "gates": Swabentor and Martinstor
Take the Train Journey
Once in Freiburg im Breisgau, there isn't a particular train labeled or specific one just for the "Höllentalbahn." In fact, it is just a regular Sbahn train! (There is a sign on the platform that does say Höllentalbahn though, which is helpful to know which platform to be on!) Therefore, you'll want to get on the S10 Train, which leaves about every 30 minutes). Make sure you are on THIS train because it is the one that will take you the whole way.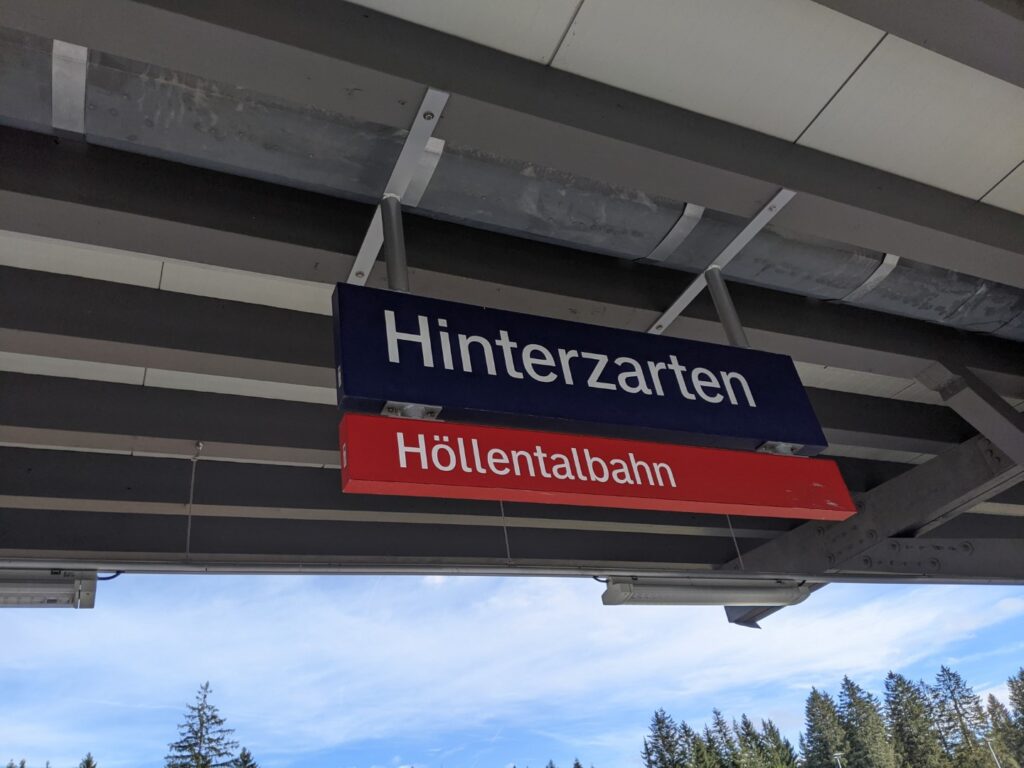 Tip: At the Freiburg HBF, there are plenty of places to grab some lunch to go. I always love stopping at a bakery and getting some fresh German pretzels and the bakeries always have great sandwiches as well. Stop into another store at the train station for a bottle of beer, and you can kick back on the train with your "Picnic" lunch!!!
As for the lakes, you really don't need to plan on time at them. While they are nice, they aren't worth much of an extra stop to get to them. So, basically, you are just enjoying your train journey for your activity for the day. The official route of the Höllentalbahn will go from Freiburg to Villengen.
Time from From Freiburg to Villengen: About 2 Hours
You can then take the R2 which leaves every hour and be back to the Triberg station in about 25 minutes from Villengen.
Alternatively, if that all sounds like a bit too much backtracking, or if you want to get the train experience but don't care to be on it ALL day, you can also do what we did, which was to basically shave off the 3 lakes portion.
You'll drive to Hinterzarten and from there take the Sbahn 30 minutes on the Höllentalbahn to Freiburg.
Enjoy a few hours in Freiburg
Take the Höllentalbahn back to Hinterzarten
Drive a few minutes to walk or hike the Ravena Gorge (more details on that below in the next train option description)
Cost:
REGIO24: If you have more adults or kids (under the age of 14 ), then the Regio24 is the local RVF network group ticket. You can use all trains and buses for up to 5 people on one ticket for 24 hours. This is 25,73 EUR total for the 5 people.
Konus Card: We had the Konus Card and supposedly it is free to ride public transportation in the Black Forest with it. Unfortunately, we totally forgot about this, so I can't verify if the pass would have covered this, but I don't see why it wouldn't have (you can ask when you get your Konus Card from your hotel)
If you don't have the App, you can also get the tickets online here or you can also just get them on the platform at the stations.
Option 2: Take the Schwarzwaldbahn Journey and Hike the Ravena Gorge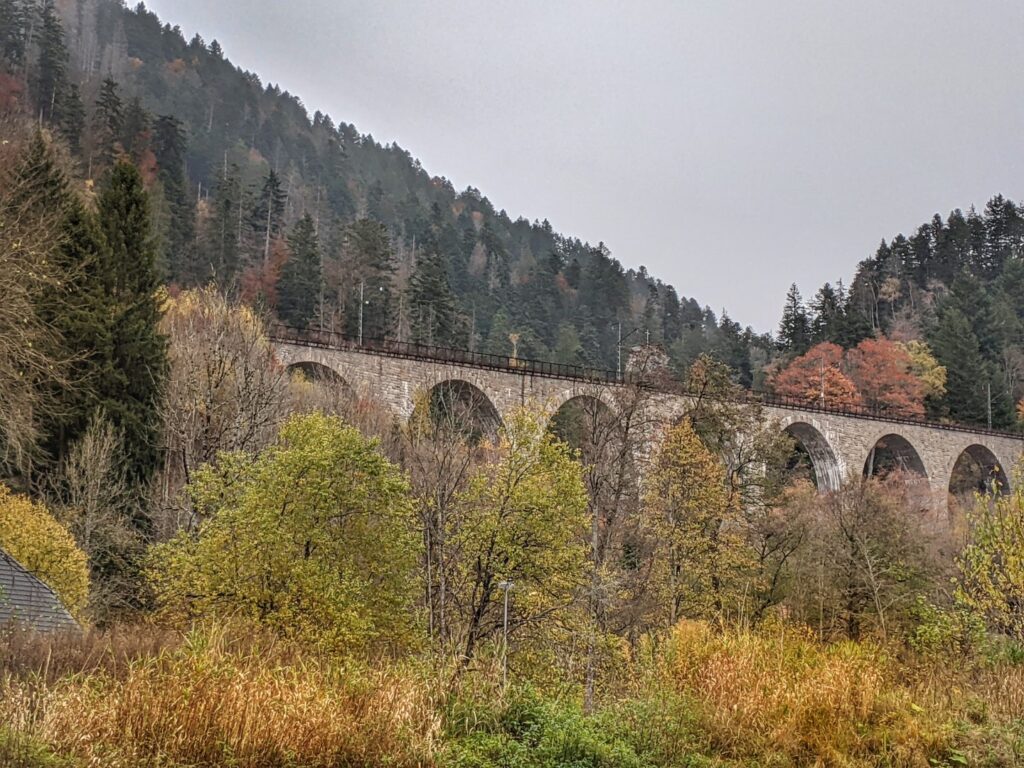 Only from May to September is there one of the most famous steam train rides in the world that you can take. It will twist and turn you around all the bends of the Black Forest mountains and zip you through the tunnels (do know that the idea of going through tunnels sounds fun, buuut is also not visually stimulating in the slightest!)
Note: You can take the same route anytime of year on a Regional Train, it just won't be the famous steam train itself.
HOWEVER, if you wanted to be more efficient, rumor has it that from Hornberg to Triberg to St. Georgen is actually the best and most beautiful, so you could easily take the Regional train on that portion and do it in about 30 minutes (not including any backtracking to where you start or finish) which is a good compromise if you either can't take the steam train for various reasons, or don't want to do the full day excursion with it.
Note: The site hasn't been updated lately, so it is best to contact the steam train organizer to inquire for exact details, costs, and time.
In The Afternoon, Hike the Ravena Gorge: If you are only going to do a smaller section of the Schwarzwaldbahn, then you'll have plenty of time in the afternoon to drive to the Ravena Gorge. This is a famous viaduct in the Black Forest (in fact, the Höllentalbahn goes over it). Take the 6.6 km hike that will pass by a waterfall, under the viaduct and through the Black Forest.
Black Forest Road Trip Itinerary 2: Southern Black Forest
The "Southern" Black Forest can easily overlap with the above "Central" itineraries. Therefore, depending on your tolerance for how long you are willing to drive for day trips, or if you don't mind staying in a place only a night or two, you can easily either make this area a full 3 day venture or just tack on another day or 2 to the above itinerary.
The Southern parts of the Germany Black Black Forest are ideal for those outdoor enthusiasts who prefer to spend their holidays enjoying hiking, being outside, and soaking up nature.
Instead of a play by play, like the above itinerary, for this area of the Black Forest, it's best to choose one of the following options for each day.
Hike to Feldberg (or take the Cable Car)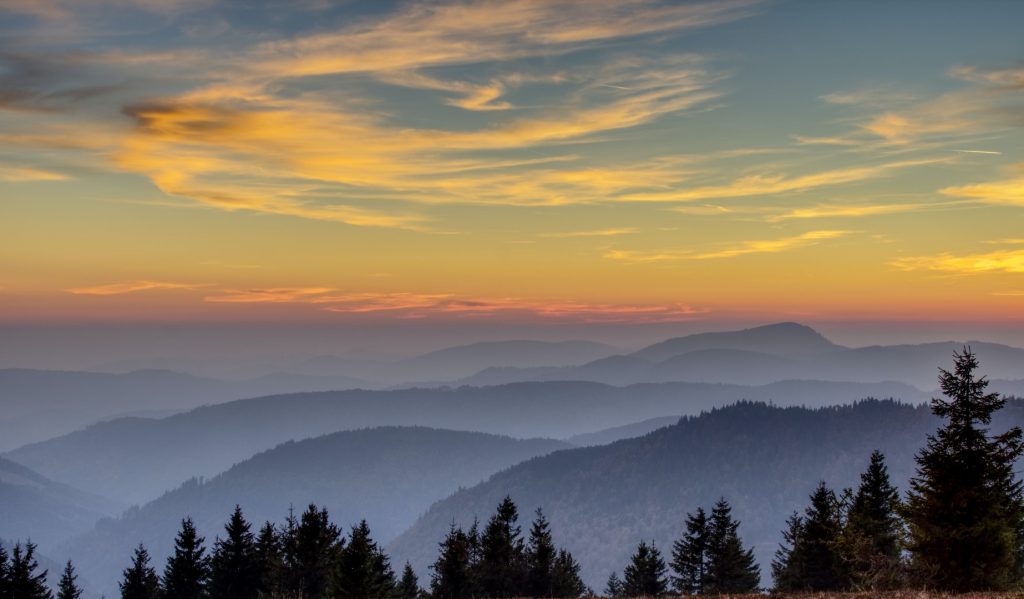 Hike (or Ski) in Feldberg
Whether you want to hike the mountain, or just relax and soak in the views by taking a chairlift up, heading to the top of Feldberg (the highest peak in the Black Forest) is a wonderful way to take in a 360 view of the Black Forest of Germany!
Using either/or AllTrails and Kamoot, find the perfect hike that will envelop you in the beauty of this mountain and make a whole day of it!
In the Winter: Feldberg is also where you'll want to go if you are looking to ski in the Black Forest
Coast Down the Todtnau Rodelbahn (Hasenhorn Coaster)
If you didn't do the Gutach Coaster from above (or even if you did!) then you'll definitely want to consider the Todtnau Rodelbahn. Many people will say it's actually one of Germany's best. After taking a ski lift to the top (or hiking for those of you who want a bit more heart pumping activities) the coaster rails are 3km worth of track that winds you down the Black Forest mountain. It even has limited winter hours!
See Current Prices and Hours for the Todtnau Rodelbahn Here
See the Todtnauer Wasserfall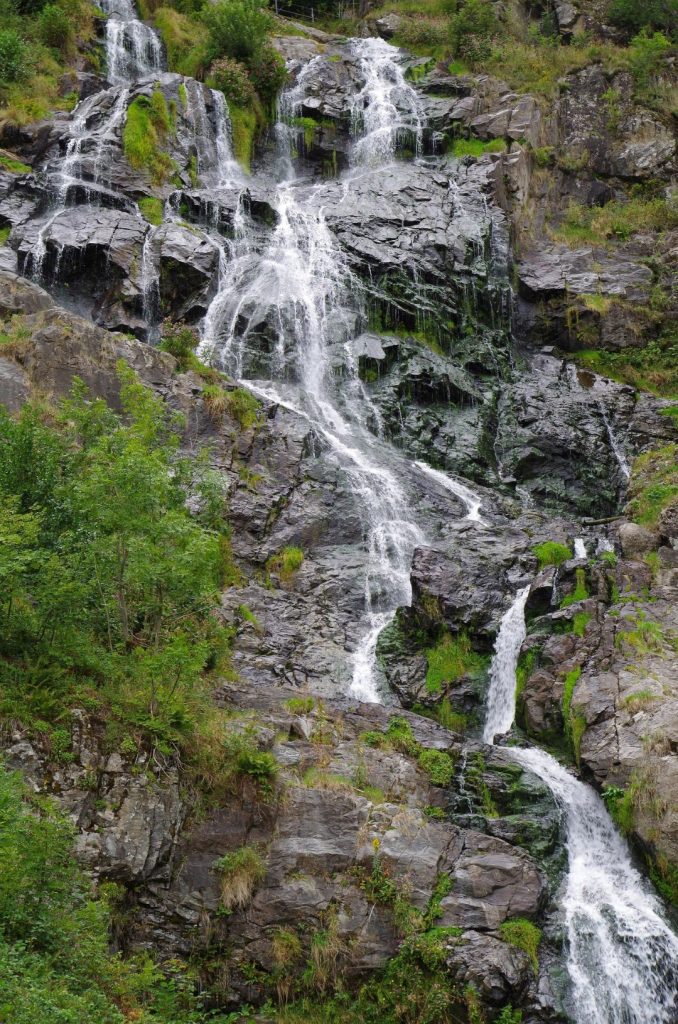 If you are going to do the Rodelbahn in Todtnauer, then you'll need to stop by the Todtnauer Waterfall as well!
You can easily walk to the falls on a wheelchair and stroller accessible path to the waterfall in just a few minutes or, if you want, you can take this gorgeous loop hike that is relatively easy and only takes a little over 1.5 hours to complete.
If you've got the fitness and energy levels, there is a steep climb with steps that can get you to the top, where there are far fewer people enjoying the falls from above and is worth the effort.
Tip: This can be a very popular tourist location. Either try to get there as early in the morning as possible or later in the afternoon to try to avoid bigger crowds.
Dip Into The Lakes
Grab a picnic lunch and head to one of the lakes. Titisee and Schluchsee are two of the most popular ones. There are walking paths around and nearby, you can rent little boats to take out, and just enjoy a peaceful, slower day.
Take a Day Trip To Bodensee
Ah, a lake of many names!
Lake Constance
Lake Konstance
Bodensee
It is all the same place and is one of Germany's most famous lakes. It borders Germany, Austria, and Switzerland simultaneously, is HUGE, is beautiful, and has plenty to do for a full day!
Granted, Bodensee isn't technically even in the Black Forest, but it borders it and is well worth considering it as a day trip if you are already enjoying the Southern Parts of the Black Forest anyway! It even made my list of "Best Weekend Trips in Germany" where you can read more on exactly how to spend a full day (or 2 even) when there.
Itinerary 3: Western Black Forest
Day 1: Europa Park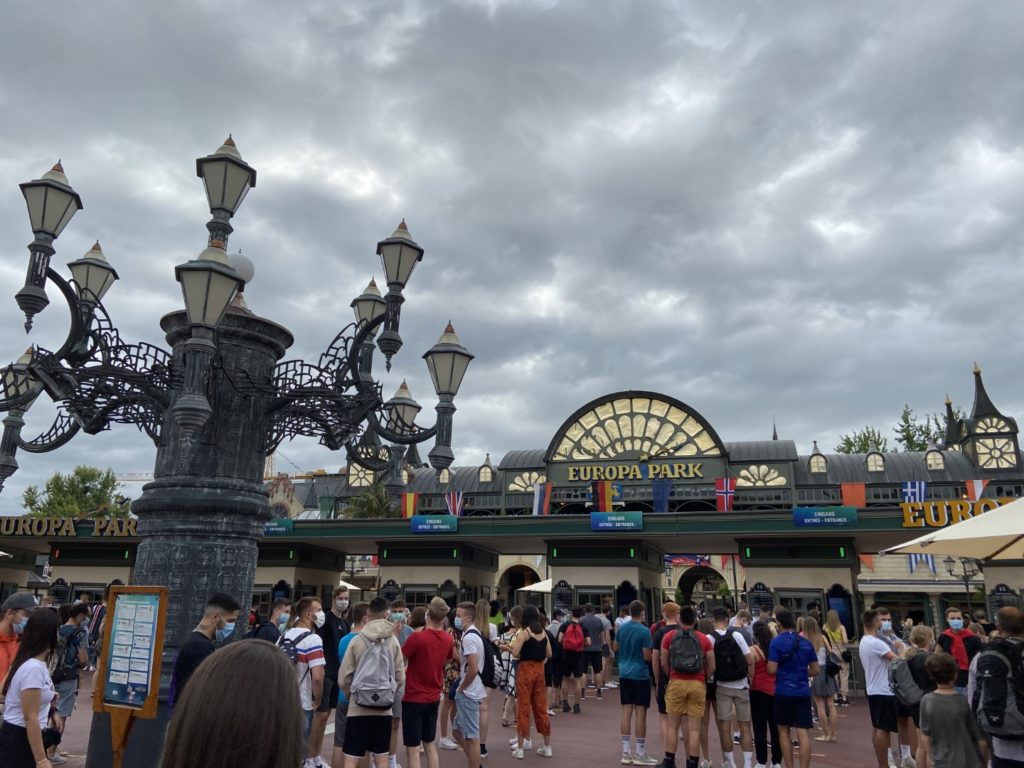 I was surprised at how much we enjoyed Europa Park! I mean, yes, the name clearly gives away its theme (Europe) but it does a phenomenal job of capturing every stereotype of differing European countries into sections of the park.
I also really liked that it had SO much to do that everyone in our group (we had ages ranging from 2 years old to 4, to 7 years old and then a group of adults) found something that they liked. There were small playgrounds and splash pads for the toddler, kiddie rides for the 4 year olds, and some of the best roller coasters in Europe for the adults!
We've been to a lot of amusement parks in Germany (each of the following are my reviews and guides for each) and I have to say that Europa Park is still at the top of my list for favorite.
Here is my Europa Park Tips and Tricks article to help you make the most of your day.
Day 2: Rulantica
Rulantica is the HUGE waterpark neighbor of Europa Park. Besides some seriously amazing play structures (there's a pirate ship for God's sake!!), there are almost 30 slides of all ranges, speeds, abilities, etc. And if you are looking to kick back a bit, there are even 2 cocktail bars!
Day 3: Visit The Nearby Black Forest Germany Towns (or France!)
There are several towns nearby that you can go and explore for the day such as:
Strasbourg, France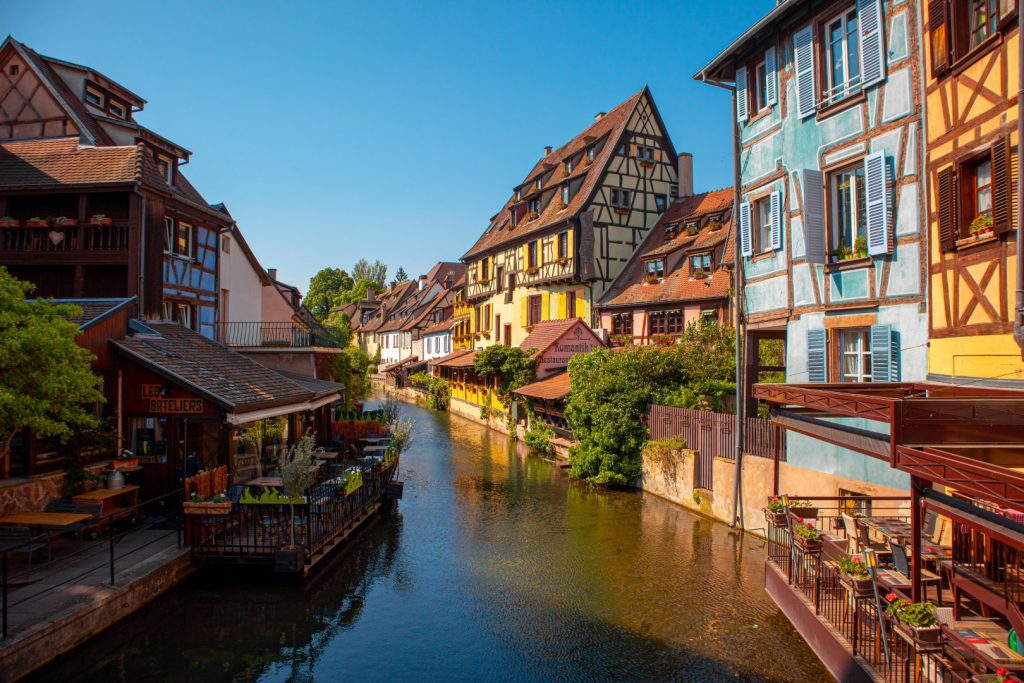 Strasbourg is not considered "in" the Black Forest, but it is literally a stone's throw away over the border into France. It's a gorgeous town and a great excuse to pop into another country on your trip!
Gegenbach
This is a classic German town, with its half timbered houses and cobble stone streets. Kids may particularly like wandering around though because it's got tons of statues of jesters and other similar characters that are popular during the Karneval celebrations in Germany.
You can also climb the huge tower for commanding views of the town and surrounding area.
Freiburg and the Höllentalbahn
Look up above at my Day 3 on the Central Black Forest Itinerary to read all about this great train ride through the Black Forest
Itinerary 4: National Schwarzwald and the Northern Side of the Forest Itinerary
The more Northern side of the Black Forest is perfect for those wanting a bit of R&R with their nature! After all, this area is dominated by the ever-popular Baden-Baden Spa Town, which is considered one of the best things to do in the Black Forest.
If you are looking for day trips to the Black Forest from Stuttgart, some of these areas are what you should easily consider.
Day 1: Baden Baden Caracella Spa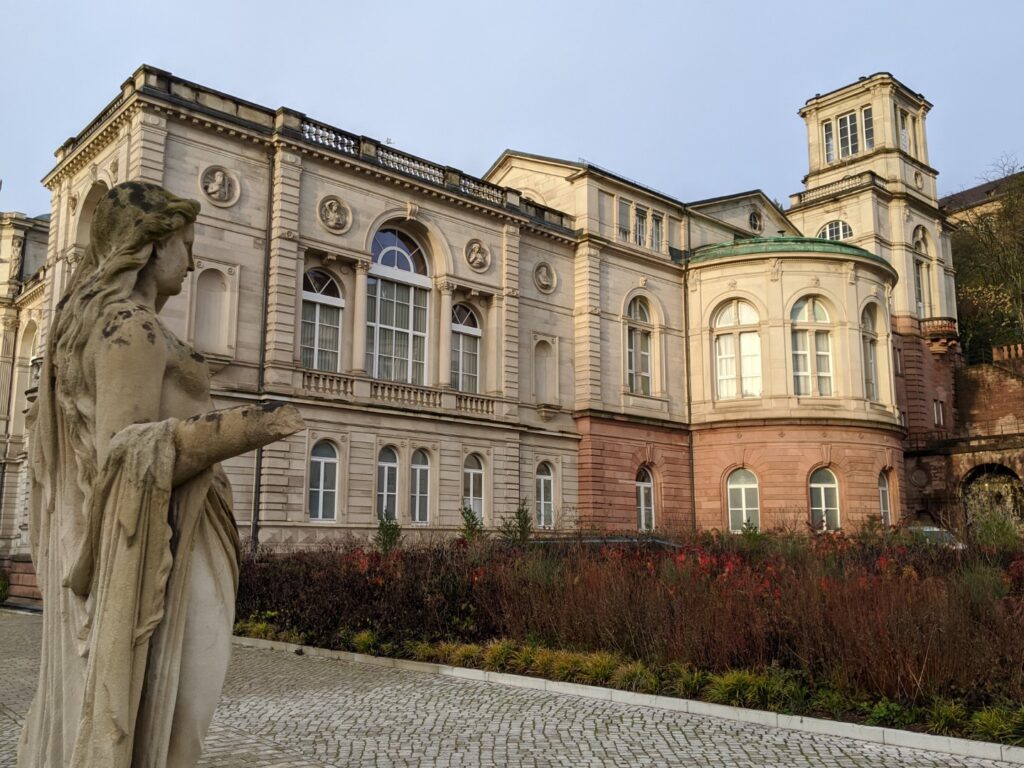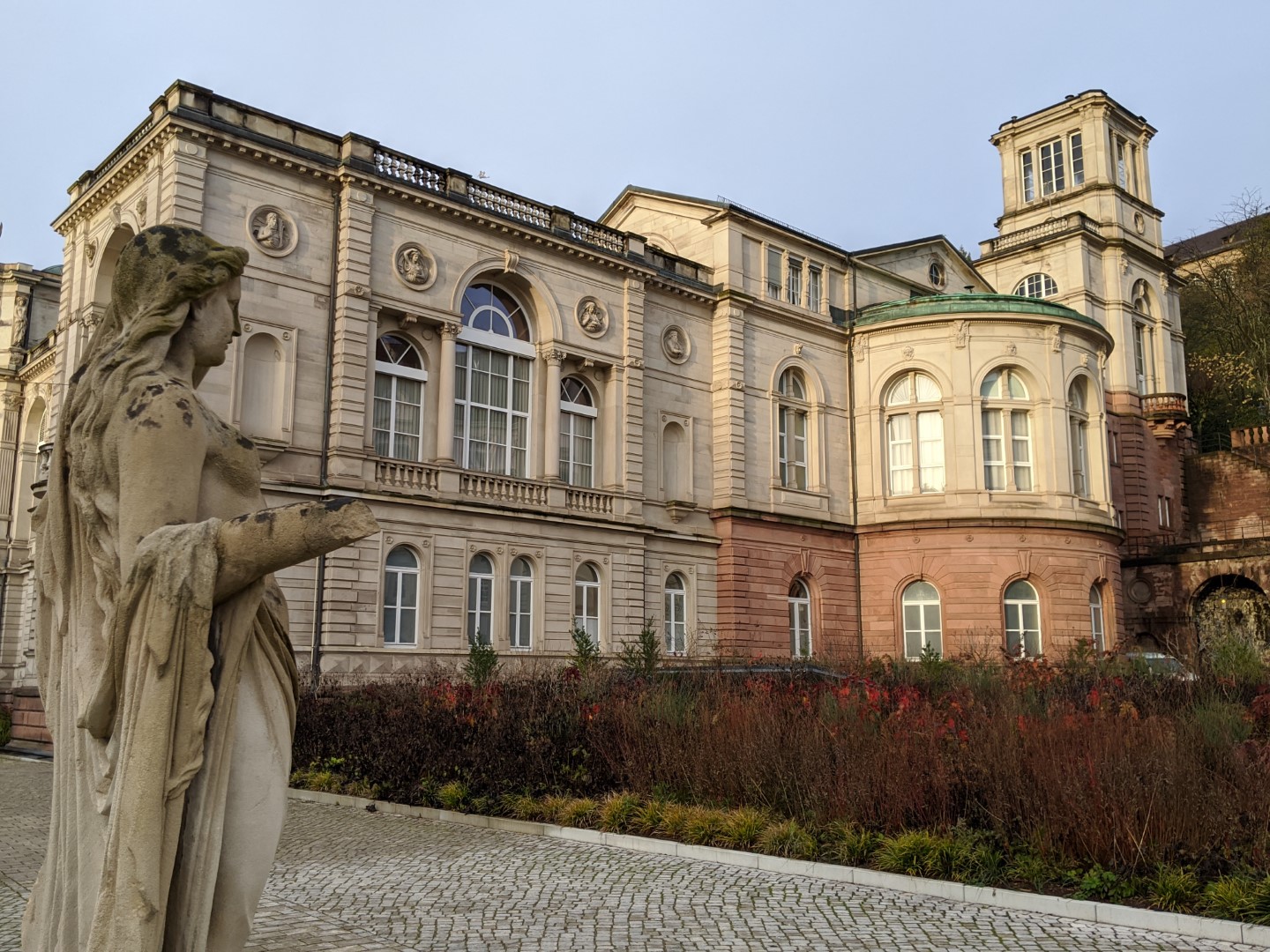 If you haven't read my "Everything You Need to Know about German Spas" then dive (pun absolutely intended!) right into that first.
Yes, if you want to go to the true German Spa area, you will need to be nude. No, I swear up and down and all around that it's not as terrifying as it sounds (but more details in the article).
There are two Spas in Baden Baden: the Caracalla Spa and the Friedrichsbad Roman Baths. Depending on how much you love aquatic relaxation, you can either choose to do a lazy (and relaxing) full day at each, or head to one in the morning and do the other in the afternoon. Personally, I enjoy soaking (sorry, the puns are just too easy!) every minute of it all up, so I always choose to do 2 days when going to Baden Baden.
Read my Everything You Need to Know About Baden Baden: Friedrichsbad vs Baden Baden Guide Here
Day 2: Friedrichsbad Roman Baths and the Town
If you are coming to Baden Baden JUST for the spas, then you can try to squeeze them both into a day. However, if you want to slow down a bit (I highly suggest you do!) then allow a little bit of time to spend some time in the Black Forest around Baden Baden and the town itself (I go over all of this in my guide above on the best things to do in Baden Baden)
Personally, I like to start my day with a little hike around the Merker BergBahn. It can be as long and strenuous or easy and short as you want.
Next, spend an hour or so wandering around the town and taking in the beautiful architecture of the buildings.
You only need several hours for Friedrichsbad, so I like to head to the Roman baths by early to mid afternoon and escape to pure opulence in this really unique German spa for the evening!
Day Three: Waterfalls and Abbeys
Tip: In the morning, stop into a bakery and grab some goodies for the day or pop into a grocery store for some picnic supplies. Bring them along and enjoy wherever your tummy decides to get hungry.
Geroldsauer Waterfall
From Baden Baden, we are going to take a beautiful day trip in the Black Forest!
The B500 is considered the "The Black Forest High Route" and is a stunning, backroads drive through the area. Along this route is the Geroldsauer Waterfall. It's only a 1.5 km walk and in the summer it has the most beautiful rhododendrons blooming!
Address: Wasserfallstraße, 76534 Baden-Baden
Kloster Allerheiligen Ruinen (All Saint's Abbey)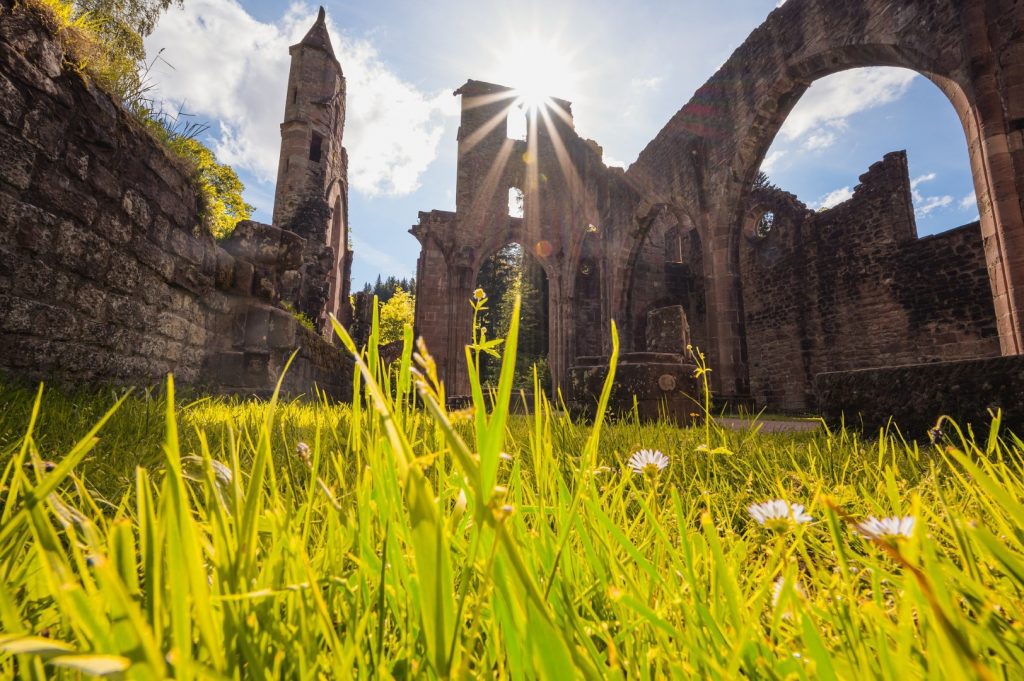 After leaving the Geroldsauer Waterfall, we're going to continue to the Ruins of the All Saint's Abbey.
I am such a sucker for the ruins of old buildings like castles in Germany, or in this case, an old Kloster (Monastary). It's really fun to use your imagination to envision life waaaay back when. Plus, going to ruins are often way more enjoyable with kids rather than the posh, put together palaces, where they have to be quiet and not touch a single thing. Kloster Allerheiligen's ruins are all the way back from the 1100s, yet still really beautiful in all its ruined glory!
Allerheiligen Waterfalls
Only a 20 minute walk from the Kloster, why not add more beautiful German waterfalls?? While it's a short walk TO the waterfalls, know that there is a set of very steep steps that follow the waterfall, which may be difficult for the younger legs, but with enough bribing encouragement, kids should be able to do them. When you get to the end of the waterfalls, just turn around and head back on the same path. It should take about an hour for this hike.
(Lake) Ellbachsee
Nearby the Abbey is the Ellbachsee. It has a great viewing platform that gives wonderful, panoramic views out over the sweeping Black Forest. However, there's not a ton more to do here other than that, so it's a good thing to tack on to the above activities, but not as a stand alone outing.
Alternative/ Additional Day Option
Whether you chose to only do one full day in Baden Baden itself and need another day in the area, or if this just sounds like a ton of fun, here is an alternative option for the Northern part of the Black Forest 3 Day Itinerary.
WildLine Hängebrücke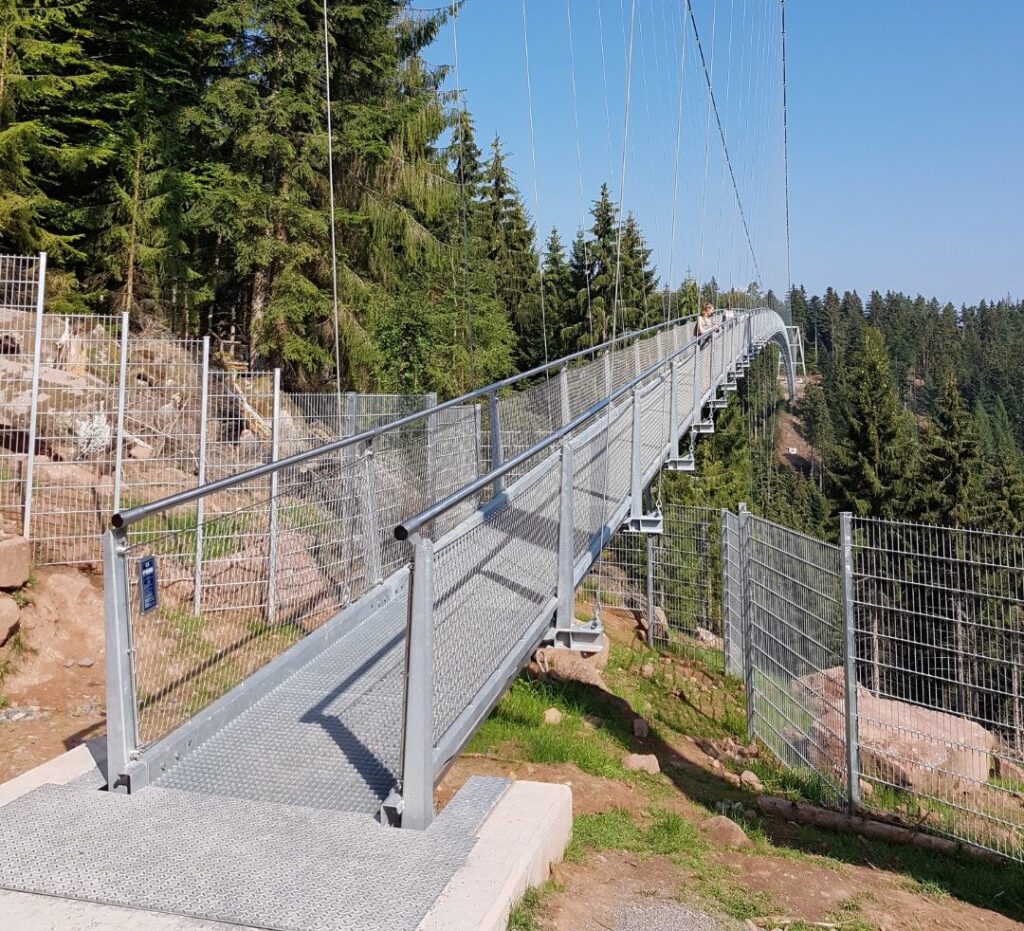 Towering high above the valley below (almost 200 feet/ 60 meters), this activity isn't for the faint of heart! It's almost a quarter of a mile long (380 meters) and might give anyone some wobbly legs! But, that's what makes it so fun!
Bad Wildbad Tree Top Walk and Baumwipfelpfad Schwarzwald Tower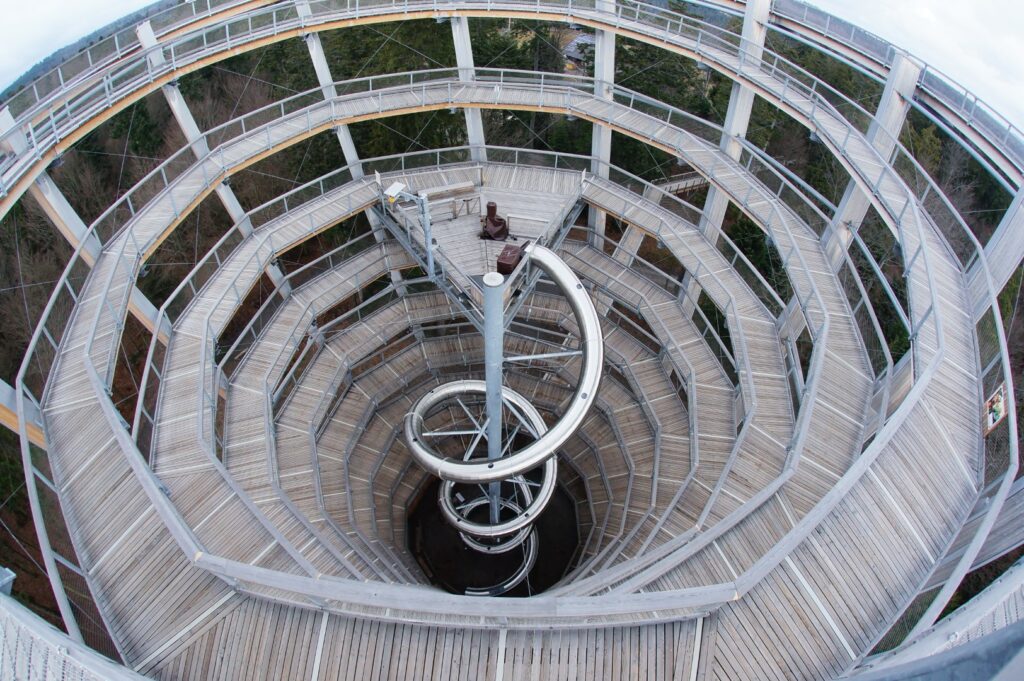 Just a 15 minute walk from the suspension bridge is the awesome "Treetop Walk," which is way less nerve racking, despite still being high above the trees of the Black Forest. This boardwalk in the sky eventually leads to the Baumwipfelpfad Schwarzwald Tower, which is a huge spiral tower (easy to climb) that gives stunning views out over the Black Forest.
Perhaps the most fun part of this tower for kids (and kids at heart) though is the GIANT slide that twists its way aaaalllll the way back down to the forest floor!
Between the suspension bridge, the treetop walk, and the tower, plan on at least several hours for all these activities.
Baumwipfelpfad Tower Costs:
Adults: €11,00
Children (6-14 Years): €9,00
Children Under 6: Free
Family Ticket (2 Adults and their kids 6-14) €26,00
Slide Down (Must be 6): €2,00 per person
Where To Stay in the Black Forest
As mentioned previously, a lot of these itineraries can be adapted to how much you are willing to bounce around, how long you like to stay in one place, and how far you are willing to drive for day trips. Personally, I much prefer to find a "home base" (which is why I sectioned out these itineraries- each individual itinerary would be a good place to find one hotel to stay in for the 3-4 days before moving on to another "home base"). Whether you are looking for Black Forest apartments or hotels, there are plenty of options.
So, if you are doing my itinerary suggestions, here are some Black Forest Germany towns I would look into:
Triberg
This is where we stayed on our most recent trip to the Black Forest. It gave tons of day trip options for us and because it is a popular tourist area, there are plenty of lodging accommodations available. We personally stayed at this apartment because it had a swimming pool, ping pong, fussball, and several other kid friendly activities right on site at the complex/ "resort".
Find the Perfect Hotel in Triberg Here
Rust
If you are doing Europa Park then staying in Rust is ideal. There are tons of apartment and house options in town, so we chose an apartment that we could simply walk to the park from. The Pension Yvonne has unbeatable reviews and is perfect if you are with a family! Or, the Gästehaus Europa EP is fantastic for budget travelers!
See The Top Rated Apartments in Rust Here
Europa Park
Alternatively, one way to really make Europa Park a special adventure is to stay at one of their many themed hotels. Kids will LOVE staying in these super kid friendly rooms.
Stuttgart
No, Stuttgart is NOT in the Black Forest, however, it is one of my favorite cities in Germany to make as a home base (not much IN Stuttgart itself captures too much of my attention, but there are almost endless day trip options (Like Lichtenstein Castle and Hohenzollern Castle), many being in the Northern part of the Black Forest or nearby. Whenever we are using Stuttgart as a home base, we actually use A&O Hostel….yup, you read that right, HOSTEL. We get the family room which has a double bed and then one set of bunk beds. The Hostel is very family friendly with a pool table, fussball table, and games out in the main room.
Pro Tip: If you are in the Stuttgart area from about September to early December, you HAVE to check out the World's Largest Pumpkin Festival in Ludwigsburg! The kids will love it….and there is even pumpkin sekt for you!
Read Reviews on Hotels in Stuttgart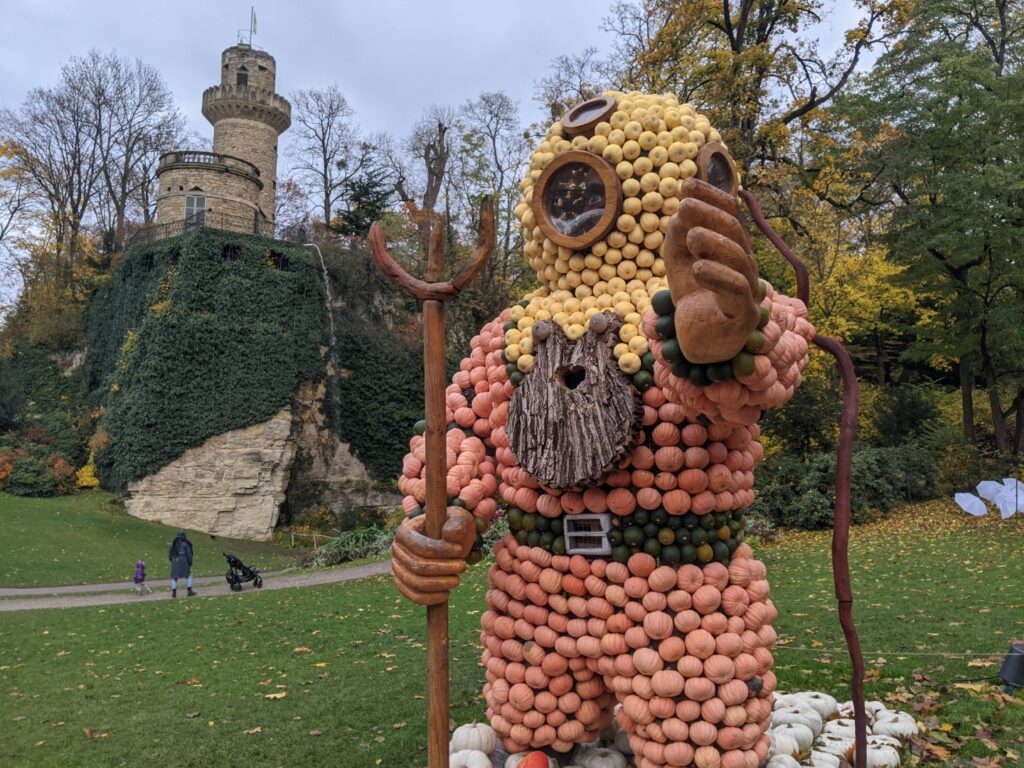 Offenburg
If you are going to be more on the Northern side, Offenburg is often a popular place to stay. This hotel isn't IN Offenburg (nearby) but isn't this pool and view out to the mountains just dreamy!?
Black Forest Farm Stay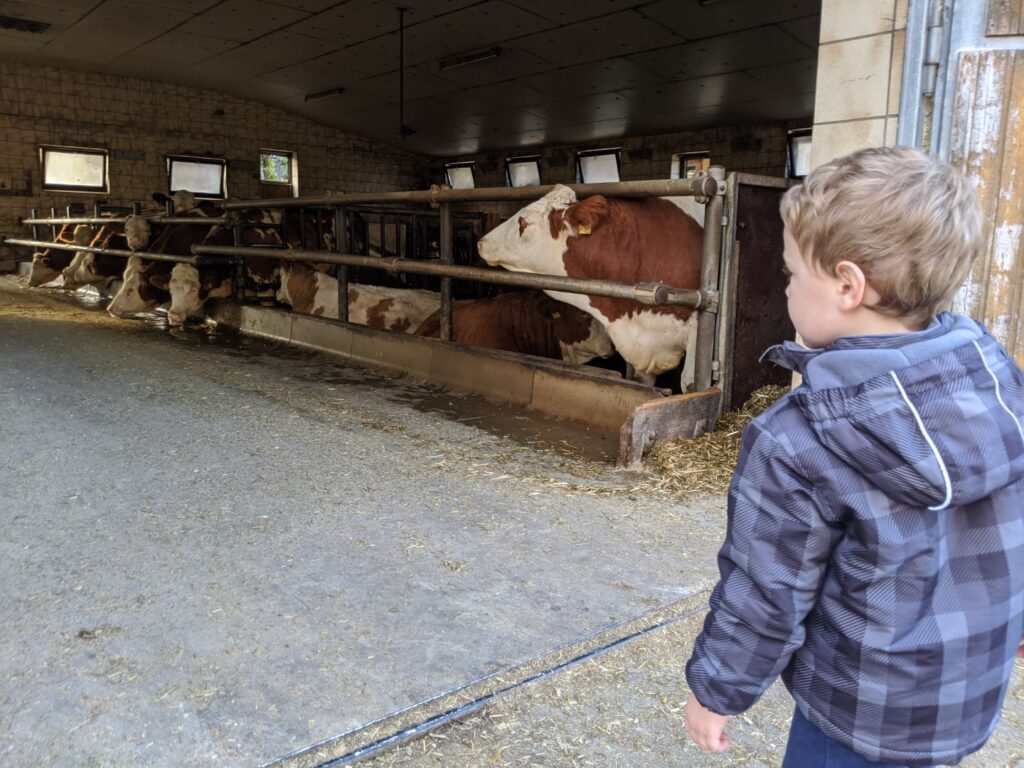 One of the most popular accommodations in the Black Forest with families is staying at a farm stay. It just adds a whole other unique element to your trip. I've listed some of the best farm stays in my Black Forest with Families post
Look for the Best Reviewed Farm Stays in The Black Forest Here
Day Trips from Frankfurt to Black Forest
Alternatively, many people are looking for places to go in the Black Forest from Frankurt, especially if that is where they are flying in from but don't have a ton of time. Again, what you consider a day trip is going to be dependent on a lot of personal variables. As opposed to a more detailed trip to the German Black Forest, I actually do recommend trains for these day trips to the Black Forest because you won't have a ton of time to get too off the beaten path anyway. Therefore, the trains are a great option to get to the bigger sights.
Baden Baden: 2 hours by car or 1.5 hours by train
Offenburg: 2.5 hours by car or 2 hours by train
Freiburg: 3 hours by car or 2 hours by train
Triberg: 3.5 hours by car or 2.5 hours by train
Black Forest FAQs
Which part of Black Forest is best?
That's kind of like asking, "Which one of your kids is your favorite?" There are so many places to visit in Black Forest Germany and each part has something different. In the North, there are amazing German Spas. Central Black Forest has a lot of family friendly day trip options. Southern Black Forest is a gem for outdoor lovers.
So the better question is to ask yourself what kind of activities do you want to do and then go from there.
How many days do you need in the Black Forest?
To see ALL of the Black Forest, you'll want (at least) about a week. However, you can easily just do a section of the Black Forest for a few days and still thoroughly enjoy your time in the area. Because there is so much to do, it is easy to section it out into North, Central, and South areas and just focus on activities in that location for a few days at a time.
What city is closest to the Black Forest?
The closest cities with airports to the Black Forest are Zurich (for the South) and Frankfurt (for the North). However, other big cities near the Black Forest are:
Stuttgart
Tübingen
Lake Konstance (Bodensee)
Basel (Switzerland)
Colmar (France)
Strasbourg (France)
While it is not an actual Black Forest Germany castle, I HIGHLY recommend going to the Lichtenstein Castle as well as the Hohenzollern Castle (you can easily do both in a one day side trip- we did them on our way from Stuttgart to Rust/ Europa Park)
What are the largest cities in the Black Forest?
Some of the larger towns in the Black forest are:
Baden Baden
Freiburg im Breisgau
Pforzheim
Karlsruhe
What should I wear in the Black Forest Germany?
Since a lot of the Black Forest is outdoors, I would definitely plan on:
Good walking (or hiking) shoes
Layers for the winter
Comfortable shirts and pants (I like moisture wicking clothing)
Swimsuit
Rain jacket
Here is my Packing For Germany for Every Season.
Why do they call it the Black Forest in Germany?
2000 years ago, when the Romans first came to this part of Germany, there were no cute, quaint towns nestled into the dips and valleys of the land. Instead, the entire area was a thick, dense forest of mostly spruce trees. From a distance, it was so thick and dark, that the Romans called it, "Silva Nigra" (Black Forest)
What is the Black Forest Called in Germany?
Schwarzwald, or literally, "Black Forest"
Why is the Black Forest Famous?
The area of the Black Forest is a beautiful, mountainous area, which lends itself easily to great activities for nature and outdoor lovers such as skiing and hiking. The area is also filled with flowing waterfalls. All of these things are common tourist activities, making it a popular destination.
The Black Forest is also famous for:
Cuckoo Clocks: The very first Cuckoo Clock as we know it today was made in the Black Forest town of Schonwald by a clockmaker named Franz Anton Ketterer. His invention took off in the region, with many towns specializing in the intricate and elaborate style of clocks.
Black Forest Cake: One of the most common ideas of how this cake came to be is that it took its inspiration from the traditional Trachten (clothing) of the women, who wore dark dresses and donned a hat with red pom pom looking balls. The cake itself is dark (like the dress) from the chocolate and the cherries resemble the balls. The Black Forest once was a popular place for growing cherries, and therefore locals made a liquor called "Kirschwasser" so naturally, it was easy to incorporate this into the regionally inspired cake.
What is Black Forest Cake Called in German?
Schwarzwälder Kirschtorte
(Black Forest Cherry Torte)