[This post may contain affiliate links where we earn a small commission.  Please see our disclosure for more information and thank you for supporting our site so we can continue to bring you awesome content for your travel inspiration!]
One of the top questions I get in my Travel in Bavaria Facebook group is, "I want to bring home some German Souvenirs, so what are some of the best things to buy from Germany?" I always joke, "Two of my three kids!" (Not because I don't like one of them, but because 2 of the 3 were actually born here in Germany…what better take home gift than that!?)
Whether you are looking for some unique German gifts to bring home to family or want a souvenir from Germany as a keepsake for yourself to remember your amazing trip, here are some of my personal favorites that I like to recommend.
(If you are traveling to Germany in the winter and are going to some of the best German Christmas Markets, be sure to check out my "Best Christmas Gifts from Germany " article as that has so many other amazing souvenirs in Germany that you can only get at the markets!)
But if you are traveling any other time of year, here are 18 of the best German souvenirs you can buy:
An Authentic German Cuckoo Clock From the Black Forest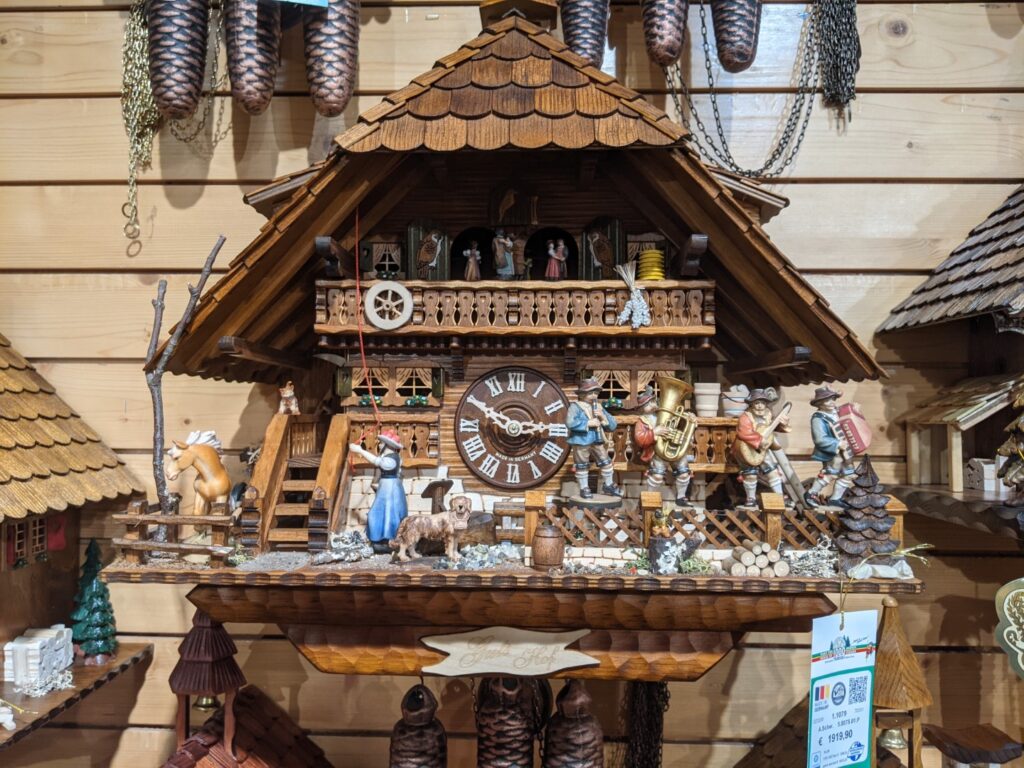 If you are wanting the ultimate German souvenir, look no further than the classic Cuckoo Clock.
While the actual invention of the very first Cuckoo clock is still a bit unknown, we DO know that it was people in the German Black Forest (Swarzwald) region that took what we know as Cuckoo Clocks and made them what we know today.
What I love about these gifts from Germany is that you can find a clock to fit just about every budget and many shops will actually ship it to your home so that you don't have to worry about lugging it in your suitcase!
However, just because you are buying a cuckoo clock in Germany doesn't mean that it was actually made there or in the Black Forest. Be careful not to get duped at just any given souvenir shop (or even just any Cuckoo Clock shop in the Black Forest!)
How To Tell An Authentic Black Forest Cuckoo Clock
Ask to see (and receive!) the Black Forest Clock Association Certification for the specific clock.  This certification is given ONLY to clocks that are made exclusively in the Black Forest (and all its individual parts made there as well).  It also must be a purely mechanical clock to receive this certification.
Look for the black, white, and gold sticker that has the letters 'VDS' which stands for "Verein die Schwarzwalduhr" which translates to "Unite the Black Forest Clock" which is basically the society that helps certify the authenticity of the clocks
Find a "Made in Germany" stamp. Most likely, there should also be a mark of the exact shop where the clock was made.  You can do a quick google search on your phone of the manufacturer to ensure it is a legit shop.
If you don't see the shop name on the outside, ask to see the inside of the clock.  All authentic clocks will have fully functioning mechanical gears and working pendulums. The name of the manufacturer is often stamped in here.
Cost of an Authentic Germany Cuckoo Clock:
A true, authentic German cuckoo clock will generally range from around $100 to upwards of $5000 for the really elaborate (and gorgeous!) ones!
If you would like a "cheaper" German  cuckoo clock, you can get a "quartz Cuckoo clock." These look just like the original cuckkoo clocks on the outside.  However, instead of being a purely mechanical clock (gears, pendulum, etc) they run on batteries, making them a more affordable (and honestly, easier to maintain) clock option.  Because of this, they won't have the VDS certification but many of the genuine, high quality workshops that make the authetic clocks make the Quartz Cuckoo Clocks in the same shop, so you know you are still getting quality craftsmanship.
Read My Perfect Black Forest Road Trip Itinerary Here (which includes places to buy authentic Black Forest Germany Cuckoo clocks)
Bier Steins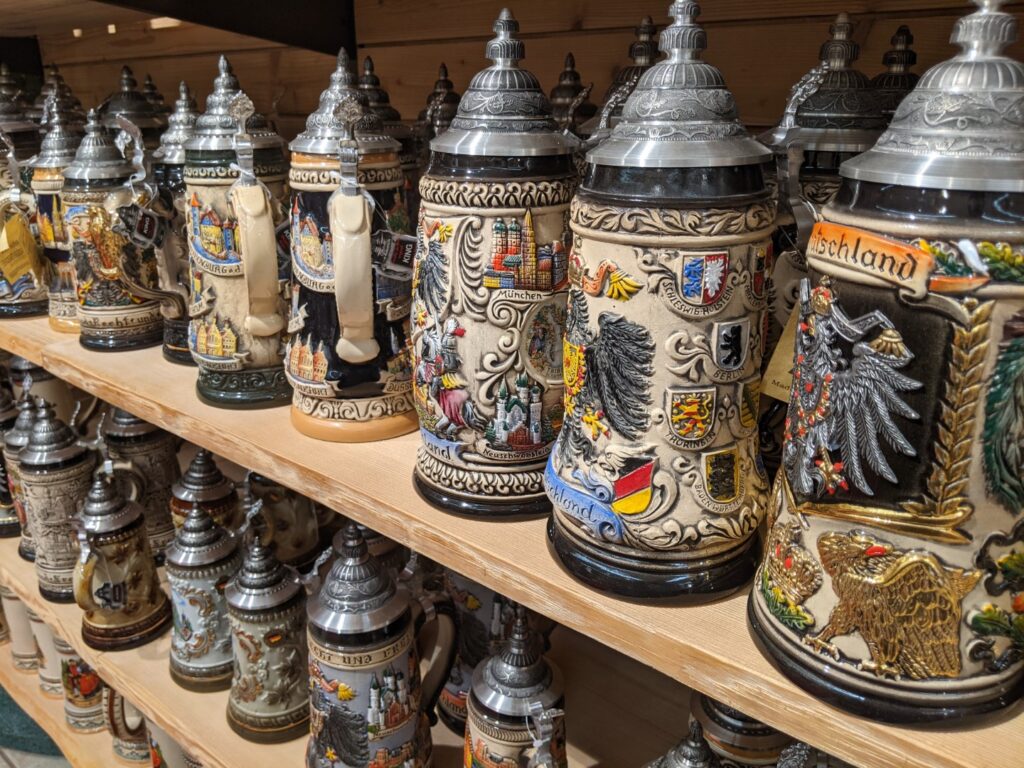 While the Bier Stein originally was a very real and authentic item used by Germans, today, what you are most likely to find in terms of Steins are made purely for tourists but they can still be some of the best souvenirs from Germany!
I love these because they make for great bookcase and display items of your trip when you get back home! Head to any souvenir shop and you are likely to find one that is even beautifully painted and decorated to be specific to the town you are visiting.
Note: If you really know what you are looking for and are good at sifting through antique shops, you can still get an authentic, German Bier Stein as a truly remarkable souvenir of Germany. You can google the town you visiting with "Flohmarkt" to find stores to rummage through.
German Beer Maß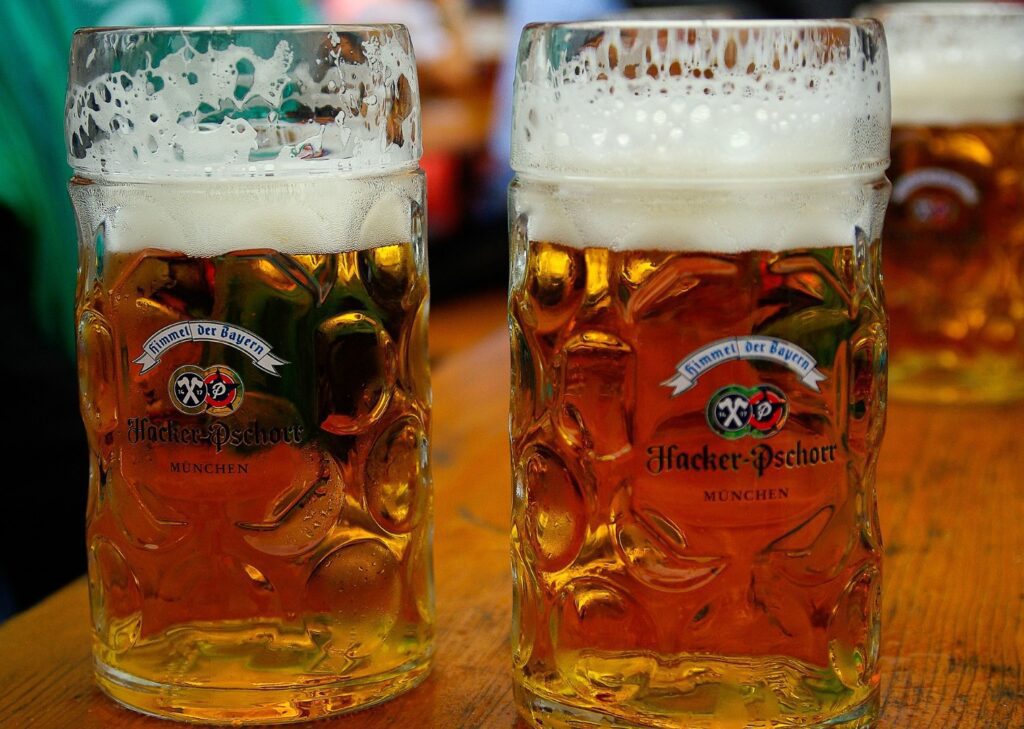 A big ol' glass, liter, German beer Maß is another really great Germany souvenir.  I like these because if you go to a fest in Bavaria, you will have most likely gotten one of these and actually used it yourself!
At fests, you'll pay a Pfand (deposit) for your Maß (often only a few Euros) but it is still pretty frowned upon to shove these in your bag and take even with the Pfand paid.  Instead, just ask where/how you can buy one when at a fest.
For example, at Oktoberfest, you can actually get kicked out for pocketing a Maß!! However, just walk around the fest and you'll find plenty of ones that you can buy (and for Oktoberfest, most will have that year's design and year).
German Chocolates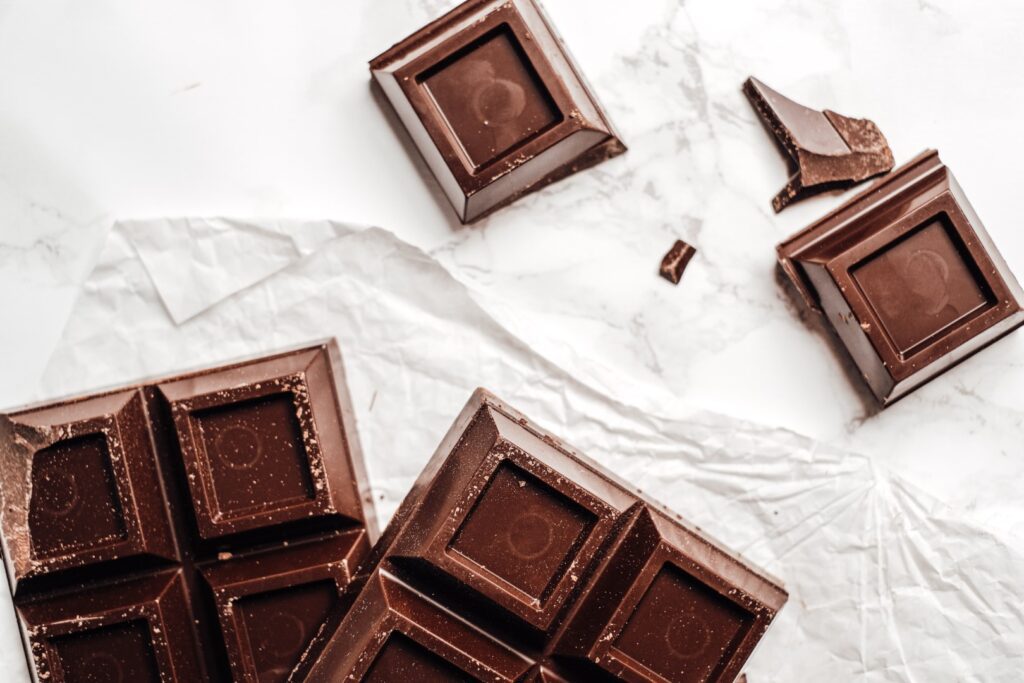 There is just something about German chocolates that I think are far superior to chocolate back in the US! This makes for fantastic Germany gifts to give to others.
Just go to any grocery store and you'll find tons of great options! Some of my personal favorites are:
Ritter Sport (there are SO many flavors to choose from and all are great!)
Moser Roth: I actually buy this for myself at home. They have a great dark chocolate that I love to nibble on with a bit of red wine in the evenings! They also have great truffles which make for fantastic gift stuffers
Merci: These are wonderful gifts because they can come in a nicely packaged variety pack and look a bit "fancier."
Pro Tip: Buy a Stein or Maß and then fill it with some German Chocolates to make some of the best german gifts to give to others.
Haribo Gummies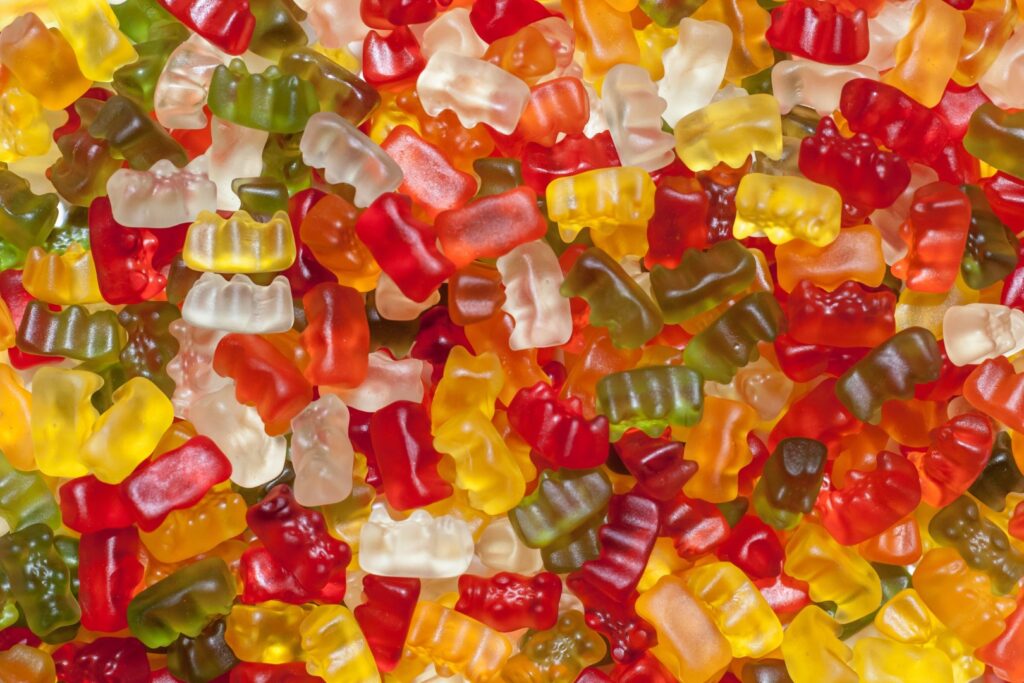 If you are wondering what to buy in Germany to bring back to kids, this is your answer! Actually, forget kids, I have (adult) friends always requesting me to send these to them!!! The classic Haribo Gummy Bears are made in Bonn, Germany but are found all over the country.  The Haribo Schnecke (snail) Gummies are uuuhmazing as well!
Pro tip: Buy a cool looking Maß or beer cup (maybe one that has the name of the city you are visting) and then fill with gold gummies and top with a layer of white gummies. It will look like a mug of beer!
Tracthen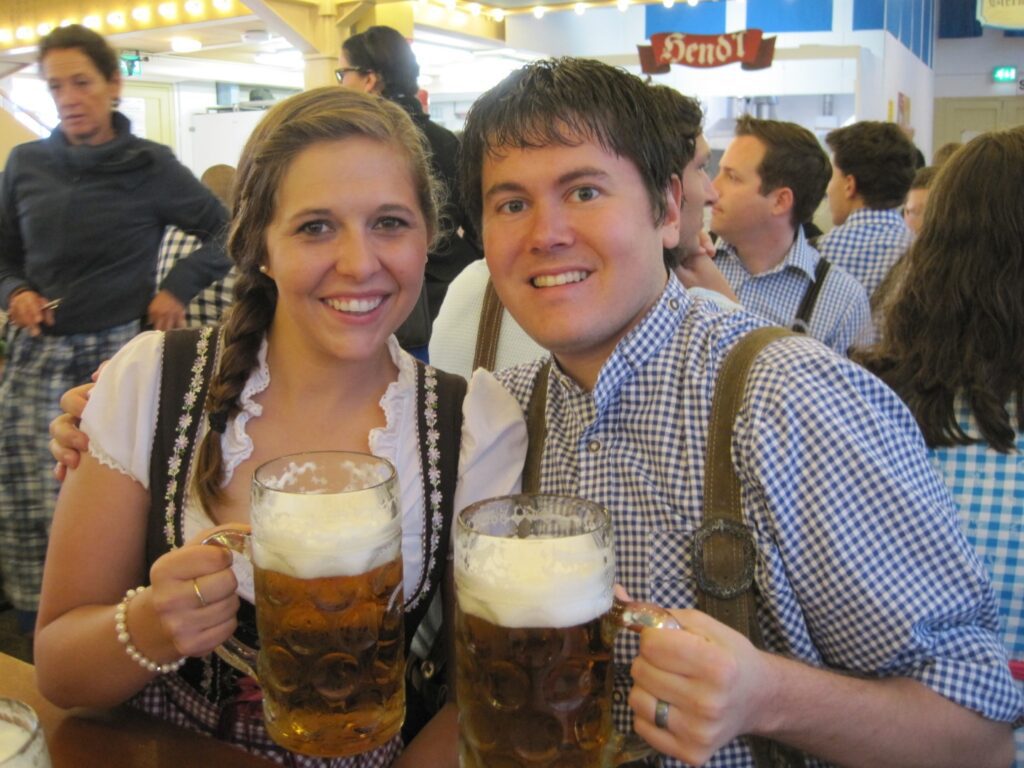 Psssst, here's a little secret: Most Germans don't wear Trachten (Lederhosen and Dirndl Dresses) outside of Bavaria (and even then, it's for special occasions and fests).
However, since you all know I HIGHLY recommend visiting Bavaria, you are bound to find shops where you can get your own Trachten!
Many people coming for Oktoberfest in particular love to buy a Lederhosen or Dirndl to fit in at the fest (or even just a Trachten shirt if you don't want a whole set or are on a budget).
You can read my Complete Buying Guide to Trachten in Bavaria here so that you know what to wear to Oktoberfest.
But even if you aren't hitting up some fantastic fests in Germany, you can still buy a Lederhosen and make it a fun Halloween costume for the future!
Christmas Gifts From a Christmas Market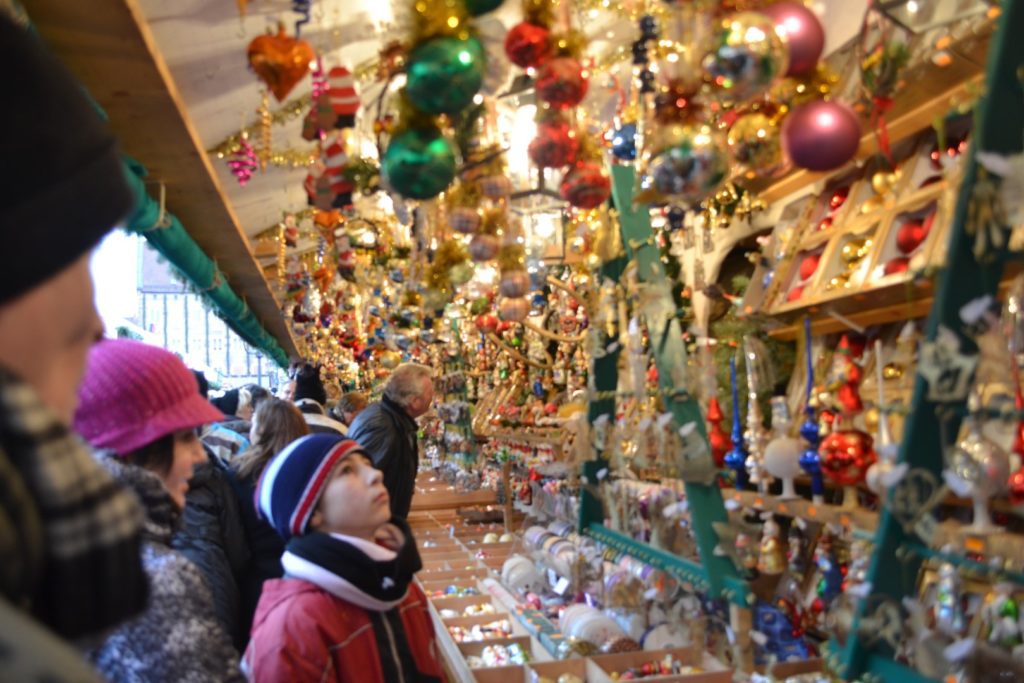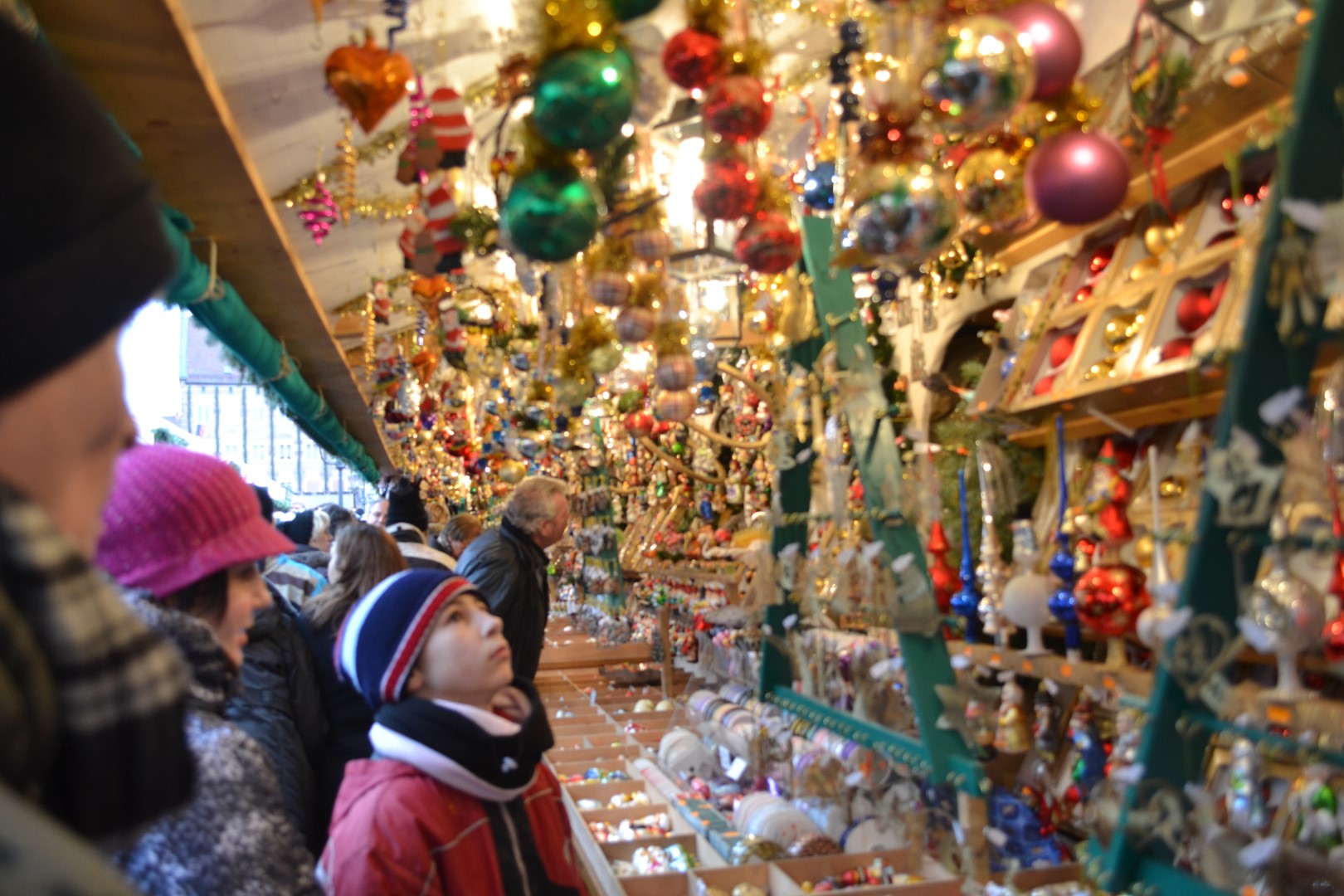 The Best German Christmas Markets are a dream for shoppers where you'll find some truly unique and authentic Germany souvenirs.  In fact, there are so many good german items that are specific to just the Christmas Markets, you'll need to check out my Best Things to Buy From Germany Christmas Market Guide.  Some of my must buy items are:
Gluhwein Mugs
Ornaments: Handmade wooden or special glass blown baubles (I tell you how to avoid the cheap, mass produced kinds of both in my guide)
Weihnachtspyramide
German Räucherfrauen
So much more!
Cow Bell From the Alps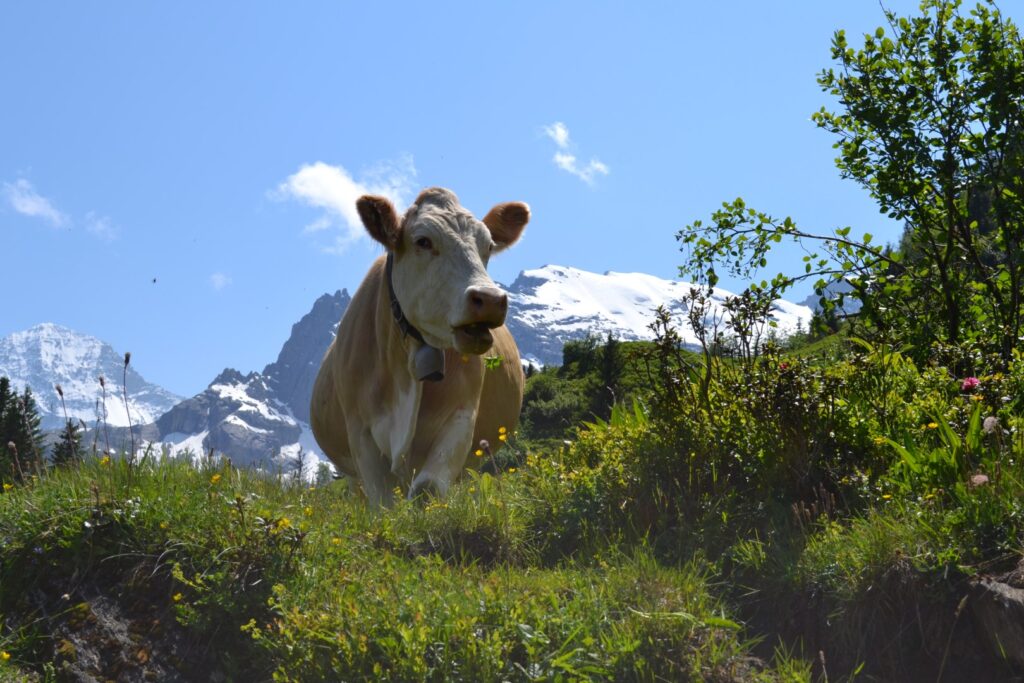 I'll never forget my first hike in the Bavarian Alps when I heard the faint sound of cowbells. Eventually, we came upon a huge group (herd???) of cows just munching away at the blooming flowers.  It was like an idyllic scene from a movie!
One of the most unique festivals I've been to in Germany is the Almabtriebs. Where they actually bring all the cows down from the mountains for the winter. This is the perfect time to get a cowbell! They have HUGE ones that make for really unique hanging pieces in your home, to smaller ones, like the one that I got, that sits all cute on my bookshelf.
Even if you can't make it to an Almabtrieb, if you are in the mountains during the summer months when the cows are roaming around, keep an eye out for this great keepsake to purchase as one of the more unique souvenirs of Germany!
Beer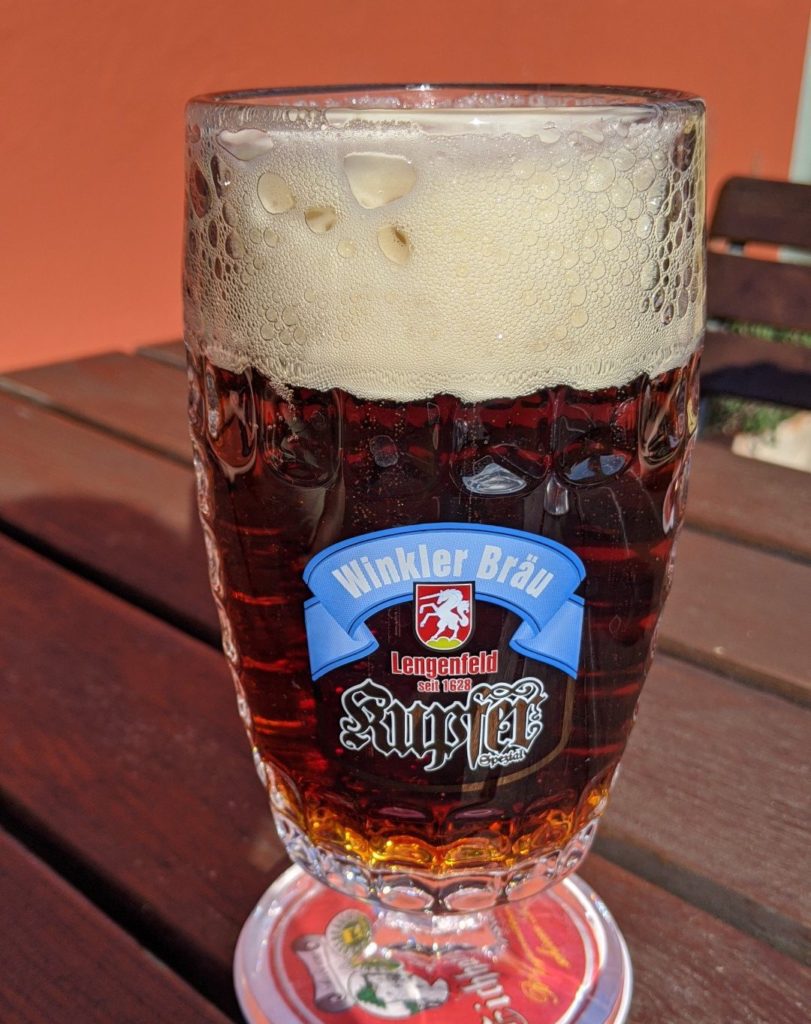 You are in the land of Beer Heaven after all!  However, you can not ship German beer through the mail, which means that whatever you buy will have to be packed into your suitcase to bring home. But honestly, this is one of the best things to buy in Germany to take back (either for yourself to enjoy later or to give to others)
Whether you want to bring back some of the really unique Rauchbier (smoked beer) from Bamberg, the award winning Weltenberg Kloster beer, or the most consumed beer in Germany (Krombach), I highly recommend heading to a Getränkemarkt ("drink market"/ store) and being like a kid in a candy store and pick out a little bit of this and a little bit of that to bring home!
How To Bring Back Beer From Germany:
Find local beers that you can't find in the US easily at the Getränkemarkt
Wrap each bottle ever so carefully in socks, shirts, etc. Or, just buy protective mesh holders to protect the bottles. I also then put them inside a grocery store bag just to be safe.
Report it on the customs form when entering (you can have 1 liter of beer duty free but up to 16 liters total)
Wine from the Rhine or Mosel Valley or Franconia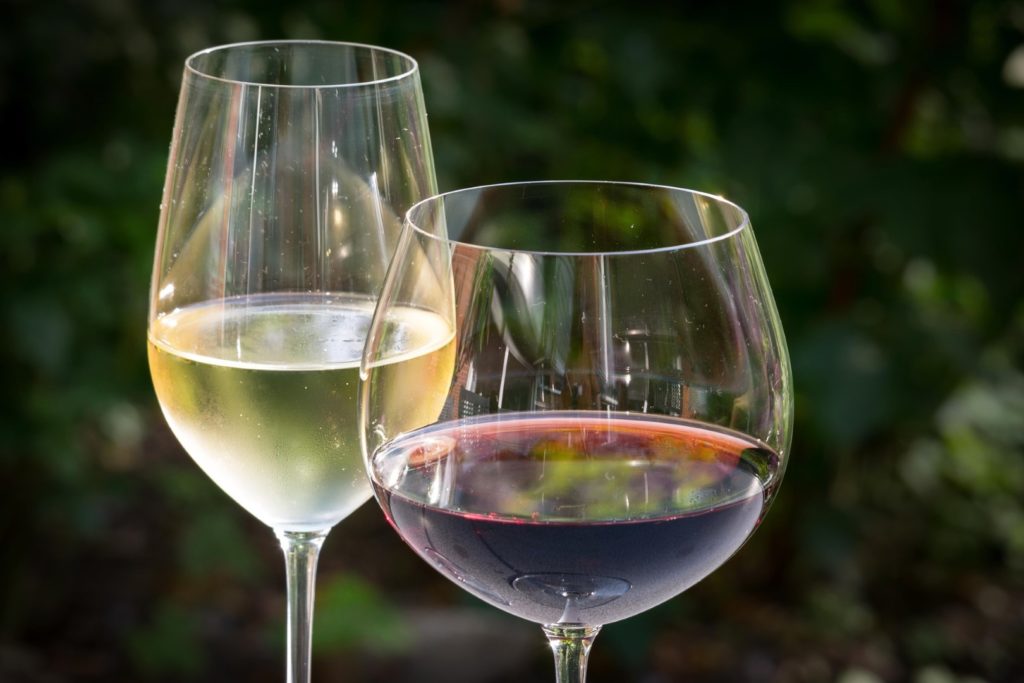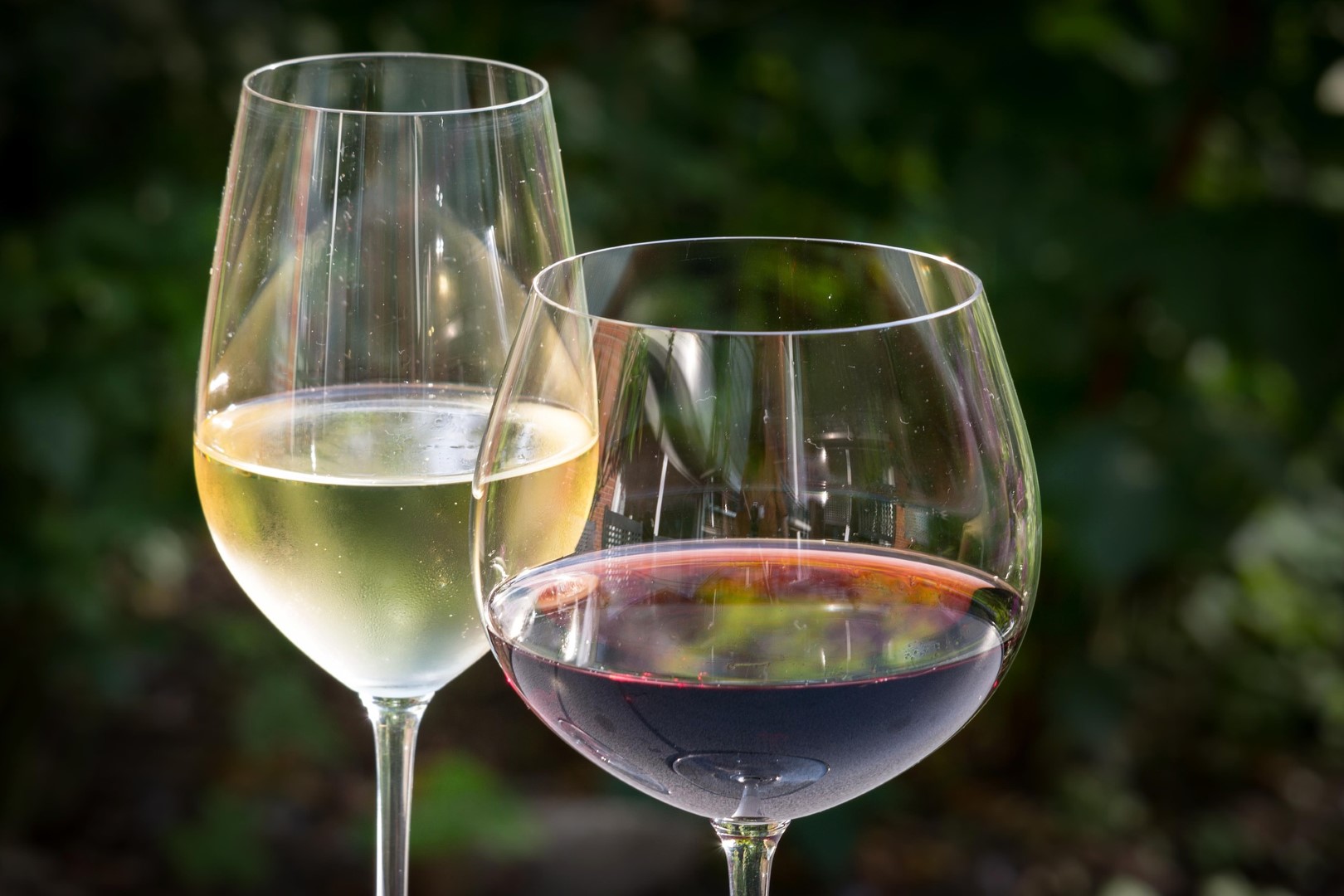 There are so many other drinks to try in Germany other than beer and wine is just one of them! Germany has a surprisingly long list of high quality wines and since they don't export much, many kinds are hard to find outside of Deutschland!
Most people flock to the Rine and Mosel Valley for the Riesling wines and white varieties (there are some fantastic wine festivals in the state of Baden-Württemberg as well) but the region of Franconia (Northern Bavaria) has some fantastic options as well! A few German wines to keep an eye out for are:
Müller-Thurgau
Silvaner
Riesling
Dornfelder
It is a little easier to find vineyards that will ship cases back to the US, but just like the beer, with a good protective wine bottle sleeve, it's really simple and legal to bring back home a few bottles of your new found favorites!
Ampelmännchen Gear From Berlin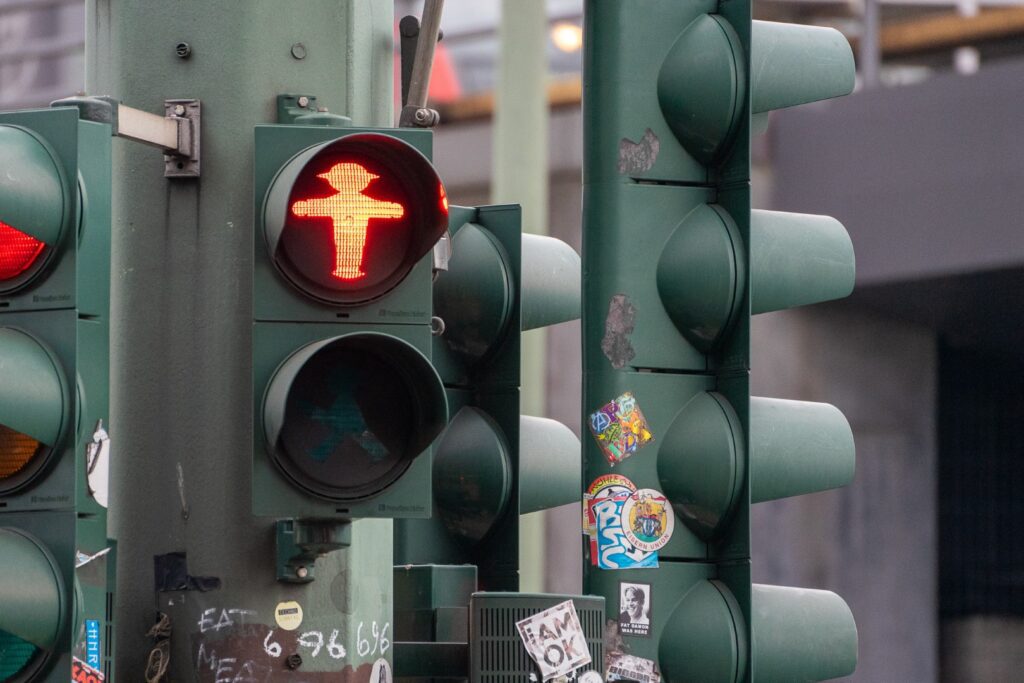 If you are looking for Berlin Souvenirs, this is a favorite! And while I legit struggle with learning German, it's words like "Ampelmännchen" which are so literal, learning the language should be so much easier! "Ampelmännchen" literally means "Traffic Light Man" because it is the little man that you see on the traffic lights from the former East Germany (Soviet controlled).
After the fall of the Iron Curtain, almost all hints of former soviet life were hidden, but the "Ampelmännchen" was so loved by all, that Berliners fought hard to keep this part of their former life.
Today, you'll see all sorts of "Ampelmännchen" gear all over Berlin (and many other former Eastern Germany locations) such as shirts, tote bags, stickers, keychains, nightlights, coffee mugs…you name it!
Spices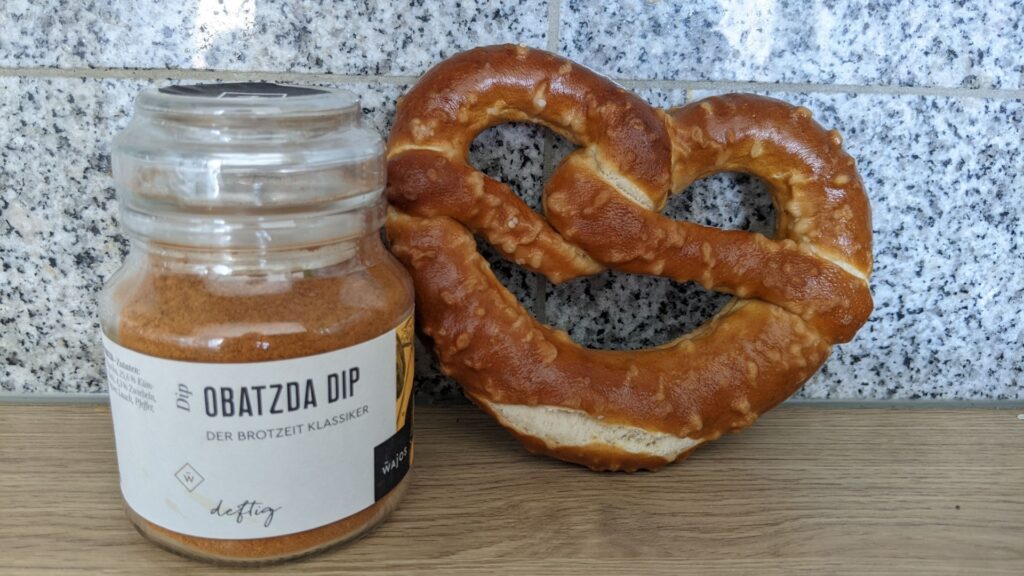 If you are wondering what to buy in Germany, spices are another versatile option where you are bound to find something to please anyone on your gift list.
I love German food. But it doesn't exactly have the best reputation for tons of FLAVOR! However, when Germans do something right, they do it RIGHT! There are just some specific spice combos that I find hard to replicate on my own when cooking.  Almost all fests and Christmas markets will have stands and stalls that have pre-made spice mixes.
These are so fantastic as souvenirs, either for yourself to try to replicate some of your favorites from Germany, or to give to your foodie friends and families as the perfect gift from Germany (Again, stuff the pouches in something like a Stein or Maß, and Voila! You've got yourself great gifts made in Germany! ) A few of my favorites to buy/give are:
Gluhwein spice mixes
Sausage (Wurst) blends
Obatzda spices
Lebkuchen (German Gingerbread) spices
Pretty much any of the meat spice blends!
Car Vanity Plates
We've now lived in Germany twice, so the first time we were moving away, we thought it'd be fun to get car plates with our names to hang in our garage back in the US.
These are real, authentic car plates! The only difference is that it is not officially registered (so there won't be a "TÜV inspection sticker in the middle). Other than that, it has the D (for Deutschland) and is the exact same plate one would get for their own car in Germany.
Ostfriesland Tea (East Frisian Tea)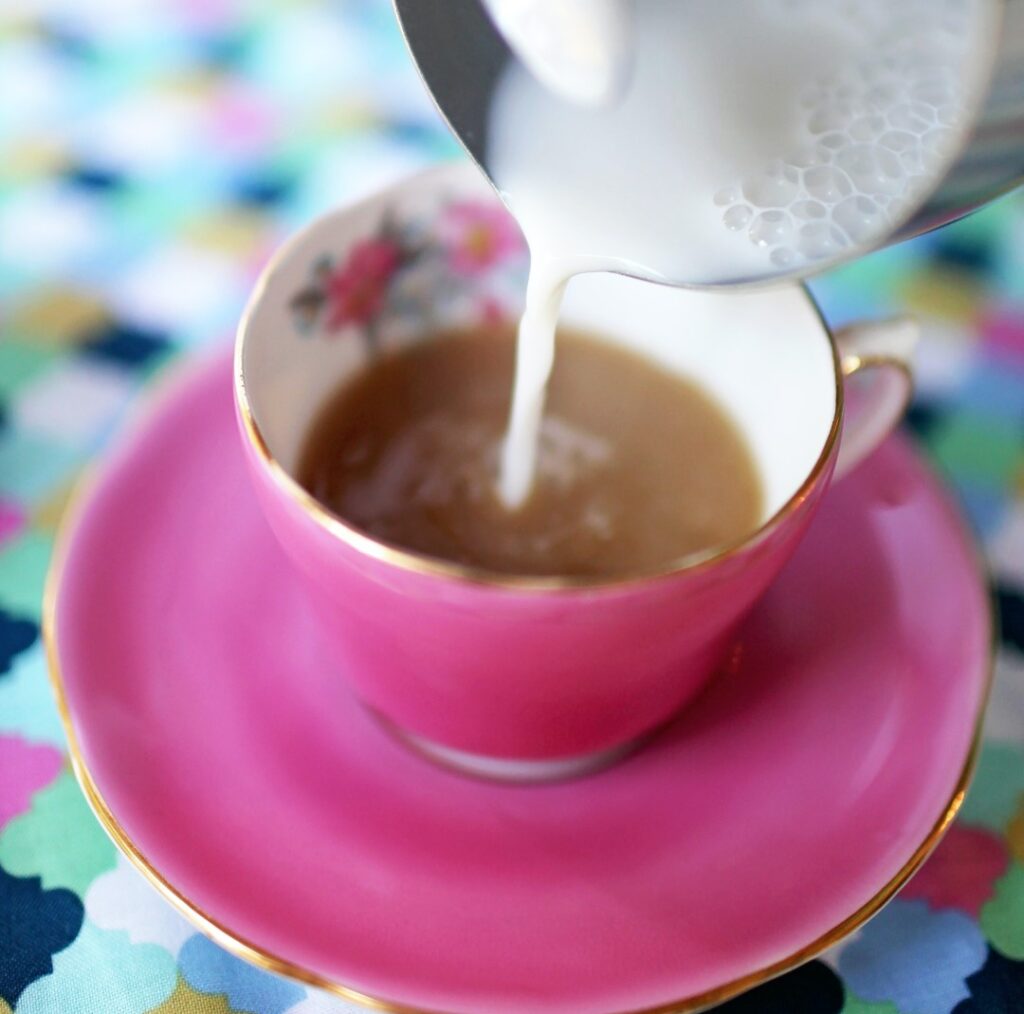 Germans LOVE tea.  I'll never forget when the German pediatrictian nonchalantly told me to to dissolve the vitamin D tabets in a little bit of (fruit) tea for my baby and ask any German what to do if they feel a bit under the weather and tea will surely be at the top of the list!
However, up in Frisia (the area in the Northwest of Lower Saxony up on the North sea near the Netherlands) they have an entirely special tea and culture only found there.  If in the area, be sure to get some of the local tea!
Wooden, Personalized Fire Etched Boards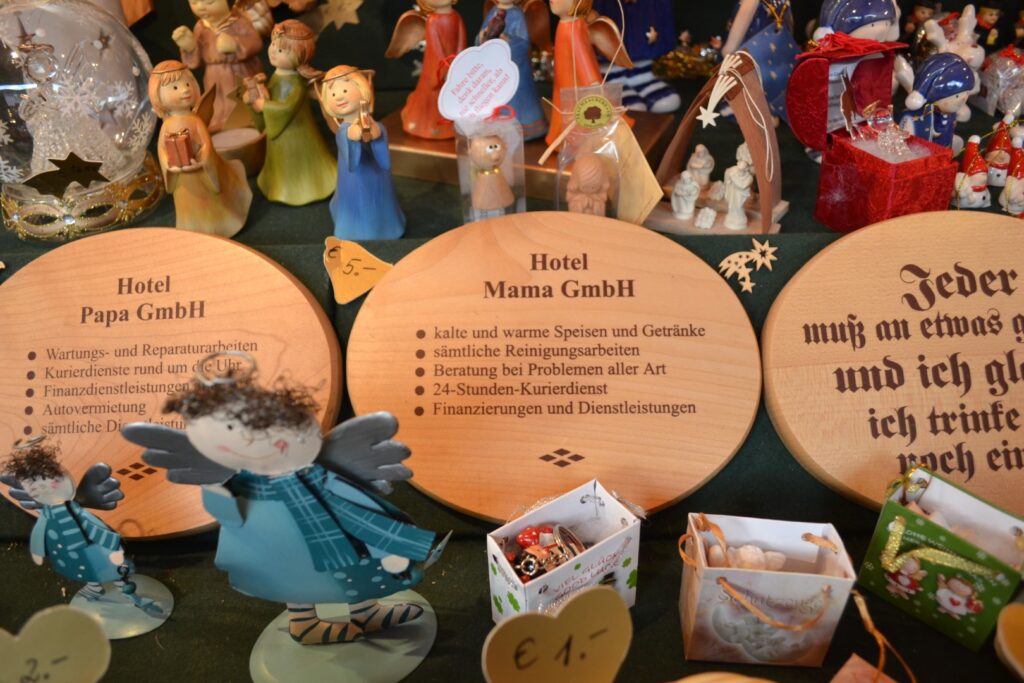 I LOVE these boards and signs because they can be completely customized to YOU.  For example, I got one that already had the famous image of the "Das Plonlein" Platz in Rothenburg ob der Tauber and then I had them fire etch "Wilkommen Zum Browns" which welcomes anyone that comes through the door in my home!
Other great ones are breadboards, "Biergarten" signs, and more!
Curry Ketchup and Sweet Bavarian Mustard
Everybody that comes to Germany HAS to try currywurst! And I have yet to find anyone who hasn't loved it!! So while not at the top of your typical list of famous german products, these are favorites amongst locals and tourists alike!
Head into any grocery store and in the section where you'd find things like soup packets, you can grab a bunch of packets to make your own currywurst sauce at home!
However, I actually prefer to just buy a bottle of the curry ketchup (I like the thicker consistency) which is self stable.
While you are at the store, be sure to also get some Bavarian Sweet Mustard! This stuff slathered on just about anything is DELICIOUS! My favorite brand is Händlmaier's, but really any will do the job!
The Usuals
Of course, there are all the classic Souvenirs in Germany that you can find at any souvenir shop like
Magnets made to look like all the stereotypical German stuff (steins, pretzels, etc)
Snowglobes (often in the design of the city you are visiting
Coffee mugs with a map of Germany
Tshits that say "Prost!"
etc
What Are Things From Germany You CAN'T Bring Home?
A Piece of the Berlin Wall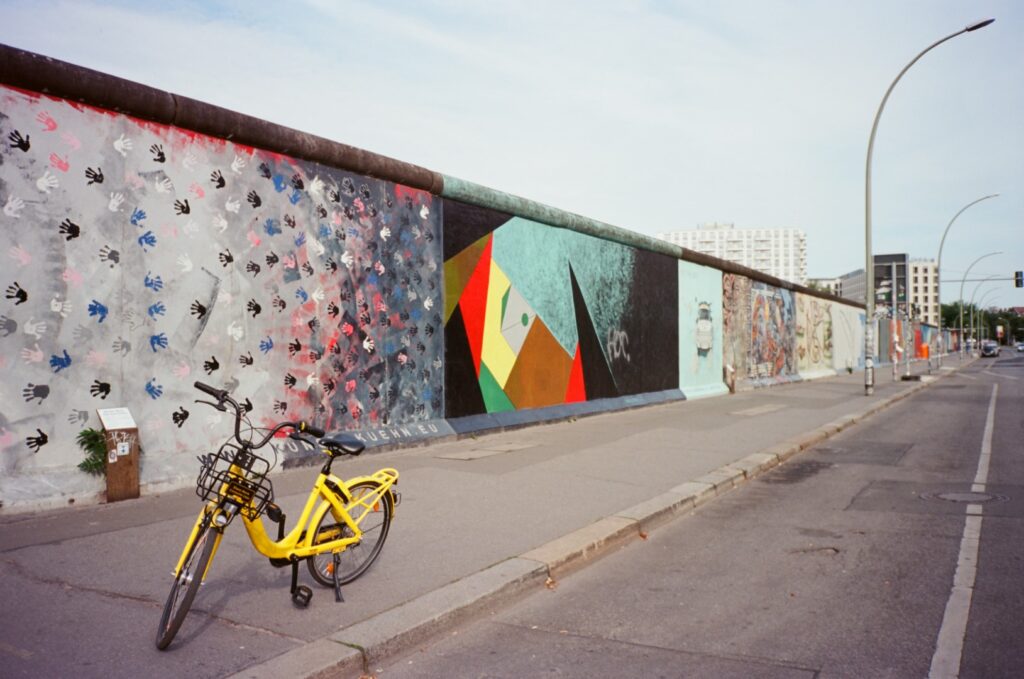 I know what you are saying, "Buuuut….but, LeAnna, this is in all the other articles of "Best Souvenirs in Germany" lists"
Yeah, well, that is why you are hanging out with ME today; I've got your back and know what I'm talking about!
Here's the real deal:
When the wall first came down, locals were allowed to take parts. Eventually, this led to it being sold as relics.
Today, you may find places that have "Certificates of Authenticity" but even these certificates are only based on the real certificates that were produced when the wall came down.
There is one man who claims to only sell authentic pieces (Volker Pawlowski) and it has been proven time and time again that, indeed, the pieces he sells (found in most souvenir shops) are real but that graffiti on them? THAT has been admitted by Pawlowski himself to be painted on just for the sake of selling more pieces.
And obviously, for the purpose of now retaining history, you are NOT allowed to take or chisel away any pieces from the sections of the wall that are still standing.
Wursts, Sausages, and Other Meats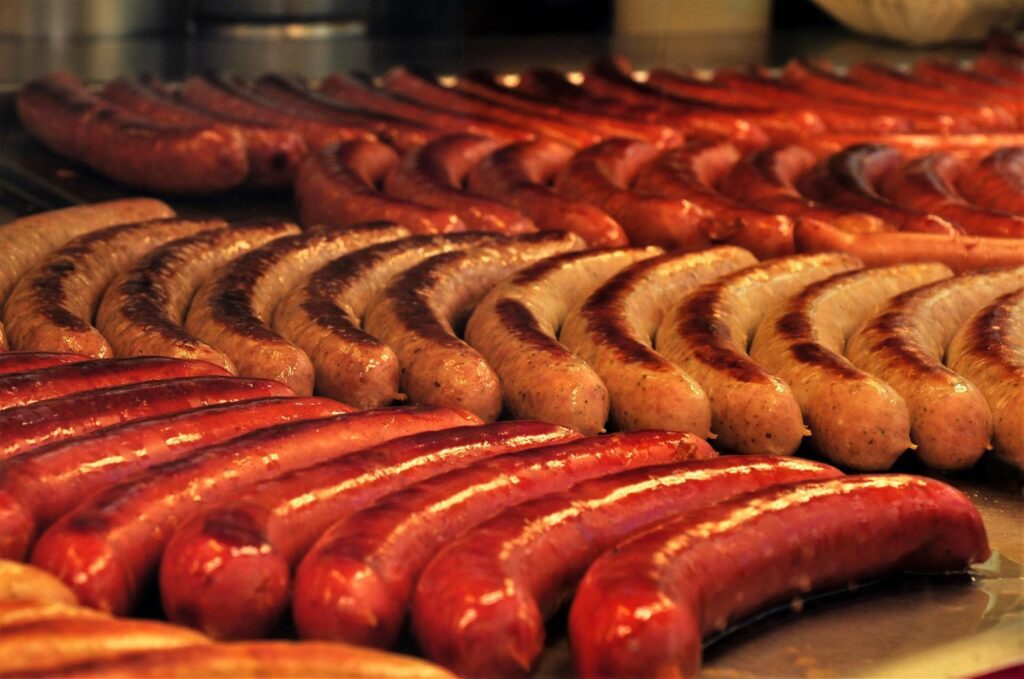 There is good reason why Germany is known so much for their Wursts (sausages) but the USDA does not allow for meats to be brought back, so as tempting as it is to throw a meat stick or package of wursts into your bag to bring back, that's actually a no go.
Whether you are a foodie or just like collecting memories, what are the best german souvenirs you've seen or gotten?