[This post may contain affiliate links where we earn a small commission. Please see our disclosure for more information and thank you for supporting our site so we can continue to bring you awesome content for your travel inspiration!]
I'm a mom to three and run my own online business. To say that I need a "Me Weekend" occasionally is an understatement.
Luckily, going to the German Spas is just the ticket for rejuvenation, relaxation, and feeling like I can tackle endless diapers, a mountain of laundry, and kids' school work again!
Which is exactly why when my group of girlfriends start talking about doing a Spa Weekend in Bad Füssing that I can't say yes fast enough! We now make this at least a Bi-Annual get together and each time, it is pure luxury and revitalization!
While there are several Spa Hotels in Bad Füssing one can choose from (read some of the other top ones in my Bad Füssing Spas article, linked above) we have returned time and time again to Kur Hotel Zink, and I'll outline exactly why in this article. Below, I'll show you my rooms, the facilities, the food, what you can expect here, and more. I think you'll find it a fantastic choice as well!
Click Here To See Current Prices of KurHotel Zink
(Note: I have no affiliation with Kur Hotel Zink and have received no hotel stays, etc….all opinions are completely my own)
Looking at a Spa Weekend in Germany? Check Out my Other Articles:
Looking For More Local Ideas For Travel in Bavaria? Join Our Bavaria Trip Planning and Day Trips Facebook Group
Kur Hotel Zink Review
For three generations, the same family has owned and prided themselves on the Kur Hotel Zink. It is this family atmosphere that I think is one of the main things that sets this hotel apart from others I have stayed at.
From the second you walk in, you are most likely greeted by the family themselves, always dressed up in their beautiful Bavarian Tracthen. As your stay continues, they are always meandering around the grounds making sure that guests have everything they may need and are ensuring that your stay is up to their high expectations.
With 2 indoor and 2 outdoor thermal pools, sourced straight from the spring waters, a sauna, a steam bath, an infrared cabin, a fitness room, a wellness and beauty area with services like massages, a huge, beautiful garden, and amazing food, this hotel is fantastic for a weekend (or longer!) of feeling pampered and relaxed.
The Rooms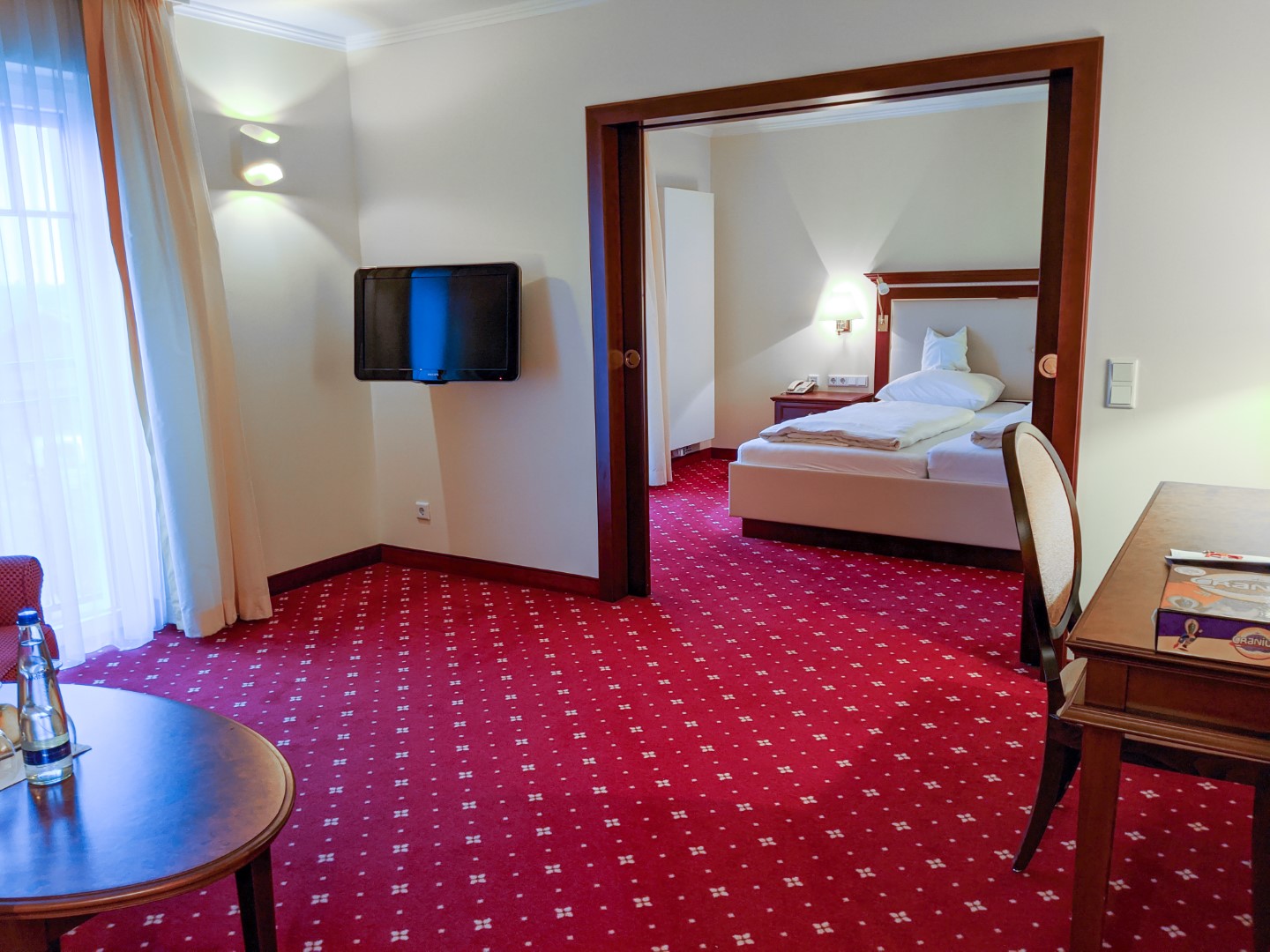 When I go for our girl's weekends, I share a room with a friend. Since we all like to hang out in the evenings playing games or just having girl talk, we like to request the Double Room Bellevue. These rooms are huge, with a big, wonderful Double (close to King sized) bed, a very large bathroom, and an entire seating area. There are also several other room options ranging from a single bed all the way to huge, luxurious suites.
All rooms come standard with a hotel bathrobe and hotel spa bag so that you can take your belongings to the spas. You'll also find a hairdryer, illuminated cosmetic mirror, phone, HD TV, safe, and wifi. I particularly love the electric black out windows!
As one would expect at a high end hotel, the rooms have all been immaculately clean on our stays. My only complaint was that in July, they did feel somewhat stuffy. However, there was a fan in our room and between that and opening the big windows each day, it aired the room out well. Also, the bathrooms do sometimes have a sulfur smell. However, you ARE at an originally sourced thermal spa, so that is a bit to be expected.
The Beds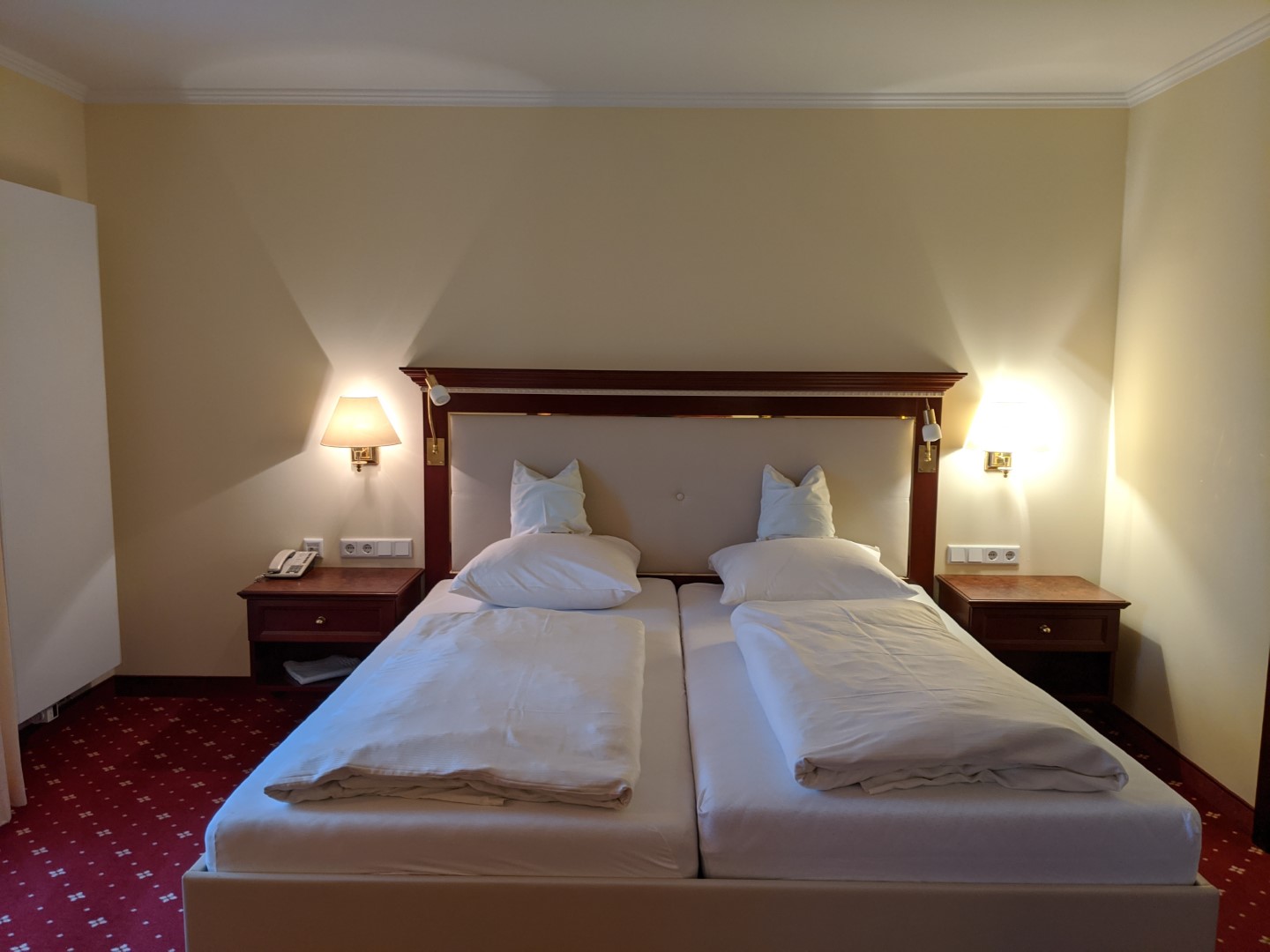 During our second stay at the hotel, I was extremely pregnant. For weeks at home, I was getting the worst sleep. My hips were aching, I could never get comfortable (oh, and I had 2 other young children waking me frequently!) But after the first night of sleep at the hotel, I was racked out!!!! The next morning, my roomie laughed at me as she saw me pulling up the covers on the bed to try to see the brand of the bed. I thought it was just me and my preggo body that loved the beds, but the next week several of the girls in the group all started joking about figuring out a way to get those beds at our homes. They were seriously the best mattresses I've slept on! They even have adjustable foot and head sections!
All-Inclusive
Another reason to love Kur Hotel Zink is that (almost) everything is all included such as:
Your room rate
Robe and bag for daily use for the spas
A very large breakfast buffet
4 Course Lunch (salad and starter buffet, soup, main entree, and dessert)
4 Course Gourmet Dinner
On Site Spa (4 thermal baths, Kneipp pool, Saunas, Wellness area)
Gym
Free Parking in the underground garage
1 free entry to the Bad Füssinger casino
Not Included:
Alcoholic drinks
Specialty Coffees (such as cappuccinos, etc)
Tourist Tax (

€ 2.90 for high season, € 2.20 for low)
Prices
The prices for Kur Zink Hotel are extremely comparable to other Spa Hotels that offer similar amenities in town. For some people, at first glance, paying 150 Euro (give or take, depending on the room) may seem a bit steep. But then, when you consider that it includes every meal (and just how fantastic the food is!), all the spa amenities, and the room, it's actually a pretty fantastic steal.
The Outstanding Food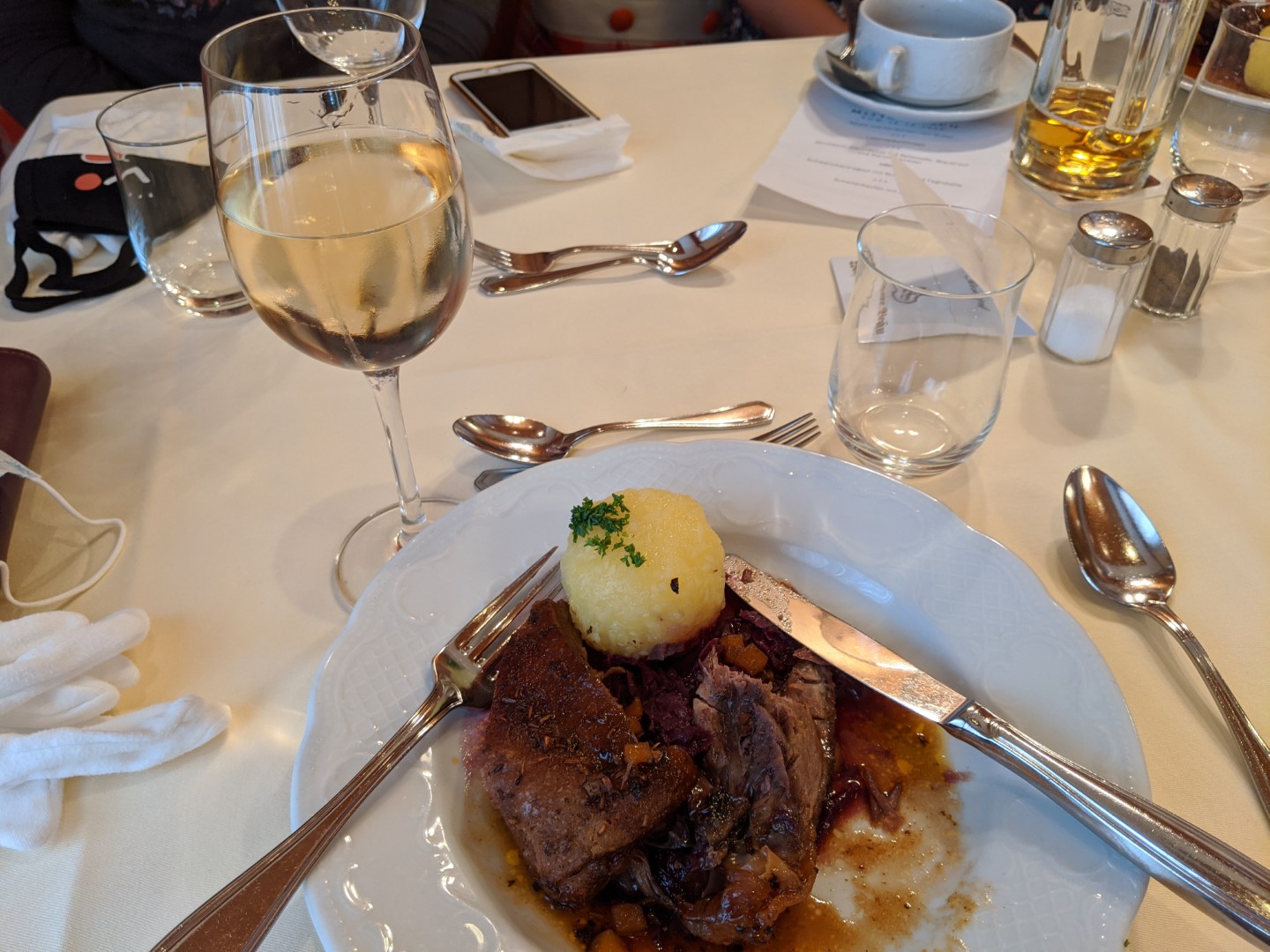 The food at Kur Zink Hotel deserves it's very own section…if not even it's very own blog post!
Have you ever been to an all inclusive resort or hotel? I don't know about you, but when I have in the past, the food at the all inclusive establishments is well…..lacking. It seems like they make everything in large batches and it's all…"Meh."
Which is why I was FLOORED when we had our first meal upon arrival at Kur Zink. When the description says, "Gourmet" they are not exaggerating. When I say that not a single food that touched my lips was bad, I am 100% serious. What is amazing, is they are constantly changing out their menus so that everything is fresh and seasonal. They serve everything from local cuisine (Sweinebraten and creamed saur kraut) to really unique and amazing dishes, like a coconut curry soup! Oh, and 3 words: "Daily Breakfast Mimosas" (included). 'Nuff said!
AND EACH MEAL IS HUGE!!! Lunch and Dinner are both 4 courses!!! By the time you get done eating one meal, it's practically time to start the next! Let's just say that you won't go hungry!
They have a huge variety of meals as well, including vegetarian options. And the cheese platter? OMG YUM!
While alcoholic drinks are NOT included in the package, I also have to recommend the Rhubarb Gin and Tonic. I hate gin. And yet, I had to stop myself from ordering more of these cocktails! (Yes, that was one my Non-Pregnant trips!)
Facilities
Spa and Wellness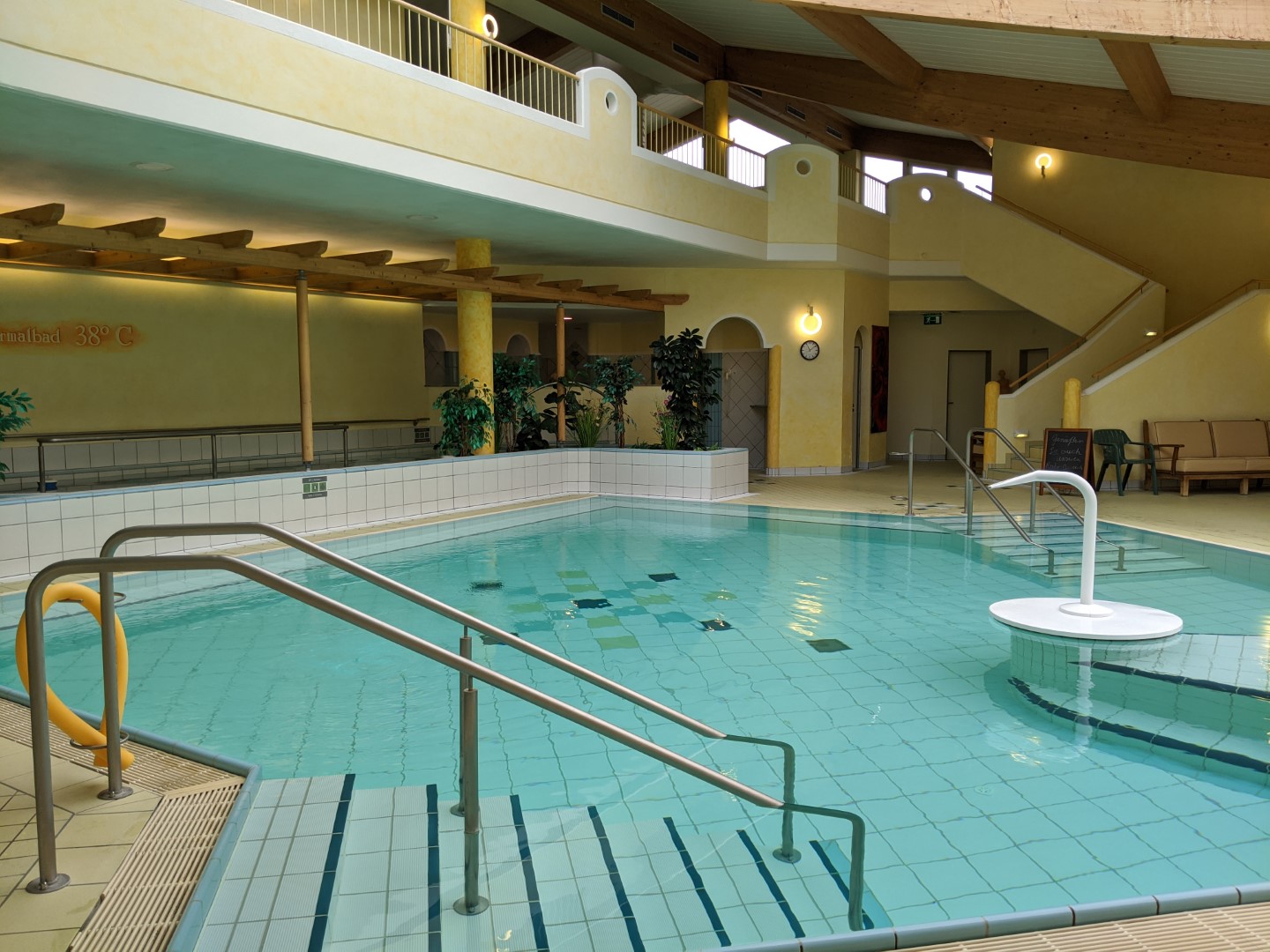 On our last girls weekend, I actually didn't leave our hotel once! Nope I didn't even head over to Therme Eins or anything! I was so content with stuffing my face with delicious food all day (remember I was super pregnant!) and just hung out at the pools and spa at the hotel the entire weekend!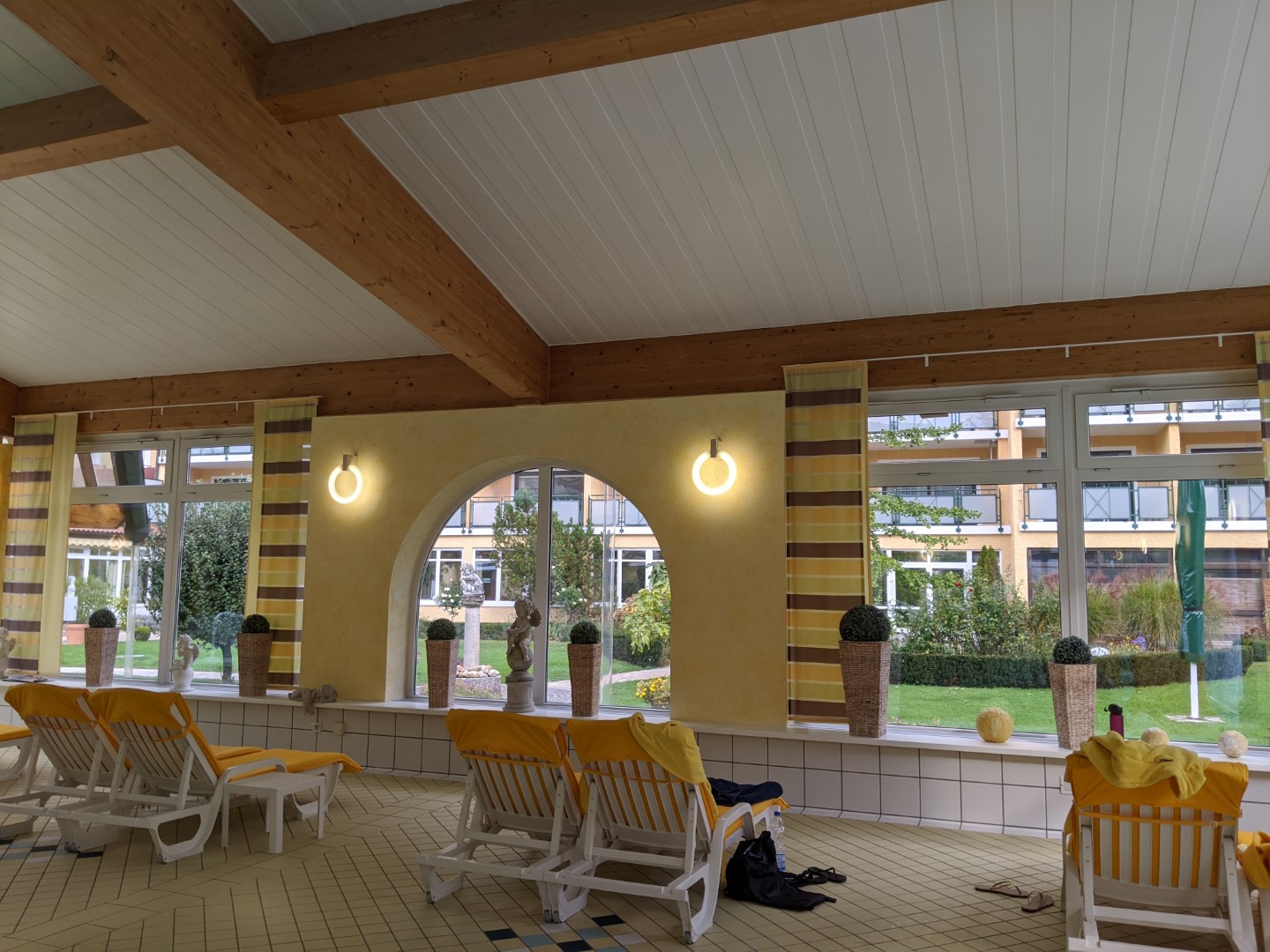 There are two thermal pools inside (32°C and 38°C) as well as a Kniepp pool. Outside, there are also 2 thermal baths (31°C and 37°C). This means that it doesn't matter the weather, there is a pool that you can soak in to make you feel fantastic. I especially love the outdoor 37°C pool in the cooler weather! It feels fantastic to sit outside in the hot waters!
Inside the Sauna area, there is a Finnish Sauna to heat things up, a steam room, and an infrared cabin as well.
Towels and bathrobes are provided for day use.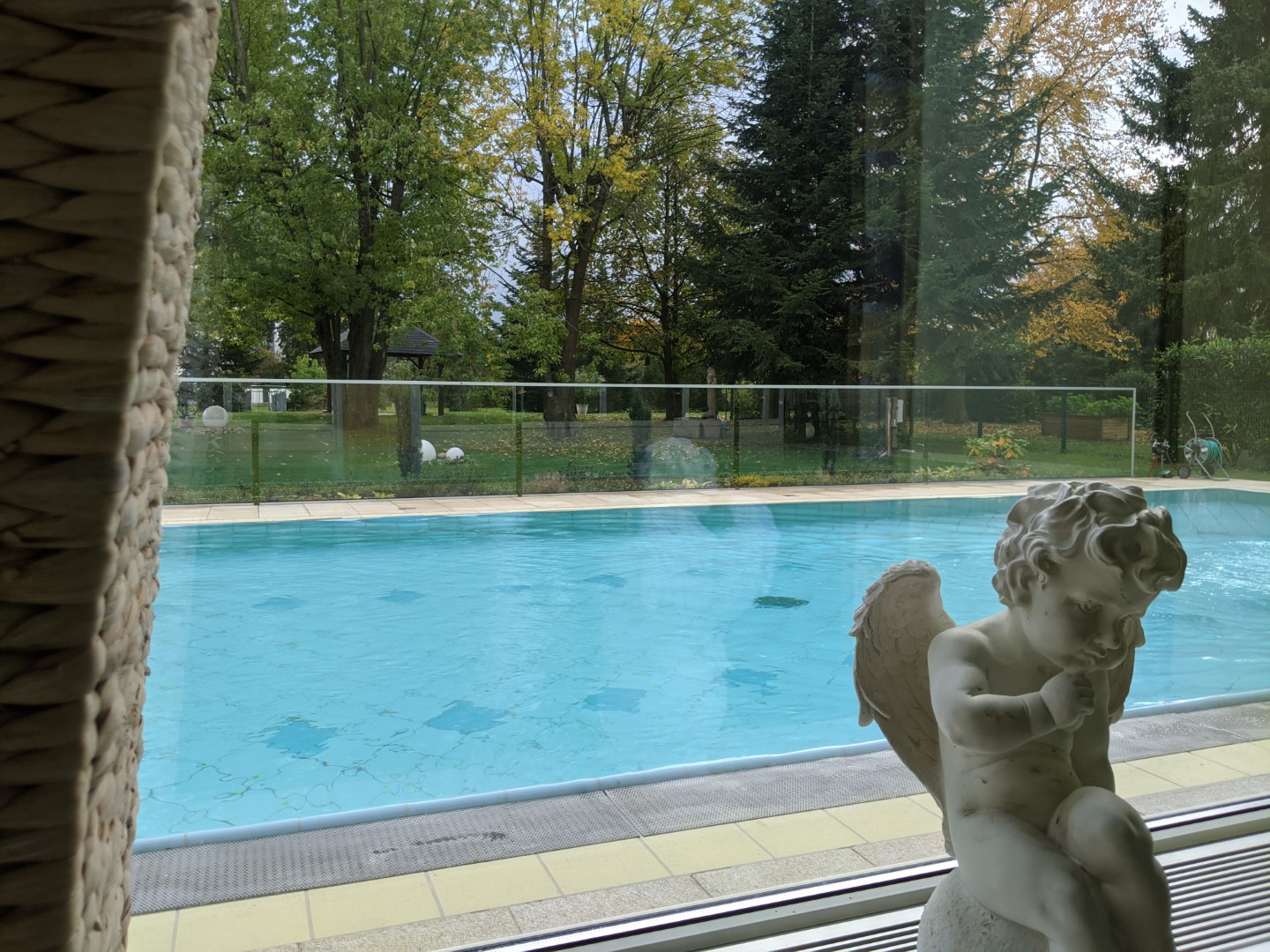 Beauty and Wellness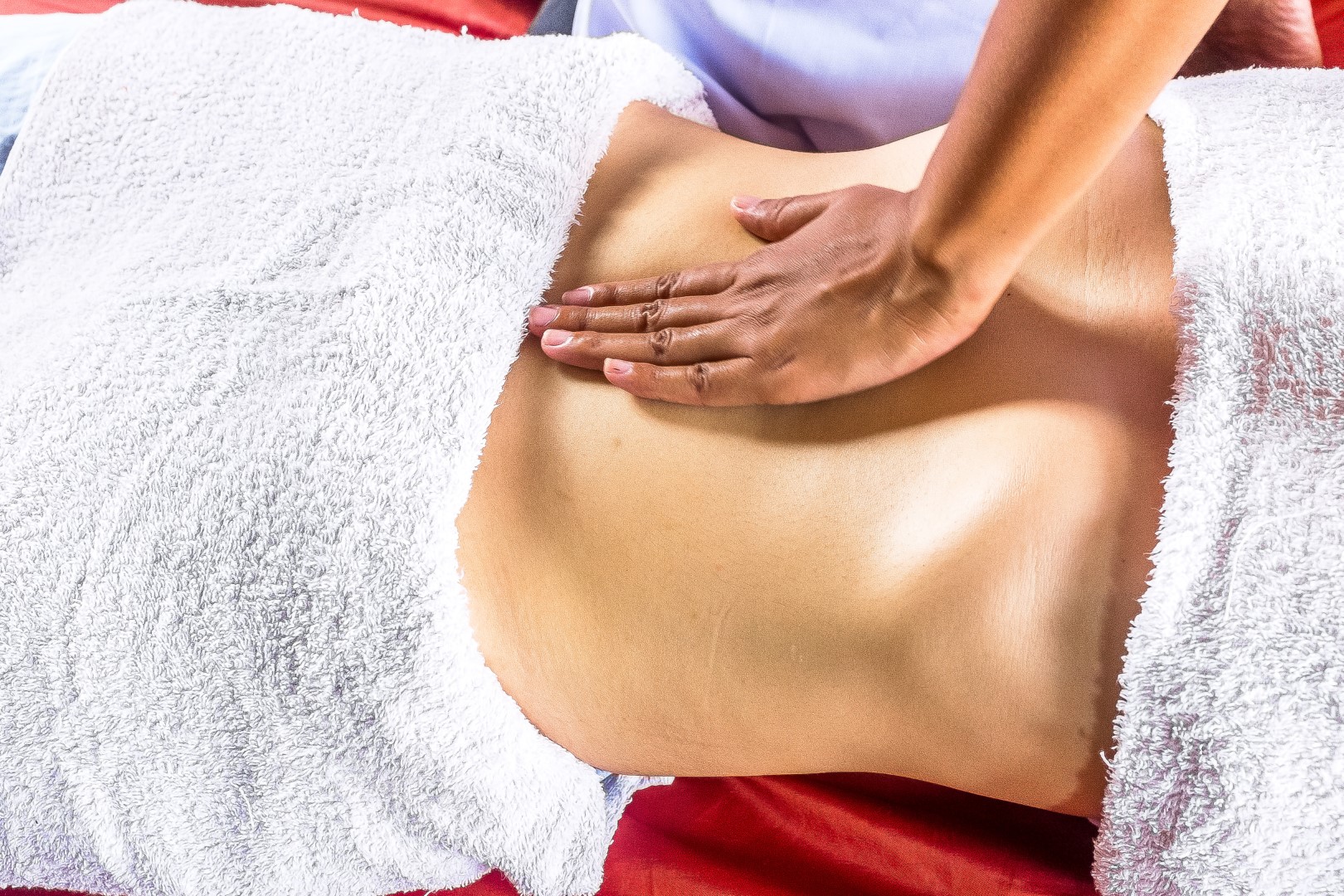 You'll find a beauty parlor on-site as well. You can book from a long list of varying massages, get a microdermabrasion facial, get a manicure/ pedicure, and more.
Every time I stay here, I always get a few massages. I've done a therapeutic oil massage, a head and foot massage, and the meridian massage before.
I will admit that this is the one area that I wish was a bit "better" but this is probably purely a personal preference. It is damn near impossible to find a massage therapist in Germany that gives me hard enough massages. I'll even ask for "Sehr schwer" (very hard) and will often say during the massage that it needs to be harder buuuut, alas, it just never really is. And that is true for the massages at the hotel as well. So, if you are looking for a deep tissue massage, this isn't your place. But, my girlfriends who apparently aren't as sadistic as me, have all come out of their massage totally zenned out and happy.
Fitness Room
There is a very nice and updated fitness room with a few treadmills, ellipticals, bicycles, and few machines.
Outdoor Garten
In nicer weather, the outdoor area of the hotel is absolutely fantastic. Grab a lounge chair and kick back in the fresh air amongst the beautiful flowers. There is even a giant checkers board!
Food and Drinks
As I've mentioned earlier, all the (uuuuhmazing) food is included. There is plenty of seating on the main floor. There is also a bar in the lobby if you want made to order cocktails, wines, and other alcoholic beverages.
Packages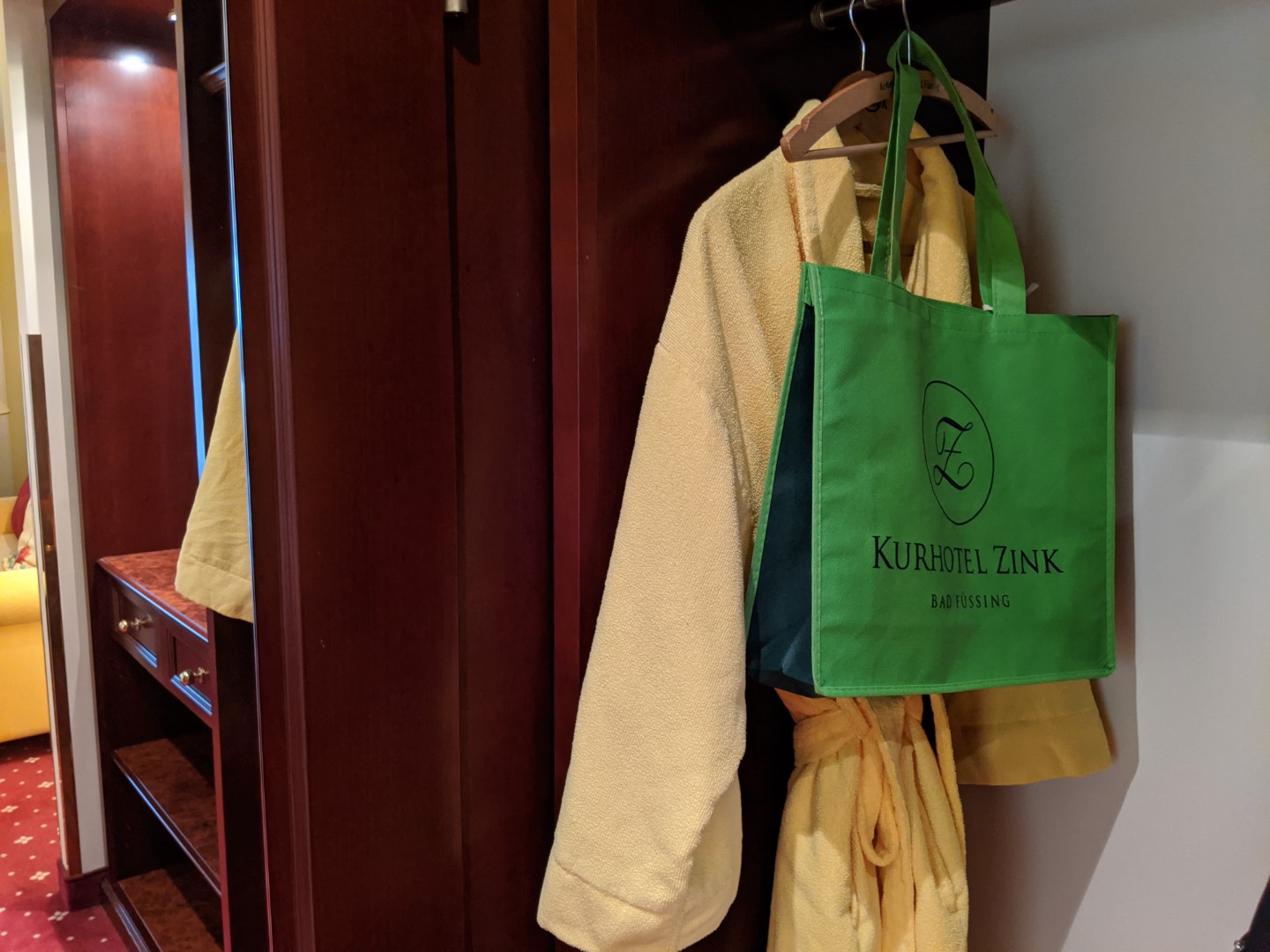 I've never booked a full package, but there are several different ones you can choose from if you want to get a few add ons and perks. For example, you can choose a 2 (or 3 or 4) day package that includes all of the above as well as a massage, Ebike usage, and round of golf as well all bundled into your price.
Alternatively, there are long stays like the 7 day stay that also includes numerous beauty services and massages.
Finally, there are often seasonal offers.
The Final Verdict
I'm sure it comes as no surprise after reading all of the above that I've loved every stay we've had at Kur Hotel Zink. The family that runs the hotels is so above and beyond hospitable to all their guests that our entire group leaves without a single complaint.
Book Your KurHotel Zink Room Here
One Last Note on Ages of Guests:
I think it's safe to say that we'll be back again for many more girl's weekends!
However, I think it's important to point out one thing that doesn't really fit a "description category" that you should know.
If you've read my Spas in Bad Füssing article then you've already gotten a heads up on the average age of people visiting the spas in town. This isn't to say that younger people don't frequent the thermes in Bad Füssing. However, there are going to be way more people around 60 (or even 70) and above than in their 30s-50s.
While we often joked at great lengths about how we were the youngest people in the hotel by decades, I will also say that we never felt this to be an actual issue. When the hotel found out that we had a group of cackling, loud, "younger" women, they graciously accommodated our group by putting us in a private corner room for meals. This was actually beneficial to all involved. We got our own space and the, uh, "older" clientele weren't bothered by our uproars of laughter.
Just be prepared to be hanging out with a bunch of old people. But hey, for the accommodation, luxury, and (sorry to be a broken record) out of this world food….it's totally worth it.
(PS~ If you want to get away from the "old folks" for a bit, Therme Eins has a slightly younger crowd and if you are really in the mood for a party, you can head to the nearby Der Haslinger Hof which turns into a disco/ dance place at night!)