[This post may contain affiliate links where we earn a small commission. Please see our disclosure for more information and thank you for supporting our site so we can continue to bring you awesome content for your travel inspiration!]
The first time I went to a German Spa, I was so underprepared!!! I had no idea what I was getting myself into. I wasn't aware of all the Etiquette in a German Spa and I had definitely never been to a nude German sauna (well, a public nude ANYTHING) before! So to say that I didn't know what to bring to a German sauna would also be an understatement!
In fact, I wasn't even at an official spa or Saunahof. I was at a resort hotel in Garmisch and I couldn't wait to get my relaxation on in the "Spa." I poured myself into my bathing suit, donned the ridiculously comfy robe that the hotel left in the room, and walked down to the pools and spa area. When I opened the door to the first sauna, the heat whacked me in the face the way a wave rushes over you.
I sat down and started to relax….until I realized something.
I WAS THE ONLY ONE CLOTHED! Before I came into the sauna, I even double checked that swimsuits were allowed because I did not want to feel uncomfortable being naked in a room full of strangers. And yet, here I was, feeling completely awkward but not for the reason I thought I would. Nope, it was because I was clearly the only one NOT naked. So, when in Rome Garmisch, I decided I needed to go all in! The next day when I strutted down to the spa, I had made the decision; I was going naked!!!
Luckily, going to the German Spas are now one of my favorite things to do in Germany. It took me several go-arounds though to fully understand everything I should and should not bring. The reality is that you really don't need a lot. Whether I'm going on a girls' wellness weekend getaway or if I'm just taking a "Mom break" for the day to a local sauna, here is exactly what I pack in my bag.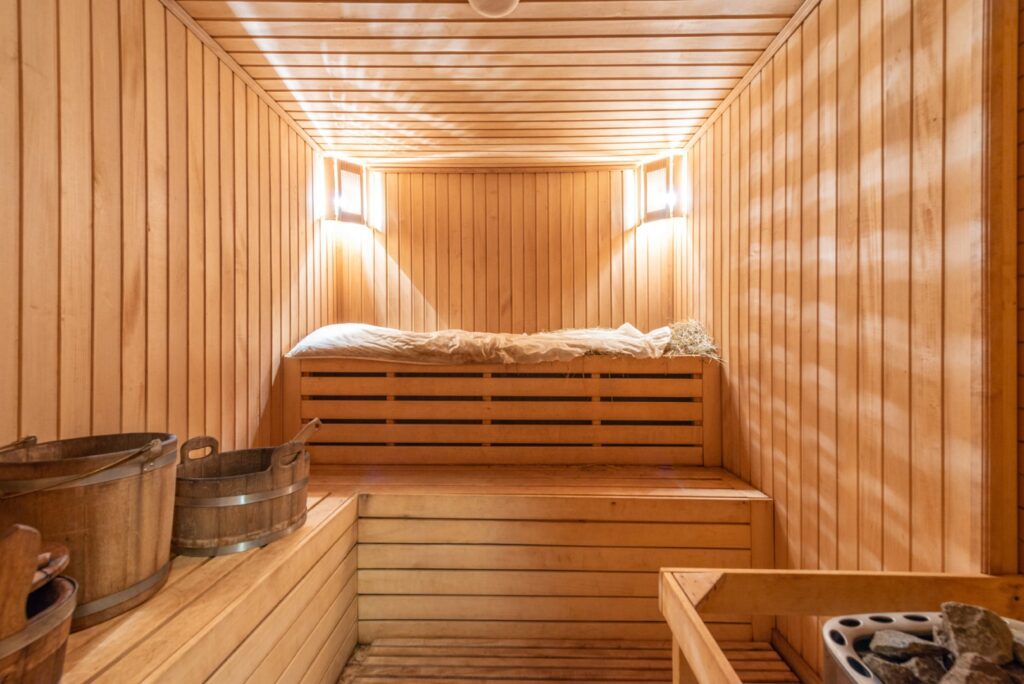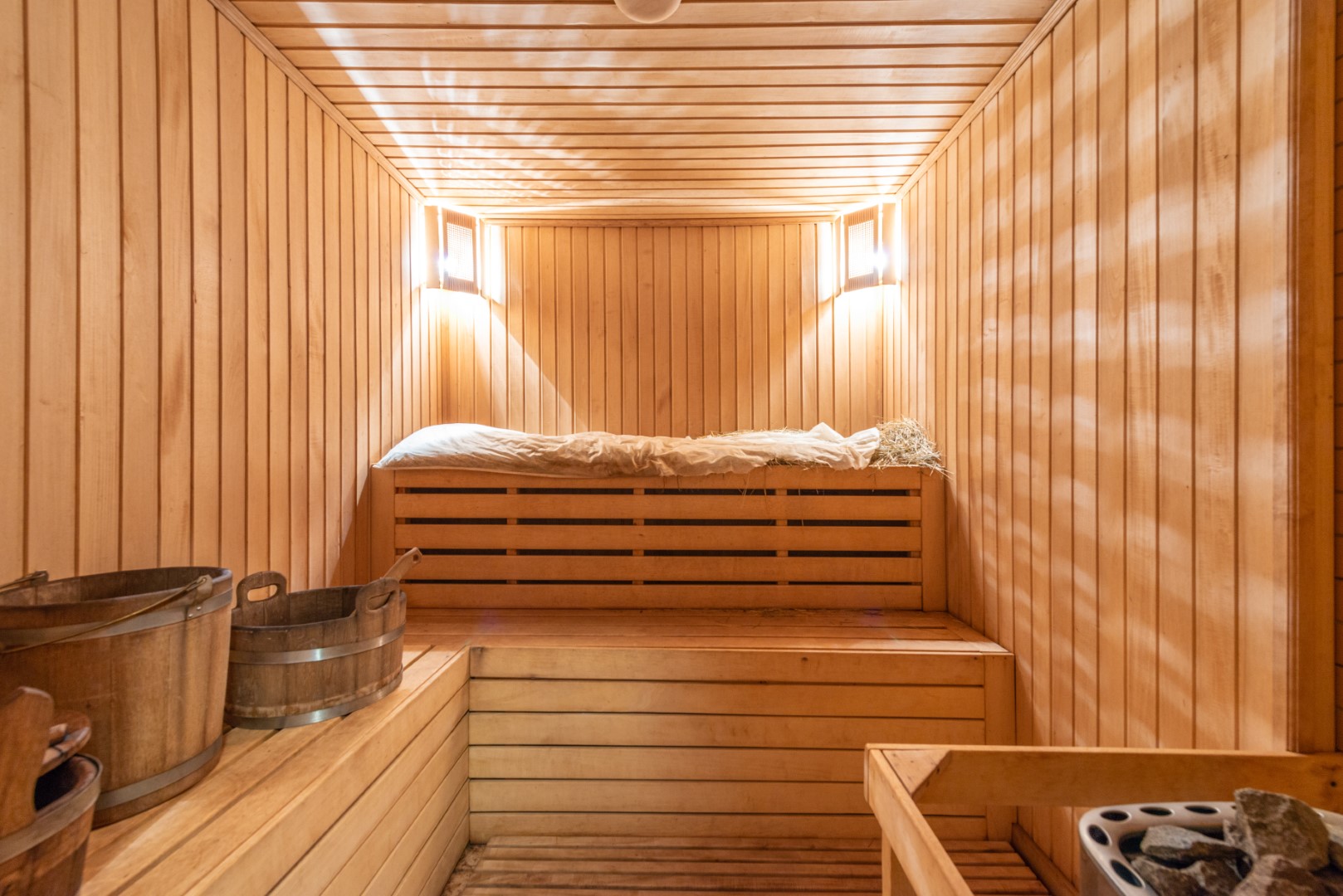 Other German Spa and Sauna Articles That May Interest You:
Complete Guides on Visiting:
Baden Baden:
Swimsuit
I know this sounds the opposite of a "Naked German Spa" but the reality is that so many of the Thermes actually have a completely clothed section. This is typically the thermal pool area and there are often at least a few saunas in these sections as well. That means that if the idea of being in your birthday suit terrifies you, then you can keep your swimsuit on and still feel comfortable. I will say though that this will feel kind of "just like a pool." If you want the true Sauna experience, you really will need to head to the "Textile Free" (aka nude) section.
Towels- At Least 2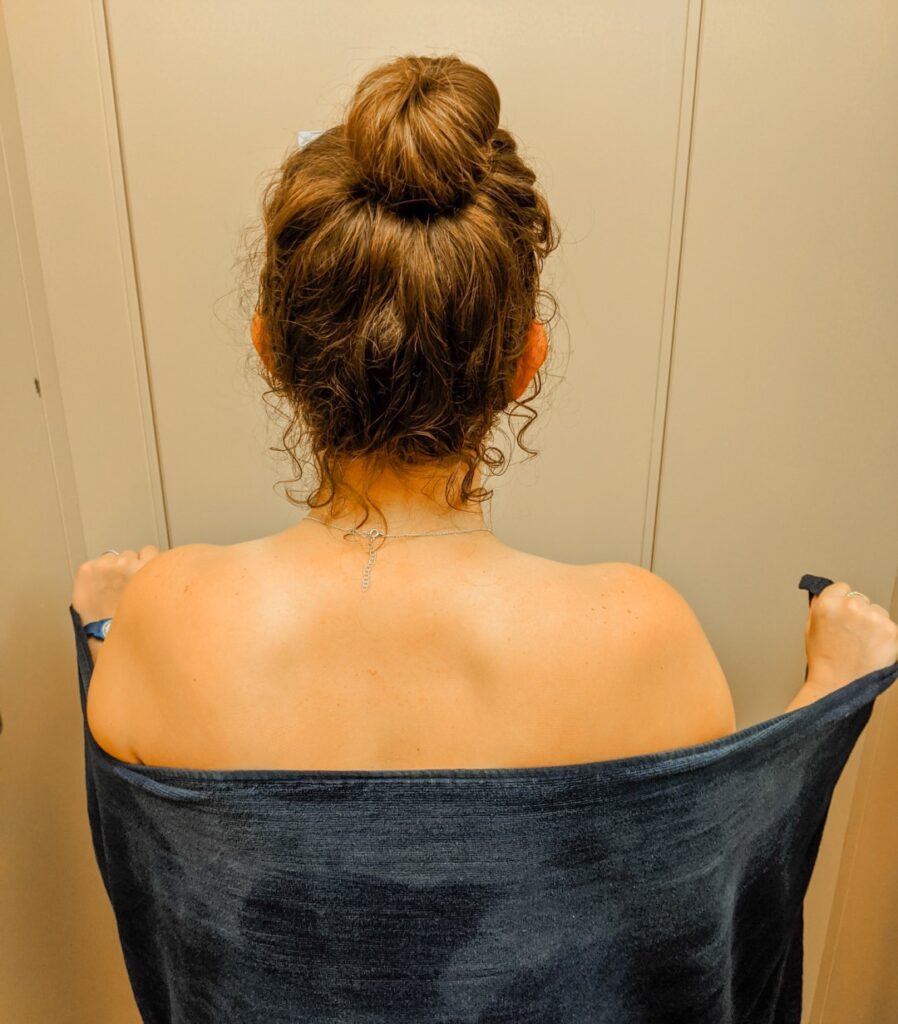 Towel 1
There are very strict "rules" when it comes to the German sauna culture. One is that when you enter into a sauna, you always, and I mean ALWAYS put a towel underneath you. I mean, it makes total sense right? You are sitting in a room where it can reach upwards of 190°F (90+°C) which is obviously going to mean sweat. Who wants to sit on a wooden bench covered in sweat from someone else's nether regions!? This is a complete sanitary thing, so a towel is an absolute must.
Insider Tip: You probably noticed that "Towel" isn't on my Germany Packing List. It's just not terribly practical when you have limited suitcase space. If you know you are going to a Spa, some places, like Therme Erding, will actually rent out towels and robes at additional costs, so you can always send an email and inquire about that to double check. Otherwise, tuck a hotel towel into your day bag and that will work as well.
Insider Tip 2: While I normally love me a good travel towel because they pack down well, I will say that most people at the saunas are going to have normal bathroom style towels (any color works!). Even the Turkish Towels that I typically pack for lakes or beach trips aren't used very much at the spas. Again, if all you've got is a travel towel, don't sweat it. However, if you want to blend in as much as possible, normal bath towels, or even a "wearable towel" like this is more of the norm.
Towel 2
If you can manage it, bringing a second towel is also very valuable to have a clean, dry towel when you are completely done with the German thermal baths. Your first towel will most likely be very wet from all the steam, and sweat. So, whether you are planning to take a full shower or are just going to change and go having a fresh towel is pretty important.
A Robe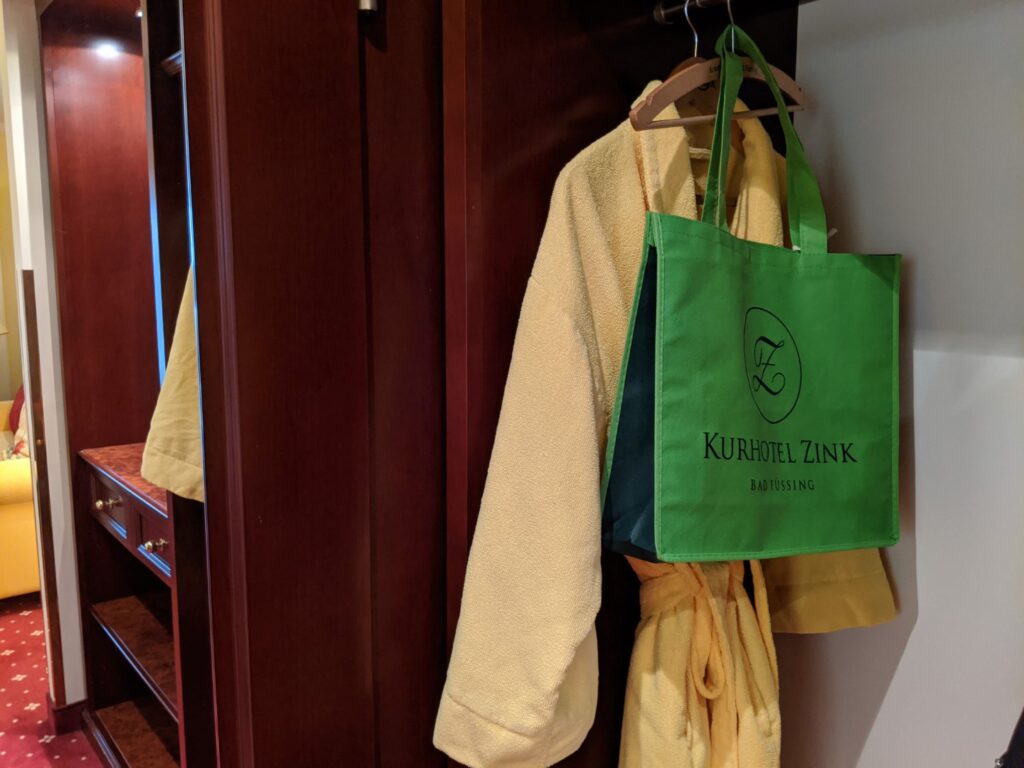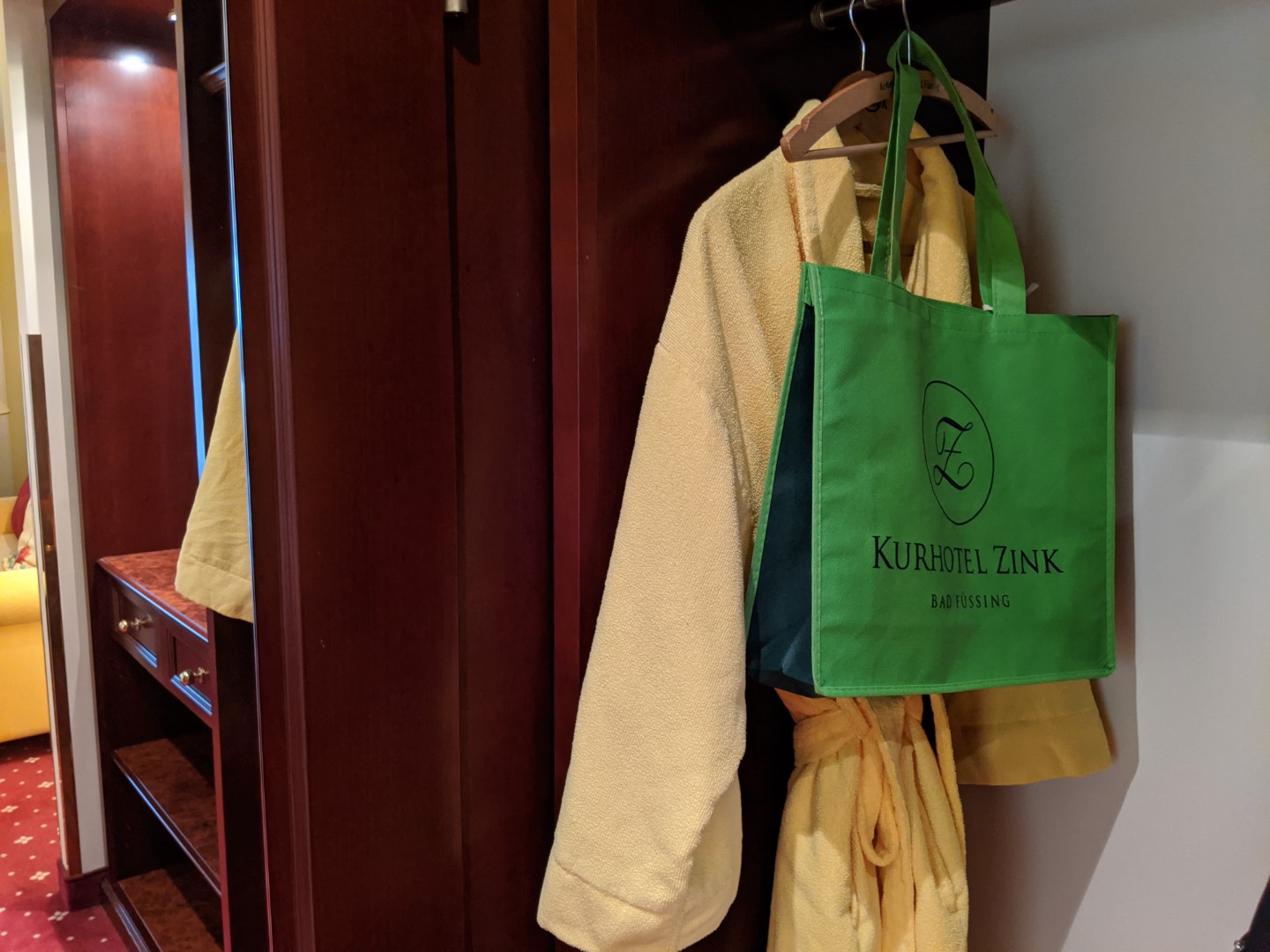 This is not an absolute necessity but it will become blatantly clear who are the "regulars" to a sauna just based on who is lounging around in their robe. Many people will wear their robes around them as they walk from one sauna or thermal pool to the next, take it off right outside the sauna, hang it on a hook, and just take their towel in to sit on.
There are also usually relaxation and quiet rooms where you can kick back with a good book or just fall away into snoozeland (yes, seriously, there are always people just sleeping!) on lounge chairs. Having a nice, warm, cozy robe to wrap up in is perfect for these moments!
Now, if you've never wondered to yourself, "Are there different types of robes?" then you clearly need to spend more time a German Sauna! Again, just take whatever you have and don't get caught up in the details. But, I definitely have a preference for robes at the Sauna!
A Fluffy, Warm Robe: Just looking at this fluffy, comfy robe makes me want to snuggle up and take a nap!! If you plan on doing a lot of lounging, how can you not be relaxed in something like this?
Cotton Waffle Robe: A what?? Ok, instead of the fluffy robe, think more of what you would find in a hotel. It's more of a towel in robe form and that is actually perfect for the saunas! When I have worn my fluffy robe, it is not absorbent, so after just one or two saunas or pools, it is soaking wet. Whereas a robe like this is better at absorption and can be worn longer without getting soggy and wet.
Pro Tip: I always size up when ordering a robe, just because I love the comfy feeling of an oversized robe for pure relaxation!
If I was just traveling to Germany and just doing a day at a German Sauna, I honestly don't think I would pack a robe in my luggage. However, if your hotel has one, it's usually ok to take it as long as you bring it back.
Alternatively, while a robe is really great to have, if you absolutely can't manage one, you'll still see plenty of people just using their towels to wrap around them as they walk around.
Sandals/ Shower Shoes
I always get a kick out of what people from around the world call these. To me, they are flip flops. To others, they are "thongs," or even "slides." No matter what you call them, just be sure you have shower shoes. Similar to the towel thing, you'll notice the Germans wearing their flip flops everywhere around the Saunahof, more for hygienic reasons than anything else. Just outside the door to the sauna or near the steps into the pools, there will always be a nice, tidy pile of flip-flops, where they are put back on before heading to the next sauna or pool.
A Book or Reading Device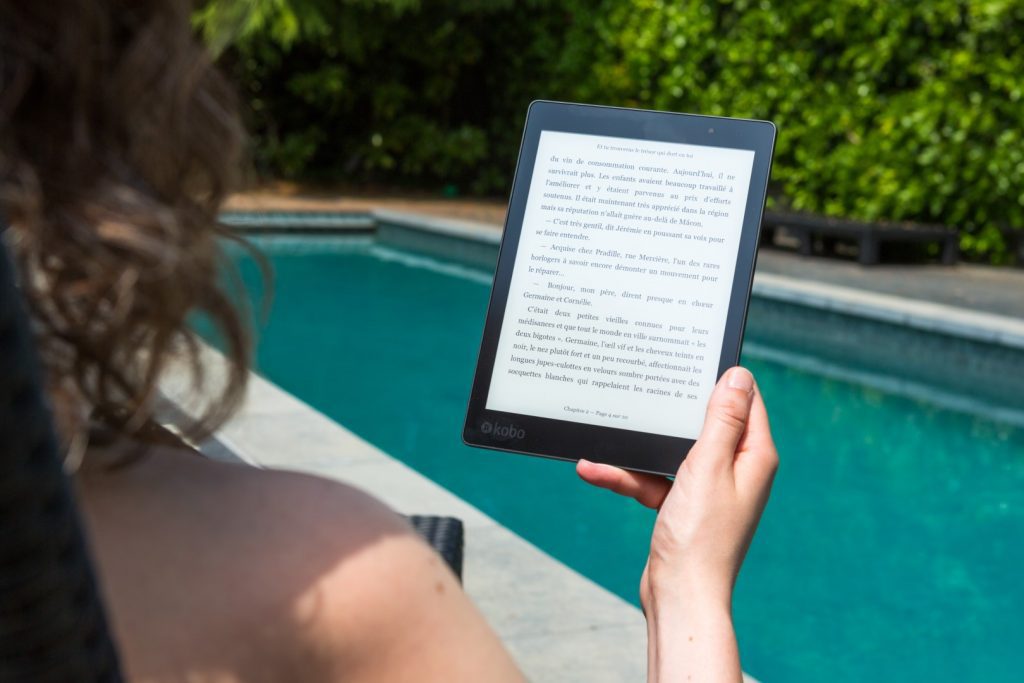 If I have a full day at a spa in Germany, or better yet, a whole weekend, I always pack a good book. As I mentioned above, there are lounge chairs all over where you can sit back and relax on. You'll see people drinking tea, reading books, checking out a newspaper, or slowly falling asleep from all the relaxation. It's great to pause from all the heat of the saunas and read for a bit before heading back into another sauna.
While I'm personally a sucker for books with real pages, I actually bring my Kindle with me to the saunas in Germany so the pages don't get all wet and ruined. I also have been very into audiobooks lately, so if you're the same way, don't forget a set of headphones. (Also, EReaders are just so much easier to travel with in general than the paperback versions)
A Water Bottle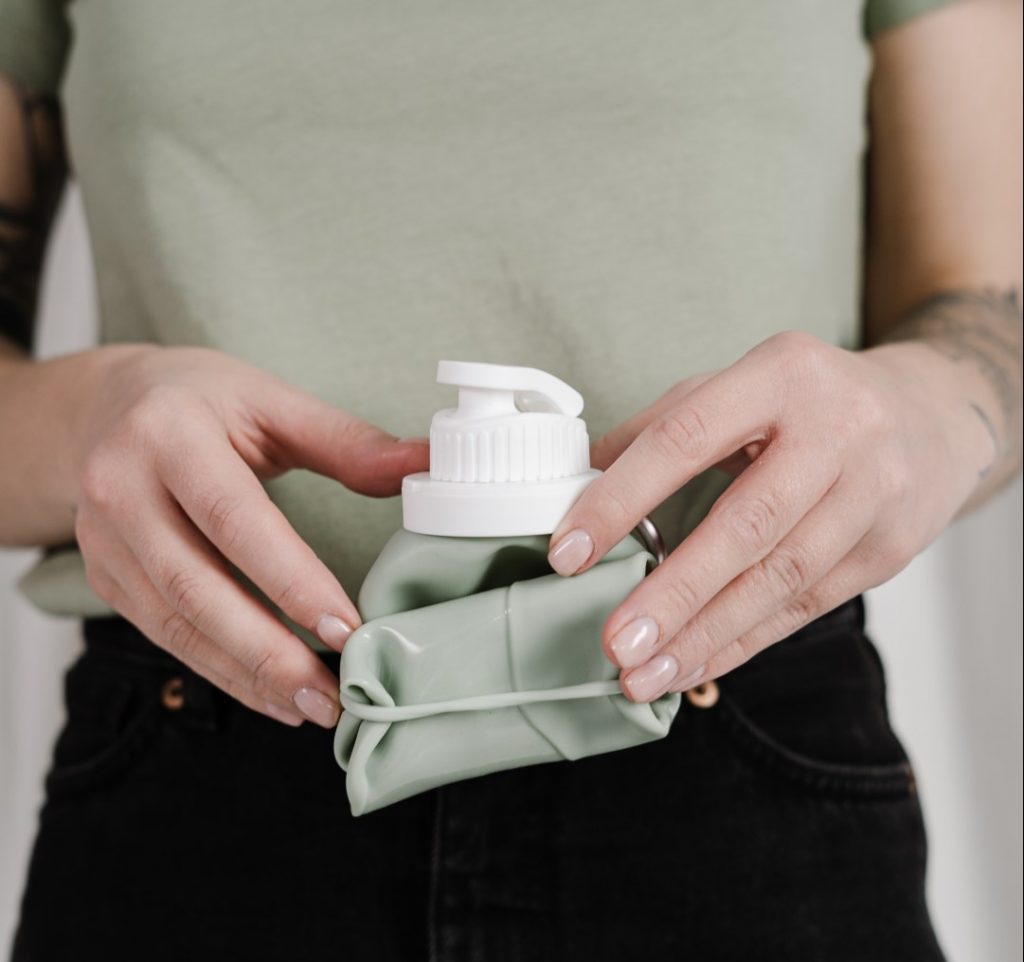 I personally always bring a reusable water bottle with me when I travel to reduce waste, but even if you didn't pack one in your suitcase, you can get a plastic water bottle at any grocery store or convenience shop. Most spas will also have an area to buy a water bottle as well on sight. Regardless of where you get it, this is a vital thing to bring to a German sauna! Afterall, with all that sweating and heat, you'll need to be careful to stay hydrated! If you are looking for a great travel waterbottle, check out this collapsible one. I have a similar one and love that it packs down into my luggage.
A Bag
Obviously, with all these items, you'll need to keep everything together in a bag. Don't ask me why, but when I'm going to a sauna in Germany, I prefer a tote bag style. Maybe it's because it's easy to get things in and out of, or maybe it's because I feel like my go-to travel day pack would look too touristy? Either way, I bring something like this with me.
An Open Mind
When I tell people about going to a nude German spa, most people get wide eyed and say things like "Oh my gosh, I could never just walk around naked in front of other people!" And yeah, when you put it that way, it actually does sound slightly terrifying. But honestly, the German sauna culture goes so far beyond nudity. It is about health, well being, and vitality. Trust me when I say that nobody is actually looking at your body. But, that is the main thing that gets people hung up on going.
However, if you are willing to have an open mind to a new, cultural German experience, you are going to be absolutely amazed at how fantastic you feel and you may even surprise yourself with how you view nudity or even your own body by the time you are done.
Miscellaneous Items
Toiletries
Personally, I prefer to shower at home or at the hotel after the saunas. So I actually don't even bring my toiletries with me to the spa. However, if you want to rinse off, wash your hair, etc before leaving the sauna, then don't forget things like:
Shampoo and Conditioner
Body Wash
Lotion
Hair brush
Makeup
Deodorant
Hair Ties
For my fellow long-haired females, nothing feels worse in a sauna than wearing your hair down in a room that is pushing 200 degrees Fahrenheit!!! Do not forget those hair ties!
Contact Lenses
If you typically wear glasses and can't see without them, you'll probably want to wear contact lenses on your day at the German sauna. There are often little "glasses" shelves right outside a sauna though, so you can always take them off right before you head inside. However, for me, as soon as I put my glasses back on, they immediately fog up just from my body heat. I learned a long time ago to just leave the glasses behind on sauna days!
Extra Money
The majority of German saunas use a wristband. This bracelet is both the key to your locker and most places use it for you to charge things like that water bottle or a lunch. All the spas I've been to typically have a cafe for meals, a coffee machine, and hey, you are in Germany, so a place to grab a beer! It's often quite nice to take a break from the saunas to go grab a quick refreshment.
As you leave, you'll put your wristband into a machine and you will then have to pay for your additional expenses during your stay. While the majority of saunas in Germany accept cards, cash is still king in Germany, so you'll just want to make sure you have some on hand just in case.
Leave Behind
Makeup
One Wellness Weekend I took, one of my gal pals had forgotten she had makeup on before heading to the Saunas for the day. She was pulling an Alice Cooper look after the first round of saunas and thermal pools and had to do her best to try to wipe as much off as possible in the restroom. Just like nobody is looking at your body and caring what it looks like at the German Saunas, nobody is going to care about the dark circles under your eyes or uneven skin tone for the day.
Now, of course, feel free to bring it along if you are getting ready on sight before leaving and feel more comfortable with makeup on, but I do highly recommend going in au natural (both makeup wise and textile free!)
Jewelry
I constantly wear a necklace that has extreme sentimental value to me. I never take it off.
The first time I did an "Aufguss" (which I explain in my Everything You Need To Know About German Saunas and Spas), I frantically tried to unhook the necklace as I felt it literally burning my skin as the room got hotter and hotter with every second! That was the last time I went into a German Sauna with jewelry on! Likewise, if you wear rings, if your fingers swell with heat, it can be very uncomfortable wearing them in the saunas. If you can remember to leave your jewelry at home or in the hotel, that might be easiest. But, if you are like me and always forget to do that ahead of time, just have a small, jewelry case or even a simple drawstring bag packed in your tote so that you can safely store your jewelry.
Fear and Judgements
As you already know from my "How to Not Be Freaked Out in a German Nude Spa" article, absolutely nobody is oogling your body and not a single person there cares about sagging body parts or overweight bellies. So, you can leave the fear of being naked at the door. Likewise, have the same courtesy for everyone else there. It's natural for eyes to accidentally wander at times, but in general, be respectful to everyone around you and to remember that they are probably just as insecure about their body as you are yours.
FAQs
What Do You Wear in a German Sauna?
Many German Saunas are "Textile Free" meaning you won't wear anything. However, everyone will have a towel with them and if it makes you feel more comfortable, you can keep the towel wrapped around you at all times.
What To Expect at a German Sauna?
I have an entire guide that goes over Everything You Need to Know About the German Sauna Experience from the proper etiquette, how to navigate the locker rooms, how to overcome the fear of being nude at a spa, what some of the best Spas in Germany are, and so much more.
Can You Bring a Towel to a Sauna?
Yes, in fact, almost every sauna I've been to requires you to have a towel to at least sit on. If you'd like, you can also keep a towel wrapped around you.
How Do You Pack For a Sauna?
Swimsuit
2 Towels
1 Robe
Sandals/ Shower Shoes
A Book
1 Waterbottle
Tote Bag
Toiletries
Hair Ties
Contact Lenses
Money
Jewelry Pouch