[This post may contain affiliate links where we earn a small commission. Please see our disclosure for more information and thank you for supporting our site so we can continue to bring you awesome content for your travel inspiration!]
Lederhosen, beer, brats, oompah bands, and palaces.
They all might be exaggerated German stereotypes, but in this case, totally accurate. And while there are plenty of places to experience the culture of Germany, Munich often is the place where people really start to FEEL the traditions of German life and realize that it's not just in fairy tales, but a way of life for in Bavaria!
2 Days in Munich Germany isn't quite enough to fully take in the whole city, but you can easily pack enough into a Munich 2 Day Itinerary that will give you a fantastic taste and intro to Bavaria that will most likely have you craving more.
The way that this Munich Itinerary is going to work is that I am going to build onto a multi-day itinerary. I've planned this out so that as much of the "Must See Munich" is on the first day, especially since a lot of people only have a short time in town. However, days 2 and 3 should NOT be overlooked or seen as "extras." Personally, I think that the activities on the other days round out your time in Munich perfectly.
Alternatively, you can look at the other days and swap out an activity. For example, if you are not a big "palace" person, you can choose to go to a beer hall!
If you've got a bit of extra time or even a third day, don't forget to check out my 3 Days in Munich Itinerary as well as my Ultimate List of Day Trips From Munich.
Planning Your Trip in Germany? Join our awesome Travel in Bavaria Facebook Community to help you out
Day 1 In Munich
Start here to get the full, detailed plan of your first 24 hours in Munich. But to recap:
You are going to have a jam packed day in Munich!
Start at the Marienplatz and take in the famous Glockenspiel from a vantage point few other travelers know about.
Take a free walking tour where you'll learn fascinating history about the town as well as see other famous things to do in Munich like the Frauenkirche
Enjoy lunch at a local beer garden
See a Bavarian Schloss
Experience an authentic beer hall (spoiler alert: it's NOT Hofbrauhaus!)
Looking for Day Trip Ideas From Munich? Here are over 20 local gems!
Munich Itinerary: 2 Days
Despite a busy and long first day, there are still so many things to see in Munich! That's why even if you spend more than 1 day in Munich, I still suggest keeping as much as you can on that first day. However, day 2 will feel a bit slower though so you can catch your breath a bit while still experiencing a local side to Munich that you won't forget.
Get a BIG Breakfast, Preferably This Classic Bavarian One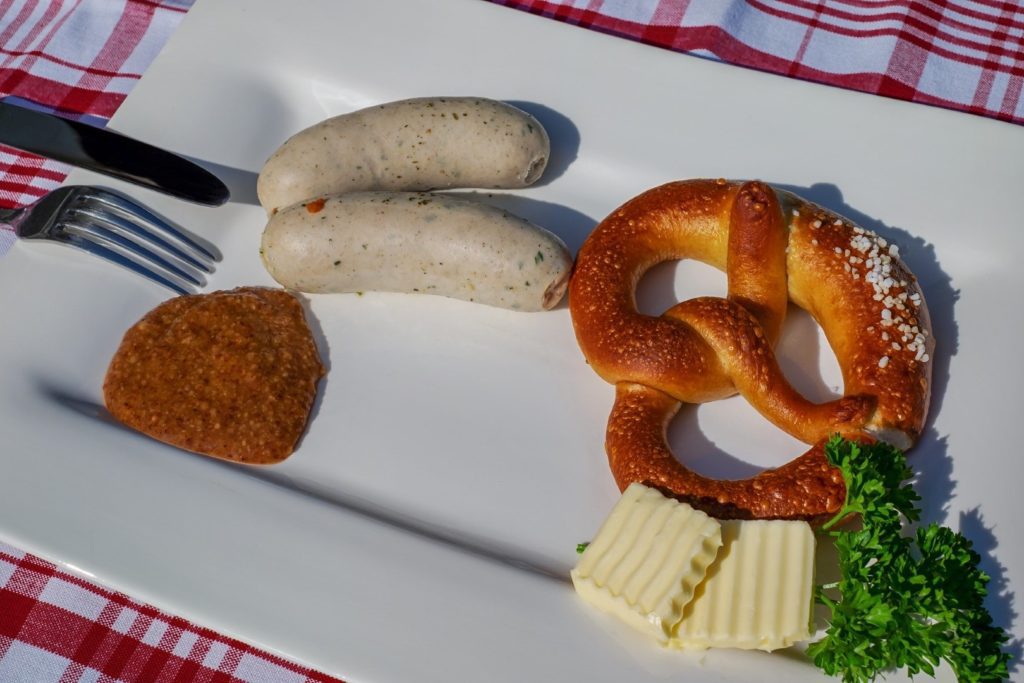 Before you start your day, I recommend getting a really big breakfast. The reason is because what I am going to suggest for the morning will take you a long time, but trust me, you are going to want to wait until my afternoon suggestion to get a late lunch.
You can always stop at a Backerie (Bakery) on just about any corner and pick out some delicious pastries, or, of course, pretzels, for some snacks to tide you over as well.
The Weisswurstfrühstück
Personally, we always just fill up at our hotel breakfast, but if your's doesn't offer one or if you haven't had a chance to eat a traditional "Weisswurstfrühstück" (White Sausage Breakfast) in Bavaria yet, then now should be the time!
A Weisswurst is a traditional bavarian sausage (brat-like) and to eat it like a true Bavarian, you'll want to order a pretzel and a wheat beer (Weissbier).
Yes. Beer for breakfast.
And don't skimp on the Susssenf (sweet mustard)!!
A few places where you are sure to see a Weisswurst on the menu are:
Weisses Brauhaus near Marienplatz
Zum Franziskaner between Marienplatz and Odeonsplatz
Gaststätte Großmarkthalle
Go the Deutsches Museum
To be completely honest here, I am not a huge "museum" kind of gal. Therefore, the first several day trips to Munich I took (we only live about 2 hours away), it wasn't on my "Top things to do in Munich" list. However, after visiting, I stand corrected and now I clearly think it is worth going to. We ended us spending the better part of an entire day at the museum and STILL didn't see it all!!!
One of my biggest misunderstandings before visiting the Deutsches Museum was thinking that it was going to just be a German history museum.
Nope. Think more like a Smithsonian! Each section of the museum could be a full museum in and of itself!!!
There is a "Kids Kingdom" (amazing hands-on exhibits for the little ones)
Virtual Reality Lab
Planetarium
Music Instruments
Huge Planes and Boats!
And so much more!
Dachau Concentration Camp
If you don't want to be in a museum all morning, and you only have 2 days in Munich, then my alternate suggestion to the Deutsches Museum is to visit the sobering Dachau Concentration camp. It isreally easy to use public transportation to get to Dachau from Munich and only takes about 35 minutes. You'll want at least a half day though to really give Dachau the respect it deserves.
It is an incredibly easy day trip and I personally think that no Germany Itinerary should be void of visiting a concentration camp so that we can always remember that hate and violence can overtake our world if we are not careful.
If you do choose to visit Dachau today, just know that it can be an extremely emotionally taxing event. Leave some time in the afternoon for some decompression before heading out for evening activities.
English Gardens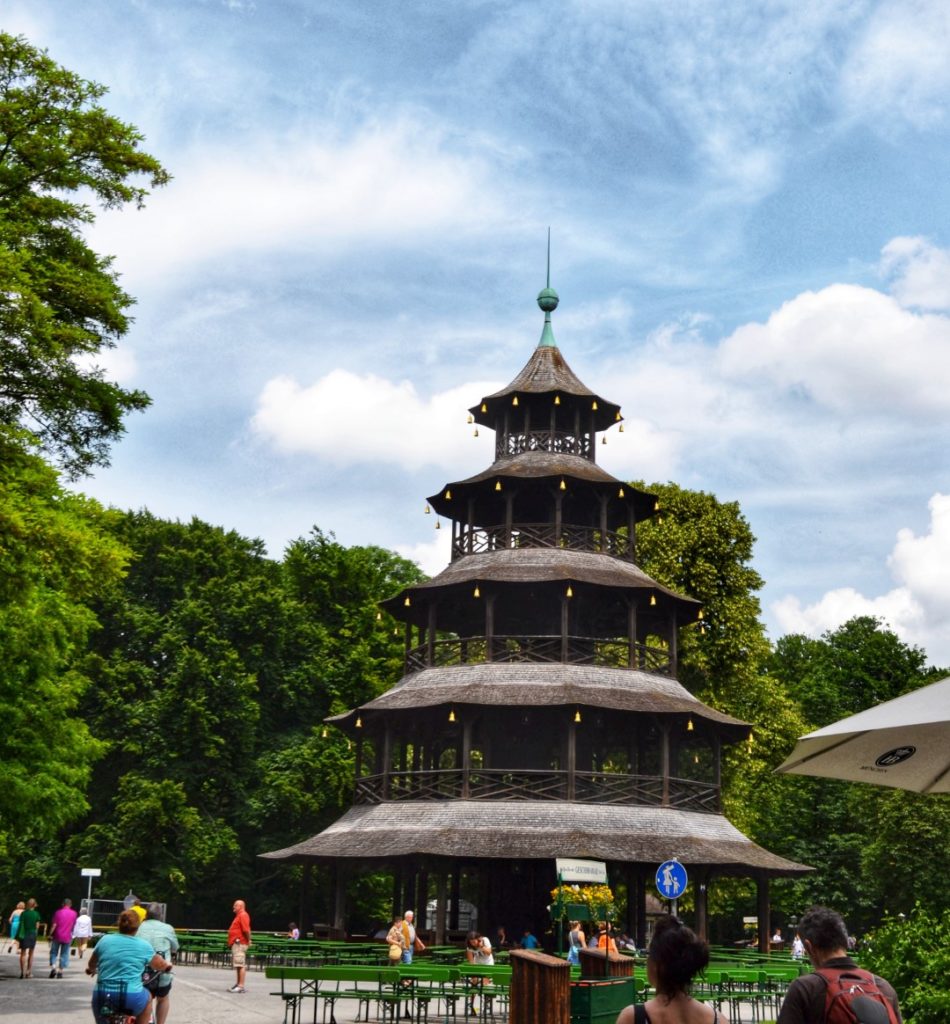 Even bigger than New York's Central Park is the amazing Munich English Garden. One of the reasons why I love taking visitors here so much is that locals enjoy the park just as much (if not more) than tourists. Therefore, you get a real sense of daily life just by exploring. I've even included a really easy DIY Self Guided Tour of the English Garden that hits up some of my favorite spots just below.
How To Get to The English Garden
Take the UBahn (underground subway) on the U3 or U6 towards Odeonplatz and get off at Giselestrasse which is the easiest way to the Chinese Tower. Alternatively, you can take the Ubahn all the way to Odeonplatz and start on the other end of the park, which is closer to the surfers.
When you get out of the Giselestrasse Ubahn Station, you'll head towards Martiusstraße. Go straight through the traffic circle (you'll now be on Kißkaltpl) which will lead you right into the park.
Note: There is a plethora of ways to get to the Gardens including buses, Ubahns, Sbahns and just walking and it will all depend on where exactly you are coming from. You are more than welcome to start at any other point of entrance to the park (there are plenty)
The following points of interest as a walking tour for the English Gardens are just a start for you. There are plenty of offshoot paths to wander off on and enjoy if you have the time and energy.
Munich English Gardens Walking Tour
Chinese Tower and Beer Garden (Chinesischer Turm)
If you are following along with our itinerary today, it is probably well into the afternoon and so you are HUNGRY! That's why we are going to head straight for the Chinese Tower/ Beer Garden first.What is fantastic about this HUGE beer garden is that it is very "beer hall-esque" but outside! You've got all the things people love about a beer hall (oompah bands, delicious foods, people sharing tables with strangers) but out in the open.Read all the way to the bottom to read my favorite, must try Beer Garden Foods!
If you haven't been to a beer hall or beer garden yet, many (including this one) is a self- serve style. (In fact, you can even bring in your own food, but I always like to order here).Go through the cafeteria-style line to order your food (don't worry, they'll know English) and if they give you a token, that is for a "Pfand" (deposit) on your glass, which you'll need to return when you are done.While there are plenty of locals and tourists alike here, If you want a bit more of an "off the beaten path" beer garden still in the English Gardens, the Seehaus Beer Garden is an excellent choice! More on that below.
Monopteros
After you have had your fill, you are going to continue your walking tour of the English Garden tot he Monopteros, which is a beautiful acropolis that gives fantastic views and it a popular photo spot.
River Walk
Next, you are going to walk towards the Schwabinger Bach river, which is one of the most popular spots in the park for locals to come hang out at.

And I do mean hang all the way out. As in, balls and all.Yes, that is correct, there are parts of the park that nude sunbathing is totally allowed and completely normal.
One of the things that I love about Germany is that they do not look at nudity as sexuality and it totally shows (figuratively and literally) here as they enjoy the warm sun and a lazy afternoon, sans clothing.


Surfers on the Eisbach
You are going to finish your walk at the Eisbach. Who says you need an ocean to go surfing? Not these adrenaline junkies!!
It's a blast to just sit down on the river banks or lean against the bridge railing and watch these surfers plunge into the icy waters of the Eisbach river and surf. Yes. Surf!!!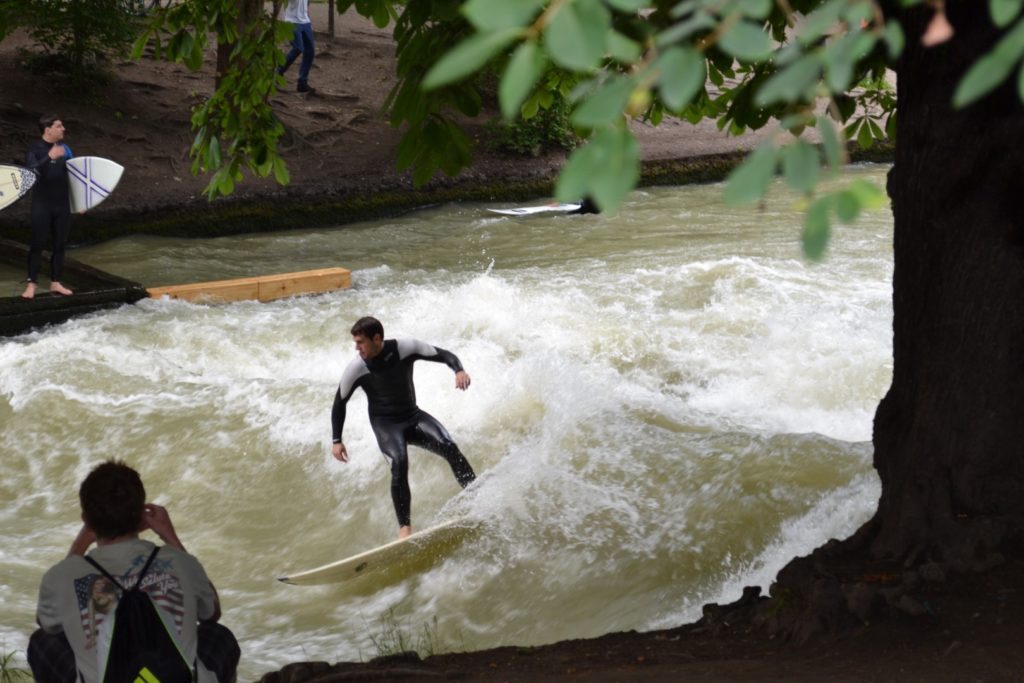 Other Add Ons To Your English Garden Walk
The Upper English Garden
I highly suggest adding the Upper English Garden to your walk. If you are absolutely starving but still want that classic beer garden experience, you can head straight to the…
Seehaus Beer Garden
This beautiful hidden gem sits right along the peaceful Kleinhesseloher lake in the English Gardens and is much more low key and local than the above Chinese Tower beer garden. If the tables are crowded (which they probably are, especially in the evenings) don't be afraid to ask if you can sit with others, it's classic beer hall etiquette to table share.
Manors
You can also see some absolutely beautiful old Manors from days gone by of the rich and famous. The Trausaal Mandlstraße mansions and Schwabing Seidlvilla Manor are both beautiful and can be toured.
Alternatively, you can also add on some great stops at the end of your walk near the surfers.
Haus Der Kunst (Art Gallery)
If you love art, then this is an absolutely amazing stop, as you can find some of Germany's best art finds here. This art gallery can be found at the very southern end of the park.
Hofgarten
You'll continue on to the Hofgarten which is on the North side of the Residenz Palace. This (once) royal garden still has an opulent feel to it and is wonderful to roam around in.
Note: Many people will actually start their walk here. If you choose to do this, you can get off at the Odeanplatz Ubahn, which is just a outside the Hofgarten
Finish At Another Beer Hall
Even if you are not a beer drinker, hopefully by now you have seen that the beer halls and gardens of Germany are just as much about socialization, good food, and often music as they are beer. I get asked all the time if people should go to them even if they don't drink and I absolutely think so. Therefore, I recommend one more evening of beer halls.
Popular Beerhalls In Munich
Hofbräuhaus Platzl 9, 80331 München
Löwenbräukeller 2 Nymphenburger Straße, Munich, Germany
Paulaner Bräuhaus München Kapuzinerplatz 5
Eat a Doner for Dinner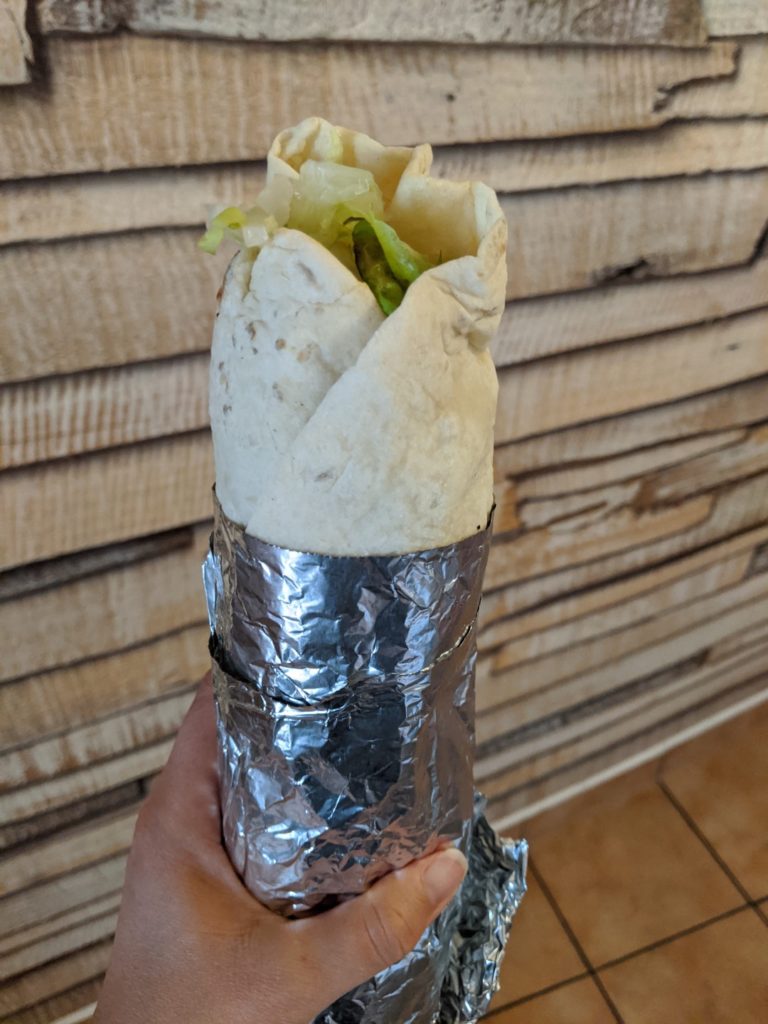 If you are beer halled out and new to Germany, another option that I can't recommend enough is to find a Doner. Just do a 360 wherever you are standing and you'll most likely find one!
This is Germany's fast food at it's finest, but beware, it is addictive!
A doner is kind of like a Gyro. It's a mystery meat kind of thing on a spit shaved then served on a fresh pita-like bread and topped with a creamy yogurt dressing and (optional) kraut, lettuce, tomatoes, and more!
Personally, I always go for a Durum Doner, which is more like a burrito-style rather than the pita and I could legit eat one a day for the rest of my life.
Don't don't forget your side of Pommes!
While many of these shops have a table or two, if the weather is nice, Munich is a great people watching city. You can always grab it "Mit Nehmen" (to go) and enjoy on a park bench or even at many beer gardens!
And that wraps up your 2 days in Munich!!! While there is still plenty that you could see and do, this 2 day Munich itinerary packs in as much culture, fun, and must see sights in Munich as possible to add onto your first full day in Munich.
Have another day to spare? Don't forget about our Top Day Trips From Munich!
Foods you MUST Try at a Beer Garden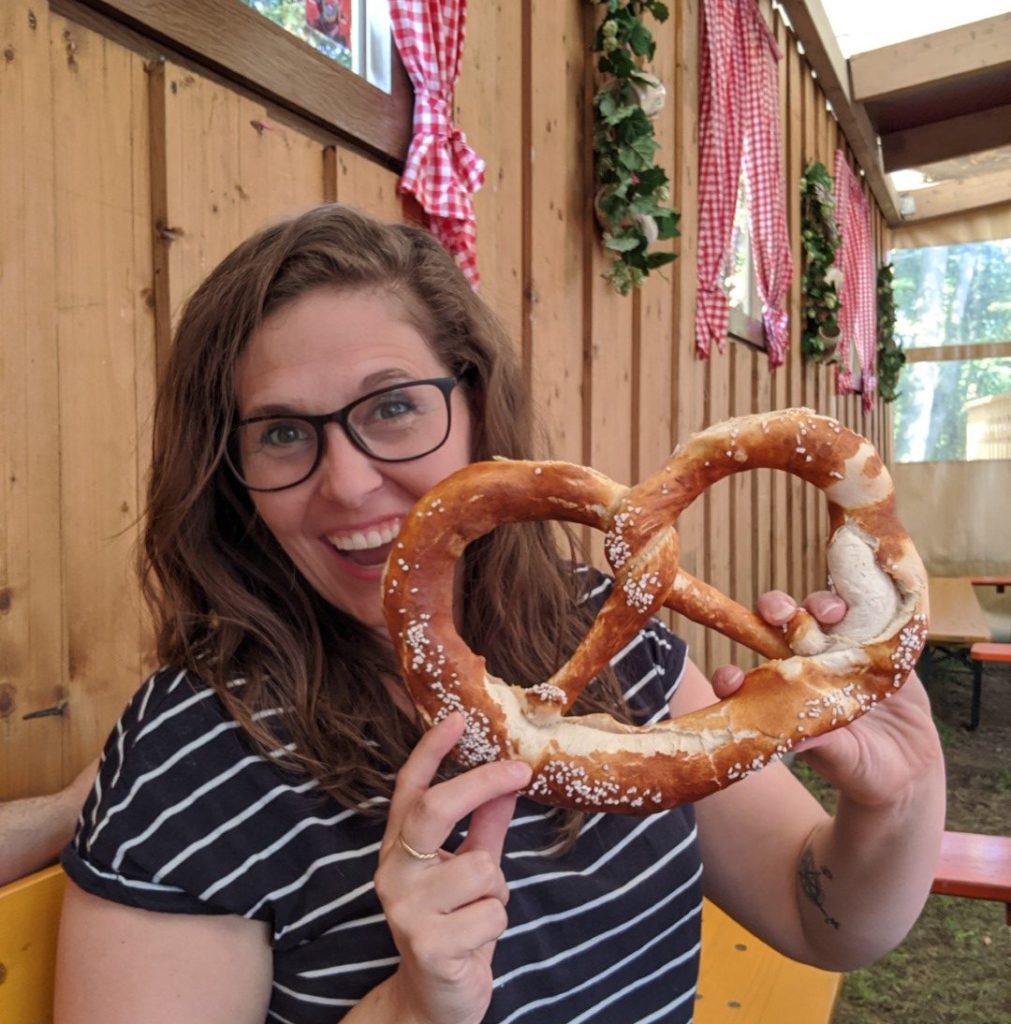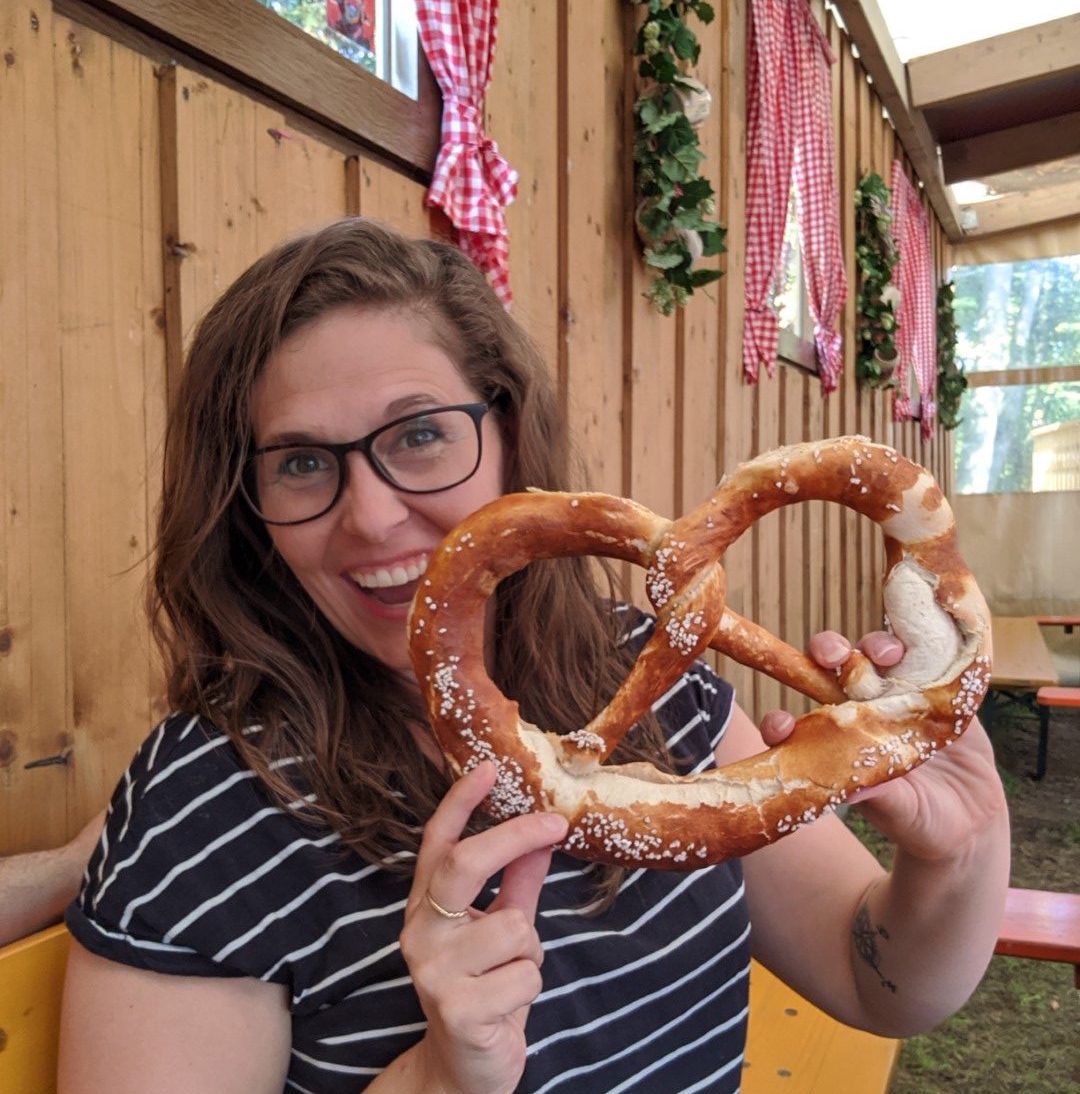 If you haven't read my foods you MUST try in Bavaria post, then you are culinarily missing out while in Germany! Here are some of my favorite foods that you'll find at most beer gardens though, especially the Chinese Tower Beer Garden
Obatzda and Pretzles. This is an absolute must and quite frankly, I'll be very mad at you if you don't try this at least once at a beer garden while in Germany!!! It is often described as a "Beer cheese dip" but if what you have in mind is that fake yellow, liquid stuff you get at sporting events you are oh so mistaken! It's a blend of a multitude of cheeses, a splash of beer, and topped with a healthy dose of onions. Slather on top of a giant Bavarian pretzle and you've got yourself a meal!!!
Wursts: Can you really ever go wrong with a sausage in Germany?
Steak Semmel: A grilled pork steak on top of a delicious piece of bread makes a "steak sandwich"
Currywurst: A sausage (almost kielbasa like) drenched in a curry ketchup is going to be your newest obsession. Order with a side of pommes (fries) to slop up any extra sauce, since there should be NONE left on your plate!
Kase Spaetzle: Basically a gourmet macaroni and cheese that will have you scoffing at Kraft for the rest of your life
Maß: I mean, beer is liquid bread, so I'm including it here! If a liter of beer is too much for you, you can always split one or order a half. If it's a hot summer day, try a Radler. It's a half helles (light beer) with "lemonade" (Sprite) and oh so delicious!!!