[This post may contain affiliate links where we earn a small commission. Please see our disclosure for more information and thank you for supporting our site so we can continue to bring you awesome content for your travel inspiration!]
Can I share a little secret that I don't admit very often?
I'm a little over the Christmas Markets (GASP!!!)
Don't get me wrong. I LOVE THEM!!!! And for the first 5 or so years of living in Germany, I was obsessed with going to as many as possible, but then something happened. It seemed like more and more Christmas markets started to blend together. The more I went to, the more I realized how similar so many of them actually are.
The majority of Christmas markets in Germany all have the same stuff, more or less. There are beautiful glass blown ornaments, jewelry, and other Christmas decor. Sadly, at a lot of the bigger markets, like Nuremberg, so much of the stuff is mass produced now a days and you see the exact same items at the next big market. There is, of course, a long list of foods to try at a German Christmas Market, but the reality is that you'll find them all at just about any market as well.
While most of that doesn't matter to people on a DIY Christmas Market Tour or if you are going to markets for the first time, for us GermanMarketPhiles (yeah, I just made that up) the markets can really start to get repetitive.
And if you are traveling in Germany with kids, then you may know that going to a jam-packed market with youngsters where you can barely move from the amount of people and everyone is whining about being cold, then it is actually kinda the opposite of magical.
So, what's a girl living in Germany wanting to get into the holiday spirit supposed to do when wanting to find the Best Christmas Markets in Germany!?
Planning a Trip to Germany? Join Our Fantastic Traveling in Bavaria Facebook Group!
Enter: The Weihnachtsmarkt Schloss Guteneck!!!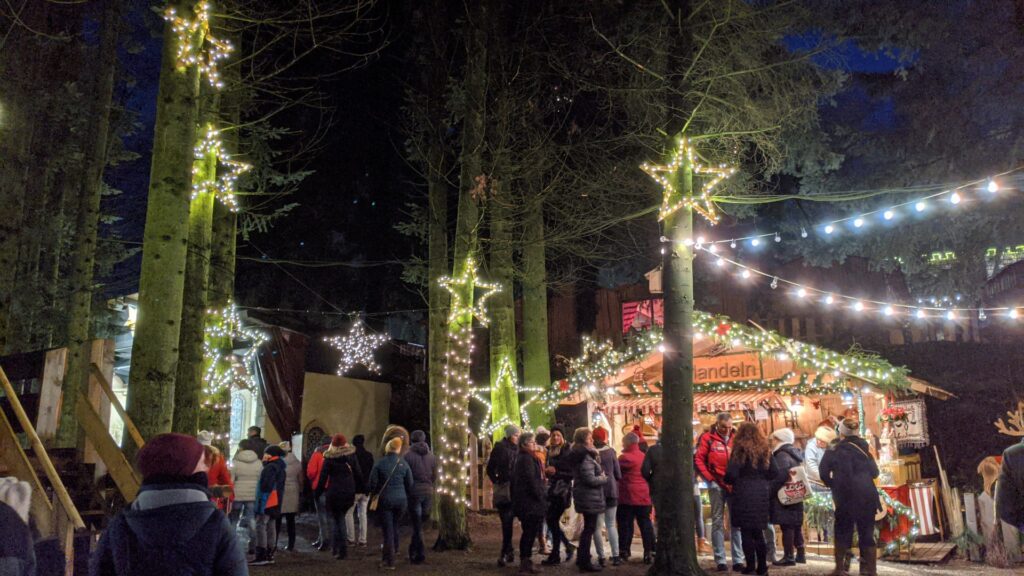 You Might Also Be Interested In Reading:
Guteneck Weihnachtsmarkt
The Schloss Guteneck Christmas Market is honestly everything you could want in a Christmas Market… and more. Move over scenes of sugar plum fairies, a market like THIS is what people of dream of when they envision magical German Christmas Markets!!
The entire market is set on the grounds of a real, medieval castle/palace (Schloss) and with about 50,000 m² and over 120 individual stalls and stands, there is plenty to explore. And if that doesn't make it dreamy enough, they've actually made it be like a Renaissance Festival meets a Christmas Market!!!! So, you'll see people dressed in authentic medieval attire, come across stalls with birds of prey, you can watch performers, and then just enjoy the amazing ambiance of fire barrels and fire pits lighting the winding paths of the castle. To make it really feel like a Medieval Christmas Market, you won't just find all the typical Christmas market foods. Oh no, here you'll find stews cooked over an open fire, you can get little fried donut balls, and more.
Insider Tip: Arrive in Medieval Attire and get in free!!!
Pssssst…..Do you want to win free entrance tickets to the Guteneck Christmas Market in 2021? Be sure you're hanging out with us over on Instagram because we'll be doing a giveaway soon!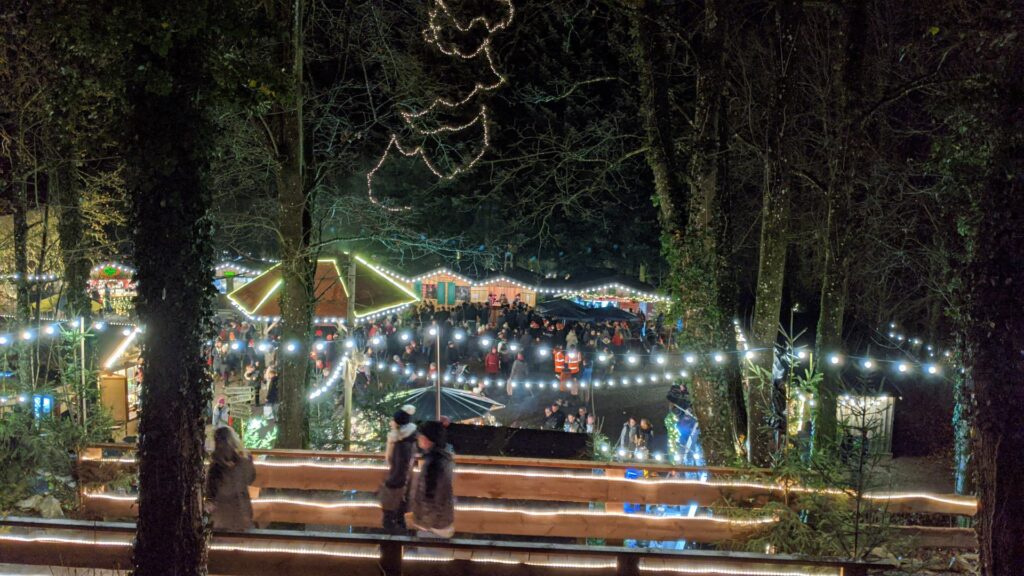 Where is Schloss Guteneck
Address: Schlossberg 10, 92543 Guteneck
Guteneck is in Bavaria, and is a great day trip from Nuremberg. People going to the Romantic Weihnachtsmarkt Regensburg also like to make it over to Guteneck, which is only 45 minutes away. It is also really popular with US Military members stationed in Graf/Vilseck and Hohenfels, which are both about 50 minutes away, respectively.
Getting There By Car
The easiest way to get to Schloss Guteneck is by driving. Most likely, you'll come in on either the A 93 and A 6 Autobahn. Get off at the Nabburg exit and head towards Oberviechtach, through the village of Unteraich and then follow the signs to Schloss Guteneck
There is a big parking lot (but it does fill up) in a field lot that is about a 3-5 minute walk to the entrance.
Read My Driving in Germany Guide Here
By Train
If you want to Use the Bayern Pass, you can take a train to the nearest town of Nabburg. From there, they have a shuttle that runs from the Bahnhof to the market
Note: Be sure to double check on the shuttle due to covid restrictions if it will run this year
Read my Complete Guide To German Trains
Visiting The Guteneck Weihnachtsmarkt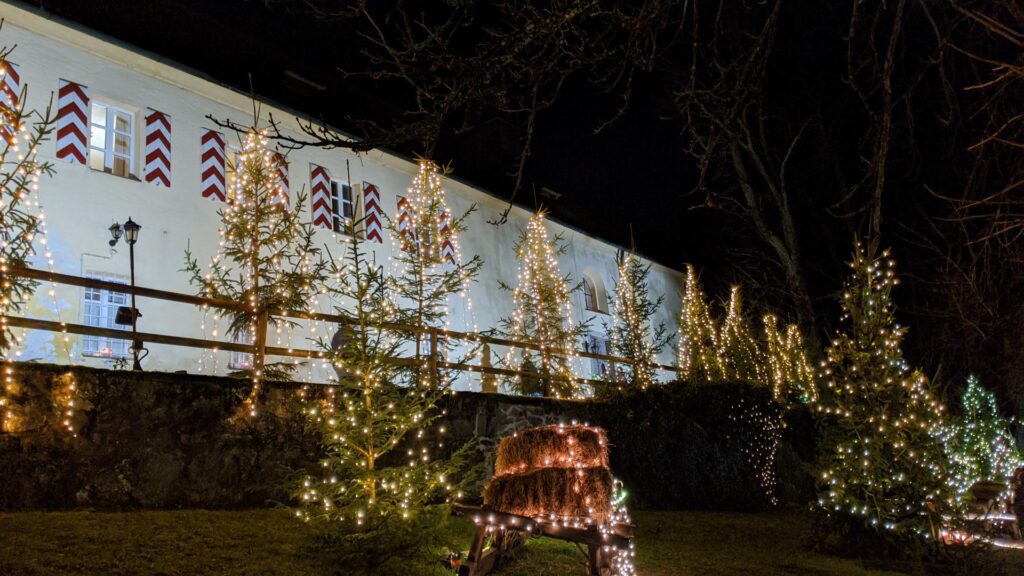 After you enter the Weihnachtsmarkt Schloss Guteneck, it's damned near impossible not to feel the Christmas Cheer. Just several steps onto the castle grounds and you'll get the strong wafts of the most delicious smell you've ever encountered. The roasted nuts (my favorite are the candied almonds) is strategically placed at the entrance to lure you into the winding paths.
It won't take you long to find the stalls of grilled brats, Käsespätzle, and other classics. Just a few more steps down the gravel path and you'll see the birds of prey; hawks, owls, and other birds I am clueless on. The handlers dressed in their medieval garb are happy to show them off and even let kids pet the friendly ones.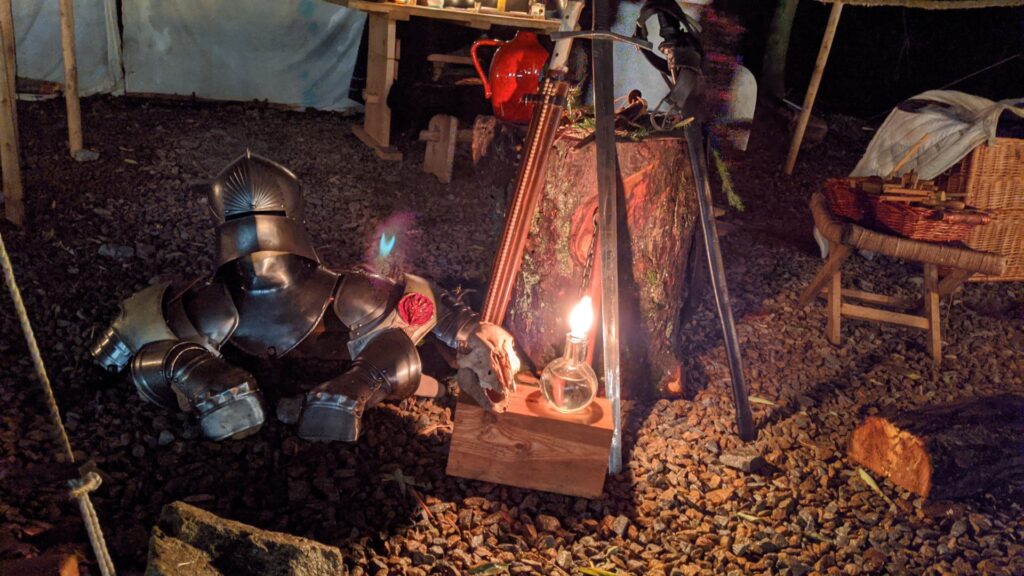 As you make your way around with a steaming mug of Gluhwein in hand, one of my favorite parts about this market is the hand made goods. There are some absolutely amazingly unique treasures to be found here that you aren't going to find at those bigger, more popular markets. You can buy some seriously impressive woodwork, other really unique metal designs, and of course the classics like ornaments, knitted hats, and more. If you aren't sure what to buy at German Christmas Markets, here's my full list.
The Castle Courtyard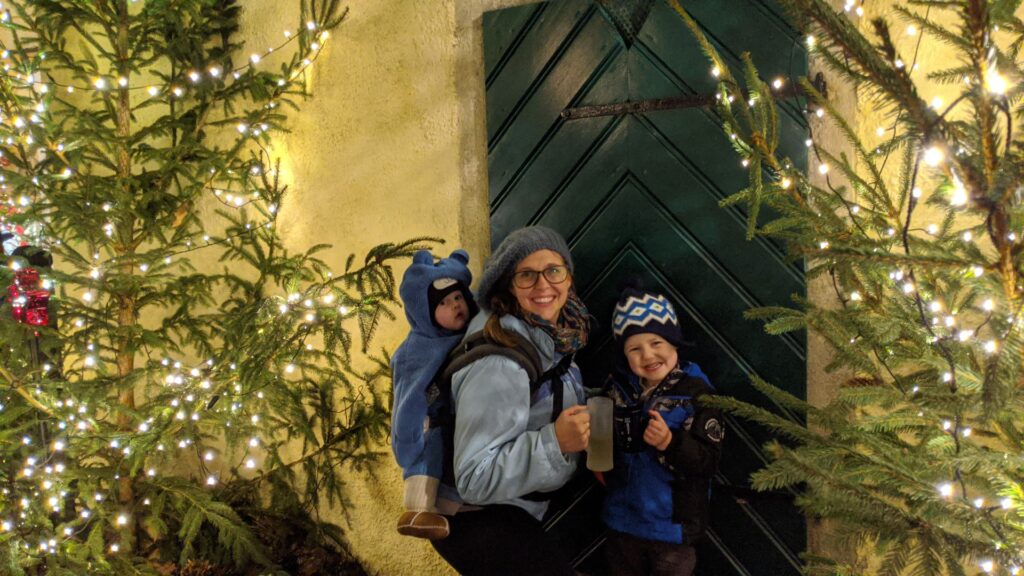 As you climb up to the actual castle, you'll step back in time as you enter the courtyard. This area is typically jam packed with people, but it's still worth going into. There are often bands high up in the palace windows that are playing Christmas Carols and they have the most delicious Bratapfel Gluhwein (Roasted Apple!) You'd have to be the scroogiest of Scrooges to NOT feel holly and jolly here!
The Beer Hall
Another feature that makes Guteneck's Christmas Market unique is that there is a little beer hall inside the castle that is opened up for the Christmas market. Inside, you can order great Bavarian Foods, like Obatzda and they often have a lively Oompah band playing as well.
Note: In 2021, the inside will be closed due to Covid restrictions.
For the Kids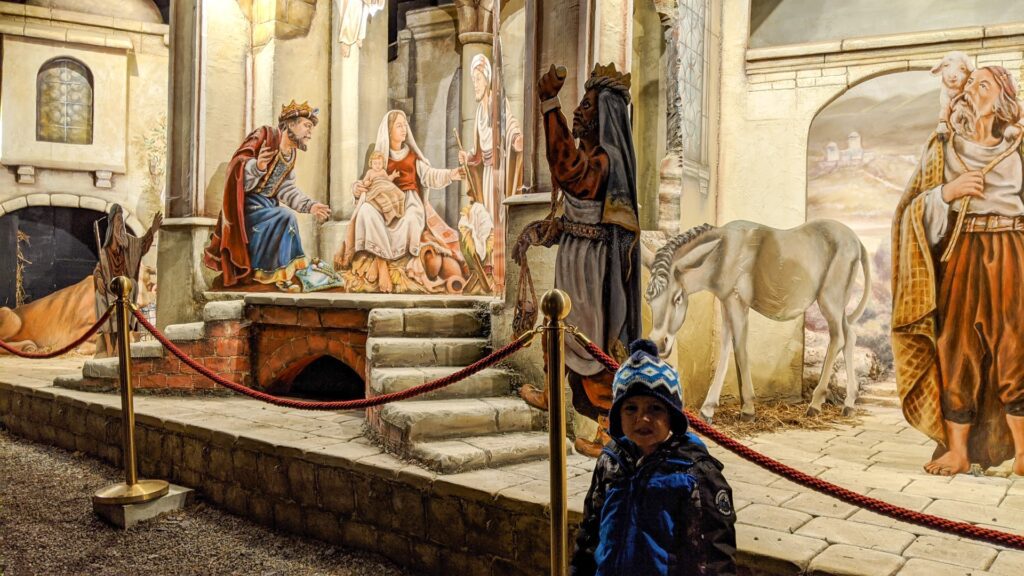 Taking kids to Christmas Markets has become almost more of a chore than a delight in recent years. But, Guteneck is a great market for families! While there is a huge nativity scene on display here, they take the whole "Baby born in a Barn" to a whole new level….
After all, where else can you see (and ride) on real life camels!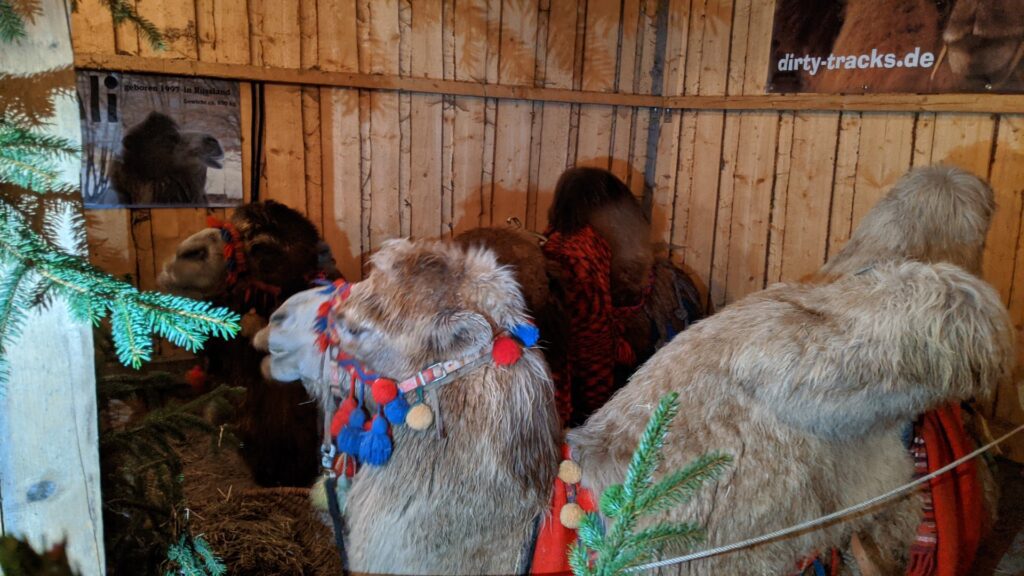 And Mary apparently left her donkey at Guteneck as well as her sheep and…..Highland Cows??? Ok, maybe those are a bit more European. There's also Alpacas hanging around as well! Grab some Kinderpunsch and let the magic of Christmas take over.
Insider Tip: Skip the Strollers. The castle grounds are gravel paths, making it REALLY hard to shove a stroller around (not to mention just having to navigate crowds with a stroller….blegh!) I'm ALWAYS a fan of babywearing, but I can't tout the marvels of babywearing at crowded markets enough, but especially at this one.
Head Over to Steinberg am See As Well
Guteneck has actually partnered with the nearby Steinberg am See (about 25 minutes away from Guteneck) where they are going to be lighting up the giant "Egg" which is going to make it "The Biggest Christmas Bauble of the World!" (or so they claim!)
If you show your Schloss Guteneck tickets the you get 50% off the "Kugel" price. If you are coming from the Egg then you can get a 2 Euro voucher for a hot beverage at Schloss Guteneck
Schloss Guteneck Christmas Market Dates and Hours 2021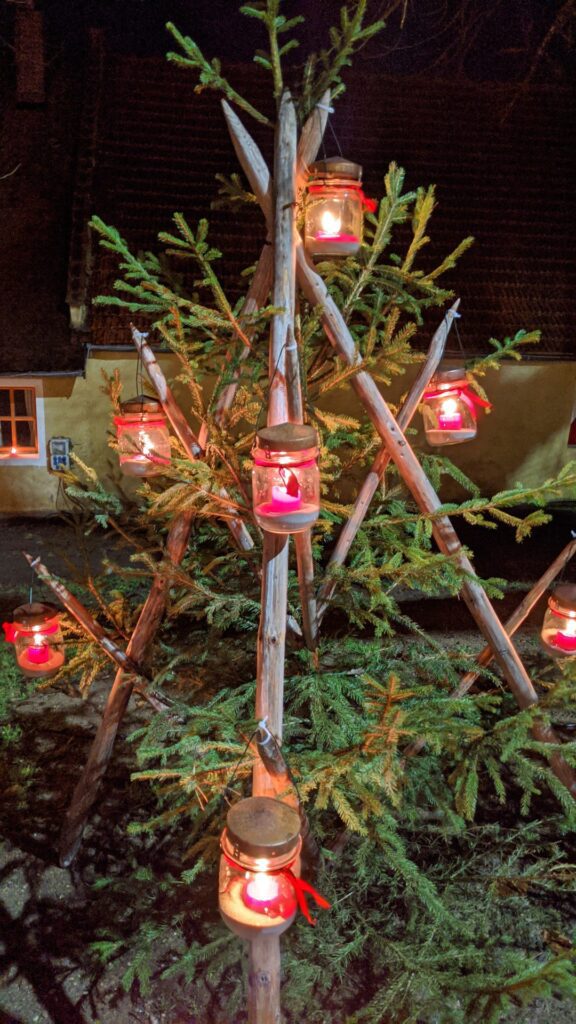 The market only runs on the weekends and therefore is only open Thursdays, Fridays, Saturdays, and Sundays. It is open on the weekends of November 25th- December 19th
Admission Cost
Thursdays and Fridays: 4pm-8pm (Entry Cost: 6 Euro)
Saturdays and Sundays: 11am-8pm (Entry Cost: 8 Euro)
12 and under are free
Groups of people 20+: 7 Euro
Free for people dressed in Middle Ages gear!