[This post may contain affiliate links where we earn a small commission. Please see our disclosure for more information and thank you for supporting our site so we can continue to bring you awesome content for your travel inspiration!]
The Munich Marienplatz Weihnachtsmarkt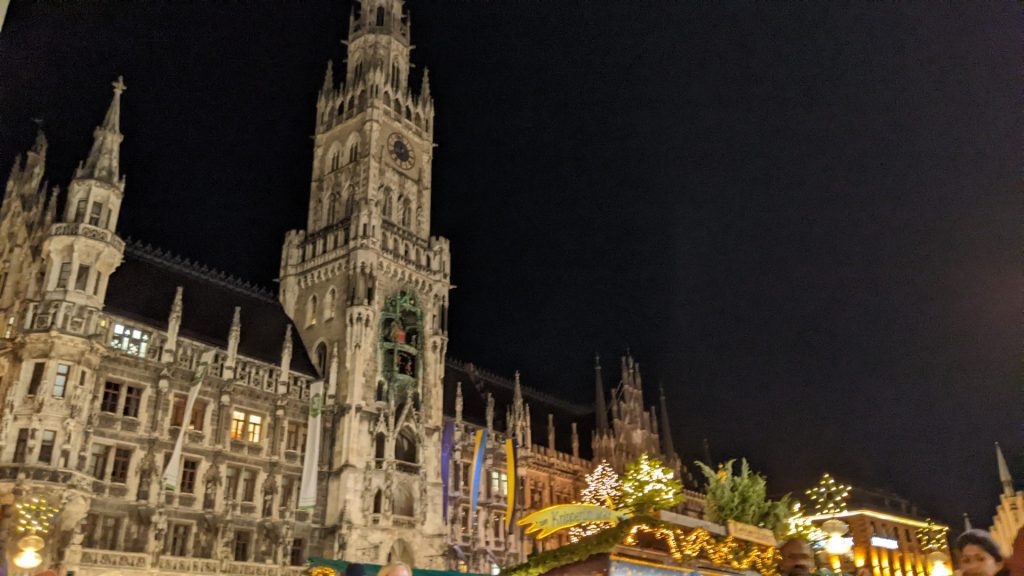 Nothing screams "Christmas in Germany" like Gluhwein, wafts of candied almonds, twinkling lights in every direction, and carols being sung from a town hall balcony. With over 135 vendors of goods and foods and with special programs put on almost daily, the München Marienplatz Weihnachtsmarkt is not only one of the best in the city, but arguably one of the best Christmas Markets in Germany!
In this Marienplatz Munich Christmas Market Guide, I'm going to go over everything you need to know about visiting one of the most popular German Christmas Markets. From how to get there, what to buy, where to stay nearby, and what to eat and drink. But, I'm also going to let you in on a few very close by markets that are SUPER easy to add on to the Marienplatz Christkindlmarkt, and then we'll wrap up with other Munich Christmas Markets you should check out as well while you are in the capital of Bavaria.
Planning a Trip to Germany? Join Our Fantastic Traveling in Bavaria Facebook Group!
You Might Also Be Interested In Reading My Other Germany Christmas Guides:
Marienplatz Christmas Market Hours and 2022 Dates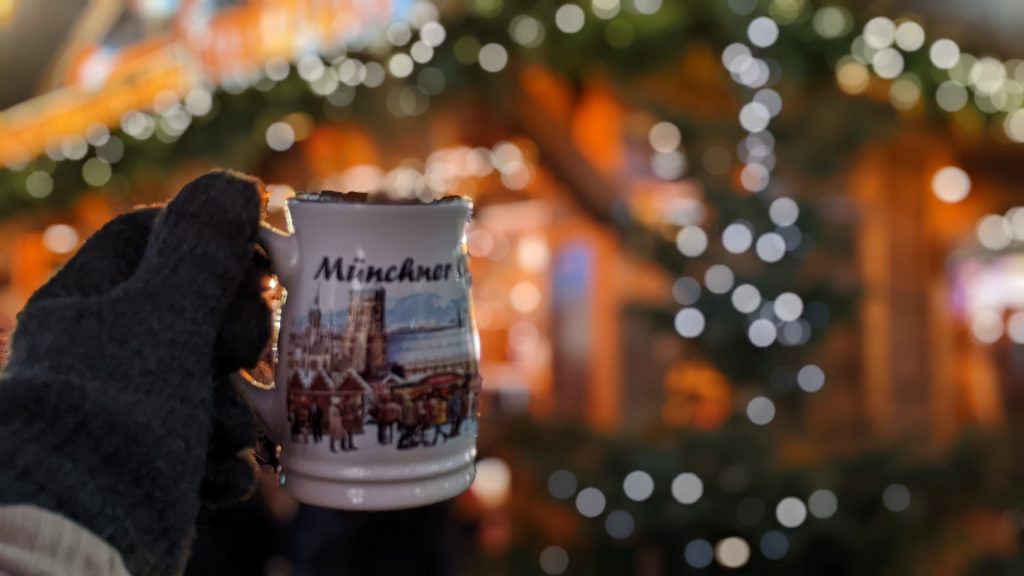 The Marienplatz München Weihnachtsmarkt is one of the earliest ones to open in the city on November 21st, 2022. I mention this because not all the other Munich Christmas Markets open this early. Some open later in the week and others won't open until the first weekend of advent (typically the next week).
2022 Dates:
November 21st, 2022- December 24th, 2022
Opening Hours:
Monday through Saturday: 10am until 9pm
Sunday: 10am until 8pm
Christmas Eve (Dec 24th): 10am- 2pm
The beautiful, giant Christmas Tree will only be lit from 4pm-11pm daily and will stay up until January 6th for this year.
Note: In most of Germany, almost everything closes down on Christmas Eve in the afternoon and stays closed until December 27th. Christmas Eve is typically when families celebrate their big Christmas together, Christmas Day is for a special meal, and the 26th is Boxing Day. Therefore, it is often hard to find things like restaurants, museums, and even grocery stores open during these dates so plan accordingly.
Insider Tip: If you are looking for something special to do on these dates, try going to Neuschwanstein in the Winter– it is gorgeous and is only closed on Christmas Day. Here is exactly how to Get to Neuschwanstein from Munich
2023 Dates
If you are a planner (like me!!) and are already working on next year's big trip, the scheduled dates for the Marienplatz Christmas market are November 27th through December 24th 2023.
Munich Christmas Market Location/ How To Get To The Marienplatz Market
Getting to the Munich Marienplatz Christmas Market is actually super easy.
By Public Transportation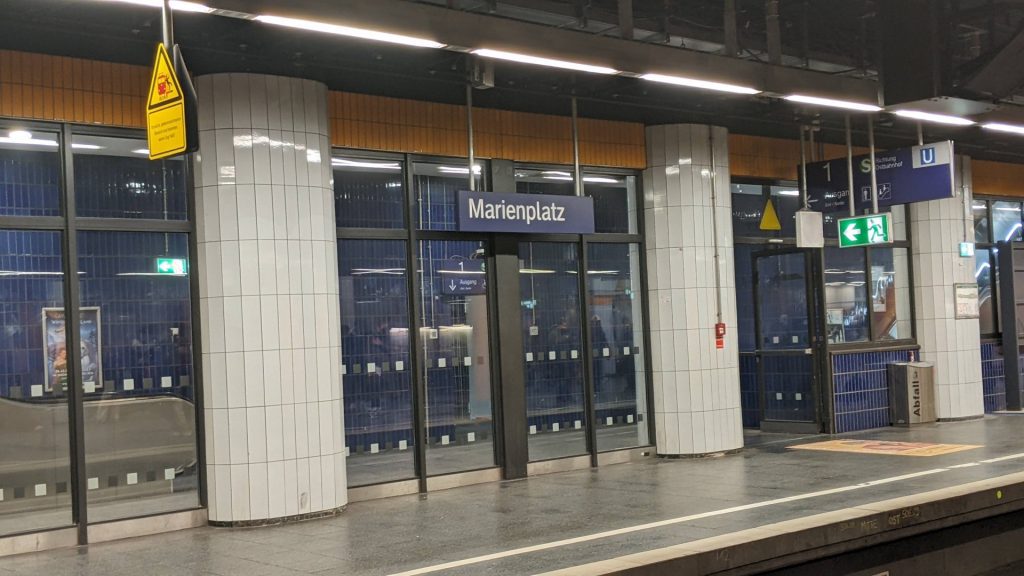 There is a "Marienplatz Station" for just about every public transportation option in Munich, making it very easy to get to.
From the Airport: If you are just flying in, I have an entire guide on How to Get From the Munich Airport to Marienplatz and the City Center.
By Train: This will depend on exactly where you are coming from and at what time. For example, when I come in from Regensburg, I can easily take a train to Freising and then switch to the Sbahn right there which takes me straight to the Marienplatz. Alternatively, I can also go straight to the Munich Hauptbahnhof and then switch to the Sbahns there. The latter is probably a safe bet for you as well since it's pretty easy to get trains from elsewhere in Germany to the Munich Hauptbahnhof (Main station), where you can then switch to the Sbahns and Ubahns.
If you are coming in on a Regional Train (red) or an ICE Train (white) then you'll get into the HBF in the main terminal. From there, exit the platforms towards all the shops and then go to the left. Look for the big, green S sign (which stands for Sbahn) and go down the stairs- Continue to follow the Sbahn Signs down the stairs and then follow the next directions.
By Sbahn: There are tons of Sbahn trains to Marienplatz that basically all leave every few minutes. If you are coming from the Hauptbahnhof the S 1,2,3,6,7, and 8 lines all will go to the Marienplatz.
By Ubahn: The Ubahn (subway) will also get you there quickly. Again, just follow the big, blue, "U" signs and the U3 and U6 will get you to Marienplatz.
Pro Tip: If you have data on your phone, you absolutely need the DB Navigator App (The official Deutsche Bahn App)! It will show local connections for the MVV (Munich Public Transportation Organization) as well, so you can get all your tickets on there from the Bayern Pass to nearby towns to an Sbahn ticket and Daily Tickets for MVV as well.
The reason why the DB Navigator App is essential is that not only can you buy your tickets on there, but you can see all the connections and trains in real time (and any delays or notifications). It will also tell you which local transportation option is best for YOU depending on what time you want to leave and exactly where you are at/ going in Munich. For example, when I was at the Munich Christmas Markets last week, I wanted to hop over to the Wittelsbacher Medieval Christmas Market (more on that below) so I looked up what to grab and saw I could take the Ubahn (U3 line). Buuuuut I got distracted by another Gluhwein stand and vendors, so I didn't catch that exact Sbahn. No big deal, because I just refreshed the page and saw that the U6 worked as well to get me over there within 2 minutes.
By Ubahn and Trams: Munich also has a great network of Ubahns (Subway) and Trams that run throughout the whole city. Depending on exactly where you are staying in Munich, it might be fastest to hop on one of these. Again, the best way to know this is to use the DB Navigator App, put in your current location and destination as "Marienplatz" and see what your best routes are. Trams 19 and 31 will stop at the Marienplatz.
By Car
Personally, I haaaate driving in Munich (well, any big city really). Munich has the trams and plenty of bikers and if you aren't used to Driving in Germany, there are a few nuanced rules (like yielding to the right) and so it's just one of those cities that I avoid driving in at all costs if I can. I mean, I can get placed faster by the Ubahn than by car!
Do a Park and Ride (P+R): If you share those same sentiments but have a car, I recommend doing a Park and Ride. Basically, there are designated parking locations right outside of the city. That means you are close enough to be into the city center within a few minutes but can avoid all the chaos of driving IN the city. You can park at these usually for just a few bucks and there will be a public transportation stop, typically an Sbahn, right there that zips you into the city. You can park at these for a few hours up to several days.
Park At Your Hotel: Again, I just don't like driving in the city, but if you want to keep your car handy, then you can always just park at the hotel for the duration of your stay in Munich and then use the public transportation options above to get you to the Marienplatz.
Marienplatz Parking: Alright, I know not all travelers are just like me, so I get that some people truly do just prefer to drive themselves. If that's the case and you are getting around Munich by car or are just popping in for a day and are driving, you'll want to find parking near Marienplatz. Most likely, you'll end up parking in a "Tiefgarage," which is a parking garage.
As you are driving, keep your eyes peeled for signs like this that will show you where you can find parking and how many spots are still left in that particular garage.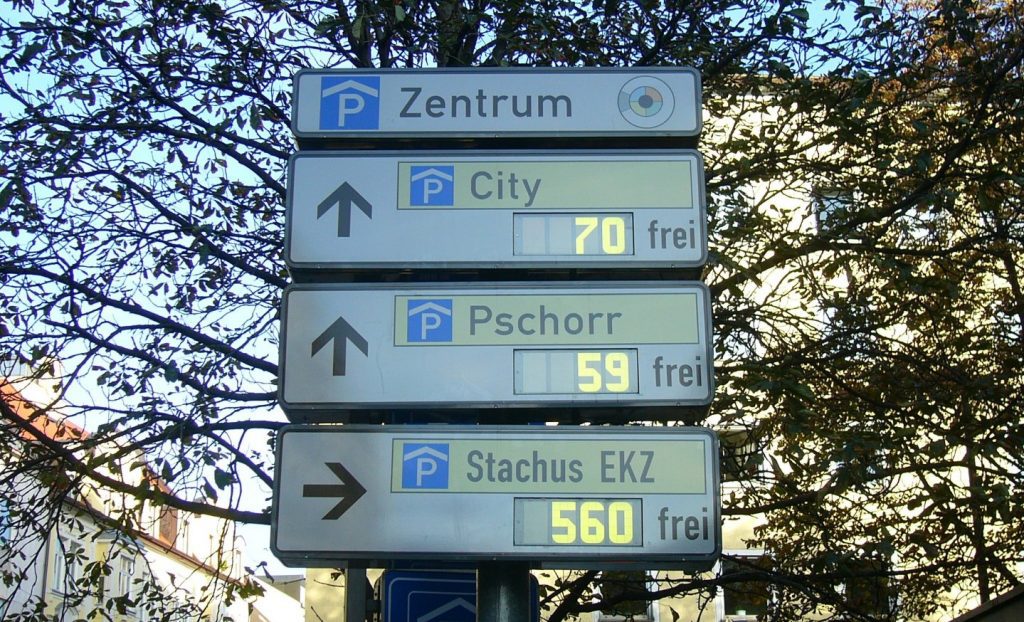 Here are a few Parkplatz near Marienplatz.
CONTIPARK Tiefgarage Marienplatz: Address: Rindermarkt 16, 80331 München- about a 2 minute walk to Marienplatz
Hirmer Tiefgarage München: Sattlerstraße 1, 80331 München- about a 4 minute walk
Parking Munich: Oberanger 35, 80331 München- about a 7 minute walk
CONTIPARK Tiefgarage (Oberanger): Oberanger 27, 80331 München- about a 7 minute walk
Parkhaus Hofbräuhaus: Thomas-Wimmer-Ring 9a, 80539 München- about a 10 minute walk to Marienplatz
Note: Many parking garages in Germany are small and tight. Both getting into a parking spot as well as navigating IN the parking garage can often be a difficult task, especially if you've got a larger vehicle.
Insider Tip: When you get your parking garage ticket, put it in your wallet right away. When it's time to leave, you actually will need to validate it at a "Kasse" Machine (often by an entrance of the ParkHaus) before trying to drive out. Many tourists don't realize this and find themselves stuck trying to get out since they hadn't paid yet.
Marienplatz Weihnachtsmarkt: Know Before You Go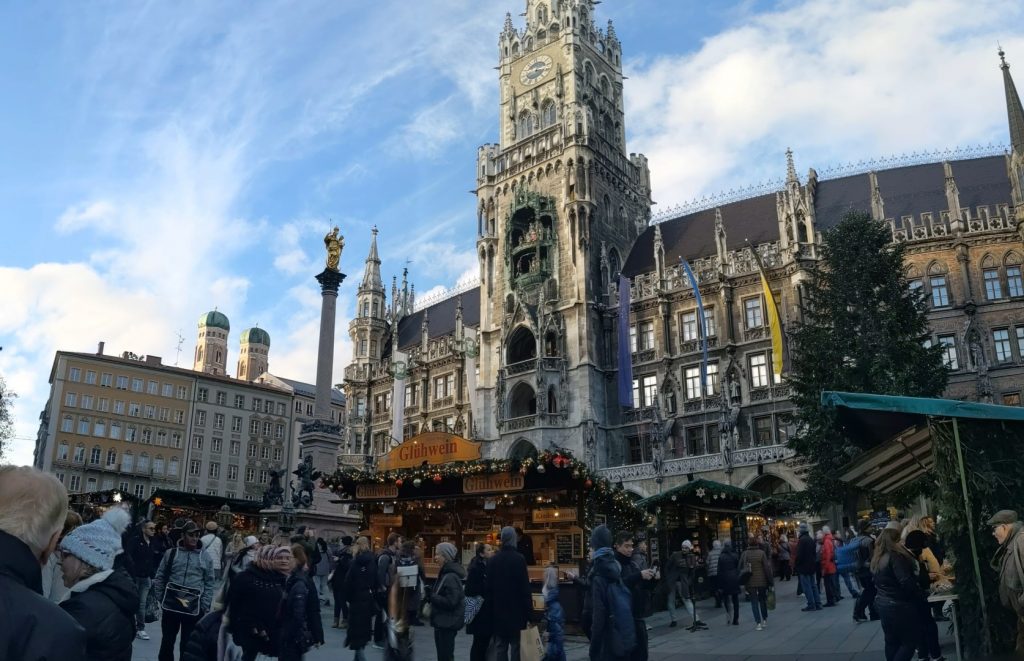 Ok, let's finally dive into the good stuff all about visiting the market!!!
It's Touristy
Christmas markets can absolutely feel magical. But they can also be filled with tourists and it's no surprise that Munich draws a lot of visitors in. Luckily, I will say this; on a scale of Totally Local to Disney Land vibes, this one is shockingly somewhere in the middle. Yes, there are plenty of tourists but it doesn't FEEL overly touristy and you absolutely will find plenty of Germans here as well. In fact, I would recommend this market over the famous Nuremberg Christkindlemarkt which is just jam-packed with tourists.
My personal theory on this is that since there are SO many Christmas Markets in Munich, it's easier to spread everyone out, unlike places like Aachen, where everyone flocks to the one, main market.
Best Time To Go
Speaking of being jam packed….pretty much all Christmas Markets get insanely busy at night. There is the cozy "Gemutlichkeit" German feeling and then there's "Packed like a Sardine," which is what it can often feel like at busier markets! The Marienplatz one is no exception, but I will say that since there are so many markets strewn throughout the city, not EVERYONE is hustling to get to the Marienplatz.
I always say that the best time to go to the markets are during the day and on a weekday if you want to avoid crowds. Granted, you will miss out on that lovely, glowy feeling of the markets at night, which really should be experienced. Therefore, if you want the best of both worlds, head out in the early afternoon and since it can get dark as early as 4:30pm in December in Germany, stay for a bit in the dark and head back to the hotel or to a sit down restaurant (if you aren't absolutely stuffed from all the yummy vendors!) when it starts to get shoulder to shoulder busy.
There are Better Markets for Local Goods
There are definitely some good vendors at the Marienplatz Christmas Market. Munich has TONS of other markets though, some of which are better for more local vendors or handmade goods (like the handicraft workshops at the Residenz or the crafts at Tollwood). Like many Christmas Markets today, a lot of the vendors are selling mass produced stuff. It's still an absolute joy to walk around and gawk at everything though!
Don't Forget About the Rathaus Courtyard!
Many people don't realize that right within the Rathaus (you know, that huge, giant building with the Glockenspiel and tower that you can't miss on the Marienplatz) has a courtyard with an overflow of market stalls inside. Not many people duck in here so it's a bit quieter but has a great vibe with a gorgeous tree and is surrounded by the Gothic architecture of the Town Hall.
See What Is Going On When You are There
At this point, you may be saying, "Well, should I just skip the Marienplatz Christmas Market and go to the others??" And in that, I say No.
The market, lying below the stunning backdrop of the Gothic Rathaus really is a sight to be seen. Sure, there are some pretty amazing Christmas Markets in Munich, Germany, but the Marienplatz is just a classic!
One of my biggest insider tips for visiting this particular Christmas Market in Munich is to not just rush through the rows of stalls and stands. There is typically something going on daily that if you partake in, it can really up that Jolly Christmas feeling! Here are a few things you should try to do or see:
Daily Christmas Music: Every evening at 5:30 head towards the balcony on the Rathaus to be serenaded by beautiful, live Christmas music
Christmas Carol Sing Along: Head to St. Peter's Church (On the way to the Rindermarkt) every Wednesday at 4:30 for a half an hour of Christmas Caroling singalongs. You'll receive a free song book as well!
Children's Workshop: If you are Visiting Germany With Kids, you absolutely should go to the Children's Heaven Workshop. Every day at 2:30pm and 4:30pm, kids ages 6-12 are invited to make their own handicraft presents. Location: In the town hall Ratstrinkstube. Meeting Place: You can meet at the Fischbrunnen (Fish Fountain) which is in the Marienplatz right in front of the J.G Mayer store.
Join the Krampus Run: A Krampus Parade in Germany is like nothing you've experienced!!! And the Munich one is, well, INTENSE! This year's Munich Krampus Run will be on December 11, 2022 from 3 p.m. to 5 p.m and you can expect upwards of 400 Devilish creatures running amok!
Note: If you have children, Krampus can be quite frightening. It might be best to head to a different market to avoid nightmares for the foreseeable future!
What To Eat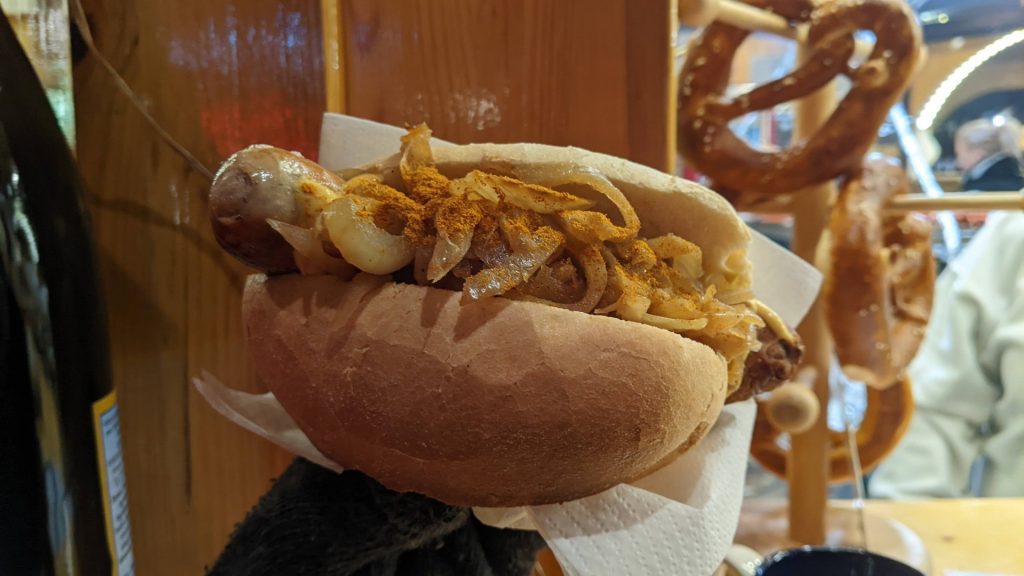 The Marienplatz Market isn't anything special when it comes to Christmas Market food. Don't get me wrong….ALL CHRISTMAS MARKET FOOD IS DELICIOUS! But I didn't discover a specific food that I can only find at this particular market. It's not like places like Regensburg, where a Regensburger Semmel is SOOOO good and I just have to get it every.single.time!!!
Of course, you should have your checklist of Foods To Eat at a German Christmas Market and you'll find plenty here from the candied almonds to Lebkuchen to insanely delicious sausages, Schneeballen (originally from Rothenburg), and many more.
I went with my husband's uncle, who is a total foodie and the joke became, "Follow the scent!" If a place didn't smell absolutely divine, then we skipped it for the next one that did!
What To Drink
Obviously, Gluhwein is the absolute show-stealer in Germany. But did you know there are SO many different kinds of Gluhwein!? And yes, you need to try them all! I noticed that most of the stalls were selling "Bio" (like Organic) Gluhwein and many in a plethora of flavors. And if you are like me, I love to add a "Mit Schuss" which is a shot of booze- I like rum in it!
Red Gluhwein
White
Cherry (Kirsch)
Heidelbeer (Blueberry)
Orange- Apple
If you aren't into alcohol, there is always the Kinderpunsch (non alcoholic mulled juice) as well.
Eierpunsch is also a popular drink- it's like a creamy, warm, egg liquor-based beverage. Personally, I can't stand it, but some Germans just love it!
What To Buy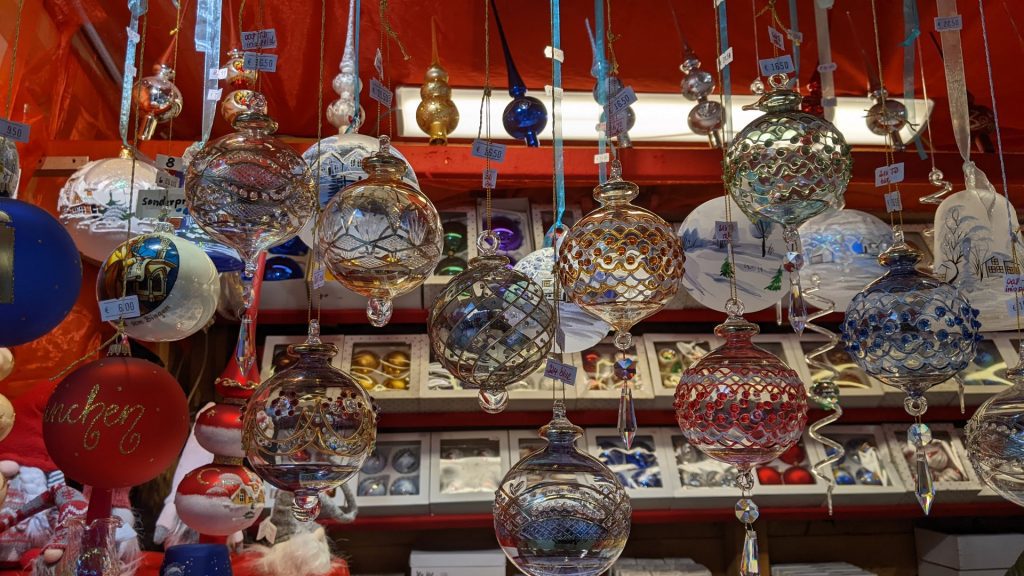 If this is going to be your only market in Germany, then of course, go into it with a list of things to buy at a Christmas Market. However, I was a little disappointed at the lack of local goods, Munich specific items (I'm always a sucker for things that say the name of the location I'm at!), or even a lot of my favorite Christmas Market gifts (like the Christmas Pyramids, Lichthäuser, etc- not sure what those are? Read the link above for great gift ideas).
However, I was able to score a Boot Mug (again….such a sucker for these, especially if it says the town name!)
Enjoy the Ambience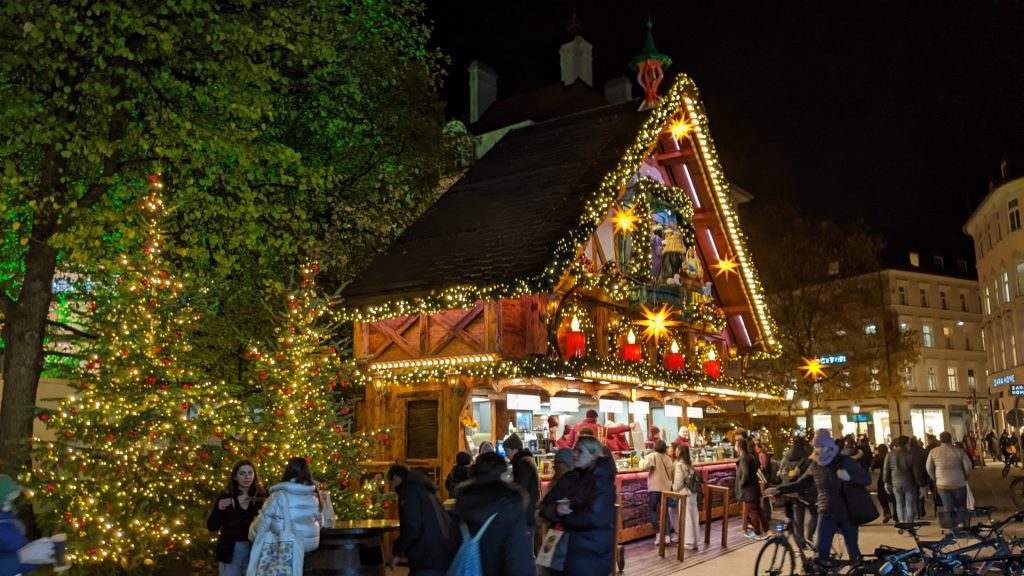 Ok, so at this point, you may be saying to yourself, "Gee, LeAnna….you aren't really selling me on this market! Should I even go!?"
Yes. Part of my problem is that I have been to so many UUUUMAZING and unique Christmas Markets over the 10 years I've been in Bavaria that the generic ones don't light my fire the same way anymore. But, that's just me being spoiled and crotchety! As a tourist, I think that the Marienplatz market is a great one to do for first-timers, especially those on a time crunch with their itinerary before you head to your next city/location.
Because here is the deal…..it's all about the AMBIENCE! Forget buying stuff at this market (just plan on that for another one) but be absolutely awed by the scenery all around you. You've got the gorgeous, towering gothic Rathaus, the ginormous lit Christmas Tree, choirs singing from the balconies, and warm Gluhwein in your hands….can life really be all that bad right now!?
Go To the Nearby Munich Xmas Markets (within minutes)
If you are trying to hit up a ton of German Christmas markets, Munich is a great place to be, since there are something like 20-some markets throughout the city!!!
Even if you just have a few hours, one of the reasons why I love the Marienplatz Market is because it is so centralized that you can get to a few other ones within just minutes either by walking or with the Ubahn. Literally….a 3 minute walk is all you need!
You can do the Weihnachtsmarkt Marienplatz as well as all of the following smaller markets that I list next in about 5 hours (maybe a little longer if you reaaaally love stopping at every stall- no judgment here!)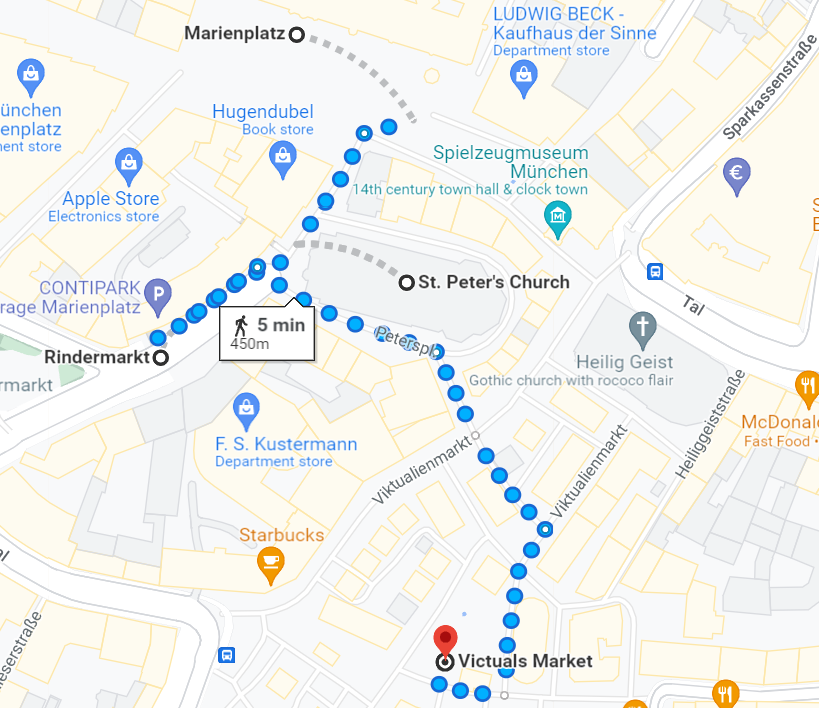 Kripperlmarkt am Alten Peter München (1 minute walk)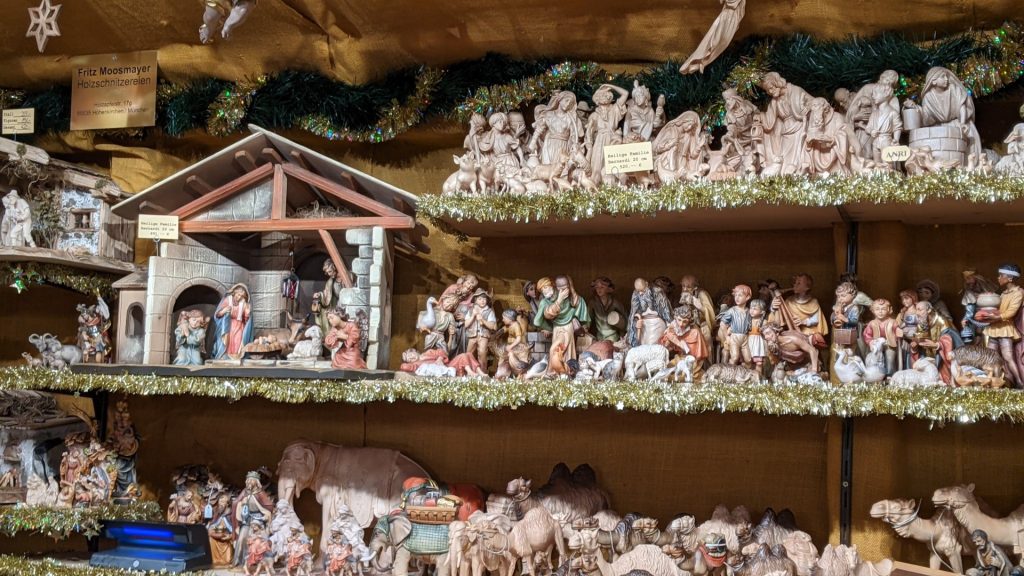 In German, the word, "Krippe" means "Crib." And in Christmas terms, Krippe means Nativity (the crib of Jesus).
Just 1 minute off the side of the Marienplatz is the often overlooked, but very special, Munich Germany Christmas market that is all things Nativity Scene! While it wins no awards for size (it's actually just a few stands) if you are looking for authentic, artisanal works from local craftsmen, this should be a stop.
Located on Neuhauser Strasse (right along the way to the next, close by Munich Xmas market) is the St. Peter's Church. You really can't miss it.
Outside, you'll find a stunning, life-sized Nativity Scene, made by artisans in the Picturesque Alpine Town of Oberammergau. A Nativity scene has been right here on this market since the mid 1700s!
Be sure to slow down and browse the absolutely beautiful works of art from craftsmen from the South Tyrol region (Italy), Oberammergau, and the Ore Mountains (which is where many woodworks are made in Germany). You can buy a whole Nativity set or just a few pieces. I bought my Goddaughter a whole set and each year, I give her one more piece so that when she turns 18, she'll have a whole set of her own!
Sternenplatz am Rindermarkt (1 minute walk)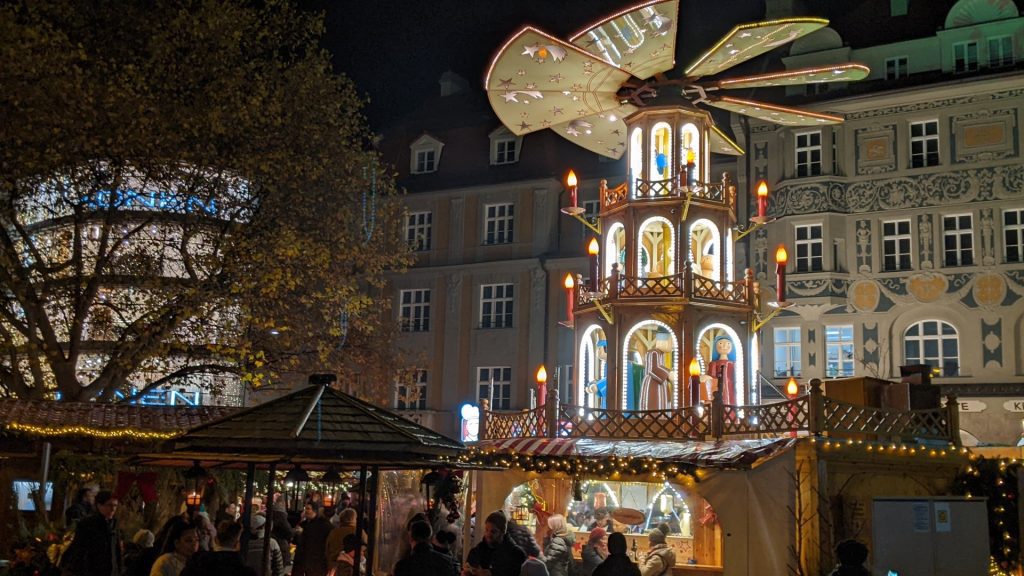 Continue walking one more minute down the road from St. Peter's and you can't miss the enormous Christmas Pyramid at the Rindermarkt!
Most tourists completely miss this little market, so I often find more locals here enjoying a Gluhwein, Fuerzangebowle (think FLAMING Gluhwein!!), and bratwurst. It's small, has more food and drinks than souvenirs, but is charming and with plenty of Gemütlichkeit! For only being 2 minutes from Marienplatz, it's well worth even a quick stop.
Viktualienmarkt Winterzauber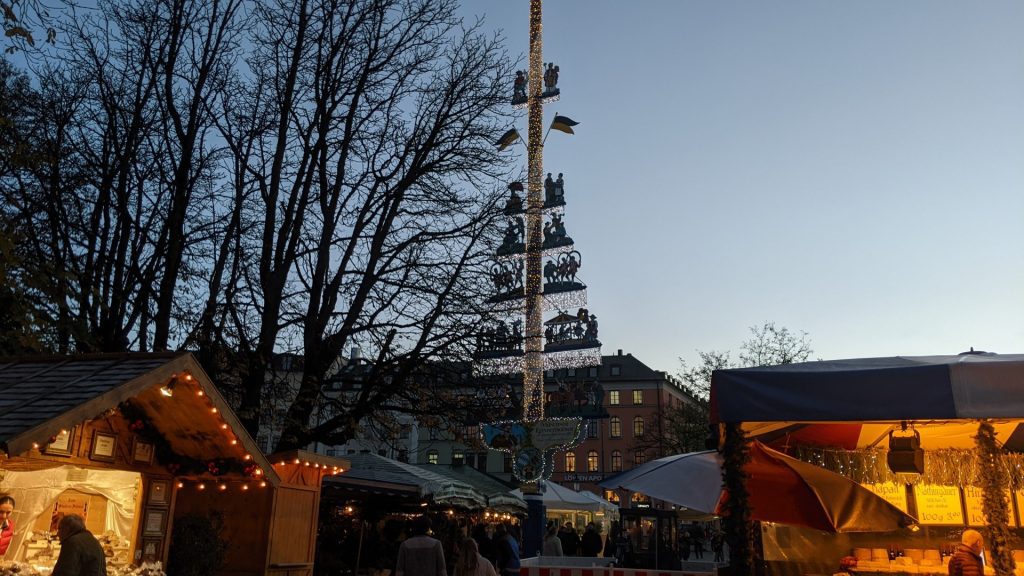 The Viktualienmarkt, just a few minute's walk from Marienplatz, and a must visit any time of year. At Christmas, it takes on a "Winter Magic" (Winterzauber) feel. Truth be told, it's not a ton different from the market that is here any other day, but they do put up some beautiful Christmas lights and have a Nativity Scene in the Biergarten. However, this market is always a must for me to stroll through. It's kind of like a permanent, huge farmer's market! There is always fresh produce, gorgeous flowers being sold, the most mouth watering meat stands, fancy olives, fresh alpine cheeses, and more. Even if you don't plan on getting anything to eat (although I do recommend picking up a few things, if even just for a picnic tomorrow) it is fun to walk around for a few minutes.
Grab the Ubahn For 2 More Nearby Munich Markets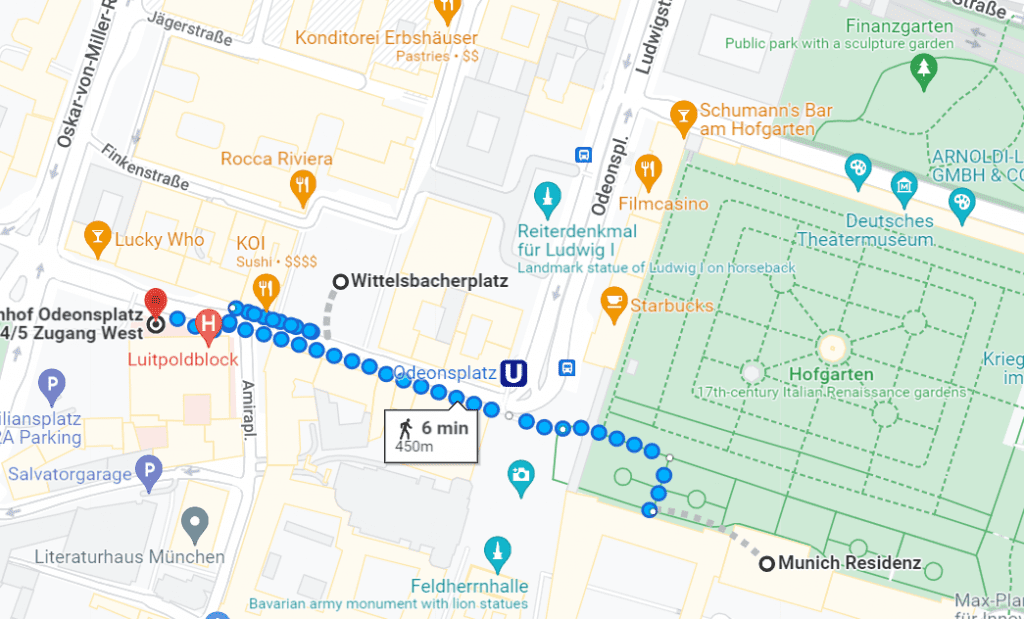 Make your way back to Marienplatz and grab an Ubahn to the next station for the next markets. You'll be heading to Odeanplatz on the U3, U4, U5, or U6 trains. They all come every few minutes, so any will work. It then only takes about 2 minutes to zip from Marienplatz to Odeanplatz. Alternatively, it's between a 10-15 minute walk if you'd rather work off some of those Lebkuchens you've eaten.
Depending on what else you are doing that day and how many people you have in your group, you can consider the Bayern Pass, which will get you on any public transportation in Bavaria. For example, if you wanted to go from Munich to Dachau Concentration Camp in the morning and the markets in the afternoon, this would be a good ticket to consider. However, if you are just doing the Ubahn real quick to hop on over to the next market, here's what you should do
Go back to the Marienplatz. Look for the HUGE Blue "S" and "U" Sign (Sbahn/ Ubahn)
If using the DB Navigator App (HIGHLY recommended!), just do a search for Marienplatz to Odeanplatz. Then go to Offer Selections and purchase a "Einzelfahrkarte" (One way ticket) if it's just you. If you have a small group, or are going to be using the Sbahns and Ubahns in Munich a lot that day, consider the Day Ticket (or Group Day Ticket). Another option if you are going to be in Munich for a few days is to get a "Stripe Ticket"
If purchasing a ticket at the Marienplatz Ubahn station at one of the kiosks in the station, you can click an option to validate the ticket, otherwise, make sure to validate!!!
Take the U3, U4, U5, or U6 (they all come every few minutes) to Odeonplatz, which is the next stop over from Marienplatz
Weihnachtsdorf im Kaiserhof der Residenz
Next up on our quick Munich Christmas Markets is the "Christmas Village" at the Residence. This is not in Odeanplatz, but it is right next door, at the Courtyard of the Residence on Residenzstrasse.
Again, not a HUGE market, but for what it lacks in size, this one makes up for ambiance and great souvenirs and shopping. If you are wanting to buy something handmade, definitely have a look here. If you are looking for a great, quintessential "Germany Christmas Market" vibe, you can find it here!
Wittelsbacher Munich Medieval Christmas Market (3-5 minute walk from the Residence)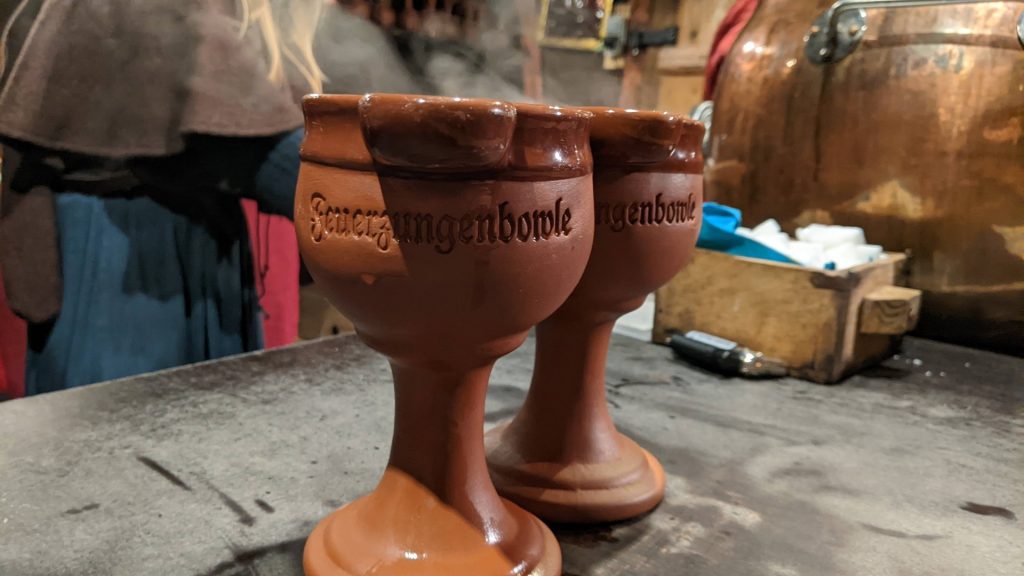 Don't stop the Christmas Market fun yet, this next one, just a few minutes' stroll down from the Weihnachtsdorf is maybe one of my favorites in Munich. It is the Munich Medieval Market where there are whole suckling pigs being roasted, Gluhwein being sipped from stone chalices instead of mugs, people dressed up in furs and medieval garb, and delicious foods (many cooked over fires) can be found to devour!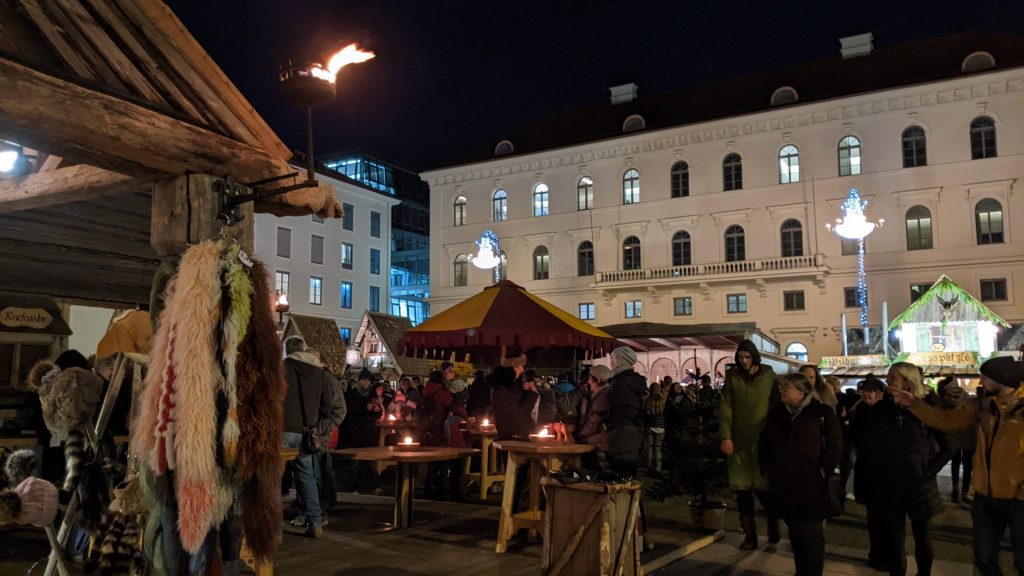 If you need to head back to the Marienplatz, there is another Ubahn stop right by the Wittelsbacherplatz (see map above).
And there you have it!! A few of the best Munich Christmas Markets, all within a few minutes of each other! Of course, if you are limited on time, just enjoy the Marienplatz (and Rindermarkt!) but if you've got another hour or so, definitely try to squeeze in the other ones since they are so close as well!
Marienplatz Hotels-Munich
Need a place to rest your head? Munich, overall, is one of the more expensive cities in Germany when it comes to lodging. And if you are looking to stay on, or close to, the Marienplatz, expect to pay a premium. However, being right there in the heart of the city, surrounded by the markets really can be as close to magical as you can get! Here are a few hotels that are either right on, nearby, or at least within a 5 minute walk to Marienplatz that are very highly rated and recommended.
Even without the amazing reviews of Beyond, this hotel is all about Location. Location. Location!!! With amazing views out into the Marienplatz, you really can't get any closer to the action!! There is a private chef on standby to plate up amazing meals at your beckoning and the rooms are absolutely beautiful, clean, and spacious!
A bit of luxury but with a touch of feeling like you are at home is the perfect combination in a hotel when traveling! Choose to add on a fantastic breakfast buffet and enjoy being just 5 minutes from the Marienplatz.
Booking Rating: 8.9 Read Reviews Here
Just around the corner from Marienplatz, this super stylish hotel is modern and luxurious. Enjoy rooftop views over the city, be within minutes of walking distance to the train station and all the major Munich sites.
Booking Rating: 9.1 View Photos Here
Other favorite hotels to look into:
Budget Hotels in Munich
Finding "Budget" hotels in Munich is pretty difficult. Anything on the closer end to 100 Euro/night is going to be considered "budget." Here are a few hotels to start with if you want a great location, great price, and don't want to skimp on cleanliness or quality!
8.3 Booking Rating, only a 10 minute Ubahn or Sbhan ride to Marienplatz and rooms anywhere from 80 Euro/night to mid hundred.
8.4 Booking rating, only a 10 minute bus, Ubahn, or Sbhan ride to Marienplatz. Prices as low as about 100 Euro/night
8.4 Booking rating, about a 15 minute public transportation ride to the Marienplatz. Prices can be as low as 70 Euro/night!
Other Munich Christmas Markets To Visit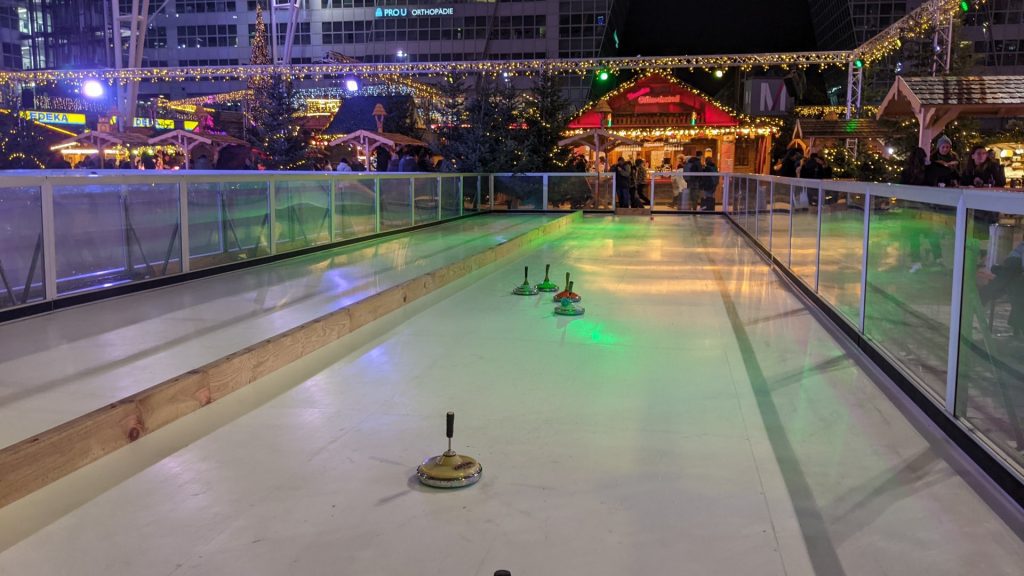 If you have more time or your hotel is not near the Marienplatz, see if any of the following many Munich Christmas Markets are nearby enough that you can pop into for a quick Gluhwein, wurst, and window (well, stall) shopping! There are around 20 Christmas Markets in Munich, but here are a few of the most unique and interesting ones to consider.
Tollwood (HIIIGHLY recommend going to this unique market if you can!)- located at the Theresienwiese (which is where Oktoberfest is)
Märchenbazar (Fairytale Market) (located on Leonrodplatz)- This one is closed on Dec 24th but is actually open on Christmas Day- a rare thing for markets!!!
Chinesischer Turm (Chinese Tower in the English Gartens) Christmas Market (not open for 2022)
Haidhauser Weinachtsmarkt (located on Weissenburger Platz)
The Pink Market (a LGBQT+ friendly market, open to anyone) (located on Stephansplatz)
Sendlinger Tor (one of the city gates) Market
Sternenflotte Christmas Market (located on the Alte Utting BOAT!) – only a 15 minute Ubahn ride from Marienplatz. Very unique and fun!
Neuhauser Weihnachtsmarkt (located on Rotkreuzplatz)
Zauberhafter Weihnachtsmarkt (located by the Ostbahnhof)
Munich Airport (it's actually really good with an ice skating rink and all!! Located in the Open Air Space between Terminals 1 and 2)
Blutenburg Christmas at the Blutenburg Castle
Bahnwärter Thiel "Moonlight Express" (located at Bahnwärter Thiel, Tumblingerstraße)