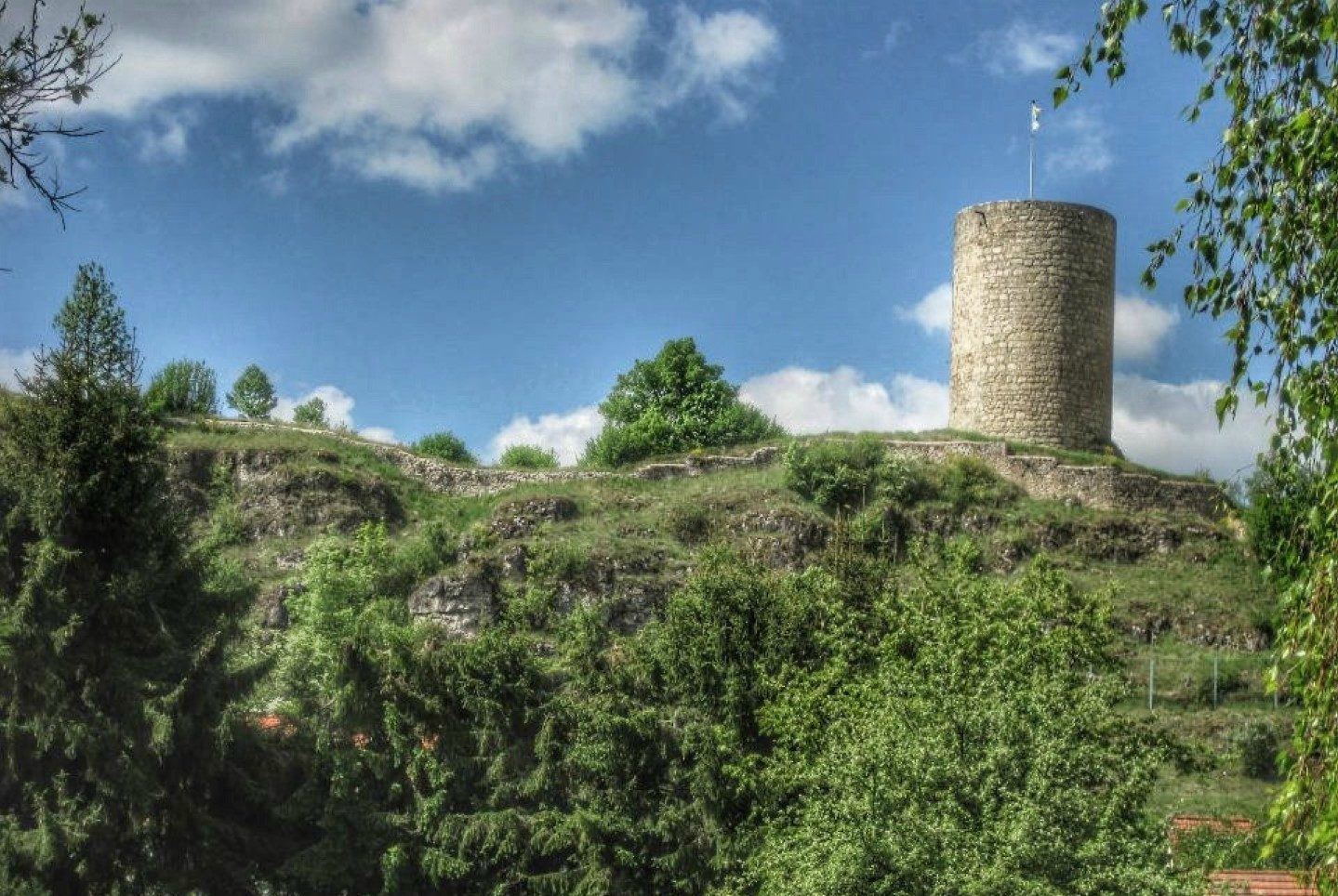 Everyone has heard of Germany (duh).
Most people even know that Bavaria is located somewhere IN Germany.
But USAG Hohenfels? Yeah…nobody has heard of that one. And that even includes other Posts also located in Germany!
After all, the Hohefenls Army Base is basically stuck in the middle of a bunch of German farm fields. A bunch of farm fields that feels worlds away from the comforts of home.
Ohhhh yes, Hohenfels. Where you can't find half of what you need at the small commissary. Where the small Post feels like a very, very small town where everyone knows everyone elses business.
And THAT is what you just might here from the rare unicorns of people that are actually stationed at Hohenfels.
But then something weird happens.
WITHOUT FAIL, each of those people will return back to the US, and almost like clockwork, they each will look back at their time hops and say, "OMG, I miss it so much!!!" It's like one of those "You don't know what you have until it's gone" kind of things. Even the people that complained the most about how it felt like they lived in Hicksville out by Hohenfels, or the people that got grumpy about not being able to get pumpkin puree at the commissary over Thanksgiving (tip: shop locally!) or the people who always moaned about how hard it was to travel with kids will all somehow look back and say, "What I would give to be back there again!"
So, what it is about Hohenfels that has people have these very strong, juxtaposed feelings and what can YOU do to make sure you love your time in Germany? It might be easy to dread your upcoming duty station, but I promise, if done right, you are actually going to LOVE it!
Know Before You Go
Where is Hohenfels Germany
Hohenfels is in the state of Bavaria, Germany. Which is located in the South/Eastern part of Germany. Hohenfels itself is in the county of Nuemarkt and in the region of the beautiful rolling hills of Oberpfalz. It's truly a beautiful area of the country!
My favorite part about the location of Hohenfels, Germany is that we are in such a great location to get to new places to travel quickly and easily. It's just a matter of a few hours to be in Austria, Czech Republic, Switzerland, France, and Italy!
Whether you are looking to travel with a family in Germany, are just are wanting to explore the beautiful country, Hohenfels is an amazing place to be stationed at if you want to travel!
German Culture
First, know a few things before even going to Germany ABOUT life in Germany. Here are some of my top tips for travelers, in general, to be aware of before heading to Deutschland. Just knowing these things in and of themselves will put you ahead of the game.
USAG Hohenfels Training Area
The Hohenfels Germany Army Base is actually one of the busiest training centers in the US Military. In fact, they are one of the few installations that actually MAKES money. For that reason alone, you better believe that they have as many trainings, rotations, and exercises as they possibly can crammed into the calendar. For many soldiers, that means long days, if not weeks spent grinding away. Many 1-4 soldiers are in the field for days on end, which can be particularly hard on families.
Bavaria Weather
If you've read my "Best time of the year to visit Germany" post. then you know that no season is void of rainy weather. You'll learn that grabbing an umbrella will be just as second nature as grabbing your keys as you rush out the door! There are MONTHS, yes MONTHS where I swear I haven't seen the sun. Oh, and did I mention that in the increasingly hot summers, they don't do A.C here?
Right about now, you are probably scrolling back up and saying, "LeAnna….I thought you said I'd LOVE Hohenfels!? You aren't selling this!!!" I know. I know. But I say these things because one of the keys to success of people enjoying their time here is coming in with realistic expectations of reality, including rainy days.
The next key to success is CHOOSING to enjoy Hohenfels. Oh man, does that sound corny!! But I'm serious! So many people have read only the above and before even getting on their Patriot Express flight have decided that this PCS is going to suck. They aren't ever going to see their husbands, they don't know the language, the nearest mall is about a 35 minute drive away, and you want me to eat brats all day long!?
They've already made up their minds and guess what? Not to get all hippy dippy on you, but when you believe that, you will manifest it.
Instead, choose how you DO want your time to be in Hohenfels to be! Here's what I like to focus on
Beautiful Bavaria
I might be biased because I've now lived in Bavaria twice, but I LOVE Bavaria. In fact, here are 16 Reasons Why Everyone MUST Visit Bavaria.
If you've got an Instagram (Oh hey, follow me HERE), then you better get your #NoFilter on autotype because you don't need a filter for the beauty in this area. One of the things that I love about Bavaria is that in just two hours from Hohenfels, you can be in the stunning Alps for some summertime hiking or winter skiing. In about 45 minutes from Hohenfels, you can be in the "Franconian Switzerland" which has karsts that are a rock climbers (and photographers) dream come true. Regensburg, just 35 minutes away from Hohenfels, is just a picture perfect town with cobble stone streets, ancient stone bridges, and beauty around every corner.
Guys, in my first apartment in the village of Parsberg, my "backyard." A CASTLE!!!!
The fall foliage will take your breath away as you see every shade of reds, yellows, and oranges. Winters are magical as the snow falls on a warm cup of mulled wine at a Christmas Market and springs burst into magnificent shades of yellows (ok, yeah, get your allergy meds out on that one)!
Bavaria IS Germany
Alright, you are now probably saying to me again, "LeAnna. Yeah. We've already established this"
But what I mean is, close your eyes and just "envision" what you think of when I say "Germany." Chances are, all those stereotypes popped up like
Lederhosen
Giant beers
So many sausages
Huge Festivals
The Alps
Schnitzles
And guess what? All of that is Bavarian. Living in Hohenfels, Germany allows you to experience all of these things, all of the time!
You won't find a Lederhosen at a fest in Berlin. You won't sing "The Hills Are Alive" in Ramstein. Not just Munich, but every small village in Bavaria has an annual fest. Ok, you WILL find giant beers and sausages all over Germany, I'll give you that.
But there is a certain "culture" here in Bavaria that is true Germany, where you won't find outside of Bavaria, and there is something magical about that.
The Food
No matter where you go in Germany, you are guaranteed an adventure, beauty and of course, good food! You might think that German food is just a bunch of sausages and potatoes, but you are in for a real treat. Here are my favorite Bavarian and German foods EVERYONE needs to try while here!
The Travel
It's probably absolutely no surprise that I, the author of a travel blog, will tell you that another major key to loving life in Germany is travel!! But I'm serious. Besides the Grouchy Gerta's that stepped off the plane with a bad attitude, the other common thread that I've always found to people not just adoring their time in Germany is those who did not travel much.
There is SO MUCH TO DO HERE!!!!
I do get it. Travel can be intimidating in a foreign country and travel can seem expensive, especially with families. But, I am here to tell you there are ways around both of those.
Europe Is In Your Backyard
I always get so confused when people tell me they've been here for awhile but haven't traveled. I mean, while I do understand some of the trepidation of planning big trips to places like Italy, France, and the UK, I then go look at the cost of a RyanAir ticket that cost less than my last haircut and I'm like "Sign me up!!!"
And while planning a trip to satisfy everyone can be a finicky task, you are in a country that is seeped in history (for your Poli-Sci husband!), has one of Europe's largest theme parks (for the kids, and kids at heart), and is known for their uuuhmazing thermal spas for us tired Mamas! How can you NOT find something for everyone!?
There are some fantastic travel Facebook groups just for service members in Germany and they are a wealth of amazing trip planning tips! But what I love about Bavaria is that you are literally just HOURS away from some absolutely amazing destinations:
Drive three hours and soak in a beer bath (yes, beer) in Prague
Drive 5 hours and be in the most stunning Swiss Alps
Drive 7 hours and be in romantic Paris
Hop on a flight and be to Rome within a few hours
Grab a 20 Euro flight and explore Spain!
The options are endless!
Day Trips
One of my favorite things to do is just find simple day trips. They aren't overwhelming to plan like big trips, they are way more affordable than big, family vacations, and there are endless options!
In fact, there are so many fantastic day trips that I even host a Day Trips in Bavaria Facebook Group. Come hang out with us to get travel inspiration, location ideas, tips for traveling in Germany, and more!
Join the Day Trips in Bavaria Facebook Group Here
The USAG Hohenfels Communities
On Post USAG Bavaria
All the villages around Hohenfels are small towns. Therefore, it would be fitting that the USAG Hohenfels also felt like a small town. After all, it is one of the smaller installations in Germany.
It didn't take long for me to start to "know people" around Post. That is "That guy from the gym" or "That's the homeschool family" or "There's that crazy blogger lady" (oh shoot, that's me). Then those people got names to them.
Suddenly, before you know it, you just know people. And those people know people. And somehow, everyone knows everyone and here you are feeling like you are stuck in this small town.
But there is actually a beauty to this in Hohenfels. I have maintained friendships with plenty of people who have PCSd from Hohenfels back home and time and time again, they all recall how Hohenfels isn't a small town in a bad way, but in a really, really, nice way. Sure, everyone knows everyone's business. But everyone also is ready to chip in for anything. Somehow, people just always seem to come to together here.
There are plenty of gossip and complaints threads in the local Facebook groups, don't get me wrong. But if you choose to stay out of that drama, you'll also just as common see a comment from someone saying, "Thanks to the person who offered me a ride in the rain today" (ooooh that darn rain!!!!) or something similar.
There is just something about Hohenfels that nobody can quite put their finger on. It must be something in the water here, but again, talk to anyone who had lived here previously, and I bet they are still best friends with someone who was stationed here with them. It's a weird phenomenon, but I think that goes to show just how much people care about people here.
When you drive through a government housing section of a town, you'll see plenty of people out BBQing and playing Cornhole. Hop on the travel pages on Facebook and see a Girls Getaway together. Ask for a helping hand from a stranger at Hohenfels, and you'll get it. No questions asked.
It's these interactions that make the whole community of Hohenfels, from the active-duty soldiers, to the families, to the contractors and civilians, that all make living a world away from family, the comforts of Target, and a decent Mexican meal all feel worth it.
Off Post Communities
I'm a city gal. The idea having one stoplight in my German village was insane to me. Yet, there I was living in town with one stop light.
And that is most of the towns and villages surrounding Hohenfels (and where most people live).
And while I actually have this really soft spot in my heart for the actual Post of Hohenfels, it is what is beyond the gates of Post that completes the picture.
The off-post community is comprised of village after village, connected by inter-lacing, winding roads through fields of yellows, browns, yellows and whites, all depending on the season. Each village offers a glimpse into true German life, while still being open and accepting of us Americans.
As you wander through the cobblestones of each small village and town, you'll find the 80 year old couple riding their bike up the hill to the grocery store, you'll see children, as young as 5, walking themselves to the school down the street from their home all by themselves, you'll breath in the smoky air from the wood burning furnaces in homes that quite possibly have stood there for hundreds of years and you'll pop into a small "imbiss," or snack shop, for a delicious homemade treat as you continue on down to the train station.
No, you haven't gone back in time. You are just enjoying a piece of Bavarian heaven, where cars can go unlocked, garages can be left opened and children can walk freely without fear of rising crime rates.
Attitudes Towards Americans
Right now, a lot of the world is giving America the side eye.
Despite us "Mericans! often not speaking a word of German and being quite loud, the towns near Hohenfels always seems to (mostly) not mind us hanging around. Since the US Army has been here for a while now, Americans and Germans live quite harmoniously together in our daily lives around Post. While many people say that Germans are distant, or even rude, the reality is that Germans are very private people. Knowing this fact alone makes it easier to understand why they don't give you a smile back. It's not because they don't like you, it's just not the culture here. However, if you make friends with a German, you will find that they are some of the most loyal and helpful friends you'll ever have!
In fact, with the Hohenfels Community, you will find many German locals intertwined heavily with the Americans and American culture. On great example of the two groups coming together is the Hohenfels Kontact Club. It's basically just a group of both Germans and Americans who want to get together, hang out, learn more about each other's cultures, and bridge the gap.
Language Barriers
Do you want to know a dirty little secret of mine? I have lived in Germany for over 6 years and I speak almost NO German.
Ok, that is embarrassing for me to admit, because it really isn't ok, which is why as soon as both kiddos are in childcare, German lessons are the first thing on my to do list!
But that just goes to show that English is very common in Germany. Of course, I would never demand, or even expect, a German to know English, but it's not uncommon to have no issue in daily life to find someone nearby who can help speak English. In fact, around Post, I find a lot of locals either want to practice their English or, it's just easier for them to communicate in English rather than having to listen to my atrocious attempts at speaking German!
Hohenfels Has My Heart
While my Instagram may show endless days of fests and countless trips, living in Germany isn't always easy. It's tough not knowing when you'll see your parents next. It is really challenging when your spouse is in the field for who knows how long. Missing Christmases with family can make anyone homesick.
But the reality is that those moments pass. Just taking a train ride through the Bavarian countryside and soaking in the scenery is enough to make you say, "Wow! I'm so lucky!!" If you are willing to open your heart (and mind) to Hohenfels, you'll find yourself kicking and screaming when you get your orders to return home.
It's odd, but you will have returned back to the normalcy of life in the US and I can almost guarantee that you will look back and realize that a piece of your heart is also in Hohenfels.
Hohenfels US Army Resources and Guides
Hohenfels Housing
After you've found out you are going to Hohenfels, one of the next things all the spouses want to do is figure out housing and where to live!
While in some duty stations you might be able to find and lock down a home before even arriving, that's not the case (typically) here, which can be extremely frustrating, especially when arriving with a family and/or pets.
Unfortunately, in high PCS times, you might find yourself having to wait upwards of 2 months to find an available home. This is more true if you are limited to government housing, where if you can do a private rental, things can more more quickly.
Obviously, there are exceptions to the norms, but here is roughly what you can expect to find for housing options pending your rank as well as availability.
Enlisted
On-Post housing (see below) is an option as well as government leased housing off post.
Upper Enlisted and Officers
Most likely, you'll find off post government houses and private rental options can also be offered to you.
To get more, official information on housing, you'll need to check out the following Army and Hohenfels Housing Resources:
Official Hohenfels Army Website
USAG Bavaria Housing Facebook Page
On Post Housing
Sunrise Lodge On Post Hotel
Most people will stay at the Hohenfels Sunrise Lodge when they first arrive. You are not "guaranteed" a room here though, so you do need to reserve early. If you have pets, you'll want to contact them immediately as they have limited pet rooms available.
Hohenfels Barracks
There are some barracks on Post, mostly for single, lower enlisted soldiers.
Apartments ("Stairwell" Housing)
The apartments on post, depending on which ones you get, have 2-4 bedrooms. One apartment complex is right behind the PX and just a few minutes walk to the elementary school. The other set of apartments are behind the Sunrise Lodge, which is also very centrally located on post.
Both apartments are actually surprisingly spacious, but it is still apartment living. Storage access, hearing neighbors, etc is still a common complaint.
Townhomes and Duplexes On Post
These homes are usually 3-4 bedrooms and are actually very large. A common question for people PCSing to Germany is just how much furniture should they bring with them? In these particular homes, you'd have no problem bringing a full family room an dining set. Some people have issues getting their King beds up and around the twisty staircases, but your Queen set and dressers will be no issue.
These homes have fenced in yards, plenty of sheds (most have 3!) for outdoor storage and a neighborhood playground. This neighborhood is also easily walkable to the Hohenfels commissary.
Houses on Post
There are only a small handful of houses on Hohenfels and they are usually for higher ranking officials.
Off Post Housing
A lot of people choose to live off Post and most people really do enjoy this opportunity, although it can be more challenging than just living on Post, obviously.
Government Housing off Post
There are numerous villages within a 5-15 minute drive from Hohenfels that have Governement leased homes. Basically, the "Army" is the landlord, so if you need repairs or there are issues, you go through the Housing Department. What is nice about this option is that when there are issues, you can easily communicate in English instead of having to try to talk to a German landlord who may, or may not, speak a word of English. It's also nice is you basically don't need to worry about rent, because your housing allowance just goes right back to the Army, so no transfers are needed if you are under your allowance. In these hones, utilities are covered as well.
One complaint about this route is that the housing department is often quite back logged so it's a crap shoot if you'll get a home quickly.
Similar to the on post duplexes, these government leased homes off post are often townhouse style and shockingly big! Some have four floors and upwards of 5 rooms! Most of them have a basement with ample storage space. Most people love that they are BOTH 110v and 220v in electricity. That means you don't have to worry about transformers or having to buy German specific appliances, which can be a major pain when only living here for a few years. A lot of these homes (but not ALL) do have fenced-in yards, which is great for families with pets.
Private Rentals On the Economy
With private housing, there is pretty much everything from small apartments to big, beautiful houses. Some people are turned off by the idea of having handling their own rent (you will use your Housing Allowance, and maybe even your COLA, pending the cost of the rental) by having to use a German bank account. It can be frustrating finding and setting up internet, especially in smaller, remote villages and you are the one responsible for coordinating with your own (German) landlord. However, many people really love having the opportunity to live more locally and while getting set up seems overwhelming, there are plenty of people on Post who would be happy to help you get on your feet, all you have to do is ask around.
Contractors
If you are a contractor, you are not allowed to use the Housing Department. Most contractors find it very difficult to get a landlord to agree to a rental in the nearby villages, as it seems like there is some strange Housing Mafia deals going on. Therefore, many contractors find themselves in bigger cities nearby like Regensburg, Amberg, or Kallmunz (This does not apply to Government employees). You can either find a real estate agent upon arrival to help you find a home or use an App, like Immobielien24 to browse open listings.
Note: Apartments and homes fly off the market in this region. If you find something that fits your needs, don't wait!
Housing Neighborhoods off Post
Since you are not limited to certain locations if doing a private rental, it's totally up to you on where you want to live. There are so many small villages and towns nearby to choose from, but some might be more appealing to your needs than others. Here are some of the most common (and favorite) towns where people often end up loving when stationed at Hohenfes.
Parsberg
We personally lived in a small apartment with castle views in Parsberg for almost 6 years! So, I might be a bit biased when I say it's my favorite place to live near Hohenfels. We chose Parsberg because it has a train station, numerous grocery stores, lots of restaurants, and everything is walkable in town. It is one of the "larger" villages with 65000 people. It's only about a 15 minute drive to post as well.
Private Rentals as well as Government Homes available.
Lupberg
Lupberg is Parsberg's next door neighbor, just 2 minutes down the road. A lot of people like Lupberg because it has a much smaller vibe and great views of the countryside. However, you are so close to Parsberg and all of it's amenities that it gives you a little bit of the best of both worlds.
Private Rentals as well as Government Homes available.
Beratzhausen
Beratzhausen is another very common town to live in with 5600 people. It is also only about a 15 minute drive to Post and has numerous restaurants, a grocery store and also has a train station. There is a nice community feel with the row of American houses in the government homes here, which is a great thing to have so far from home.
Private Rentals as well as Government Homes available.
Grossbissendorf
Most military people that live in Grossbissendorf Germany are in the government townhomes. Many people joke that this is Hohenfel's "Little America" because a good portion of the town is only American housing. This has it's pros and cons, though, so people either find themselves loving the tight knit community that bonds here or hates that everyone is in everyone's business and that they don't have a more "authentic" German experience. However, with it being just a 3 minute drive to the gate, it's great if you plan on being on Post a lot.
Mostly Government Homes available.
Hohenfels (Village)
There is also the actual town of Hohenfels, which is about a 5 minute drive from Post. This is a good option for people who want to be more in a local community, but still have such close access to Post.
Private Rentals as well as Government Homes available.
Schmidmulen
This German town is right outside the "Schmidmulen Gate" of Post, but you have to drive through "The Box" or, the Hohenfels training area, to the main post, so plan on at least 10-15 minutes to get to main post, a lot of which is in the dark (at night). Despite there being government housing here, there isn't really a TON to find in town, besides a few small restararunts and a grocery store. (The town itself is a really beautiful, colorful town though!) Most people who live here like to go to Amberg for things like restaurants and things to do.
Hohenburg
About 15-20 minutes to post, there are several government neighborhoods throughout Hohenburg. This is another community that is great for people who want to be more in an "American Neighborhood" with other military members. If you live in Hohenburg, you'll most likely shop in nearby Schmidmulen (or on Post) as there aren't a ton of grocery options (or many restaurants) too close by. The biggest perk to living in Hohenburg is many of the homes here are quite large!
Other Nearby Towns People Look Into:
Most of the rest of these towns will be private housing. People who choose these places often want to be more integrated into the German community and will be rewarded with amazing local experiences!
Kallmünz
And absolutely picture perfect village. Just 15 minutes from post with places to eat and shop all nearby.
Regensburg
On our second time to Hohenfels, we chose Regensburg to live in and so far have been loving it. This is the closest big city to Hohenfels, and many people from Post find themselves coming here regularly for the mall, great restaurants, fests, Christmas markets, and sight seeing.
Amberg
Amberg is on the Northern side of the Hohenfels training area. This is a great option for people who might find themselves working at both Hohenfels and Grafenwoehr since it is pretty much in the middle. Amberg is also a good sized city, so you'll find plenty of restaurants, places to shop/ get groceries has a good hospital, and more. Great for families that may be working in both Grafenwoer and Hohenfels often, as it in the middle of the two Posts.
Like most things when PCSing to Germany, there are Pros and Cons to just about anywhere you end of living here. The key is to go into it with an open mind and see what you can do to make the most of it!
Hohenfels Housing Resources:
Official Hohenfels Army Website
USAG Bavaria Housing Facebook Page
Hohenfels Army Base Schools
The Department of Defense Education Activity (DoDea) runs the schools here on Post. You'll find a:
Preschool and "Sure Start"
The preschool on Post can be difficult to get a spot into. They particularly serve kids who may need additional educational services as well as helping families who qualify for Title 1.
Elementary School
Grades K-6. Website: http://www.hohe-es.eu.dodea.edu/
Middle and Highschool
The middle and high school are both at the same location. Grades 7-12. Website: https://www.dodea.edu/hohenfelsmhs/
Homeschool
Fun Fact: Homeschool is actually illegal in Germany! Well, for Germans. Since we are here under SOFA, we fall under the Military rules, so if you want to homeschool, you still may. There is a fantastic homeschool group of families here as well for support. More Info: http://www.dodea.edu/upload/02OD002.pdf
A lot of people like to register for school before arriving, just so that there is one less thing to do when you get here.
Note: If plan on having your kids play sports or going to On Post childcare, make sure that all your immunizations are up to date, as that is required as well as a physical AT Hohenfels before starting any sports. (Religious exceptions for immunizations is NOT accepted)
Busing to School from Nearby Villages
If you are living in a Government Housing area, then most likely, there are buses that service your village. However, if you are in a private rental, you'll want to check with the transportation office to find what the nearest bus stop is to you.
One thing some people don't love about the German buses is that they do have different laws than what we are used to in the US. For example, it is not required to stop for school buses here. It's best to talk to your kids (of all ages) about bus safety as well as road safety, as local Germans may not always stop.
German Schooling on the Economy
Depending on where you live, personal preferences, and other reasons, many families consider sending their kids to the local German schools.
In fact, I've chosen to send both of my kiddos to the local schools so that they can get a fully immersed experience while living here.
However, I have the benefit that both my boys are quite young, making the transition and assimilation much easier. If your children are older, do not know the German language, etc then this could be a very difficult transition for them. Because the education systems are different, some families notice a difficult time when going back into the US system. Most people say that at about Grades 3 or 4, the two systems start to align more.
Kita and Krippe
Kita is like a general "Child Care" system. It includes both Krippe (young kids) and Kindergarten (ages 3-5). This is a great option for families who need some child care but can't get into the one on Post (or want a more affordable option).
Just know that many villages nearby Hohenfels actually have a "cap" at the number of Americans they will accept into their "schools" so that they can ensure the local kids still have priority. This can make it quite difficult to find openings.
German Kindergarten
German Kindergarten is more of what we think of as Pre school. However, kiddos can start Kindergarten here at 3 years old. Most Kindergartens here are very play based, use hands on activities for learning, go outside in all seasons, and use this time to learn social skills.
Day Care
Because the day care is limited on Post, many families needing childcare look to the Kitas. Find more information about Hohenfels On Post Day Care here
Part Time Day Care: Currently, part time care is extremely limited
Drop In: Unfortunately, due to resources, drop in day care doesn't really exist. While it would be fantastic for this service to be available for a quick gym workout, grocery shopping, etc, it is simply not really an option. There are occasional times when it may be permitted for occasional doctor's appointments, but not often.
Full Time: Prices vary according to rank
School Age Program (SAC)
This fantastic program on post is what you can utilize if your child needs childcare before or after school.
Job Opportunities in Hohenfels
This is the one area that I try not to sugar coat living at Hohenfels. The reality is, getting a job as a spouse here is extremely limited and difficult. To put it bluntly, jobs in Hohenfels Germany for spouses is one of the most frustrating parts about PCSing to Hohenfels.
Here is roughly what to expect if you are looking for a job:
1) You go to USAJOBS. YAY! There is a job listing for what your are looking for (Nursing, lawyer, teacher, etc)
2) You apply and just know that you have a great shot because, let's be honest here. You are amazing and fantastic at your job!
3) You don't get the job. Repeatedly.
What? What went wrong here? You are (over) qualified! Well, here's my personal take on it.
First, remember that the sole reason for you being stationed in Germany is for the soldier to do his/her job, which most likely, at Hohenfels is to support the Trainings and Exercises. You, as a spouse, is just kind of like an "add on."
Second, it's not uncommon for a job to be posted, mostly because legally they have to, but for someone to already be lined up.
Third, we are living in Germany, so one of the agreements with the Germans is that we must hire a certain percentage of locals to fill certain jobs. Therefore, that automatically limits the pool of available positions.
Some other observations about spouses getting jobs:
It's not uncommon to be underpaid here.
Many spouses go into their field of work here ready to prove their willingness to work and show off their skills by volunteering, only to find out 2 years later, there was never really any intention of hiring (plus, why would somewhere need to hire when they've got a team of dedicated volunteers?)
Ok, so I know that all sounds extremely pessimistic. The reality is that plenty of spouses come to Hohenfels and get jobs. They are not always in their dedicated career/degree, but that can often be a nice change of pace for people. However, I know all too many spouses who come here with high expectations of advancing (or in the very least, continuing) their career only to find a bunch of loop holes. So, I don't say any of this to scare anyone off. It's just more of a "be realistic" when coming so you aren't let down.
Alternatively, if life allows you to, many spouses find this forced reprieve from work a welcomed change. They take the opportunity to do so much traveling, find new friends, volunteer at a new organization, etc.
Obviously, not working is not an option for some people. A few places that hire often are:
Burger King/ Subway
Child Services
Substitute Teachers at the School
Getting Around Germany
Locally
Cars
Probably one of the most convenient ways to get around the Hohfenels area is by car. The villages can be quite spread out, and many too small for train stations, so a vehicle is best.
Train
We absolutely LOVE taking the trains in Germany. They are easy to use, efficient, affordable, always on time, clean, and just a wonderful way to see the country. One of the best-kept tourist secrets is to utilize the Bayern Train Pass, which is a day ticket that gets you anywhere in Bavaria. It's a great way to save money with groups or families.
Read My Bavaria Train Ticket Post here to see where it all goes, what it costs, and everything else you'll need to know about it.
To and From Post
For the first few years of living in Germany, we only had one car, so if I wanted to get to Post while hubby was working, I had to take the shuttle bus. There are a few of these that run from a couple of the local villages a few times a day that will go to Post. If you know you you'll be short a car, then ask the Hohenfels Housing Office which villages have a Post Shuttle so that you can take that into consideration when looking for a home.
On Post
A lot of the main stuff is centrally located on Hohenfels, so it's not impossible to get around with walking. However, there are a few major things that get spread out (like the Mailroom and the Commissary). Therefore, if you don't have a car, there is an on Post shuttle that goes around, although it may not always be at the best times for you personally.
Other USAG Hohenfels Resources
Official Website
Virtual In Processing Center: https://home.army.mil/bavaria/index.php/newcomers/virtual-inprocessing-center
Official USAG Bavarian Site: https://www.bavaria.army.mil/
Official Military Newcomers Site: https://home.army.mil/bavaria/index.php/newcomers
MilitaryInstallations.dod.mil: This goldmine of a site offers basic information on anything from in processing to housing.
Facebook Pages and Groups
Travel Bavaria Tips and Advice: This group is perfect for when you want to travel within Bavaria. Ask questions about specific locations, get ideas from others, etc.
Wander In Germany: Give us a "Like" and turn on notifications to get recent travel blog posts and tips about living and traveling in Germany.
Official Hohenfels Military Base Garrison Facebook Page: Get updates on anything from what is going on both on and off Post as well as other current updates like weather advisories.
Official Hohenfels MWR Page: Looking to get fit, social, go on a trip and more? MWR is the place to find out what fun activities are being planning on Post.
Hohenfels Military Spouses: This page isn't a drama filled, gossip zone. Instead, it is the perfect resource when looking for advice on local customs, not sure the best place to shop or look for something on the economy, curious about something on or off Post and is a great place to find fellow spouses.
411 Travel through Germany: This page is specifically for US military members looking to travel within Europe
Buy and Sell Pages: There are a few buy and sell pages, but some of the main ones are the Hohenfels Classifieds , Hohenfels $1.00 Auctions, and Hohenfels Take My Kids Stuff. These are all great for finding 220v electrical items for Germany's plugs, to do a PCS purge yourself, or to get some cheap things while you get settled.
Ramstein Passenger Terminal: If you are interested in flying Space A back to the US at all, this is the page to be checking out.
Traveling Near Hohenfels, Germany
Tips to Get You Ready for Travel Before Even Moving to Hohenfels, Germany
1) Get your TOURIST passport
In order to move to Germany, the military will issue your no-fee government passport with a SOFA (Standard of Forces Agreement), which is basically like your "Green Card" to live here. The only purpose of your No-Fee passport is to allow you to stay in Germany and to go to/from Germany to the US.
THIS DOES NOT ALLOW YOU TO TRAVEL IN EUROPE!
In addition to your no fee passport, you will need a tourist passport if you plan on doing ANY travel outside of Germany. And well, duh…you obviously will want to be doing that! Since it can take upwards of 2 months to get a passport, you'll want to get that ball rolling so you can start traveling as soon as possible.
2) Start Saving
Travel doesn't always need to be expensive, but it absolutely can be an obstacle. Luckily, you can do so many affordable day trips in Germany, but if you want to do some serious travel while here, starting a small vacay fund isn't a horrible idea.
3) Driver's Licences
Driving in Germany isn't actually nearly as scary as a lot of people believe. (Yes, there are speed limits here!)
In order to drive here, you'll get a USAEUR license. Typically, Germans have to spend A LOT of money and time to get a driving license. However, with a bit of studying up on the German road signs and laws, you can take a test and get a USAEUR license for your time here. You can now even take it ahead of time if you would like so that you have one less thing to do when you arrive.
Getting an international driver's license is also a very good idea if you plan on traveling outside of Germany. Many people will think they are on top of things and get one from the US (like from AAA), but if you do this, it is only valid for 1 year. However, if you get an international license here in Germany, it will last for 5 years.
4) Get Into the Right Frame of Mind
All to often, I hear people complain about Hohenfels. But, the reality is, after talking more to them, more often then not, they had decided well before even getting on the plane that they weren't going to like living in Germany. They had already started complaining about missing Target, or quality Mexican food, or missing family and friends.
The biggest favor you can do for yourself is to promise you will go in with an open mind! Don't worry about small town Bavaria, don't get down and out about jobs, don't feel overwhelmed that you won't know what to do in a completely different culture.
Instead, promise yourself that you'll be open to new opportunities. Promise yourself to try shopping at a local grocery store. Promise yourself to travel frequently (even if only nearby!) Promise yourself to try new foods. Get an easy language App, like DuoLingo, which even with 5 minutes of practice a day, you'll feel a little more confident ordering DELICIOUS pretzels from the Backerei!
Gett Access to a Free Week Of DuoLingo Plus Here
PHEW!!! Well, that was information overload about PCSING to Hohenfels, wasn't it!? But did I still miss anything? What would you still like to learn about Hohenfels before your move?