[This post may contain affiliate links where we earn a small commission. Please see our disclosure for more information and thank you for supporting our site so we can continue to bring you awesome content for your travel inspiration!]
Planning your trip and wondering when is the best time to visit Germany? In this guide, we tell you the best time to travel to Germany as well as the best time to visit Berlin, Munich and other fantastic towns in Germany.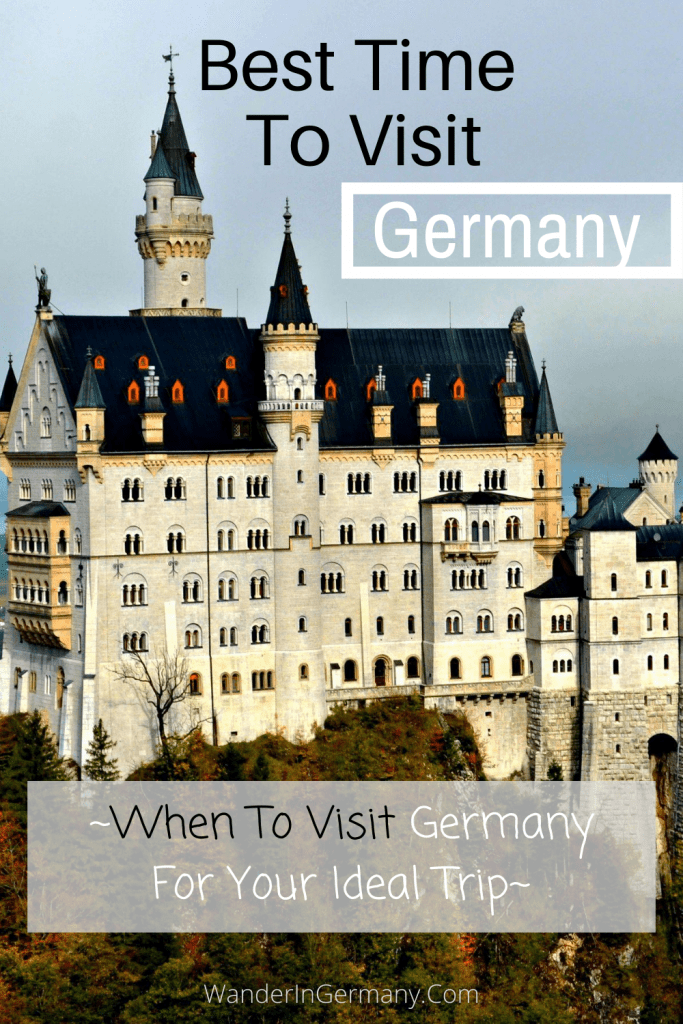 When Is Best Time To Go To Germany
I'm sorry to do this to you, but yes, I am going to give you THAT answer. I know, I know. You want a straightforward response to when is the best time to visit Germany, but here's the real answer:
It Depends.
Agh! I know, such a cop out, right!? But don't click away yet. Let me fully explain why I can't just give you a blanket statement like "September." And by sticking with me, you are going to be able to narrow down the PERFECT time of year to visit Germany based on YOUR trip preferences. I've lived in Germany for the better part of a decade, traveling in each season. Here's when I think you should visit.
Are You Going For Anything Specific (IE Christmas Markets, Oktoberfest)
Are You Going For Anything Specific (IE Christmas Markets, Oktoberfest)
You might be quick to think that if you are wanting to go to Oktoberfest that you should head to Munich in October (wrong) or that if you want to see some of the magical German Christmas Markets that December is the perfect time (possibly, but I've got some insider tips for you on that one!)
Regardless, start with the general question of "Is there anything specific I want to do in Germany" because that is going to help narrow down the best time to go for YOU. Want to hike some of the most beautiful Alps? June is wonderful! Or maybe you'd rather ski the Alps. February is a great month for that.
So, let's break this down by seasons. (Spoiler Alert, every season is going to be "my favorite season" #SorryNotSorry)
Planning a Trip to Germany? Join Our Fantastic Traveling in Bavaria Facebook Group!
Fall Season in Germany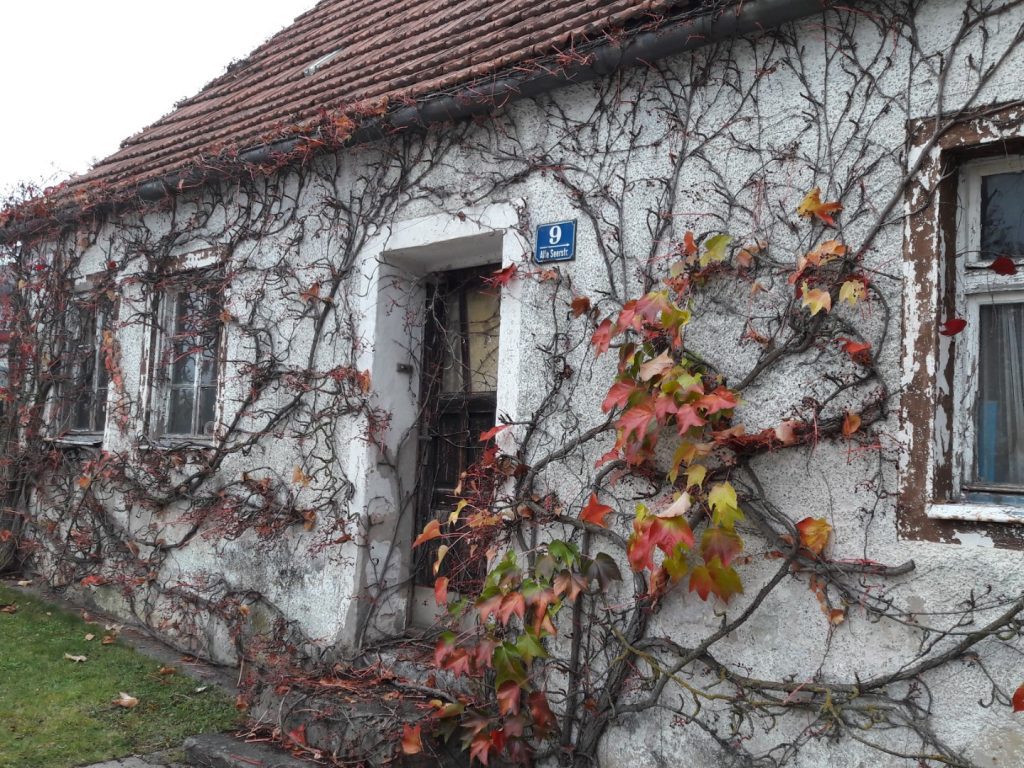 I LOVE autumn in Germany!!! The reasons are endless!
It's A Shoulder Season
Fall is often considered "shoulder season" for travelers, but I wouldn't expect no crowds in tourist locations by any stretch of the imagination. I've also never found the fall to be cheaper either, but it is a bit more quiet compared to Germany in August, for example.
Fall Foliage
The weather in Germany in October is the perfect recipe for stunning fall leaves. The oranges, reds, and yellows will take your breath away. This is a great time to take a roadtrip on the Romantic Road, winding along the streets surrounded by trees or do a road trip in the Black Forest to enjoy nature's show. You can expect temperatures in the mid 40s, sometimes 50s (not hot and not too cold!) and it never hurts to have an umbrella when traveling in Germany in any season!
Fest Season
Ah!!! I LOVE Fest Season!!!!
While most people are going to rush to Oktoberfest, the reality is that most towns and villages in Germany host their own fest. Granted, most have nothing on the scale of Oktoberfest, but that can make it even better, to be honest.
You Might Be Interested in Reading My:
Sure, Oktoberfest is often a "Bucketlist" item, but if you want an Oktoberfest feel without as many tourists, the Stuttgart Cannstatter or the Gäubodenvolksfest in Straubing are just a few examples of amazing, big, and fun fests in Germany. But don't write off those small towns just yet. Some of my favorite fests are the small village volksfests!
Oktoberfest: If you are planning on going to Oktobefest in Munich, don't plan on an October trip. Instead, Oktoberfest actually starts in mid September and ends the first Sunday of October. Plan accordingly and book WELL in advance, at least 6 months out, if not more.
Almabtriebs: Many tourists haven't heard of the Almabtriebs, which is a giant shame. Take everything we all love about a traditional fest (Oompah bands, lots of beer, handmade goods, delicious foods) and add cows (yes, cows) to the mix and you've got yourself an Almabtrieb!!! These seasonal festivals are only in the fall and in the mountains as the farmers bring their free ranging cows down from the Alps for the winter. It's a celebration unlike anything you've ever been to and one you'll remember for the rest of your life!
Best Cities to Visit in Germany in the Fall
Munich for Oktoberfest
Stuttgart for Cannstatter
Lake Constance
Black Forest
Heidelberg
Visiting Germany in The Winter
Read My Germany Winter Packing Guide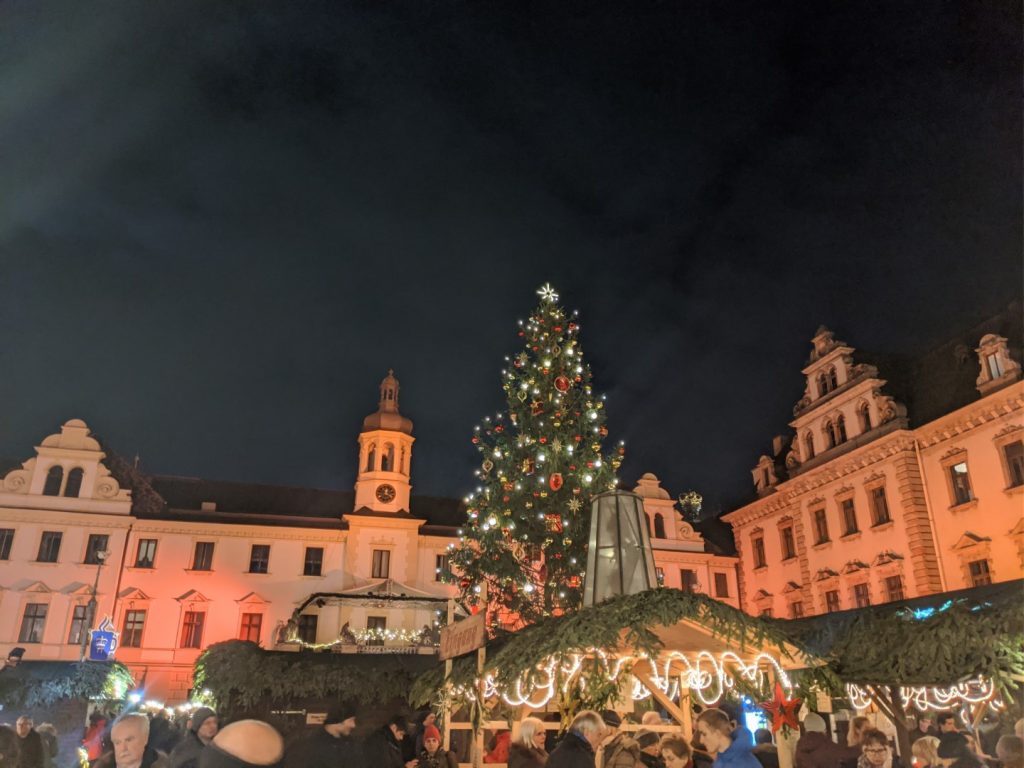 Winter in Germany can be a surprisingly great time to visit!
Christmas Markets
Ah, the magic of Germany in the wintertime!!!! The biggest draw to traveling to Germany in the winter are the Christmas Markets. It doesn't matter what corner of Deutschland you are traveling to, you'll find a charming, beautiful, traditional market everywhere!
Christmas markets traditionally start the first Sunday of Advent (usually the last weekend of November). Some run just a weekend or two, others the whole advent season, and some will even go a week or so AFTER Christmas.
Pro Tip: Fly into Germany ON Thanksgiving or Christmas day for cheap flights!! A lot of people don't like traveling on the holidays. However, those are the days you can get great deals on flights. Since some of the big Christmas markets are even open after Christmas, it could be worth waiting until the 25th to arrive and still get in some markets!
Extra Pro Tip: If you plan on going to the best places to visit in Germany in winter for Christmas markets, you'll want to book hotels and accommodations well in advance, as they book up fast for those peak times.
Read my 2 Days for the Rothenburg Christmas Market Guide or Get my Grandpa's Gluhwein Recipe Here.
Skiing in Germany
Another appeal to visiting Germany in the winter is to go skiing in the Alps. While most people will flock to places like Garmisch for the Zugspitz, there are plenty of other places in the Bavarian Alps that are great for beginners and moderate skiers.
Even in winter months like February, you'll want to book accommodation for skiing well in advance, even in the not as popular locations if you want good rates or to be close to the lifts. February and even March are some of my favorite times for skiing after all the traveling from Christmas markets has died down, but really, anytime from November through April you can still find glacial spots to hit the slopes.
General Travel
While winter in Germany isn't my ideal time for travel (apart from the above reasons), it can actually be quite a magical time in Germany. Snow capped mountains, castles draped in white, and far fewer tourists make it a reason to not write off Germany in January or other winter months. The weather in the winter gets cold, but typically isn't so blustery and freezing that it's miserable. Instead, with the right amount of layering and proper shoes, it's really not hard to spend your days outside sightseeing.
Best Cities To Visit in Germany In Winter
For Christmas Markets: Rothenburg Am Tauber, Trier, Nurnburg, Dresden, Cologne, Dinkelsbuhl
For Skiing: Garmisch, Winterberg, Oberamagau, Mittenwald
Germany in May And the Springtime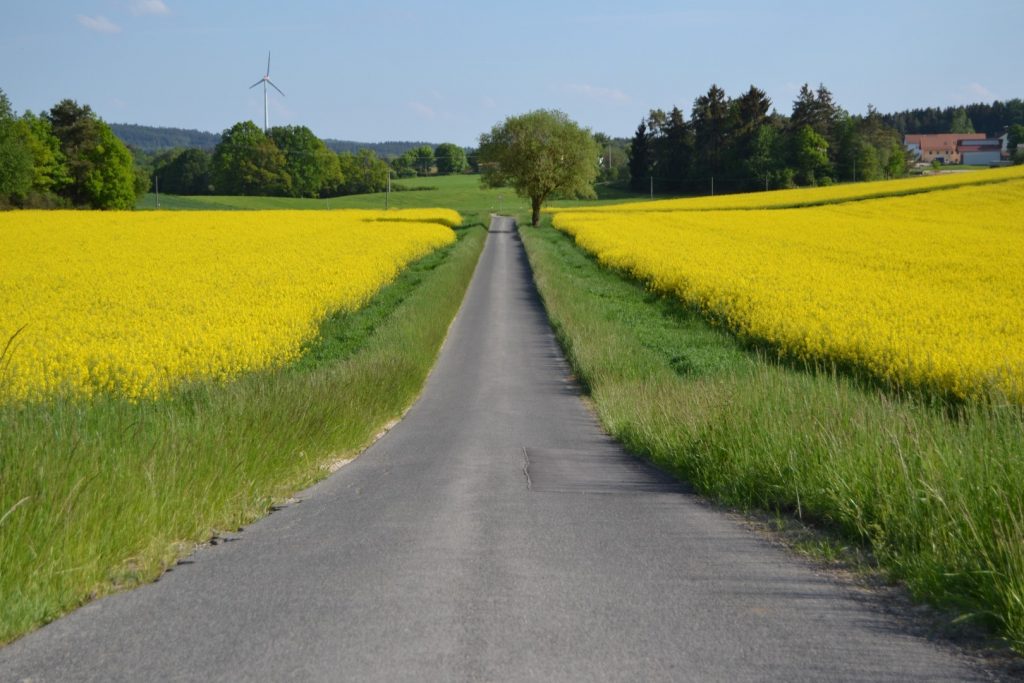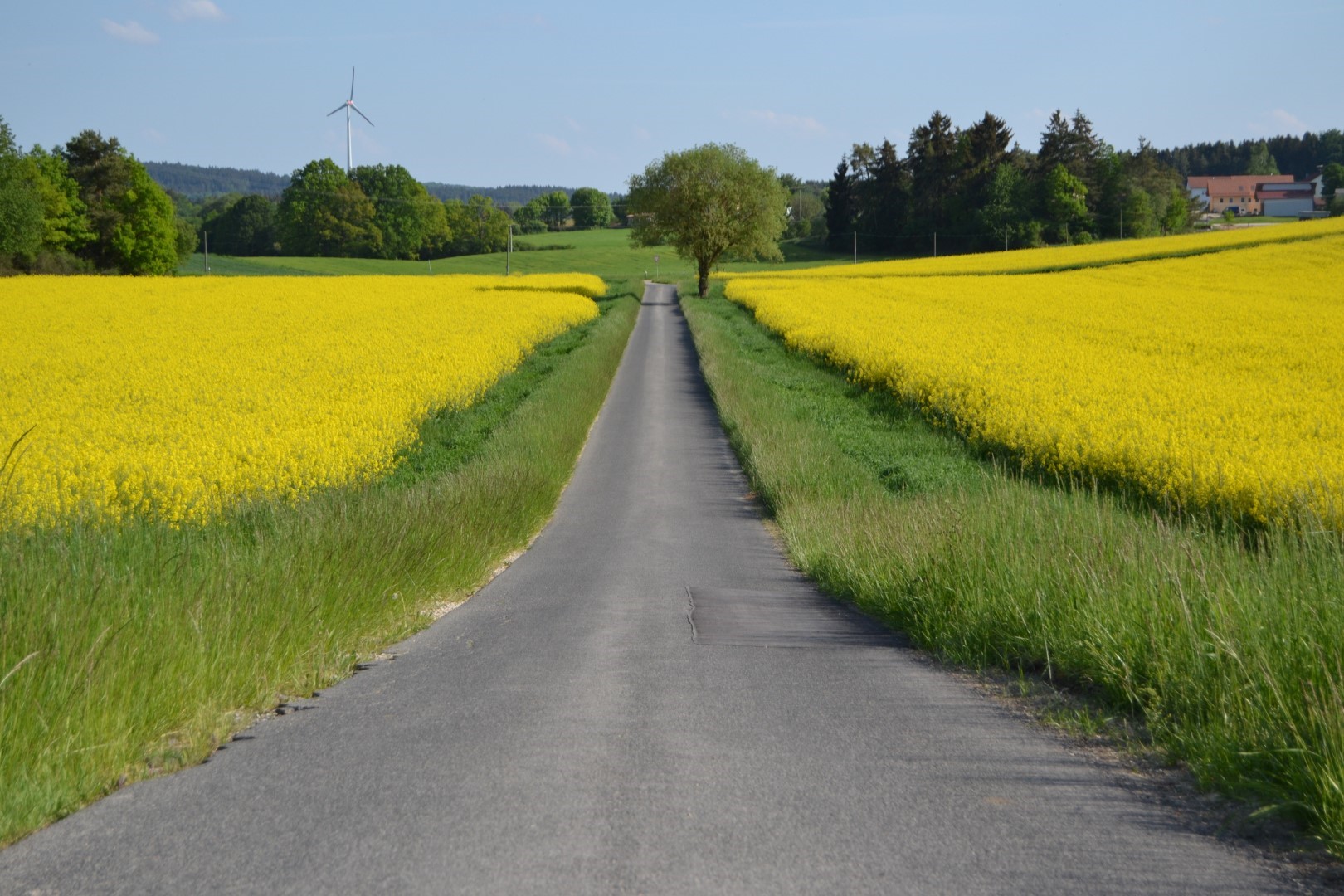 While April can still be a grab bag of weather (meaning, be prepared to pack for multiple seasons in just one trip), it is the beginning of a really wonderful season in Germany.
About mid April, the canola fields all start to explode and you will wonder if you've ever seen fields so beautiful. You'll also wonder where the nearest pharmacy (Apotheke) is because you'll be in desperate need of allergy medicine! There would be times that I would open my apartment windows in the spring and an hour later, everything was covered in a light smattering of yellow pollen!!! If you can see through puffy eyes, it is an absolutely beautiful time to drive through the countryside!!!
Germany weather in May is where things really start to shine (literally and figuratively). Mid to late May is actually one of my top recommended times for when to visit Germany if you are basing when to go purely on weather. The days and temperatures are often perfectly pleasant, making sightseeing so enjoyable and long hours outside at the biergartens top notch!
Aside from a lot of public holidays (check your dates, especially if traveling in Bavaria) where things might be closed, springtime in Germany has cafes opening up and top places to visit ready to welcome tourists.
Best Places to Visit in Germany in Spring
To be honest, I don't think there is really a bad place to visit in the spring. Well, if you are wanting hiking, I might still avoid the mountains as they could still be quite muddy, or even snowy still. Other than that, springtime in Germany is an absolute joy to travel in!
Visiting Germany in the Summer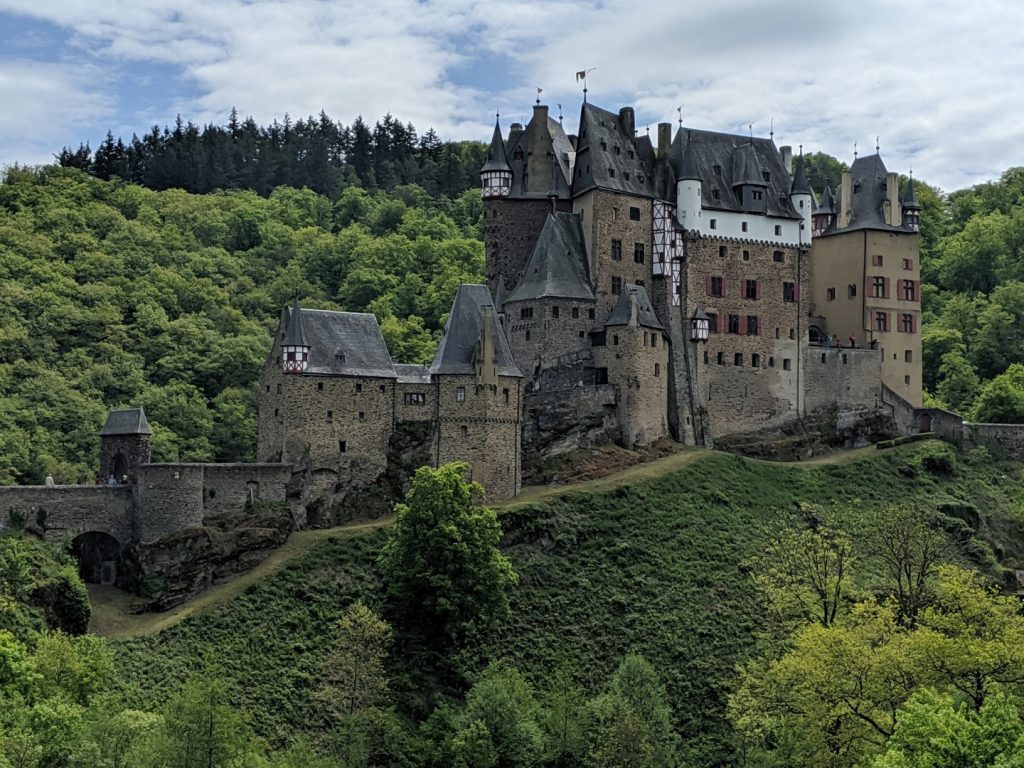 Summer in Germany is peak tourist time, but for good reason. The days are extraordinarily long (there are nights where it's still light at 10:30pm!) Depending on your tolerance for heat, there are really only a few weeks each summer that it gets uncomfortably hot (often in August) but July seems to be getting warmer and warmer as well.
Pro Tip: Many homes and apartments in Germany don't do Air Conditioners. If you are staying at an AirBnB in July or August and this is important to you, make sure to inquire about one. Most main chain hotels will have A/Cs but many pensions will not.
Best Places to Visit in Germany in Summer
Rugen Island (for white sand beaches)
Rhine and Danube River Cruises
Lake Constance
Any main tourist destination (Rothenburg, Munich, Berlin, Neuschwanstein etc) just know that all the other tourists will also be there enjoying Germany with you.
Germany Weather Month To Month Comparison
If you are wondering what the weather is like in Germany month to month, this is a VERY general observation from someone who has lived here for many years. Not to get politcal, but even since I moved to Germany in 2011, I have seen the weather change though, so take this all with a grain of salt. For example, the first few years here, it would only get above 90 degrees (F) maybe a few weeks in August. The last few years, this hasn't been true. The hotter summer days are getting more frequent. Also, just because I say that a particular time of year is not the rainy season, it doesn't mean that it can't rain! I'm not a weatherman, just a blogger so be kind with my observations. Also, note that the weather might be a bit different in Hamburg compared to say, the Zugspitz, so this is just a general comparison to help give you a brief overview.
January Weather in Germany
Days are short in January and while this could be argued to be the coldest month, snow isn't a guarantee (unless you are in the Mountains). While snowstorms aren't unheard of, blizzards and blustery weather isn't extremely common in Germany. Instead, expect temperatures around freezing, sometimes dipping a bit below. When it does snow, it can be anywhere from a dusting to several inches. That means plenty of warm layers and weather appropriate clothing no matter where you go. In the North, you might find more rain than snow, but no matter where you are in Germany, rain gear is always a good idea.
You can expect the Germany Temperature in January to be around -12°C (30°F)
Germany Weather in February
February in Germany can start to be a bit bleak. It often gets quite gray starting around February and can last for what seems like ages. The days are still short and the temperatures are still lingering around freezing. Rain and snow are big possibilities.
You'll still need your warmest winter and rain gear during February.
Weather in Germany in March
The first hints of spring start to pop their heads up in March, but that doesn't mean you are out of the winter yet. In the South, snow can still be a possibility (albeit typically very small amounts) and weather can be quite finicky. Some days it can be a pleasant 9° or 10°C (50°F) but other days can still be around freezing. That means you should have clothing for quite the array of weather, yes, including rain gear!
Germany Weather in April
Spring has Sprung! April can still be a bit wet in Germany, but the longer hours of daylight brings the promise of more sightseeing! Flowers and canola fields in bloom make it a stunning time to drive around the countryside on the sunny days. When the sun is shining, you can be rewarded with temperatures in the 50s (10-12) but don't put away that umbrella quite yet.
While you probably don't need a winter coat (although don't write off snow so quickly! It does happen!) April is the perfect time for quality layers. Cool mornings and evenings give way to lovely afternoons.
Germany Weather in May
May weather in Germany can be absolutely wonderful. If you haven't picked up on the trend yet, rain is always a possibility, but the temperatures warm up enough to make being outside absolutely delightful when the sun is shining. Sunlight hours continue to linger later and later. You'll still want some light layers though, as sometimes a light long sleeve shirt is perfect, other times just short sleeves will do just fine as well.
Germany in May is one of my favorite times to travel in the country. It's not quite full tourist season yet, the weather is not too hot, not too cold, and everything is open and ready for business. The only hesitation is if you hit a rainy patch, it can be quite cool and obviously wet.
Weather in Germany in June
Germany weather in June is a big reason why this is the start of the main tourist season. Temperatures are often in the mid 70s (although can easily get into the 80s as well) (20-28 C). With upwards of a whopping 16 hours of daylight, you can pack so much into your days sightseeing the country! Days are often long and sunny, but no, that doesn't mean you can leave the umbrella behind!
Germany in July Weather
July weather in Germany is officially summer (finally!) Break out your tank tops and shorts and enjoy 80-90 days (24-34 C). While the 90 degree days are not as common (although slowly increasing year by year) you can still expect really great summertime temps to enjoy your time sightseeing. Germany weather in July can be a bit cooler in the North and warmer the further south (away from the Sea) you go. The days are still extremely long as well (the Sun can rise around 4:30am and doesn't set until around 10:30pm), so bring your eye mask when you pack your summer clothes!
Germany Weather in August
Weather in Germany in August can really start to heat up. This is typically the hottest month of the year with temps ranging anywhere from upper 80s even tipping in around 100 (not EXTREMELY common, but never say never!) (30-37 C). August weather in Germany doesn't bring as much rain as other months and while that umbrella doesn't need to be in your day bag constantly, it should still be in your suitcase just to have on hand. Make sure you bring your swimsuit and plenty of sunscreen, as this the perfect month for the pool, lake, river, and beach side days.
However, with Germany August weather being it's warmest combined with most schools having their summer holiday, you can expect many locations to be VERY busy during this time. Many families who own local restaurants and shops will also take this time off for their own holiday as well, so it's not uncommon to find many mom and pop places closed temporarily as well while they are on their own vacations.
Weather in Germany September
Germany weather in September often starts off pretty warm still but quickly cools back to the pleasant spring temperatures of pleasant 70s (20 C ). As autumn quickly closes in, temps can quickly take on a very "fall-like" feel making you pull out those warmer long sleeved shirts and maybe even tossing on a scarf. Light jackets are good to have for layers as well. Those long days of summer are also quickly diminishing but sunset still isn't until around 7:30pm, leaving plenty of quite pleasant hours of the day to roam and wander.
September weather in Germany means the possibility of more rain as well. If you are heading to Oktoberfest, you'll want to keep an eye on rain clouds and head inside a tent because if it starts to rain, good luck finding a seat!
Weather in Germany in October
October weather in Germany is quintessential autumn! Wrapped up in a few light layers, you'll be comfy and cozy. Expect temperatures around the 50s (13-15 C) and yes, the (always) possibility of rain. These are the days that the mornings are crisp, the afternoons pleasant, and the evenings perfect for a bonfire! You can't get more "Fall" than this!
Weather in Germany in November
Germany weather in November quickly can take a turn for the cold. While it's not unpleasant at all (still quite mild actually- 30s and 40s ish Fahrenheit), you'll definitely want to consider some warmer layers. If visiting Germany in November (especially the later part of the month), you might even find some snow. However, with great airfares on Thanksgiving day and Christmas markets already starting at the end of the month, November is absolutely a time to consider visiting Germany!
Germany Weather in December
Oh the weather outside is frightful! Actually, no, it's not! Weather in Germany in December is yes, cold. Yes, it is often snowy. But with the temperatures rarely dipping far below freezing, the snow falling on the Christmas Market stalls and castles is absolutely enchanting. You'll absolutely want your warmest winter gear. I personally like to have long underwear, warm boots, and my best weatherproof winter coat. But with all those thermal layers on, you'll be surprised at just how long you can be out exploring those cobble stoned streets and markets (and hot Gluewein helps, a lot, too!)
So when is the best time to go to Germany?
As you can see, it's not just a straight shooting answer. For general sightseeing, I would say May is a really great month, as is September (those "shoulder seasons" are typically always a good answer!) During both of those time frames, you can get a healthy dose of German culture as well as hopefully great weather to make for a wonderful trip.
Best Time To Visit Berlin
June can get quite wet and rainy in Berlin but July is often high tourist time in the city. So, when is the best time to go to Berlin? We went in November and had a great experience. Sure, it was damp and a bit grey, but the crowds were relatively gone and it wasn't freezing. Otherwise, I'd pick May to be a great choice.
Best Time To Go to Munich
I LOVE Munich in the summer. Yes, there are plenty of other tourists, but the city is bustling, moving, and is such a fun people watching place! The English Garden is a pure joy to be at during summer months (beer gardens, open green space, and even surfers (yes, surfers!) on the river!) So for me, the best time to go to Munich is May through July.
Obviously, another top time to be in Munich is the end of September through the beginning of October if you plan to be there for Oktoberfest.
Read My Munich Itineraries. One Day, 2 Days, or 3 Days in Munich
Best Time to Visit Hamburg
September and October can be really great months to visit Hamburg, as the temperatures are extremely nice during these times. By mid to late October, there are fewer tourists and still plenty to do in the city. However, if you are wanting festivals and culture, then the summer months are a better option for you.
Best Time To Visit Frankfurt
Despite one of the largest airports in Germany being located in Frankfurt, I actually don't like to spend a lot of my time in the city itself. I personally think that there are far better locations nearby (The Black Forest, Baden-Baden, the Rhine Valley, etc) but if you are set on visiting Frankfurt (or agree to go to the surrounding locations) then again, May- September are very good times. Like most of Germany, the weather is very temperate during these times and the days are long for plenty of exploring.
Not sure when the best time to go to Germany for YOU would be? Just post below in the comments what you are looking for in your trip and I'll do my best to help you decide.