[This post may contain affiliate links where we earn a small commission. Please see our disclosure for more information and thank you for supporting our site so we can continue to bring you awesome content for your travel inspiration!]
Few things in this world are truly "Off the beaten path" anymore. And I'll admit that the Linderhof Palace isn't some unknown secret, but it definitely is an underrated gem, that's for sure! It often, unfairly, gets overshadowed by its famous sister castle, the Enchanting Neuschwanstein Cinderella Castle. But, what many tourists (especially those on fast, whirl-wind tours) don't realize is that you can easily do both the Neuschwanstein Castle AND Linderhof Palace all in one day and it is absolutely worth it!!!
In this guide, I'll go over why you really need to put Linderhof on your "Must-See" list while in Germany as well as how to get there, some insider tips for your time, and even give you a full day itinerary for seeing additional sites in the area. So let's dive in.
You Might Also Be Interested in Reading:
Linderhof Palace
King Ludwig II loved the retreat, solitude, and beauty that the Bavarian mountains provided and eventually wanted to spend most of his time in the Alps (can you blame him with those views!?) King Ludwig is known for his fantasy castles and obsession with building insanely elaborate (and expensive) palaces all over his kingdom, one being the Schloss Linderhof.
Originally, there was a forester's house in the mountains and only 4 years after being crowned, he already had high dreams for what Linderhof could become at this particular site. He began reconstruction on his father's previous hunting lodge (Known as the "Königshäuschen" or Royal Lodge) and at one point, the outside looked like a beautiful, yet traditional Bavarian Alpine house from the outside. Over the years, there would be numerous phases of building and then rebuilding, eventually leading to what we see today and he then moved forward with the surrounding park and palace grounds.
Unlike many of his other castles, he actually did get to live and enjoy the Linderhof Palace. He eventually even spent the majority of his time there rather than in Munich. However, like so many of his other projects, despite him being there to enjoy much of the palace and beautiful grounds, it was still a work in progress when he died. For example, the grandiose bedroom was still in the middle of being "re-done" when he died a mysterious death.
Linderhof Palace Location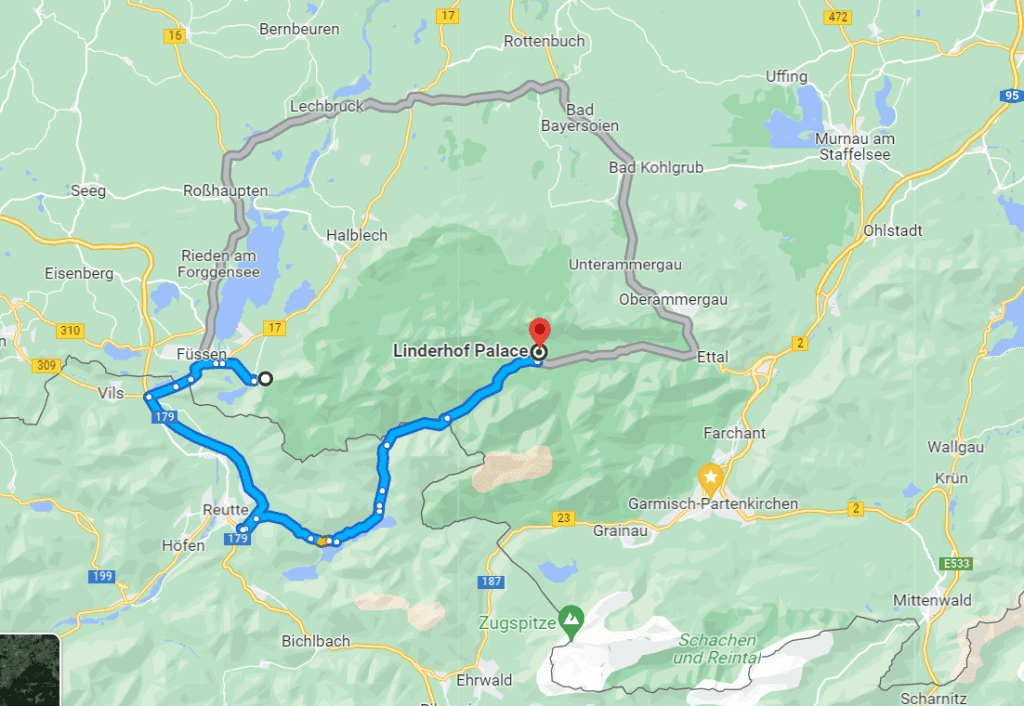 The Linderhof Castle in Germany is in an absolutely stunning scenery of the Bavarian Alps and is nestled into the gorgeous Ettaler Forest. The nearest town to Linderhof is Ettal (more on this hidden gem below!) which is only about 10 minutes away from the Linderhof Castle.
While many people make a day trip to Neuschwanstein and Linderhof from Munich, if you are looking to relax your schedule a bit, a few other great options to do a day trip to the castles are:
Garmisch to Linderhof: 30 Minute Drive. There are tons of Things to do in Garmisch (and nearby) and this would be a great day trip if you use Garmisch as a base.
Oberammergau to Linderhof: 15 Minute Drive. Another popular place to either stop for a few hours or even stay overnight is Oberammergau
Munich to Linderhof Palace: 1.5 Hour Drive. I'll go over more about how to make a full day to Linderhof from Munich below
Neuschwanstein Castle to Linderhof Palace
Distance: 45 Kilometers/ 28 Miles
Time: Approximately 1 Hour Drive
One of my recommendations in my
10 Days in Bavaria Itinerary
is to do both Neuschwanstein and Linderhof in 1 day. You can easily get to Linderhof as early as possible, spend most of your morning here, then make the 1-hour drive from Linderhof to Neuschwanstein and then spend the rest of your day there.
Getting from Linderhof to Neuschwanstein
You may be noticing that I keep mentioning drive times rather than trains/ buses. While there are public transportation options, remember you are in the mountains at this point and so there aren't a ton of fantastic options that are quick. It would take over 3 hours by train from Linderhof to Neuschwanstein.
This is why I highly suggest that you have/rent a car for the day. Even if you just rent a car for 1 day from Munich, it will be well worth it to be able to not only see SO much in your day (Waaaay more than a tour option would give you) but you'll also have a lot of flexibility for what exactly to do.
Rent a Car
Drive From Linderhof to Neuschwanstein:
From Linderhof, you can stay on the Bundestrasse (Highways) in Germany. You'll head back to Ettal, through Oberammergau (an optional stop if you have enough time in your day, but that will be pushing it), continue North, and then eventually loop back down to head South to Neuschwanstein. Plan on a little over an hour for this route.
A slightly faster route from Linderhof to Neuschwanstein is to dip into Austria and then up to Neuschwanstein. This is an absolutely beautiful route. Just know that if you drive on any Austrian Autobahn, you are required to have an Austrian Vignette (can get at any gas station on the border) but you shouldn't be routed to an Autobahn to get between the two castles.
Pro Tip: There are some seriously windy roads in this area. If you get car sick, be sure to have some anti-nausea medicine!
Insider Tip: If you take the route in Austria, you'll be just a few minutes away from Highine 179, which is an insanely long, dizzying suspension bridge over the mountains and well worth a stop!! Granted, you'll already be having a VERY full and busy day, so plan accordingly.
Linderhof Castle Tours
If you don't want to/ can't drive yourself to the castles, another option is to find a tour.
Pretty much all tours that include going to Linderhof will also include going to Neuschwanstein. Honestly, I think doing tours to these castles is rushed and really all they are doing is getting you there, but I also understand if you don't want to rent a car and
drive in Germany yourself
. Check out some of these tours to see if one will work for you.
Group Tour From Munich
: This group tour is your generic bus tour that is affordable yet doesn't have much customization to it. It's a long day (10.5 hours) but you get to see both castles.
See This Tour Here
Small Group Tours:
If you want an affordable tour but don't want to be on a big tour bus, look into smaller group tours,
like this one
.
Private Tour:
What is fantastic about a tour like this is that it's completely customizable to you. If you want to stop at Oberammergau or Ettal, just have a say and it can be coordinated!
Book This Tour Here
Schloss Linderhof Tickets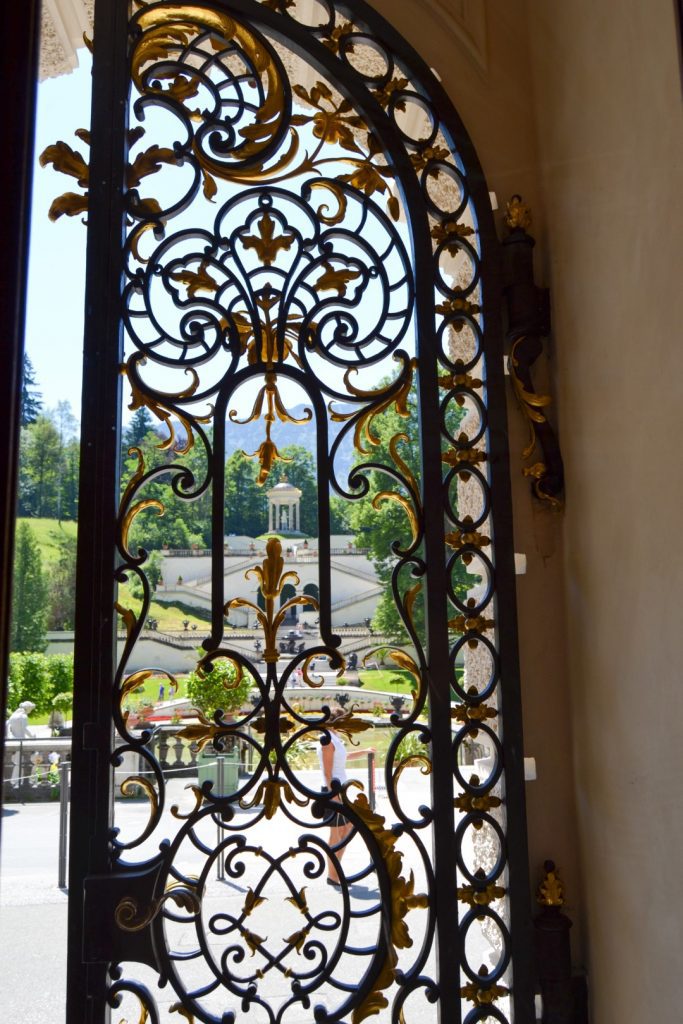 You can either purchase your Linderhof Palace tickets online or in person. If there are no more tickets online, there are almost always some available on-site, just plan on arriving early to ensure you get them and in high tourist seasons, accept lines.
You can only go inside the castle itself with a tour. English and German languages are offered throughout the day. If you don't get tickets, you can still see all of the palace grounds and park for free without a ticket.
Cost:
Adults: €10
Children: 18 and Under are free (note that strollers are not allowed. If you have a baby, be sure to have a carrier)
Note: You can still enjoy all the palace grounds for free without a ticket. You only need a paid ticket for access into the castle and tour.
"Königsschlösser" Combination Ticket
Another option if you plan on doing both a Neuschwanstein Castle and Linderhof Palace tour is to get the "King's Castle" Combo ticket which gets you entrance to Neuschwanstein, Linderhof, and the Herrenchiemsee palaces once under one ticket.
Cost: €31
Note: There is both a summer and winter season. Check the website for the winter dates and costs
Opening Dates and Hours
The palace is open year around but you can book tickets within that current "season":
Summer: April 15-October. Hours: 14 9am-6pm
Winter: Oct 16- April 14. Hours 10am-4:30pm
Important: The palace grounds are situated on a huge amount of land. If you have a designated tour time, you'll want to plan for plenty of time to walk to get there.
Visiting Linderhof
As you start to tour differing King Ludwig Castles, you'll notice a theme: Opulence! And the Linderhof Castle (and surrounding grounds) are no exception! In fact, Ludwig loved the Versaille Palace so much, he wanted a palace that could rival the Versailles in beauty, which is exactly what he intended with the area of Linderhof. However, even after his architect scaled back, they realized that the small mountain valley just wasn't going to allow him to do all that he wanted. (Fun fact: he then scrapped the full Versaille Idea at Linderhof and then decided to do those plans at what is now another one of his famous palaces; the Herrenchiemsee on an island in the Chiemsee (lake in Bavaria).
With that being said, he didn't necessarily dial down on the lavishness of Linderhof. The buildings are still dripping in Baroque beauty, the gardens are extensive and sprawling, and with the mountains as the backdrop, it's a jaw-dropping scene to be seen!
How Much Time Do you Need at Linderhof?
The tour of the castle itself is only about 30 minutes. However, to truly enjoy the entire estate, gardens, grounds, and other buildings, you'll want at least 3 additional hours (maybe 2 if you really want to squeeze in a few other things in the day).
Book an Early Tour
I recommend getting to Linderhof as early as possible, preferably with one of the first tours of the day. This way, we can have plenty of time to explore some other fantastic locations in Bavaria! If you get one of the first tours, it's a great way to start your time off at Linderhof because you'll get plenty of context and history so that you can really appreciate and enjoy the rest of your time on the grounds. Plus, this way, you won't have to keep looking at your watch worried about missing your time slot!
See the Palace Grounds
As hard as it was, if you got one of the first tours, you probably made your way quickly past a lot of the surrounding park grounds and got to the main palace. Don't worry- after the tour, we'll come back to see it all!
Water Parterre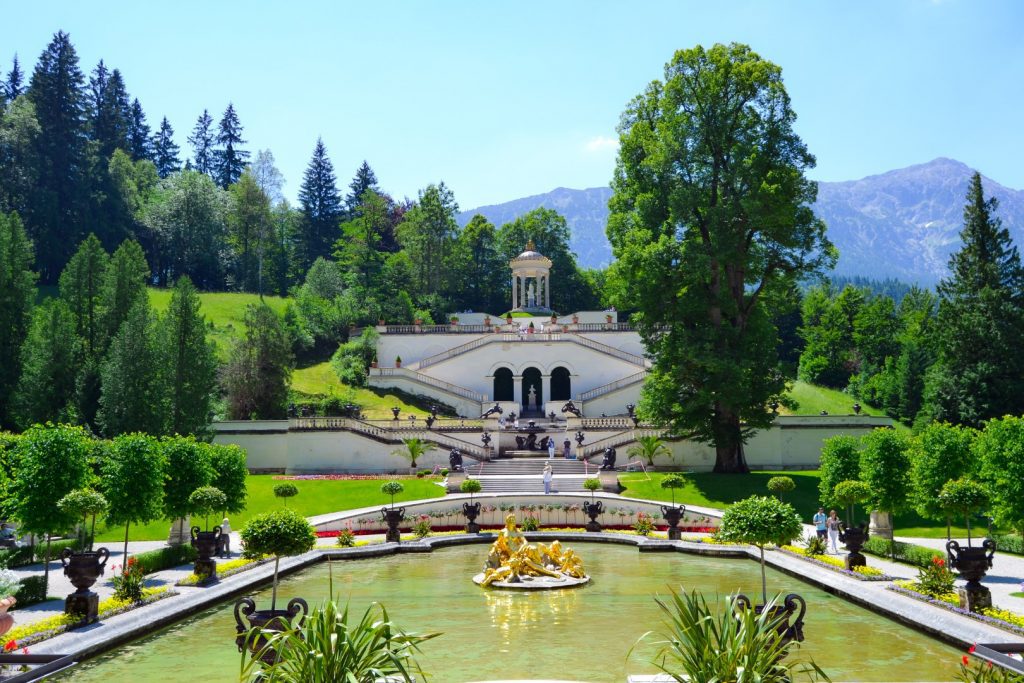 From the front of the castle, turn around and gaze down the "Water Parterre " (Water Gardens). I just love looking at the stunning gardens with the mountains looming in the background!
From here, walk down next to the pond, stroll past the Königslinde ("King's Lindon Tree" ), and go up to the Temple of Venus. There are a couple of side gardens you can see as well
Temple of Venus
At the Temple of Venus, turn back around and look back at the palace itself. It almost looks small in comparison to the Alpine Mountains!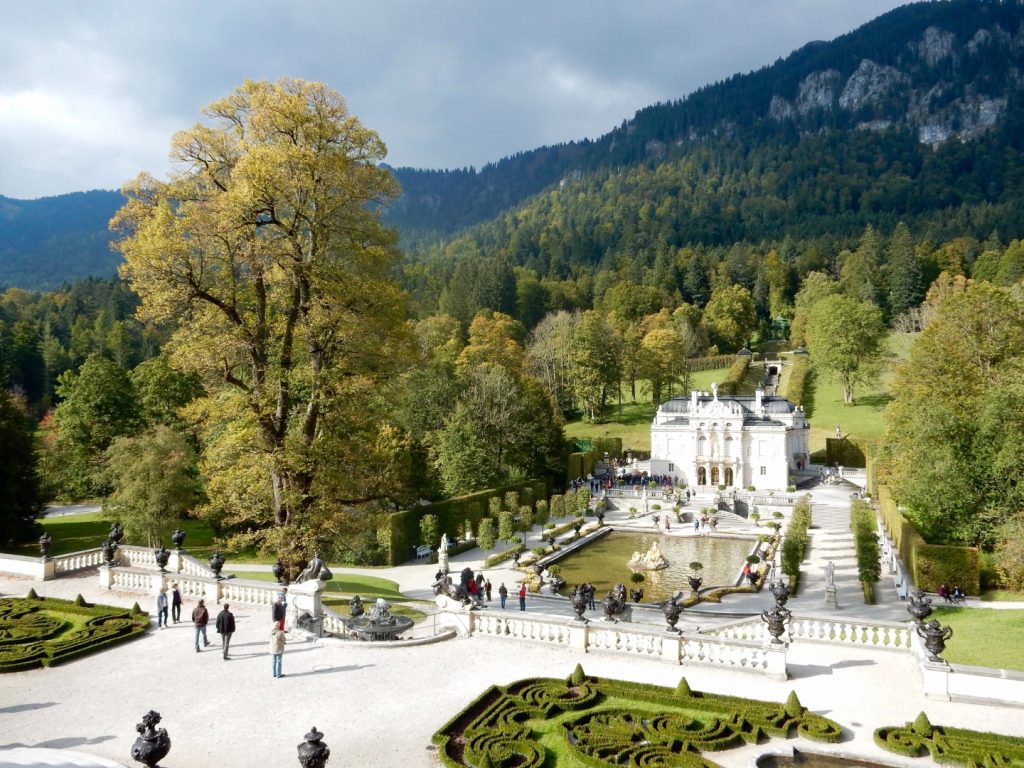 Wander the Park
The park itself is huge. If you've got the time, from the Temple of Venus, find the path on the right (looking back at the palace) and just stroll along that enjoying the beauty of the area. Follow the paths that lead you to the Moorish Kiosk.
If you don't have a ton of time, instead of taking the side paths, head straight back up towards the palace and see the other gardens that branch off from the main areas and eventually make your way up to the Cascade and Music Pavillion.
Moorish Kiosk
Since King Ludwig was so obsessed with fantasies and "exotic" cultures, it's no surprise he loved this oriental style building, which he then turned into his own personal tea room! He'd have people dress up in traditional oriental outfits as they all sipped on their tea! (Oh to be a fly on the wall in there!!!)
Linderhof Palace Grotto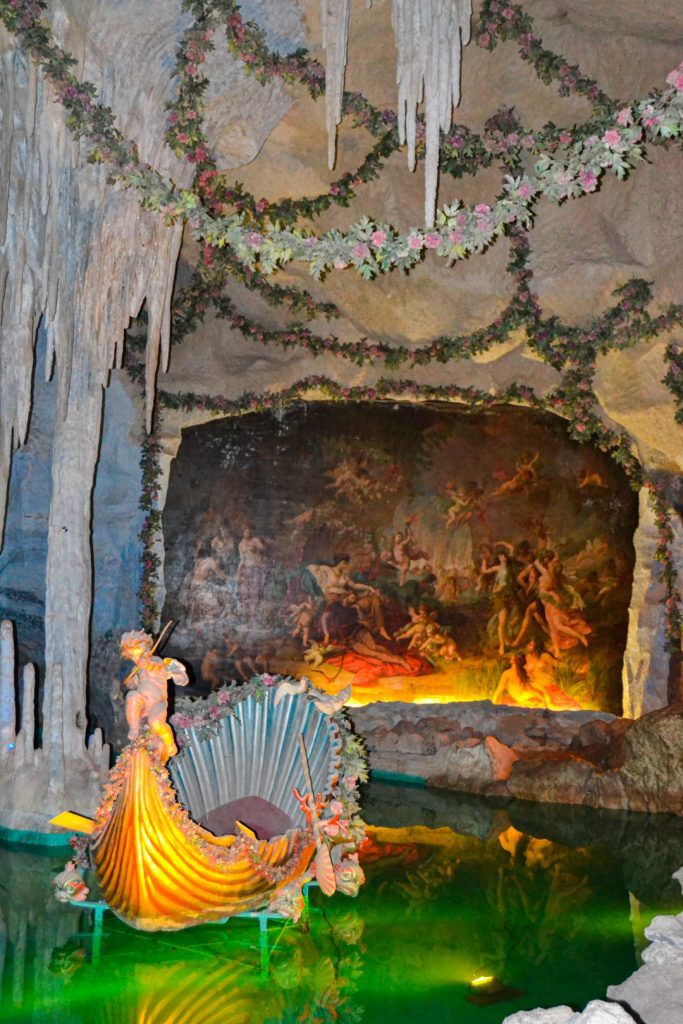 From the Moorish Kiosk, follow the path back and head to the Venus Grotto (Linderhof Grotto). Honestly, I often feel that it is this grotto that actually embodies "Mad" King Ludwig II best. I mean, how many people are like,
"Hey, I'd like to build an artificial cave and pond underground. Actually, let's make it a grotto. Now that I think about it, what would REALLY make this Grotto great is if we put a boat in the shape of a sea shell in the pond. Also, and can we have a painting of my favorite Wagner Opera on the wall to look at? Oh, and have you heard of this thing called "electricity" that was just invented? Yeah…I want THAT in there, too!" (~LeAnna, impersonating what I can only imagine was King Ludwig's thought process)
I mean, how extra was King Ludwig!? And I am here for it! Supposedly, he would sit in the boat sipping wine while listening to Wagner! The more I have learned about King Ludwig, the more I think we'd be friends!
*Important: The Grotto is currently closed for restoration (expected reopening 2024)
If the path is open, walk along the outskirts of the grounds from the Grotto to the top of the cascade. Otherwise, follow the signs for the redirect which will still lead you to the cascades, you may just need to walk up some more to get back up to the top of the Music Pavilion.
Music Pavillion
Yet another fantastic water fountain and cascade leading up to a Pavillion at the top of the hill. From the Pavillion (and even above that) you can get some of the most amazing views of the palace and surrounding area!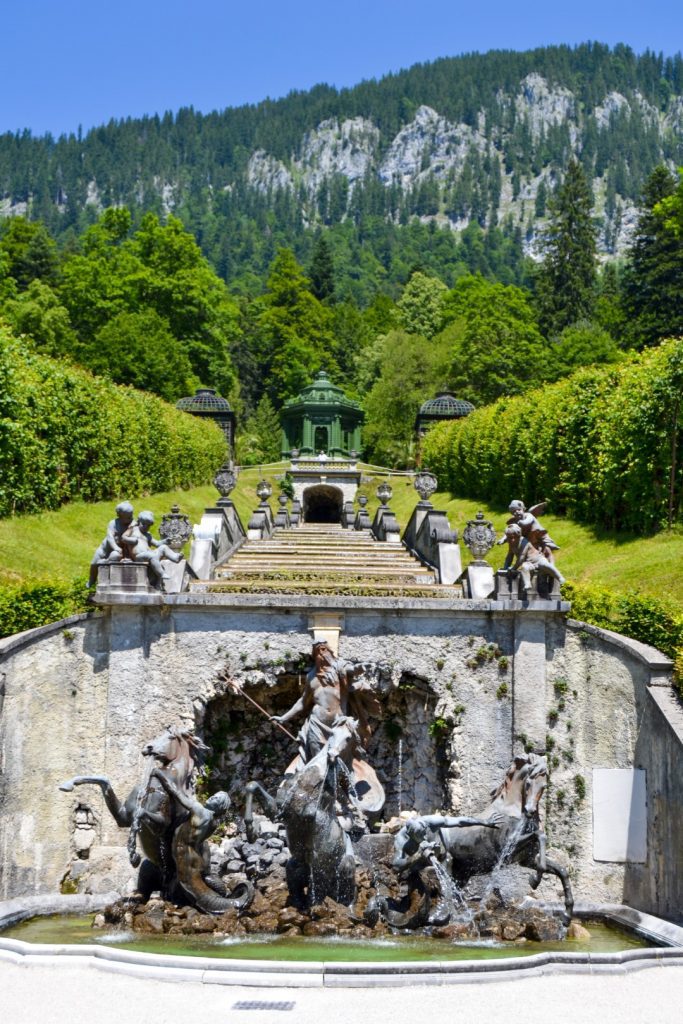 Cascades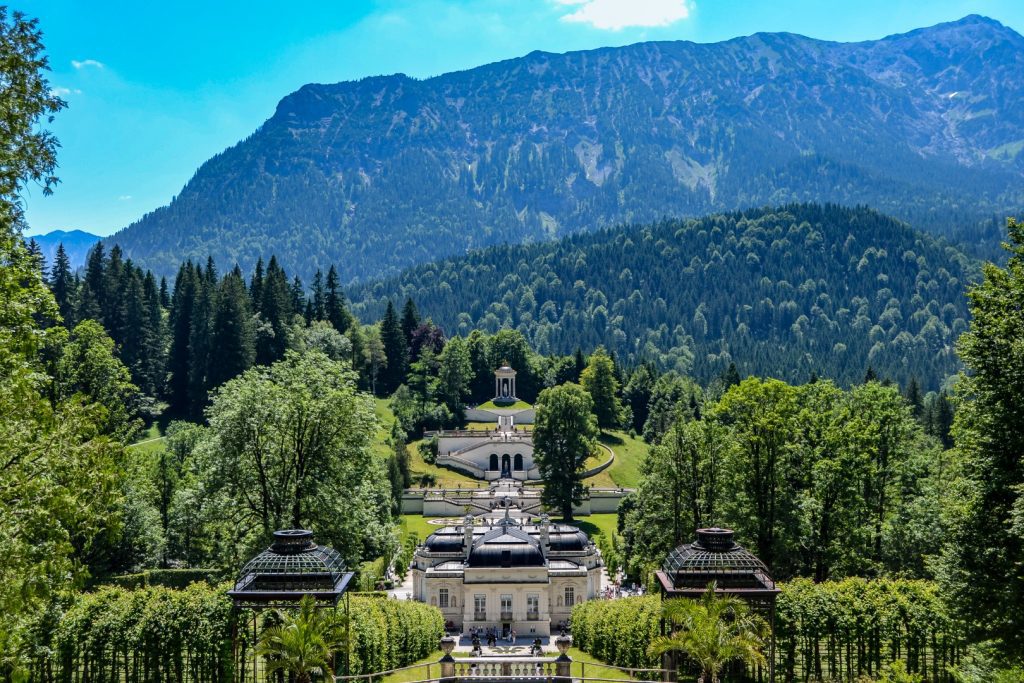 Just when you thought the beauty of these palace grounds couldn't get any better, you make your way to the top of the cascades and your breath is taken away. No wonder King Ludwig ended up spending so much time at the Linderhof Palace. I would too with these views every day!!! I love this view because you get to see all of the palace, from the cascades, to the castle, to the gardens, to the temple…all with the Alps towering over it all.
Schwanenweiher/ Swan Pond
From the main palace, you can start to make your way back in the direction of the car park. However, if you've got the time, consider stopping by the "Swan Pond." Like the Grotto, this is actually an artificially created lake.
You may have noticed Ludwig's theme with Swans (Neuschwanstein, for example, which is literally "New Swan Stone" aka the New Swan (castle) in Stone (mountains)). And while the fairytale animal actually ended up being quite fitting for his personality, it was actually a familial coat of arms, which Ludwig kept and honored in his buildings.
From the pond, you can head to the Historical Gate and Historial Bridge, and then be at the parking lot.
Munich to Linderhof and Neuschwanstein Day Trip
One of the most popular places people base themselves out of in Bavaria is Munich. Neuschwanstein and Linderhof are on my third day of my 3 Days in Munich Itinerary, but you can obviously do this day from other locations such as Garmisch. There are also plenty of other fantastic Day Trips from Munich as well
Get as early of a start as possible. Preferably, you'll want to be in the car headed towards those beautiful Alps no later than 7am. It will take about 1.5 hours just for the drive from Munich to Linderhof Palace (parking lot).
Try to have the earliest English Tour, for example, the 9:25am tour booked ahead of time
No matter what time your tour is, give yourself a minimum of at least an extra hour of wiggle room time. This gives you time for traffic, windy roads, as well as for parking, paying for parking, and then walking to the actual palace itself through the grounds.
Spend the majority of the morning enjoying all of the Linderhof grounds and buildings
Head to Ettal, just a 10 minute drive from Linderhof. Go to the brewery in town for a fantastic Bavarian lunch and fresh beer! If you had a beer at lunch, give yourself a little more time before driving by going into the absolutely stunning Ettal Abbey.
Now it's time to drive to Neuschwanstein. You can follow my step by step instructions for Visiting Neuschwanstein Here.
Get one of the later tours of the day so that you can wander around all the grounds of Neuschwanstein
Don't forget Hohenschwangau Castle!!! I suggest booking the very last tour of the day here.
Exhaustingly, get back in your car and make your way back to Munich. Crash in your bed dreaming of Swans, castles, and fairytales!
Linderhof Palace FAQs
Is Linderhof Castle Worth Visiting?
Absolutely!! It is a completely underrated gem and not as touristy as the neighboring famous Neuschwanstein. In fact, I recommend doing both Linderhof and Neuschwanstein in 1 day.
Can You Go Inside Linderhof Palace?
Yes. You must buy a ticket for a 30 minute tour and go with the guide. Tickets can be purchased both online and on site. Tours are offered in both German and English and run about every 10 minutes, offering plenty of time slots.
Can You Take Photos Inside Linderhof?
No. You can take photos all around the palace grounds, but photos of the Linderhof Palace interior are not allowed
How Long Does It Take to Tour Linderhof Palace?
The guided tour of the palace lasts only about 30 minutes but allow for several more hours to enjoy the park, gardens, grounds, and outbuildings of this fantastic location.
How Much Does it Cost to go To Linderhof Palace?
Current Prices are 10 Euro for admission into the castle. The grounds and garden are free of charge.
What's The Best Way to Get to Linderhof Castle?
Driving is going to be the best, quickest, and most flexible option. However, there are also plenty of tours that can be booked to go to Linderhof as well.
Can You Get from Munich To Linderhof Palace by Train?
Technically, yes. But it's not really worth it compared to driving. From Munich, it will take you at least 3 hours with usually around 4 transfers to get to Linderhof.
If you still want to take a train to Linderhof, you'll need to take a train to Oberammergau first. From there, then take the Bus 9622 in the direction of Linderhof Schloß. The bus from Oberammergau to the Palace takes approximately 25 minutes. Don't forget to use the Bayern Pass for the day.
How Did Linderhof Palace Get Its Name?
The Palace was once on a Forester's land and supposedly, "Linder" was the name of the family that used this land.
Is the Linderhof Grotto Open?
No. The Venus Grotto is closed for restorations until approximately 2024.
Why Was the Linderhof Castle Built?
King Ludwig II was obsessed with medieval heroes and the splendor of the castles that once housed royalties. He adored palaces like Versailles and wanted to create his own versions for himself. He also wanted to honor the beauty of the Bavarian Alps. All of these things could be done by creating a palace such as Linderhof.
Are Dogs Allowed at Linderhof?
Dogs are allowed on the grounds as long as they are on a leash. They are allowed on the tours only if they can be carried and are not a distraction to the tour.
Is Linderhof Wheelchair and Stroller Accessible?
Technically, the park is supposedly wheelchair accessible, but I recommend reaching out to the castle to inquire about this.
However, the palace tour itself is not wheelchair accessible and strollers are not allowed. If you are traveling to Linderhof with a baby, I highly recommend having a carrier.