[This post may contain affiliate links where we earn a small commission. Please see our disclosure for more information and thank you for supporting our site so we can continue to bring you awesome content for your travel inspiration!]
I've said it before and I'll say it again, there aren't a TON of "Off the beaten path" Germany locations. However, there are a few gems that I still like to recommend; Mittenwald, Germany being one of them!
Now, before I tell you all the great things to do in Mittenwald, I want you to know that this is also going to be a Garmisch vs Mittenwald Comparison. Why? Well, most people coming down to the German Alpine villages will often compare the two to decide which ONE to base themselves out of. If you are looking for Things to do in Garmisch, I've got you covered as well. Not surprisingly, they are both veeery similar, which is exactly why so many people in my Travel in Bavaria Facebook group ask, "Which is better: Garmisch or Mittenwald??"
So, let's knock out two birds with one stone and cover not only what there is to do in Mittenwald and if it is truly better than Garmisch or not. I'll also be covering how to get to Mittenwald, as well as some of the best hotels to consider, and we can never forget to mention where to get some fantastic German food as well!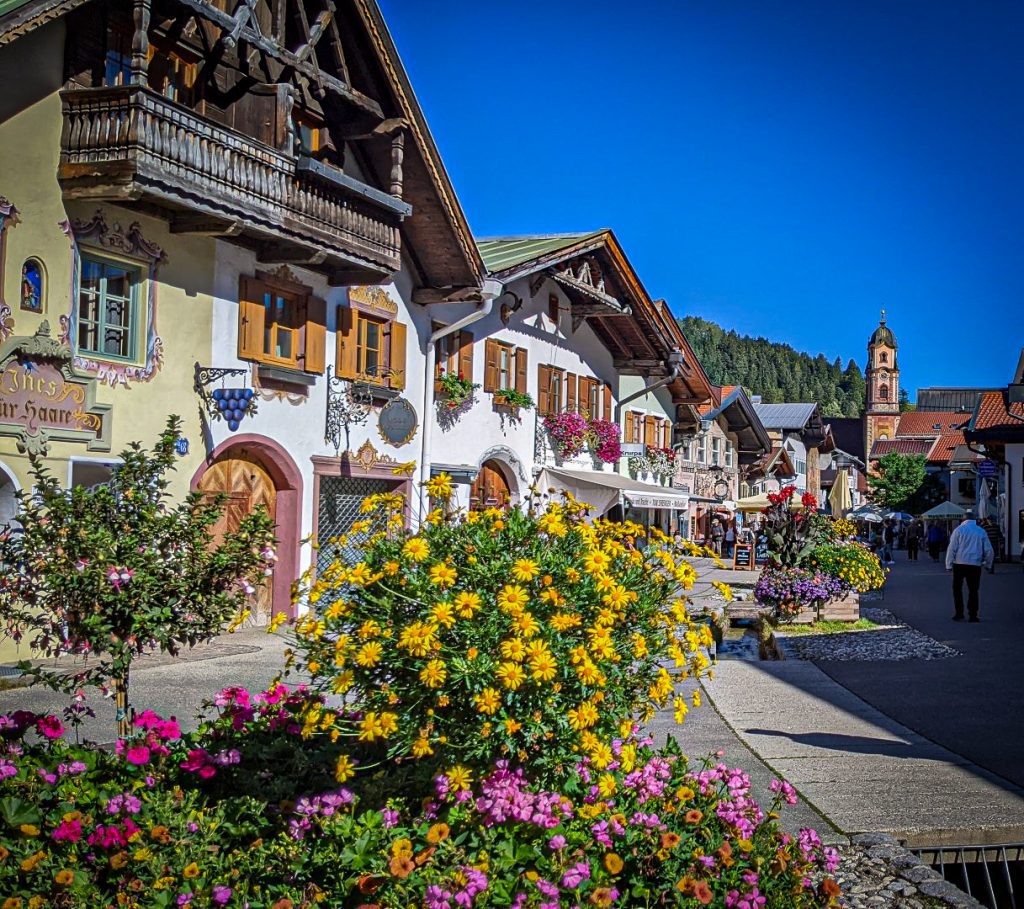 Is Mittenwald worth visting??
Ok, ok….you aren't going to like my answer.
"It Depends." (Don't hate me!)
Here's the deal. Garmisch and Mittenwald are reeeeaaaaaally comparable. Mostly because they are so darn close to one another (it's only about an extra 15-20 minutes further than Garmisch both by train and by car). I honestly don't think you can go wrong with either option. And if you have a car, you can hop around between the two insanely easy.
But there is a reason why Garmisch is so popular.
Garmisch
Pros:
It's easy to get around
Beautiful buildings
The Zugspitze is a classic "Bucketlist" travel item (Tallest mountain in Germany)
There are plenty of Things To Do in Garmisch
Garmisch is just kind of….easy. (Expensive, but "easy") What I mean by that is that you can get by quite easily by just trains, buses, and by foot around most of the main sights within Garmisch-Partenkirchen (towns). Many of the hotels have an upscale feel, many with pools and spas right on site. The Zugspitze is also basically developed FOR tourists. You take a giant (and I do mean giant) cable car up where you basically can just sit in different restaurants with your coffee, bier, schnitzel, and wursts and just hang out at the top of Germany if you want! No "Mountaineering" required!
Cons:
More people and more "tourist" trap-type of attractions
Expensive hotels that book out far in advance
However, with Mittenwald juuuuust down the road, if you like a bit "less touristy" (and I do say that with a grain of salt, because how "off the beaten path" can you actually get), then Mittenwald is truly a wonderful gem.
Mittenwald
Small Altstadt just perfect for wandering
Breathtakingly colorful pastel buildings with the Luftmalerai (painting scenes on the buildings)
Flower boxes hanging out of every window giving everything a pop of color and liveliness
Mountains looming down on you from just about any angle!
Wonderful cafe culture on the main streets
Cons:
Better to have a car to get around to nearby attractions easily
Not a ton of hotel and restaurant options
Both Garmisch and Mittenwald Have:
Luftmalerai buildings
A beautiful gorge (Partnach in Garmisch and Leutasch in Mittenwald)
Mountain views (Zugspitze, Alpspitze, Wank, etc in Garmisch and the Karwendel in Mittenwald)
Cable Cars to get up into mountains (Garmisch has a few more options though)
Walkable old towns
What It Has
Garmisch
Mittenwald
Famous Mountain
Zugspitze
Karwendel
Hotels
More options in Garmisch. See Garmisch Hotel Prices Here
Not as many and book out early. See Mittenwald Hotel Options Here
Time From Munich
1 Hour 20 Minutes (Train)
1 Hour 15 Minutes (Car)
1 Hour 50 Minute (Train)
1 Hour 40 Minutes (Car)
Lüftlmalerei Buildings
Yes
Yes
Restaraunts
Plenty
Not as much (but still options)
Gorge
Partnach Gorge
Leutasch Gorge
Skiing
Several options (ie: Garmisch Classic)
For experts (Off piste) only
Museum
Aschenbrenner Porcelain Museum
Mittenwald Violin Museum
Where Should You Stay: Garmisch or Mittenwald?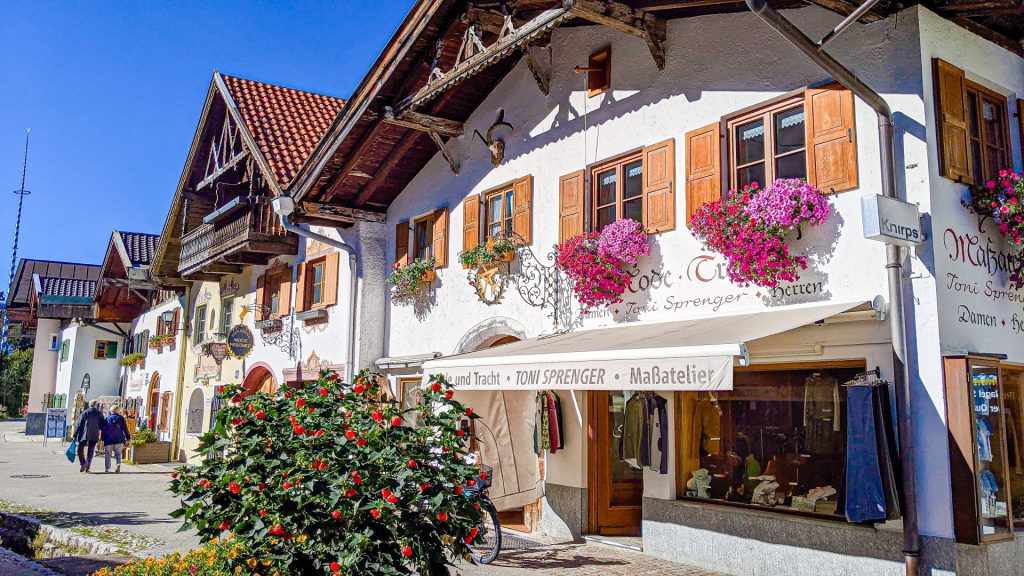 Like I said above, it all kind of "depends" but I would use the following if you are trying to decide between Mittenwald or Garmisch
You Should Go To Garmisch If:
You don't have a car
It's your first time to the German mountains
You love those "bucketlist" type of travel things to do (IE: Tallest Mountain in Germany. Go Sledding in July….)
Want an opulent stay at a beautiful spa resort in the mountains
Want a variety of ski options in the winter
You Should Head to Mittenwald If:
You have a car to get around easily
You've been to the area before and want to explore more beyond the main tourist sights of Garmisch
You don't care about "bucketlist" travel checkmarks (but still want to get an an extremely similar experience with comparable alternative locations)
Enjoy more of the "Cafe Culture" rather than tourist shops
Want a bit more rugged/ natural wilderness
Are more interested in hiking than sitting a Alpine lodges
Are a true mogul ski/snowboarder expert
Munich To Mittenwald
Getting to Mittenwald is actually quite easy and only adds about 15-20 minutes to your journey compared to Garmisch.
By Train
The trains to Mittenwald from Munich leave pretty regularly and typically only take just under 2 hours.
Important: While it may seem pretty straightforward to get to Mittenwald because it is the end of the line for that route (and the exact same train that goes to Garmisch), just be aware that SOME of the trains will split. That means that in Garmisch, part of the train heads off in one direction, while another part goes to Mittenwald! You'll want to ensure that you are on the right section of the train, so just make sure you read the board carefully and when boarding, make sure that the train car you are in says MITTENWALD (not Garmisch, etc)
By Car
Driving to Mittenwald is extremely easy and pending construction (there always seems to be some!) and Staus (traffic jams) you should get there in about 1.5 hours from Munich. So the time to get from Munich to Mittenwald is pretty much a wash for me when comparing trains vs cars. However, where the cars win out is that a lot of the Things to do In (near) Mittenwald on this list will require a car. Getting around the area to and from Mittenwald by car is just way easier and opens a lot more options than if you are just taking public transportation.
Things To Do in Mittenwald
Take in the Cafe Culture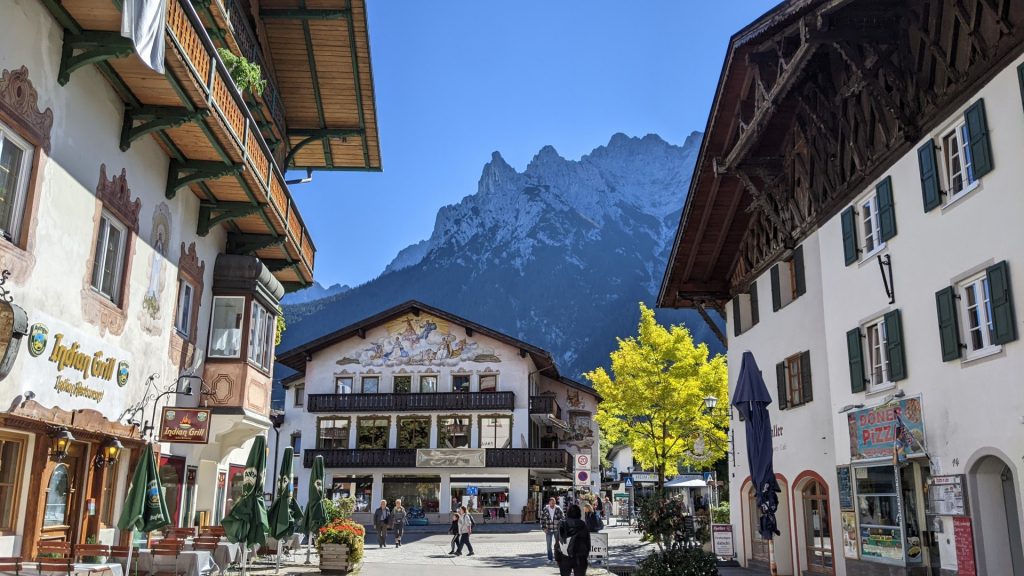 I have to admit that as far as actual Classic Foods To Eat in Germany are concerned, both Mittenwald and Garmisch don't hit the spot for me. There are a few good things to keep your eye out for like a Kaiserschmarrn or a Windbeutel, but everytime I've come to the area, I feel like most of the restaurants aren't really anything to write home to about.
However, Mittenwald's main drag is completely lined with cafes and if there is one thing I absolutely love about Germany, is it's Cafe Culture. It doesn't matter the time of day, grab a seat outside lining the street and order yourself a Cappucino or shoot, even a Bier (yes, it is very stereotypical, yet TOTALLY true and acceptable to have a beer at any hour in Germany!) and just sit back and people watch for a bit.
You are sipping a delicious drink, sitting under breathtaking mountains, and surrounded by literally picture perfect buildings. If this isn't an idyllic setting, I don't know what is!
Insider Tip: So I said that Mittenwald didn't have any restaurants in particular that I loved, however, if you are going to the Leutasch Gorge (You ARE going to the Leutasch Gorge, right!?!?) then you absolutely, positively MUST go to the Klammgeist Restaraunt, right down the road from the gorge. We happened upon this one by total accident. We had just finished our hike in the gorge and the kids were starving but the cafe AT the gorge was already closed. We literally just stopped at the first Guesthouse we saw and holy deliciousness!!!! I'll tell you more specifically about what we order below in the gorge section of this post.
Leutasch Gorge/ Leutaschklamm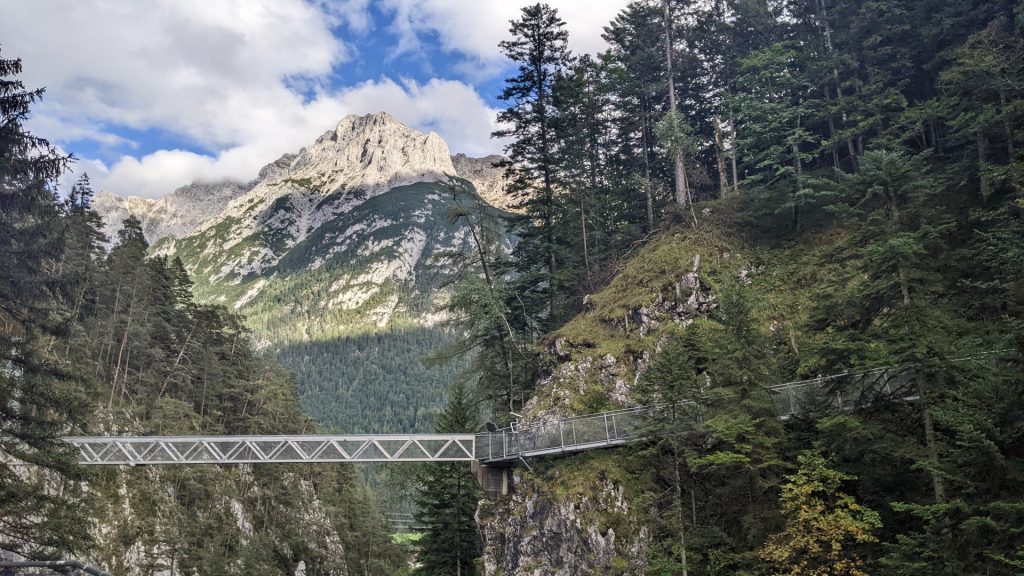 The Letuaschklamm was (wait for it…..) GORGE-ous. Get it? Gorge? (C'mon, you know I had to!!!)
Sometimes, you go to something with expectations and come out completely speechless from what you just experienced and this is exactly how I felt at the Leutaschklamm!
I went into it thinking it was pretty much going to be like the Partnach Gorge in Garmisch. WRONG!!!
There were so many things to like about the Leutaschklamm.
We went later in the afternoon and there was hardly anyone there!!!
You can walk high above the gorge as well as right alongside it. It definitely has a more "adventurous" feel than the Partnach Garmisch Gorge
All but one section is free
There are tons of different walk and hiking options
You actually go back and forth between Germany and Austria along the trails!!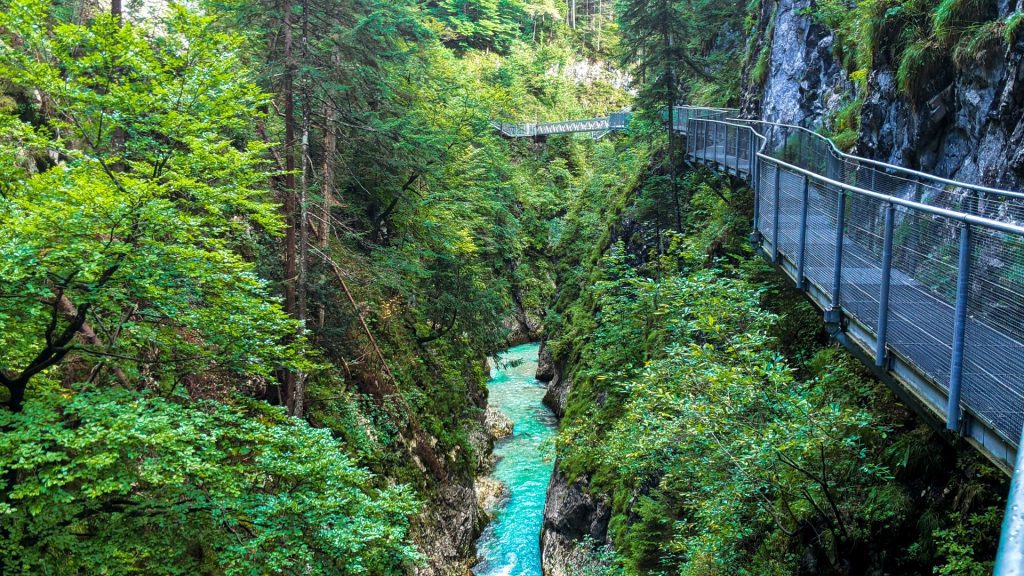 At the Leutasch Gorge, you have countless walks and hiking options. We personally chose to enter from the Leutasch (Austrian) side (not the Mittenwald side) where we did the Klammgeisterweg and Panaramaweg. On these portions, you walk along a catwalk style grated bridge basically bolted into the cliffside of the gorge. This way, you are walking high above the gorge at all times, with the ability to peer straight down into the stunning turquoise, blue waters rushing below you!
If that sounds terrifying, I was with a friend who haaaates heights and she kept saying, "It's just so beautiful that I'm not even afraid!!!"
On this route, you can choose to loop back around through the forest, but we actually chose to just return the same way because the gorge it self was just so stunning.
There is also another route that you can take if you enter from the Mittenwald (Germany) side called the Leutaschklamm Wasserfallsteig. This section IS more like the Garmisch Gorge, where you are basically walking right alongside the gorge- which is definitely worthwhile as well! This portion is privately owned and you do pay a small entrance fee (all the other routes are completely free!)
Head Up the Karwendalbahn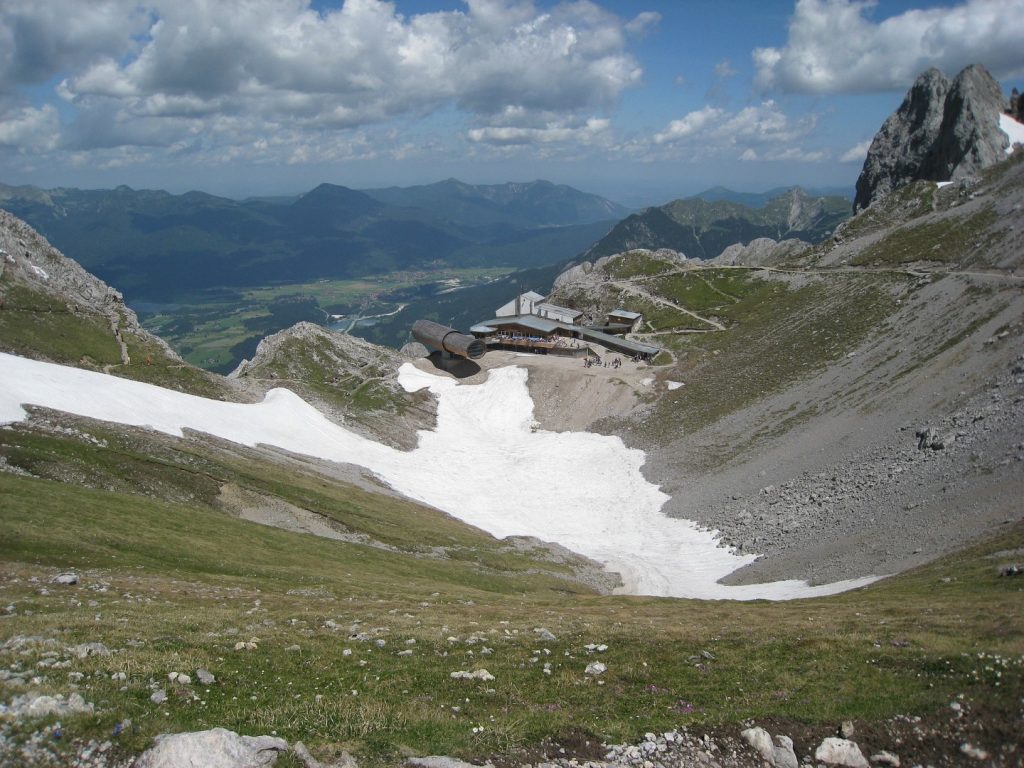 One of the most popular things to do in Mittenwald is to head up the Karwendelbahn to the Karwendelspitze (Mountain peak). While it isn't the Zugspitze, it IS Germany's second tallest cable car, making it a worthwhile consideration against the popular Zugspitze (Note: It is not the 2nd tallest mountain though in Germany!) Like Garmisch's Zugspitze, you can take a cable car (watch out, lines can be long here, so get there early) up and be rewarded with breathtaking views of the Alps in every direction.
Once at the top, there is the Bergwelt Karwendel Nature Information Center and the Mountain Restaurant. Snag a place to sit on the sun terrace outside in good weather and just simply soak in the beauty and the pristine Alps here!
Insider Tip: You can go on Tuesday Mornings at 10:45am for a guided walk along the Panaramicweg, where the host tells you tons of information about the route, mountain, and more. Meet at the terrace at the restaurant.
Hiking Karwendalspitze
Unlike Garmisch, where there aren't a ton of great hiking options for all levels of hikers, the Karwendel offers a lot of great paths for beginners all the way to very experienced (see the below section on the Via Ferrata).
While the Zugspitze is all about the "Experiences" that you can get (sledding on the glacier in any season, the Igloo bar, the restaurants, etc), Karwendel is very much more for those interested in actually BEING in the outdoors and not just taking selfies for their bucket list. It has a more natural feel to it than the tourist filled Zugspitze.
Starting right at the top where you get off the Mittenwald Cable Car, you can take the "Easy" Panaramaweg. The term "easy" and "family friendly" are a bit misleading. The official descriptions of "Easy" basically state that "Easy" paths essentially just don't have any areas where you are in danger of falling! (I get a kick out of this as I feel it is a very "German" definition!!) However, I would absolutely argue that it is not "Easy" in the sense of it being a leisurely stroll out with the young'ins!!! In fact, there are many steep and narrow sections that little ones will, no doubt, complain about and even give parents a bit of a knot in their stomachs.
Zugspitze
Karwendel
Cost (Adult)
€63.00
€34,50
Things to Do
• Igloo Hotel
• Sledding (year round)
• See 3 countries at once
• Tallest mountain in Germany
• See 2 countries
• Via Ferrata
• 2nd highest cable car in Germany (NOT 2nd tallest mtn!)
Glacier?
Yes
No
Restaraunts
3 Options
1 Restaurant
Hiking
Most are for experienced hikers only (multi day)
• Panoramaweg good for most ages
• Other hiking options as well
Time It Takes
About 15 minutes via Cable Car or 90 Minutes via Cogwheel
10 Minutes
Great For
• Travel Bucketlist Checkers!
• People who want mountains but also want ease
• People who want to hike
• People who want a more "nature" and "rugged" experience
Conquer the Karwendel Via Ferrata
If you've never heard of a Via Ferrata, they are quite the rage amongst outdoor enthusiasts. Here in Germany, you might also hear them called "Kletterstiegs" when in the mountains (There are also forest "Kletterstiegs" which are like fun ropes/ ziplining courses as well). A Via Ferrata is basically a designated route/course on the cliffside and ridges of mountains that are outfitted with iron infrastructure such as ladders, anchors, cables, etc. Even beginner climbers (with appropriate gear) can climb mountains in ways they never knew they could before!
This Mittenwald Via Ferrata is rated as a "B" level, which is "Moderate Difficultly." Aka: Maybe this one shouldn't be your very first Via Ferrata ever, for example, there are sections on ridges that are not clipped in.
You can expect this route/hike to take about 7 hours and you will be rewarded with some seriously amazing views of the German and Austrian Alps around every turn, starting right from the very beginning!
Skiing in Mittenwald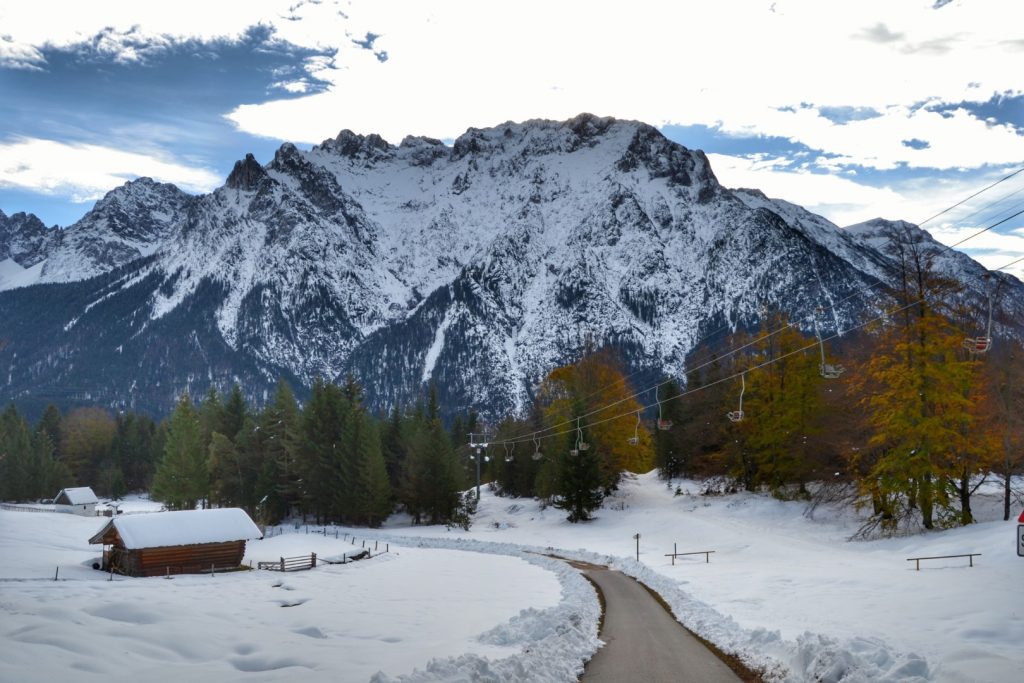 Of course, many people coming down to this area are looking for great places to ski. The Karwendelspitze is home to the Dammkar, which is Germany's longest ski run clocking in at 7 kilometers. This is actually considered one of the best places in Germany for off-piste skiers. However, do NOT attempt this if you are not an extremely experienced skier! It is very difficult and only for those who know their way around moguls!
If you are looking for other great Places to Ski in Germany (such as the nearby Garmisch), check out this article for my top recommendations.
Explore the Hoher Kranzberg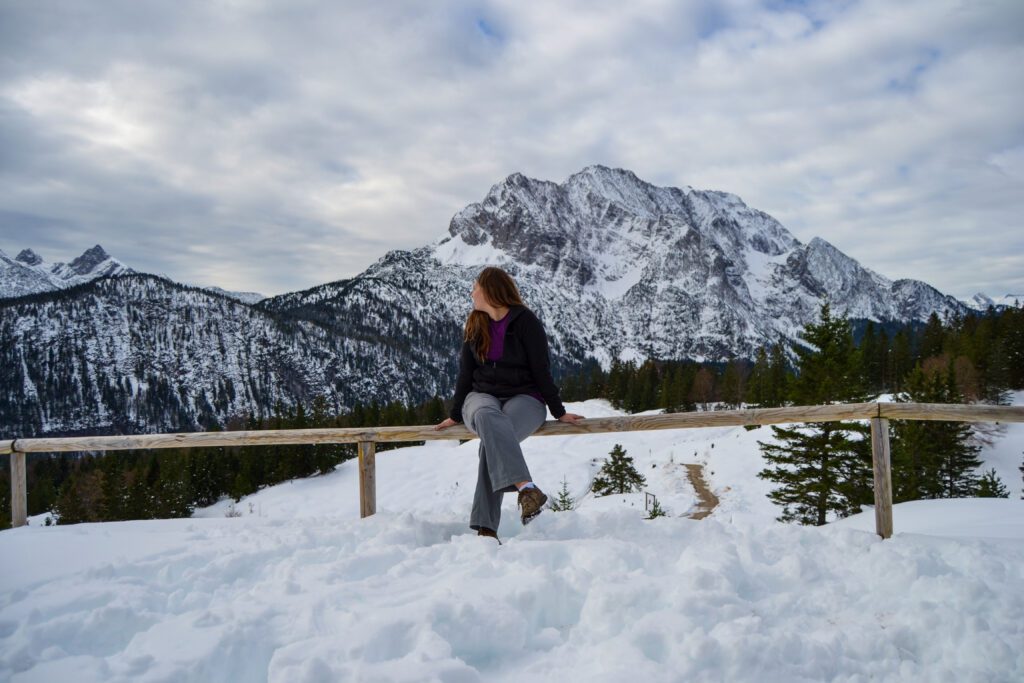 The very first time I was in Mittenwald, I was feeling….ok, I'll just say it….lazy! I was traveling Germany on a budget, so I didn't want to pay for a cable car, but I still wanted to get high up into the mountains and feel the magnitude of the Alps and mountains surrounding and enveloping me. I also wanted a walk but not really a full on, proper hike.
And I found JUST the route!!!
Hubby and I decided to head to the Hoher Kranzberg and I couldn't have been happier!!! This would be the perfect hike for beginners, families, or someone who doesn't mind walking but doesn't want a full blown, strenuous mountain hike. It gave us STUNNING views the entire way, had hilariously fun, oversized chairs to just sit back and soak in the sun, and who can beat a Radler or coffee at the mountain huts while taking in those views!!!
One of the things that I loved about this hike is that you get to see so many of the beautiful German mountain peaks right along this route! From the Karwendel to the Wetterstein to the Herzogstand.
One of the really great things about this hike is that you have a ton of different options for difficulty level, time needed, and routes.
Do the 13km Loop: This allows you to stop at the beautiful Lautersee and Ferchensee (lakes) and on hot summer days, you can even take a dip in the Ferchensee to cool off! While it is a longer route, the ascent is pretty gradual
Hike straight from the chairlift to the summit: This is what we did and it only took us about 1.5 hours (I stop a lot for photos!) to get to the Hoher Kranzberg, so it was pretty "easy!"
Take the chairlifts up! No shame in this game. Why not just head straight up for the brats, bier, and view!!??
Insider Tip: If you are staying at a hotel in Mittenwald for more than 3 nights, ask about the (Mittenwald) AlpenweltCard, as that should get you a free cable car admission on the Kranzbergbahn!
Take a Barefoot Walk
Ok, this one is actually on the Kranzberg as well, but if you are looking for something really cool and unique, check out the "Panorama Barfußweg" (Panorama Barefoot Path) which is only 1.2km long. You'll only need about 1-1.5 hours for this fun experience.
You can either hike up or take the Kranzberg Sesselift (Chair lift) up to the Hoher Kranzberg, where you'll find the Berggasthaus St. Anton (restaurant) which is where the Barefoot Walk starts. Leave your shoes at the start and then meander your way through 20 different stations that will tickle your senses! Try balancing on the wooden logs, wade through the classic "Kneipp" (freezing cold water meant to stimulate your body), tread over pine cones, and more!
Of course, it's not called the Panaramweg for nothing. Along this super easy walk (perfect for kids) you'll also get stunning views of the Alps all around you!
Enjoy A Nearby Lake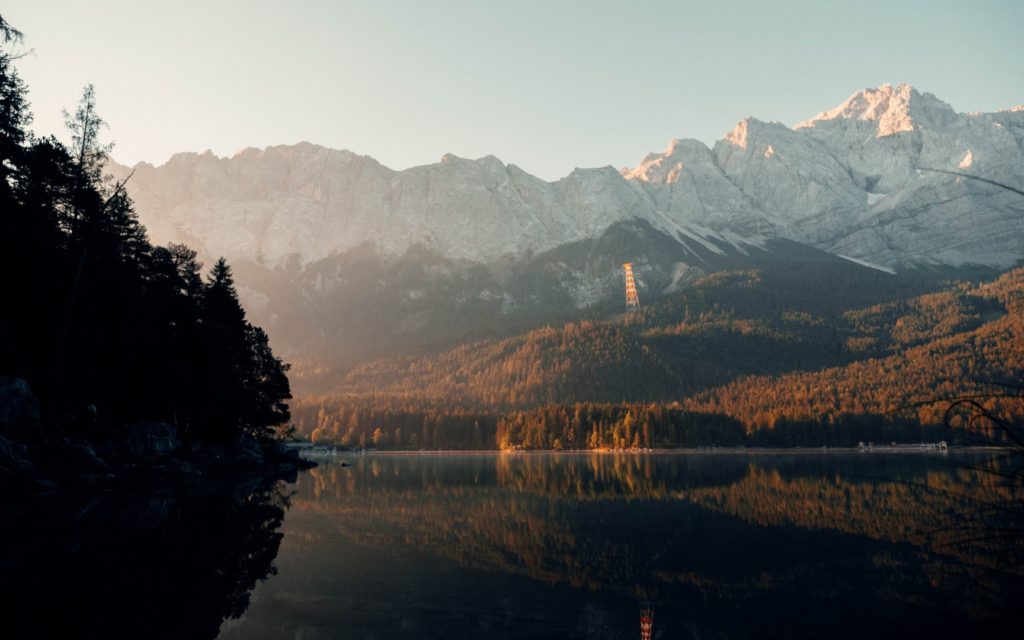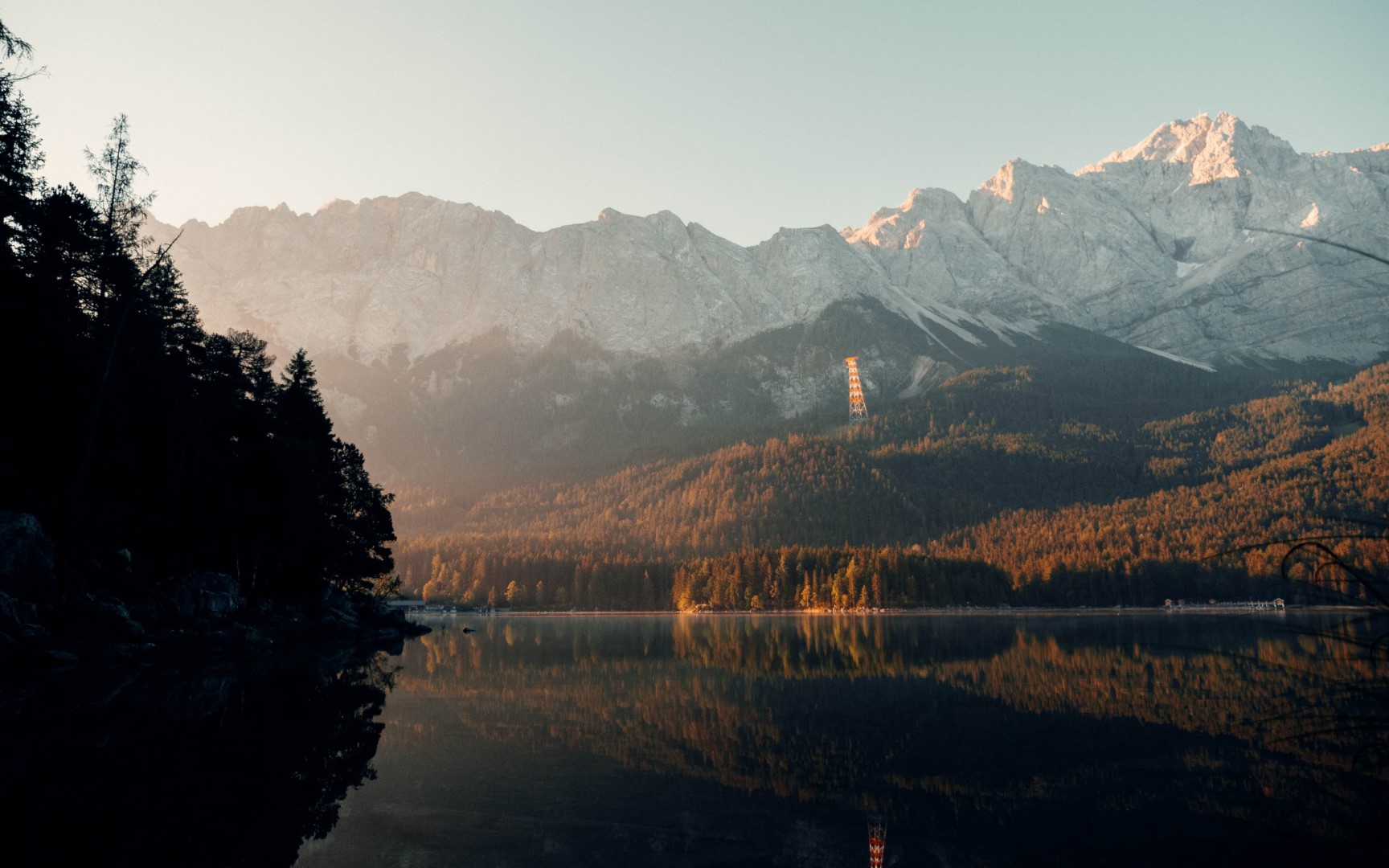 There is just something peaceful, serene, and beautiful about Alpine lakes! Some are bright blues while others could be something from a postcard with the mountains as the backdrop!!!
There are no shortages of lakes in the area, many which you can even hop into and swim in the summer! Here are a few lakes I highly recommend taking a pitstop on or doing a quick detour or add on to a day trip elsewhere!
Geroldsee (Wagenbrüchsee
Ferchnesee and Lautersee
Barmsee
Tennsee
Schmalensee
Badeufer Barmsee
Eibsee (Garmisch/ Zugspitze)
Find A Perfect Hike
While I've already mentioned a few of my favorite hikes nearby Mittenwald in the above sections, you really aren't lacking when it comes to fantastic hikes in the area!!
Since everyone has different ability levels and interests, I highly suggest looking at both All Trails and Kamoot. Put in your filter parameters (how far you want to go, difficulty, etc) and then pick one that is perfect for YOU.
Of course, you can always drive 20 minutes over to the Garmisch area as well. Some of my favorite hikes there are the Wank and the Alpspitze.
Alternatively, check out the Hummock Meadows (more on those below) for a very local, unique walk through the fields at the feet of the Alps.
Visit the Violin Museum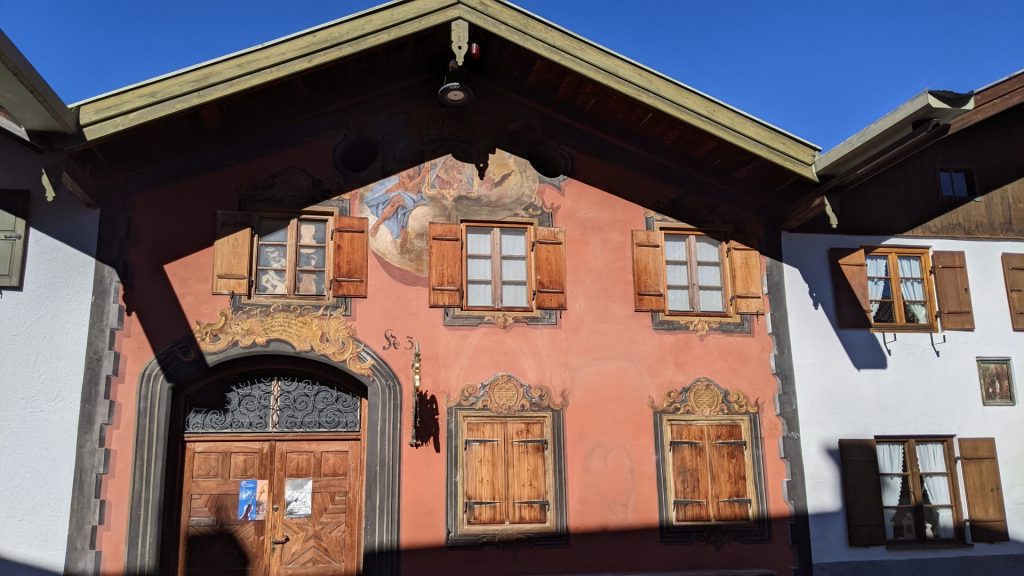 It is always interesting seeing a piece of local history right before your eyes. If you aren't a big music lover, you may not find this museum as anything groundbreaking. But, even if you aren't that interested in violins, Mittenwald's Violin Crafting Museum (Geigenbaumuseum) could still be worth popping into.
It is a pretty small museum and will only take you about an hour to get through, so why not!? In doing so, you'll get a little bit of an insight into why Violins are that important to the small Mittenwald town as well as get a good historical context on the area.
Address: Ballenhausgasse 3, 82481 Mittenwald
Hours: Daily from 10am-5pm (Closed on Mondays)
Cost: €4.50
Tip: Some people say that it is hard to find. If driving, I recommend parking at one of the many parking lots around town (for example, the Rathaus) and as you are wandering around town (This is WANDER in Germany, after all!), I'm sure you'll eventually stumble upon it. It is just passed the huge bell tower of the church in a little courtyard
Explore the Countryside Nearby
I'll be honest, while all of the things on this list are absolutely worth your time, the area around Mittenwald is just breathtaking. If you have a car and you love driving around, the countrysides around Mittenwald are just out of this world.
On my most recent trip, I actually stayed just over into the Austrian border at Leutasch and I just couldn't believe the views!!!! Granted, if you go this way, you will have to drive on a small mountain road, but the views in the Leutasch Valley are sooo worth it!
Likewise, even just driving around to nearby villages, like Garmisch is a treat as you take in the famous rolling meadows and picturesque little huts!
So, turn up your favorite tunes and just take a Sunday afternoon (well, any day, really!) drive!
Experience the Buckelwiesen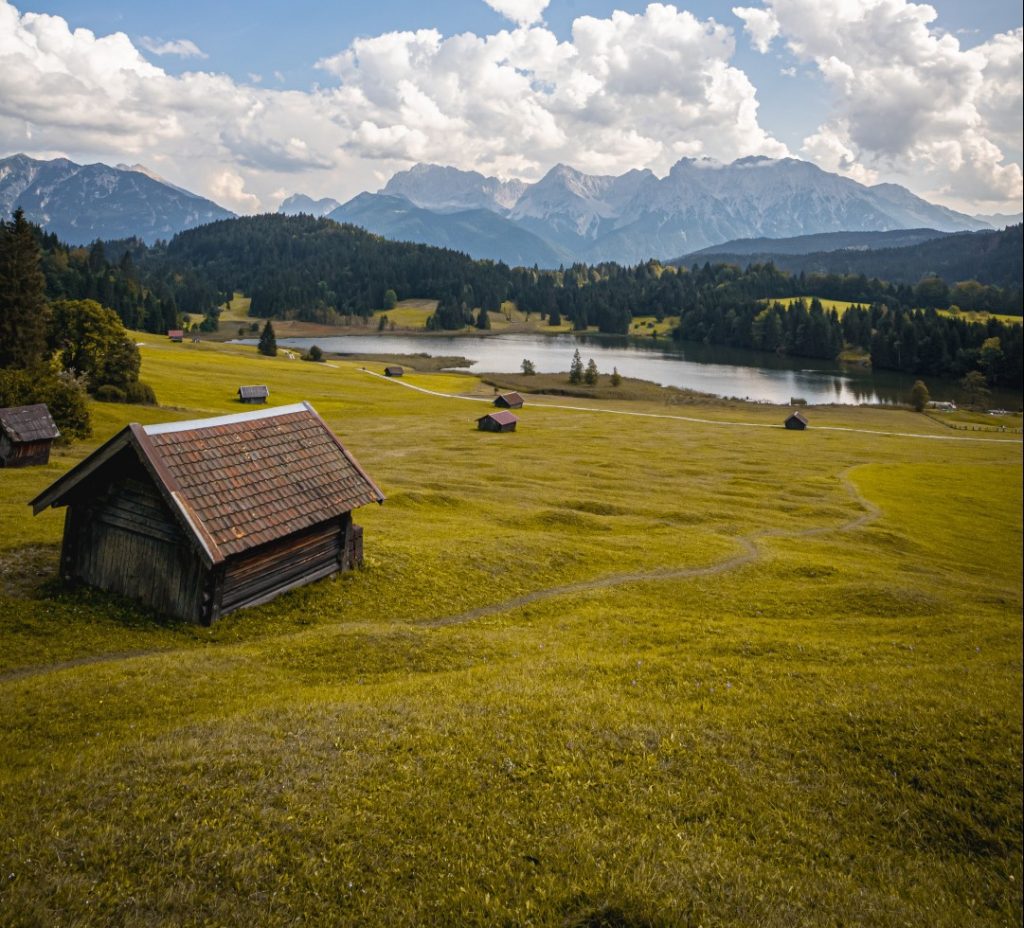 As we were driving, my 4 year old matter of factly pointed out to me that "Those hills look perfect for sledding!!"
I glanced over and realized it was one of the locally famous "Hummock Meadows." The sprawling fields around Mittenwald are basically lumpy and bumpy, giving them a really unique look. In fact, they are really special and the farmers in the area take great care to cultivate these fields. (So, spoiler alert, no…those bumpy fields would NOT be pleasant to sled down, my little one!! Ouch!)
Since these aren't ordinary fields, it's a popular thing to take a walk through them. Here are a few of the best ones:
Wallgau to Mittenwald Buckelwiesen Walk
One of the most popular Buckelwiesens is the one that goes past the idyllic Kapella Maria Rast (chapel). It starts in Wallgau and ends in Mittenwald. It is a longer walk, clocking in around 13 kilometers and should take 2.5-2.5 hours, depending on how photo happy you are (or how fast of a walker), but it is quite easy as it is relatively flat as you follow the rolling meadows. It is all along paved paths, so it is also doable with a stroller/ kid friendly.
https://www.alpenwelt-karwendel.de/en/a-through-the-buckelwiesen-hummock-meadows-to-mittenwald
Mittenwald to Goas-Alm Hummock Meadow Walk
This Hummock Meadow walk is also very popular because it is also a very easy walk, is a round trip route, and, my personal favorite is it has an Alpine hut that you can stop into for refreshments with a view!!!
This one is also very easy (perfect for families as well) and can be done in 1.5-2.5 hours (not including time at the Alm)
Zugspitze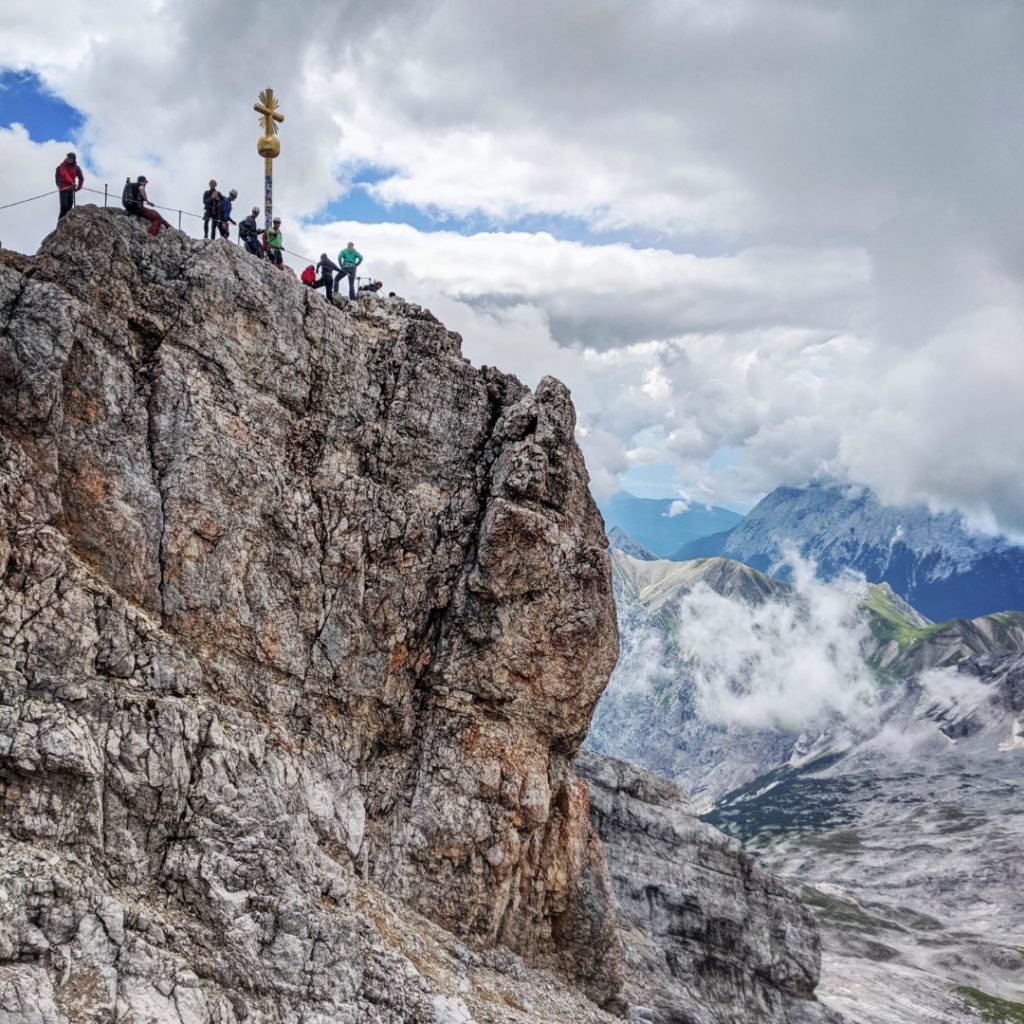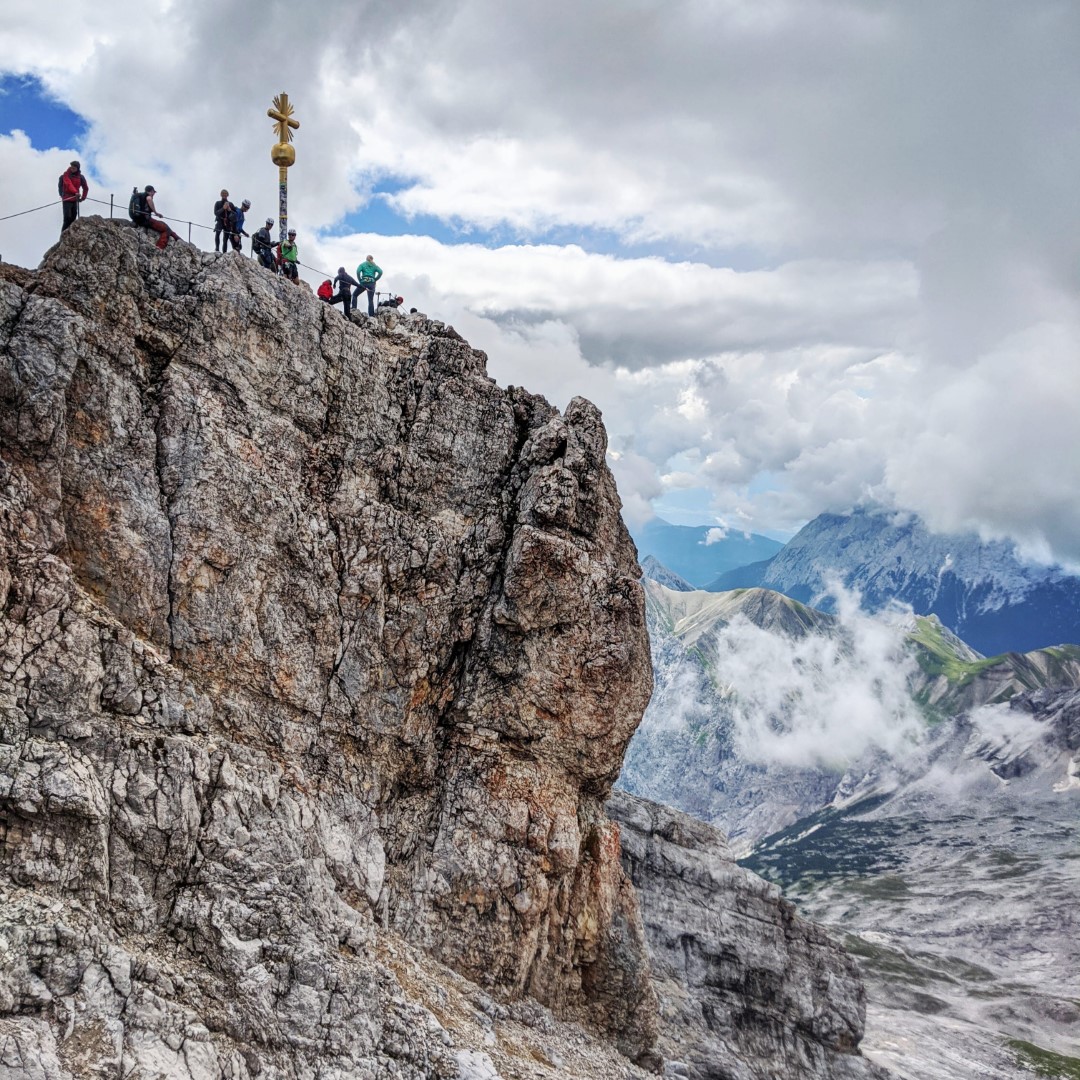 As mentioned earlier that if you are in Mittenwald, you'll probably head up to the Karwendal, but there is nothing saying you can't go to the Zugspitze as well! To get to Garmisch from Mittenwald, it's about a 30 minute drive if you want to take the Zugspitze Cogwheel train. If you'd rather do the Zugspitze Seilbahn (cable car), it will take about 45 minutes to drive to the Zugspitze from Mittenwald.
You have a few options for getting up to the top of the Zugspitze, all of which are basically an experience in and of themselves.
1) Zugspitze Cogwheel Train
You can take this all the way to the top or you can stop at the Zugspitzplatt and then take the Gondola the rest of the way. It does take a bit longer than the Gondola, but for those afraid of heights, it's definitely an "easier" option.
Address: Olympiastraße 31 82467 Garmisch-Partenkirchen
2) Seilbahn Zugspitze Gondola
If you want to take the Gondola all the way straight up (and I do mean that it can feel STRAIGHT up!) then you can go to the town of Grainau, which is where the Seilbahn Zugspitze Gondola Station (Lake Eibsee) is at.
Address: Am Eibsee 6, 82491 Grainau
3) Combo of the Train and Gondola
I really like this option just because it gives you more variety in your day! If you choose this, then I recommend taking the train from the Zugspitze Bahn (Train station) just like above and getting off at the Zugspitzplatt (one stop before the peak). Grab a bite to eat at the restaurant, have a look around, try some sledding (even in the summer!) because after all, you are on a Glacier! Walk around, take in the sites at this altitude, like Germany's highest church, or even go on a short hike from this location, and peep into the "Iglu Hotel." Then there is the Gondola which will take you the rest of the way up to the peak.
If you are heading to the Zugspitze from Mittenwald, then I recommend taking the Gondola from the peak all the way back down to the Eibsee and then spend the afternoon there, walking the lake, taking in the views, etc.
Zugspitze Tickets and Costs
You can get all the current ticket prices and timetables for the Zugpsitze here.
Hotels in Mittendwald
I'll be honest and say that it is pretty hard to find hotels in Mittenwald if you don't book in advance.
Haus Daheim: You'll feel like you are in the alpine lodge of your dreams in this modern, yet very Bavarian feeling lodge/guesthouse! See Rooms Here
Stilvoll Wohnung: Not only is this a steal of a price in the area, but to know that it is actually an apartment with a kitchen, balcony, and oh my those views! If it is available, this is the apartment hotel in Mittenwald to snatch up! View Availability Here
Hotel Bichlerhof: This spa hotel is located right by the pedestrian zone of Mittenwald. It definitely has an old school "Bavarian" feel to it, but that adds a bit to it's charm. You an enjoy the pool and saunas at the hotel as well after a long day of hiking or skiing in the area. Book The Bichlerhof Hotel Here
I know this may then sound like it defeats of the purpose of actually staying IN Mittenwald, but the last time I visited Mittenwald, I actually decided to stay just a a stone's throw over the border into Austria in Leutasch. There are often WAY more options, some really fantastic Guesthouses, they are often more affordable, and, if you've got a car, it only adds about 10-15 minutes to the drive. I was able to bounce back and forth each day to Mittenwald and the surrounding areas, with ease!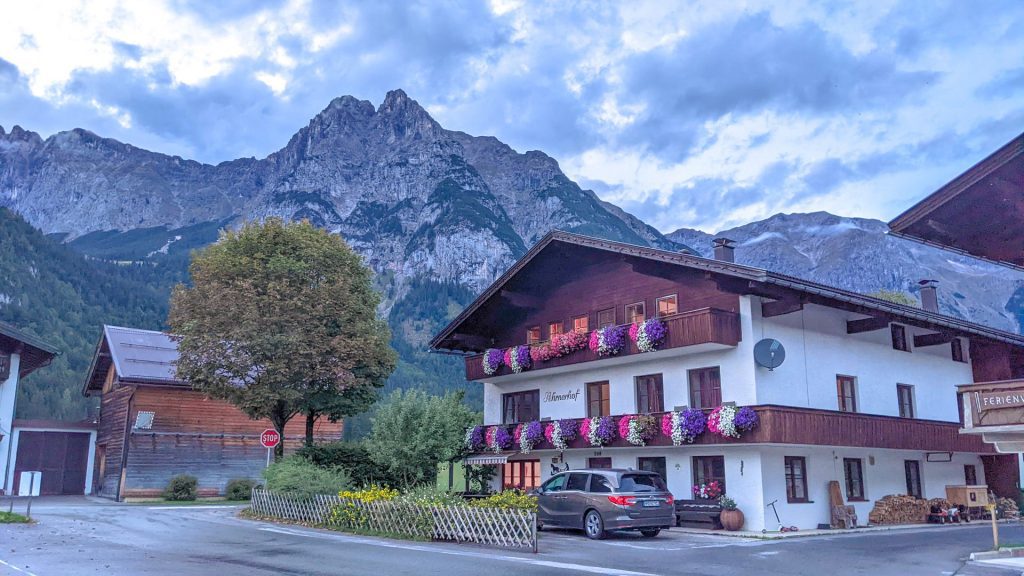 We stayed here at the Ahrnerhof and it was AMAZING!!! It was an amazing working farm guesthouse. The owner, Lydia, went above and beyond herself to make us feel at home! She left us fresh milk from the cows on the farm in the mornings. If you are traveling to Germany with kids, this is a HUGE winner! There was a trampoline and playset outside for the kids to play on, but what made it a place that I'll be returning to was that Lydia let the kids help around the farm! They were able to ride the ponies in and out of the barn, helped move the bunnies from the cage out to the yard and even got to help in the barn feeding the cows, moving hay and watching them milk the cows!!!
Oh…and the views!!!!
You can book a room or an apartment style room here.
Day Trips from Mittenwald, Germany
Neuschwanstein Castle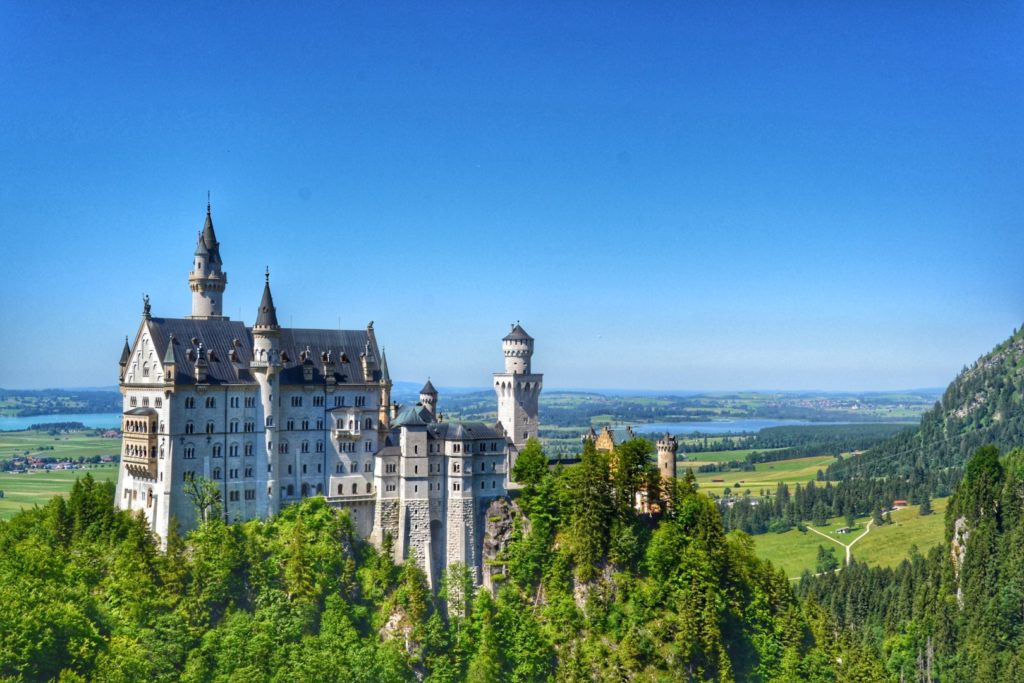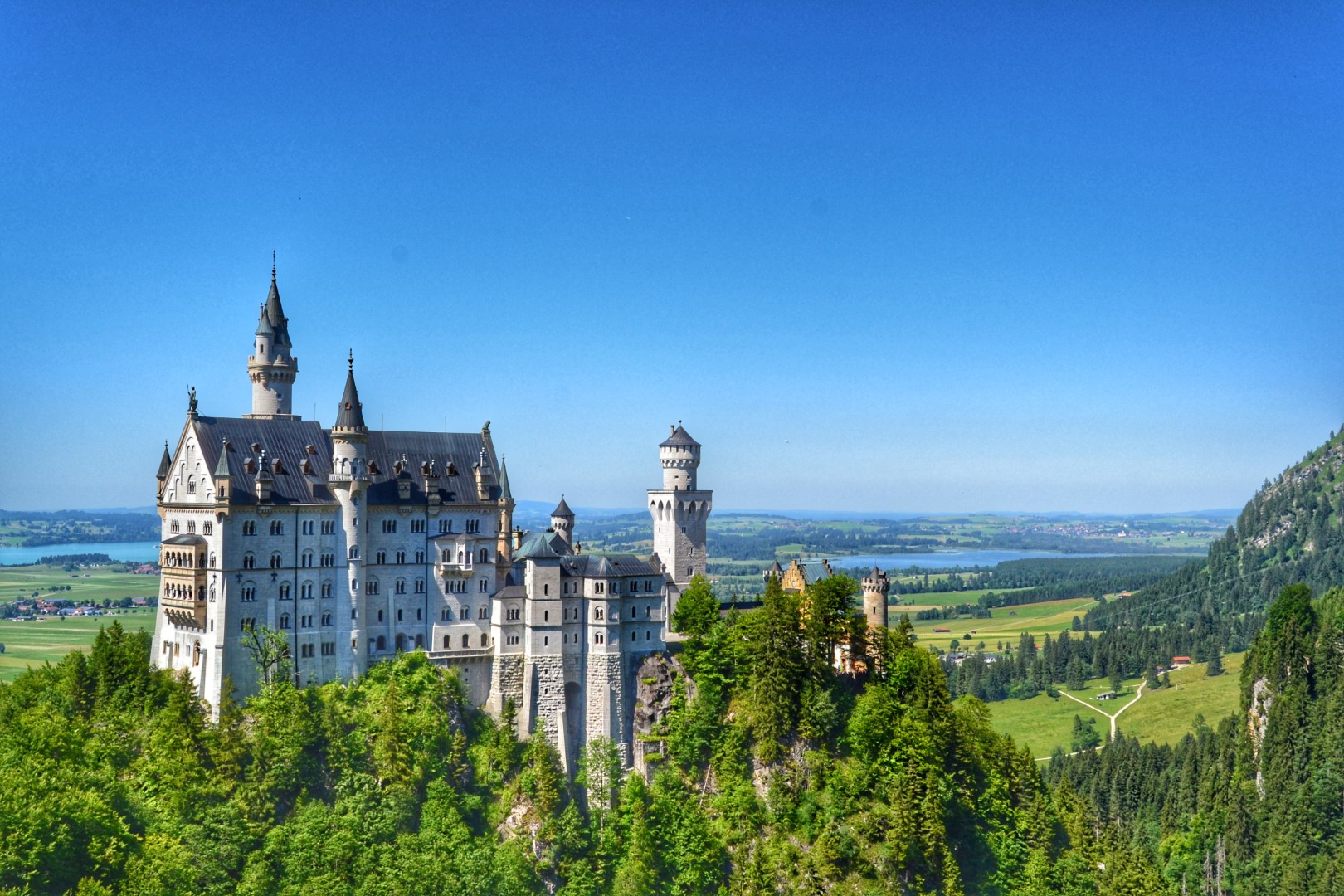 Just 1.5 hours from Mittenwald, you can visit the Cinderella Neuschwanstein Castle. Sure, it is one of the most touristy spots in Germany, but it is undeniably one of the most beautiful as well!! Right next door to Neuschwanstein is the Hohenschwangau Castle, which, in my opinion, actually has a far better interior. Read my guides on Neuschwanstein to plan the perfect day trip to the fairytale castles.
Linderhof Palace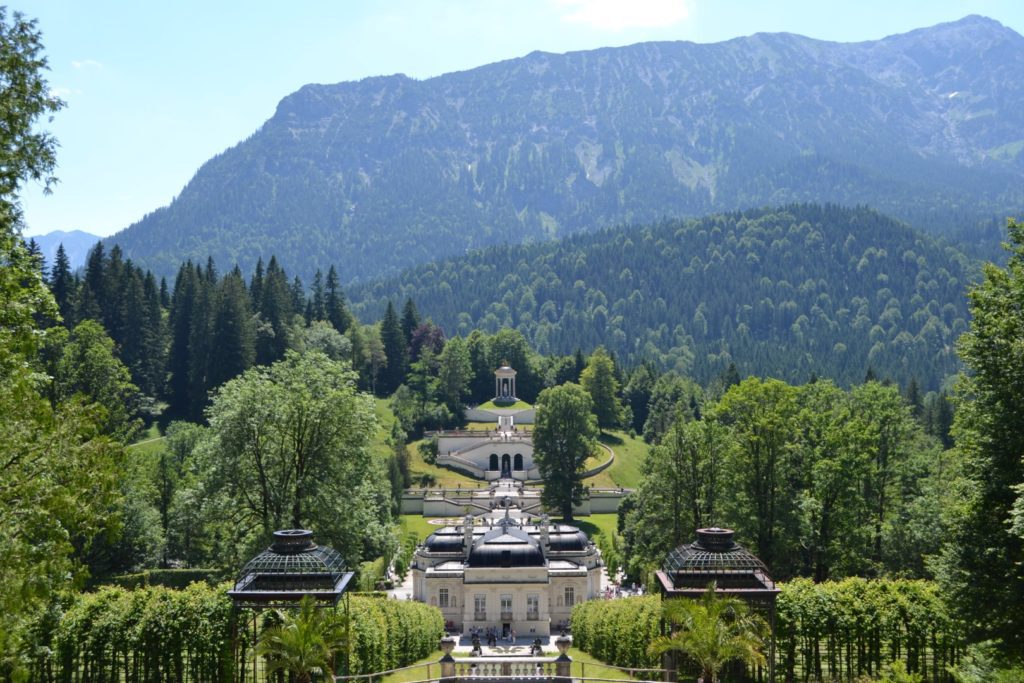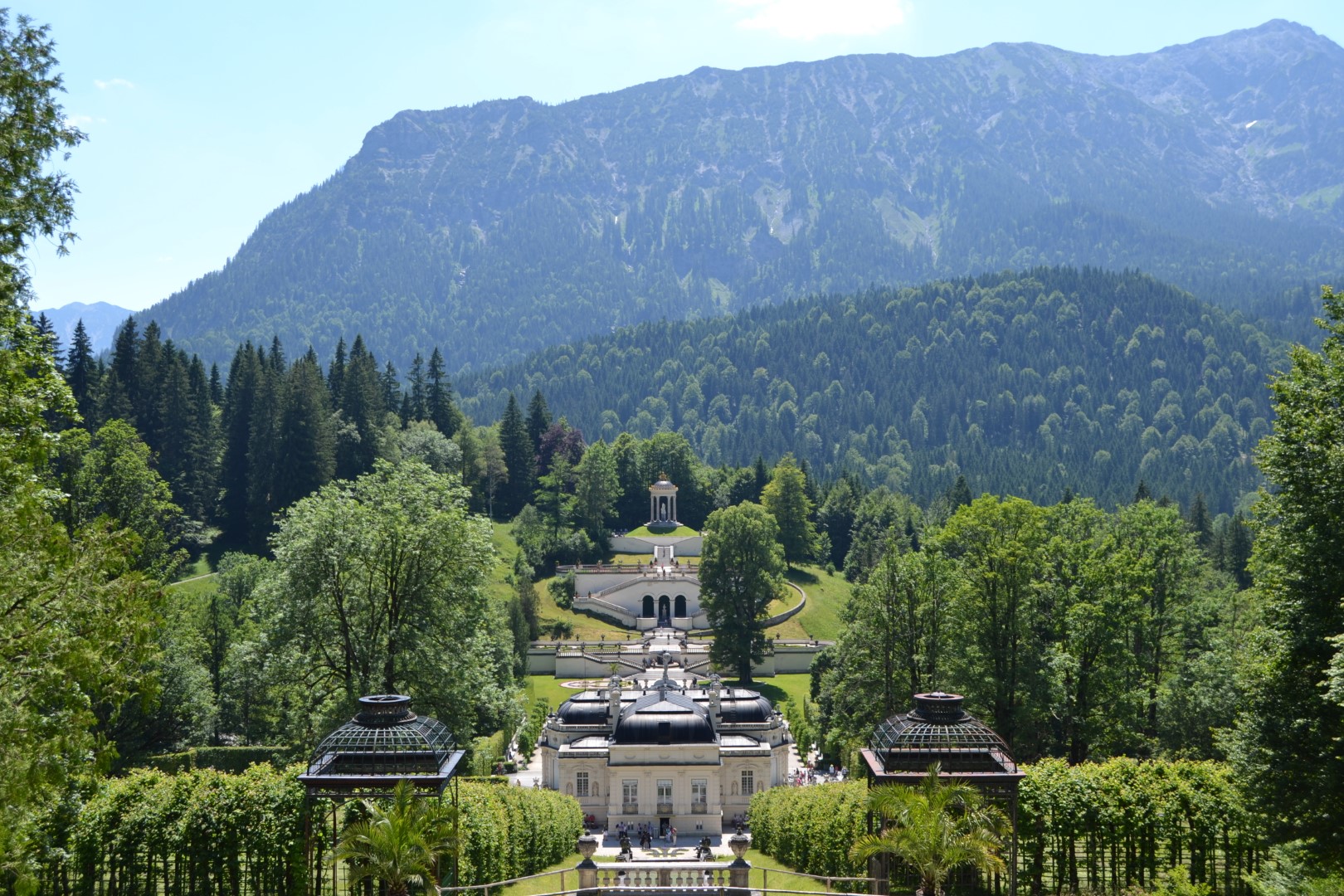 Another one of King Ludwig's breathtaking palaces is the Linderhof, which is still popular, but not NEARLY as touristy as its famous sister castle, Neuschwanstein. The grounds of this palace are enormous and there is even a grotto that the "Mad King" built to listen to Mozart as he sipped wine! (Ah, to be a rich king!)
I highly recommend making your day a whole day of fairytale castle hopping. Start in the morning from Mittenwald and make your way to Linderhof. You can easily spend most of your morning here before heading over to Neuschwanstein. Wander the grounds of Neuschwanstein yourself and then take the last tours of Hohenschwangau and Neuschwanstein of the day to round off your day trip.
Ettal Abbey and Brewery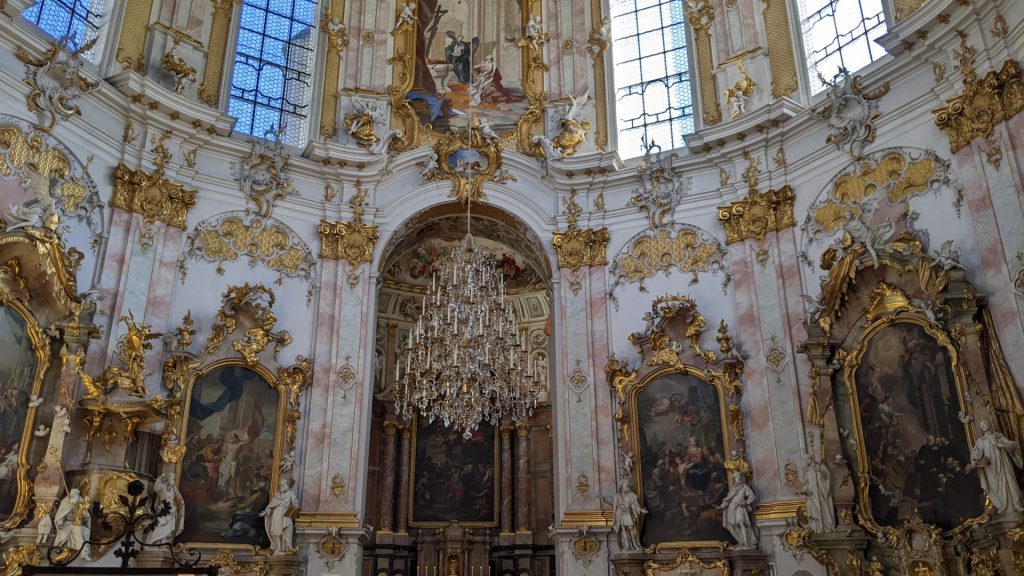 Another great day trip from Mittenwald is to the Ettal Abbey. If you are feeling really adventurous you can even tackle the Ettal Abbey, Linderhof, Neuschwanstein AND Hohenschangau (if you are driving) all in one (long, but do-able) day.
The Ettal Abbey is a classic Baroque-styled monastery with all the pinks and golds guilded up inside. While there, absolutely do not skip the brewery restaurant right next door. I'm always a sucker for a Dunkel (dark) beer and when I saw that they had a Scweinebraten (the official meal of Germany) homemade with their own dark beer, I knew I was in for a treat!
Oberammergau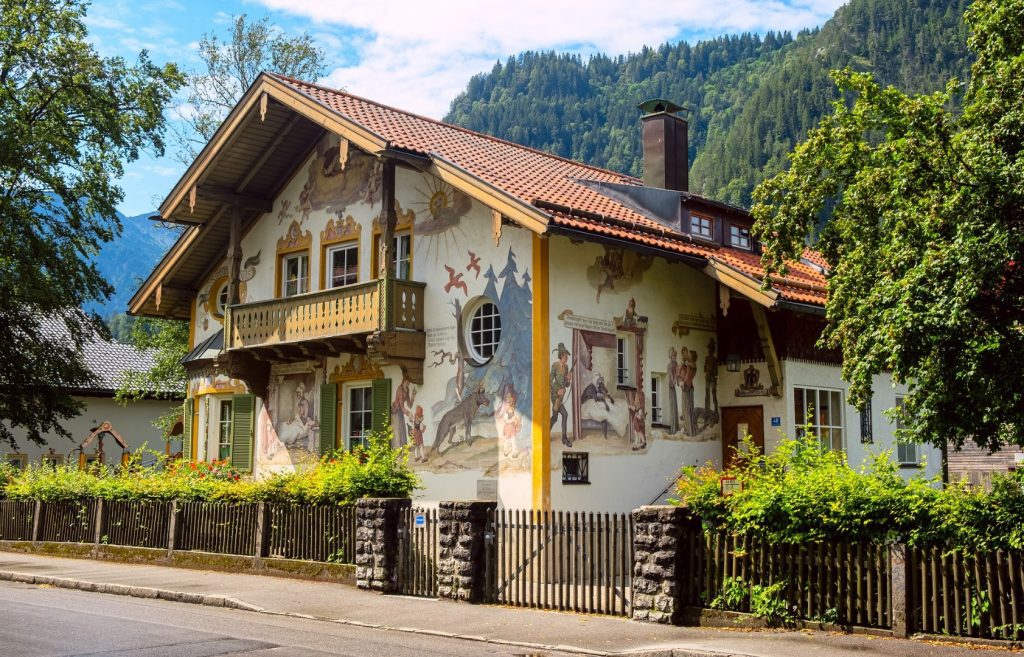 If things like the Zugspitze don't appeal that much to you but are you looking for a beautiful Bavarian Alpine village, then look no further than Oberammergau. Whether you use it as your base instead of Garmisch or if you just see it as a day trip, it is a great addition or even alternative to Garmisch. It's got the famous buildings with the paintings on them, beautiful Alpine views, and a great little village vibe to wander around in.
One of the biggest draws to Obberamergau is the famous Oberammergau Passion Play, which is performed every 10 years and is considered one of the best of its kind. People make the pilgrimage from all over the world just to view this famous play.
Grainau
Just a ten minute drive from Garmisch is the little quaint village of Grainau. There isn't a ton to actually DO in Grainau but if you love photography (or are a self proclaimed photographer via Instagram) then head over to Grainau for some stellar photo ops. While everyone is in Garmisch, you'll feel like you've got the Bavarian Alps to yourself over here. One of the most noteworthy photo ops is the Pfarrkirche St. Johannes der Taufer. With its onion dome set in front of the jutting mountains, it may just be something from a postcard. There is also the Badersee, which is nothing compared to the Eibsee, but will have a few less people crowding your photos.