Hoch German vs Local Dialects
Dialects will Vary (Drastically)
I'll never forget when I traveled to Frankfurt and asked for a "Salami Semmel" and they looked at me like I had 4 heads. At the time, I thought it was just my reeeeeaaaaaaally bad German but I later came to find out that the word "Semmel" (Roll) that we use everywhere here in Regensburg is actually a very Bavarian word.
When I took my first A1 German class, the teacher was from a teeny tiny village and she was explaining that she speaks Bayerisch (a very strong dialect in Bavaria). But then she was joking that even she can't understand the Bayerisch in the next village over. You know, the town that is literally a 3 minute drive from the place that she grew up and has spent her entire life in. It was at this moment that I realized I was screwed for learning German. If a GERMAN can't even understand other dialects, what hope do I have!?
Local Phrases
Another thing to consider is that in some regions of Germany, they just have different phrases for things. It's not always necessarily a direct correlation to dialect per se (although, that often does come into play). A great example is the first time I traveled to parts of Northern Germany and people were greeting me with a phrase I had NEVER heard before in ALL of my traevls of Germany. I knew that saying something like "Grüß Gott" or "Servus" was definitely something from Bavaria, so I defaulted the usual "Hallo" or even "Tag" (shortened from Guten Tag). But when they started saying "Moin" (sometimes even just "Moi") as a greeting I was legit confused and thrown off!
My point is that having some very basic
I LOVE coming to Bamberg! The town just has this delightful vibe to it. The alleys are insanely charming (I promise I will do my best attempt to not overuse this word in this article, but it may be hard!), the people are some of the most hospitable and nice that I have encountered in all of Germany, and it's as if everything from the half timbered houses to the cobble stone streets to the baroque facade buildings all got the collective memo to be "Super Charismatic and Alluring!"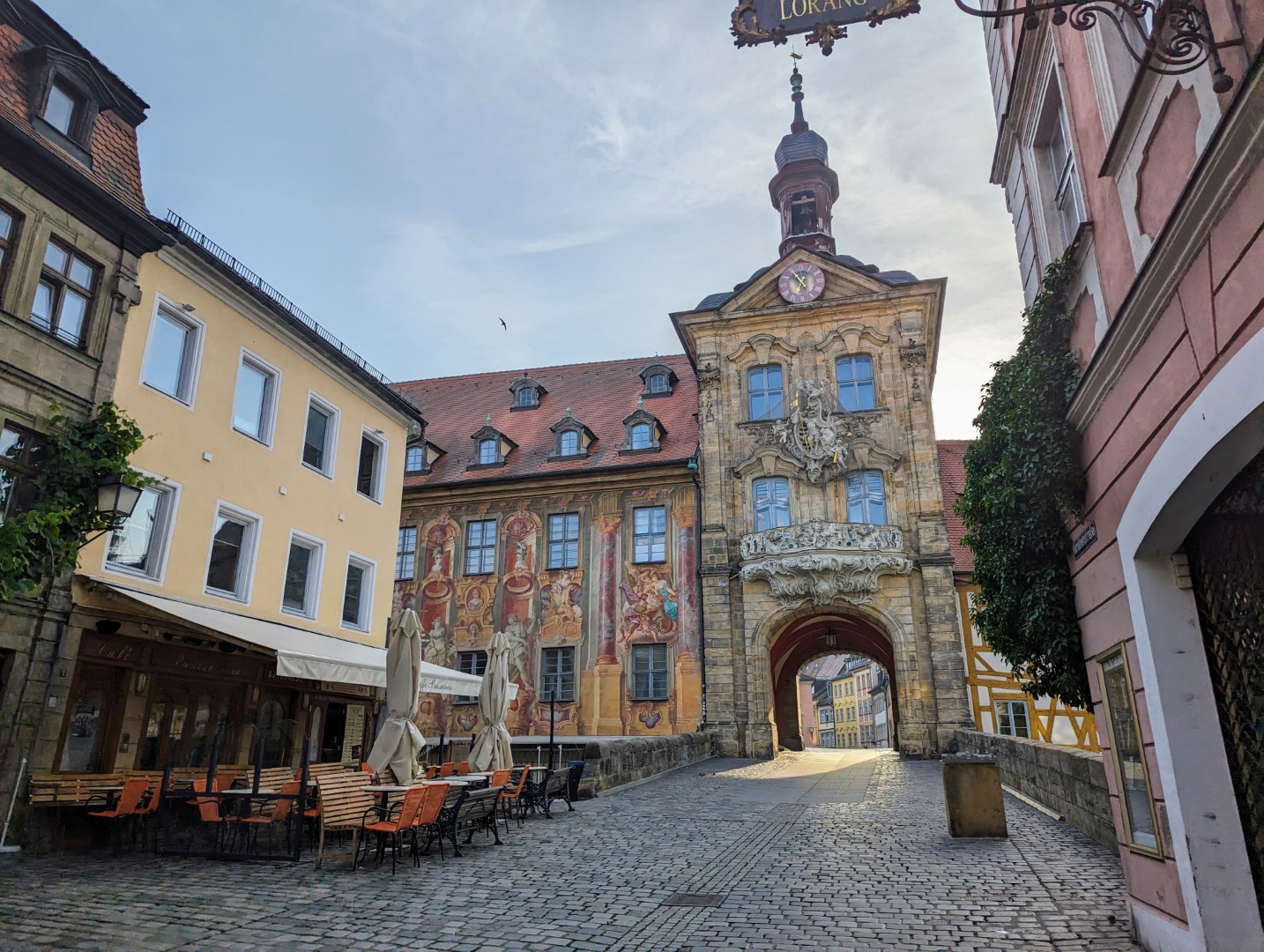 So it's actually no shock that in such an enchanting town that the hotels live up to the same standards and just about everywhere you look you can find cute boutique hotels. Bamberg not only has some fantastic accommodation options to make your trip feel a bit more unique and authentic to Bavaria, but time and time again I'm always impressed with how affordable hotels in Bamberg, Germany are…even the boutique hotels!!
Need a Fast Answer? Here are My Absolute Top Picks for A Boutique Hotel: Bamberg
I've actually come back repeatedly to "The Franconian Rome" so, between my previous trips to Bamberg, my most recent one, and my own personal research on where I would want to stay myself, I've put together the perfect list of the Best Boutique Hotels in Bamberg.
(While there are actually several other well rated chain hotels, like the Best Western Hotel Bamberg, I wanted to really highlight the Bamberg Boutique Hotels options because they just pair so well with the overall vibe of the town, really rounding out a fantastic impression of visiting Bamberg)
Wander In Germany's Bamberg Hotel Picks
(Scroll > to see all columns on mobil)
Important Bamberg Hotel Notes:
UNESCO World Heritage Site/ Age of Bamberg
Today, the entire Bamberg Altstadt is considered a UNESCO World Heritage Site (and rightly so!!!) We have to keep in mind that this well preserved medieval town is upwards of 1200 years (yes….THOUSAND) old! Now, obviously, we've come a long way since then and Bamberg clearly still isn't in the dark ages. But, as a way to preserve this amazing, intact history, just remember, Toto, you aren't in Kansas anymore. The buildings (including hotels) may very well be old (yet still wonderfully renovated and now modern), the alleys will be narrow, and the cobble stone streets extremely uneven in some areas (I won't admit to you how many times I tripped, despite living in a town of cobble streets, myself!)
You didn't come to Germany to see and experience the "Same 'Ol" so embrace all of this- possibly step back in time, and simply slow down and enjoy all Bamberg has to offer! With all this being said, you might want to prepare yourself for…
Parking in Bamberg
While I go over the specific options for easily getting into Bamberg in my BAMBERG GUIDE, let's remember that little tiny detail that 1200 years ago when they were creating Bamberg and making small, compact, alleys and streets that the people weren't exactly planning for things like German BMWs and other cars. Therefore, you are going to be hard pressed to find parking anywhere in the Altstadt. In fact, I wouldn't want to drive into the Altstadt even if I COULD find parking!
Most Hotels in Bamberg Do Not Offer Parking: Therefore, I won't keep making a note of this below in my review of specific hotels, because, unless I state otherwise, just assume that the hotel does not have parking on site and that you will need to find a paid parking spot at a nearby garage. Garages typically run about 18 Euro per 24 hours and is simply the going rate.
Air Conditioning in Germany Hotels
The rumor is true! Most homes do not have AC in Germany! We used not need them here due to only a few weeks here and there of truly HOT weather.
But what about the hotels? Do hotels in Germany have AC? Read all about the nuances, reasons, and ins and outs of AC in Germany in my article (as well as my personal tips and tricks to stay cool). However, the moral of the story is that unless I've stated otherwise in the description in THIS article, or unless it blatantly says it on a description of their homepage, assume that it may be hot in your room in the summer months without AC!!!
Want to Bring Along a Portable Fan? Many of my readers swear by just bringing along their own travel fan like this one that is USB powered so you don't have to worry about voltage conversions. I get it. I'm a fan fanatic when sleeping, too!
Check in Times at Bamberg Boutique Hotels
Chances are, you want to stay at a lovely boutique hotel because it is unique. Because of this, most of the hotels on this list are locally owned, many family-run, small hotels. This means that the majority of them will not have 24 hour reception. In fact, most of the hotels ask that you arrive by around 6pm. If you do not, you'll find yourself frantically trying to find and call a German number (hopefully you have a German SIM card for calling locally!) hoping to reach a real person.
Alternatively, make sure you are well aware of the check in time at the hotel you decide on and if you are going to be late, simply send an email or contact the hotel directly ahead of time. They all have ways to access the hotels after hours, most being with a pin code and then a place for you to find your room information and keys. It's all very simple….if you plan accordingly!
Pssst: Have you joined our Travel in Bavaria Facebook Group yet for personalized help on planning your perfect trip to Bavaria!
Best Areas to Stay at in Bamberg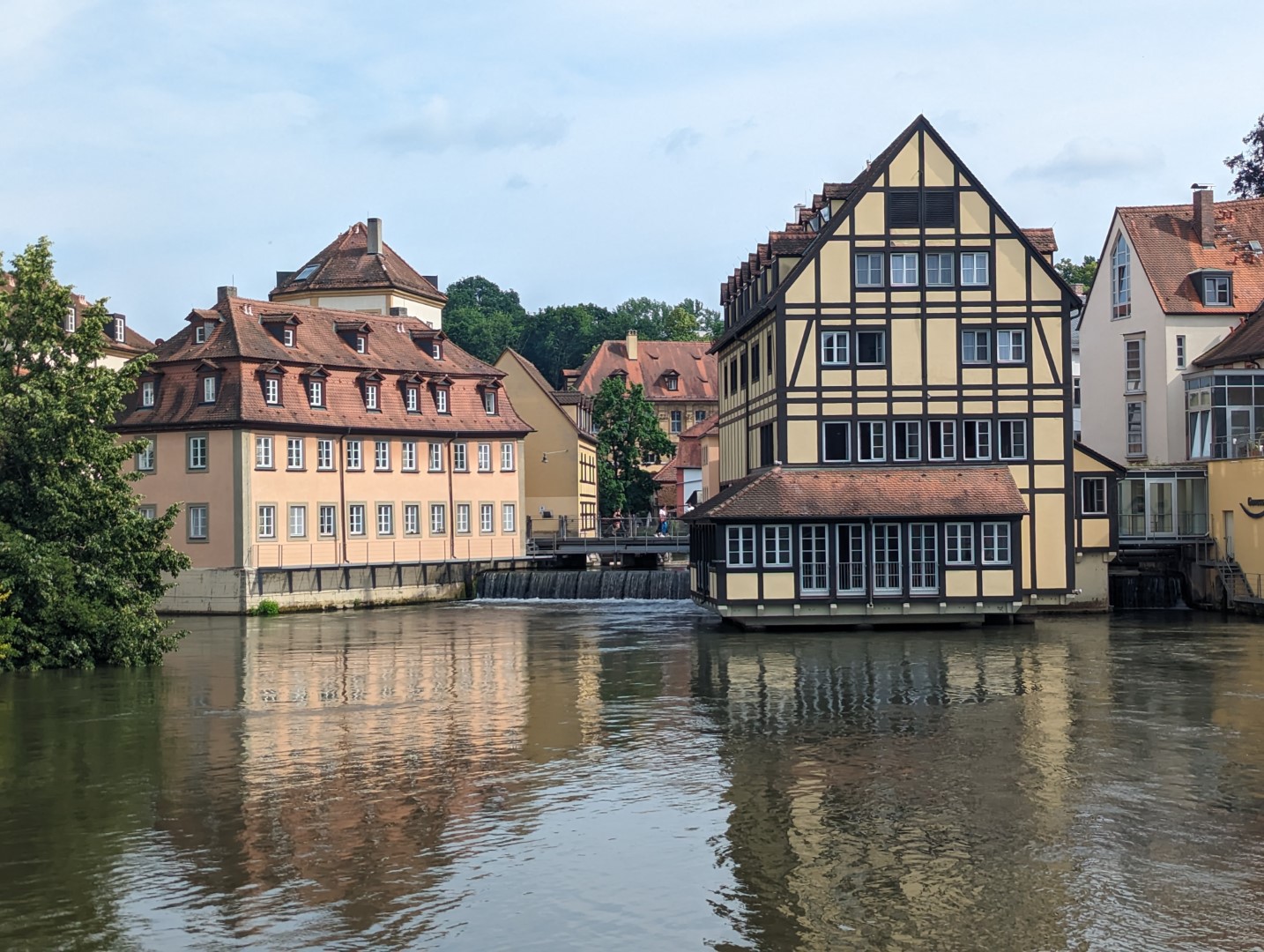 In Germany, often in the older towns, the layout of the area is still divided into Viertels (Quarters) and Bamberg is no different. Bamberg remains a pretty compact town, so no matter which area you are staying in, you are typically always only a matter of a short walk to all the sights, but each area does have slightly different vibes than the others. The bottom line though is that really no matter where you stay in Bamberg, it's all wonderful! Here are a few of the popular areas to stay in:
Innenstadt/ Altstadt
Altstadt is simply "Old Town" and some towns in Germany have a small area of the Altstadt that they call the "Innenstadt" or (Inner Town). In fact, many of the following areas are actually all still within the Altstadt, such as the Dom Viertel, Mühlen District, etc.
The Altstadt is where you'll find the popular sights like:
The Famous and Iconic Rathaus (Town Hall)
The Schlenkerla Brewery (smoked beer)
Tons of cafes, restaurants, etc
More
The Bamberg Island/ Insel
The Insel is naturally created by the splitting of the Regnitz River and is basically the center of the Altstadt today. Here, you'll find plenty of boutique, local shops, endless cafes, as well as the very popular Pedestrian Zone
Dom Viertel
This was once (and arguably still is) the heart of Bamberg. Located just above the Altstadt, you can gaze out over the town from here!
Bamberg Mitte
Literally "Bamberg Middle"- this is the section of Bamberg basically between the train station and the Regnitz, which forms the Bamberg "Island."
Gärtnerstadt
To the North of today's Bamberg train station is the area that dates back to the middle ages where even then, many gardeners would grow their produce for the area. While there is more than just gardens now, there are still plenty of places that have maintained this tradition, and you'll still find gardens, like the fantastically unique "Hopfengarten" Where I personally spent an amazing morning at and highly recommend it!
Berggebiet
Literally, "Mountain Area," Berggebiet is more of a residential area and not in the Altstadt, however, is just a few minutes by either walking or the bus to the Altstadt, making it a good place to stay if you want something a bit more "off the beaten path." This is the area that you'll pass through on your way to the fantastic Bamberg Castle, the "Altenburg"
The Best Boutique Hotels in Bamberg
Booking.com Rating: 8.5 (Very Good)- See it on Booking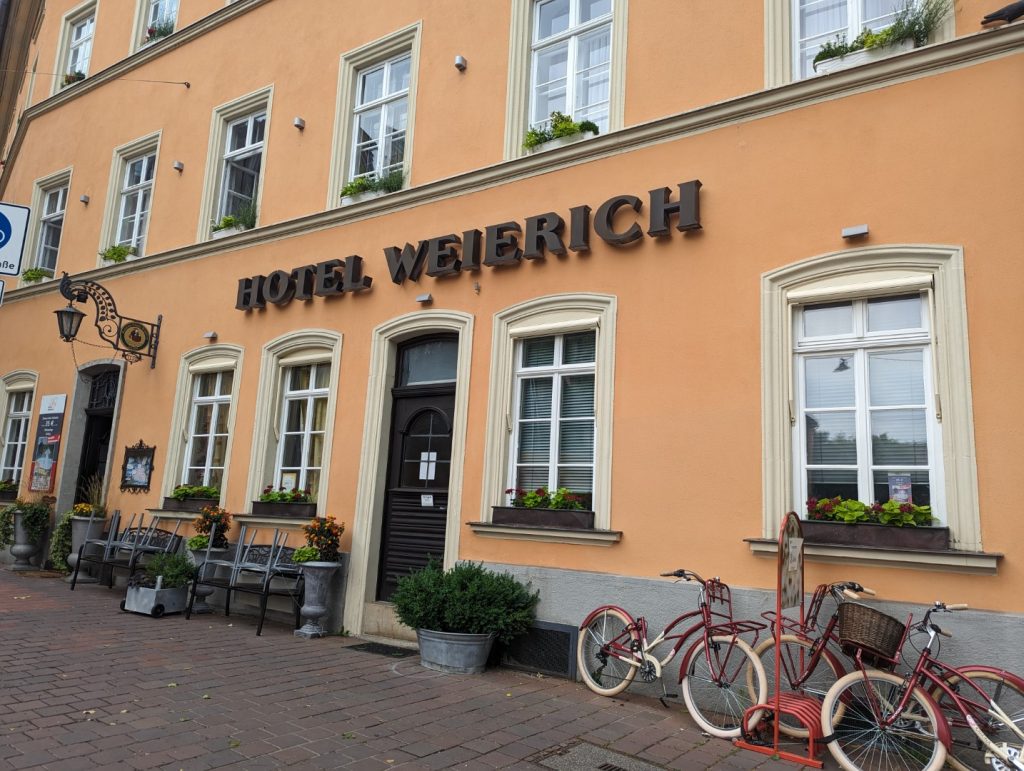 Let's start with the hotel that I most recently stayed at while in Bamberg, the cute Hotel Weierich! If you are wanting a Bamberg Altstadt Hotel, this was PERFECT! In fact, since my internal clock is eternally set to "Kid Wake Up Time," (aka 6am) even when I don't have the kiddos, I still wake up at that unreasonably early hour on my own. The hotel was LITERALLY around the corner from the gorgeous Rathaus, and since breakfast didn't start for another hour, I popped outside for a few minutes and basically had the (usually absolutely packed with people and tourists) Rathaus and iconic bridge basically to myself!!!
Moral of the Story: FANTASTIC Alstadt Location!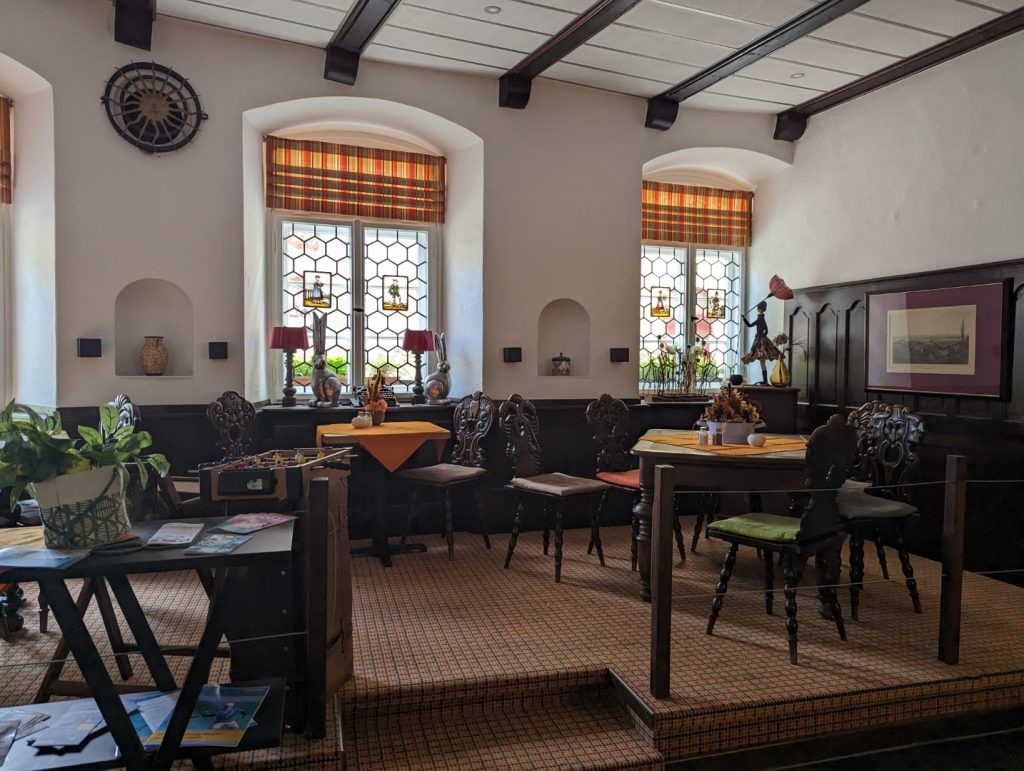 And as for the hotel itself, it is an amazing value for the money. At only about 90 Euro/night you can't beat this Bamberg Budget Hotel! The downstairs of the hotel is your classic Bavarian Decor, making it feel cozy, warm, and homey. The rooms are very clean (and a suuuper comfy bed!) but I was most shocked that all the rooms had AC AND there was an elevator!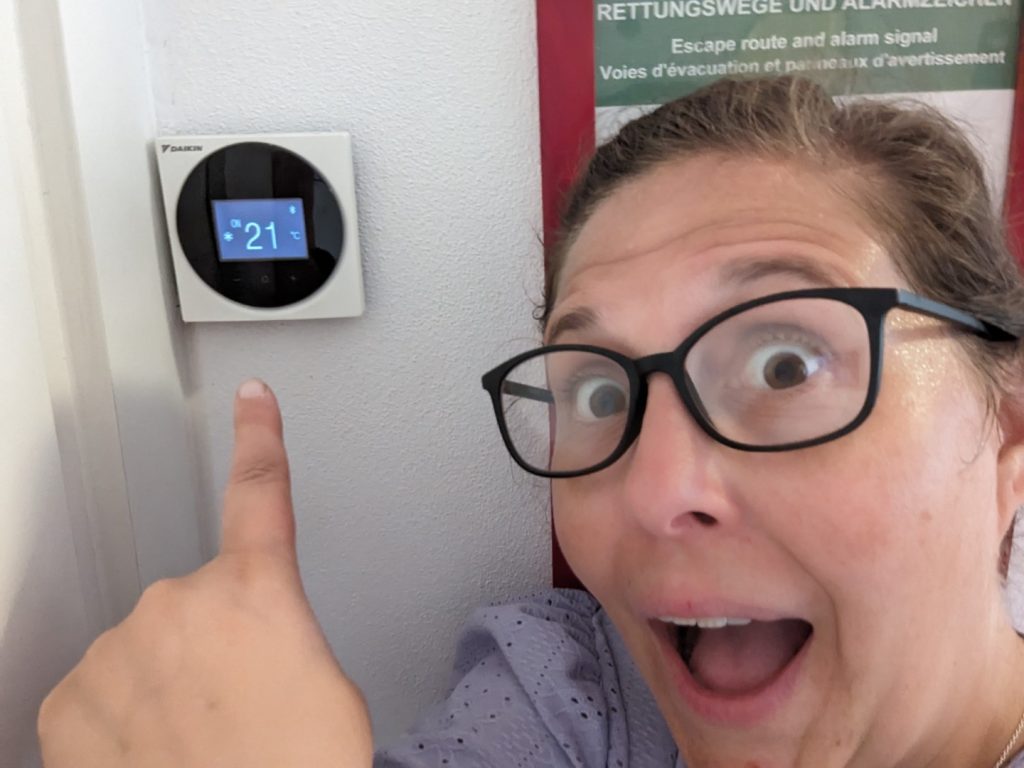 Read other reviews of Hotel Weierich Here
Why I Recommend Hotel Weierich:
Unbeatable location!
Fantastic price
Extremely helpful staff
Air Conditioning!
Elevator
Wonderful breakfast
Super Comfy Bed (soft- if that is what you like)
Very charming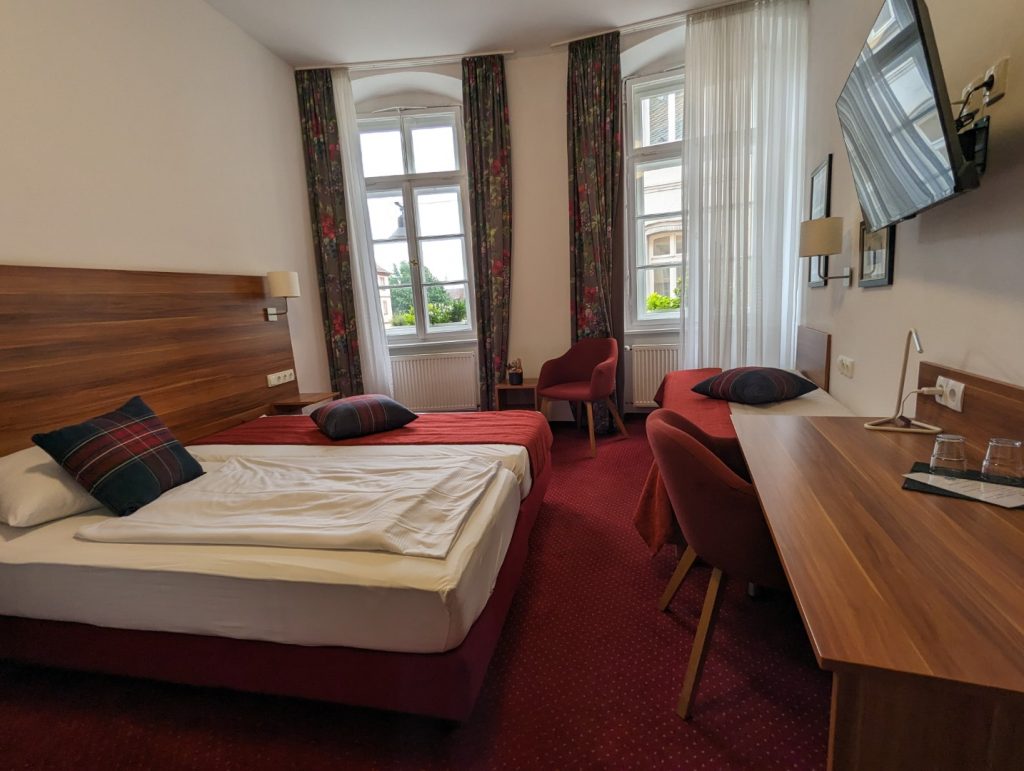 Things to Consider:
The bathroom was quite tiny (with a little step up that I kept stubbing my toe on to walk into) and at night, I did hear some street noise, but really not too much.
If you are arriving after 6pm make sure you have contacted the hotel in advance so that they can give you the night door pin code and let you know your room details.
Booking Rating: 8.9 (Excellent)- See it on Booking
It's written right in this hotel's name, so you just know that the Bamberg Boutique Hotel Villa Katharina is going to offer a different experience for travelers! While not located right in the heart of the Altstadt, this Villa is still easily walkable to the sights. Perhaps one of the most unique things it has to offer is a pool (a rare thing in German homes!) as well as great views out over the city.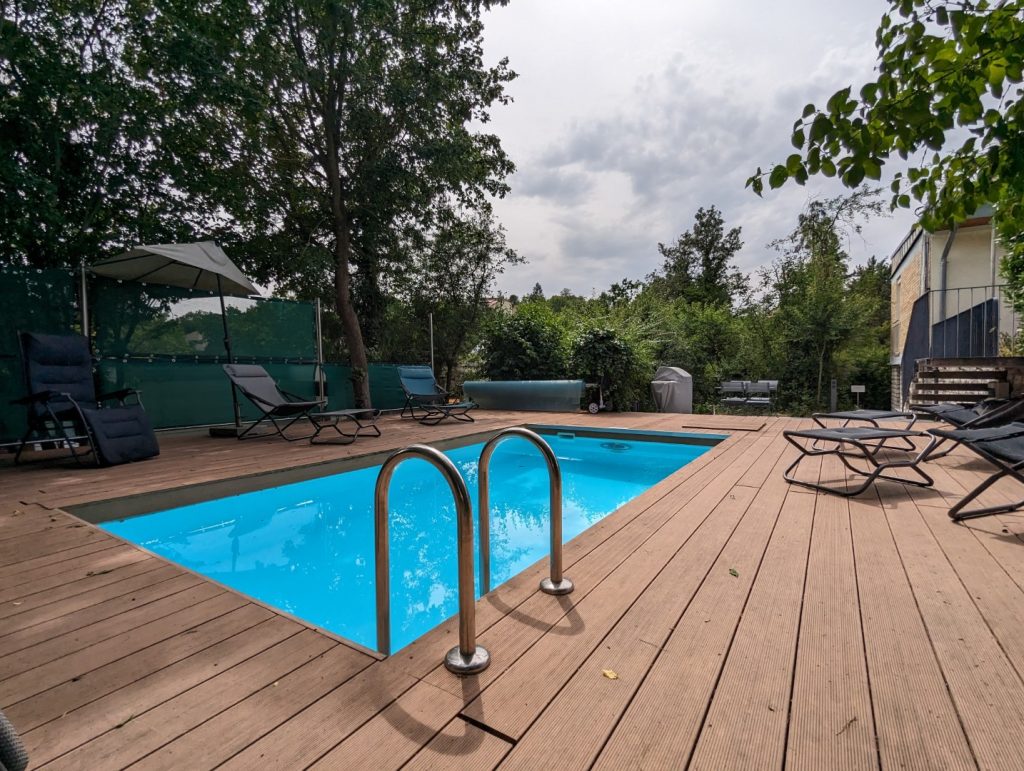 But I actually want to tell you about my personal experience with the Hotel Villa Katharina. Upon arrival, I was SO warmly greeted by the reception. We happily chatted about how we both equally love Bamberg and Regensburg (where I live) because they are both so charming, our poor knees that ached with the impending thunderstorm that was rolling in that evening, and how nothing beats a little boutique hotel close enough to the Altstadt, yet far enough away to feel like an oasis!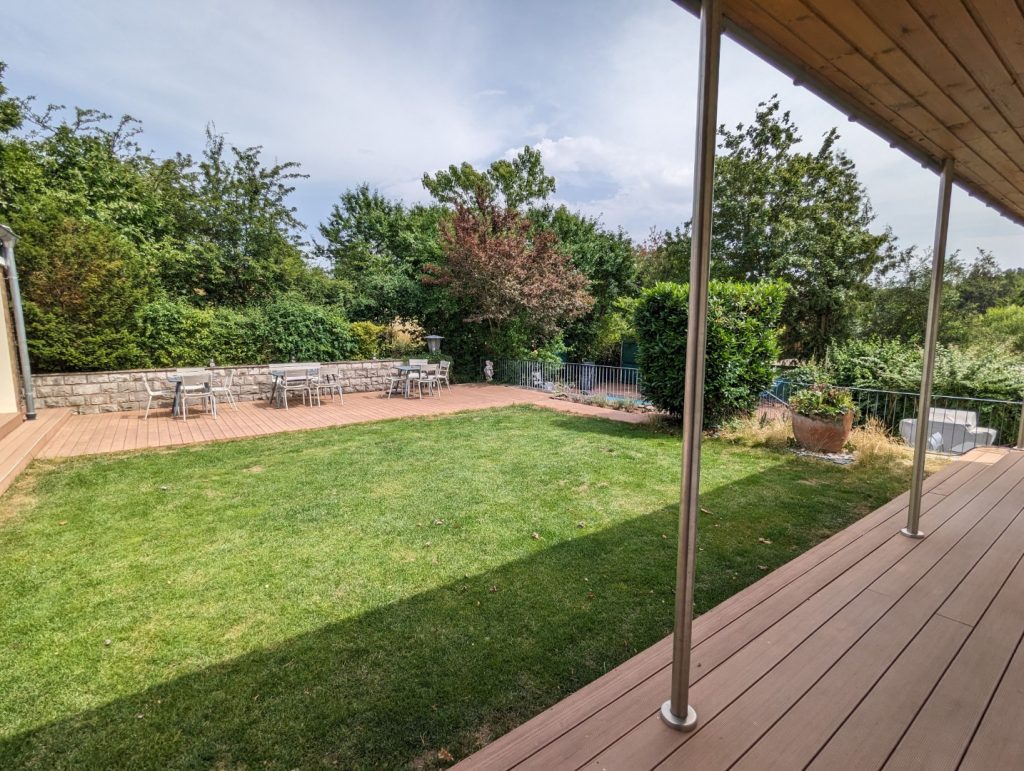 I later went into the Breakfast room to make a coffee (which is offered for free 24 hours) and Evon, the receptionist came out and we sat together, sipping Lattes and chatting as if we were old, friends! We swapped our favorite travel experiences (She insisted I try a new Castle Hotel nearby! Sure….twist my arm!!) and shared the importance of doing what you love and are passionate about for a living. My time with Evon and Hotel Villa Katharina truly was too short!
My point being, if you want a home away from home vibe, a feeling like you are truly welcome, and an absolutely relaxing, wonderful hotel, see if the Hotel Villa Katharina has a room still available! – Honestly, it wasn't just my experience- time and time again, reviews of the Villa Katharina compliment the staff, some even saying this is what "made their stay." After all, nothing is better than feeling like you've got a friend nearby to reach out to when traveling!
But let's also chat about the hotel itself! With only a small handful of rooms even available, this Boutique Hotel is all about making sure its guests get what they need. The rooms are cozy (but not small feeling), bright, and clean. There's a mini fridge and safe as well as a small desk. The traditional German-style spread of breakfast is included in the price and there is a lovely, small pool if you are coming in the summer to enjoy!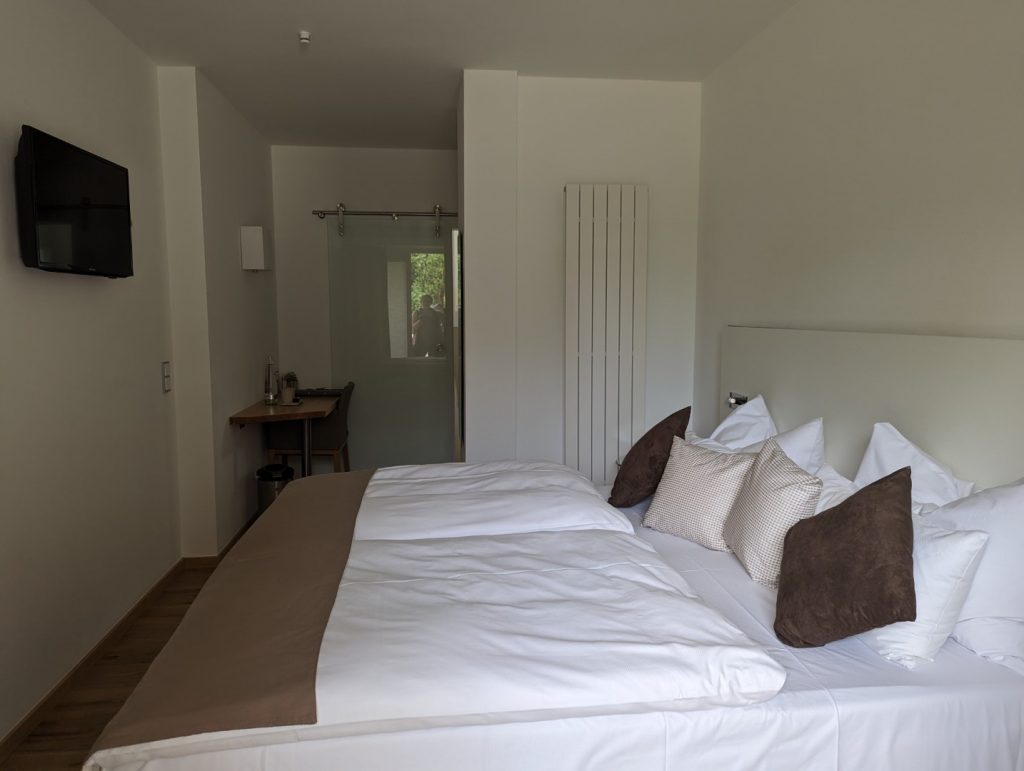 Why I'd Choose Boutique Hotel Villa Katharina
Free Parking AT the hotel!
Air Conditioning!
Extremely hospitable and helpful staff!
Lovely and quiet grounds, including a pool and atrium
Great breakfast
Either walk to the main sights in the Altstadt in about 15 minutes or rent bikes and scooters from the hotel to zip into town quickly
Talk to the reception about their "Grill Paket" where they will get everything together and organized for you to grill out in their beautiful garden
Read Other Reviews From Guests Here
Things to Consider
This Villa is not directly in or near the Altstadt itself, however, it is still very much in town. There is a bus stop literally in front of the hotel, which can take you to multiple stops in the Altstadt or to the main bus station, where it's then just a few minutes walk to wherever you want to be. Alternatively, you can just walk about 20 minutes to the main sites right from the hotel itself or even rent a bike/scooter from the hotel.
Booking.com Rating: 8.7 (Excellent)- See it in Booking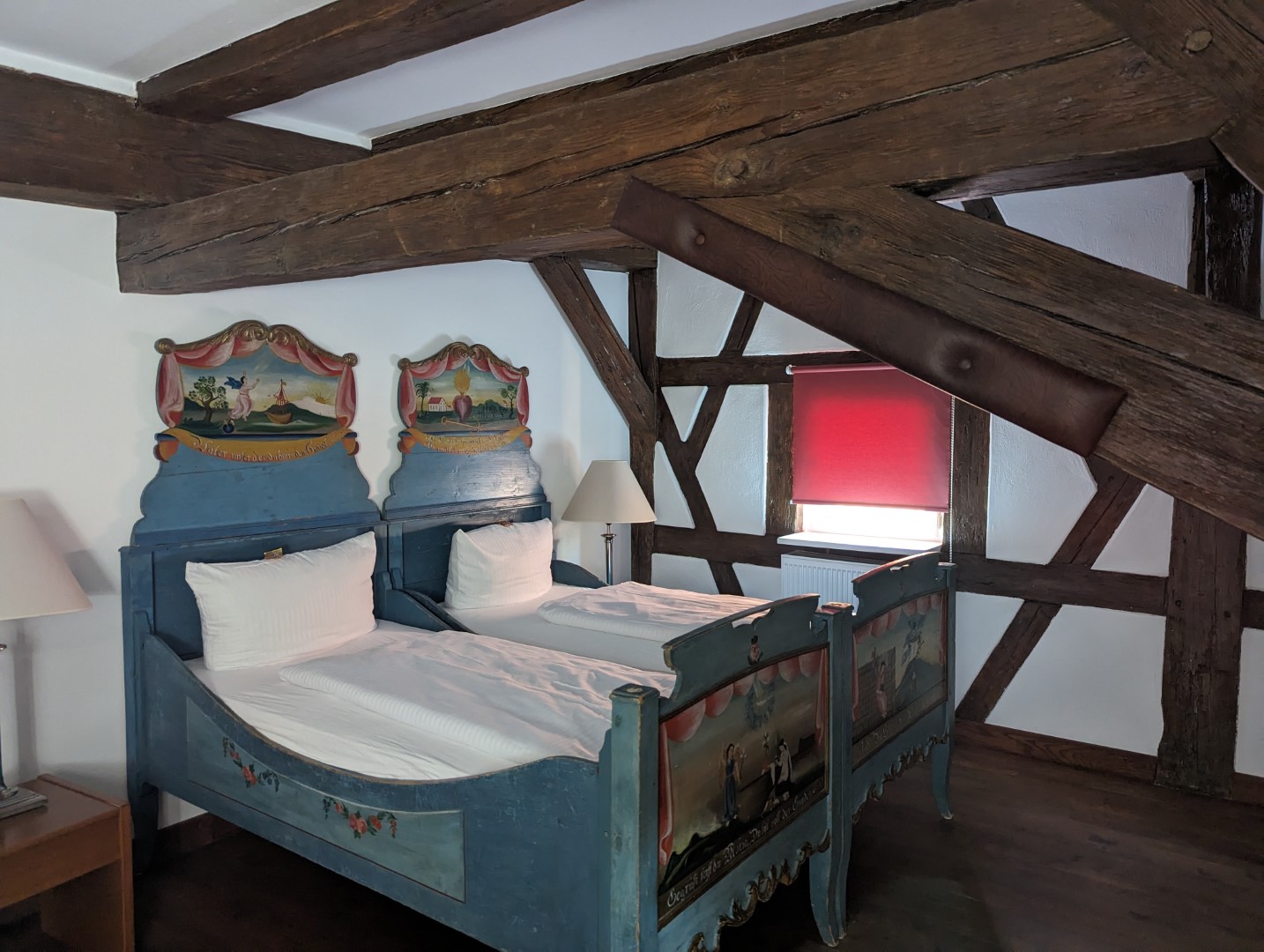 Holy charming, batman!!! The Altstadt Hotel Molitor is ADORABLE and a fantastic Bamberg accomodation! Located basically in the heart of the Altstadt, yet slightly off the main paths, the Hotel Molitor is a fantastic choice for your accommodation in Bamberg! And while the location was fantastic (it's almost so unassuming, you might even walk right passed it without knowing it's the hotel), perhaps my favorite part of the hotel was the insanely charming and original Fachwerkhaus Suite upstairs! It just oozed "Bamberg Charm" and was huge! Perfect for a family or a small group of friends! While not all the rooms have the awesome Fachwerkhaus architecture, the rest of the rooms are all delightfully bright and cheery, clean, and comfy. The breakfast room was gorgeous as well, with beautiful flowers and windows looking out to more of the Altstadt.
As soon as I walked in, there was a young lady at the reception who was just so enthusiastic, helpful, and kind! It was so hot that day that she immediately offered me a water as we continued to chat before showing me the room. I was happy to have the elevator up to the third floor, as well!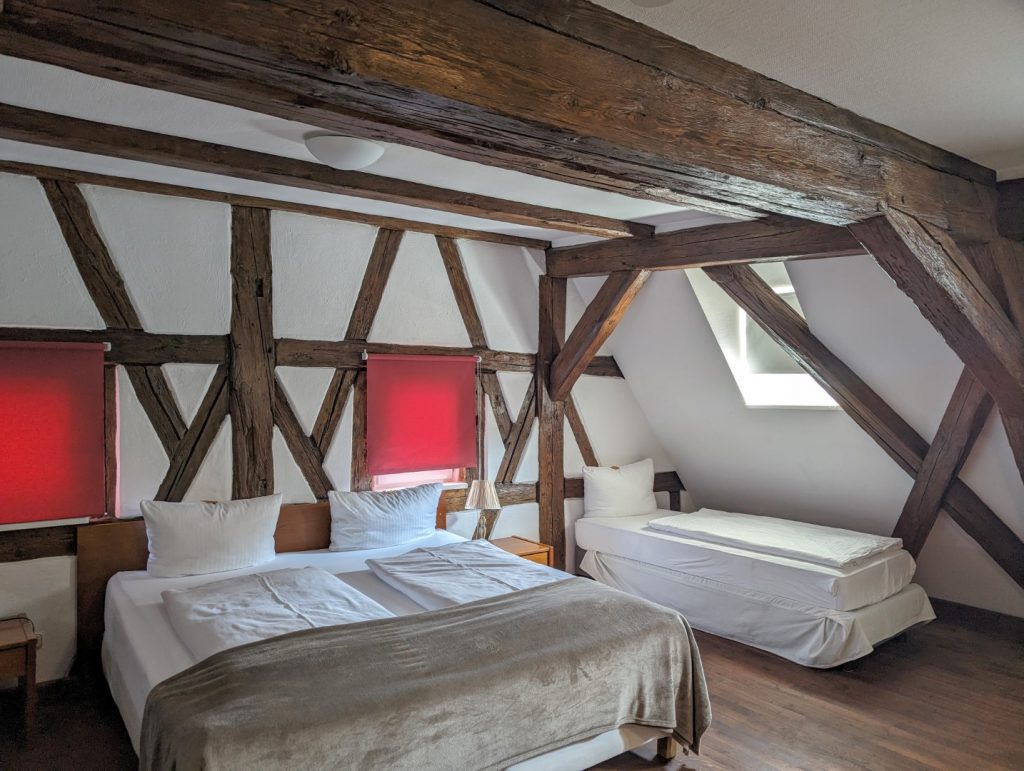 Why I'd Book This Hotel
Fantastic Location in the Altstadt
On a quieter street
Amazing price for a boutique hotel in a prime location
Extremely welcoming, helpful, and kind staff
LOVE the architecture, style, and decor of the rooms
The Suite is fantastic Half Timbered inside (and huge- perfect for a family or small group)
Read Other Hotel Molitor Reviews Here
Things to Consider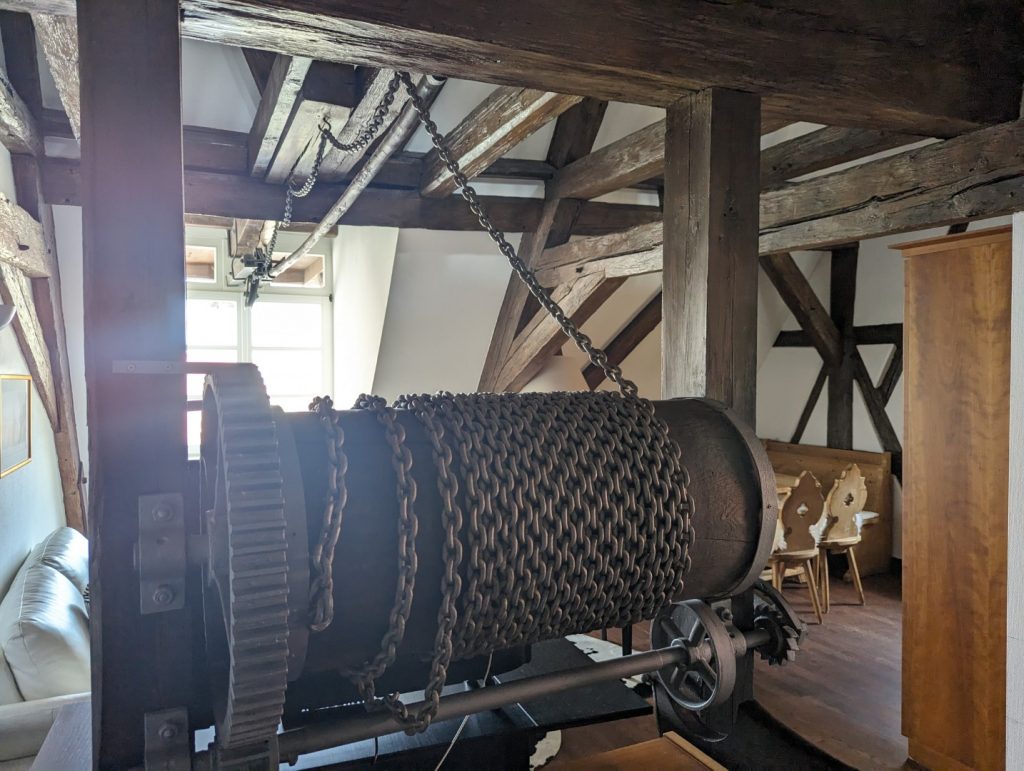 If arriving after 7pm, be sure you have contacted the hotel directly to get the instructions for entrance and for your room information. Like many other hotels in Germany, especially in the old buildings, there is No AC.
Booking.com Rating: 8.7 (Excellent)- See it on Booking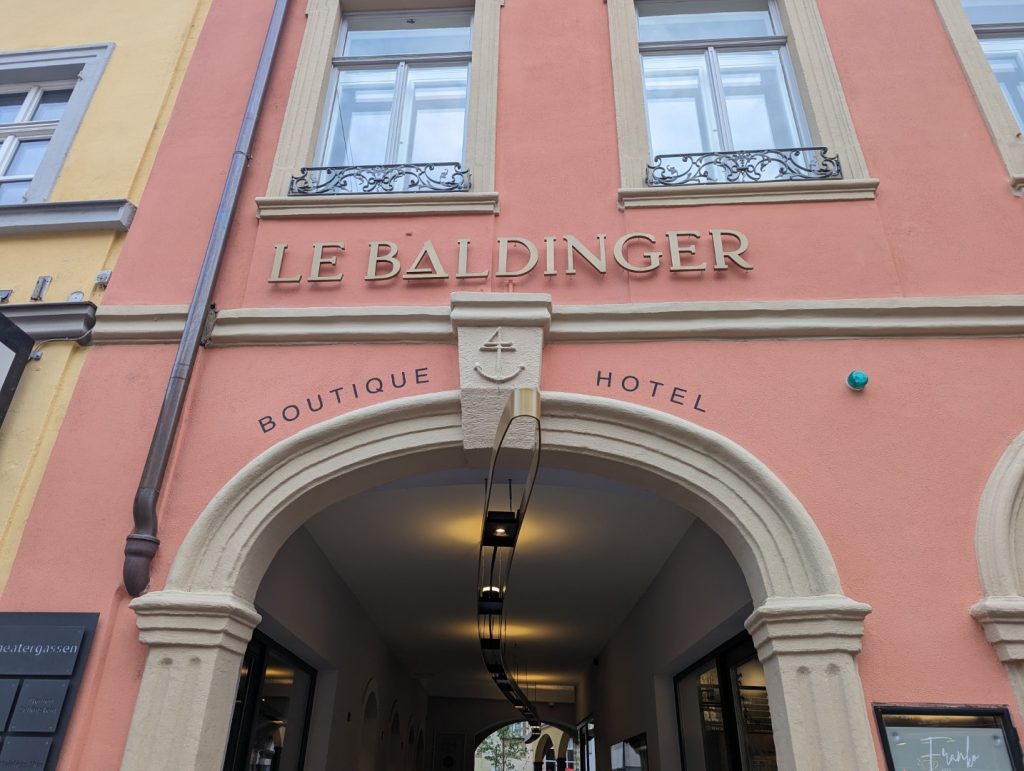 Located smack dab in the popular pedestrian zone of the Bamberg Innestadt, this hotel is perfect for those wanting to stay in the heart of all the action Bamberg has to offer! And despite being in an old, historic building, the hotel is wonderfully modern and beautifully decorated. As a locally owned boutique hotel, it is especially great to have small touches, like putting the local chocolatier's (Storath) wonderful treats on the bed for you to sample and enjoy.
Why I'd Book Le Baldinger Boutique Hotel
Absolutely beautiful interior
Right in the heart
Not directly in the Innenstadt, but still part of the Altstadt, making it easily accessible and close to everything
Fantastic reviews time and time again
See Other Reviews of the Le Baldinger Boutique Hotel Here
Things to Consider
Check in can be a bit tough, as the reception is only open in the morning and afternoon (closed from 12-2pm) and then again only until 5pm. If you are going to arrive later, you need to contact the hotel directly to arrange entrance. Also, If you are trying to get as much into your day as possible, breakfast doesn't start until 8am, which does feel a bit late for a hotel. Finally, this is in a very popular part of the Innenstadt. At night, with windows open (no AC), you might be able to hear the hustle and bustle from outside quite easily- ear plugs are advised!
Booking.com Rating: 8.5 (Very Good)- See it on Booking
Hotel Nepomuk is in an outstanding location, on the river in the old town. With the windows open, you can hear the river flowing down through the old mill. Apart from the river, it is in a quiet location – there's hardly any road or street noise.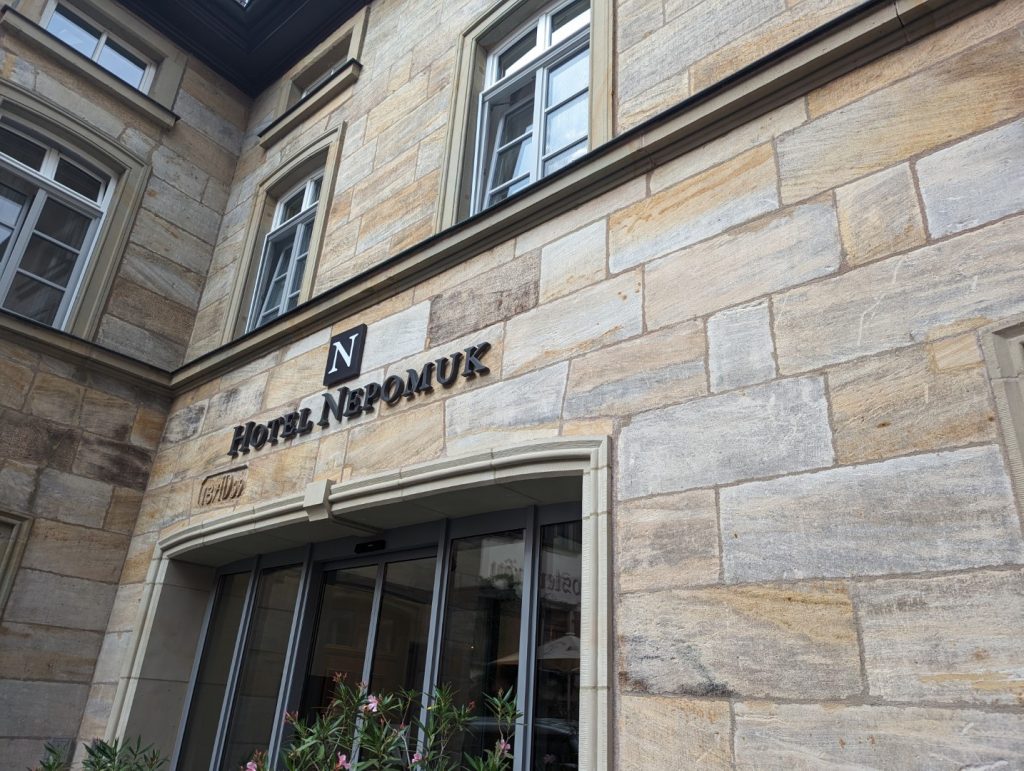 Why I'd Choose Hotel Nepomuk
Fantastic location! Only a 5 minute walk to the Rathaus and main pedestrian streets
While along the Regntiz, this is not in the "Little Venice" so you still get the cute half-timbered houses, and beautiful riverside, but not a lot of noise (if you book a riverside room)
Wonderful breakfast
Clean and spacious rooms
Read Other User Review of Hotel Nepomuk Here
Things to Consider
For the price, you would definitely expect things like a fridge, kettle, etc to be in the room but there is not. Same goes for a fan in the summer.
While I would still consider this a boutique hotel, the rooms (while very nice, clean, & spacious) are all, more or less, the same without a ton of extra "boutique" charm in each individual room.
Booking.com Rating: 8.9 (Excellent) – See it on Booking
While more of a "normal" hotel/pension vibe in terms of decor and room style, I think why I still classify Hotel Tanderm in the Boutique category is simply its location. I mean, anything that is a stone's throw from the "Little Venice" part of Bamberg naturally gets any of that fantastic charm just from the area alone!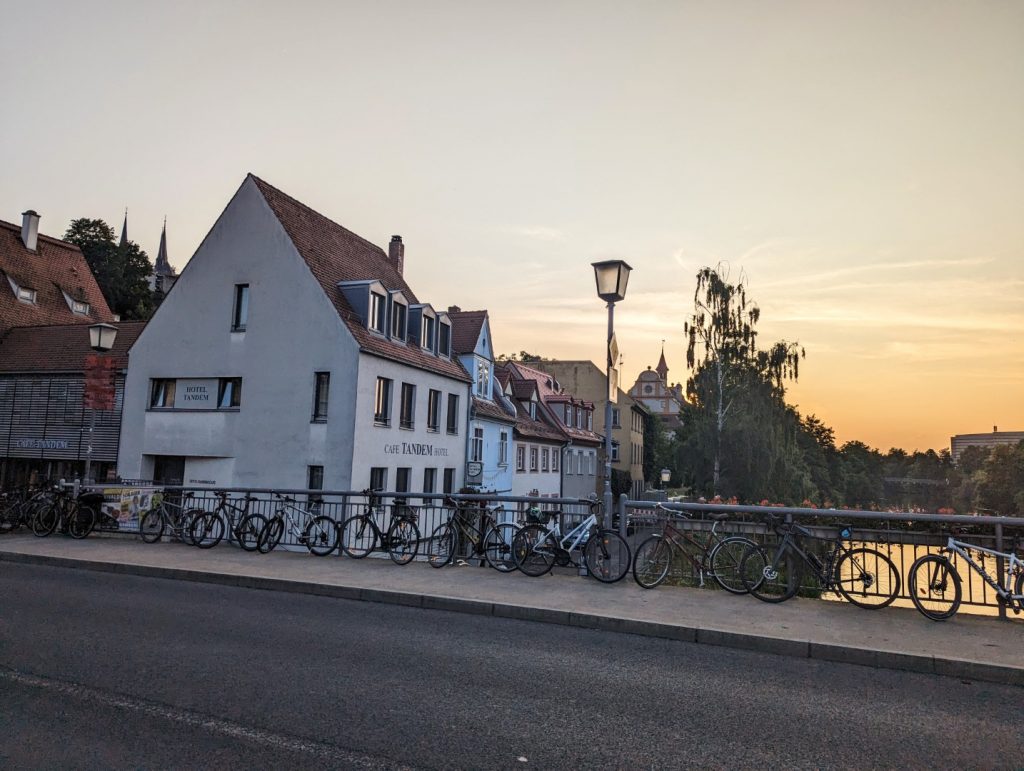 Why I'd Book the Hotel Tandem
Excellent and very thoughtful service
Right in the heart of Little Venice (and views from all the rooms to the river)
10 minute walk to the main highlights of the Altstadt
Lovely breakfast
Read Other Reviews on the Hotel Tandem
Things to Consider
Due to this being a small, run boutique hotel, if you are planning on arriving outside of usual arrival hours, be sure to contact the hotel ahead of time to coordinate a check in.
Booking.com Rating: 9.1 (Wonderful)- See it on Booking
Quirky. Fun. Unique. These are all things that describe a classic boutique hotel and the Hotel Wohnbar exceeds these! With each room being different from the next and with plenty of contemporary artwork, it's a joy to spend your time here. With being just a few minutes walk to everything you'll want to do in Bamberg, it's one of my top choices!
Air Conditioning!
Midway between the Altstadt and Train Station (if coming in by train)
Great, creative, fun, yet laid-back vibes
Fantastic location
Wonderful breakfast
Read Other Reviews on the Hotel Wohnbar Here
Things to Consider
Honestly, there aren't a ton of complaints here besides the usual complaint about hotels in Bamberg of parking.
Booking.com Rating: 8.5 (Very Good)- See it on Booking
While not located directly along the river, the Boutique Hotel Little Venezia (also known as Ventura's Hotel and Gästehaus) is right in the heart of the Altstadt, making it incredibly accessible to everything you'll want to do in Bamberg. What is unique about this hotel is that it pairs the construction and beauty of the old, half timbered houses with modern and contemporary art and interesting lighting concepts bringing old and new together in a wonderful way.
Why I'd Book the Boutique Hotel Little Venezia
Location, Location, Location!
Fantastic price, ESPECIALLY for its location
Some rooms have the unique Fachwerkhaus (half timbered) architecture. Other rooms are charming and cute with thoughtful and modern decor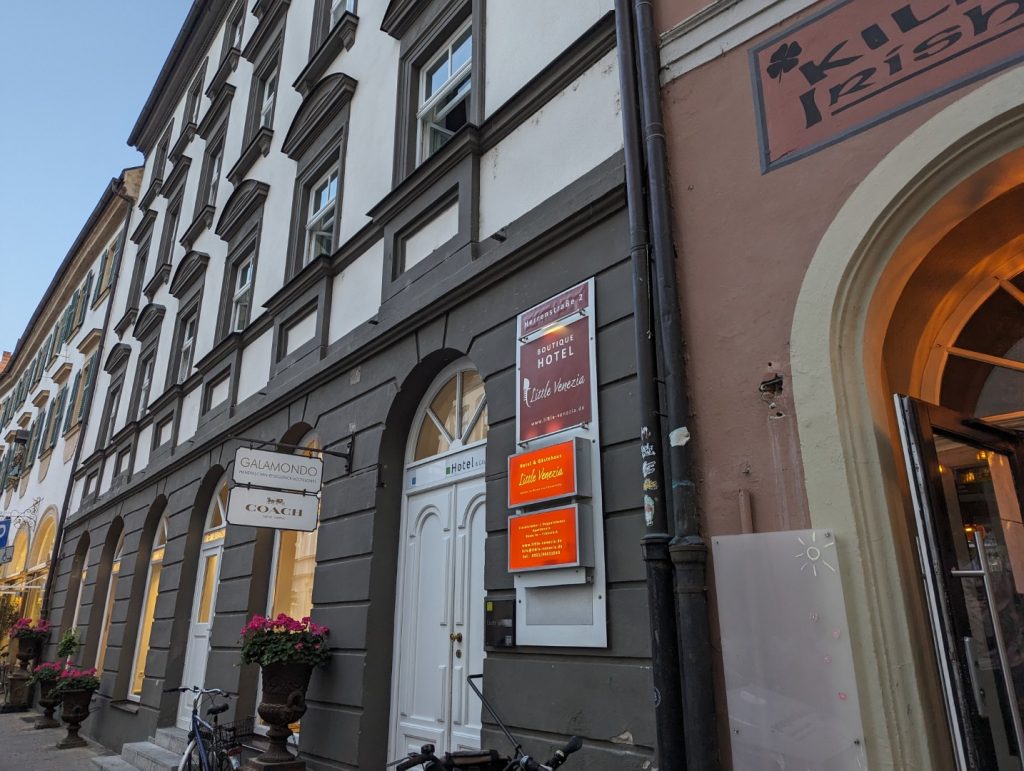 Read Other Ventura Gästehaus Reviews Here
Things to Consider:
This hotel is located smack dab in the middle of the heart of Bamberg, but that also means there are quite a few cafes, bars, and restaurants where people love to sit outside in the summer months. This can mean that it can get quite loud- bring earplugs!
Booking.com Rating: Wonderful 9.2- See it on Booking
Adorable. I think that is simply the best way to describe this delightful Bamberg Boutique Hotel. While doing what I do best- Wandering- I almost completely passed the hotel, as it is situated in the heart of the Altstadt, yet on a nice, quiet side alley and is completely unassuming, aside from the bright blue door that should have been a dead giveaway to me! (But when there are so many other cute doors, gorgeous window boxes with overflowing flowers, and fun street lights, you can see why I was easily distracted!)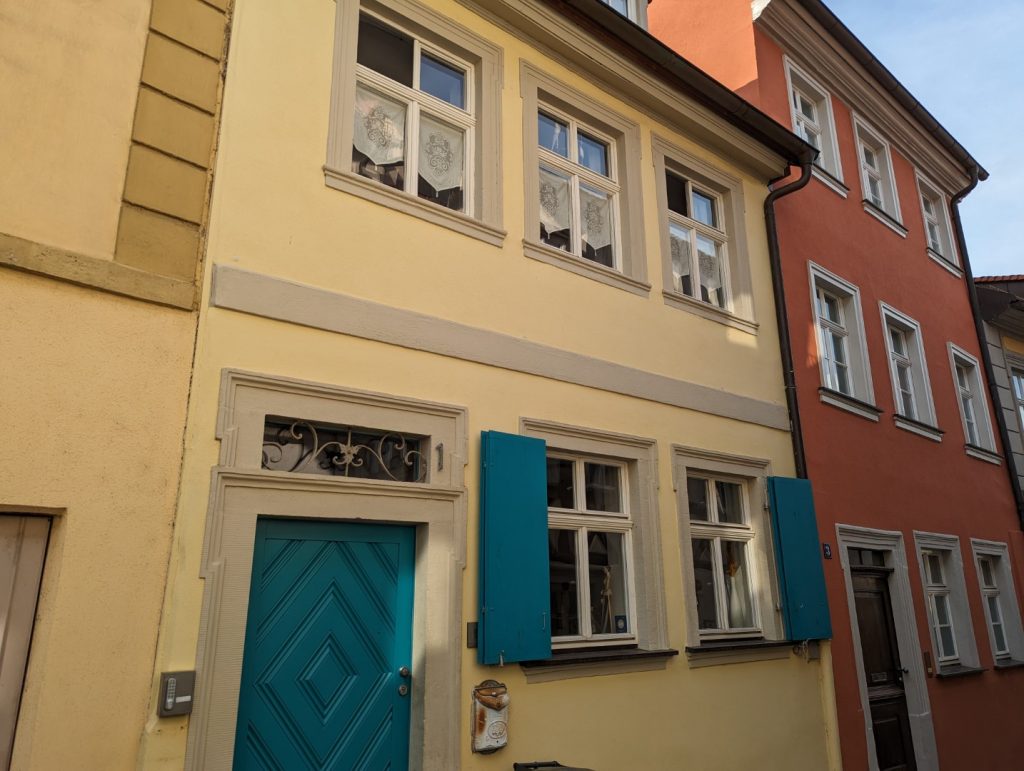 If you had to put a picture next to the definition of "Boutique Hotels" the Schlafstube just might be featured! The rooms are so thoughtfully decorated and have the basics like a tea kettle, fridge, coffee maker, etc. (Note there is no actual kitchen or cooking amenities despite them labeling it as "Apartments")
Oh, and did I mention just how freaking cute!!! (Bonus for also being one of the cheap hotels in Bamberg, Germany while remaining such a great establishment)
Why I'd Book This Hotel:
Amazing location!!! In the heart of the Altstadt yet on a quiet alley!
SOOOOO Charming!!
Incredibly unique rooms- but several are quite small
Fantastic price- Budget price for a great, boutique hotel
Read Other Guest Reviews of the Schalfstube
Things to Consider:
Depending on the exact room, some can be quite small. Especially with all the decor, a few rooms don't have a ton of space for a lot of belongings/ large luggage. While they call themselves an apartment lodging, I would call it more of a "Kitchenette"-so there is no a place for actual cooking (not even a hotplate). While cute, the beds could use to be updated to be a bit more comfortable.
Luxury
Booking.com Rating: 8.4 (Very Good)- See it on Booking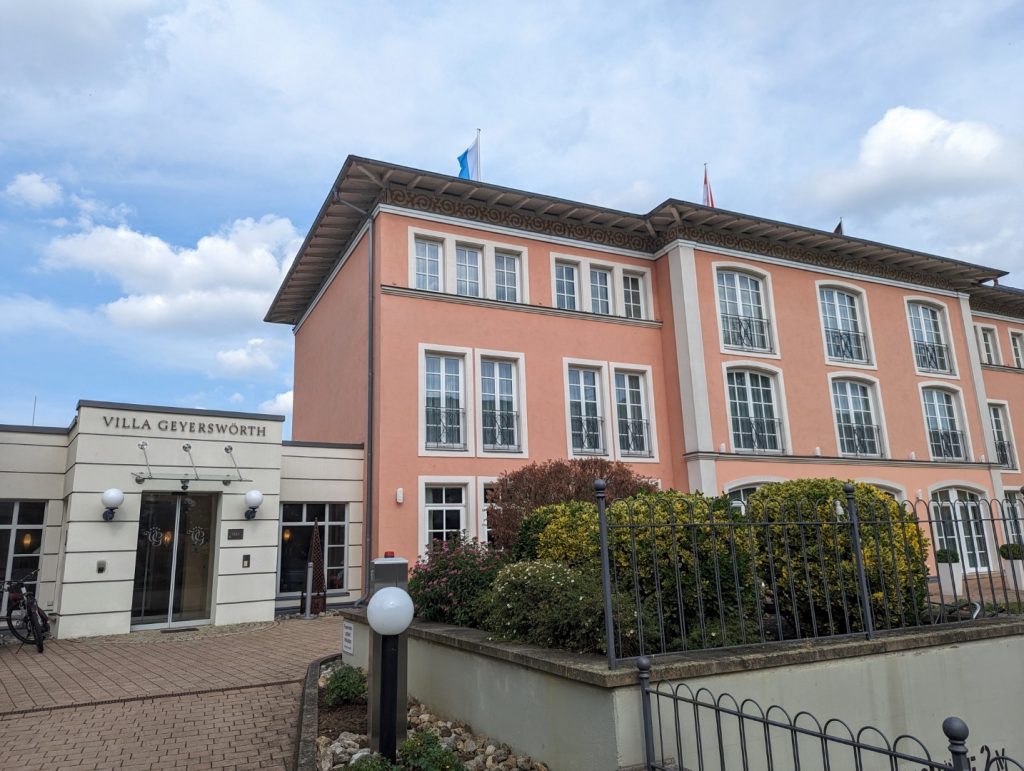 I have slightly mixed feelings about the Welcome Hotel Villa Geyerswörth. On the one hand, it is a well rated, 4 star hotel, offering some unique amenities that other hotels in the area don't. On the other hand, with just how many absolutely charming and authentic boutique hotels in Bamberg there are, I am not completely sold that the cost is worth the value for what you get. However, I know that many people really love staying here, so I still wanted to offer it as an option for you to consider.
For example, for a 4 star hotel, I would expect ALL rooms (not just "most") to have air conditioning, an elevator that accesses all rooms, and for the sauna and exercise rooms to be included in the price. However, there is a certain elegance to the hotel and if you choose, there is a gourmet restaurant on site.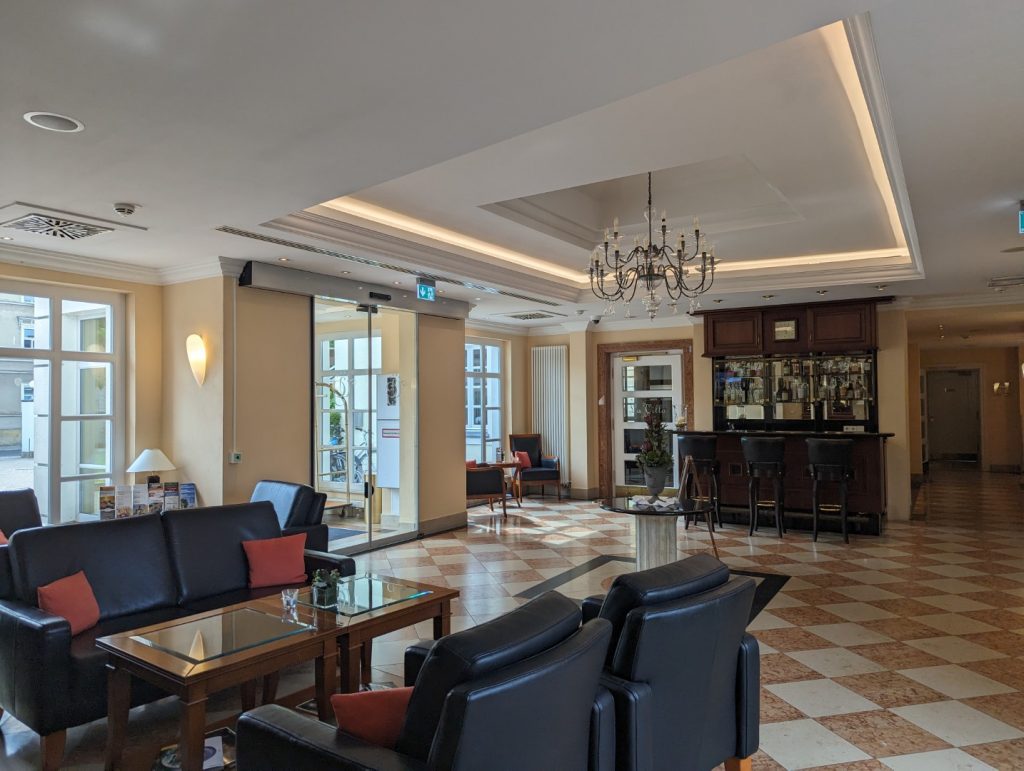 Why I'd Choose The Welcome Hotel Villa Geyerswörth:
One of the few 4 Star Hotels in Bamberg
There is an actual underground parking garage for guests (€18- which is the cost of most other garages, but at least it is right at the hotel itself)
Some rooms have A/C (If using Booking.com, be sure the room you are selecting has "Air Conditioner" in the description since not all do! – A quick email to the hotel directly to confirm this as well never hurts)
Gourmet Restaraunt on site
One of the few Altstadt Bamberg Hotel "Wellness" Options (but at a small, extra fee)
Read What Others Have to Say about Welcome Hotel Villa Geyerswörth Here
Things to Consider
For a 4 Star Hotel, I would expect more amenities to be included in the price. I've pretty much already stated my reservations about the Welcome Hotel Villa Geyerswörth, but to recap, if booking here, I would reach out directly after booking to confirm that you have one of the newer rooms with the elevator and air conditioning.
Bamberg Hostels
Booking.com Rating: 8.6 (Excellent)- See it on Booking
If there was ever a town that I wouldn't be surprised to see a lovely boutique hotel that is also a hostel, Bamberg would be it!!! The location of this hostel in Bamberg is actually closer to the train station than to the Altstadt, however, you are still just about a 10 minute walk to the main sights or you can walk the 2 minutes to the train station and then grab a bus to the Altstadt (but that would really just save you walking energy rather than actual time)
Why I'd Book the Bamberg Hostel Très Schick
Great decor and charmingly decorated
Private rooms compared to a dorm style hostel
Bed linens/ towels provided
Clean facilities, including the shared areas such as the shared bathrooms, kitchen, lounge area
Hotel close to the Bamberg Train Station (2 minute walk)
Free tea and coffee provided
Shared kitchen and common space available for use
Read Other Reviews about this Bamberg Hostel
Things to Consider
While you can get your own sleeping room, as a hostel, you will have a shared bathroom/shower with other guests. Also, while definitely one of the cheap hotels in Bamberg, Germany, it still costs more than a "typical hostel" but still a great, budget Bamberg Hotel! Optional breakfast can be added for €10
Conclusion
I can't tell you how much I've always enjoyed coming to and staying in Bamberg and I really hope you do, too. If you end up staying at one of these hotels, I'd love to hear back on how your experience was!