Hoch German vs Local Dialects
Dialects will Vary (Drastically)
I'll never forget when I traveled to Frankfurt and asked for a "Salami Semmel" and they looked at me like I had 4 heads. At the time, I thought it was just my reeeeeaaaaaaally bad German but I later came to find out that the word "Semmel" (Roll) that we use everywhere here in Regensburg is actually a very Bavarian word.
When I took my first A1 German class, the teacher was from a teeny tiny village and she was explaining that she speaks Bayerisch (a very strong dialect in Bavaria). But then she was joking that even she can't understand the Bayerisch in the next village over. You know, the town that is literally a 3 minute drive from the place that she grew up and has spent her entire life in. It was at this moment that I realized I was screwed for learning German. If a GERMAN can't even understand other dialects, what hope do I have!?
Local Phrases
Another thing to consider is that in some regions of Germany, they just have different phrases for things. It's not always necessarily a direct correlation to dialect per se (although, that often does come into play). A great example is the first time I traveled to parts of Northern Germany and people were greeting me with a phrase I had NEVER heard before in ALL of my traevls of Germany. I knew that saying something like "Grüß Gott" or "Servus" was definitely something from Bavaria, so I defaulted the usual "Hallo" or even "Tag" (shortened from Guten Tag). But when they started saying "Moin" (sometimes even just "Moi") as a greeting I was legit confused and thrown off!
My point is that having some very basic
If you've been around WanderInGermany at all, you probably know a few things about me.
I love Cheese. Particularly Alpine Cheese. Mmmm
I'm horribly awkward at taking "Insta-Worthy" Instagram photos
I'm only slightly obsessed with the German Spa culture
Andy and I have three, pretty freaking awesome kiddos
While actually every single one of these points will be brought up in this article, it's that last one that brings me particularly to staying at the Hotel das Rübezahl.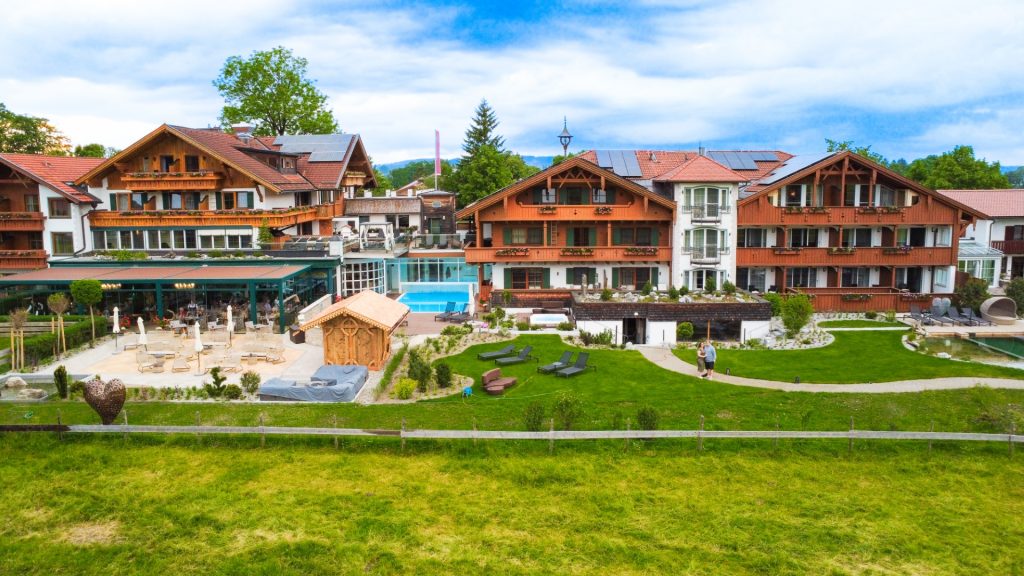 You see, I love my kids buuut sometimes, Andy and I just need a little "couples" time. We have been married for 14 years now and we try to make it a priority for us to take a "Couples Only" retreat every year (if possible), and what better time than our anniversary! So, with Gramma in town for a few days, I decided to start looking for some of the best Romantic hotels in Germany for a little anniversary getaway, and, to no surprise, some great hotels near Neuschwanstein kept popping up in my research. The Berghotel Rübezahl ended up being JUST the romantic getaway we needed (and the views of Neuschwanstein and the mountains sure didn't hurt!)
In this Hotel das Rübezahl (Schwangau) review, I'll cover everything you need to know about a stay at the Hotel Rübezahl. From a general overview review, photos of the hotel, my personal opinions, etc. I'll cover what I personally experienced at the hotel from the room itself to the dining experience, what the included spa and saunas were like, the pool amenities, and more.
You'll Find In This Article:
Where is the 4 Star Hotel Bavaria Wellness Hotel Rübezahl Schwangau?
Address:Am Ehberg 31, 87645 Schwangau
To get your bearings straight, let's review where the Fairytale Neuschwanstein Castle is located. Neuschwanstein is perched high above the tiny village of Schwangau (that's how the other castle at the site gets the name "Hohenschwangau"). The nearest town (and where a lot more accommodation is located) is Füssen (20 minute bus ride). While Füssen hotels are fine, nothing beats a hotel near Neuschwanstein (and by near….I mean within vantage point from your guest room and luxury pool!)
If you want to be close to the castle and have a fairytale stay yourself, look no further than Hotel Rübezahl. Neuschwanstein Castle itself is just a mere 3 kilometers from the castle and only a 20 minute walk (3 minute drive!) to the Schwangau shuttle bus that can zip you up to the famous Marienbrucke.
Neuschwanstein Views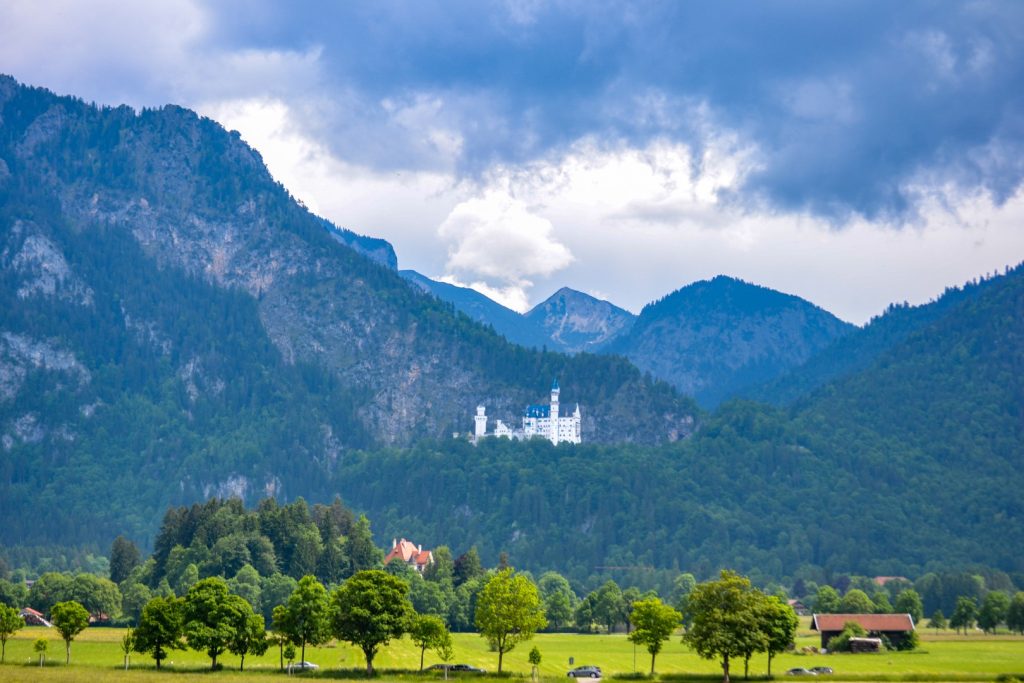 I'm really sorry if I start to sound like a broken record on this point, but you guys….the views!!!
I honestly spent the majority of my time at the hotel just staring at the castle nestled into the Alps because it was just stunning.
From just about anywhere at the hotel, you can find a view of the castle. Everything outside from the cafe style garden to the sun beds to even the hot tub all faces the castle and mountains. No matter if you are enjoying the 4 course dinner or lounging in the cabana, there's no way to forget that you are in a fairytale setting in the Bavarian Alps.
One of my personal favorites is that there is a completely unobstructed view of the castle. No buildings, nothing.
Wait….that's a lie. There is a VERY distracting small pasture of insanely cute cows located directly adjacent to the hotel. Can you just imagine!? I'm not even exaggerating when I say that the calves were literally frolicking in the lush, green grass. I'm not sure if I said, "OH MY GOSH! Those babies are so freaking adorable!" or "God, this view of Neuschwanstein is STUNNING" more. I guess let's just call it a tie.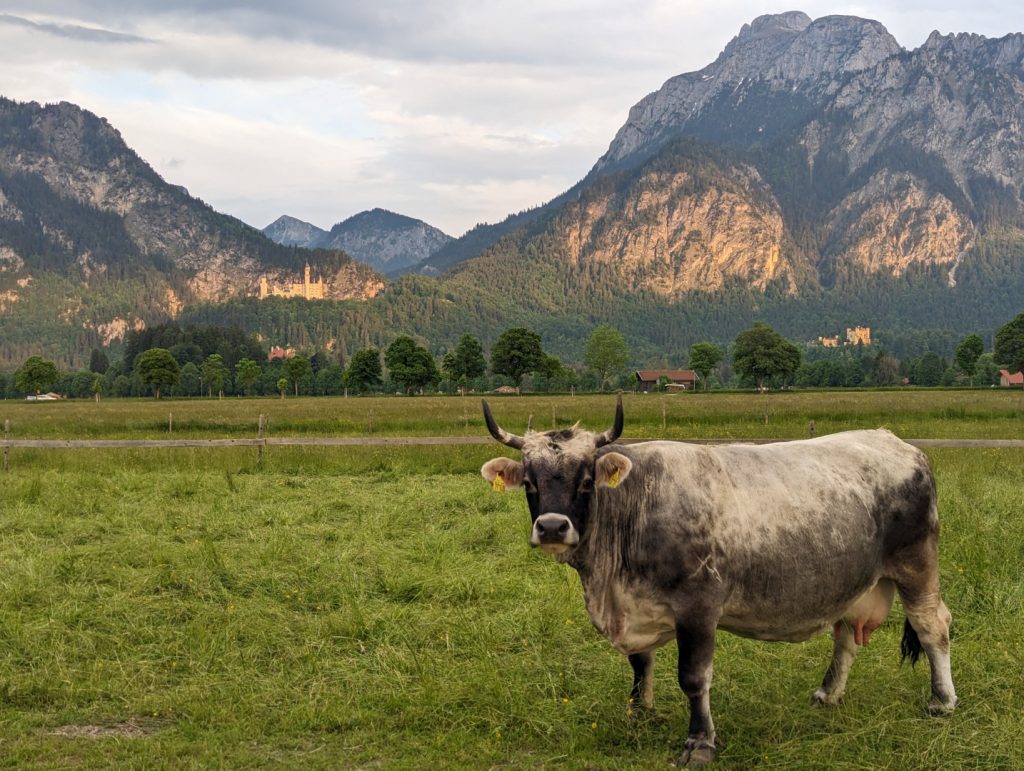 But there is seriously something about it all that creates this insane, well, as the Germans call it, "Gemütlichkeit." (A feeling of happy, coziness) The cows grazing, the sun streaming through the clouds, one of the most famous castles in the world right in front of my eyes, the sound of rushing water from the pool, and the birds chirping made all my stresses immediately melt away.
Arrival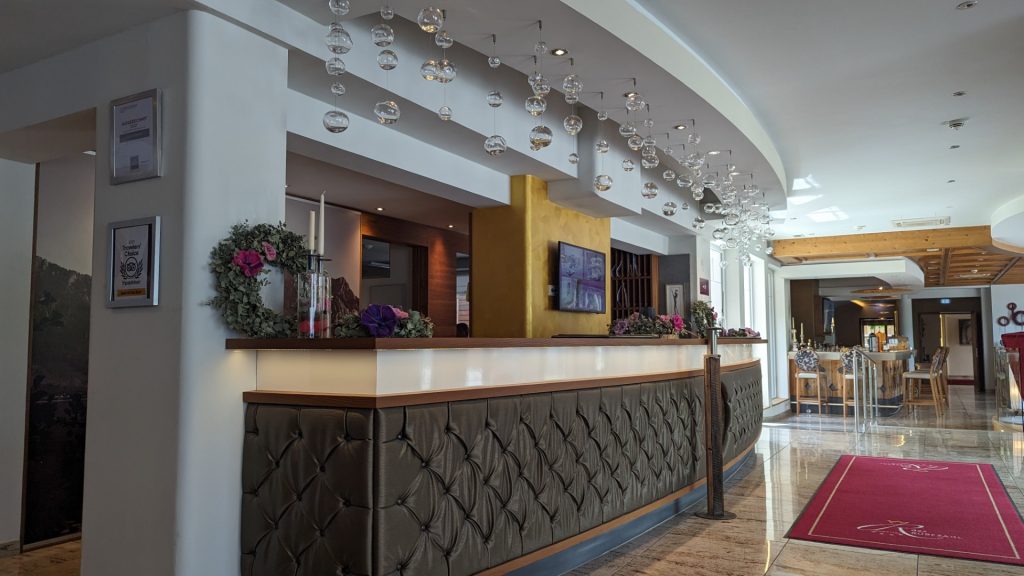 Parking: One thing that always perplexes me is that parking isn't always included or available at hotels in Germany. Luckily, Rübezahl not only had free parking but also had E-chargers for our electric car! (My husband is always on the lookout for a charging station, so it was fantastic that we didn't have to go out of our way! If you need a charger, it was 22 Euro per charge).
We were warmly greeted by the staff and the particular package we had meant that we got to sit in the lobby, which reminded me of a beautiful Alpine lodge, with a welcome glass of Prosecco. Then we were shown to our room.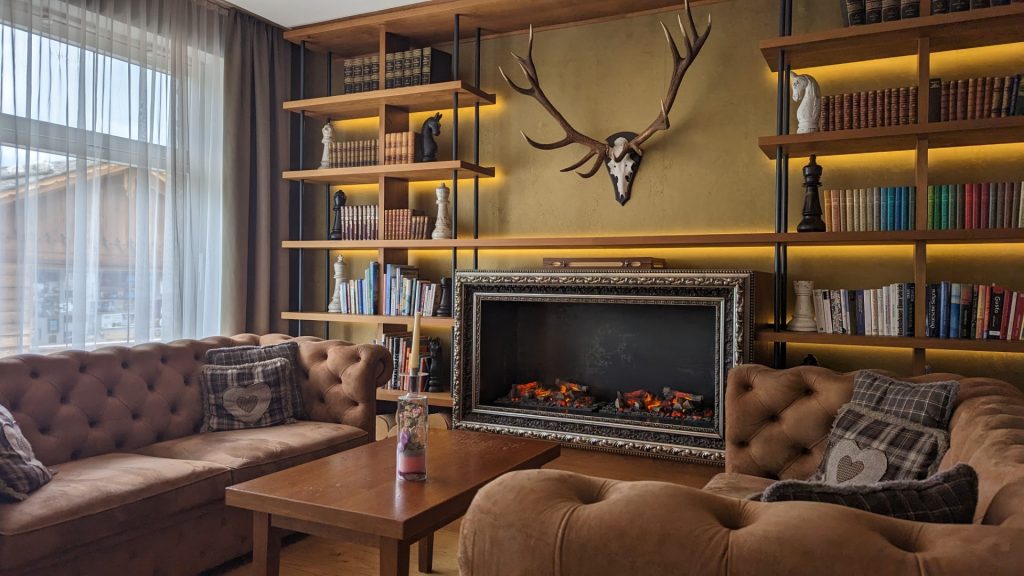 Rübezahl Rooms
One of my favorite parts about boutique hotels is that the rooms are not just a "Copy and Paste" from one another. There are several different themed rooms at the Rübezahl (Allgäu Rustic, Romantic, etc). While there may not be a hotel IN Neuschwanstein castle, I almost felt like I was in a Schloss myself in the Ludwig Traum (Ludwig's Dream) Room!
Ludwig's Traum Room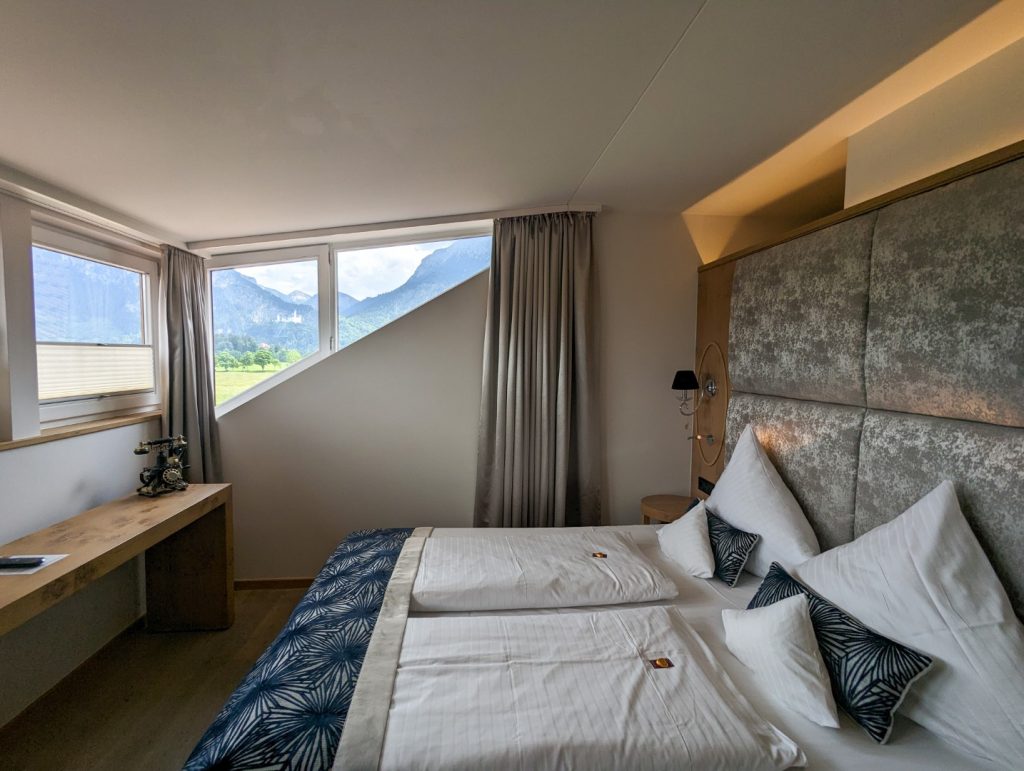 We had a suite at the Hotel Das Rübezahl and it was gorgeous. From this area, you can clearly see Neuschwanstein out the window. While I've had slightly comfier beds at 4 star hotels, trust me when I say that I slept juuuust fine in this one (or was that the fact that I didn't have 3 kids waking me up throughout the night or at the break of dawn???)
If you aren't familiar with the story, King Ludwig was the King that had Neuschwanstein built. Some say he was a little bit…let's call it "eclectic." At the end of the day, I think he was just a misguided soul for his times and feel bad that he had to live in that era of acceptance.
But anyway, our room felt like it could have been a room in one of his personal homes, it had such a "homey" feeling. With "family" photos of the king decorating the room, an entire entry way and separate lounge area, and oh my gosh….the view from the balcony! It had a very luxurious feel to it while still remaining cozy and charming.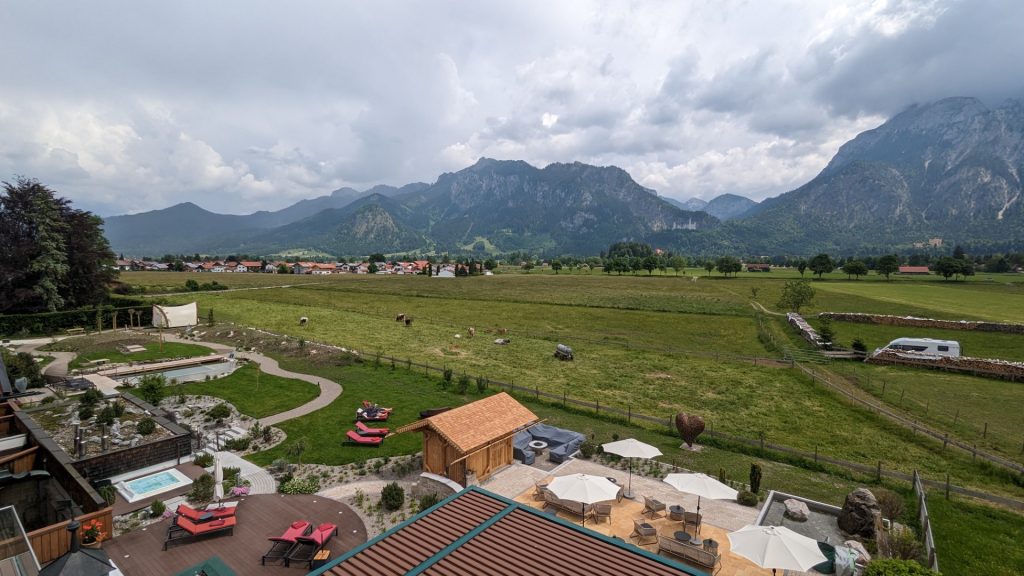 There were little chocolates on the bed and in the bathroom was our personal wellness bag for the sauna and pool with a robe, slippers, and sauna towels. I'll talk more about the sauna and what to expect in a bit…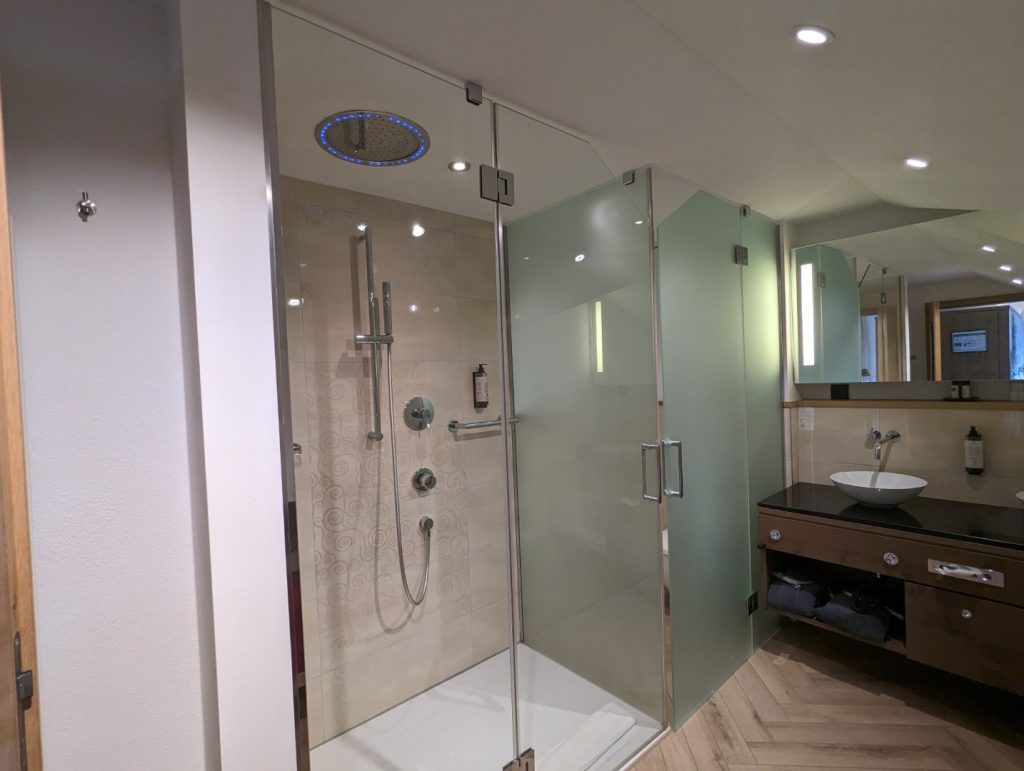 Each room will be slightly different because of how unique all the rooms were. However, ours had all the usuals that you would expect from a 4 star hotel in Bavaria. There was a minibar/fridge with refreshments (at cost), coffee maker, big wardrobe to store your belongings in, hair dryer in the bathroom, large television, etc.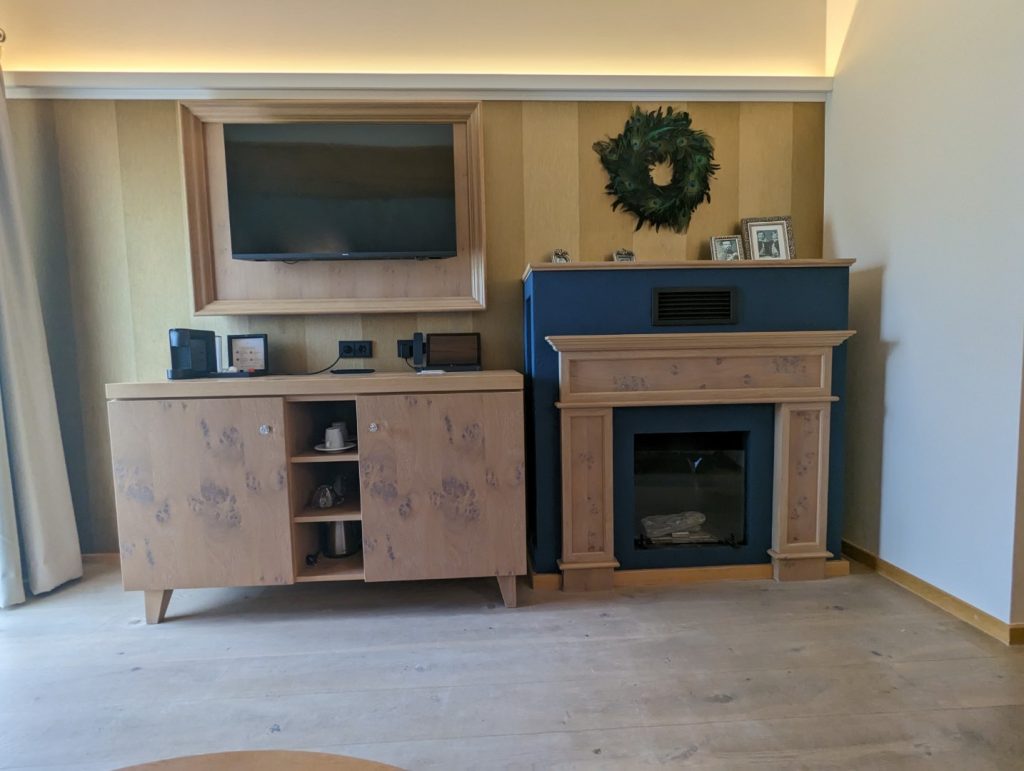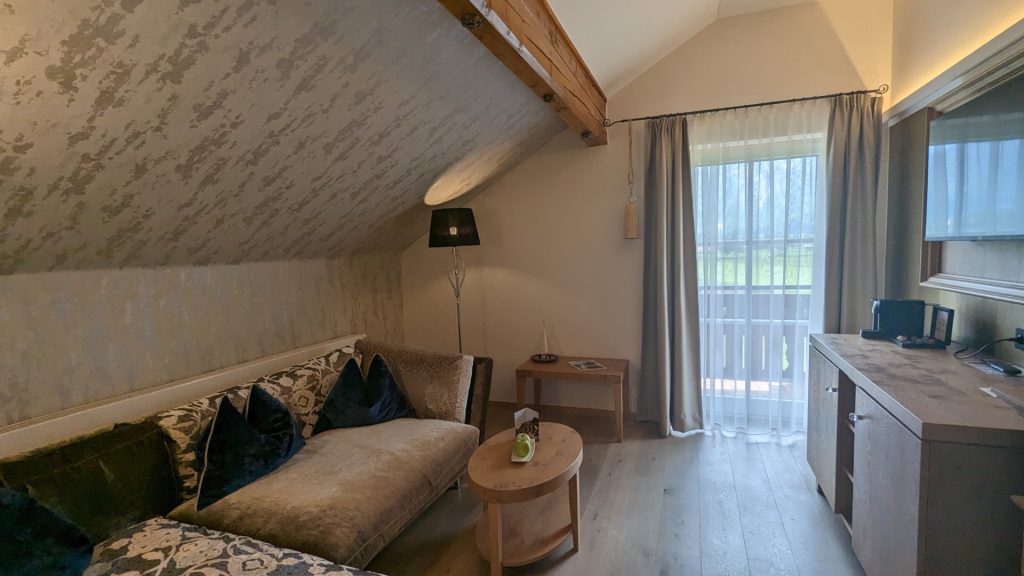 As much as I hate to admit this, while the primary purpose of our trip was for our anniversary, I'm always "on the job" when it comes to traveling within Germany (hey, someone's gotta do the hard work of sightseeing castles and drinking beer….might as well be me!) so the desk was this separate seating area was a great place for me to get a little work done in the mornings before unplugging to just enjoy our romantic getaway together.
Romantic Suite
While my room felt extremely lush and romantic, apparently there is an even MORE romantic suite, which has its own whirlpool and all! This would be great for honeymooners!
2 Room Suites
If you are traveling with a couple of people, or even as a family, there is a Suite that offers 2 bedrooms and a separate living area and, you guessed it, a balcony with Neuschwanstein Views!
Regular Rooms
Of course, you don't need to choose one of the suites to still get a lovely room and wellness bag. While it seemed like almost all the rooms looked out over the castle, if this is a necessity for you, just be sure to ask when you book.
Hotel Rübezahl Neuschwanstein View Pool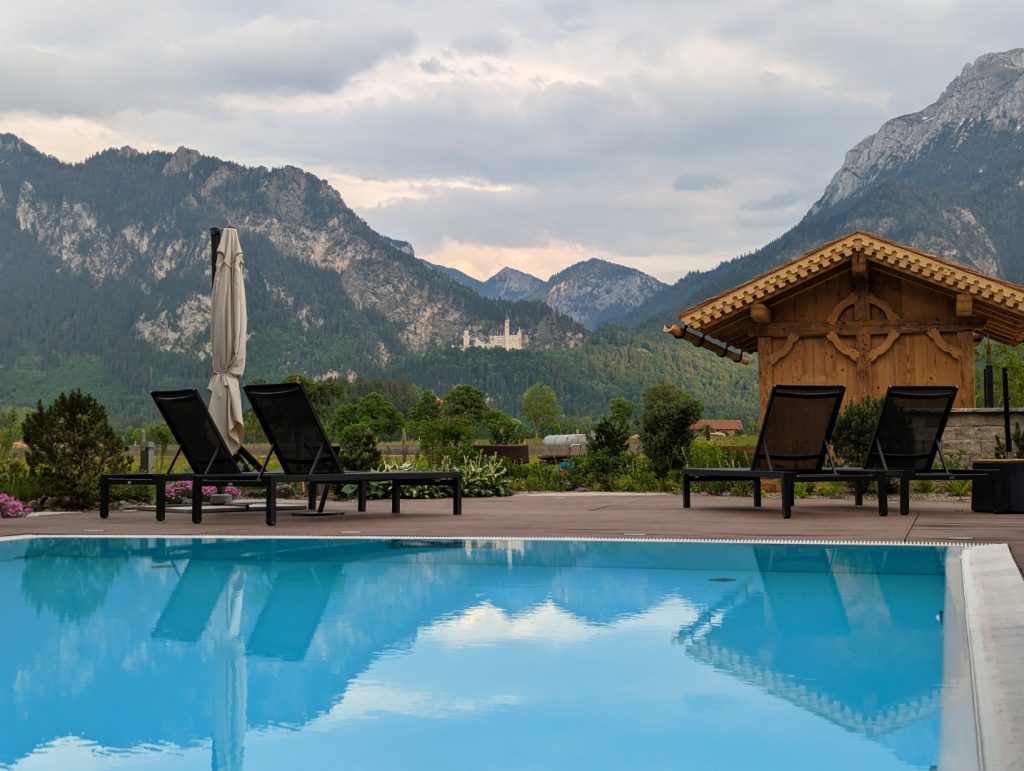 I spent a lot of my time outside by the (heated) pool. There is a lovely cabana on an upper deck (get out there early if you want to snag it) but then there are plenty of comfy lounge chairs in the garden and right by the pool.
The pool itself isn't huge. Not quite large enough to do proper laps, but big enough to rest your arms over the ledge as you gaze out to the mountains and castle. I particularly appreciated that it was heated (even in June!) as it can still get a bit chilly in the Alps.
Outdoor "Pond" Pool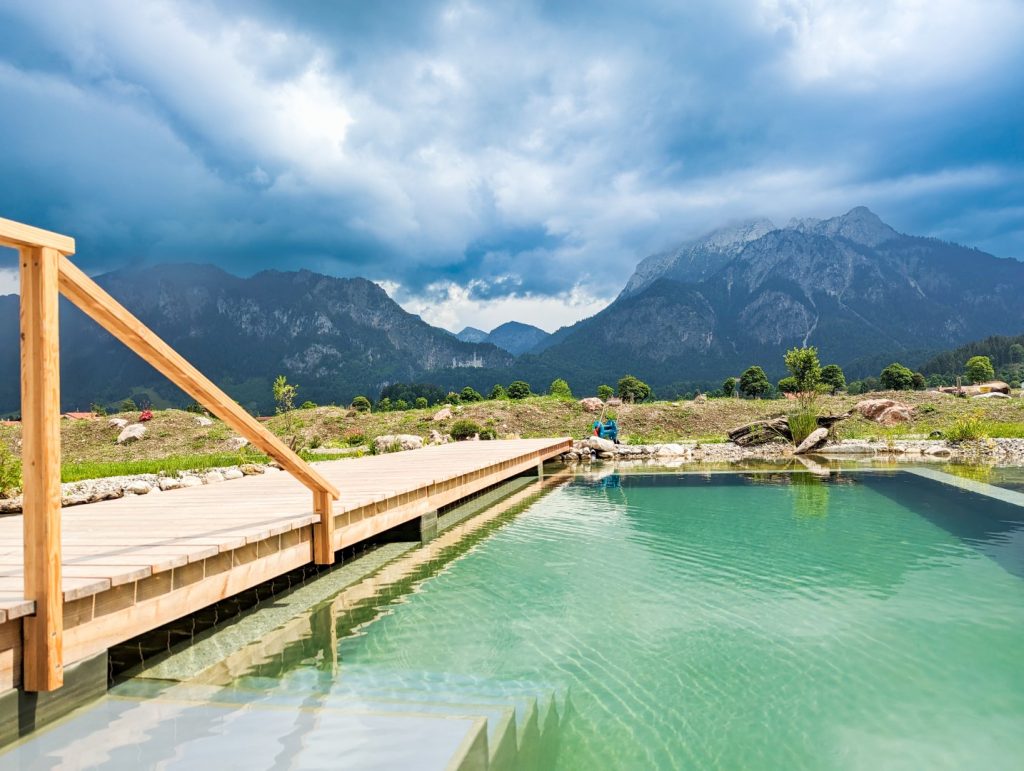 In addition to the traditional style pool, there is also a naturbad. It's a beautiful "pond" with even a little wooden walkway but with a pool structure in part of it. It's kind of like swimming in a lake…..without the fish. I enjoyed hopping in this right after using the Saunas, almost like a plunge pool!
Included Spa/ Saunas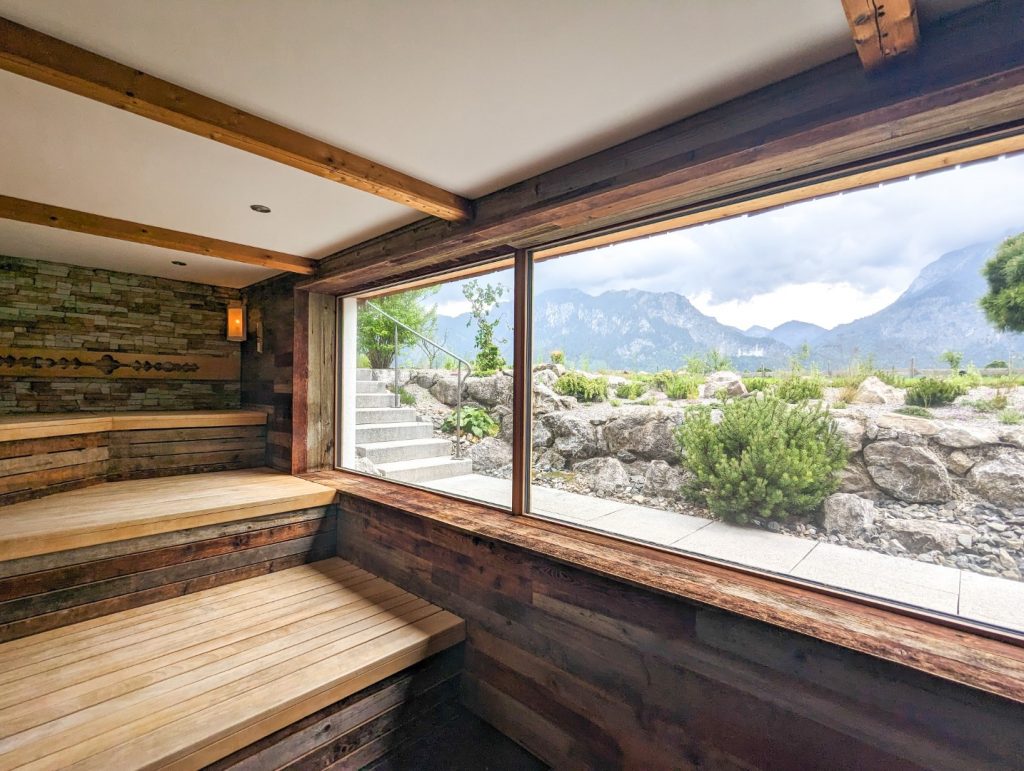 I. Freaking. Love. German SPAS!!!!! The first time I went to one, I had a lot to learn about German Spa Culture, but now it's one of my go-to, favorite things to do (especially when I get a "Me" day break as a Mama of 3!) So, to say that I have very high standards of spas and saunas is a little bit of an understatement. Luckily, the Rübezahl Spa didn't disappoint.
So when I say that this Bayern Wellness Hotel was top notch, trust me….it blew me away! And yes, the saunas and wellness areas are ALL included in your cost of the stay!!!
First, if you haven't read all of my German Sauna Articles, be sure to do that. It's a bit of its own "culture" and can take a little getting used to for foreigners. But, once you do, you'll forever be a convert!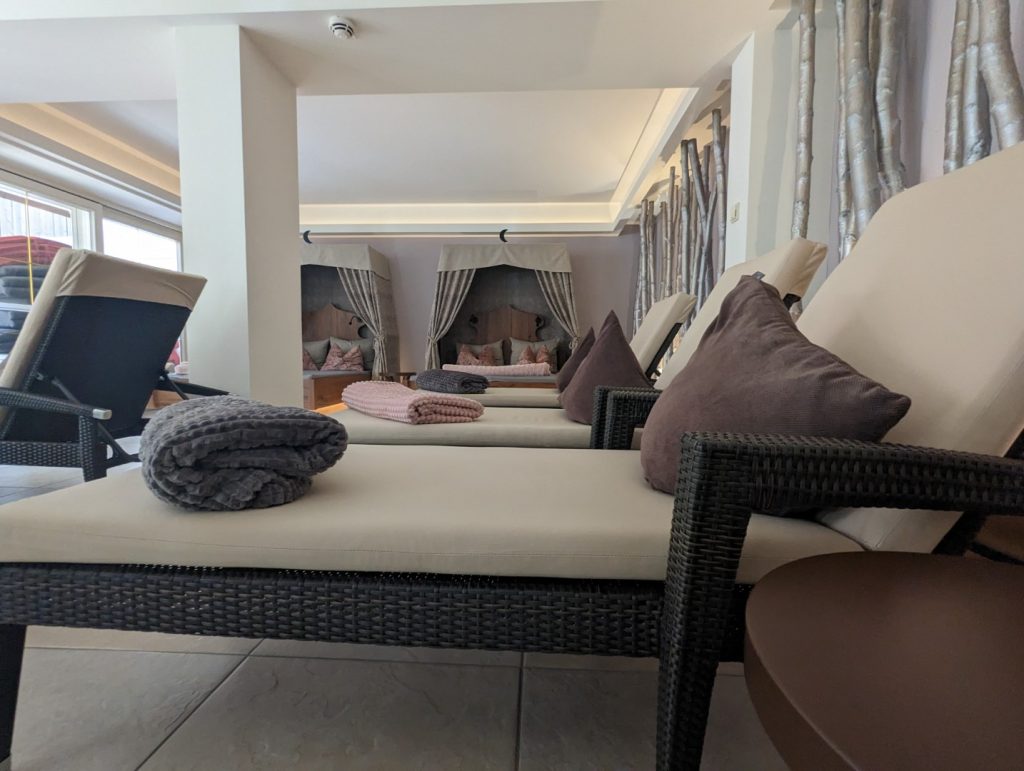 In most German Saunas, there will be a "Textile Free" (aka Nude only) section and a clothed (with swim suits) area. I really loved the Textile Free section at the hotel, with its Roman vibes and a few different saunas. I found it a little funny that even in the areas that were not designated as Textile Free, some guests still preferred their birthday suit over their swimsuit. I only say this so that you are prepared in case you catch an accidental glimpse while someone sprawls out in the Panorama Sauna, but it's a totally normal European thing so just go with it.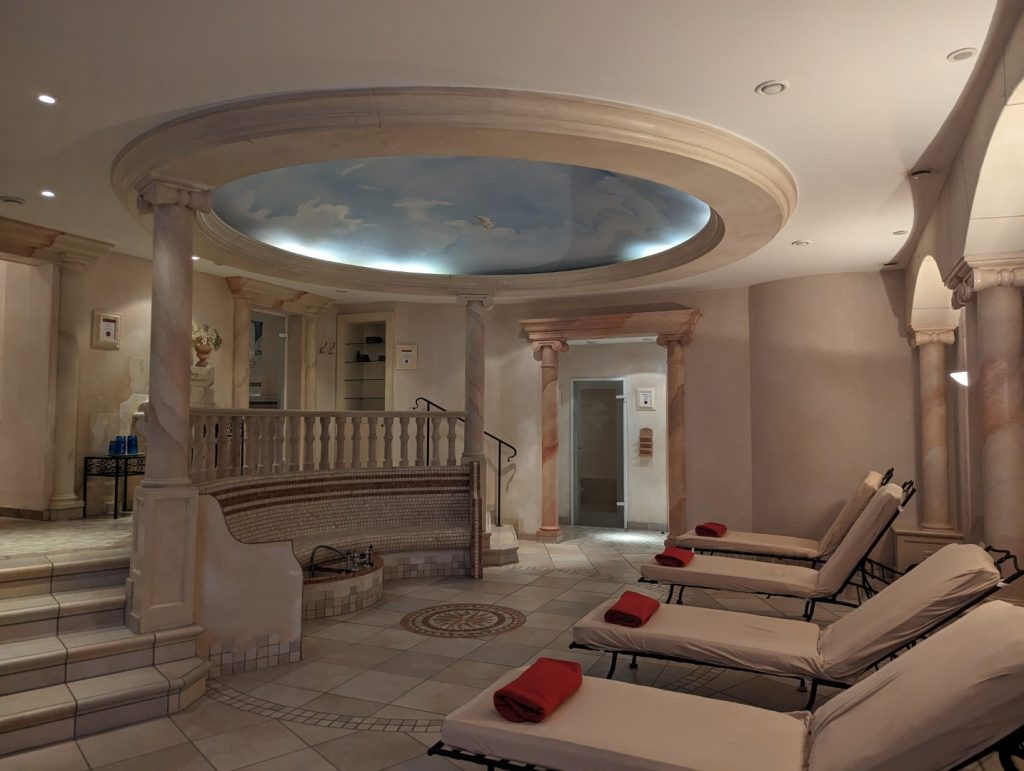 In your room, you'll find a wellness bag. If you are going to the many saunas that are not textile free, put on your swimming suit in your room, slip on the slippers, and cozy up into the provided robe. You can go down to the pool area just like this. There are hooks outside of the saunas, so just hang up your robe (they even give little clothespins with numbers so you know which one is yours!), leave the slippers by the door, and take your towel in to sit on.
Many hotels that have a Saunahof just have a few, but Ruebezahl had so many different kinds! My personal favorites were the stunning Panorama Sauna which looked straight out to the castle and Alps. The Salt Brine grotto, where I sat on what felt like a king's throne and breathed in the wonderful salt air (which was such a relief to my horrible seasonal allergies!) was lovely. I also fell asleep on the Infrared Bed because it was so relaxing (at least there was an automatic shut off timer!)
There is also:
Kneipp Therapy is a fun German thing, this foot reflex zone at the wellness area was FANTASTIC for my weary feet after hiking!
Infrared loungers
Panoramic deck
Several relaxation and quiet rooms
Many different saunas: Finnish, Alpine Krauter, Dampfbad (steam rooms), and more
Outdoor fire pit (it wasn't lit while we were there, but I can imagine how beautiful this would be at night!)
Sprawling gardens
Outdoor jacuzzi (Germans don't really do HOT tubs like we're used to in the States)
Outdoor heated pool
There was also a nice tea and water station to help make sure you were staying hydrated in the spa area. It was little things like this that made me feel that the hotel did a great job in thinking of the details to help make for a relaxed stay.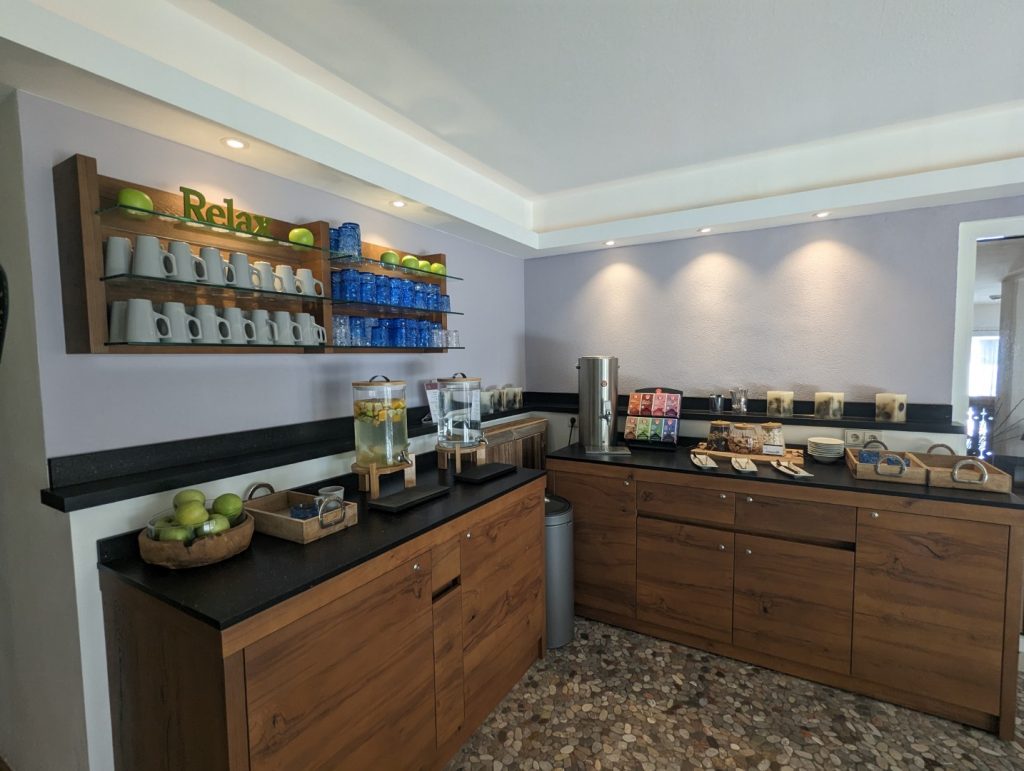 Dining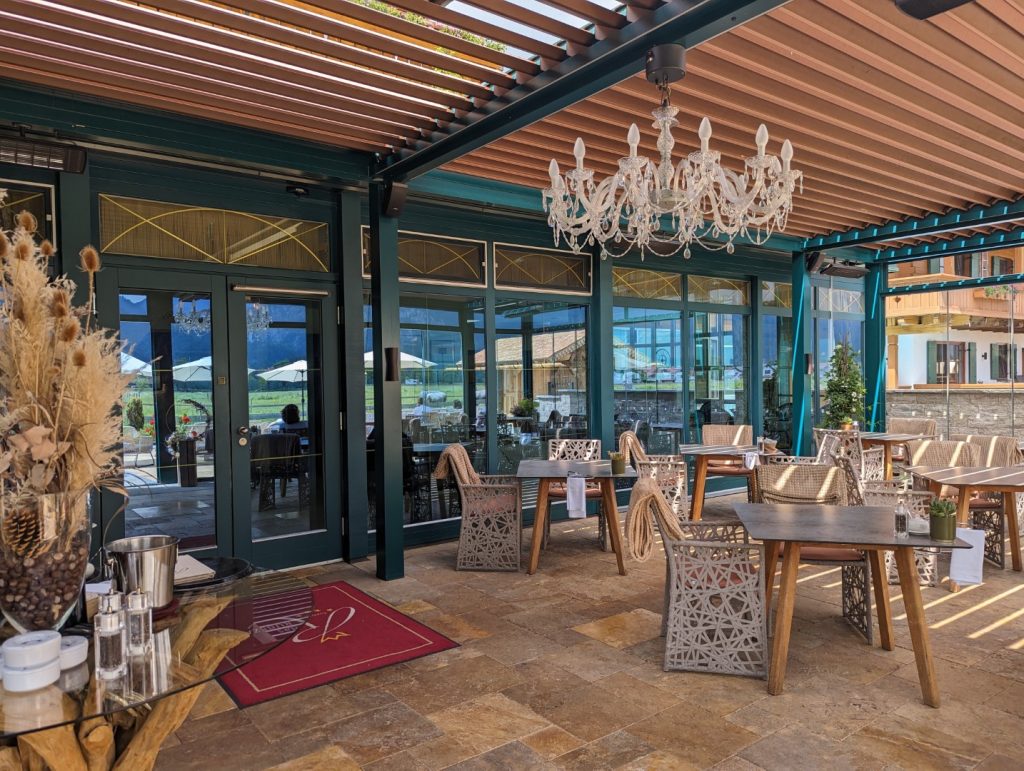 One of the things that I really appreciated about this hotel is that it felt fancy without being pretentious! You could wear a nice dress to the meals or your jeans and nobody looked twice.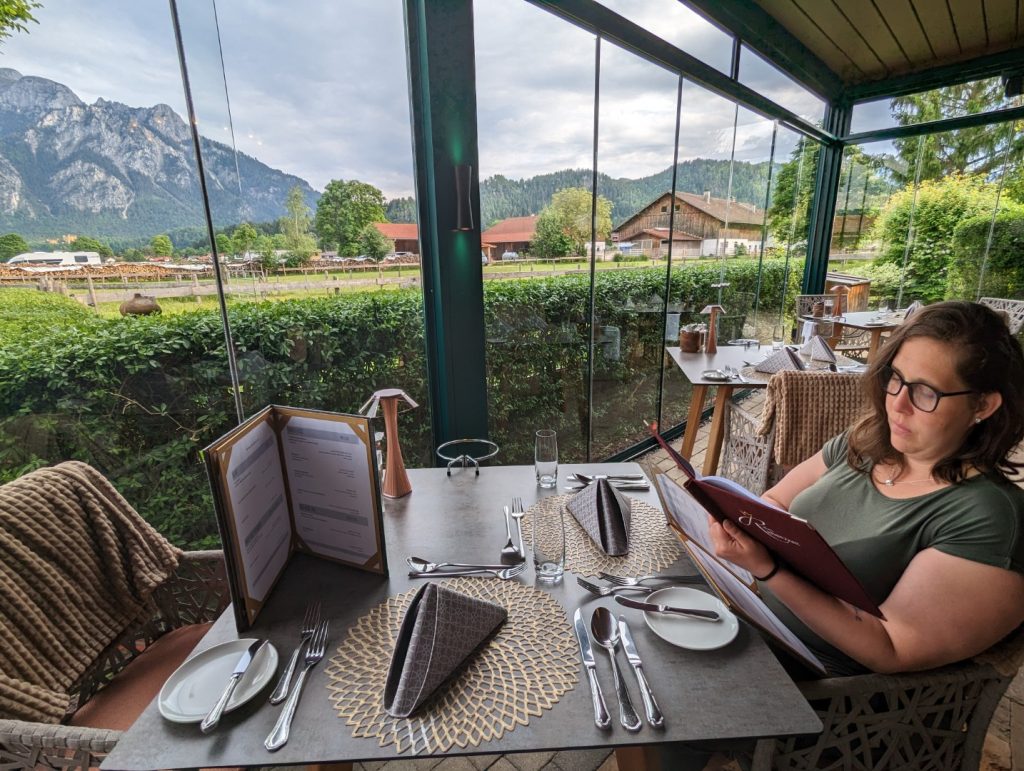 After living in Germany, I'm totally spoiled with German breakfasts. The hotel had a typical style German spread, which includes probably no less than 2000 kinds of various breads (just kidding….kind of), a twist on the traditional Weisswurst breakfast which was more like a Wurstsalat (vinegar, onions, Weisswurst), plenty of yogurts, fruit, deli slices like salamis, ham, etc. You could then also order from a menu and get things like the classic Alpine Kaiserschmarmm (seriously get it if you've never had this before!). Andy ordered a Konig's Omelette which was made with fresh Allgau cheese and I had a fried egg (in the shape of a heart!!!!) on avocado toast. And don't forget the cappuccinos!!!! Oh, and a glass of bubbly with breakfast? Don't mind if I do! There was even a Vegan section of the buffet as well.
We also did the 4 course dinner our first evening. Like most hoity toity meals, the portions were small and "creative" but I definitely didn't leave feeling hungry (there were FOUR courses, after all!) There was an appetizer, soup, main course, and dessert. While the food was all very good, I wouldn't say that any of it necessarily blew me away or had me daydreaming about it as I reminisced about our stay there. All in all, though, I would recommend it if you are looking at staying on site for a super easy and laid back trip like we were without having to drive somewhere else or look up reviews for nearby restaurants. I'm sure the menu changes seasonally (and daily) but i think my favorite part was a potato doughnut. Yes, you read that right. It was REALLY good and paired fantastically with the gravy on my veal. It all was the perfect way to end our day with a drink, laid back, yet simultaneously upscale vibe, and then enjoy the beautiful sunset right there at the hotel!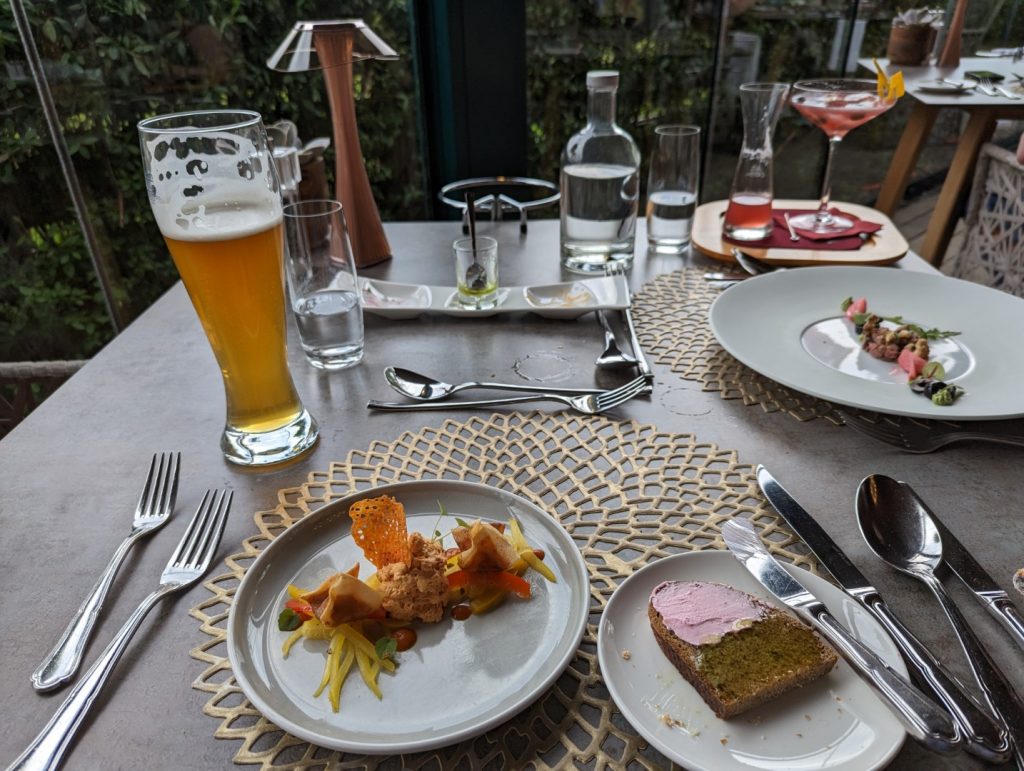 The Day Spa/ "Beauty Alm"
So, to clear things up, Germans often will call a Saunahof a "Spa"- as in where all the saunas, pools, relaxation rooms, etc are. In the case of the Hotel Rubezahl, all of that is included in your stay. However, there is also what Americans would call a "Spa" which is where you can get a plethora of beauty treatments, at cost.
Since we were doing a romantic getaway, I decided to splurge on a few extra "treatments" in the actual Spa.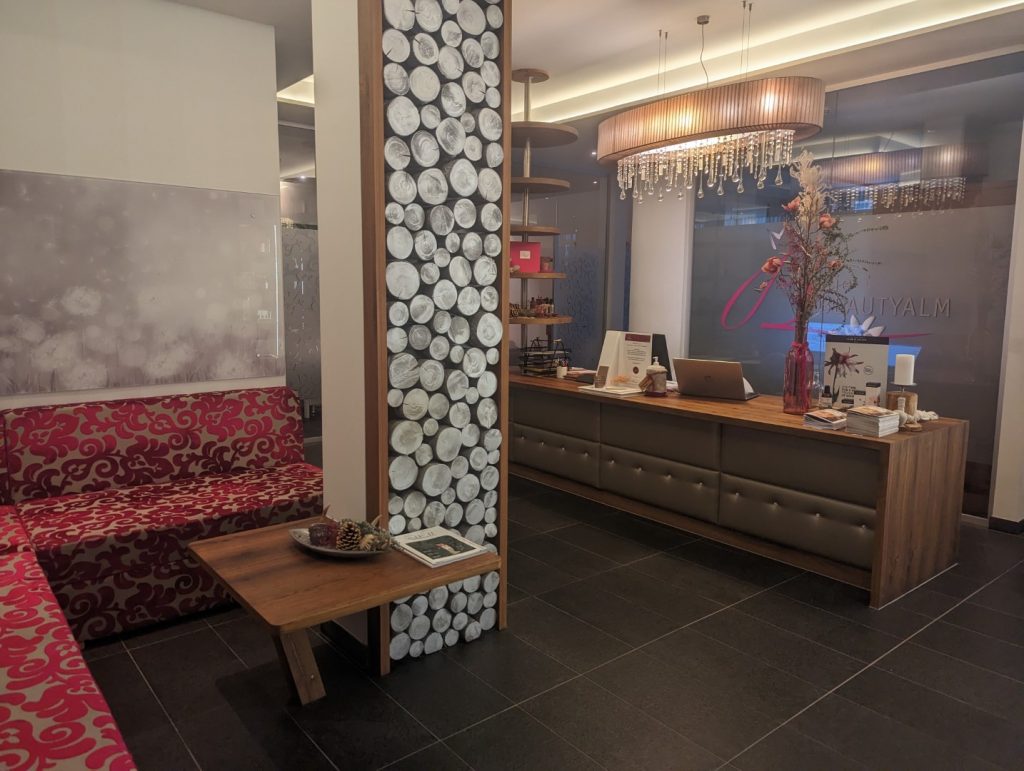 BEER BATH
Yes, I am THAT person that loves doing quirky, fun, and unique experiences. Like that other time that I decided to go Paragliding over Neuschwanstein for my birthday 10 years ago! A few years ago, my sister in law and I went to a beer bath in the Czech Republic and it was SO fun, so when I saw that the hotel had it, I knew I wanted to do it with my husband.
Unfortunately, I was pretty disappointed in this one. I was expecting more of what I had done in the past. For example, with my other beer bath, they made a bath that had most of the ingredients of an actual beer (it sounds really weird but there are supposed to be "therapeutic" benefits…I'm not actually fully convinced of this, but again, it was fun!) So, for example, the warm water in the CZ was filled with a frothy yeast mixture (instead of bubbles like a bubble bath), hops full of vitamins and nutrients for your skin to soak up (all while drinking unlimited, freshly poured beer of course!). Afterward, we were cocooned by an attendant as they handed us yet another, cold beer!
However, with this beer bath, there was just one pint of dark beer that was simply poured into a big bathtub (I can't imagine that the concentration ratio actually did anything therapeutically since there was so much water in the tub compared to beer). It was in a really lovely room and it was set up beautifully with romantically lit candles, the giant tub, and even a bed to relax in afterward! We did enjoy a cold Allgäu beer while in the tub, but it honestly was nothing that I couldn't just do for myself in my own tub at home. (I mean, hey, I've got plenty of bottles of beer and a bathtub!)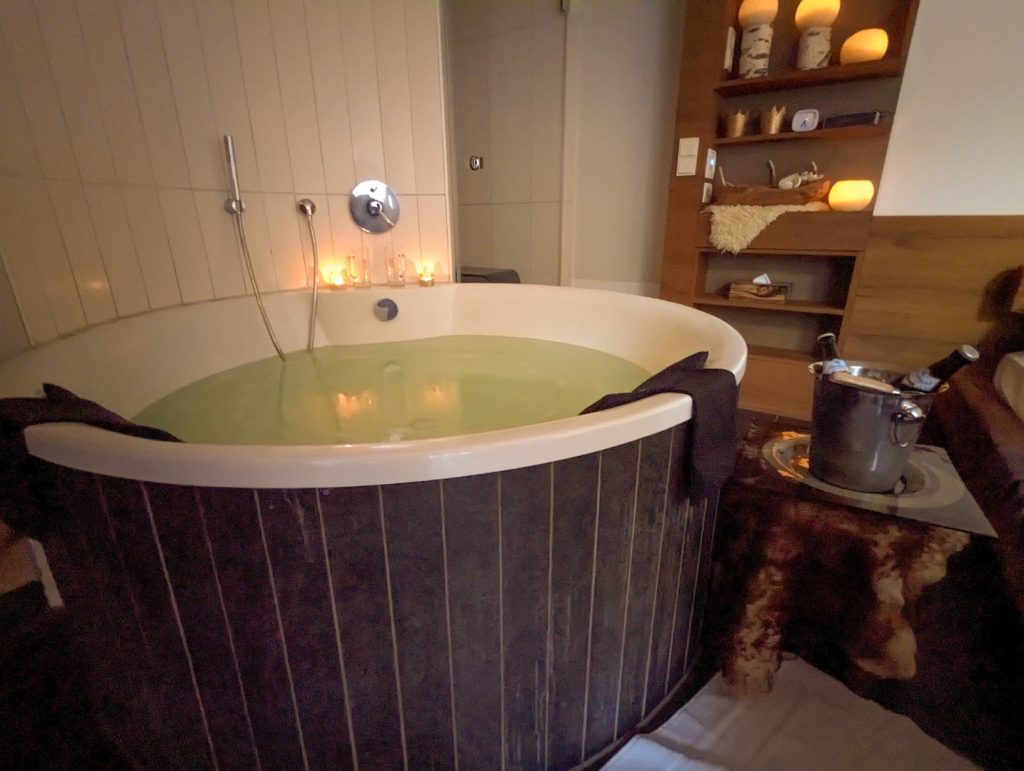 TL/DR: I wouldn't book the beer bath again.
Massage
And because that was more of an "experience" rather than relaxation, I also was very easily convinced by my husband to "Go ahead!" and get a 30 minute massage before the beer bath. (I wanted 1 hour, but I waited until the last minute to book and 30 minutes is what they had- beggars can't be choosers, right?). Despite it only being 30 minutes, the massage therapist was willing to do a "quick" back AND leg massage, and let me tell you, after hiking earlier that day, it was SOOO needed!!!!
Something you need to know about me is that I LOVE massages. Apparently, I have a back made out of pure rock. Grown men haven't been able to massage the massive knots hard enough for me! (Seriously, I don't know what is wrong with me!)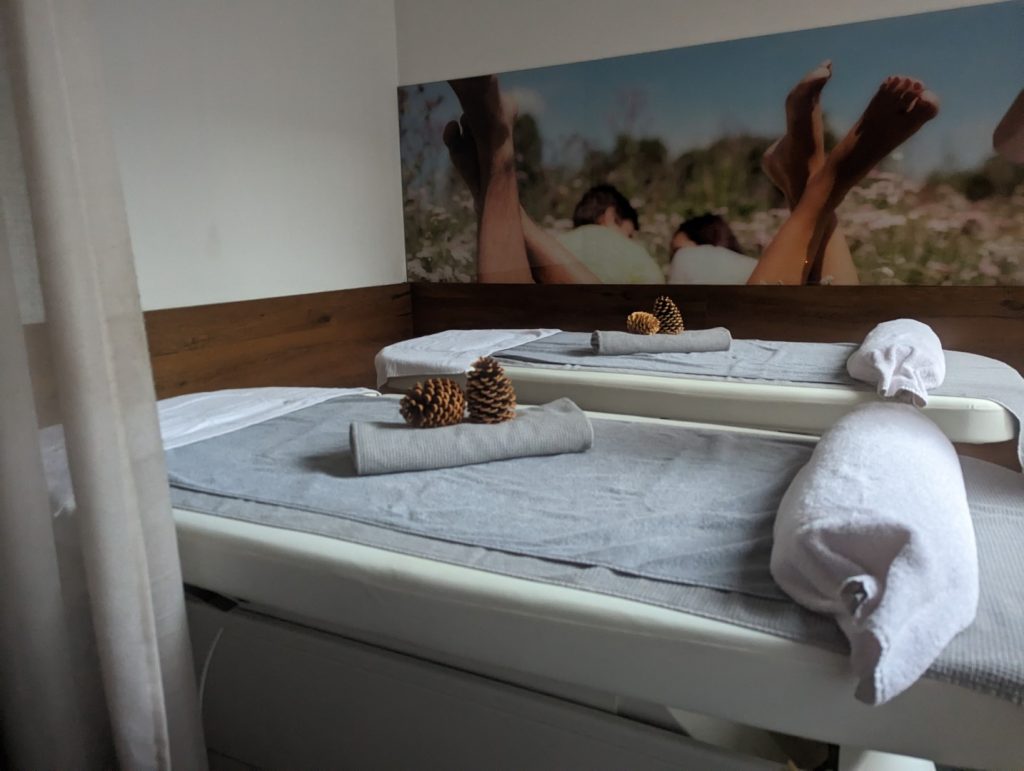 And for some reason, German massage therapists NEVER seem to be able to give me the hard pressure I need (despite me awkwardly asking repeatedly if they can go harder. No. Harder…..Even harder please???- yes, it is very awkward, I promise!) So, I wasn't shocked when the massage therapist began and…surprise surprise, it wasn't enough pressure. I asked for a bit more and he nervously asked, "Are you sure?" And then it finally happened!!!! I couldn't believe it and then immediately started questioning if I should book ANOTHER massage the next day before leaving because FINALLY…..a person who could actually give me a great massage!!!!! Total kudos to him for taking on the "LeAnna Massage Challenge" and succeeding! I felt so amazing after just 30 minutes, I can't imagine how blissed out I would have been after a full hour!
TL/DR: I would, 100%, without a doubt, book another massage in the spa!!!
Note: While the Spa staff was extremely willing to accommodate us and fit us in, I will say that our last-minute planning meant there wasn't a ton of availability. Therefore, if you want to book a beauty service, such as a massage, I recommend taking a look at the services and contacting the hotel ahead of your stay to book them so that you have plenty of time choices.
The Mountain Hut: Die Rohrkopfhütte am Tegelberg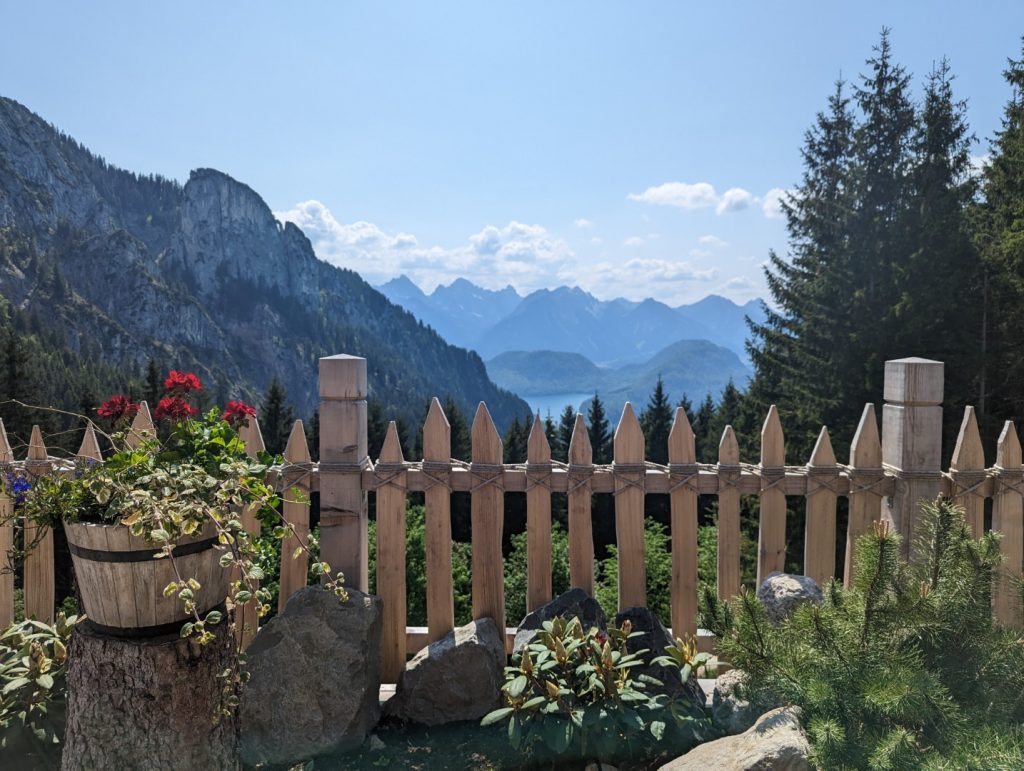 I absolutely LOOOVE the mountains. There is just something so calming, yet powerful about them and whenever I get a chance to get sweeping views of the Alps, I jump on it!!!
We decided that we couldn't be THAT close to the mountains without taking a hike. And since the Hotel Ruebezahl has its own "Mountain Hut" (The Rohrkopfhütte) on the Tegelberg mountain, we decided to make our way up (and up and up) to the restaurant for lunch.
You can read my full description of the hike itself here (including the moments of pure regret and exhaustion) but if you are a bit, well, let's just say "out of shape" (liiiike me) then I recommend actually taking the Tegelberg Cable Car (Gondola) up and then "just" having to walk downhill to the restaurant, and then continue walking the rest of the way downhill back to the Talstation so that you can avoid the (what felt like to me) very steep hike.
But I will say this….the reward of the hike was SOOO well worth it when we passed the Neuschwanstein Viewpoint (about halfway up to the restaurant). It was literally stunning. I just stood there, wide mouthed, gazing out over the mountains and to the fairytale castle. No words (or even pictures) can describe just how beautiful the view was!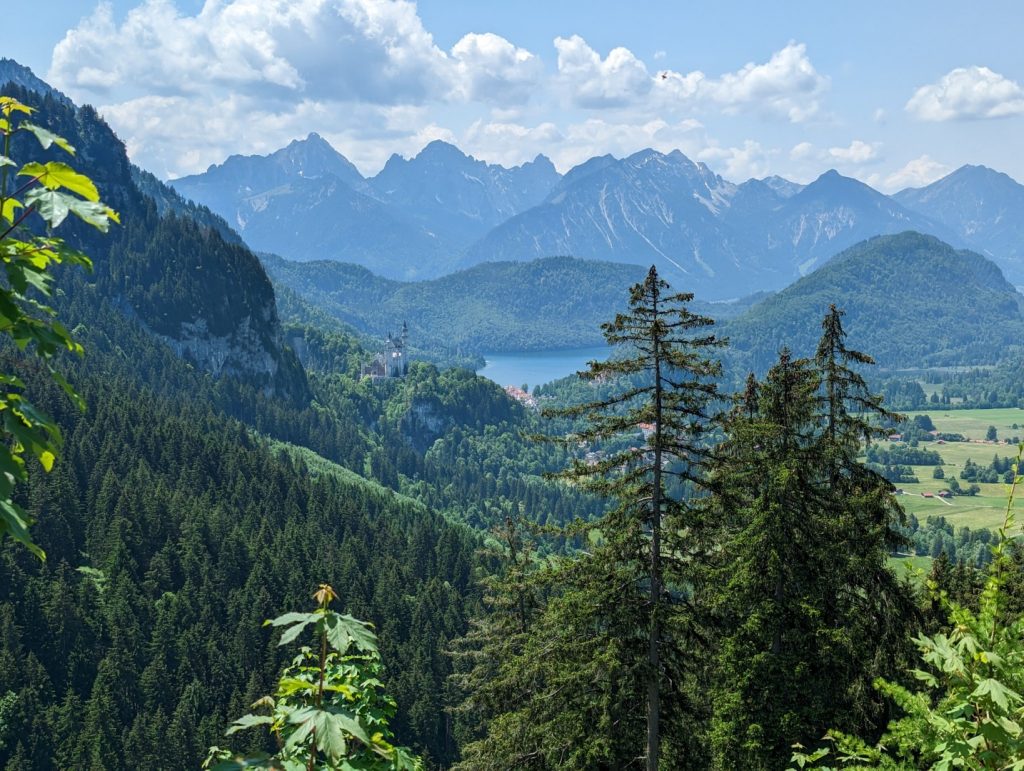 When we finally made it to the hut, I gladly welcomed a cold Radler since I was pretty sure that hike was going to be the end of me. And then, once again, I was speechless with the views. This particular Tegelberg Panorama Restaurant was like something out of a postcard!
While I feel like Käsespätzle made with Allgäuer cheese is never a bad idea, I decided to go completely rogue with my lunch and try something I'd never had before: an Allgäu Krautkrapfen. It was sort of like a pastry dough that was then rolled up into cinnamon roll looking figures that were filled with bacon and sauerkraut and topped with leeks. Hubby got a great cheese spread with classic Obatzda, some Schmalz (lard with cracking pork- just trust me on this one!) and a few other dips. It was really good but would have been better as an appetizer than a meal probably for him.
While we sat at the mountain hut, for once in my life I didn't talk. We just sat in silence looking out over the mountains, sipping our cold drinks and taking in the beauty of Bavaria.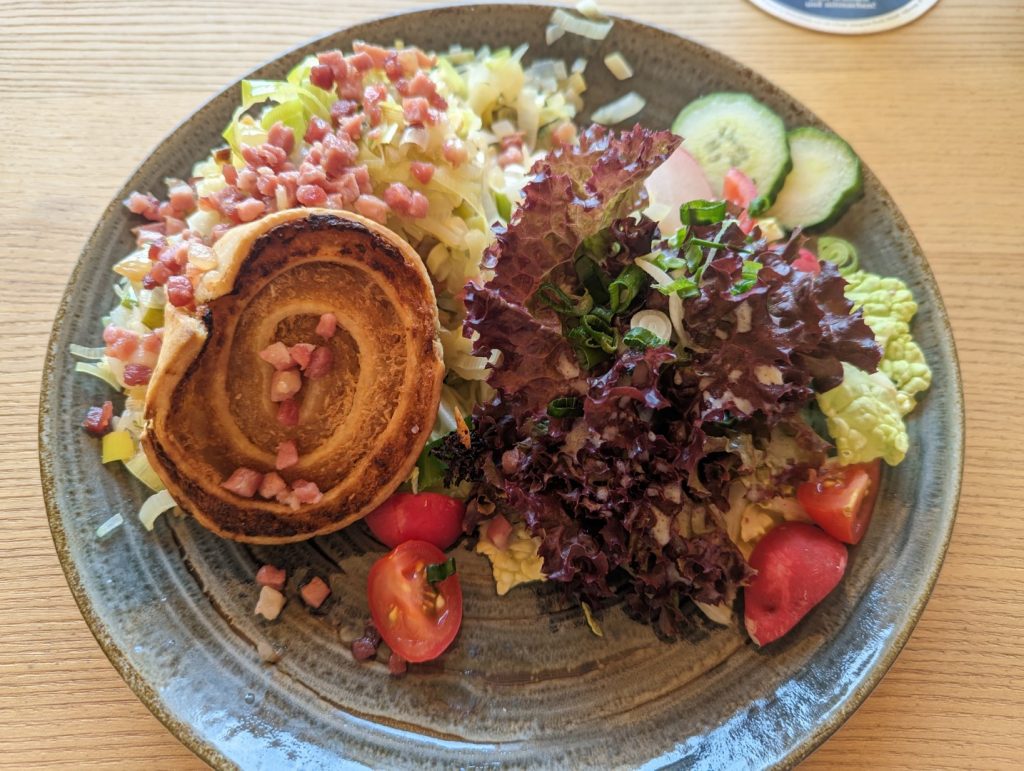 TL/DR: The views alone from the Rohrkopfhütte are SO phenomenal, you need to make sure you make the trip up to the restaurant!
Best Hotel Near Neuschwanstein Castle?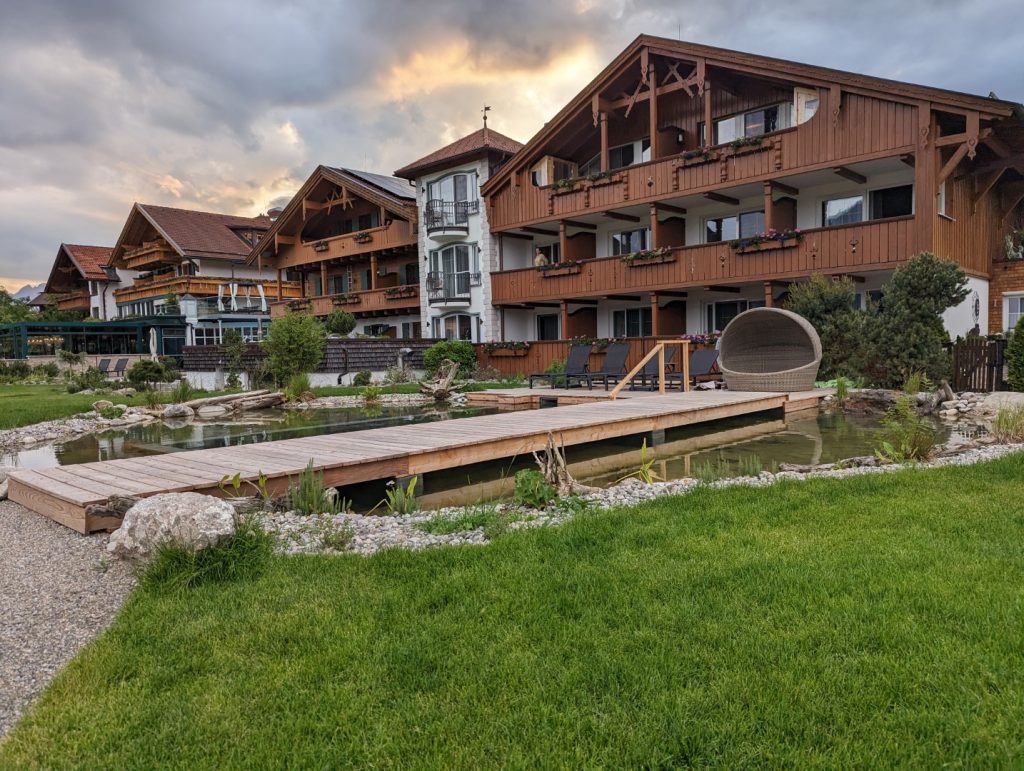 With there being so many different choices for accommodation near Neuschwanstein Castle, how does one decide which one is the best and ultimately where to stay?
My biggest "complaints" (if you can actually call them that) would be that:
The Wifi was not great. I didn't get wifi on my balcony and even down in the garden, it was spotty at best. For me, this actually turned out to be quite nice because it forced me to unplug, but if you are doing a lot of work or business, it may be a small issue
I felt like the beds could have been slightly more comfortable, but I'll admit I'm just being picky at this point (and I'm that weirdo that likes unusually soft beds)
I only did the two treatments in the BeautyAlm- the massage was fantastic, I could have easily have skipped the beer bath though
I had read reviews that stated complaints with things like "They charged for the water at dinner" or "The Hot Tub was lukewarm" and while both of those are true, I will say that this is absolutely in line with how things are in Germany. Yes, you get charged for waters when you eat out (anywhere, not just at the hotel) and for some reason, I have yet to find an actual HOT tub (that wasn't a thermal pool) in Germany. So, on one hand, I guess just be prepared if you aren't used to that but also know that this in the norm here in Germany.
So, do I recommend Hotel Rübezahl?
Absolutely, yes!
I fully intend on returning back to the Hotel Schwangau Rübezahl (Time and time again!!!) I loved every minute of it and felt completely relaxed, pampered, and rejuvenated by the end of our 2 1/2 day stay.
If you are looking for a romantic or luxurious feeling experience, Rübezahl Hotel is, hands down, one of the best places to stay near Neuschwanstein Castle for this! All while still feeling down to earth and cozy! 
The massage was PHENOMENAL!
The views and scenery around the hotel were unparalleled!
The accompanying mountain hut, Rohrkopfhütte, was stunning with good food and amazing views that I won't be able to forget.
The level of care and detail that is put into this hotel to ensure that guests have an enjoyable and memorable stay was phenomenal. All of the staff from the reception, to the baristas who made my daily Latte Macchiatos, to the massage therapist in the spa, to the servers at dinner all always had a smile and were welcoming, kind, and extremely helpful.
In fact, for a while now, I have been strongly toying with the idea of creating a "Wellness Weekend Retreat," especially since members of my Travel in Bavaria Facebook Group have expressed interest in such an excursion. (Think things like Morning yoga sessions, Sauna treatments, Wine tastings, Allgäu cheese tastings, Bike rides under the castles, and plenty of pampering!!!) After spending a few days at the Rübezahl Hotel, there is no question in my mind if this is where I would want to host the retreat!

If I have enough interest in something like this, I am happy to coordinate and plan it- so let me know if this is anything you'd like more information on! ([email protected])
Activities to Enjoy Nearby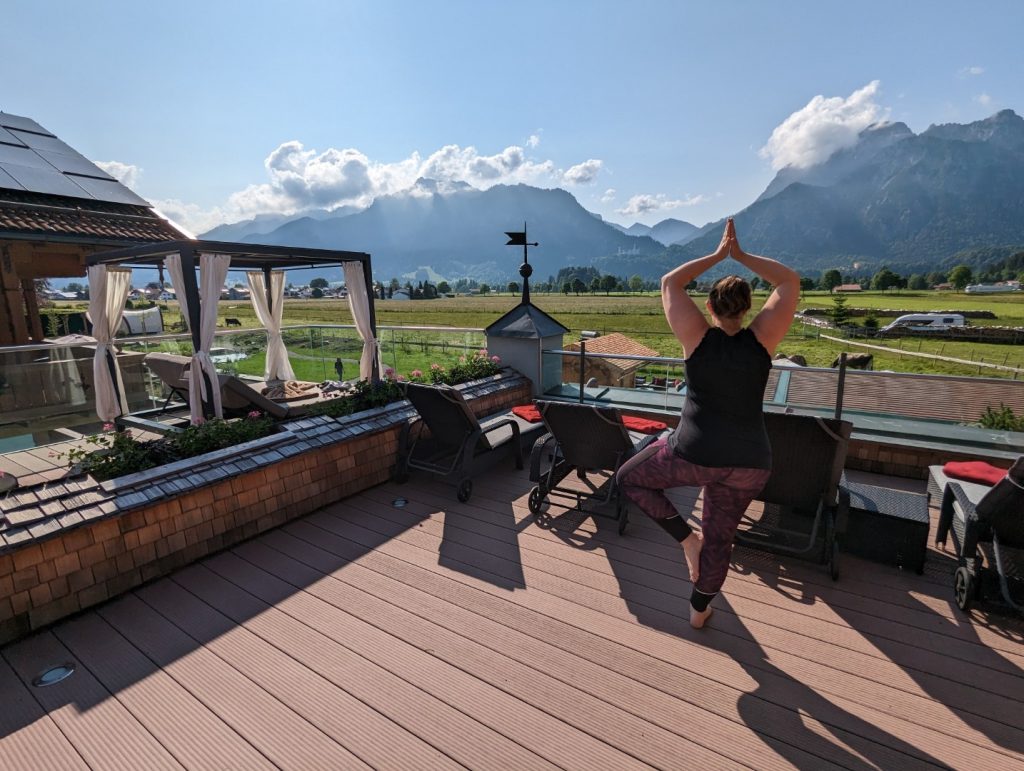 Neuschwanstein Castle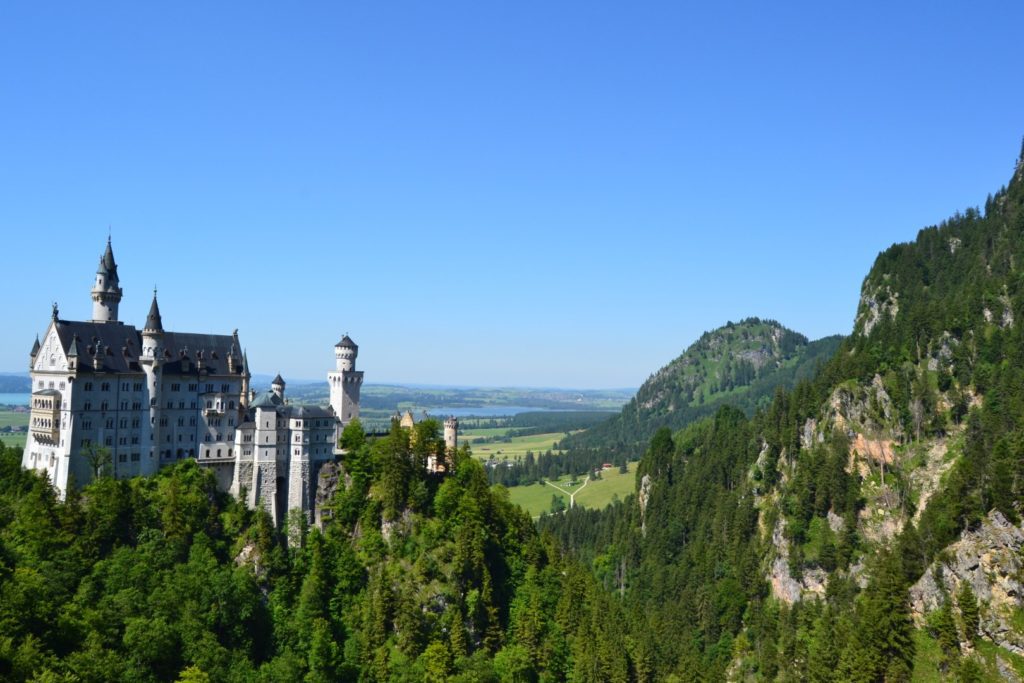 If you are staying at a hotel near Neuschwanstein Castle, I'm betting you are going to the castle itself! Follow my Complete Guide to Neuschwanstein to know how to make the most of your trip to the castle, if you need to buy tickets in advance, some of the best places to take photos, and more.
Hohenschwangau Castle
I'm always a little surprised when people go to Neuschwanstein and don't know that the much more lived in castle, Hohenschwangau, is literally a stone's throw away from Neuschwanstein. For me, I love the outside of Neuschwanstein, but much prefer the inside of Hohenschwangau if you are looking to take a tour.
Take a Hike
There are so many great hikes near Neuschwanstein. Whether you want to go to the above Tegelberg and Rohrkopfhütte mountain hut, just want to hike up to the Marienbrucke at the castle, wander through the beautiful gorge below the castle, or find other nearby mountain hikes, there is PLENTY in the Allgau region. Here are some great hikes and walks for all levels near Schwangau itself.
Ask the reception about their own guided hikes that they offer.
Go Paragliding over Neuschwanstein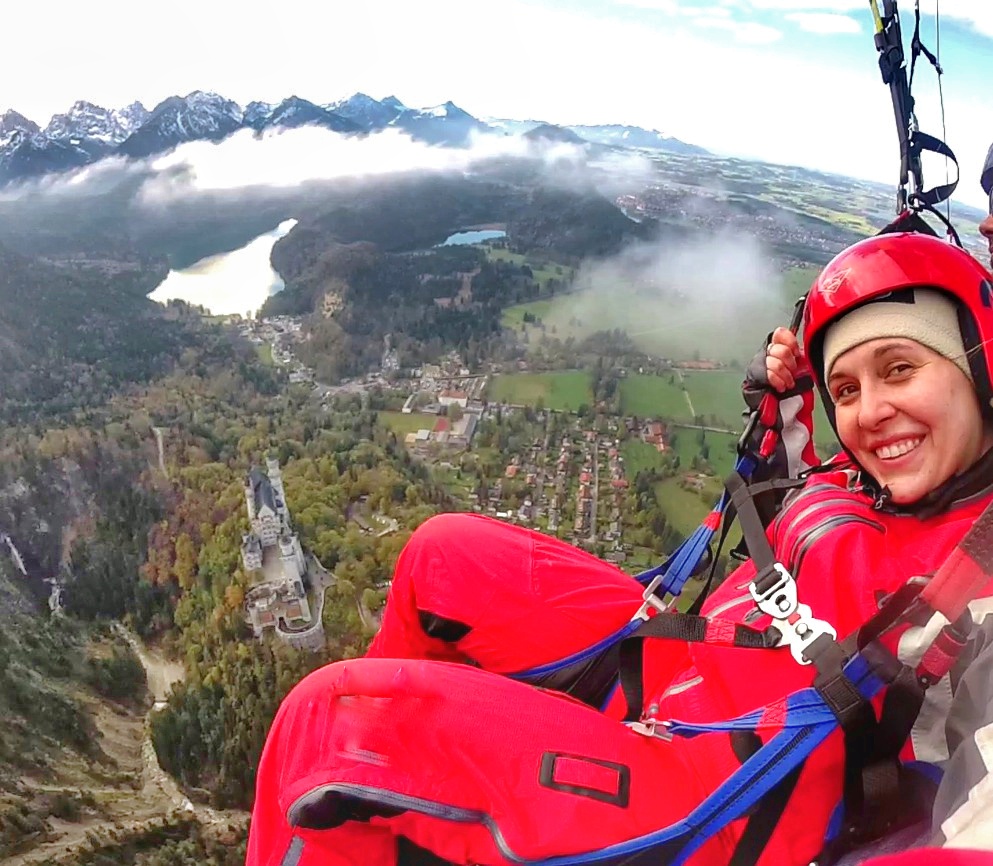 Several years back, I did one of the most fun, exhilarating, crazy, and memorable things of my life: Went Paragliding over Neuschwanstein!
If you are an adrenaline junky, like me, this is a MUST, once in a lifetime experience you need to try!
St. Colomon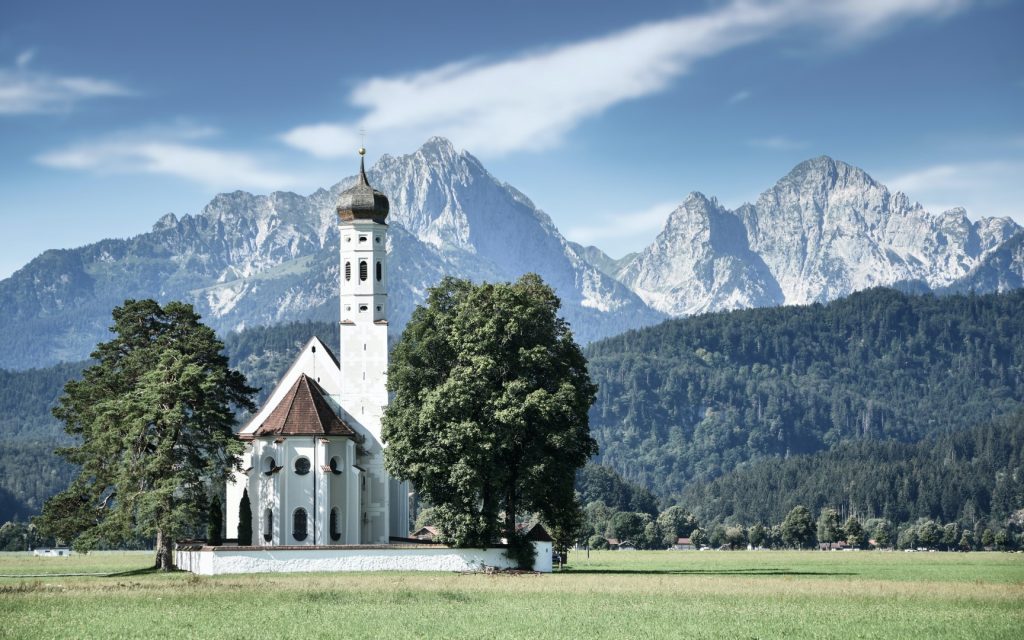 Whether you want to just take the 2 minute drive from the castles or take a beautiful 35 minute walk through the fields underneath the castle, the St. Colomon church, with its iconic onion dome, is a great foreground to the castle views!!!
Visit Nearby Lakes
The Alpensee is just by the castles and is a beautiful lake to enjoy nature and the scenery of the Alps. Forggensee is also a fantastic lake to get the feel of the locals as they lounge on the lakeside, bike around, and enjoy their ice creams! Weißensee is also just down the road and gives phenomenal Alpine views!
Highline 179 and Ehrenberg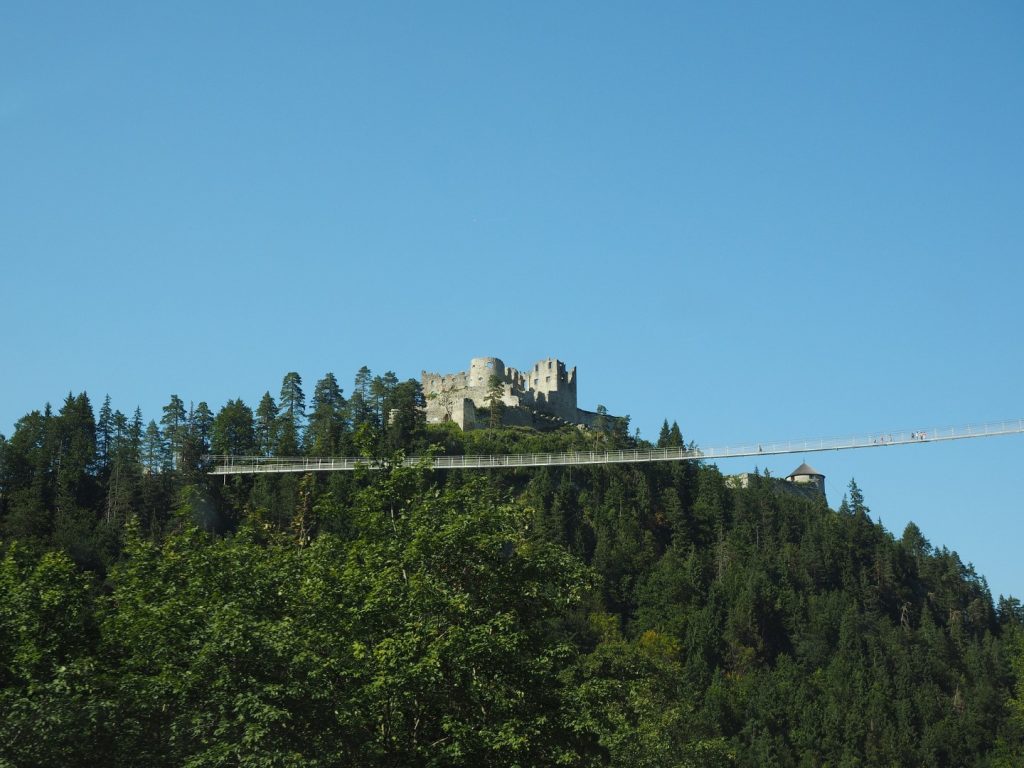 This dizzying extension bridge is just over the border of Austria, about 20 minutes from Neuschwanstein. At a height of 114 meters (375 feet!!) it's quite a thrill and an amazing way to go over the cliffs of the mountains to the beautiful Ehrenberg Castle.
Are you looking for hotels near Neuschwanstein Castle Germany?
What other kinds of hotels would you like me to personally review to help you plan the best trip possible to Neuschwanstein Castle?
Thank you to Hotel Das Rübezahl for hosting us for two nights. As always, all opinions are completely my own.