Hoch German vs Local Dialects
Dialects will Vary (Drastically)
I'll never forget when I traveled to Frankfurt and asked for a "Salami Semmel" and they looked at me like I had 4 heads. At the time, I thought it was just my reeeeeaaaaaaally bad German but I later came to find out that the word "Semmel" (Roll) that we use everywhere here in Regensburg is actually a very Bavarian word.
When I took my first A1 German class, the teacher was from a teeny tiny village and she was explaining that she speaks Bayerisch (a very strong dialect in Bavaria). But then she was joking that even she can't understand the Bayerisch in the next village over. You know, the town that is literally a 3 minute drive from the place that she grew up and has spent her entire life in. It was at this moment that I realized I was screwed for learning German. If a GERMAN can't even understand other dialects, what hope do I have!?
Local Phrases
Another thing to consider is that in some regions of Germany, they just have different phrases for things. It's not always necessarily a direct correlation to dialect per se (although, that often does come into play). A great example is the first time I traveled to parts of Northern Germany and people were greeting me with a phrase I had NEVER heard before in ALL of my traevls of Germany. I knew that saying something like "Grüß Gott" or "Servus" was definitely something from Bavaria, so I defaulted the usual "Hallo" or even "Tag" (shortened from Guten Tag). But when they started saying "Moin" (sometimes even just "Moi") as a greeting I was legit confused and thrown off!
My point is that having some very basic
Looking for a lovely, locally run, German Pension RIGHT in the heart of the Bamberg Innenstadt? I've got you covered!
On my most recent trip to Bamberg, I needed a place that was super conveniently located in the Altstadt because I had some seriously packed days of sightseeing with all the Things in Bamberg I wanted to do but needed a hotel that was still clean and comfy. Enter: The Bamberg Hotel Weierich
Want to See All Of my Recommended Hotels in Bamberg Germany? Check out my "Best Bamberg Boutique Hotels" Here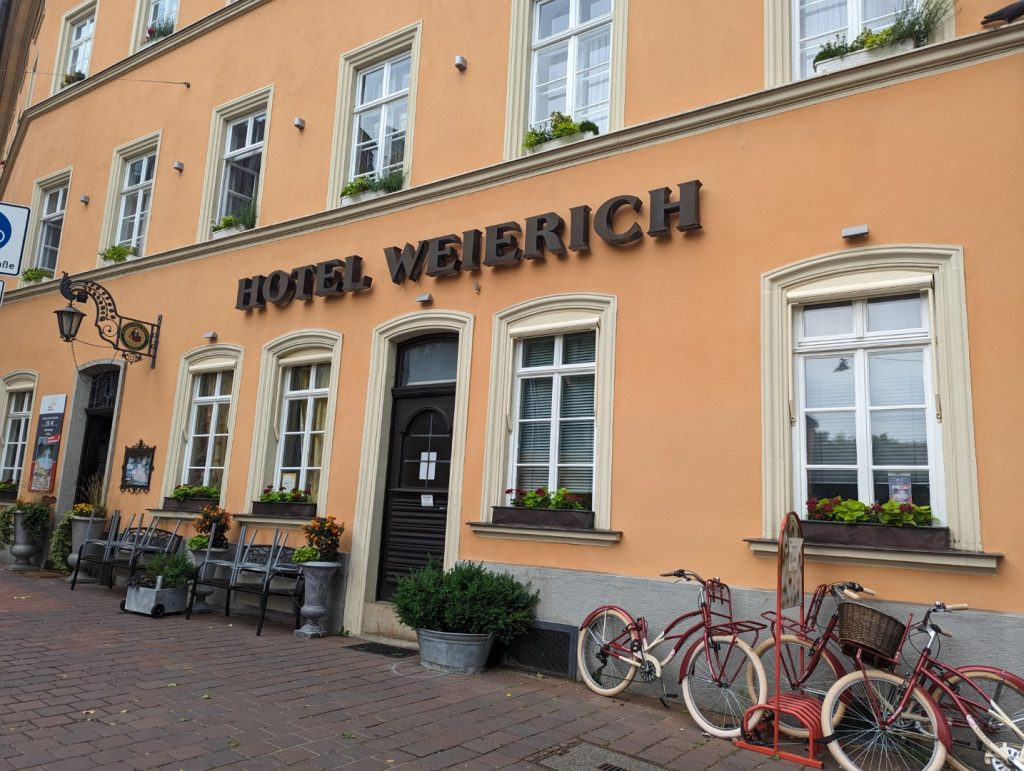 Arrival/ Getting to Bamberg Altstadt Hotels

By Car:
Something you need to know about hotels in Bamberg, Germany (particularly the Bamberg Hotels near the Altstadt) is that parking is extremely hard to come by. After all, we are talking about a town that was built 1000 years ago so parking lots weren't really on the people's minds.
Therefore, most hotels in Bamberg won't have parking, so you will need to plan accordingly. In the case of Hotel Weierich, I recommend parking at the Bamberg, Tiefgarage Geyerswörth City-Altstadt Tiefgarage, which is just a short 3 minute walk to the hotel.
Parking Cost: At the time of writing, it cost about 18 Euro per 24 hours to park in the Geyerswörth Parking Garage (which is about the going rate at any garage in the city)
By Public Transportation
Getting In By Train
Because of the difficult parking situation, I personally decided to just take the train into Bamberg so that I didn't even have to deal with driving on teeny tiny cobblestone streets in the Altstadt and wouldn't have to pay high parking costs.
Bamberg is a good hub for getting in by train and you can get there from most places relatively easily. I go over specifics on best places to come from by train in my Visiting Bamberg Complete Guide
Getting to the Bamberg Hotel Weierich by Bus
After you arrive at the Bamberg Bahnhof, you can either walk about 20 minutes to the Hotel, but if you have luggage, it is really easy to just grab a quick bus.
Buses to Hotel Weierich
There are actually quite a few buses that will basically get you dropped off at the hotel, but it will depend on exactly what time you arrive which will determine the exact bus to take. In the Bamberg HBF, there is free Wifi, so I recommend turning on your Airplane Mode and connecting to that, open up Google Maps, and just put in "Hotel Weierich" and it will tell you exactly which bus to take.
For me, I found that the easiest bus stop was to go to the Bamaberg Schranne Stop, which was basically right in front of the hotel! It only took about 10-15 minutes by bus from the train station and was super simple!
Great Value For Your Money
I'm always on the hunt for great value for my money in ANYTHING in life! One thing I often struggle with is justifying high hotel costs when it's often just a place to place my head at night. On the other hand, I am well passed my "I'll sleep anywhere cheap to save a few bucks" and now actually have standards for my hotel stays! I will say that I thought that value for money for the Hotel Weierich is phenomenal. If you book enough in advance, you can get a double room for around 100 Euro/night which is actually a really great price and if you need a budget hotel in Bamberg, there are single rooms for as low as around 75 Euro/night (that's a steal!) You get:
Breakfast Included (double check your booking)
AIR CONDITIONING!!!!
Elevator
Fantastic Location in the Bamberg Innenstadt
Comfy Bed
Clean Rooms
Checking In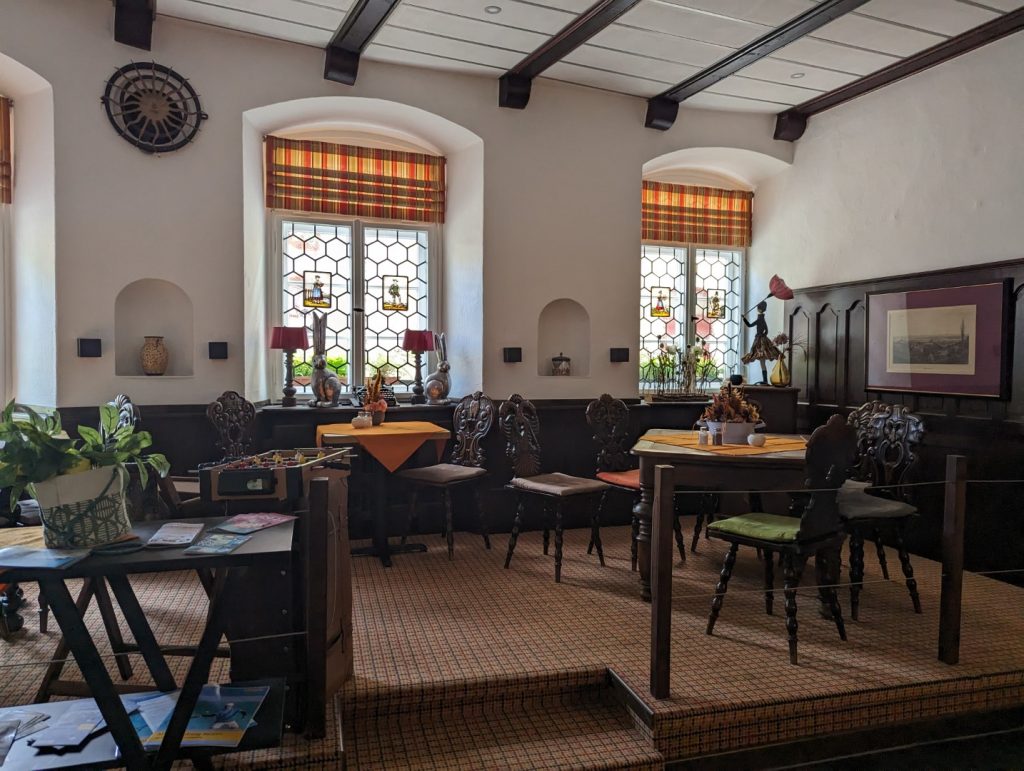 For me, I wanted to get a FULL day of exploring Bamberg, so I arrived waaaay too early for check in. However, the hotel actually has a closet that they will store luggage and bags in while you go off galavanting and can then return after 3pm when your room is ready for full check in. They were more than happy to let me drop my bag off and gave me a map of Bamberg.
IMPORTANT: Contact the hotel ahead of time for instructions if you are arriving after 6pm!!!
One of the things that I love about a lot of the Boutique Hotels in Bamberg, including the Hotel Weierich is that many are locally run Pensions. Therefore, they do not have a 24 hour reception.
However, if you know you will be arriving after 6pm, just simply send them an email or call ahead of time because they have a very easy to use Pin Code to access the "Night Door" for latecomers.
Decor and "Vibe"/ Ambiance Of the Weierich Hotel
I always love German style Pensions. They often feel so cozy and the Hotel Weierich did just that. The main lobby was cute and charming with travel trinkets like old school cameras and suitcases.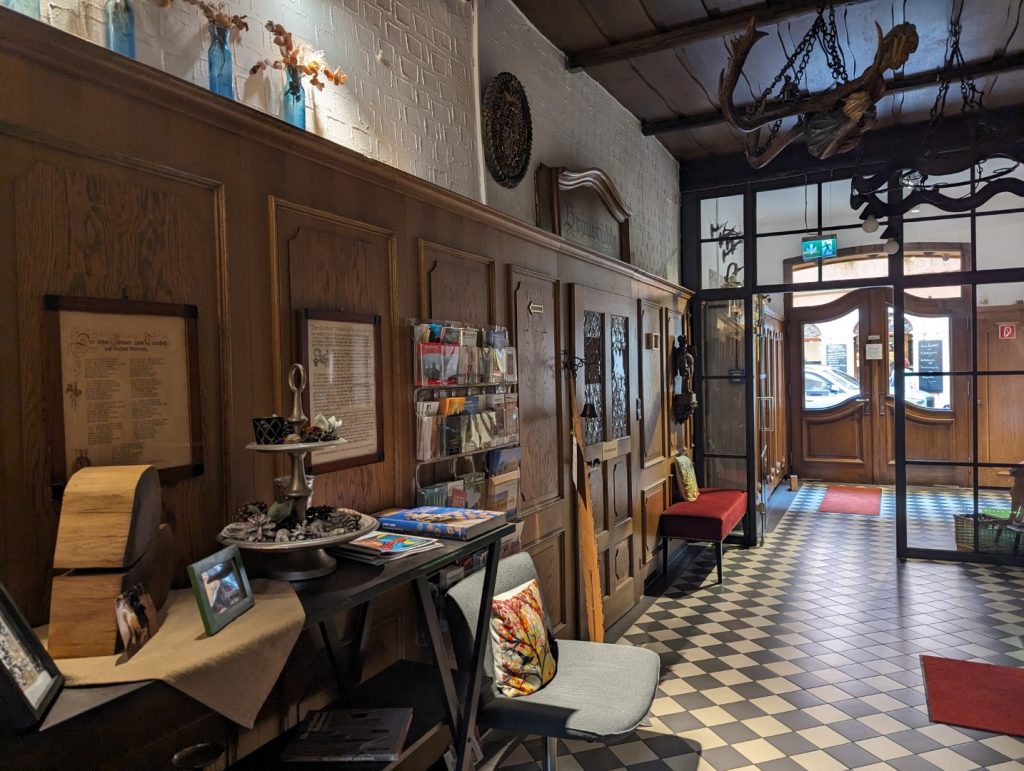 The breakfast room had a great Bavarian feel to it with the wood but I particularly loved the beautiful, stained glass windows!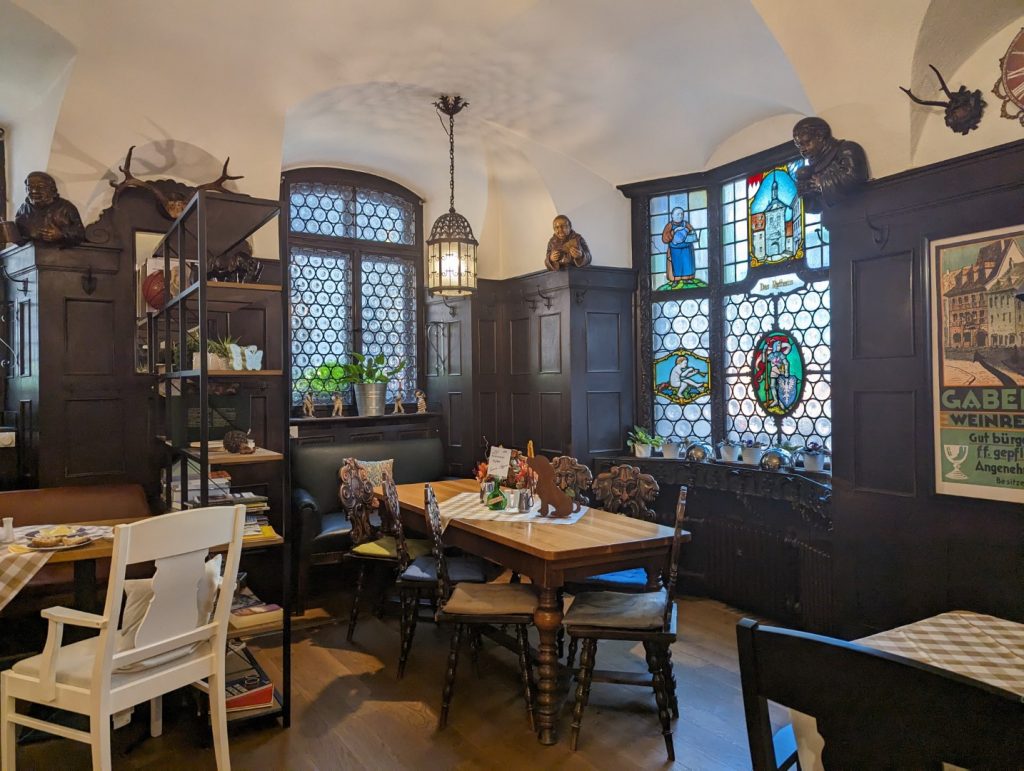 Upstairs, the hallways felt a bit outdated, but again, I like the little odd decor here and there, like the hallway windows!
I really did like how they created a "Homey" atmosphere though on the main floor, including a little drink cooler that you could get a refreshment from on the honor code.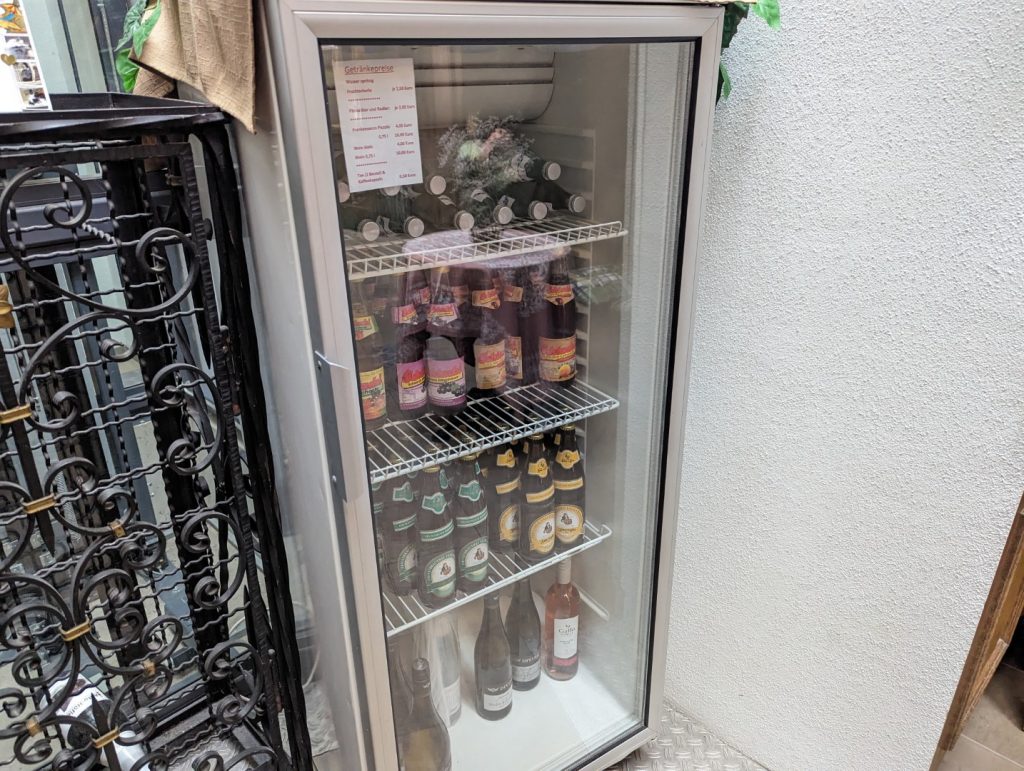 The Rooms at Hotel Weierich
After coming back in the afternoon and checking in, I was given a key (like a legit key….I haven't had one of those for a hotel in quite a while!) and then I was told some shocking information….
Take the Elevator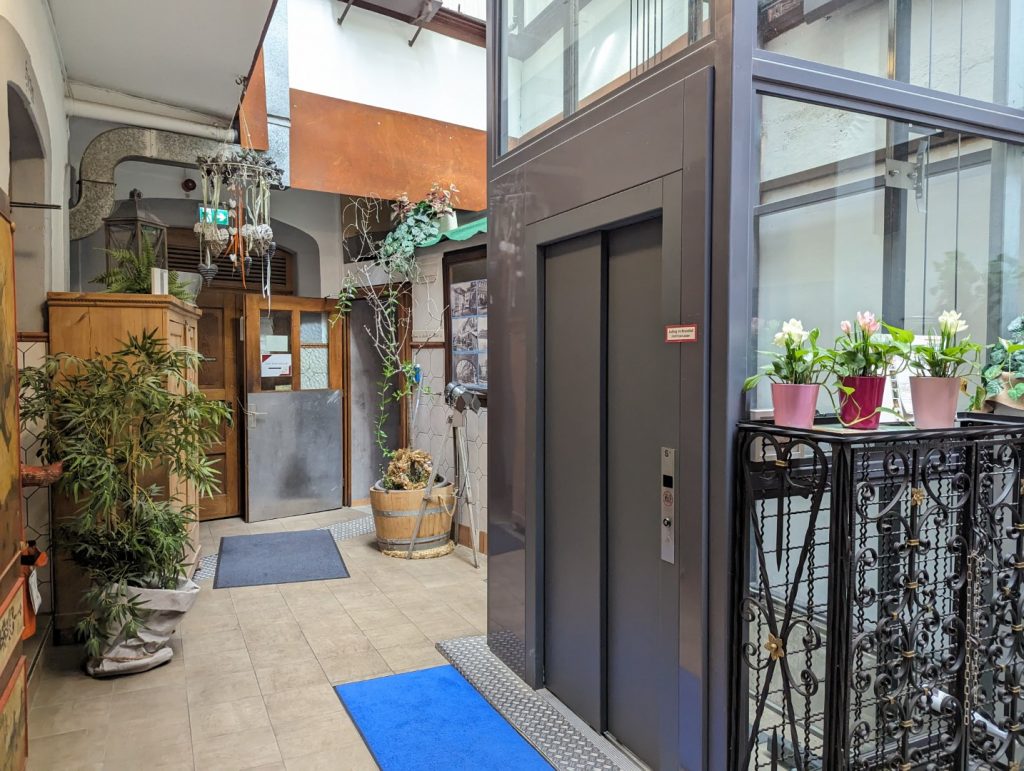 Yes. ELEVATOR! For most Americans, the idea of not having an elevator in a hotel seems absurd….buuuuut welcome to Germany! Remember, a lot of hotels are in older (and possibly) even in historical buildings that are often difficult (and sometimes prohibited) from making such alterations for something like an elevator. But, I was pleasantly surprised that I could just zip on up to my room!
Air Conditioning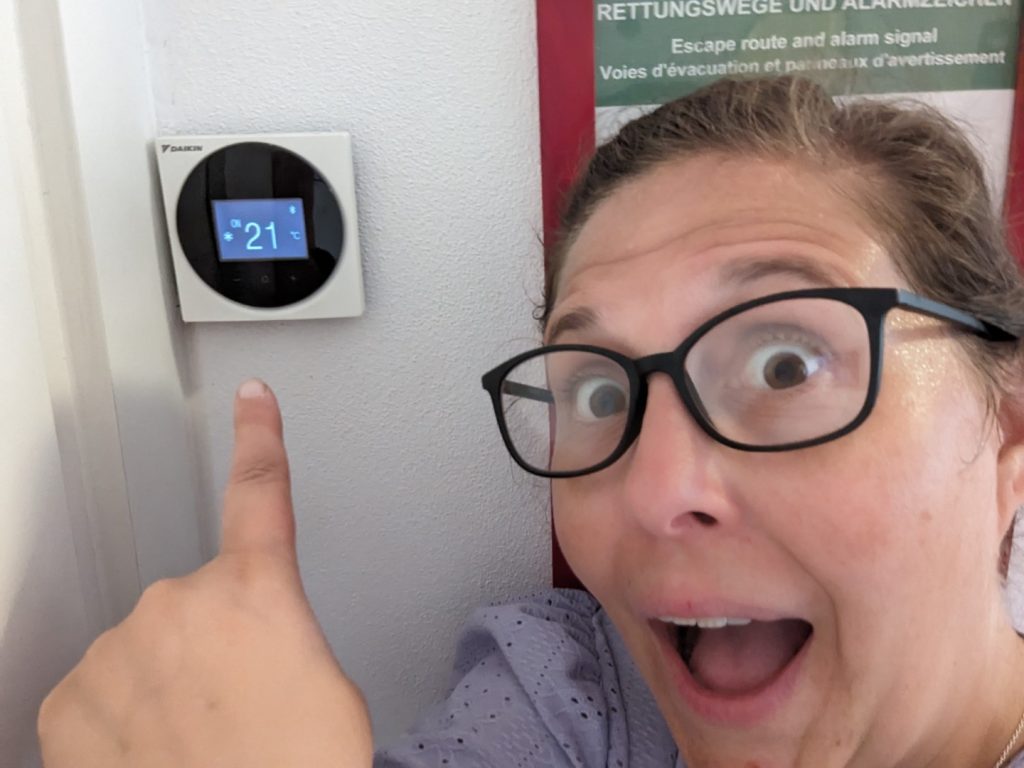 Did you know that German summers (used to be) relatively mild with just a few bursts of super warm stretches? But, as Global Warming affects us all, Germany is literally feeling the heat. Funny enough, I can't tell you the number of readers that are SHOCKED (some even mortified) to find out that the hotels they've booked don't have AirCon!!! (I mean, even homes in Germany don't have AC…mine sure doesn't!)
So, if this is a top priority for you, Hotel Weierich has you covered! I honestly don't know which one I was surprised at more, the elevator or the AC in the room! However, as I was in town during one of those heatwaves that are becoming more and more common, I was ever so grateful to sleep in a nice, cool room while it was reaching 90 degrees (32 C) outside!!! It was a fantastic treat!
Book A Room With Air Conditioning Here
The Rooms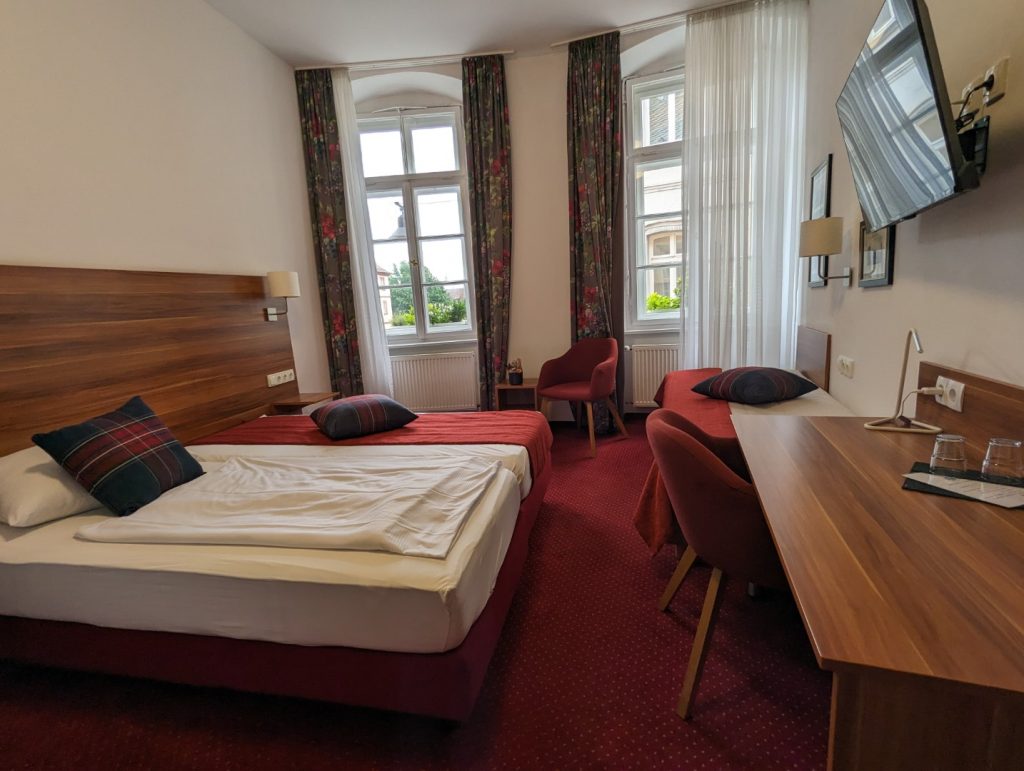 The individual rooms at Hotel Weierich are not necessarily anything to write home about in and of themselves. They have everything you need and nothing you don't. They are your typical, modern, German Pension style rooms.
The room had what you would expect from a basic level hotel room:
Wardrobe to put your clothes in if needed
A luggage rack to hold your suitcase
A desk
Bed
Black out curtains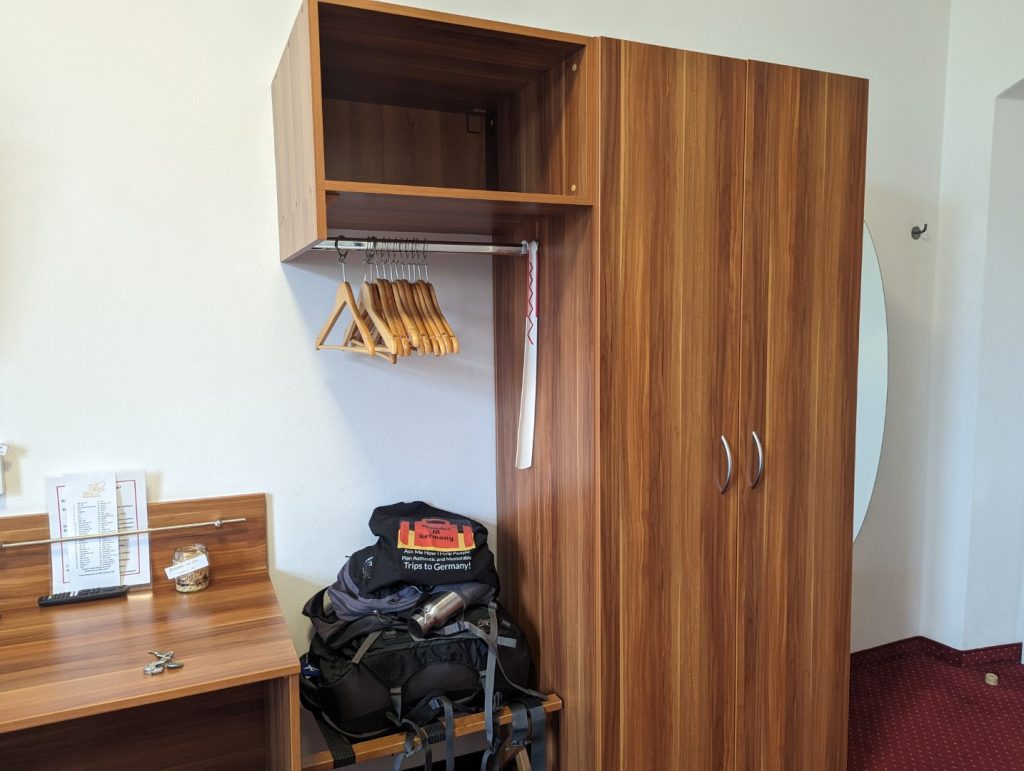 The Bed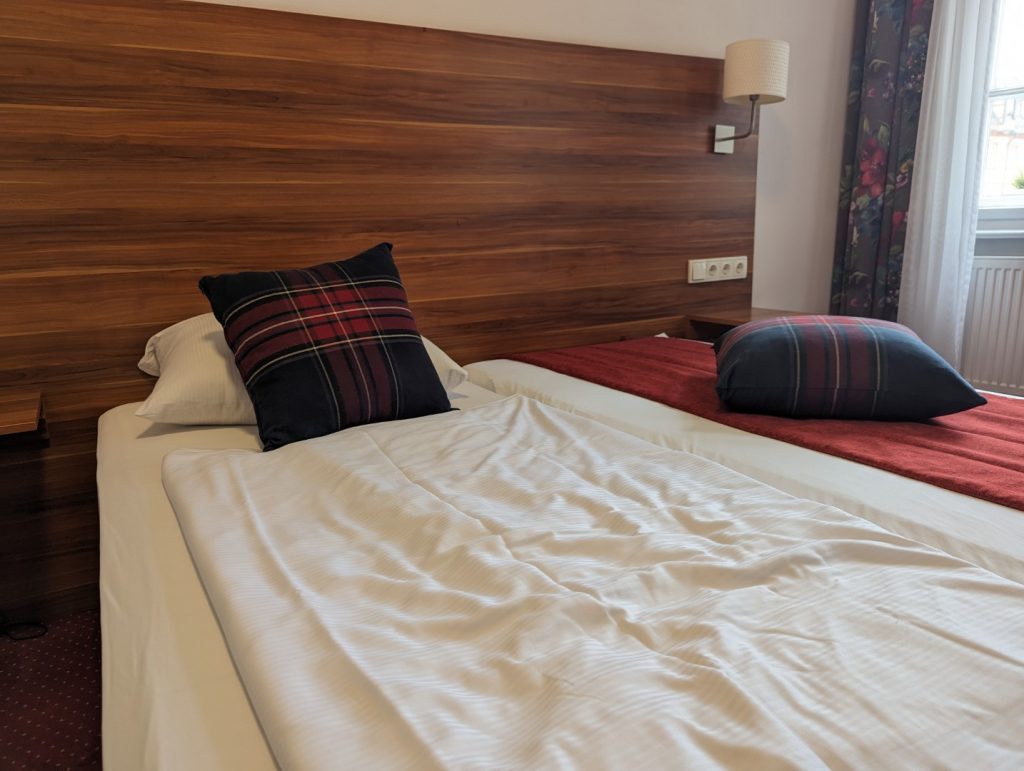 One complaint that I often have about German beds is that they are too hard. That was NOT a complaint here! I loved just how soft and cozy the bed was!!!
However, I will still continue to complain about German pillows! (This is nothing on Hotel Weierich, it is literally just how the pillows are all here in Germany!) They are huge, flat, and I can't tell you how many times a night I wake up when I'm staying in hotels to refluff and resituate my darn pillow!
Now, all that being said, I have heard complaints from travelers in Germany about German Double Beds. They are about the size of a Queen bed but are all always pretty much two single beds, pushed together to make one. There are two Duvet covers and all. This is just the norm for beds in Germany and exactly what was in my room at the Weierich (as to be expected).
Check Hotel Weierich Availability Here
The Bathroom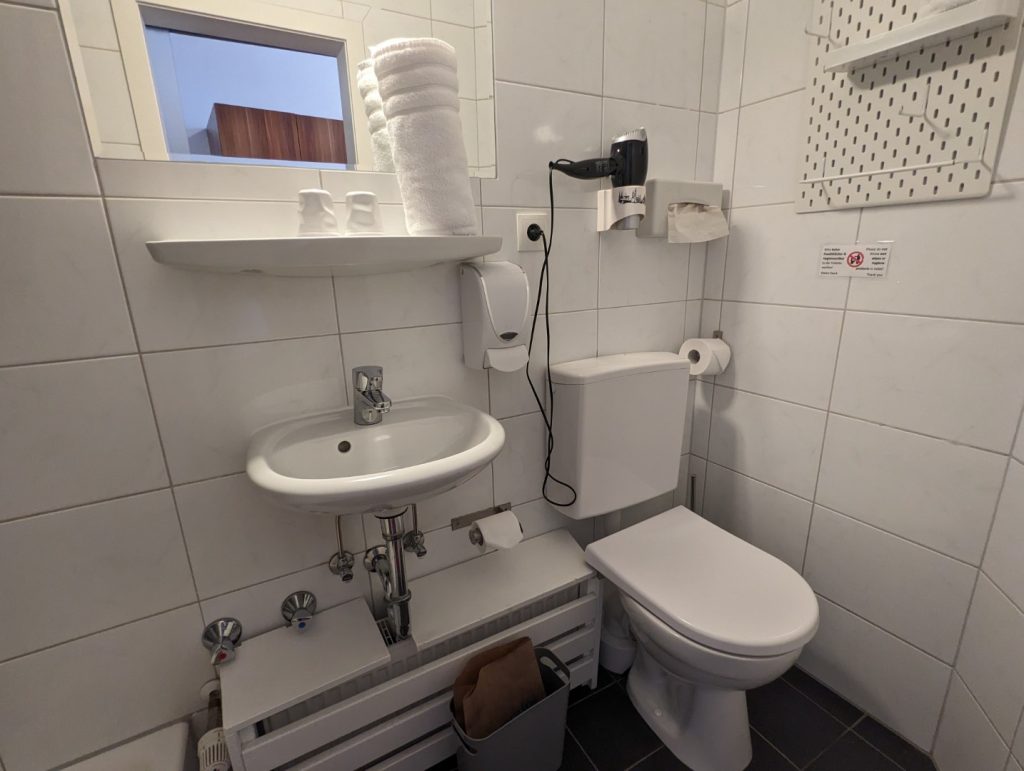 My biggest complaint about the Hotel Weierich would probably be the bathroom. It was….let's just call it…"Cozy" shall we? It had very tight fitting corners by the toilet (I'm pretty short and still my knees hit the awkward angled corner) and the bathroom as a whole was quite small.
Perhaps my biggest grief with the bathroom wasn't even the size (I don't need much), but there was this eensy little step to get in. I can't tell you the amount of times I stubbed my toe on that darn thing! I eventually laid my trusty ol' fanny pack right at the step so that I HAD to step up. #ProblemSolved!!!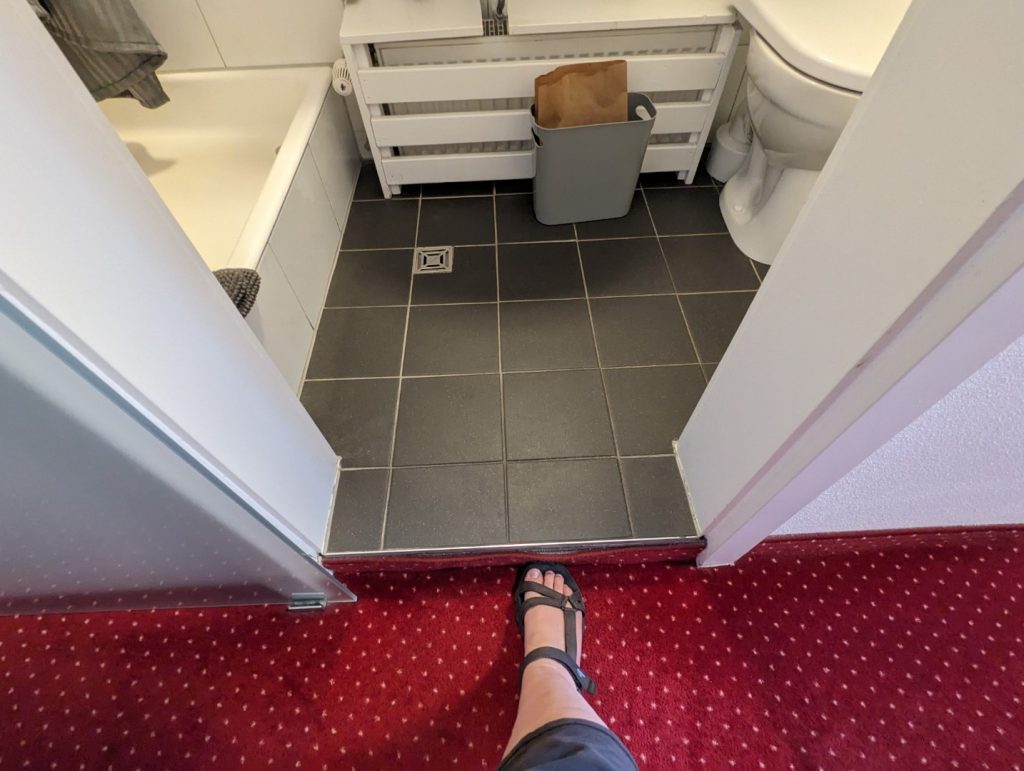 Outside Noise
Despite it being in a fantastic location in the Bamberg Innenstadt, it's not on a hugely trafficked area or pedestrian zone. There were a few moments when I heard a bit of outside noise, but I NEVER travel without earplugs. After popping them in I couldn't hear the street noise at all and slept like a baby. It also didn't hurt that the windows were closed because of the wonderful AC!
Breakfast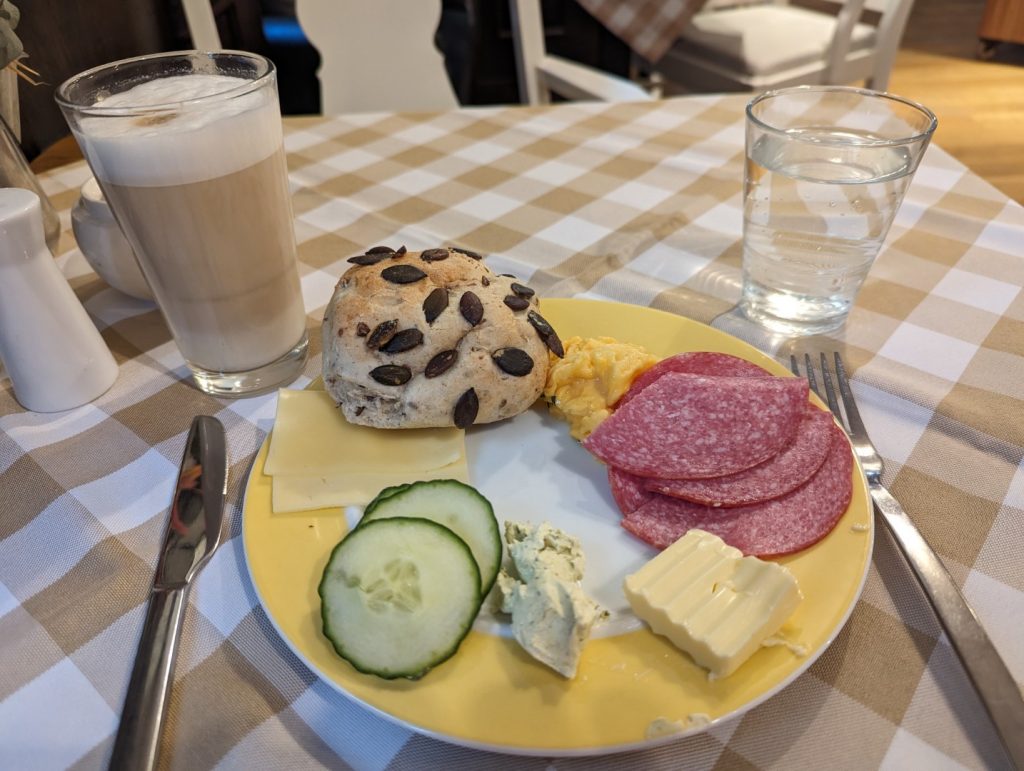 I'm such a sucker for German Breakfasts!!! The Hotel Weierich wasn't anything extraordinarily elaborate as far as menus go, but it had just what you need from a good, classic, hearty, German Fruhstuck!
There were some scrambled eggs as well as boiled. And, as always bread…several kinds of bread!
And then, of course, the cold cuts, cheeses, a few spreads, some fruit cups, etc.
I personally always make little sandwiches for breakfast at a German hotel. I always go for the pumpkin seed roll, put some of the Frischkäse (they had some great Krauter (herbed) frischkäse!), a slice of cheese, a slice of salami, some scrambled eggs, and top with a few cucumber slices! It is so filling and perfect for a start of a day of exploring.
And if you know me, you know I can't start my day without my coffee! They had a great coffee machine to make lattes, cappuccinos, espressos, etc. If a rush of caffeine isn't your drink of choice, there was a wide selection of teas as well.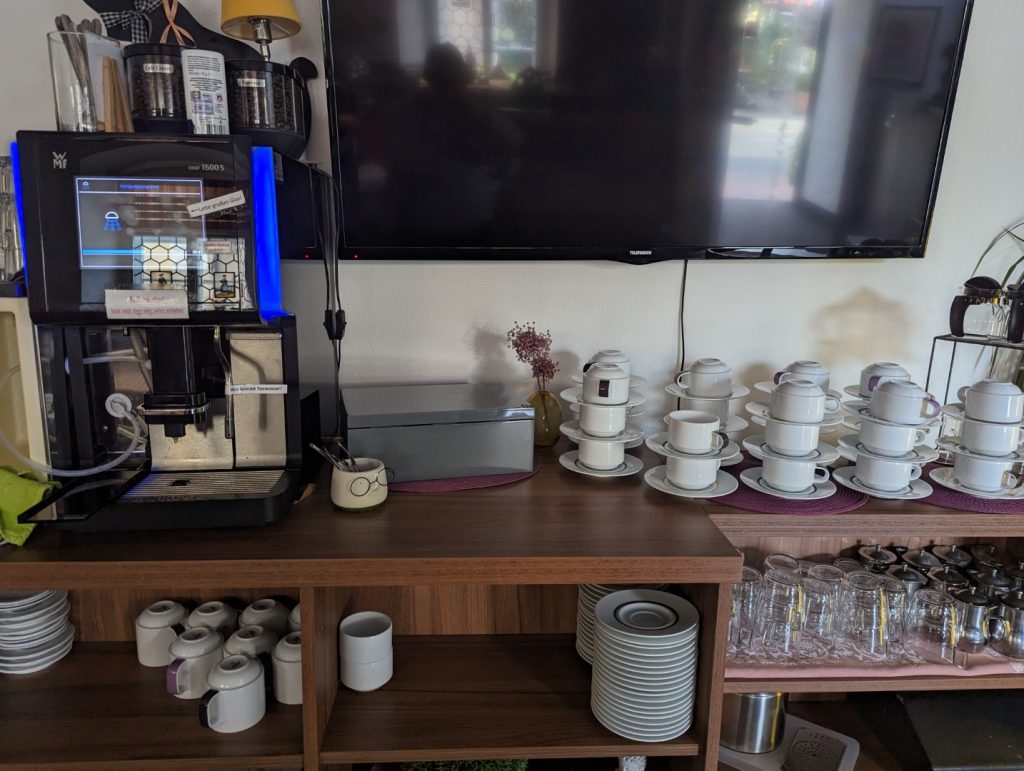 Staff at the Hotel
There were several times that I went to the front desk to ask some questions about general tourism stuff in town (like is there really no bus that goes to the Altenburg Castle???) and the staff was always very kind, nice, and helpful! I will say that it's obvious that this is a smaller run hotel though and that they are wearing many hats to cover all the bases. My only complaint was that even though there was a bell to ring if nobody was at the desk, it sometimes took over 10 minutes for someone to arrive. This was only a problem when I was already short on time to grab a bus, so I guess just plan in a few extra minutes if you need something from the front desk (like checking out, etc)
Conclusion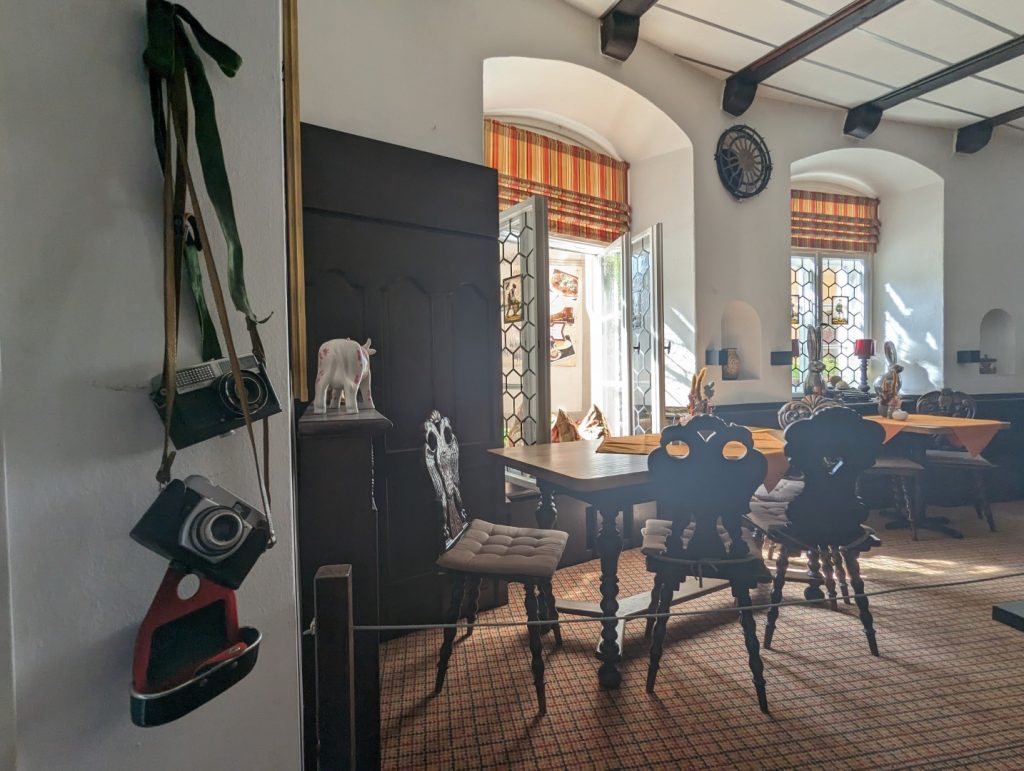 There are no shortages of Hotels in Bamberg Germany and plenty of great Bamberg hotels in the Innenstadt. If you are looking for a great budget hotel that is clean, friendly, and has a fantastic location, then I absolutely would book a room at the Hotel Weierich. It's especially great if you are on a tighter budget but want the amenities of a well established hotel.