[This post may contain affiliate links where we earn a small commission. Please see our disclosure for more information and thank you for supporting our site so we can continue to bring you awesome content for your travel inspiration!]
Snow had fallen barely hours earlier as I adjusted my oversized, puffy coat tighter around my body. I suppressed every single thought running through my head saying, "Ugh, I'm so cold."
After all, here I am, wearing LAYERS upon layers of warm clothing with a completely overstuffed belly from the hotel buffet breakfast.
And yet, my feet were touching on the exact same stones, paths, and ground where 30,000 innocent people were murdered ruthlessly. Some from the gas chambers, others from bullets to their heads. But many from the freezing cold winters when they had nothing but potato sacks as clothes and others from being starved from no food for months on end.
How could I, a spoiled American girl, even begin to mutter a word of complaint while visiting Dachau Concentration Camp? Simply put, I couldn't. It was a sobering experience.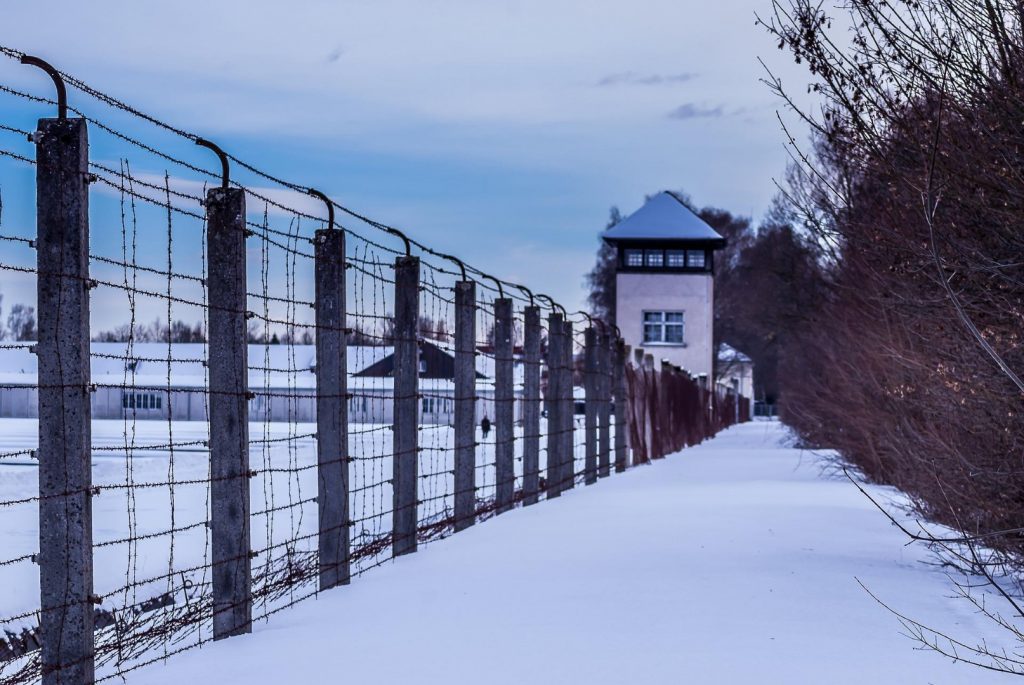 Since that first Dachau Concentration Camp tour I took (over 20 years ago), I've actually been back three more times with various visitors that have come to see me in Germany. Each time has brought a different emotion, reaction, and experience. The next time, instead of the blustery winds, it was during a heatwave in the summer. It was odd having an almost exactly opposite (weather) experience. That day, I was still suppressing any complaints, but this time, about whining about how hot or tired I was. Again, it only took but a flash of a second to recall the images in the museum I had just seen minutes prior showing the extreme conditions the prisoners were forced to work in during the same hot, summer months.
Needlesss to say, the Dachau Concentration Camp tours are anything but pleasant. And to be honest, that is how it should be. It doesn't make going any less important.
However, it can be a tough day. That's why I created this article. I wanted to give you as much information as possible on how to prepare yourself for visiting an absolutely sobering location. I'll give you just a little bit of background, show you exactly how to get to Dachau from Munich, tell you what to expect (although no words truly can prepare you) and let you know what you should bring along.
Planning a Trip to Germany? Join Our Fantastic Traveling in Bavaria Facebook Group!
Dachau Location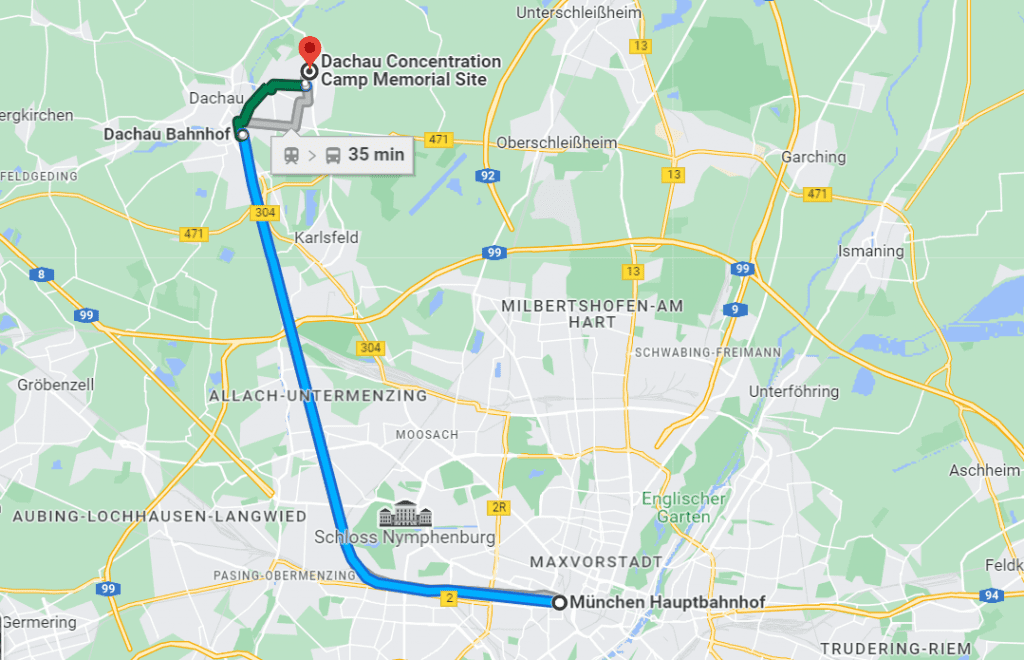 When people ask "What Concentration Camp is near Munich?" Dachau is the one that most people have heard about.
The town of Dachau is located just 16 Km (about 10 miles) to the North of Munich and is basically considered a suburb of Munich today. It only takes about 30-45 minutes to get there. This is why a day trip to Dachau is almost always on people's Munich Itinerary. You can get to it easily and quickly and is a vital place to dive into the history of the nation. This is NOT a "tourist destination" and shouldn't be treated as such. Please remember that this is the site of evil wrong doings and nothing will be sugart coated. Treat it as a place of respect for all the lives lost both at Dachau itself but the millions of other lives murdered during the WWII Holocaust.
There were actually dozens of concentration camps near Munich and were considered "Sub Camps" to Dachau (hundreds of sub camps to Dachau in Bavaria alone). For example, the Munich-Allach concentration camp is easily accessible today (only about 15 minutes from Dachau itself) but instead of a somber reminder of the atrocities that happened there, it looks like nothing much more than an old, abandoned building today. This is one of the reasons why Dachau is still such a visited location. While many things have been changed since the liberation of the camp (the ashes have been removed from the crematorium, the "shower heads" in the gas chambers have been taken down, etc) the Dachau concentration camp today still remains the same, haunted place.
How to Get to Dachau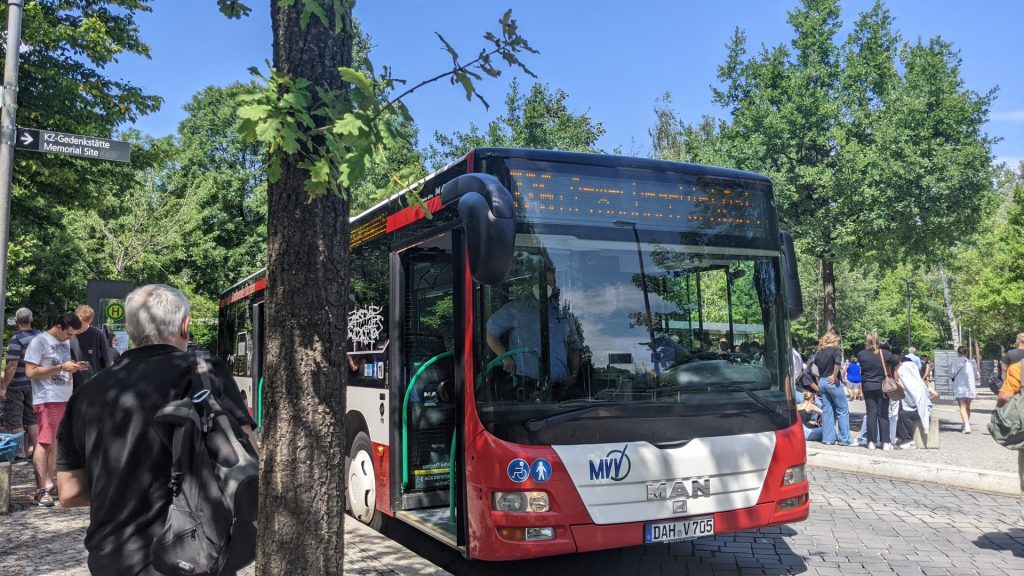 It is actually really easy to get to the concentration camp at Dachau. It is important to know that if you are looking at the train times on Bahn.com or the DB Navigator App that you need to put in "KZ-Gedenkstätte, Dachau." KZ is the abbreviation for the German word, "Konzentrationslager" which means, "Concentration Camp" and Gedenkstätte means "Memorial."
If you just type in "Dachau" it will take you to the Dachau Bahnhof and not the rest of the way to the concentration camp.
Is Dachau Worth Visiting?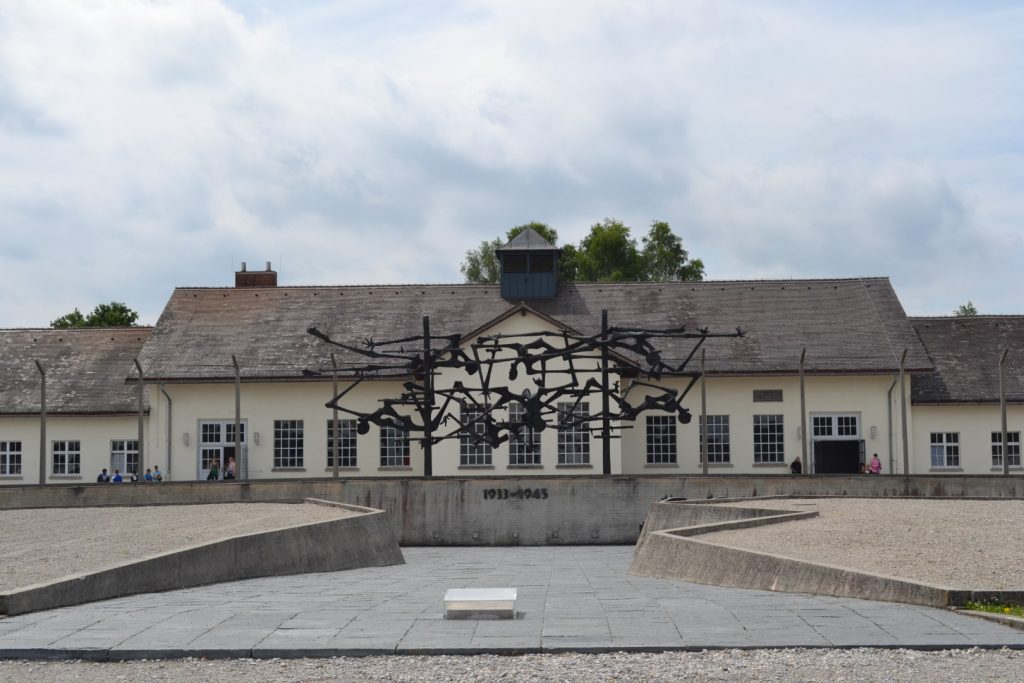 While it is not an easy to stomach destination, yes, it is absolutely worth visiting. We have all grown up reading about the Holocaust in text books. We have seen movies on the abhorrent events that happened under the hands of the Nazi Party. However, no book, photo, or movie can ever actually compare to what the victims truly went through. Standing on the same ground where such heinous acts happened suddenly makes everything feel that much closer.
Everything feels heavy. Dark. Eerie. Somber…..as it should.
We've all been told, "Never again." (And yet, there have been dozens of genocides in the world since!) To visit a concentration camp is not an enjoyable experience (nor should it be) but it is one that should be mandatory. It's one thing to say, "Never again" but actually being there solidifies it that much more.
So yes. Dachau is worth visiting.
And with the Concentration Camp near Munich, as stated above, there are few excuses for not adding it to your time while visiting the capital of Bavaria.
Side Note: It is mandatory for all Germans to attend at least one Holocaust site during their school years. Most will do a concentration camp tour. Germany is not proud of this part of their history but they also do not shy away from it so that history will not repeat itself.
A Little Bit About Dachau
I won't go into a ton of details here, as the the Memorial Site actually does a tremendous job on their self guided tours and in the main Dachau Concentration Camp Museum. Reading facts about the camp here is nothing compared to standing on the grounds themselves, face to face with the horrors of what happened. However, it is good to have a tad bit of background and information before heading there.
Dachau was the first concentration camp set up. It was used as their first experimentation in what would later be the network of thousands of camps, ghettos, and prisons designed for labor, torture, cruel medical experiments, and murder. Dachau was essentially the model for all later camps.
When it was first opened in 1933, the primary targets were political opponents to the Nazi Regime but quickly expanded to religious clergy then onto Jewish people, Romas, people with mental disabilities, or anyone considered a "threat" to the Third Reich. Most of the prisoners at Dachau were actual German natives.
Dachau was the longest open concentration camp and was still full and "functional" when the Allied forces came to liberate it in 1945. During its 12 years of operation, there is the official documentation that over 200,000 prisoners had been forced to Dachau and over 30,000 people murdered. However, it is speculated that both of those numbers are actually significantly higher.
Dachau Concentration Camp Tours
Dachau Concentration Camp Cost
Visiting the Dachau Concentration Camp is actually completely free. When you arrive at the memorial site, you will immediately see the visitor building. Inside there, I highly recommend going in and getting an Audio Guide. It is fantastically done and allows you to completely go at your own pace throughout the entire site.
If you would like an actual tour, there are two English Tours offered at 11am and 1pm. There are limited spots though, so if you want to get in on one of these, I do recommend arriving early to ensure a spot.
Dachau Tour Costs:
Entrance: Free
Audioguides: €4.50
English Guided Tour: €4.00. Offered daily at 11 a.m and 1 p.m.
Guided Tours of Dachau
Essentially, you have four ways to take a tour of the camp.
On your own: You can get a map at the vistor center and there are placards everywhere with extremely detailed information about what you are seeing or what happened/ was at that particular site. Allow for at least an hour (probably even more) for the Museum itself, as it is full of extremely important background history, documentation, photos and videos, and so much more that is essential in completing your visit.
Self Guided AudioGuide Tour: This is my personal recommendation for touring Dachau, The Audioguide is so well done and then you are free to go at your own pace throughout the Memorial site yourself. This really allows you to take your time and process everything at your own speed.
Guided Tours at Dachau: At 11m and 1pm, take the guided tours provided by the memorial. They last about 2.5 hours (give yourself more time to go through the museum) and are very well done.
Tours From Munich: I'll touch a bit on this next, but your other option is to take a Dachau Concentration Camp tour from Munich. These typically meet at the Marienplatz or the Hauptbahnhof and are in groups of 15-20 people.
Is a Tour To Dachau Worth It?
In short (and in my humble opinion): NO. Why?
(For the purpose of this section, when I say "Tour" I mean a paid tour from a private organization other than the one at the memorial site itself)
A main benefit of any tour is that they get you to the location. However, Dachau is so easy to get to, having a guide lead you there is really unnecessary
Another reason why people like tours is that they get information that they otherwise would miss if going somewhere on their own. However, there is very little that the tour guide (from Munich) is going to tell you about the Concentration camp that you won't get from the free audioguides/ free English tours itself (they are very in depth at the Memorial)
You have to go at the tour's pace (compared to doing the Self-guided audioguide yourself, where you can spend as much time as needed at each place at the memorial)
It's free to get into the Concentration Camp and cheap enough to have the Day Ticket for public transportation. Paying for a tour just doesn't make any sense!
To sum up those complaints, I basically feel that a tour/guide to Dachau is just a glorified hand holder to get you there. (Don't get me wrong, there are plenty of tours that I DO suggest within Munich, this just isn't one of them)
While it's clear what my preference and recommendation is, if you are still convinced you'd like to take a tour of Dachau, here are a few to consider:
If you are going to hire a tour for Dachau, then this is probably my top recommendation for one. Your tour group will meet up at the Hauptbahnhof and will all go together to the Dachau Memorial Camp where your guide will take you on a tour.
The reason why I suggest this tour though is because after Dachau, you spend the afternoon in the Altstadt of Munich learning about the Third Reich and important spots in Munich that were influenced by the Third Reich. This is an especially good option for people who are interested in WWII history or want to know more about how Hitler came to power as well as what daily life was like in the Third Reich.
Book The Third Reich and Dacau Tour Here
I suppose one of the biggest reasons to book a Dachau tour from Munich is for the personalization option of a private tour. For example, with this tour, it is a completely private tour where the guide will pick you up from your hotel, transport you in a car, and take you through the Concentration camp.
Alternatively, here is a private tour, but it is still going by public transportation (so the exact route as shown above)
See What Is Included in the Private Tour Here
Almost all the other group tours will meet either at the Marienplatz or at the Hauptbahnhof. These tours are usually a group of people (around 10-20) and the guide will give you information about Dachau (nothing that you can't read or listen to for yourself at the Memorial) and then lead you on the exact same route as above on the train and bus. They will guide you through Dachau (again, nothing much more than what the Audioguides provide) and then take the bus and train back with you into Munich. Like I said earlier, to me, it's just a glorified version of hand holding for the public transportation.
Read About The Group Tours Here
How to Spend a Day at Dachau Concentration Camp Memorial Site
How Much Time Is Needed For Dachau: Allow for about 4 hours to fully tour the camp and memorial site. Also allot for about 40 minutes, each way, for transportation to get to Dachau from Munich
You'll want to plan on about 5-6 hours total (including transportation time) for visiting Dachau from Munich.
Arrival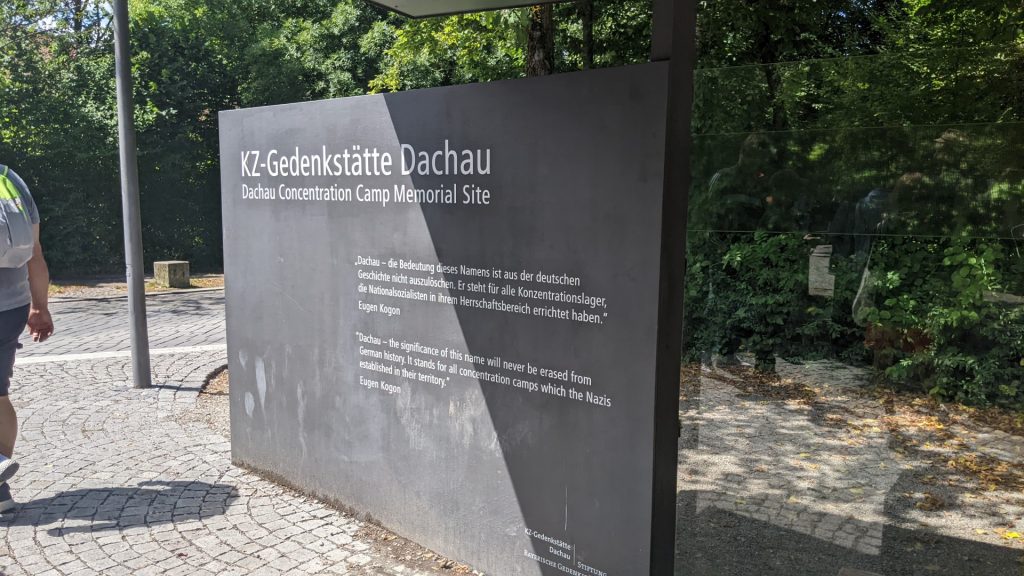 If you are not planning on doing one of the English Guided Tours, then I recommend getting to the Memorial site when it opens (9am). It can get very crowded between 1-3pm, but if you wait to go later in the day, you may find that you under estimate the amount of time you should dedicate here.
When you get off the bus, walk across the street and you'll immediately see the Visitor Information building. This is where you'll go to get your Audioguides or get your Dachau tickets for the guided tours. There is also a bathroom as well as a little cafe here. I will say, it was very weird seeing people enjoying a bite to eat and licking ice creams in such a place.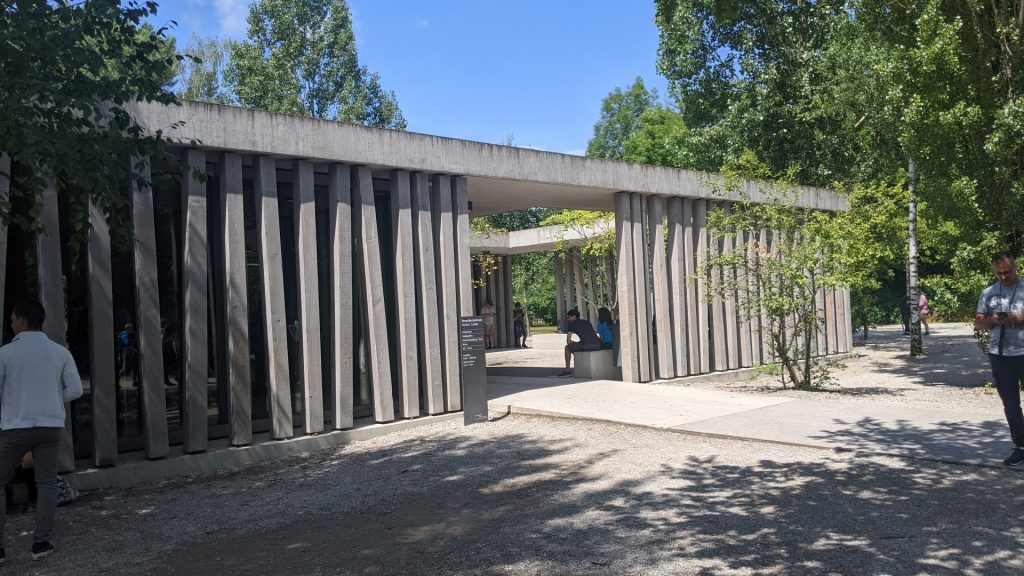 Walk To the Main Entrance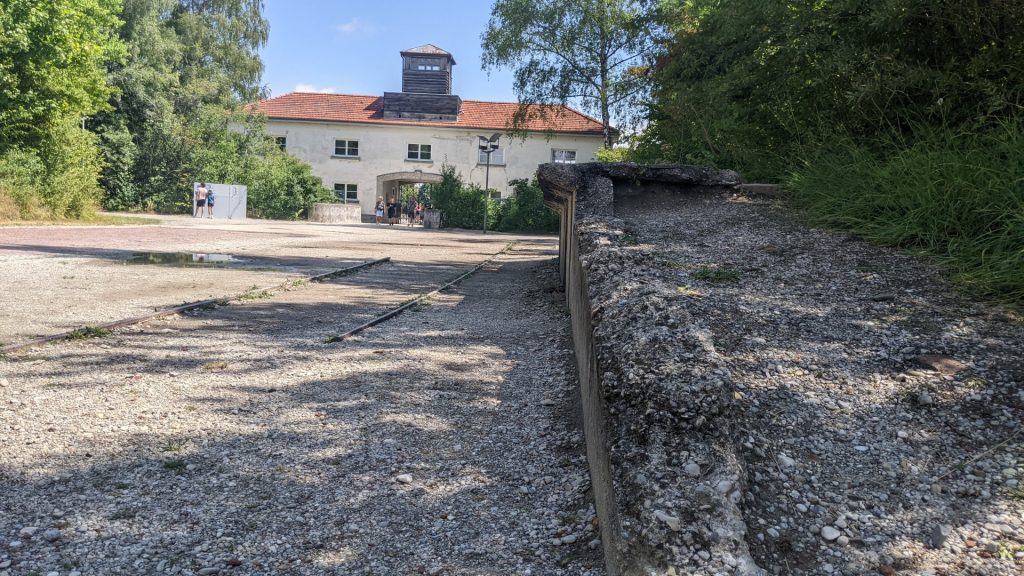 From the Visitor's building, just follow the path, which will take you to the main entrance of the camp.
It doesn't take long for the sickening feeling in your stomach to sink in. Before turning into the camp, you can go to the tracks of the railroad that herded hundreds of thousands of victims to the camp and even see the platform where they once had to step off the train before walking to their fates.
Arbeit Macht Frei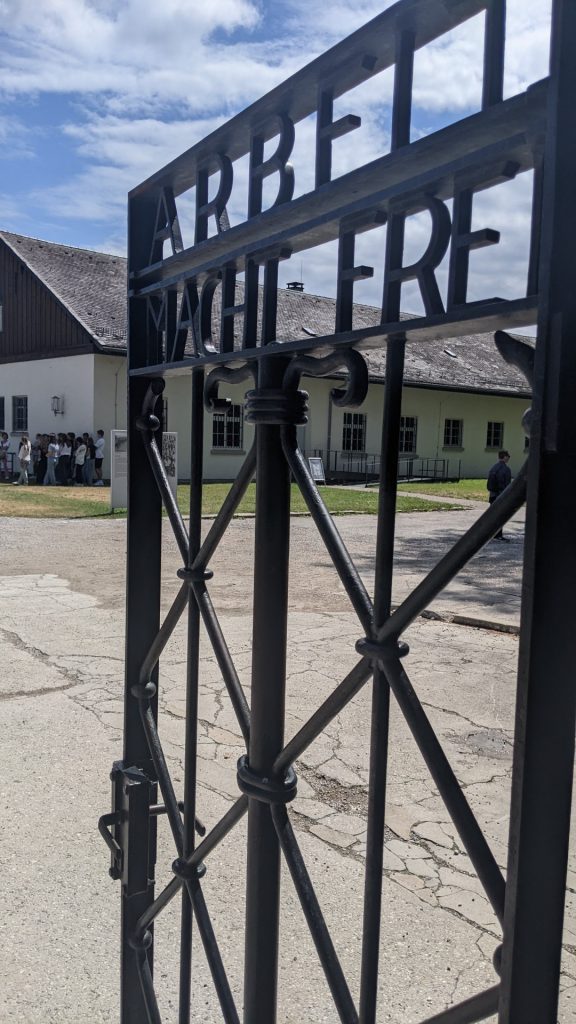 While the gate at Auschwitz is arguably "more famous" the same words haunted the people coming into Dachau, "Arbeit Macht Frei" which basically means, "Work Makes You Free." After all, many of the people coming to Dachau originally thought they were being sent to a labor camp and if they could just work hard enough, maybe, just maybe, they could be released.
The Main Exhibition/ Museum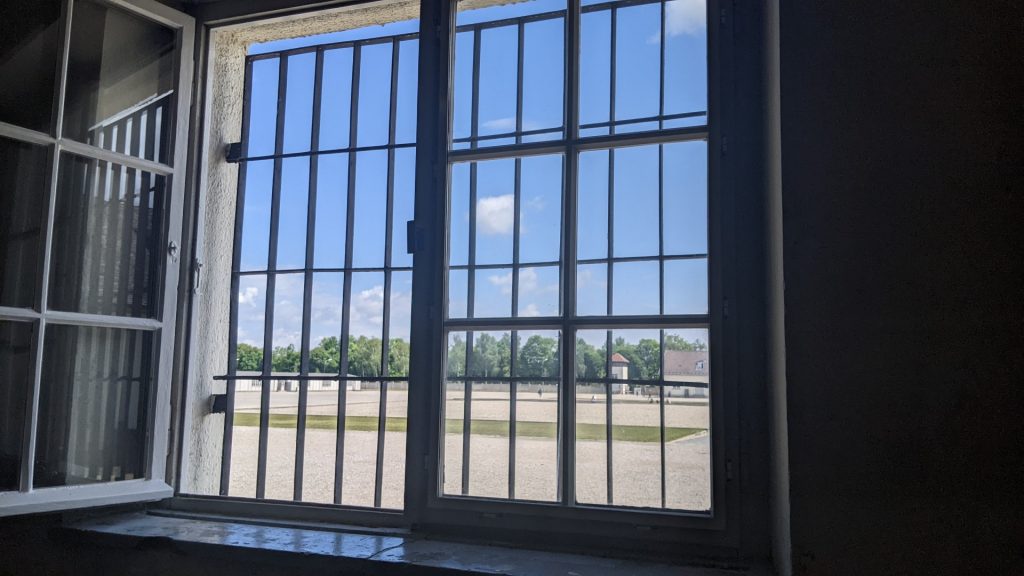 In what was originally used as the maintenance building, today visitors to the memorial site should dedicate a good chunk of time going through the main exhibition. It is A LOT of information, a lot to try to process and soak up, and much of it very difficult to get through (emotionally). However, starting here and giving this information the time it deserves is really vital for "setting the stage" for the rest of the tour. There are 13 rooms and it can take a while to get through it all, but try not to rush here.
Note: There are several restrooms in the exhibition area. One in the middle (by the statues in the front) as well as one at the end.
The Stations
There are numerous stations throughout the camp that will lead you around and give you information about the site. These include places like
Recreated Barracks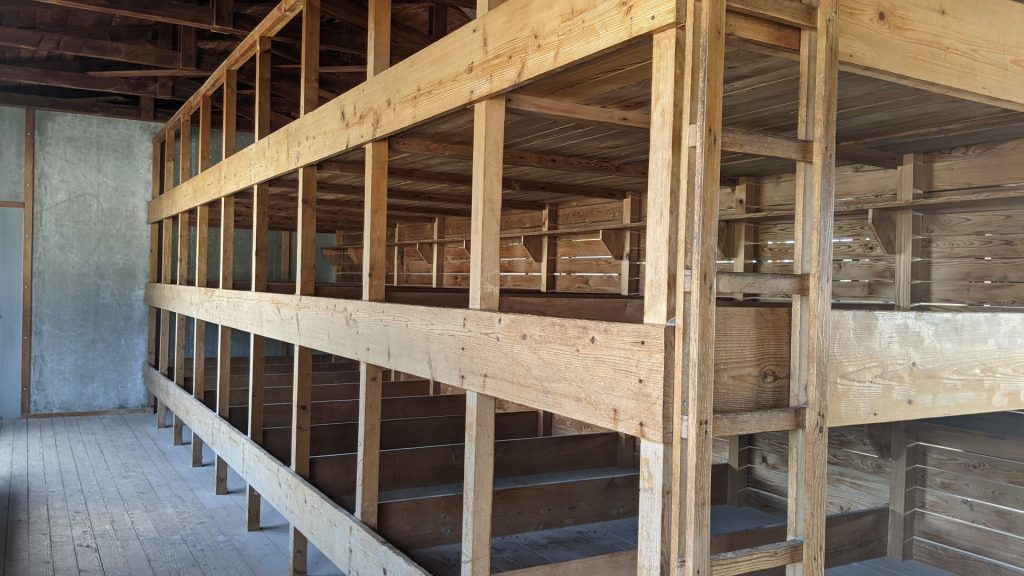 While there were 32 barracks originally, they were all torn down eventually. However, today there is a recreated barrack that shows exactly what it looked like inside, including the rows and rows of cramped, small, wooden bunks that the prisoners were forced to share. From there, you can still see the outlines of all the other barracks and really put into perspective just how many people could be held at once.
Religious Memorials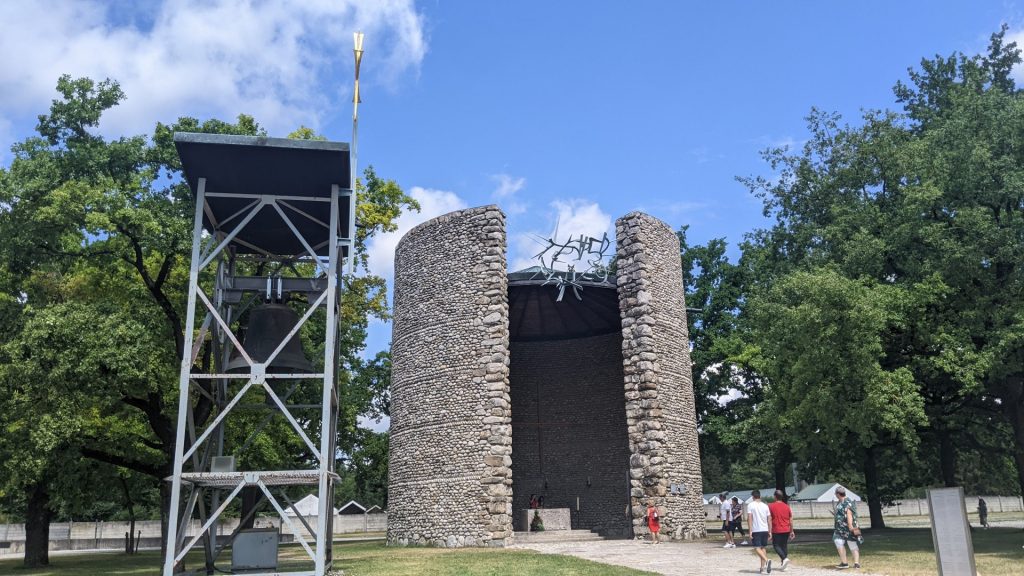 Some of the other main things to see at the Concentration Camp are the religious memorials. There is a Jewish Memorial as well as a Catholic and Protestant ones in addition to a Carmelite Convent.
Crematorium and Mass Graves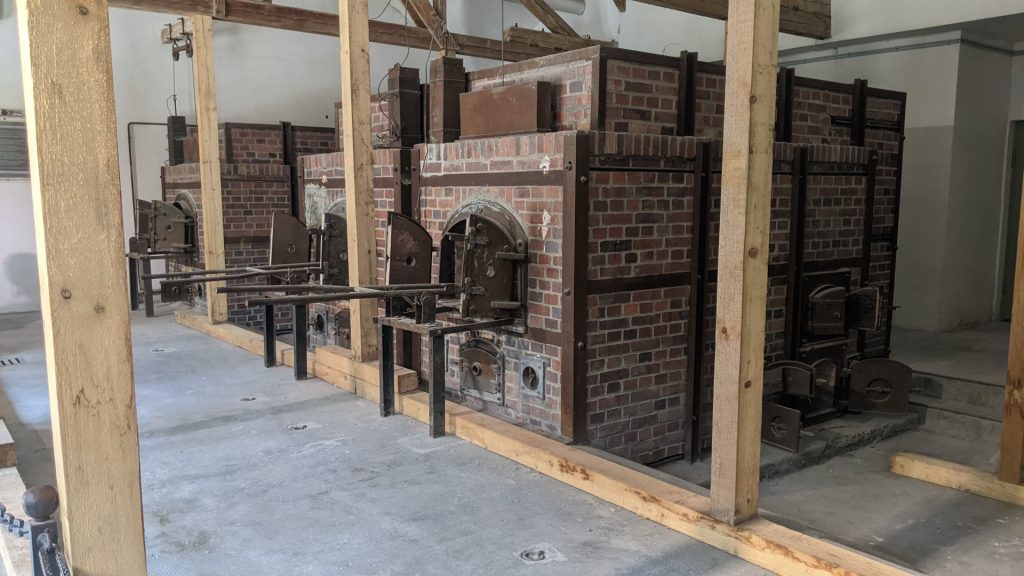 Perhaps one of the most difficult sections of the entire Dachau Concentration Camp visit is where the crematoriums and mass graves still stand.
Silence envelops the building as everyone who steps inside can't find the words to express their own emotions, feelings, and outrage. A heaviness hangs in the air. Is it from the sadness of the visitors or does this place hold onto the pain in the molecules of the air itself?
Gas Chambers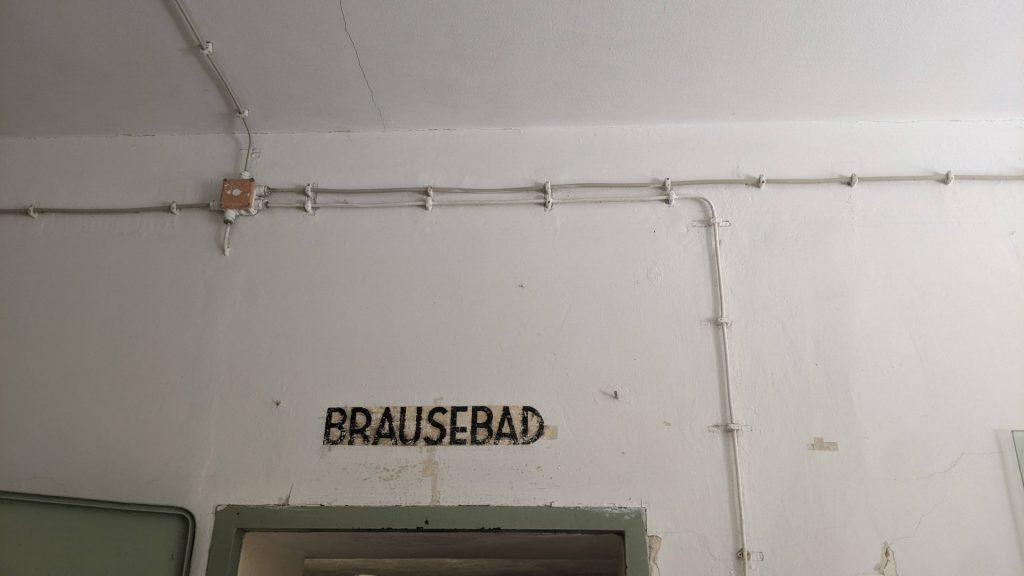 In the same building of the "new" Crematorium (the original- still there- became too small to handle the sheer amounts of murdered bodies), is the gas chamber. However, despite it being a fully functioning mechanism, it is believed that it actually was never used for the mass murder of the prisoners at Dachau. Regardless, you yourself feel a bit suffocated just standing in the room itself, with the deceptive words, "Brausebad" (Shower Bath) written on the entrance. I almost had to force myself to stay in the room and make sure I fully understood the magnitude of where I was standing despite my instinct to run out as quickly as I could.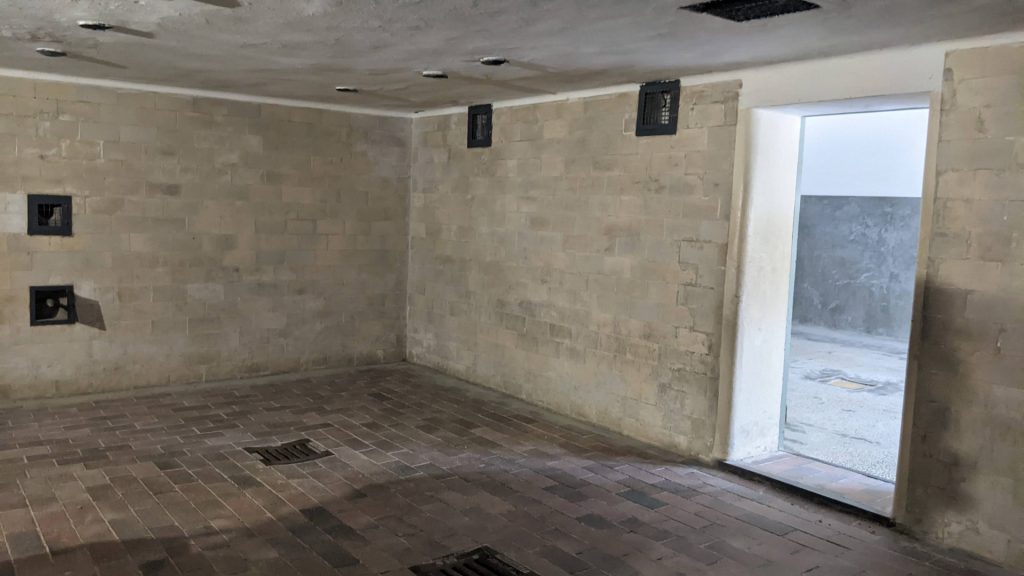 The Sites Outside of the Memorial
Not many people are aware that beyond the confines of the camp itself, there is still a lot to learn about. You can use this guide to see even more important nearby sites
You can pay your respects at places like the SS Shooting Range, the Death March Monument, walk the "Path of Remembrance" and more. One of the most impactful things about these locations is that many of the placards bring up the very tough discussion concerning just how much the local townspeople of Dachau really did know what was going on.
The argument that the camp wasn't "really in the town" or that the people "had no idea" is practically debunked as the signs tell how they could see the prisoners on the trains and other ways that locals actually interacted with the camp.
Leave Time To Decompress
While this should go in the next section of "Tips" I also think it deserves its own, designated explanation.
I get it. When on a vacation, we are trying to cram as much into our days as we possibly can because chances are, this is a once in a lifetime trip.
However, visiting Dachau is a really tough event. You may feel sick to your stomach, emotionally drained, really sad, or even physically tired from witnessing the memorial. It's ok to lean into these thigns.
I always tell anyone visiting Dachau to schedule in some down time when returning back to Munich. If you went in the morning, then leave your schedule open for the afternoon so that you can go back to the hotel to decompress a bit before heading out in the evening. If you went in the afternoon, maybe plan on grabbing a simple (but still insanely delicious) dinner, like a Doner, on your way back to the hotel and enjoy your Kebab and Pommes (fries) with a beer there that night.
It almost feels wrong getting off the Sbahn and heading straight for the Hofbrauhaus, Biergartens, or other things you want to check off your Munch Must Do list.
Tips For Visiting Dachau Concentration Camp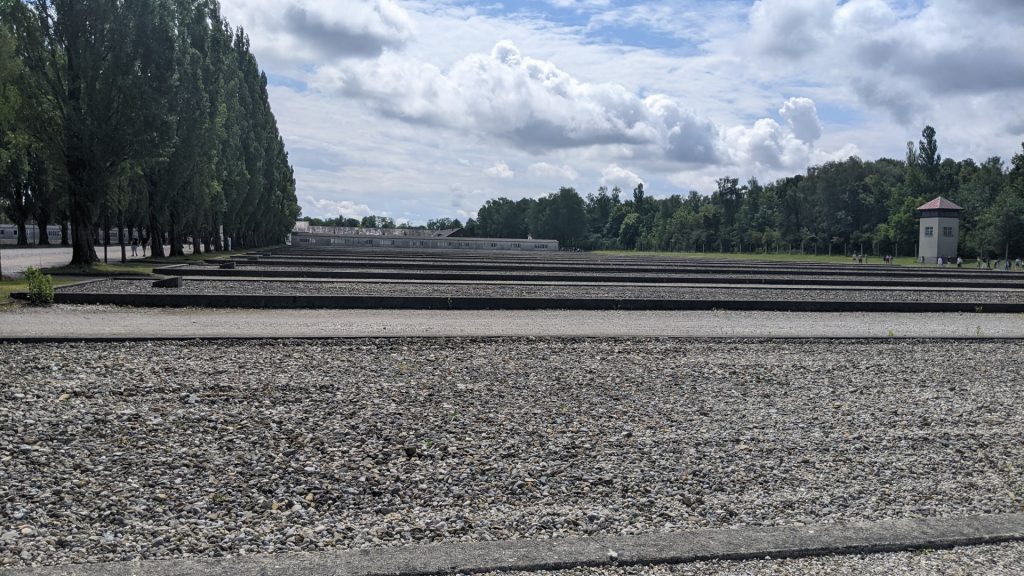 There are some pretty "strict" Guidelines for Visiting Dachau but most of them are no brainers, considering the location you are going to (Neo Nazi/ Right Wing signs, no food, etc). Here are a few more that I would suggest based on my numerous trips there:
Be Prepared For Grotesque Images
This is NOT your high school text book. There is no holding back on what happened here.
One of the most disturbing areas for me of the Memorial was in the Main Exhibition building, where there was a TV screen showing still shots as well as videos on a loop. 10 seconds of a video panning over a pile of at least 50 dead, naked bodes, thrown on top of each other. 15 seconds where the camera slowly went down a line of dead bodies, one by one, with their eyes still open. A photo of a group of men so skinny you could practically wrap your hands around their waist.
Again, my stomach dropped and I felt like I might vomit. And yet, I made myself watch these horrible scenes. After everything I had read during my studies, nothing could have prepared me for these images. This wasn't a white-washed, sugar coated AP History lesson. This was the reality we all should have been learning our whole lives.
Dress Appropriately
There isn't a "dress" code like you might expect when visiting the Cathedrals in Italy, for example. It is fine to wear tank tops and shorts above your knees.
However, you WILL be outside for pretty much the entirety of your visit, so dress accordingly!
In the Winter: While it normally doesn't get too far below freezing, even in the winter, that's not to say that it doesn't get cold (especially if you are coming from a warmer climate!) Here is my Germany Winter Packing List and I highly recommend taking it seriously for places like Dachau, where you will absolutely want things like layers and warm boots.
In the Summer: Likewise, there are usually only a few heatwaves each summer (although, that seems to be increasing year after year) but pretty much the entire site is out in the elements with little shade. When I was there in July one heatwave, it was VERY hot. Some people had umbrellas to help shade them, which isn't a bad idea. Definitely have sun screen on hand!
Be Prepared to Walk and Stand
Pretty much for the whole memorial, you will either be walking or standing. There are few places to actually sit and rest. (Again, the complaints are few and far between considering the actual circumstances). Therefore, wear the absolute most comfortable shoes you can.
Bring Water- But No Food
Since you will be walking for quite a long time, be sure to have plenty of water on hand. However, no food is allowed. If you are hungry, you can go to the Cafe at the main entrance building.
Turn Off Your Cellphone
At one point, a man near me had his cellphone ring obnoxiously. He then answered it and began chatting away. I felt like it was a really disrespectful thing to not only the purpose of the site but to all the other visitors paying their respect as well.
NO SELFIES!
How is it that I have to state this!? And yet, there I was, watching as two young women took their selfies at Dachau! Almost just as bad was the Dad who had his young daughter stand in front of the Arbeit Macht Frei gate and smile for his camera.
Yes, take photos! But have some respect and leave the selfies for the Hofbrauhaus.
Should I Take My Kids to Dachau?
This is a nuanced question, and I go into way more detail in my "Is Dachau Appropriate for Kids" article. But in short, yes, I think you should.
However, there's a lot to be considered and even more that you should prepare them for. The official website suggests that anyone under 12 shouldn't go into the main exhibition because of the images, photos, and videos that are shown in there. I also would argue that going into the crematorium should be treaded lightly with children.
That being said, as a former teacher myself, and as a mother to a 6 year old child who asks plenty of questions (including "Mama, what are "Nazis" ")I strongly believe that there are ALWAYS ways to present information, even really tough stuff, at all age appropriate levels.
If you are wondering if you should take your kid to a concentration camp, you can read my entire "How To" here.
Dachau Logistical Information For You:
Dachau Concentration Camp Opening Hours: 9am-5pm
Email: [email protected] and Official Website
Address: Alte Römerstraße 75, Dachau (this will take you to the parking lot)
Phone: +49(0)8131-66997-0
Other Concentration Camps in Germany to Visit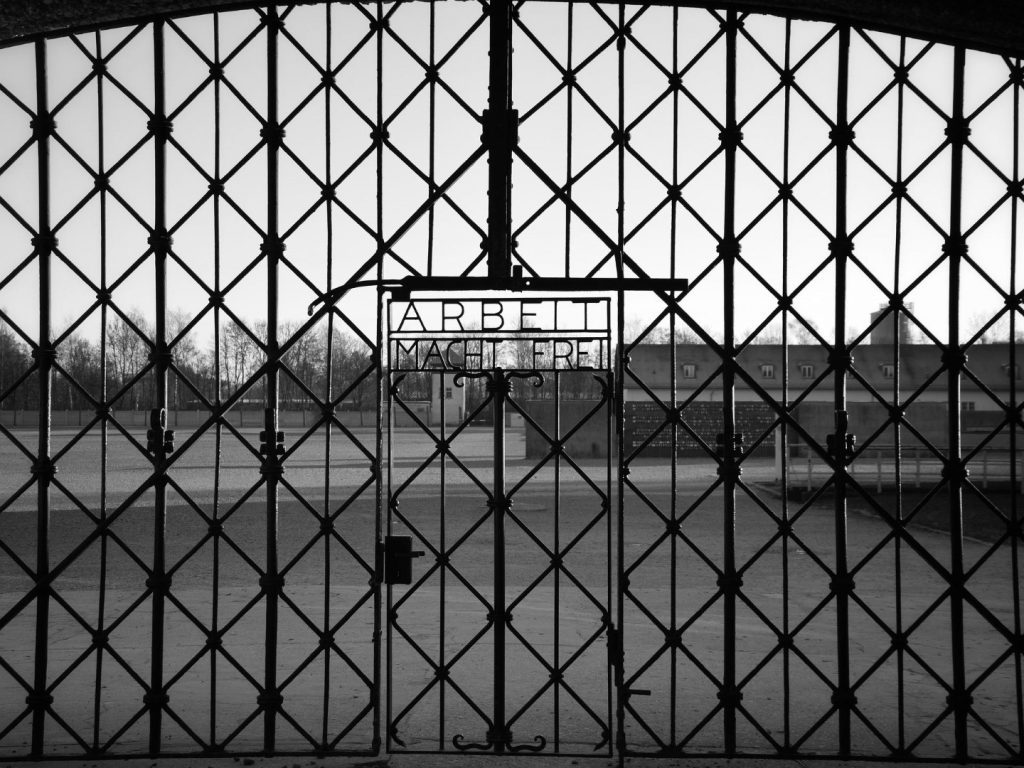 Depending on where your travels are taking you, there are plenty of other concentration camps in Germany and memorials that each offer a little bit something different to the big picture of the Holocaust.
Flossenbürg (Bavaria)
Another difficult to stomach, but important camp where you can just feel the energy of the past. There are still several buildings and the crematorium still standing.
Sachenhauusen (Berlin)
Just about 30 minutes outside of Berlin, this was also one of the first concentration camps and used as a model for camps as the Holocaust continued. This is well worth a visit on your trip to Berlin
Memorial to the Murdered Jews (Berlin):
This is a memorial right in the middle of Berlin. There is also a very good information center here. This is one of my Free Things to D in Berlin suggestions
Wannsee (Berlin)
Also right outside of Berlin is now the building where "The Final Plan" that Hitler created for the Holocaust.
Buchenwald
1.5 hours from Leipzig (and 1.5 hours from another important camp, Nordhausen) is Buchenwald where over 250,000 prisoners were held in the span of the Holocaust. Like the other camps, it is a somber experience.
Bergen-Belsen (1.5 hours from Hamburg)
This site is probably most "famous" because it is where Anne Frank was interned and killed. Today it is more of a cemetery with a museum/ documentation center.
If you are looking for other concentration camps near Hamburg, the Neuengammer is probably the closest/ most "well known" near Hamburg.
Nazi Rally Grounds and Dokumentation Zentrum (Nuremburg)
This isn't a concentration camp, but it is honestly the best museum I've probably ever been to. It is on the site of the Nazi Rally grounds where Hitler had enormous plans to create a HUGE area dedicated to Nazi events and planning. The museum (also the site of the Nuremberg Trials) is so well done. It was the first time I truly understood the questions of "How could something like this actually happen? How could so many people get on board? How did an entire nation turn the other eye!?" If you are planning a trip to Nuremberg, this is a must.
Others you can visit:
It is no doubt that visiting a Concentration Camp is a sobering experience. It will leave you feeling gutted, shocked, angry, hopeless, and worn out. There is nothing "enjoyable" about it, and yet, if we truly want to "Never Forget" then we must remember.