The first time we lived in Germany, we always did a Day Trip To Regensburg whenever we wanted more "city life" (hey, we lived basically in the farm fields of Bavaria!) Now, this was also in pre-kids days, so this often meant going out to eat, partying at the Dult Fest, or just showing off this entirely underrated town in Germany to our visitors.
But now, we live in Regensburg and have kids, so the city takes on a whole new view with little ones in tow! Luckily, there are so many things to do in Regensburg with kids that we rarely get bored! Depending on the age(s) of your kids, some of these suggestions may be too old/young for them, but surely you'll find SOMETHING to do in Regensburg with kids (or nearby) on this list….even things to do in Regensburg with kids in the rain! (Since we all know living in Bavaria means one thing: You never know when it will rain!)
Looking For Other Great Resources?
Have You Joined Our Day Trips and Bavaria Trip Planning Facebook Group Yet?
Things To Do in Regensburg With Kids
Find a Spielplatz
Perfect for Kids Ages: 1-10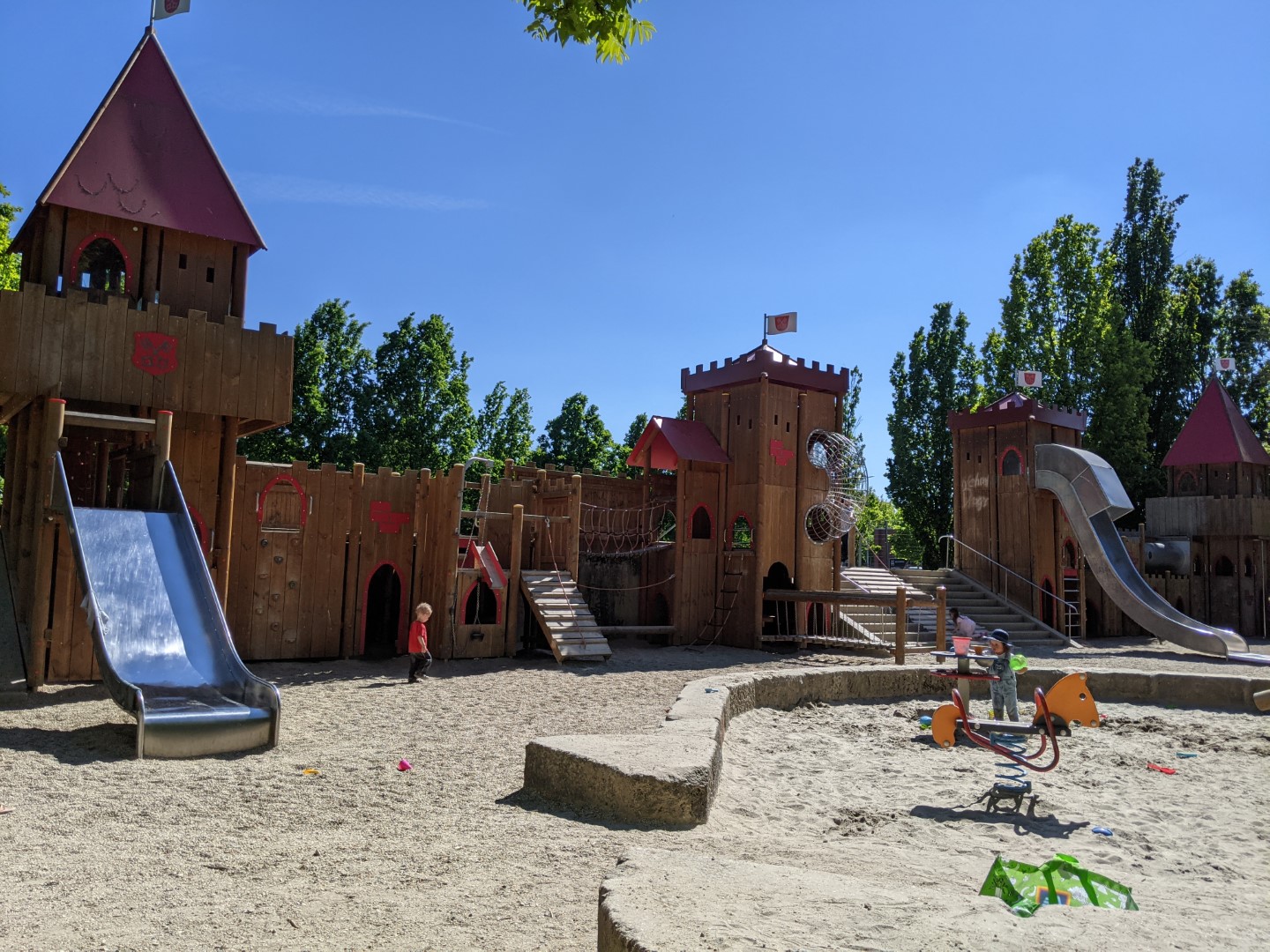 This one probably goes without saying, right? However, I LOOVE all of the playgrounds in Regensburg!! There are so many and some of them are really cool! This is in NO way a complete list. In fact, if you just google "Regensburg Spielplatz" you'll find there is basically something on every corner! But, some of my favorites are:
Ritterburg Spielplatz: This playground is fit for any Knight or Princess to be! It's great for various ages of kids as well.

Address:

Widmannweg 28, 93049 Regensburg

Stadtpark: Not only does the huge (and beautiful!) "City Park" have a pond to watch ducks at, a Biergarten to grab a bite at, and various events held throughout the year, it also has a fantastic playground! There is a "bigger kid" area and also a "younger kid" area in addition to a fantastic water play area (just bring extra clothes, as they are sure to get mucky in the sand and water!)

Address:

Prüfeninger Str., 93049 Regensburg

Grieser Spitz: If you are nearby the "Island" in Regensburg, this is another great kid friendly break. It's got an awesome pirate ship playground and there are even chickens that the kids love looking at through the fence to the nearby homes!

Address:

Salzgasse 10, 93059 Regensburg

Spielplatz Scheugässchen: This is the perfect playground to take a pit stop if you are doing my DIY Regensburg Walking Tour and have "bored" little ones. There is something so charming about the cobblestone alleys that lead up to the park and the sounds of church bells resonating off the hundreds of years old buildings encasing this little courtyard playground.

Address: Scheugäßchen 1, 93047 Regensburg
Build and Construct at the Bauspielplatz
Perfect For Kids Ages: 8-14 (note: your child MUST be a minimum of 8 years to use this facility- not open year around)
One thing that I absolutely adore about the German culture is how they encourage hands on learning and doing. One of these examples is at the "Bauspielplatz" or basically, a "Construction Play Area."
During opening times, you literally drop your kids off and they are free to use their imagination to build amazing things from wood, recycled items, and so much more! It's fascinating to see what they come up with!!! Kids get real hands on training on how to use actual tools and there are adults there to supervise as the youth work independently on their projects.
Website: https://regensburger-eltern.de/bauspielplatz.html
Take a Boat Ride Down the Donau
Perfect for Kids Ages: 2-Adults!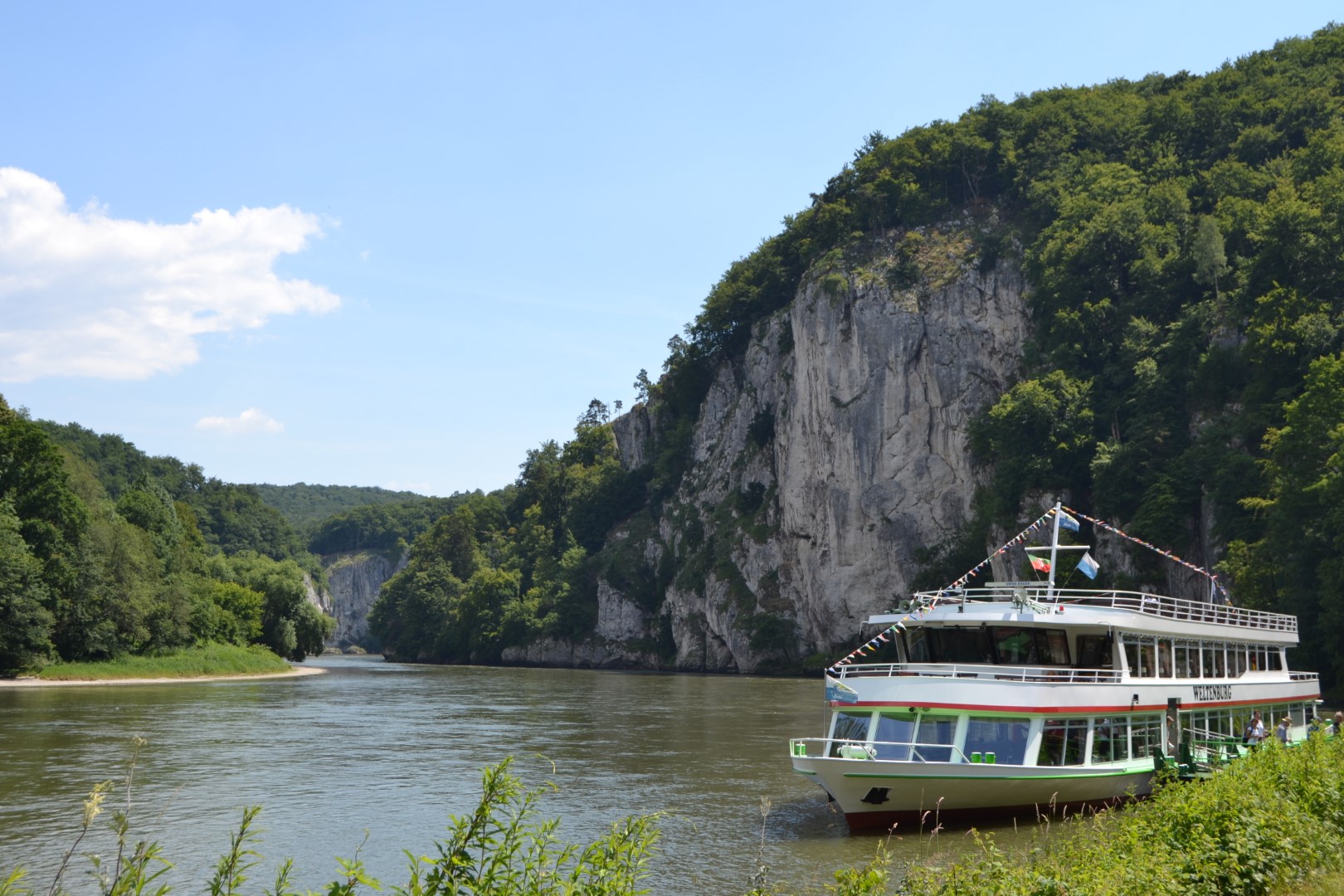 One of my favorite day trips is to take a boat ride to Weltenburg Brewery from Kelheim. Kids love being on a big boat as it winds through the beautiful karsts jutting out over the Danube. At the Weltenburg Abbey, they can even splash around and play in the clear river waters or see how many times they can successfully skip a stone! And parents are rewarded with some of the best beer in the world!
There are also shorter boat trips that leave near the Steinerne Brücke in the Altstadt if you want something shorter, although I don't find these AS scenic or fun for kids, but if your kids love boats, it is still worth looking into! For example, you can take a boat ride to the Walhalla, which is a fantastic thing to do in Regensburg any day.
Hang Out At the Train Station
Perfect for Kids Ages: 1-5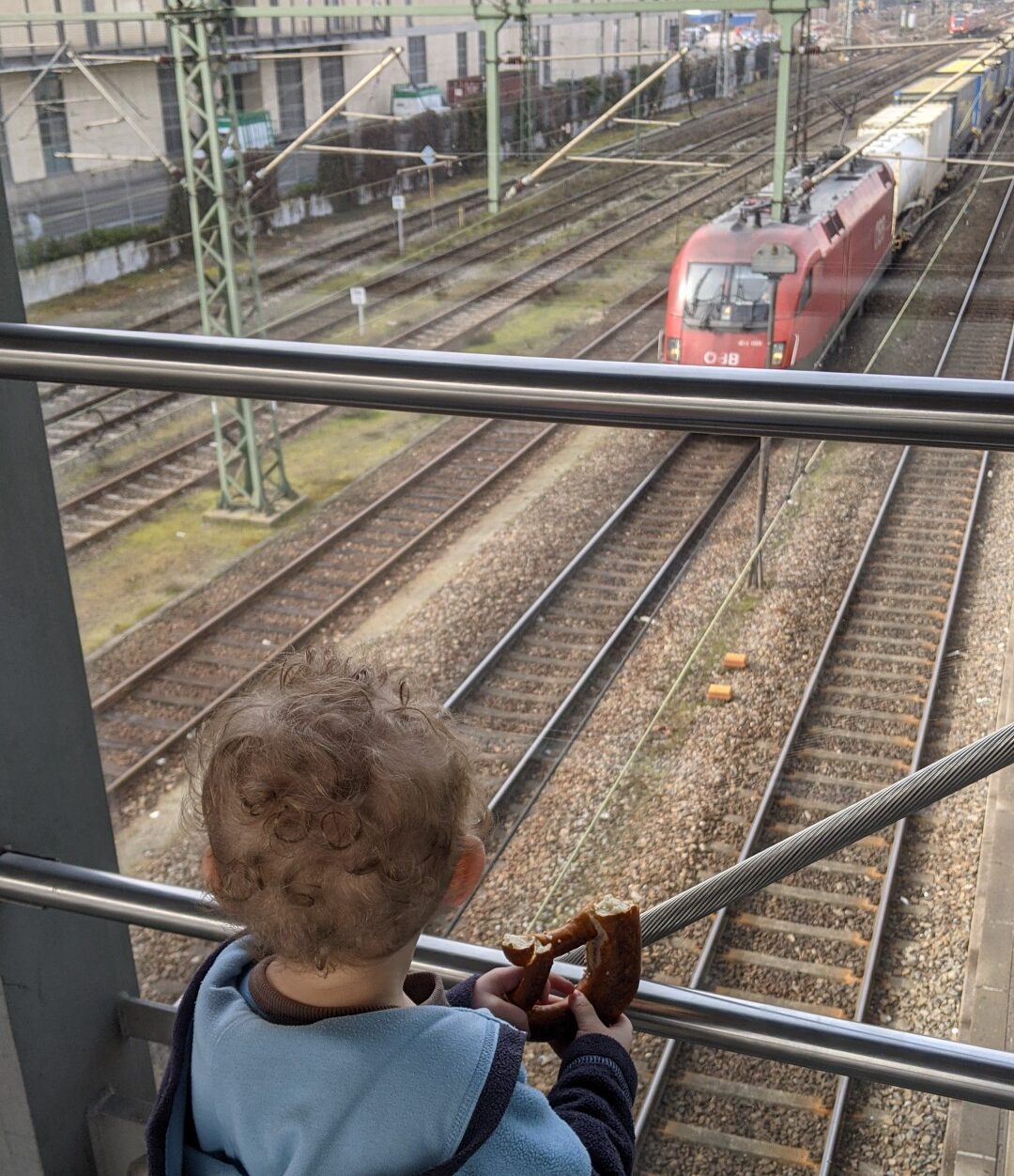 My kids are still pretty young, so when it is raining or we are just bored and need out of the apartment, we sometimes will just go to the Hauptbahnhof, grab a Brez'n from one of the bakeries there, then go up in the walkway and can blow through a few hours as the little ones watch all the trains come and go! Aaaah, to be young and easily entertained!
Pick Berries at Beerenmeile
Perfect for Kids Ages: 2-? (The playground is better for young and gradeschool kids, but who doesn't love picking berries!?)
There are actually a ton of self pick berry fields scattered around Regensburg, but my favorite has to be the Beerenmeile! There are two sections to this berry farm. The first one is a HUGE area that has a ton of play structures for kids to stay busy on. There is a water play area, a hay maze, swings, a playground, and more. There is even a small "petting zoo" area with some goats, chickens, and rabbits! On this side is a fantastic cafe that serves the most amazing desserts that they use their own fresh, seasonal berries with as well as simple dishes like pizzas, salads, coffee, etc. This whole side is FREE to get into! (As I presume they assume you'll buy something at the cafe). You can spend hours on this side alone.
Then there is Berry Picking Areas. You'll pay a small fee to enter and then you pay per kilo, The most popular berry seasons are the Blueberry and the Strawberry seasons, all in the summer.
Address: Unterislinger Weg 34, 93053 Regensburg
Take a Kid Friendly Tour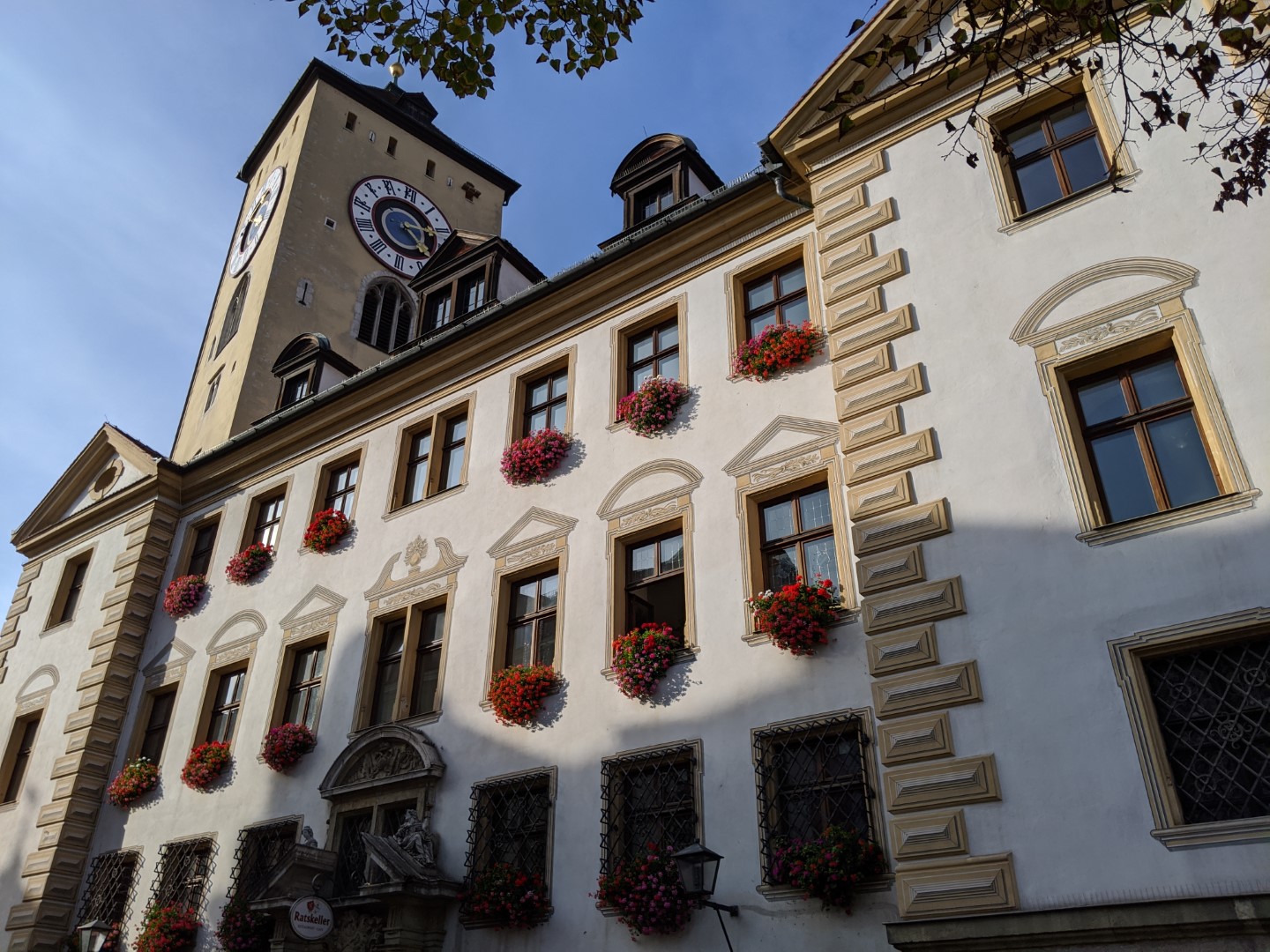 The City of Regensburg Tourism Office actually has a couple of kid-specific tours in Regensburg! All of these are "group tours" so this is a bit harder to do for a tourist probably (although if you are just in town for a day, reach out to the tourism office and see if they have anything that can accommodate you) The group tours are priced per group (not per person) which total 85 Euro and require 5- 25 kids/people.
I Spy With My Little Eye: Take a kid friendly tour of Regensburg where they keep the kids engaged by involving them IN the tour where they have to find things around the Altstadt
Regensburg Is Cool: The guides actually make history INTERESTING for kids! No more boring walking tours!
Who Cares About World Heritage: Can a super old city actually hold anything of interest for youth? You betcha!
More Info/ Website: https://tourismus.regensburg.de/en/for-fits/guided-tours/guided-group-tours/tours-for-kids-and-teenagers.html
Mini Golf (Neutraubling)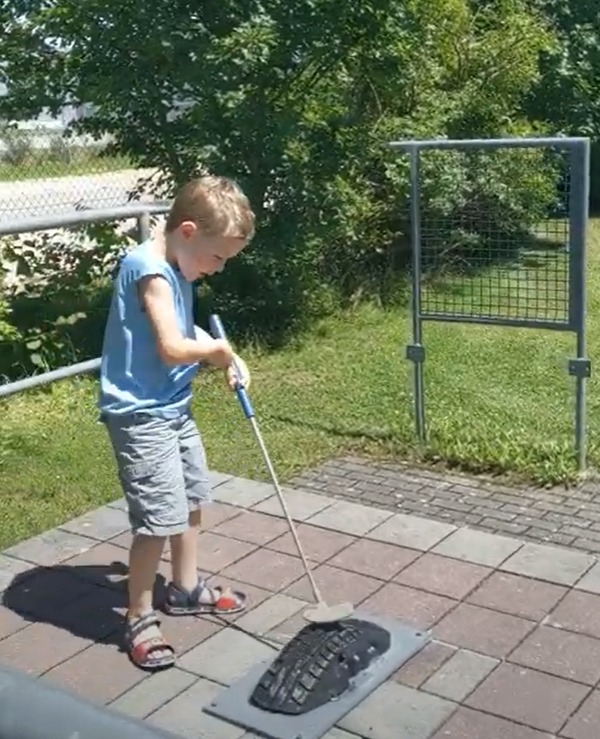 Perfect for Kids Ages: 3-15
Who doesn't love a round of putt putt!? This mini golf course is on the outskirts of Regensburg (in Neutraubling) and is a bit "different" than what we find in the States. Instead of putting on the green, the courses are actually concrete. Sounds weird, I know, but it totally works and is actually a really great facility!
There is even a little cafe where you can grab some coffee, cakes, and other small goodies on site as well.
More Info/ Website: https://www.minigolf-neutraubling.de/index.php
Relax at a Beer Garden
Perfect for Kids Ages: 0-Adults!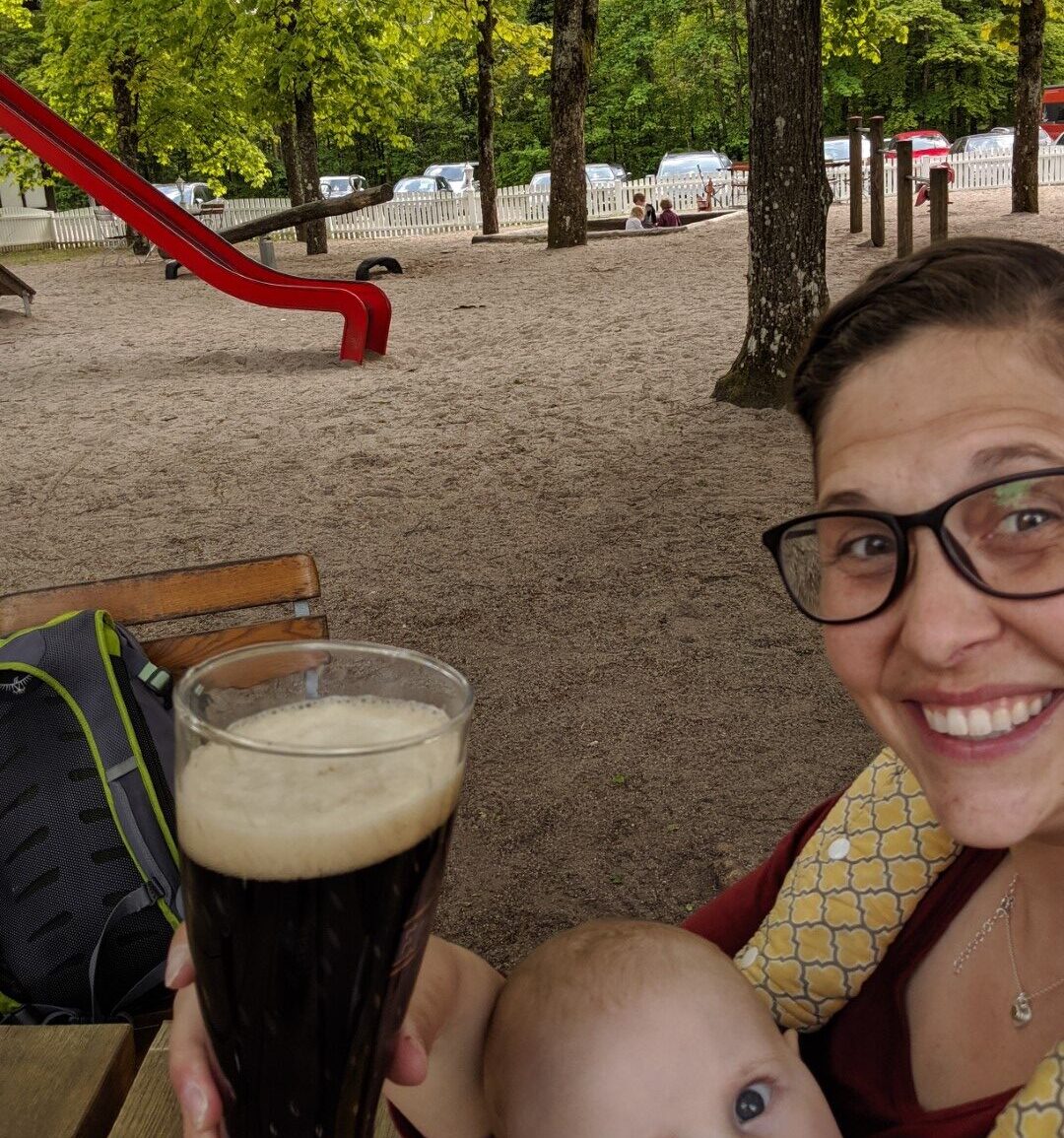 People always look at me funny when I tell them to take their kids to a Biergarten. Yes, take your kids to a place where people drink giant liters of beer!
Why? Well, beer gardens aren't pubs or bars, they really are family-friendly locations in Germany. Many of them are situated perfectly under shaded trees, making a summer afternoon a leisurely activity for all! You get to kick back and enjoy that delicious German beer or a wonderful Radler on a hot summer day and everyone gets to fill up on Delicious Bavarian Food.
But, if you REALLY want to kick up the family friendly notch, one of my favorite things about Biergartens in Germany is many of them have playgrounds for the kids!!!! That means I get to actually have a warm meal and even actual adult conversation over dinner while my kids are perfectly content coming back every few minutes to graze on a Pommes und Schnitzel in between rounds on the slide!!! #WINNING!!!!
Here are a few favorite Regensburg Biergartens with Playgrounds
Hotel- Restaraunt Dechbettener Hof

Address:

Dechbetten 11, 93051 Regensburg

Zur Walba (Actually in Pentling, so just outside of Regensburg)

Unterirading 1, 93080 Pentling

Hubertushöhe

Wilhelm-Raabe-Straße 1, 93051 Regensburg

Restaurant Barbinger (Just outside of Regensburg)

Kirchstraße 1A, 93092 Barbing

Unter den Linden: Brauereigaststätte Kneitinger

Stadpark (this playground is not AT the Biergarten, but it is all within the "Stadt Park")
Things To Do With Kids Nearby Regensburg
Straubing Zoo (Tiergarten Straubing)
Perfect for Kids Ages: 0-Adults!
From Regensburg: About 35 minutes by car or 1 hour 25 minutes by train
Head to the Straubing Zoo for a day of fun and animals. With over 200 animals at the zoo, your kids are sure to enjoy their day. There is also a great playground on site as well!
Address: Am Tiergarten 3, 94315 Straubing
Teublitz
Höllohe

Wilpark

Perfect for Kids Ages: 1.5-10 years
From Regensburg: About 30 minutes by car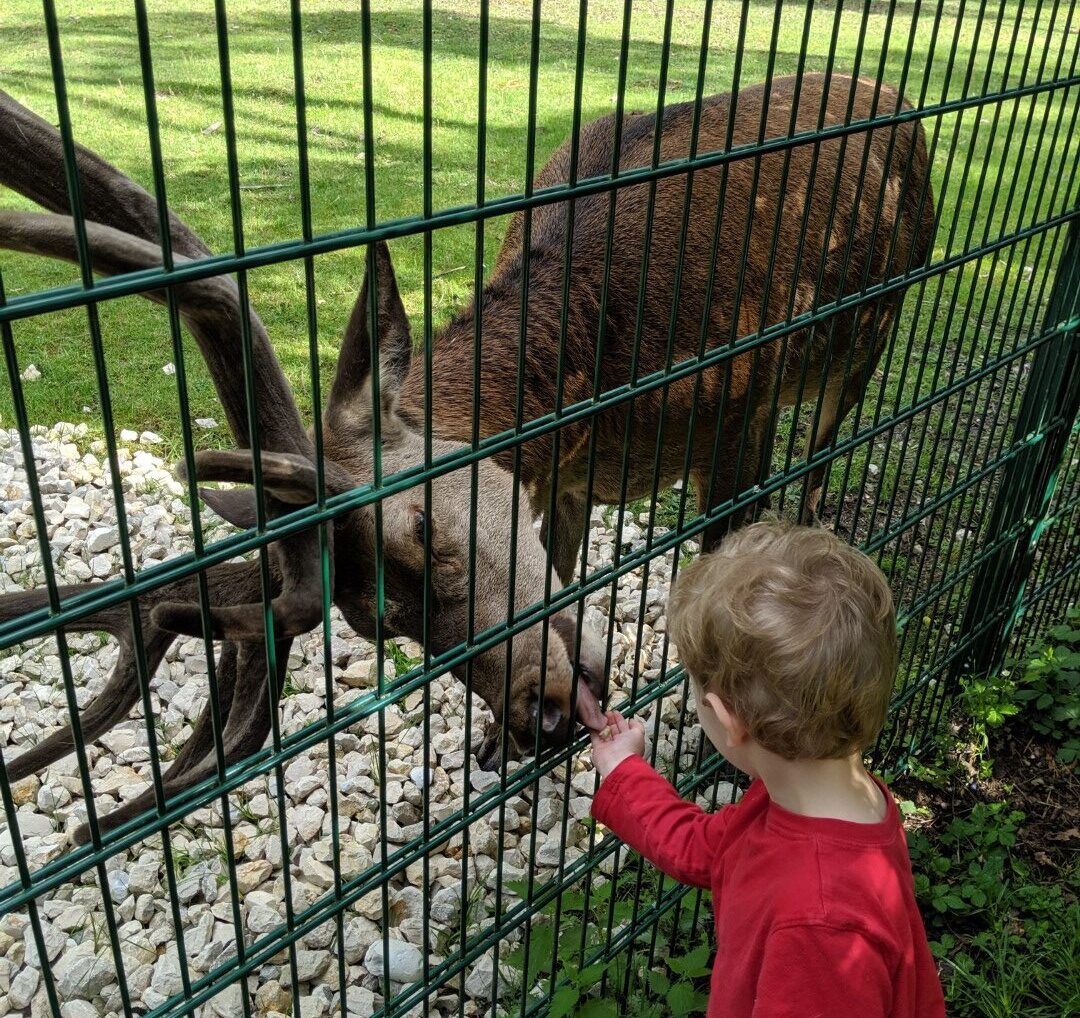 This animal and nature park is less of a zoo and more of a giant petting zoo style area! When you arrive, you can buy pellets of food and feed the deer, goats, sheep, etc by hand. There are wild boars and nice little walking areas and a lake as well. It's perfect for a half day outing with the kiddos!
Address: 1 93158 Teublitz
Steinberger am See
Perfect for all ages
From Regensburg: About 30 minutes by car
Just 30 minutes North of Regensburg is the huge Steinberger lake and is great for the whole family on a summer day. We got there around noon and didn't leave until 7 and still didn't get to half of the stuff do to!
Swim in the beautifully clear waters (the beach is a bit rocky, so have water shoes)
Go wakeboarding on the automatic ropes
Parasail
Paddle boat
Climb up the giant "Egg" and then slide ALL the way down
Have the kids play at the Parcour Course Playground
Go to the "Movin Ground" play area
Mini Golf
Explore Some Caves
Perfect for Kids Ages: 3-10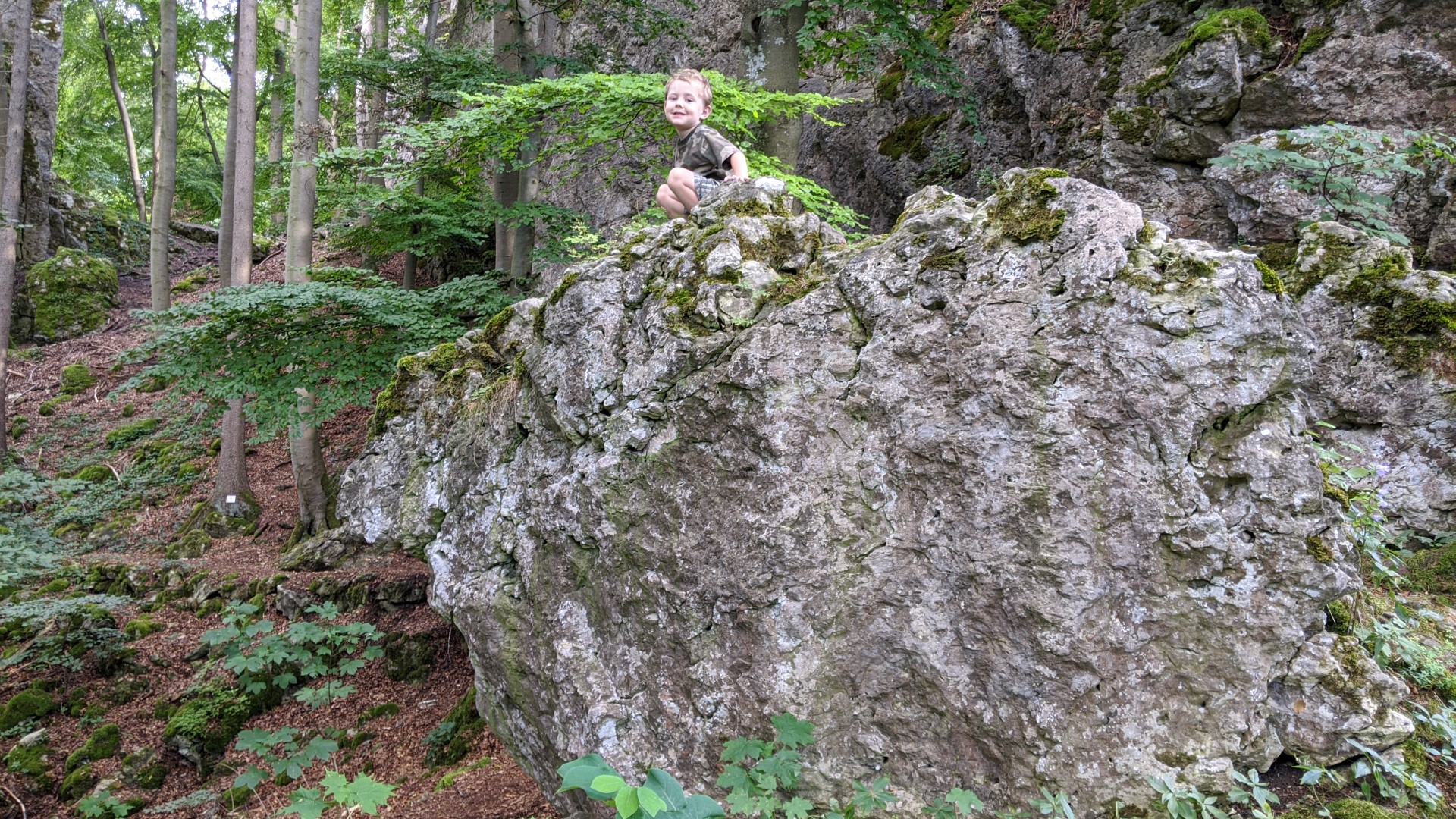 The areas around Regensburg are so beautiful and there are actually quite a few fun caves you can go and explore. One of the most popular (and nearby) ones is the Räuberhöhle in nearby Nittendorf that kids will love exploring! While there, walk around in the forest as well. Here are More Caves Around Regensburg
Dino Park Altmühltal
Perfect for Kids Ages: 3-10
From Regensburg: About 1 hour by car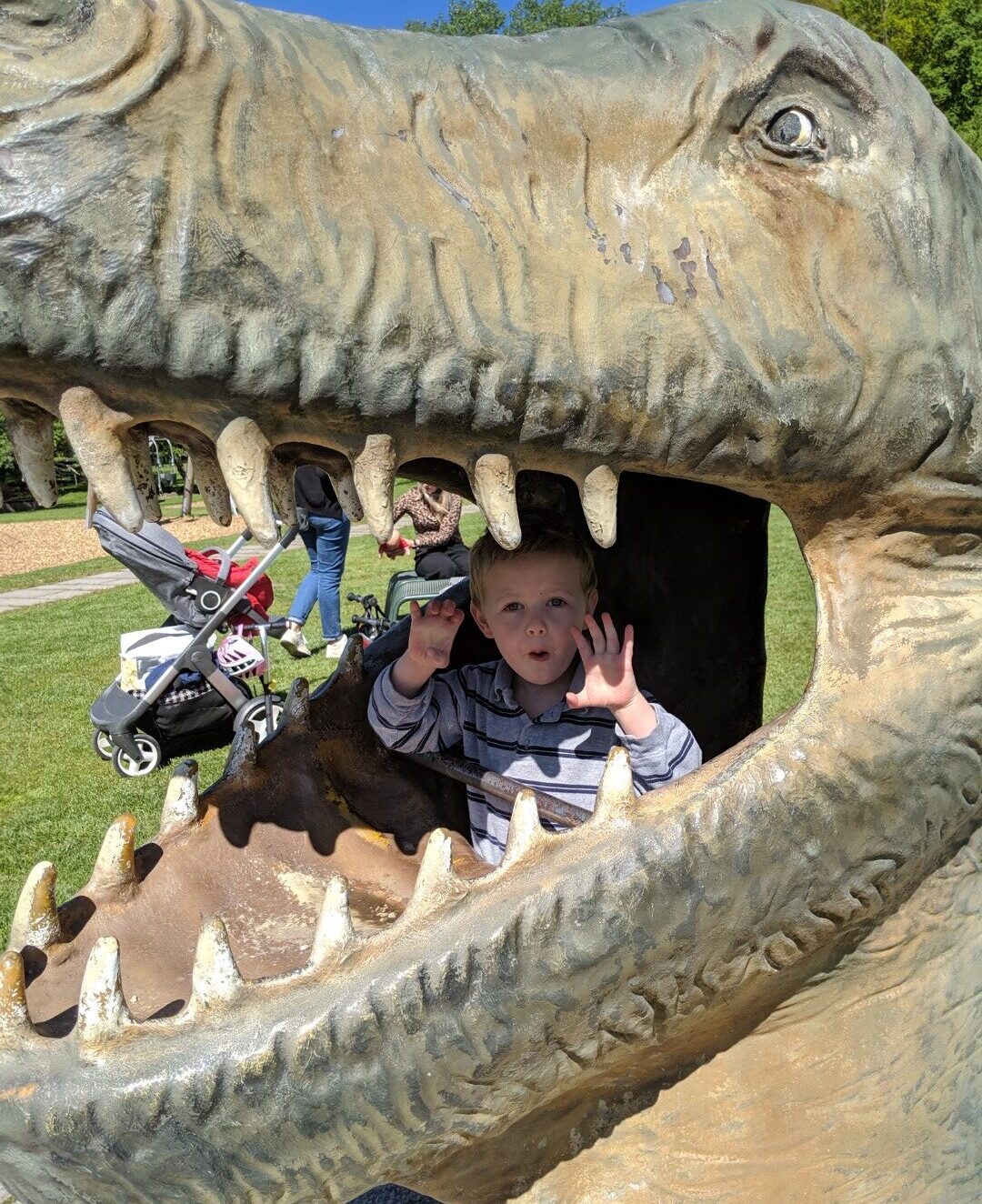 About an hour from Regensburg is the popular Dino Park! Walk at the feet of life sized dinosaurs where the kids can get up close and personal! There is also a museum where you can see an actual real T-Rex skeleton (ok, it's a baby, but it's still real!) and other fossils.
Address: 85095 Denkendorf
Website/ More Info: https://dinopark-bayern.de/en/
Things To Do With Kids in Regensburg in Rainy Weather
I LOVE Bavaria. I really do. What I don't love about Bavaria is that you just never know when it's going to rain! I always used to joke that you NEVER leave without an umbrella. Sunny, blue skies? Bring an umbrella!
Luckily, there are still some fun things to keep the kiddos busy and energy out even when the weather is less than ideal.
Have a Dip in the Pool
Perfect for all ages.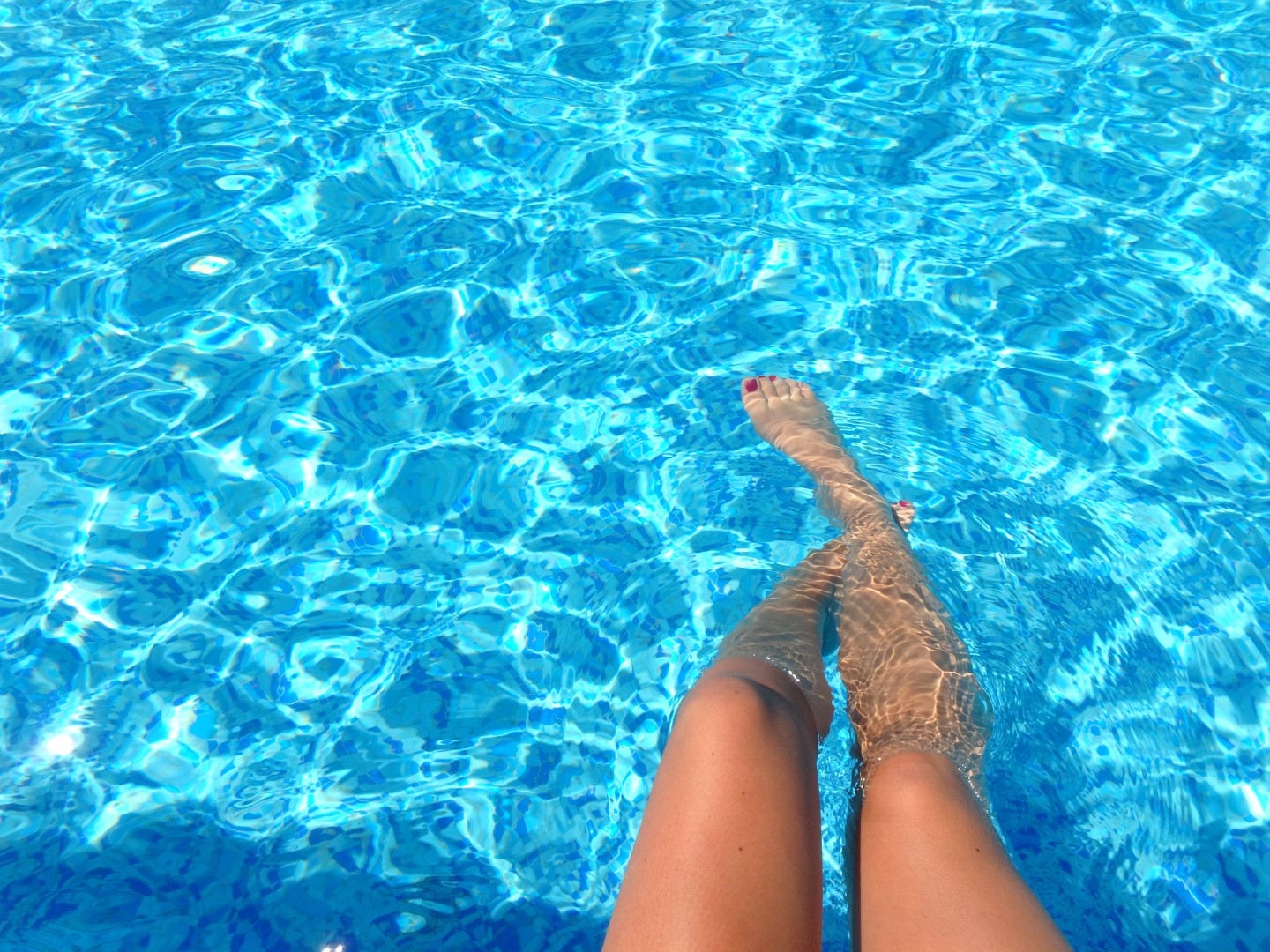 Westbad Swimbad is such a fantastic pool! There is a huge indoor area, complete with a nice and warm kiddie wading pool, a big zero-depth entry wave pool, a regular pool, and a lap pool.
In the summer the outside also has a fantastic kiddie area, there are slides, lap areas, and so much more!
Address: Messerschmittstraße 4, 93049
Website/ More Info: https://westbad.de/
Want something a bit bigger and more unique? You can also head to Therme Erding for some fun waterslides and truly a full day of fun in the water!
Go Bowling at "Superbowl"
Perfect for all ages.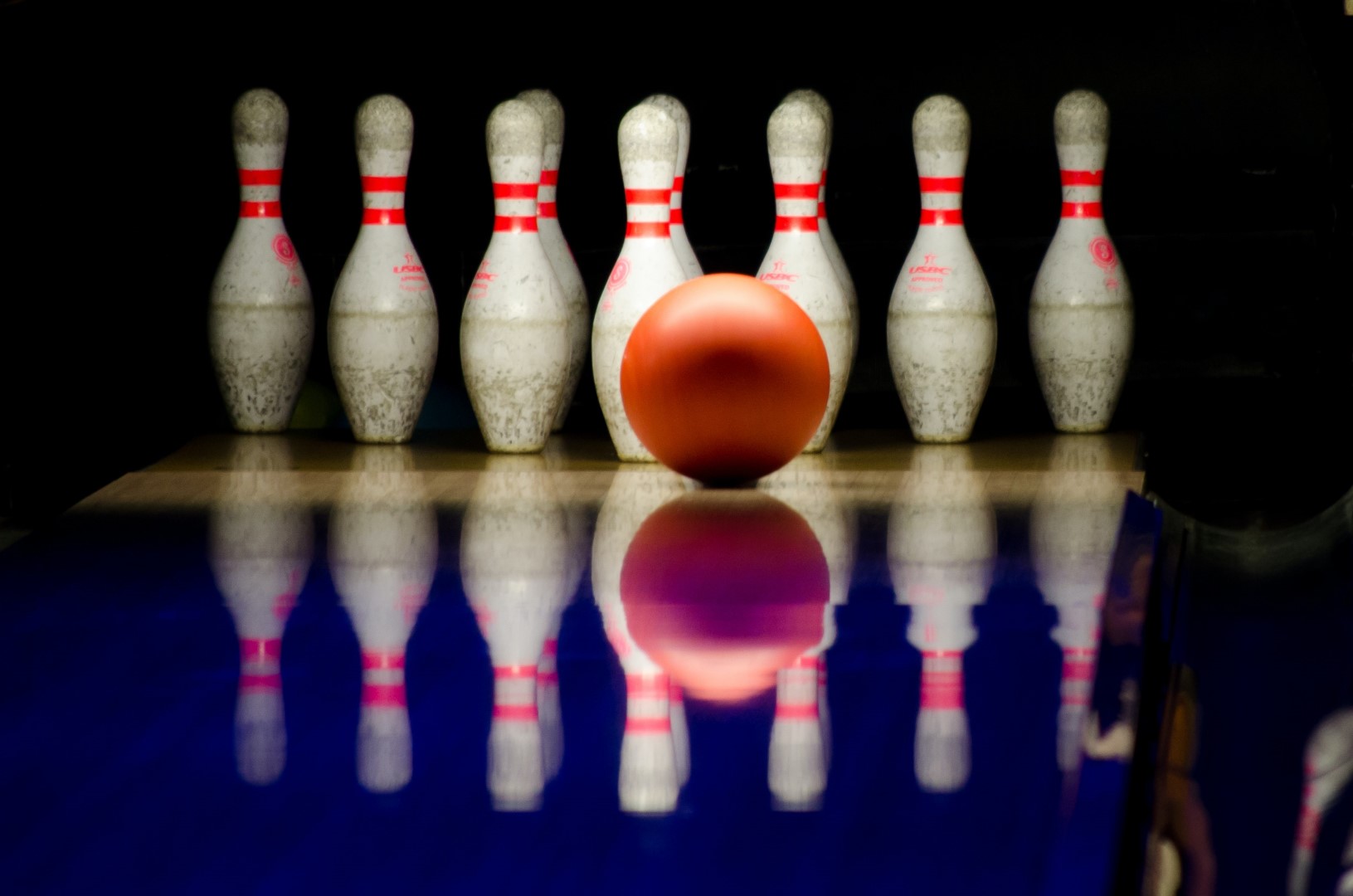 Bowling is always the perfect rainy day activity. It gets you out of the house, you can grab something to eat while you are there, and doesn't take all day long. This facility even has the little bumpers for the littles as well, making it a great option for families of all ages
Address: Im Gewerbepark D 44, 93059 Regensburg
Website/More Info: https://www.superbowl.de/
3D Fun House
Perfect for kids 2- adults.
What's better than mini golf? Glow in the dark "3-D" putt putt!!!! Your kids are sure to love this fun take on mini golf. The glow light, 18 hole course is trippy and fun and each hole has a fun obstacle to putt around.
There is also a "Virtual Reality" experience at the Fun House as well, which is great for older kids (and adults). Play virtual reality games where you feel like you are IN the game!
Address: Pommernstraße 7-9, 93073 Neutraubling
Website/ More Info: https://3d-funhouse.de/
Go Bouldering at Boulder Welt
Perfect for kids 2- adults.
Regensburg has a fantastic indoor climbing gym, and while there are plenty of hard courses for adults, there is even a kids area! Future bouldering climbers as young as 2 can go to the specialized kids climbing area, that has courses designed specifically for smaller bodies and limbs. This area is for kids 2-14, but older teens can always use the main gym as well.
Address: Im Gewerbepark A46, 93059
Website/ More Info: https://www.boulderwelt-regensburg.de/
Indoor Play Zones
Have you ever been holed up inside your house in the winter or on rainy days just wishing there was somewhere that you could go to have your rambunctious kids little angels run out every last ounce of energy? Look no further.
There are several "Indoor Playgrounds" in or nearby Regensburg. And when I say "playground" I mean "really awesome, huge, play all day, wear out your kids" kinda places. Places that have HUGE climbing structures where kids can basically get lost inside of them (ok, not really). Most of these play zones have other activities like trampolines, cafes, and more as well.
Ghupft Wie Gesprungen
Perfect for Kids Ages: Toddler through 12 (give or take)
This indoor play zone has everything your kid needs to run, jump, climb, slide, and SO much more!
There is a little kids area perfect for toddlers and tykes with an indoor playground complete with a ball pit, slides and more.
For slightly older kids, there is the indoor tree house, where they can climb through numerous levels, slide down, and explore.
For even older children there is the "Adventure Mountain" which is a complete climbing zone where they can summit to the top, run through caves, and more.
There are also trampolines, bumper cars, and so much more!
Hungry? Eat at the cafe inside the play zone! Yup….be prepared to stay ALL day. And be prepared for some seriously tired out kids!
Address: Goldtalstr. 8 93077 Bad Abbach
Website/ More Info: https://ghupft-wia-gsprunga.de/
Nabbadabbadoo
Perfect for Kids Ages: 5-12
Similar to the above, Nabbadabbadoo is an indoor playground. Kids will have a blast climbing through all the levels. There's also a huge blow up slide, air hockey tables, electric cars to drive around, and more.
Address: Schulstraße 12 92507 Nabburg
Website/ More Info: https://www.facebook.com/nabbitier/photos/?ref=page_internal
Family Activity Park Grünthal
Perfect for Kids Ages: Toddler-12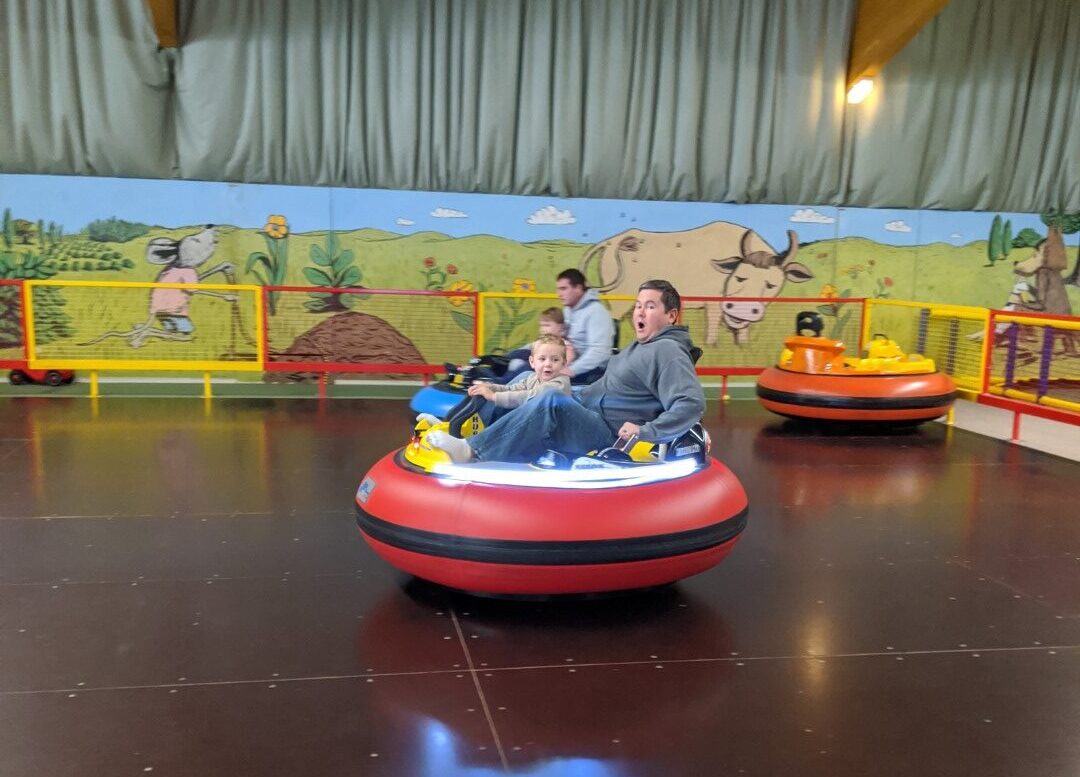 The "Family Fun Club" is yet another great indoor play area for kids. The inside is huge and has areas for all ages of kids and also has a cafe. I really appreciated the seating area in the middle of the HUGE room, so that we had a 360 view at all times. That meant Mama could sit back with a cappuccino as the kinders just ran off doing their own thing!!!
Address: Brandlbergstraße 59, 93173 Wenzenbach
Website/ More Info: http://www.family-funclub.de/
Have you found any gems in Regensburg with your kids? I'd love to hear about them!