[This post may contain affiliate links where we earn a small commission. Please see our disclosure for more information and thank you for supporting our site so we can continue to bring you awesome content for your travel inspiration!]
One of my favorite authentic German foods is the simple, yet oh so delicious Kartoffelpuffer (German potato pancake).
If you are looking to add some international flair to your list of potato recipes, or are just wanting to bring back one of the easiest German recipes to make at home after your amazing vacation here, then look no further than the German Kartoffelpuffer- also known as Reibekuchen or German potato pancakes.
This traditional dish is a staple in Germany and is now gaining popularity in the United States.
In this article, I will show you how to make the best german potato pancakes you have ever had – and learn a little about these authentic, delicious treats while you're at it!
You Might Also Be Interested in Reading:
What Do Kartoffelpuffer Taste Like?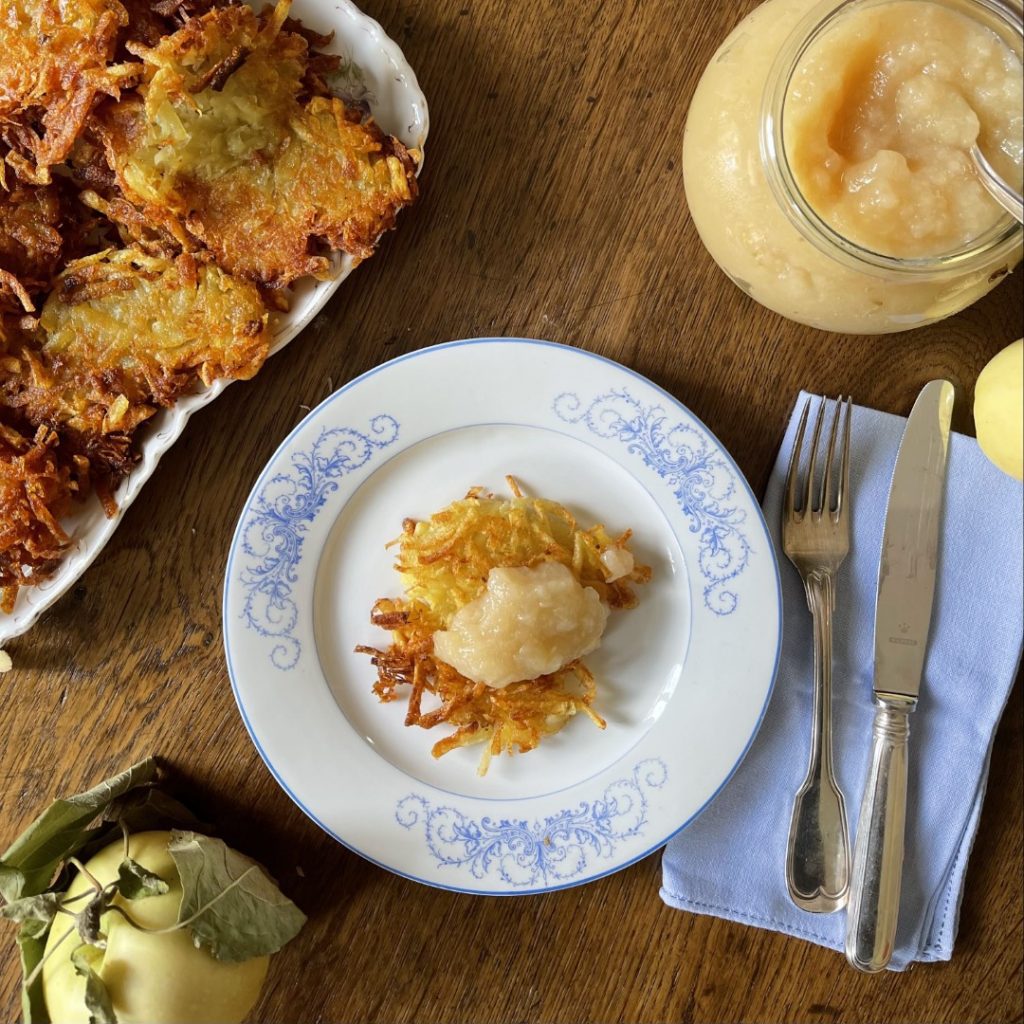 Authentic German potato pancakes have a crispy exterior and a soft, savory flavor with a hint of sweetness from the potatoes. You can choose to have them sweet or savory. They are traditionally served with Apfelmus/applesauce (homemade is best!) for those with a bit of a sweet tooth. If you like things more savory, they are divine when served with sour cream or even smoked salmon to add more flavor and texture.
Overall, German potato pancakes have a satisfying, comforting taste that make them a popular breakfast or brunch option. But really….you can eat them whenever you'd like!
Where Did P
otato

P

ancakes

Originate From in Germany?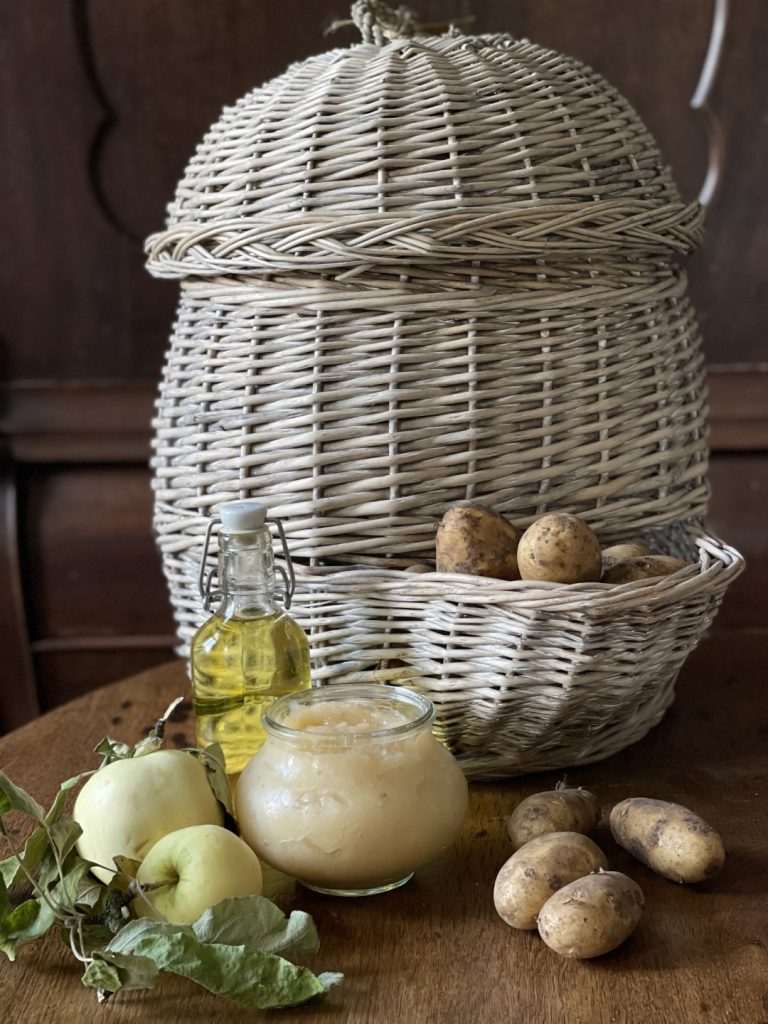 The German potato pancakes origin is actually slightly unknown! They've been around for so long that people aren't exactly sure how they came to be. It's possible that, like many other countries in the 1800s with food shortages, potatoes became an easy to yield crop, and therefore, many variations of potato foods started popping up everywhere.
It's also possible that while German potato pancakes are some sort of derivative of Jewish Latkes, which traditionally were eaten a lot around Hannukah, but again that is more of a hypothesis than a known fact. (Kartofelpuffer are widely enjoyed at the Christmas Markets today as well)
Potato pancakes have been a traditional dish in Germany for many years, with regional variations found throughout the country (hence the many different names). They are, however, most commonly associated with the southern regions of Germany, particularly Bavaria and Swabia.
When Do Germans Eat P
otato

P

ancakes

?

Germans typically eat potato pancakes as a main course for lunch or dinner, or as a hearty snack. They are also a popular dish during the Christmas season, where they are often served at the traditional Christmas markets or as part of a festive meal. You can also find them at most Festivals in Germany, especially those in the South.

However, there's no hard and fast rule about when to eat potato pancakes – they can be enjoyed at any time of day, and are a versatile dish that can be customized to suit different tastes and occasions.
What do Germans Call a Potato Pancake?
Have you ever wondered how to say pancake in German? It's easy and a direct translation: Pfannkuchen (Pfann=pan. Kuchen=cake!)
And what is the German word for potato? This one is a bit more difficult! We say: Kartoffel
So what are the German Potato pancakes name (Auf Deutsch)? While you might think that you could just put the two words together, that would be too easy! Instead, we say: "Kartoffelpuffer," which is like saying Potato-puffs!
Other German P
otato

P

ancake

Names?

Potato pancakes have very many different names in Germany, depending on the region that you visit. If you are traveling to Germany, keep these all in your back pocket, because who knows what the local menu will say, but you won't want to miss trying these out regardless of where you are visiting!

Different names for potato pancakes in German:
Reiberdatschi or Datschi (Bavarian and Swabian dialects)

Kartoffelpuffer or Reibekuchen (Standard German)

Grumbeerekiechle (Alemannic dialect)

Reibekiechle (Palatinate dialect)

Reibebratze (Saxon dialect)

Rosti (Swiss)

(German) Latkes: A traditional Jewish dish eaten during Hanukkah and often made with several other ingredients such as onions ,eggs, matzo flour as well as potatoes.
So, How Do You Make German Style Potato Pancakes?
This is such an incredibly easy potato pancake recipe to make at home!
Just peel and grate potatoes, add some salt and mix.
Squeeze out the potato juice, reserve a bit of the starch and mix it back in with the grated potatoes.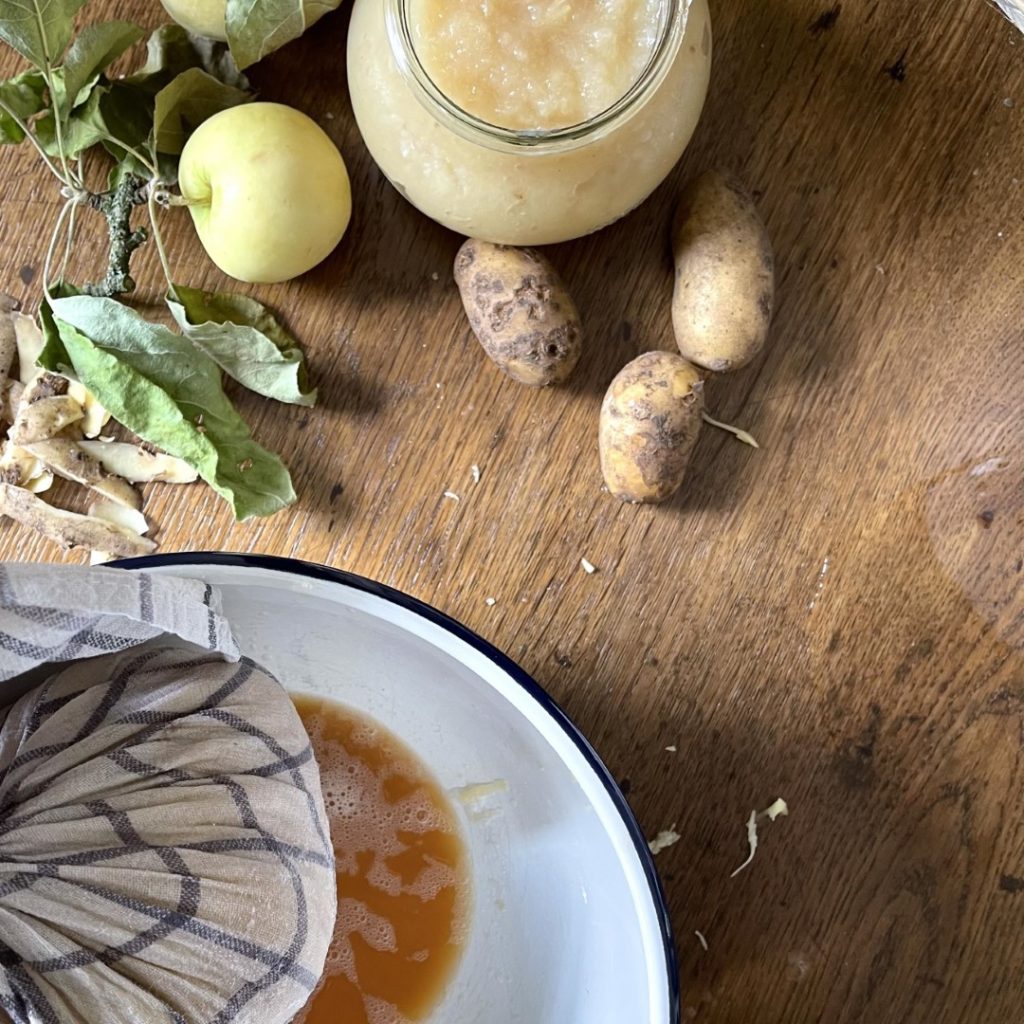 Heat oil in a pan and fry the grated potato patties until golden brown for a crunchy, crispy potato pancake. Serve warm with some apple sauce or sour cream!
Guten Appetit!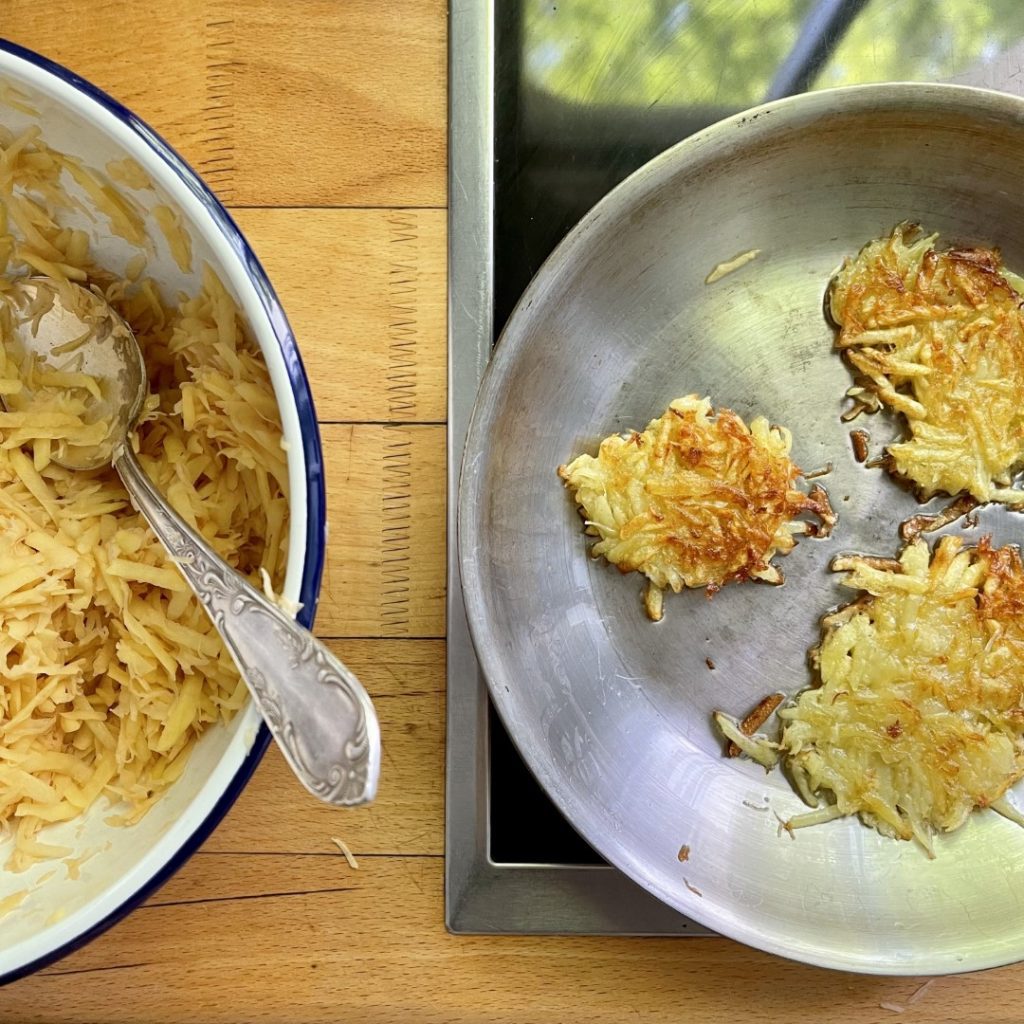 Easy German P
otato

P

ancakes

Recipe:

Yield: 4
Authentic German Potato Pancakes (Kartoffelpuffer recipe)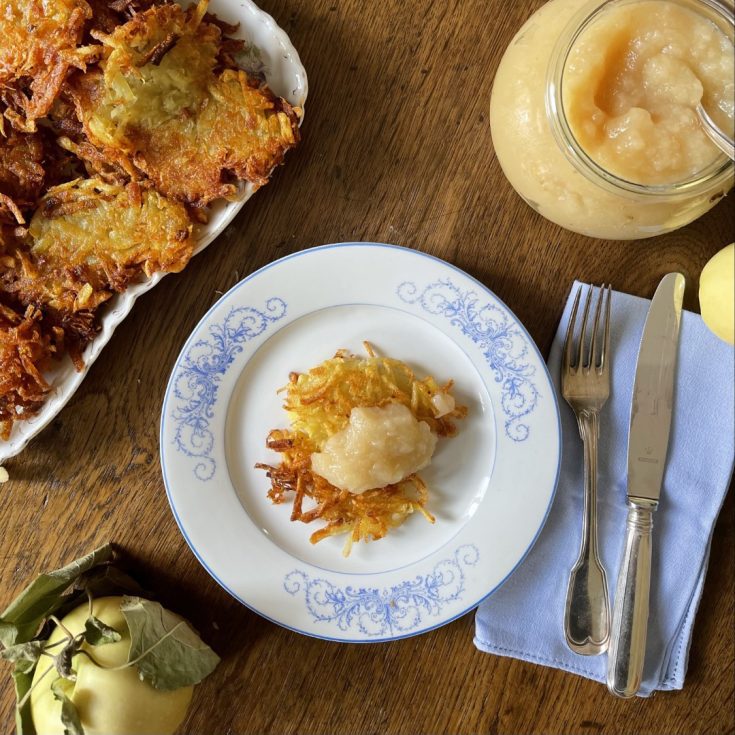 This easy German potato pancakes recipe comes together quickly and can even be Vegan and Gluten free!
Ingredients
750 g Potatoes
1 Teaspoon of Salt
Optional: 1 Finely grated yellow onion
Vegetable oil, for frying
Apple sauce or sour cream for serving
Instructions
Peel the potatoes and grate them into a large bowl. You can grate them finely or coarsely depending on your preference. Add the salt and stir to mix.
Cover a bowl with a clean kitchen towel and spoon all of the grated potato onto the towel. Pull the ends of the towel together and squeeze out the juice of the potatoes.
Reserve three tablespoons of the squeezed-out juice, especially the white starch. Add this to the grated potatoes and mix well.
Heat the oil in a pan. Add a heaped Tablespoon of the grated potatoes to the oil and quickly flatten with the back of a spoon. They should look like grated potato patties.
Fry on both sides until the pancakes are golden brown, then reduce the heat fry for a few more minutes, making certain that the pancakes are completely cooked.
Put the baked, shredded potato pancakes on some kitchen paper to absorb any excess Oil and serve with some apple sauce.
Notes
If you don't need these Vegan, you can also add one egg to help bind the potato pancakes
Recommended Products
As an Amazon Associate and member of other affiliate programs, I earn from qualifying purchases.
Air Fryer Potatoe Pancakes Recipe (Alternative)
Want a more healthy fried potato pancake? While obviously an Air Fryer potato pancake isn't going to be an AUTHENTIC Reubekuchen recipe, I'll keep your secret if you decide to air fry potato pancakes instead of popping them into the oil!
Simply do all the same steps as above.
Instead of heating a pan of frying oil, spay the bottom of your air fryer well.
Cook at 380°F/190°C for about 4-5 minutes.
Flip and cooked for another 4-5 minutes until crispy
Serve with your choice of applesauce or sour cream
What to Eat with Potato Pancakes
Anything!!! It's not uncommon for the Reibekuchen to actually be the main food of the meal in Germany. However, it can also make for a great side dish. If you want to go a more "traditional German" route, eat them with:
Roasted Pork and Saur Kraut
Wursts
Smoked Salmon (add a touch Crème fraîche or cream cheese. YUM!)
A smoked stew (Deer Goulash (Hirschgulasch) is very popular in Southern Germany!)
As a dessert with applesauce
As the main course with sour cream
For breakfast with some eggs and bacon (not very German bu still delicious non the less and better than store bought hashbrowns!)
FAQs About the German Kartoffelpuffer Potato Pancake:
Are German Potato Pancakes Vegan?
Depending on the exact recipe will depend on if the Reibekuchen is Vegan. For example, many recipes will have an egg, making it NOT Vegan.
However, since this Kartoffelpuffer consists of only potatoes, salt, vegetable oil, and apple sauce, they are 100% vegan. They are in fact one of the few German potato dishes that are vegan!
Is This Potato Pancake Gluten Free?
Yes! Since this particular recipe doesn't contain any flour, it is absolutely gluten free! Some recipes add flour to help bind the patties, but if you'd like it to be an authentic German recipe, you can leave the flour out and have these be gluten free German potato pancakes!
(Important: If you need Gluten Free food when traveling to Germany, please ask the staff if their recipe has flour in it before ordering)
What Oil is Best for Frying Potato Pancakes?
While any neutral oil will work, traditionally in Germany, they would fry potato pancakes in Canola Oil (Rapsöl) and sometimes even in Sunflower Oil. Vegetable oil is also great to use and if you'd like a bit of extra flavor, try frying the Kartoffelpuffer in bacon fat or schmaltz.
What Kind of Potatoes Should Are Best for Potato Pancakes?
Since you don't want your potato to soak up much of the oil from frying, but rather to create a nice, crispy, golden coating, you'll want potatoes with a high amount of starch. In Germany, you'd look for a "Mehlig Kokchende Kartoffeln." In the US, Russet potatoes are going to be the best choice for homemade potato pancakes.
What are German Potato Pancakes Made Of?
A traditional Kartoffelpuffer recipe can be as simple as just grated potatoes, some salt and oil for frying. However, many recipes will also include an egg and grated onion to the mixture and flour if needed for binding.
Where is Kartoffelpuffer Eaten in Germany?
While you can find traditional German potato pancakes all over the country, they are particularly popular in the South, including Bavaria and Swabia.
Guest Post from Estelle Beck
Thank you to Estelle , from GutBeck for showing us how to make this delicious, authentic Kartoffelpuffer recipe that we can make easily at home to remember our amazing trip(s) in Germany!
Estelle Beck has a German and Austrian background and loves cooking traditional Recipes from German speaking countries. Visit her food blog GutBeck.com for more inspirational recipes and posts.
Visit Estelle's German Blog for more fantastic German recipes including more traditional german potato recipes!
You can also follow her on her Instagram and Pinterest – she would love to see you there!