Are you like me?
Before every.single.trip I take, I create a massive Google Keep Note titled "Packing For X Location." Luckily, I've been around the block a million times with this so I have a pretty thorough checklist that I can rely on. And yet, despite my decade of experience literally traveling to all the corners of the world, I still panic each time I go to pack and wonder,
"WHAT AM I FORGETTING!?"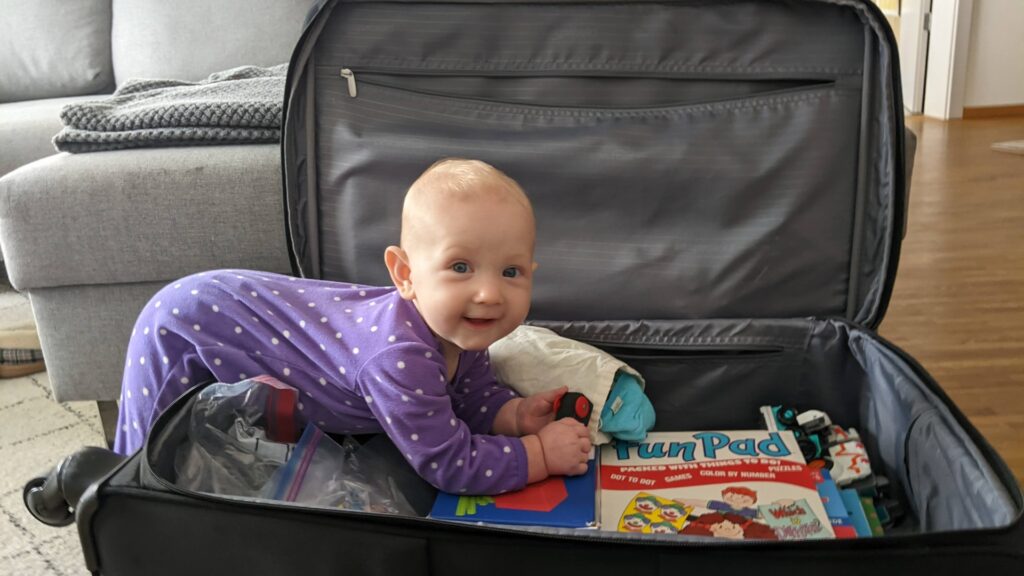 These are the items that I typically find many people forgetting to pack in their luggage for a European trip. Are they absolutely ESSENTIAL like my last list?
No.
Can the small things in life make trips run SOOOO much more smooth and therefore result in a stress free, amazing trip?
YUP!
Please note that some articles contain links that earn me a small commission at no extra cost to you.
Use Black Friday To Your Advantage and Get Them NOW With the Discounts!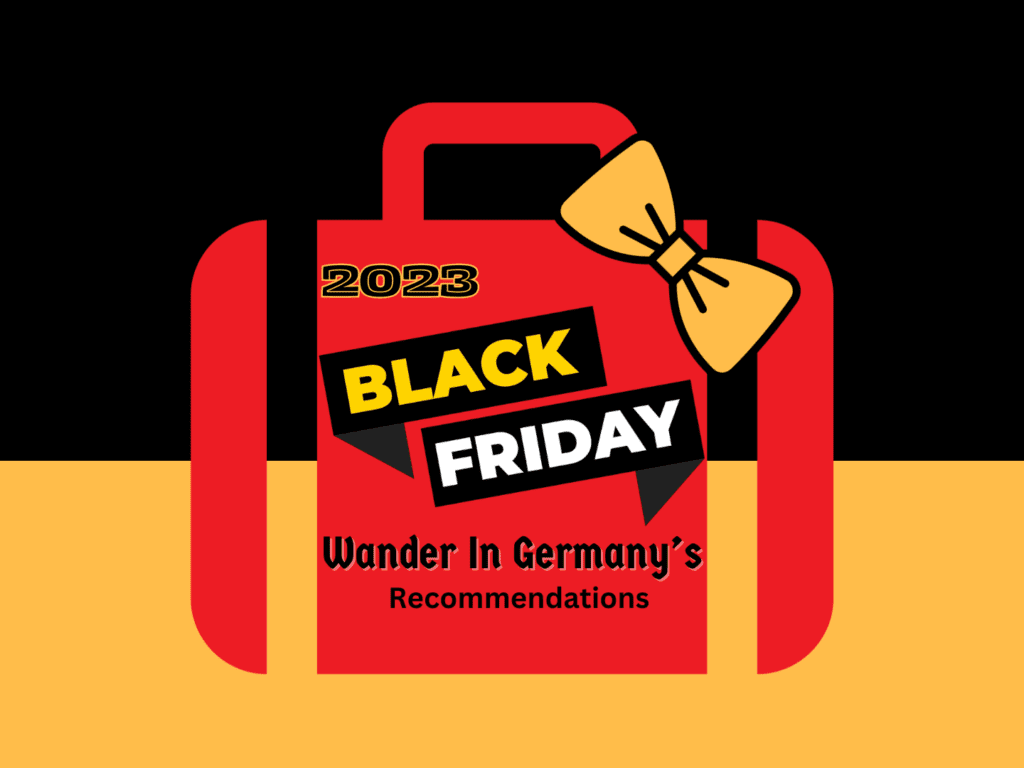 And with Black Friday (or what feels like "Month") at this point and "Travel Tuesday" now being a thing, I wanted you to keep an eye out for any of these items as you see deals coming at you faster than me running to a Doner shop when I'm starving.
Even if your trip is months away, I still want to make sure you are using Black Friday to your advantage to save a few bucks on your packing list. Afterall, if you are going to be buying this stuff for your trip (even if it is in June or August!) you might as well see if you can get a graet Black Friday deal while you're at it now!
So, again, as to not try to stress you out with a TON of options, I've narrowed down the list to my top 10 things that I know many people forget to buy BEFORE their trip to Germany. See if you can snag any great Black Friday or Cyber Monday deals on them while you can since you are goign to need them regardless for your trip!
And yes, just like the last list, EVERY item I've suggested I have personally bought myself, used, and love!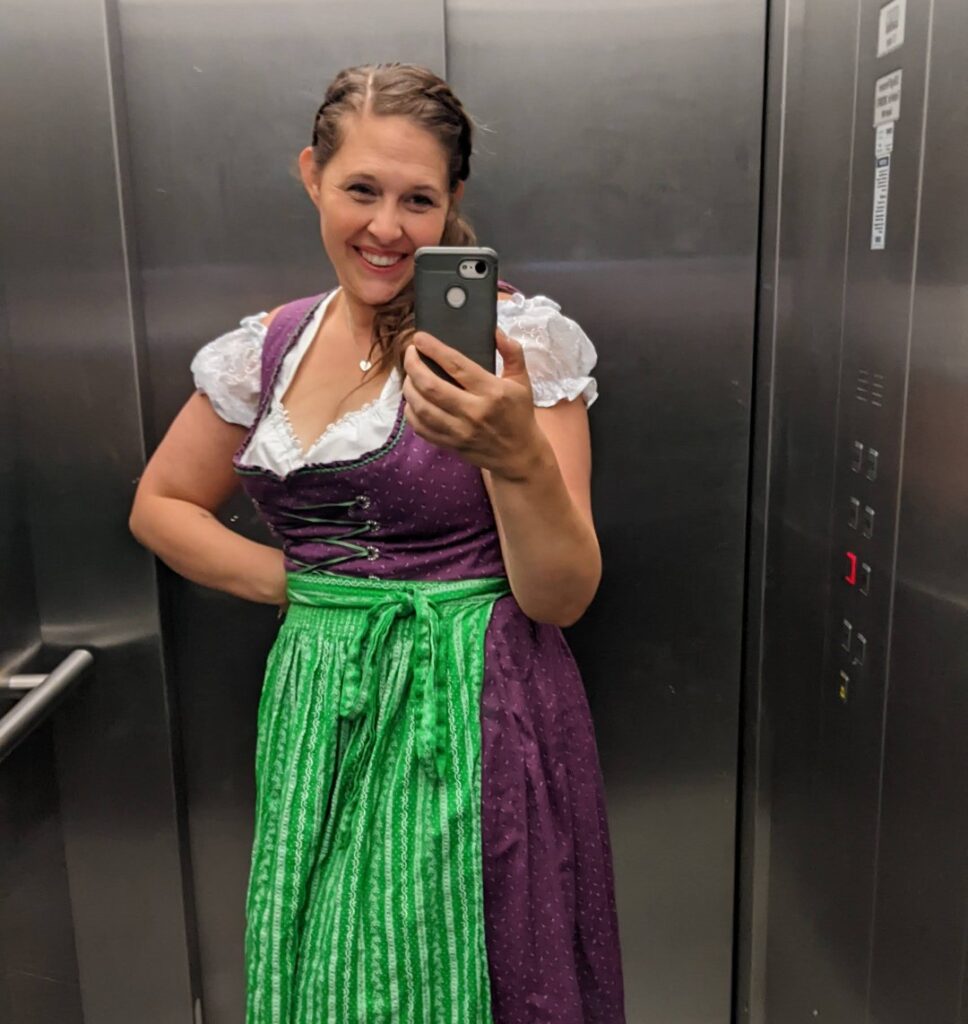 Having a functioning phone when traveling internationally is ESSENTIAL! Not having a live update on my train route that tells me when a train was delayed or simply just not having a way to communicate with others in emergencies just doesn't fly with me.
Personally, as someone who gets lost walking around my own block, even the idea of not having Google Maps is enough to make me feel anxious even thinking of being lost on the Autobahn!!!
📞 If you are wondering Can I Use My Cellphone In Germany I have a whole article on that!
But short answer is that you are likely to be charged astronomical international fees and rates with your current phone (there are a few exceptions that I list in that linked article).
So I HIGHLY recommend getting an ESim Card before even leaving home so that when you touch ground in Germany, you're still connected, not lost, and ready to explore!
Important Note: Most E-Sim Cards (notice I said "E" Sim, not just "Sim") will be DATA ONLY. But honestly, that is fine for 99% of most travelers. If you have WhatsApp or a similar app, you can still make calls and texts through that over data.
You've probably already heard, "Cash Is King" in Germany. While credit cards are becoming more and more accepted, you WILL be dealing with cash a lot here. But Germans do TONS of coins and in order to not have a bunch of small change getting all lost in your Daylite Day bag (you know, the one I recommended in my Essentials Guide) just have a coin pouch.
(You'll thank me as you realize how often you need to pay about 50 cents just to use a lot of public bathrooms!!!)
| Pros ✔️ | Cons ❌ |
| --- | --- |
| The wallet is made of high-quality genuine leather. | Too small probably to use as a main wallet, but good just for coins and/or just a few credit cards. |
| It has a compact size that makes it easy to carry in your pocket or purse. | The keychain may not be very sturdy and may break easily. |
| The wallet has multiple compartments for coins, cards, and keys, which helps you stay organized. | The zipper is a bit fumbly (not that it's not quality, it just gets stuck a bit sometimes). |
You may have remembered to have a power adapter in your bag, but did you think of having one (or 2 in this case) that is both a plug adapter as well as USB port!? I recommend having at least 1 of these adapters per person, 2 if you bring a lot of electronic gear on your trip.
| Pros ✔️ | Cons ❌ |
| --- | --- |
| The adapter turns one European Type C outlet into three standard American outlets, two USB-A and one USB-C charging port, allowing you to charge up to six devices simultaneously. | The adapter is not compatible with UK/Ireland/Scotland. |
| It's compatible with most European countries. | THIS IS NOT A VOLTAGE CONVERTER! Unless your items (like hair dryers, straighteners, electric toothbrush, or razor) are DUAL Voltage, they will not work with this and will need a power voltage converter (my tip: Leave those at home as actual converters are heavy and bulky) needs to support 100V to 250V dual, or you may need a power voltage converter. |
| The multi-plug outlet can auto-detect charged devices and deliver optimum charging speed up to 5V/2.4A (max) each port, USB-C up to 3A. | The USB-C port is not Quick Charger 3.0, and it doesn't support any other devices that need 9~22V charging voltage. |
Nowadays, I use my phone for just about everything. Which means that when I'm traveling, it's my camera, video recorder, Maps guidance, Deutche Bahn Tickets, and more.
That means on a busy travel day, I can easily suck down all the juice in my phone by midday! I also use this particular power bank because it has multiple different charging ports, which means hubby and I can both charge at the same time if needed!
Pros ✔️
Cons ❌
Is a "Super Charger" which is awesome as it only takes about 30+ minutes to reach a full charge on my phone~Great when I'm on the go!
While not huge, it is still a bit bulky- it definitely doesn't fit in my pocket but still is small and compact and not too heavy.
Has both a Type-C port and two USB ports, which can charge three devices at the same time. (Such as a phone, tablet, and headphones all at once)
The power charge of the power bank itself is amazing! I can recharge my phone at least about 5 times before needing to recharge the battery bank itself.
Learn German- 30% Off Lingoda
While it's true that You Yon't NEED To Speak German While Traveling in Germany, you should know that I'm a huge advocate for "Don't be a demanding, rude American that just expects the world to speak English." Therefore, having even some of the most basic German phrases down can be extremely helpful, respectful, and considerate for someone traveling to a foreign country.
I personally use Lingoda to learn German and LOVE it! With just 1 hour classes that are online, you can pick your own schedule (essential for this mama of 3!). The classes are always small (about 5 people), the instructors are required to be Native German speaking, and the content is supberg. In fact, I argue that the content itself (and class structure) is even better than the intense, in person classes I've tried here in Germany!
Even if you just do a few classes to learn some very basic "Traveling in Germany" conversations, it will be well worth it when you need to ask for things like, "Where is the bathroom?" Or "Can I have the bill please" or you know, the SUPER important questisons like, "Which local beer do you recommend?"
Bet you didn't know that in the summer, the sun starts shining about 4:45am!!! And in the evenings, it stays light until about 10pm! That's why I absolutely NEVER travel without eye masks!
Bonus Tip: I also never travel without earplugs, especially if I'm staying in the Altstadt of towns where there might be a lot of hustle and bustle (or worse, loud crowds/restaurants nearby). And since I'm super weird (aka very sensitive to sound at night as well as certain textures, I've done my fair share of searching for good noise canceling earplugs. These are the ones I personally use (I like the one w/ a strong because I inevitably will always lose just one!)
Pros ✔️
Cons ❌
The contoured design means your eyes aren't smashed up against the mask.
This may just be me because I have a weirdly small head, but it sometimes moves around when I sleep.
Shockingly amazing at giving a total Black Out effect!
Some people said that it fell apart after a few washes. I'm embarrassed to admit, I haven't washed mine enough to test this out.
I'm a side sleeper and these are still really comfortable.
I'm OBSESSED with this!!!
I don't care if you aren't a family (I also have this single passport holder that is similar to this when I travel solo), these passport holders have been a godsend when we travel. Maybe it's just because I have ADHD and lose things faster than the wanna-be race car drivers on the Autobahn, but I literally can have my passport in my hands one moment on the plane and then the next as I'm standing in customs line, I do the panic pat down of my body as I frantically have NO idea what it is now!
Enter, this heavenly organizer.
Pros ✔️
Cons ❌
Has a crossbody strap so I can't easily lose it as I move through customs or check in lines.
Perfect for numerous travelers, but probably too big for 1-2 people (use this one instead for solo/couples).
SO Much Organization! 6 Passport holders, 2 pockets for boarding passes, 2 zippered cash pockets, 2 letter size pockets for documents and external zippered phone pocket!!!!! I LOVE IT!
RFID Protected and water-resistant.
Have you heard the news? Nope, Most German Hotels DON'T Have AC!!! Living here in Germany (no my house doesn't have AC, either) I'm pretty used to it, but EVERY summer in my Travel in Bavaria Facebook Group someone inevitably posts how shocked (and uncomfortably hot) they are in July and August. Personally, I just suck it up and bring a travel fan with me (I literally brought a portable fan to the hospital when I gave birth to my daughter on the hottest day of that summer!) and chalk it all up to "When in Germany!"
Pros ✔️
Cons ❌
Surprisingly compact and small meaning you can easily pack it in your luggage! Huzzah!
The rechargeable battery takes up to 3 hours to fully charge.
Rechargeable by battery OR USB meaning you don't even need to worry about correct plugs if you have one of the USB adapters I listed above.
3 adjustable speed levels (and yes, the highest level IS powerful!)
Lasts all night
Some rental cars charge extra for a navigation system. If you downloaded Google Maps Offline or use Maps.me (those are my two go to navigations when traveling even without Data) then you can just use your phone to navigate as you do your epic Germany Roadtrips!
However, German driving rules are pretty strict, and you can get a ticket for even having your phone in your hand, so be sure to have it mounted when driving.
Pros ✔️
Cons ❌
Surprisingly compact and small meaning you can easily pack it in your luggage! Huzzah!
The rechargeable battery takes up to 3 hours to fully charge.
Rechargeable by battery OR USB meaning you don't even need to worry about correct plugs if you have one of the USB adapters I listed above.
3 adjustable speed levels (and yes, the highest level IS powerful!)
Lasts all night
I am ALL about packing as little as possible. If I can double down on something, I WILL! I know most people love Kindles, but I still am not 100% sure why when I can get a tablet that is like a mini computer basically, I can watch shows on, and so much more when a Kindle just…..reads? (I don't know, I'm willing to be open minded- so convince me in the comments why I'm wrong)
We actually have 3 of these Lenova Tablets (I orginally bought one, then my son stole it. So I bought another….and my other son nabbed that one) and I really like them. You can download an E Reader (and yes, your Kindle books!) onto it, download your favorite shows (my go to is Parks and Rec to fall asleep to when traveling), have some movies for long train rides locked and loaded, and more.
| Pros ✔️ | Cons ❌ |
| --- | --- |
| Great, bright colors when watching movies/ shows | Not a bad battery life, but could be better |
| Impressive sound quality for a little tablet | Not suitable for things like high end gaming |
| WiFi and Bluetooth built-in to connect to Netflix, etc | The tablet is not suitable for high-end gaming. |
And while I want the primary focus of this list to highlight the things that most people overlook, I still want to make sure you are using Black Friday to your advantage to save a few bucks on your packing list, even if your trip is months away.
If you want the full run down and explanation of my "Germany Packing List" here it is. But for a quick glance through, just use this checklist to see if you need to be on the lookout for anything on Black Friday!
Luggage
Luggage or Backpack
Backpack/Carryon bag for flights
Small day pack
Purse/handbag
Reusable grocery bag
Packing Cubes
Clothing
Every-day outfit:

Pants
Shirts/Tops
Shorts
Tank top
Skirt/ Dress
Belt
Cotton socks
Underwear
Bra(s)
PJs/Lounge Wear
Fleece Jacket
Shoes
Sneakers/ weather resistant shoes
Sandals (optional)- If doing sandals, go for something like Keene, Sketchers, Teva, etc
Toiletries/Basics
Travel Set of Soap, Shampoo, Conditioner
Shaving Cream/ Razor
Toothpaste/ Brush
Hair Brush/ Comb
Sunscreen and lotion
Sunglasses
Bandaids/ mini first aid kit
Makeup
Hairspray
Feminine Hygiene Items
Regular Meds
Ibuprofen/ Tylenol
Hair Straightener (make sure it is dual voltage and bring a converter- more on this below). Check with hotels to see if they have hair dryers so that you don't have to pack one
Hand sanitizer
Jewelry, watches, etc
Electronics
Phone(s)
Phone charger/battery
Power Bank/ Portable Charger/ Batter Pack
Headphones
E Reader (or books)
Tablet/charger
Camera (and SD Cards!)
Camera charger/battery
2-3 Power Adapters (per person)
GPS
Watch
Laptop/charger
EU SIM Card
Money "Stuff"
Wallet/ Purse
Coin Purse (You'll want this!)