Look, you're busy. I'm busy. So let's just get down to it.
I know there are about a gajillion Black Friday Deals going on and I'm not even going to pretend like I'm in the know of all the very best ones.
What I DO know about though is what gear you HAVE to have for your trip to Germany. I'm talking, bare bones, top essentials.
So today? Let's cut straight to it. I know you already have underwear and pants that you can toss in your luggage so I'm not going to waste your time trying to convince you to get certain clothing or listing out different travel style pants just in hopes to get more clicks over to Amazon for me.
And obviously, I've got my entire Germany Packing Guide here where I go into ALL specifics of exactly WHAT KIND and how many shirts vs blouses, why layering is absolutely essential (and what that looks like) for traveling in Germany during ANY season, how many socks you need to pack, and more. I've even got your packing checklist. So if you need more specifics on what else to buy for Black Friday Deals- head over there.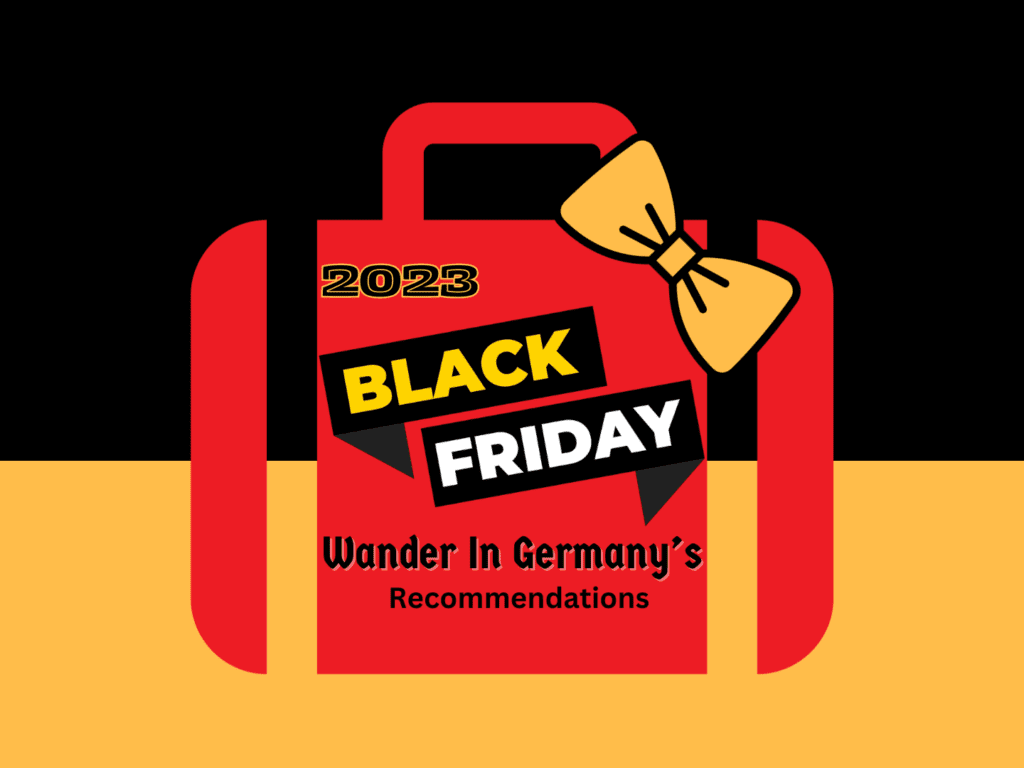 (Please note that some articles contain links that earn me a small commission at no extra cost to you.)
2023 Black Friday Deals
I am going to do my best to see if I can find the absolute BEST discounts on these specific items, but I also just want you to use this as a guide for your own packing plan. Even if you aren't traveling for months, if you can find a stellar Black Friday deal, why not save some cash NOW?
Also, if you don't find a major deal on the item I personally recommend, use the topic as inspiration for what to search for. For example, if you find Osprey isn't offering a good enough Black Friday discount, you at least know I personally recommend a really high quality, lifetime warranty carry-on-only backpack for your trip. So, start looking for one that does fit your budget/discounts, etc.
I'll go into detail into all of these but here's a quick "At a Glance"
Image
Product
Why I Never Travel Without It
Price

My Go-To Backpack Luggage

Adjustable torso fit
LOVE that I can attach the Daylite Daybag to the OUTSIDE!
Very comfortable
Lifetime Warranty

Check Price

What I Use When I Use Luggage

Extremely Durable
Lightweight
Lots of space (+ 3 sizes in the set)

Check Price

My "Everyday Germany" Shoes

Super comfy (all day long!)
Fits in with "European Style"
Great on uneven cobblestones
Durable

Check Price

Rain Jackets Are Essential in Germany!

Waterproof and windproof
Relaxed fit
Travel carrying pouch
Great for most seasons (get something warmer for winter)

Check Price

This Umbrella Never Leaves My Day Bag

SY COMPACT Travel Umbrella Windproof Automatic LightWeight Unbreakable Umbrellas-Factory outlet umbrella (Black)

You NEVER go to Germany without an umbrella!
Only 10.8 inch and 12 oz= perfect compact for travel
Super Waterproof S

Check Price

Packing Cubes Are a Game Changer!

Pack of 8 Durable and Super lightweight Cubes
Pack more (more easily) in your luggage
Makes packing organization insanely easy

Check Price
WIG may earn a commission on these items
Items that I Personally Use to Help You Avoid Decision Paralysis
If you are like me, I easily get decision overwhelm, especially around Black Friday when there are about a million ads being blasted in my face! That's why today, even though I always personally have a top 3-5 recommended list of things in each category, I am going to suggest only ONE today because I know you have a long laundry list of Black Friday items you want to buy and don't want to waste your time comparing and reading reviews.
I'm only going to suggest one product per main category and yes, it is going to be one that I have personally bought, used, and totally stand by and can vouch for!!!
So let's go!
Related Posts:
Luggage for Germany Travels
There's no other way around it, you aren't getting on that airplane without SOME sort of vessel to carry all your stuff in! Your two main choices are carry on or a more traditional roller suitcase and I understand if you are going back and forth on which one you should have for your Germany trip.
| Pros of Big Luggage | Cons of Big Luggage | Pros of Carry-On Backpack | Cons of Carry-On Backpack |
| --- | --- | --- | --- |
| More space for souvenirs and shopping | Difficult to navigate through cobblestone streets and VERY hard on public transportation ICE Trains) | Easy to move around with/ Perfect for Train Travels | Limited space for packing |
| Can pack more clothing and items | Possible Extra fees for checked luggage | Cost-effective | Need to pack light |
| Can bring larger items such as shoes and toiletries | Need to pay for a taxi or porter to help with luggage | Convenient | Can be uncomfortable to wear for extended periods of time |
Here is the luggage that I personally use and recommend you buy if you see a Black Friday Deal.
THIS Backpack Is My Go-To For European Travels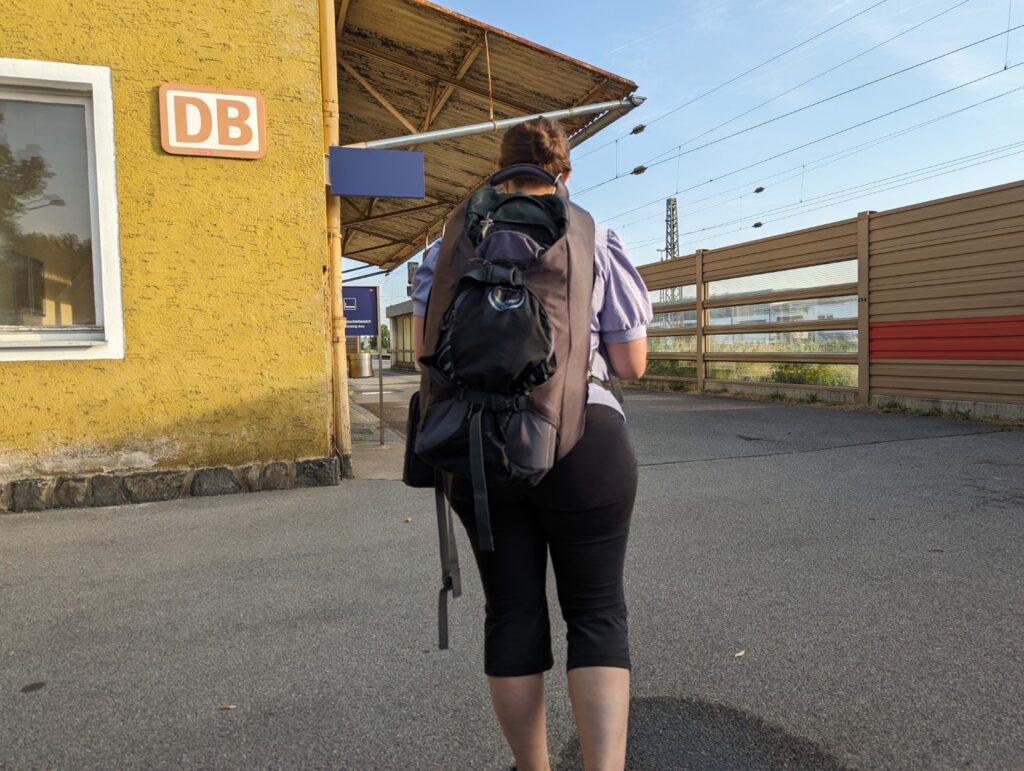 I know it's not always realistic, but if you can do carry on only, I promise it is going to make life so much easier in Germany, especially if you are taking trains, walking through old towns with rough cobble stones, etc. A backpack is my preferred luggage for European travel!
This is what I've been using for the last 8 years and LOVE it!
I highly recommend the Osprey Porter backpack for anyone traveling to Europe. It's really comfortable, insanely durable (you wouldn't BELIEVE how much I've pushed those zippers to the max….and beyond!) and has plenty of room for all your essentials.
Pros ✔️
Cons ❌
The adjustable torso fit ensures that the backpack fits comfortably and securely.
There's not a lot of separate compartments for more organized packing.
The external gear attachment loops are perfect for attaching extra gear or equipment.
The backpack doesn't have a built-in rain cover.
The padded top and side handles make it easy to carry the backpack when it's not on your back.
You can attach the Daylite Bag directly to the outside of this bag so that you don't have to wear one on your front and one on your back.
Osprey Lifetime Warranties
One of the reasons I will always recommend Osprey as a company is because they have lifetime warranties. In fact, my Daylite Bag (up next) had the chest clip come off after 8 years of brutal use and they gladly took it back to repair it. No questions asked!
If it's possible to be obsessed with a day bag, I'm there with this one. The Osprey Daylte is my absolute go-to. Here's why:
Pros ✔️
Cons ❌
It connects directly to the outside of the Osprey Porter!!!!!! (I LOVE THAT!!!!)
Not a ton of various compartments for extra organization.
Detach it and you've got yourself a day bag!
Is a small day bag (think slightly smaller than a backpack).
Surprisingly large main compartment to fit a TON of stuff in for such a "small" day bag.
The dual stretch mesh side pockets provide additional storage options.
The multi-function interior sleeve can be used for either a hydration reservoir or tablet.
Roller Suitcases- Black Friday 25% Off Limited Time Deal
While I may PREFER to travel light, let's be honest here. I've got three young children. There is no such thing as "Packing Light" in this phase of life! And even if you don't have kiddos in tow, even though I still STRONGLY suggest a backpack for Germany travels vs an actual suitcase if you know you need a suitcase or will be bringing on regardless, this is the set I bought and use when I need more space.
This is actually a 3 piece set (I'm not sure why it only shows two??). I've had this set personally since about 2017 and it's been hanging on strong after countless international trips around the world. I love how lightweight it is and is really easy to maneuver with the 4 spinner wheels.
Pros ✔️
Cons ❌
Very Lightweight and easy to maneuver.
Some reviewers have reported issues with the zippers- I haven't had issues at all.
Comes in a set of 3 sizes (Large: 31 Liters (21-Inch), Medium: 77 Liters (30.9-Inch), Small: 50 Liters (25.9-Inch)).
Not the most stylish option.
Durable nylon fabric.
Blends in with all the other black bags on the luggage carousel.
Surprisingly durable zippers despite me extremely overstuffing bags!
Durable Shoes for European Travel
You might think you can just wear whatever footwear you have lying around at home, but I HIGHLY encourage you to consider really good, durable, and weatherproof shoes when coming to Germany. Between the cobblestone streets, long days of walking while sightseeing, and unpredictable weather (ahem….rain) a day traveling can actually be ruined with the wrong shoes!
If you want to "fit in" with the looks of Germans, then picking a plain black or plain white sneaker is great.
But better than fitting in, is having a shoe that actually is super comfy and keeps your feet going ALL DAY LONG. I bought my first pair of Sketchers Sneakers in 2019 and fell so in love with them that they are my new go to brand for travel shoes. These Sketcher Shoes are often the shoes that people like nurses will wear for those 12 hour shifts, so you KNOW they are going to be comfortable.
Pros ✔️
Cons ❌
Really comfortable even on uneven cobblestone surfaces.
Not the most stylish option.
Keep feet feeling good even with long walking days.
Ran small: I had to order about a size up to fit correctly.
Lightweight and breathable.
Slip-resistant and flexible.
Memory foam insole for added comfort.
Blend in with the local fashion/ go with most basic outfits.
I know what you are saying, "LeAnna!!! You promised you'd only give ONE option for each category!" And while that's mostly true, I really do see a sturdy, durable, all weather hiking shoe different than sneakers and even if you aren't hiking, I can't recommend these shoes enough.
I used to be a Merrell kinda hiking shoe gal, but I was in need of a new pair this last year, and after a ridiculous amount of research (and hemming and hawing over sticking with what I knew vs branching out with a new shoe brand) I did it and made the leap and bought the Salomon Weatherproof Shoes. And I've been really happy with my Salomon shoes! If I know I'll be where cobblestones are or if it's going to rain, THESE are the pairs of shoes I pull out now!
Pros ✔️
Cons ❌
These shoes are waterproof, which makes them perfect for walking in wet conditions (which could potentially be always with German weather!)
In all my research, a lot of people reported that they ran small so I sized up half a size and they are good!
The shoes are very comfortable and provide great foot support.
The shoes may not be suitable for people with wider feet, according to reviews.
I bought a pair that "blends in" with a lot of outfits so it doesn't scream "HIKING!" and looks more like a sneaker.
Miscellaneous Must Haves
When traveling to Germany, there are a few miscellaneous items that I always make sure to bring with me. These items may seem small, but they can make a big difference in your overall travel experience.
I know I've alluded to it already in this article, but seriously…you NEVER know when it will rain in Germany!!! Be prepared and have a raincoat!
| Pros ✔️ | Cons ❌ |
| --- | --- |
| Lightweight and packable= perfect for travel | Not suitable for cold weather |
| Waterproof AND wind-resistant | Sizing can run a bit small-order up |
| Comfortable to wear | |
| Affordable price | |
.
If you aren't going to pack a rain jacket, then you'll at least need an umbrella. I always keep a compact, travel umbrella in my day bag when out and exploring Germany….just in case!
Pros ✔️
Cons ❌
Fiberglass ribs mean this bad boy is windproof!
Make sure that what you receive wasn't a cheap knockoff (if it looks cheap or if you do a test run and the water soaks through, immediately return for a refund as you probably got a knockoff 😔 ).
Can both open and close with just a push of a button.
The button can be a bit hard.
It's lightweight and compact, making it easy to carry around on your travels.
I used to be all "I don't get it, how can some cubes help me pack better/ more!?"
So, like most things I don't get, I just dug my heels in harder to just not succumb to the "trend". But finally, on a huge, multi trip, 2 month backpacking trip, I bought a set of packing cubes and I was like Jasmin singing, "A whole new world!!!" It was insane how much more efficiently, organized, and MORE I could pack with cubes! I've been sold ever since!
| Pros ✔️ | Cons ❌ |
| --- | --- |
| The set includes 8 pieces, featuring 4 sizes of packing cubes, a shoe bag, a laundry bag, a toiletries bag, and an accessories bag. | The zippers on the cubes may be initially stiff but tend to become smoother with use. |
| The packing cubes are durable and water-resistant. | The laundry bag is quite large, potentially occupying more space in your luggage than expected. |
| | The cubes don't compress contents as much as some other options, so consider this for tighter packing. |
And while I promised to keep this list to "Just the essentials" for the products I shared, if you want to do a rundown of my entire "Germany Packing List" here it is, I'm not going to give you links to things like "Layers" because that's pretty up to you on style and design, but I still think they are pretty darn important for Germany!
Just use this checklist as a guide and if you need to be on the lookout for anything on Black Friday, it will help make sure you've got all bases covered!
Luggage
Luggage or Backpack
Backpack/Carryon bag for flights
Small day pack
Purse/handbag
Reusable grocery bag
Packing Cubes
Clothing
Every-day outfit:

Pants
Shirts/Tops
Shorts
Tank top
Skirt/ Dress
Belt
Cotton socks
Underwear
Bra(s)
PJs/Lounge Wear
Fleece Jacket
Shoes
Sneakers/ weather resistant shoes
Sandals (optional)- If doing sandals, go for something like Keene, Sketchers, Teva, etc
Toiletries/Basics
Travel Set of Soap, Shampoo, Conditioner
Shaving Cream/ Razor
Toothpaste/ Brush
Hair Brush/ Comb
Sunscreen and lotion
Sunglasses
Bandaids/ mini first aid kit
Makeup
Hairspray
Feminine Hygiene Items
Regular Meds
Ibuprofen/ Tylenol
Hair Straightener (make sure it is dual voltage and bring a converter- more on this below). Check with hotels to see if they have hair dryers so that you don't have to pack one
Hand sanitizer
Jewelry, watches, etc
Electronics
Phone(s)
Phone charger/battery
Power Bank/ Portable Charger/ Batter Pack
Headphones
E Reader (or books)
Tablet/charger
Camera (and SD Cards!)
Camera charger/battery
2-3 Power Adapters (per person)
GPS
Watch
Laptop/charger
EU SIM Card
Money "Stuff"
Wallet/ Purse
Coin Purse (You'll want this!)