So you want to go camping in Germany?
Maybe you are wanting to do an epic campervanning in Germany cross country trek or maybe you are an outdoor enthusiast and want to go tent camping in Germany in the stunning Bavarian Alps. Or, maybe you are a budget traveler and are wondering if camping is a good option to save some accommodation money (or even if you can get some FREE nights with some Wild Camping in Germany).
No matter which camp (see what I did there? hehehe) you are in, there are some major things you need to know about Germany Camping (especially if you are used to camping in the US- as the way Germans do camping is a tad bit different!) After all, the German Forest Act has some pretty strict regulations. But also, the Federal Association of the Camping Economy in Germany sets some pretty high standards for campsite sand campgrounds so that everyone can enjoy getting outdoors.
After living in Germany for almost a decade and as someone who LOVES to go camping myself, I'm always on the hunt for great campsites in Germany! I'm personally more of a tent camping kinda gal but as my family grows and kids wake up at completely unrealistic morning hours, I've become pretty convinced of motorhome camping in Germany during recent years as well! All that to say, I've done my fair share of camping in Germany and of various styles and have learned something new pretty much each time we've headed out.
In this article, I want to cover it all (and then some), so feel free to use the Table of Contents to navigate to the parts you need. I'll tell you what you can expect from camping in Germany (it's not exactly what I was used to from growing up!), what is allowed (and what's not- because there's a lot!), what to expect, and more!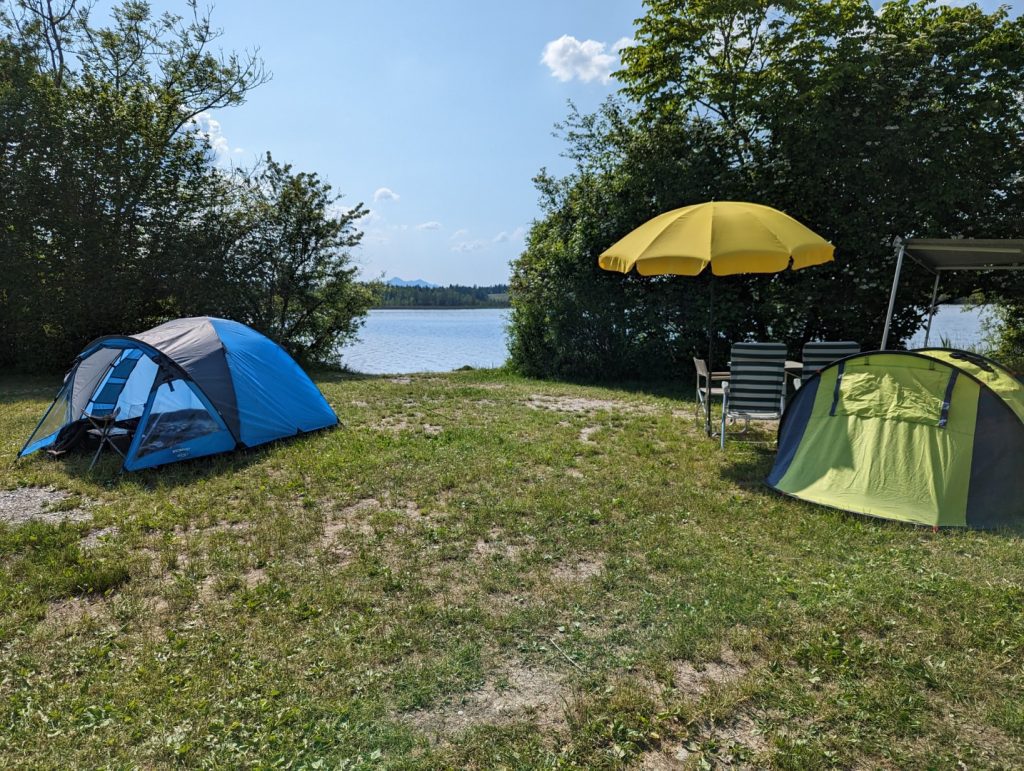 ❔ Do you have a campsite in Germany that you personally recommend?

I am compiling a "Best Campsites in Germany" article from my own experiences as well as readers like you! I'd love to connect with you.
Please Send an email to: [email protected] Re: Camping in Germany
Include photos and detailed info so that other fellow campers can benefit from your knowledge!
You'll Find In This Article:
Words To Know Before Camping in Germany
Not sure what a "Wohnmobil vs Caravan" is? No worries. Here are a few of the important words to know if you'll be looking at further camping sites!
| English Word | German Word | Description |
| --- | --- | --- |
| Tent | Zelt | A shelter typically made of fabric and supported by poles. |
| Campervan | Wohnmobil | A camper with sleeping quarters as part of the vehicle. |
| Caravan | Caravan | A camper that is towed behind a car or other vehicle. |
| Campsite | Campplatz | An area designated for setting up tents or parking campers. |
| BBQ Area | Grillplatz | A specifically designated area for barbecuing/grilling. |
| Parking Space | Stellplatz | A location to park a camper or vehicle for overnight stays. |
| Campervan | WoMo Stellplatz | A temporary camping overnight stop location for campervans. |
| Bivouac | Bivouac | A temporary camp without tents or cover, used by soldiers or mountaineers. |
Please note that some articles contain links that earn me a small commission at no extra cost to you.
Camping in Germany Rules
Ooooh Germans and their love of rules! Some of the following are actual LAWS for camping in Germany. Others are simply the common expectations and etiquette. But, no matter how you look at it, German culture is clear: Stay within the guidelines!
Wild Camping Is Illegal
Q: Let's just dive right into the most common question, "Can you wild camp in Germany?"
A: Short answer: No. Free Camping in Germany IS Illegal.
I'm going to go into this in MUCH more detail (maybe painfully so!) below in its own sections as well as its own articles (there's THAT much you need to know about free camping in Germany!) but since this is one of the most talked about, discussed, debated, and skirted around rules when it comes to camping in Germany, I wanted to address it right away. The rumor is true. Free camping in Germany is strictly "Verboten" (Not Allowed).
I bring this up as the first thing to know simply because this means that if you want to camp in Germany, then you'll be looking at actual campsites and therefore, the next few sections are decently important for you to know and understand.
But Free Campers, Wild Campers, and Primitive Campers Fear Not! I have numerous (totally legal!) options for you below as well as some pretty unique alternatives for you to consider as an alternative campsite in Germany that gets pretty close to "Wild Camping."
A Different Camping Culture: Know Before You Go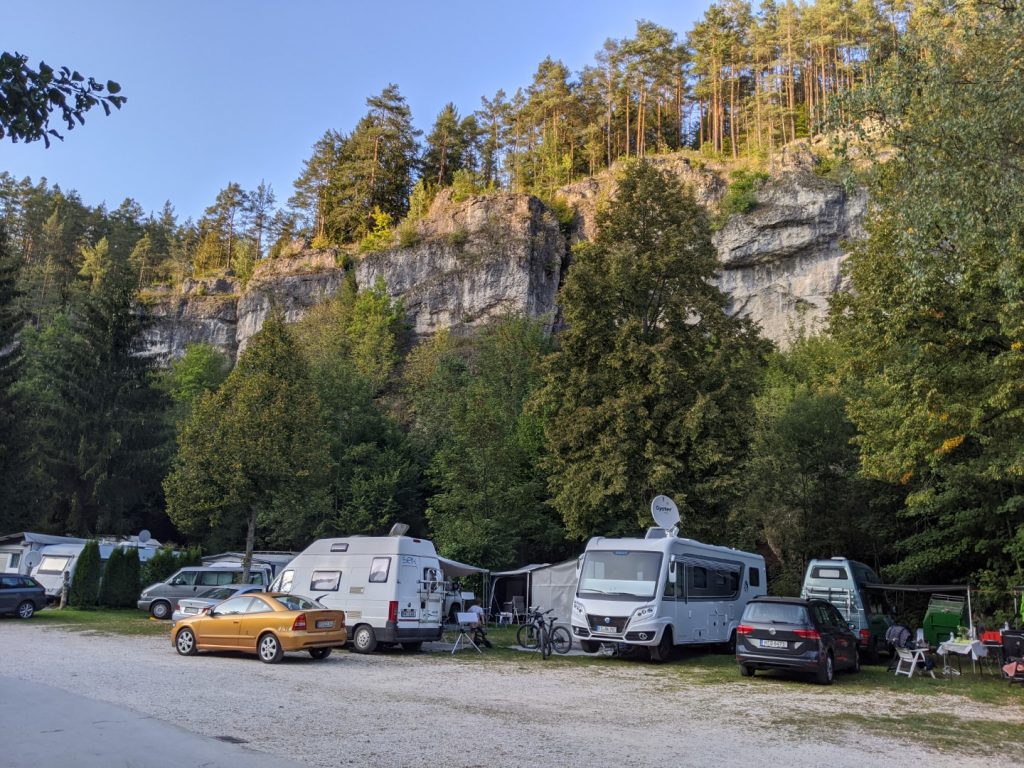 Camping in Germany is just a different "Culture." One of the things I was most surprised with was how much camping in Germany contrasted with what I was used to camping in the USA. For example, according to the Forstwirtshaft (German Forestry Association), over 90% of German forests are protected areas. Germans take environmental conservation pretty seriously and therefore, there are both very high expectations for campers as well as different rules and regulations to help maintain the conservation of nature in Germany.
Here are just a few more things you'll need to know before even deciding if camping is even worth it for you here.
I go into detail after the chart so that you fully know what to expect, but at a glance:
Aspect
Camping in the USA
Camping in Germany
Popular Regions
National parks, forests, and campgrounds across the country, from the Appalachian Trail to Yosemite National Park.
Bavarian Alps, Black Forest, and various nature reserves, such as Saxon Switzerland.
Campgrounds
Diverse options, including public, private, and free camping
Extremely well-organized and maintained campgrounds
Infrastructure
Wide spectrum of what is available and will vary by campsite. May (or may not have restrooms, electric hookups, etc)
Standard infrastructures regardless of what campsite: Very clean facilities like bathrooms. Water and electricity almost always available
Camping Fees
Vary widely, from free dispersed camping to cheap nightly costs all the way to expensive RV campsites.


Often not a "budget" accommodation option.
– Pay per line item and amenity that you need (not usually a "one cost" fee) Ex: Fee Per person, fee for a car, separate fee for tent/ camper plot, etc
Costs
Anywhere from Free to $10/night all the way to $60/night
Typically around €30/night for single tent camper. Not uncommon to total around €60/night for a caravan/camper site.
Camping Styles
RV camping, tent camping, and cabin rentals, backcountry/wild camping
Campervans and caravans are most common. Occasional tents
Regulations
Varied rules by state and park management
Very Strict regulations
Campfires
Permitted in many areas- Occasional restrictions and subject to fire bans.
Not allowed due to environmental concerns (only allowed on private properties with owner's permission and when used with extreme caution and care
Camping Culture
Diverse camping culture with a mix of outdoor enthusiasts, glamping, etc- emphasis on outdoor activities.
Strong outdoor culture with an emphasis on hiking, nature appreciation, and outdoor etiquette.
Amenities
Campground amenities vary by site.
Many offer various things like showers, restrooms, and fresh water.
-Almost always come with very nice, modern, extremely clean facilities (Showers, restrooms, wash room, etc)
-Many campsites will have a biergarten/ small restaurant (or place to buy items)
-Most will have kid friendly facilities such as playgrounds
-"Resort" campgrounds offer extra amenities such as pools, mini golf, etc
Reservation and Planing
Recommended in popular areas, especially during peak seasons; availability can vary
Highly recommended, especially for popular destinations.
Many popular campgrounds are booked out months in advance
Camping Fees
Vary widely, from free dispersed camping to
Campground fees are common, and prices are
costly RV parks with full hookups; some
regulated; some areas may offer free or low
national parks charge entrance and camping fees.
-cost camping options.
Wilderness (I)
Vast and diverse wilderness areas, remote backcountry camping opportunities.
Often close to/in nature with plenty of outdoor opportunities for hiking, National Parks, adventure, etc
Wilderness (II)
Remote backcountry camping opportunities available
Wild Camping/ Backcountry camping Illegal.
Wildlife
Possible encounters with bears, snakes, and other large mammals in some areas.
Smaller wildlife populations and very few dangerous animals.
Wild Boar are dangerous at night
Bird watching popular
Seasonality
Year-round camping possible in many areas,
Typically Spring- Late Autumn
You'll Need To Book/PlanAhead
Germans do love their planning! Most locals have their holidays, breaks, and vacations planned out (and booked) a year in advance (sometimes even more!) This does not bode well for last minute planners, such as myself! I always used to decide to go camping last minute back in the States- usually based off of great weather. But that's just not possible here. Most campsites will book up months in advance.
Now, don't get me wrong, this does not mean that you won't get spots last minute. However, you may be somewhat limited or have to try numerous locations before you find open spots.
It's Better To Call to Book
I've seen this get slightly better in recent years, but one thing to know about Germans in general (stereotypically speaking, of course) is that they aren't as into emails as one might like or want. I find that many, smaller campsites are often more of a family run style organization that just doesn't do online bookings and many don't answer emails. Again, this is a pretty large, sweeping statement. I'm just saying that if you want to get something done in Germany, just make the phone call first. That means you may need to make an international call or buy a SIM card in Germany.
Obviously, feel free to email just in case they are responsive or even see if there is an online booking option available first.

Try To Avoid School Holidays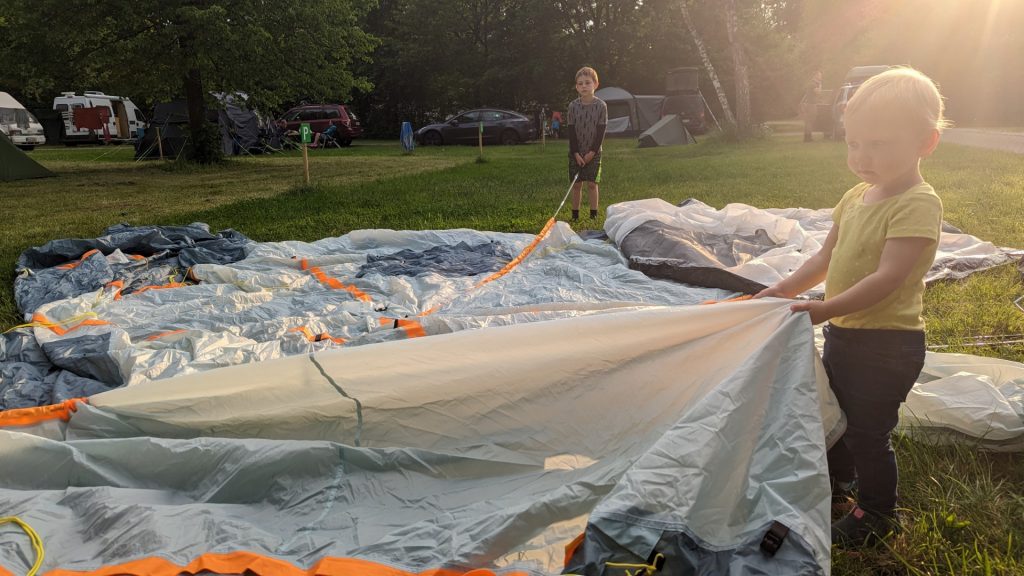 I'm not saying to avoid holidays because of the throngs of wild kids, but speaking of booking ahead, one of the reasons why Germans plan out so far in advance is if they have kids. After all, long story short- it is illegal to pull your kids from school (besides for obvious reasons like Drs appointments, etc). Therefore, locals that have school aged kids are limited to the 1-2 weeks here and there that their school calendars and breaks allow for vacationing and camping trips.
Different states have different breaks. For example, here in Bavaria, we have a "Pfingsten" break for about 2 weeks often around early June, whereas other German States may have a week before this time frame. So, it's important to know when these are based on the state you are visiting.
Most German schools though do have their summer break starting in August. For example, our "Summerferien" this year was from August 1st- September 12th and I can tell you that I know MANY families that went campervanning in Germany this year alone!
Some German Campsites Require Long Stays
This is often more so true during things like the school holidays I mentioned above or over holiday weekends, but many times there is a minimum night stay requirement. In some places for tent camping, it can be as low as 2 or 3 days but in popular RV campsites/ resorts it can sometimes even be upwards of a week.
Seasons in Germany Might Be Mild. Might Be Rainy. Or Maybe not…Who Know!?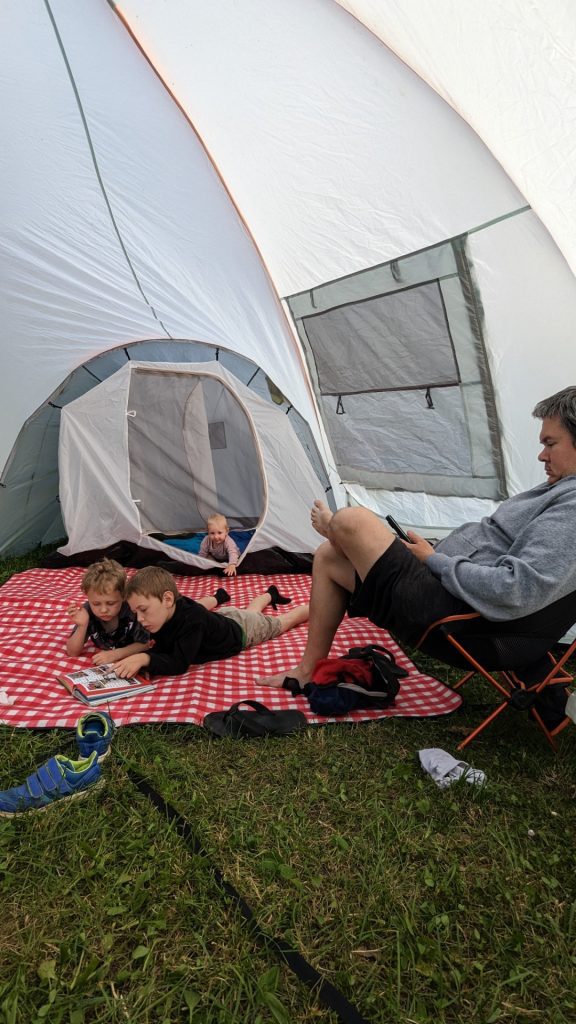 What's the saying? "No bad weather only bad clothing!" That's how Germans see vacationing!
The problem is, you just never do know what the finicky weather here is going to do. I personally find German summers to be much more mild than what I was used to from the States. Granted, in my home state of Nebraska, summers can be unbearably hot and humid, so that's what I was comparing German summers to. However, the fact that most homes and many hotels in Germany do not have AC validates my feelings that summers in Germany just simply do not get as hot or as long to even justify air conditioners!
The first time I ever Backpacked in Germany was in June. I packed for what I assumed was June weather- you know, tank tops, sandals…. Only to have to go shopping to get sweatshirts, pants, and a jacket!!! And now, after all these years, I've come to just accept that many Junes are often still cold and often quite rainy. Again, this is not to say that there aren't absolutely amazing and beautiful Mays and Junes, but I just want you to be prepared.
You Might Be Interested in Reading:
It's Not Typically a "Super Budget Friendly" Option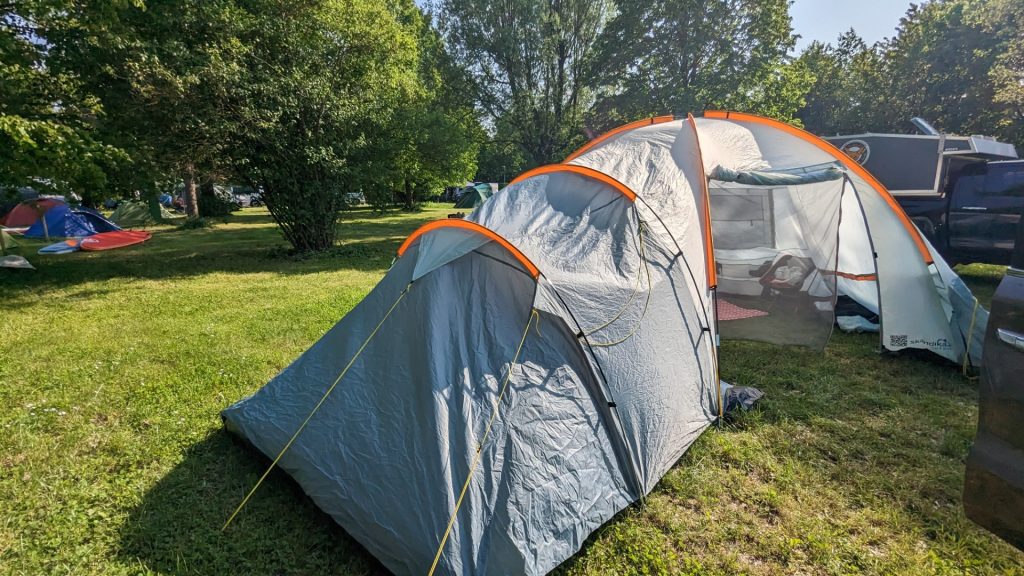 If you are like me and often think of camping as cheap and if you are headed for a traditional German campsite, then you'll want to think again. However, I will say this. For just a little bit more, I feel like I have NEVER been let down by a camping facility in Germany. I'll go into more details on this in my "What to expect" section, but we'll just leave it at "German Campgrounds Are VERY Nice (typically)" for now.
Now, we aren't talking outrageous prices, but I was used to tent spots in the US being like $15-$20 tops and maaaybe a small fee to get into a park. Instead of having a camping pitch or spot that has one price, in Germany, camping is kind of "broken down" and you pay per person and what you require for your stay. (Obviously, if you don't have a motorbike, you don't pay that line item).
This is also PER night usually. The following list is what you can expect to pay for camping (individually) and a rough estimate on how much:
Per Person: Adults are typically anywhere from around €8-15 per person. Per night.
Per Child: This varies on the location. Some places charge for kids, some charge only above a certain age. It's often around €5/Child/Night or sometimes around half of the adult price. (Often kids under 3 are free
Car: Even though you'll most likely be parking your car AT your camping spot, you'll often get a surcharge for even just having one there. €2-3
Tent: Yes. This is typically a charge in and of itself and you often pay depending on the size of your tent. Expect anywhere from €5 for small tents to upwards of €10 for larger
Tent Spot: Yup, you get charged for the tent AND the spot to PUT your tent. Separately!
Caravan: (No Engine- You Tow) Anywhere from around €8-13/night
Campervan: Has a motor/liveable space inside. Usually just a few more Euro/night than the caravan
Motorcycle: Around €2/night per bike
Electricity: Many places you can choose if you want a site with or without and you typically pay an overall fee for this but it's also not uncommon to pay per kilowatt. It may vary depending on campsite. Anywhere from about €5/day
Dogs: Expect to pay at least a few Euros to bring your furry friends
Visitor's Tax/Environmental Tax: This is not always common, but occasionally, I do see one or both of these fees as part of the camping pricelists. It's typically just a few Euros each
Example Cost
So, to just further the point, my family recently went camping at Lake Starnberg this summer. Here is how it was broken down and what we had to pay. We had:
-2 Adults (€11/each/per night)= €22 each night.
-2 Chidren (€5/each/per night)= €10 per night. 1 toddler (free).
-1 Car (€2). 1 Tent ( €8/night).
-Tent Pitch (€7/night).
We opted out of electricity (which would have been €4/day)
Total: €49/ Night
Now, one might argue that paying €50/night is still well within the "Budget" spectrum of prices and I'll agree with you. BUT, it's also not entirely out of the realm of possibilities to find a local Pension/Gästehaus that runs around €60/night…and that includes a real bed (Hey, I'm getting old and my back isn't what it used to be!), my own bathroom (that isn't a 3 minute walk through the cold/dark in the middle of the night) and that has a really fantastic, typical German breakfast included in the price.
So, sure, if you are TRULY pinching every penny you have, those €10/night can add up quickly over the course of a trip/vacation. But there are also somethings money just can't buy (like my toddler NOT waking up at 4:30am with the sunrise in a tent!)
German Camping Caters More to RV Camping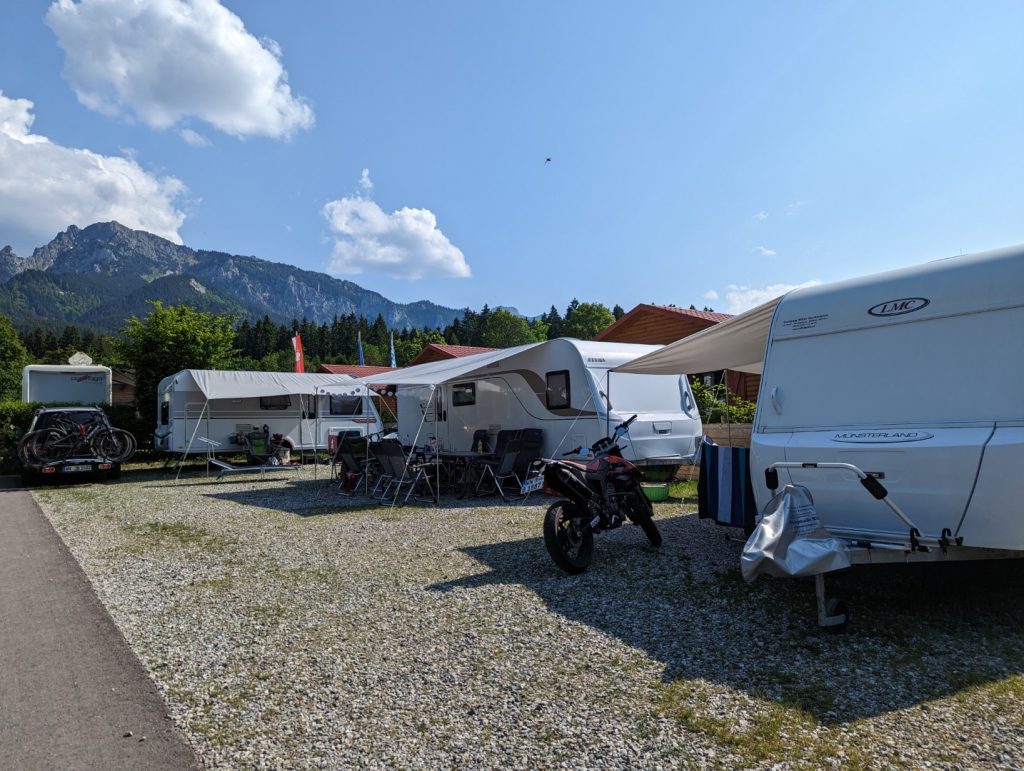 Personally, when I think "Camping," I think of pitching a tent, but I also realize this might be more with just what I grew up with. However, in Germany, tent campers are often the minority at campgrounds.
Instead, people in Caravans (trailers), Wohnmobiles (Campervans), and Camper buses are definitely the main clientele. Tent camping in Germany is absolutely possible and isn't like it's looked down upon at the campsites, but more Germans tend to head out in more of an RV style of camping accommodation rather than totally roughing it on the ground.
Camping Is a Serious Affair
I don't mean this in a "Germans don't have fun when camping" way. No, I mean, when Germans go camping, they do it up RIGHT! Especially those who go campervanning in Germany! Since most are going for at least a week at a time, they know how to outfit their camper to beyond glamping levels with ease. They often buy only the top notch (and most likely expensive) gear. I have seen German Camp setups nicer than my first apartment!!!!!
Imagine how much I stuck out like a sore thumb the first time I showed up with my 10 year old tent and a raggidy old folding chair! (I mean, I didn't care, but I definitely got some sideways looks)
Environmental Appreciation and Protection Are Essential
Germany Has a "Betretungsrecht"- A LIMITED "Right of Access."
Many other European countries, have a "Right of Public Access" law, which to be quick, is simply a law that allows people to "roam" and, for the purpose of THIS article, Wild Camp, as long as they "Do Not Disturb, Do Not Destroy, and Leave No Trace."
Germany doesn't have a full on "Right of Public Access" law. They have more of a "limited" right of public access. What I mean by this is that, by law, the public may access forests (even privately owned ones) and other "natural" areas. This is why, even if land is privately owned, it's not uncommon to see paths (that the public may use) through farmfields and why forests are open to anyone who would like to respectfully enjoy them.
In fact, you'll also find that (most) national parks and reserves in Germany don't even have access fees (like they do in the US) because it is mandated by law that all people may have free access to nature. But just because you have access to go through them doesn't mean you have access/ permission to camp.
But with that access, it is, by law, an obligation to PROTECT the land. In the Bavarian Constitution, it also states, "Every person to treat nature and the landscape with care."
What You Are (Typically) Paying For
Again, nobody here is claiming that camping in Germany is expensive. I am just saying that sometimes it adds up to more than what one might first assume (especially since there is no "free camping." Germany has very strict wild camping laws- but more on that in a bit)
The great news though is that even though you may be paying (slightly) more than what you initially might have expected, you are usually given REALLY nice campsites in return. At a typical German campground, we won't be roughing it too hard around here! You can expect things like:
VERY Clean Facilities and Bathrooms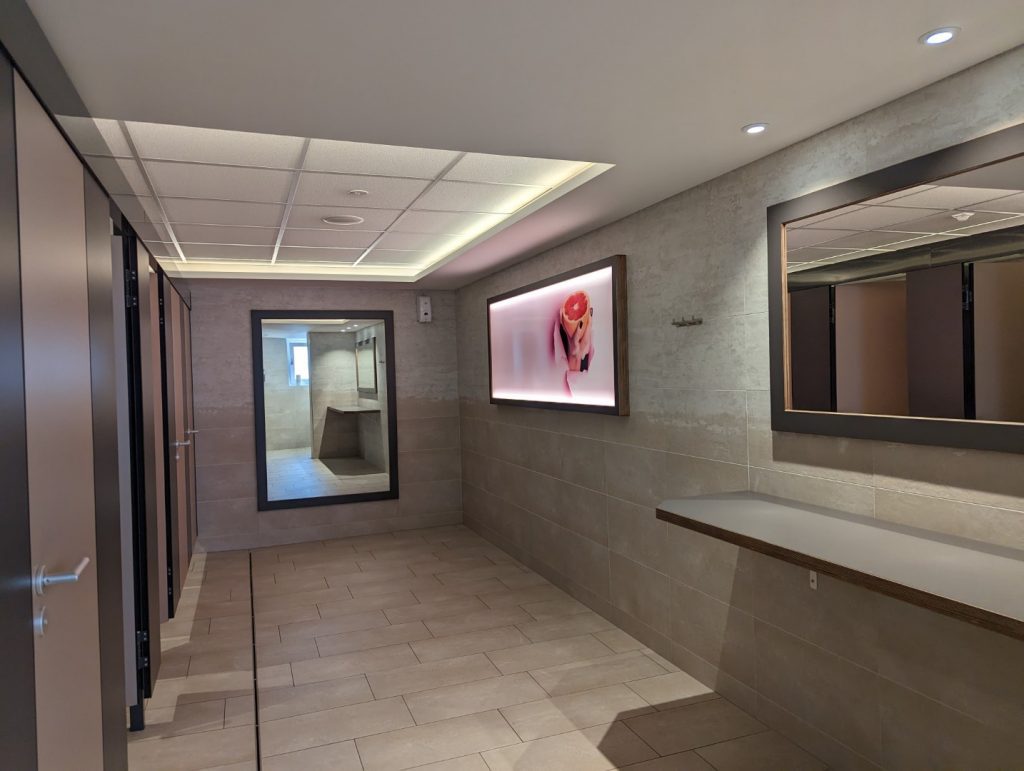 Growing up, even things like state park campgrounds were more on the "roughing" it side when it came to the cleanliness of bathrooms and shower facilities. But here in Germany? I have yet to walk into a campground bathroom that wasn't damn near spick and span! That's not to say that you don't still need that shower caddie with shower shoes, but that's more so just because you are using a public shower! I'm always SO impressed with just how clean they keep camping bathrooms (Well, done, Germany! Well, done!)
Insider Note: Most campgrounds will have included warm showers, but some are still coin operated.
Dish Washing Rooms
Most German campsites have entire rooms available for washing up dishes. Again, it's no surprise that they are usually very well kept up and clean. There is also a strong expectation of "Keep It Clean" amongst visitors as well.
There are also sometimes even washing machines!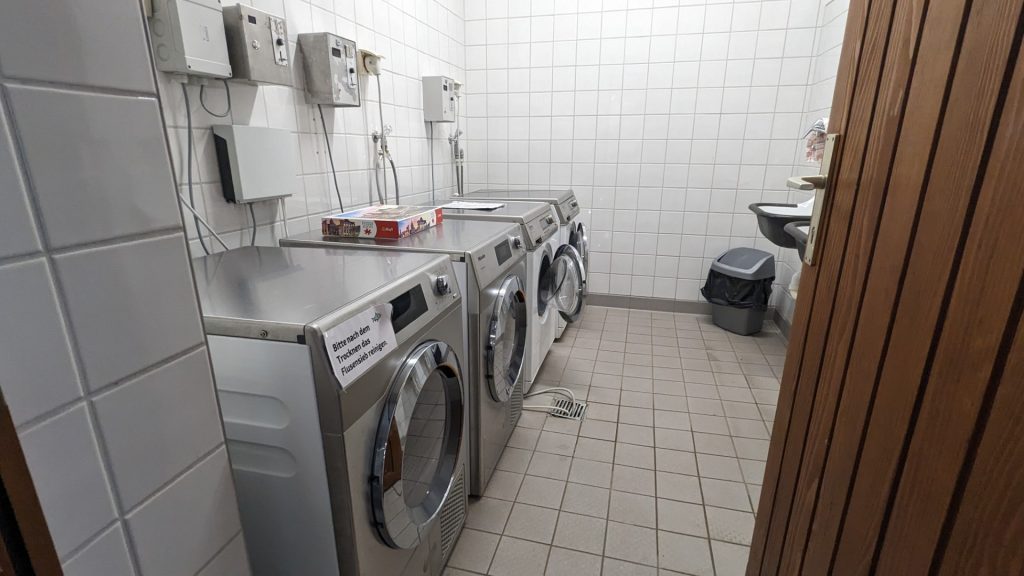 Restaraunt/ Bier Garten On Site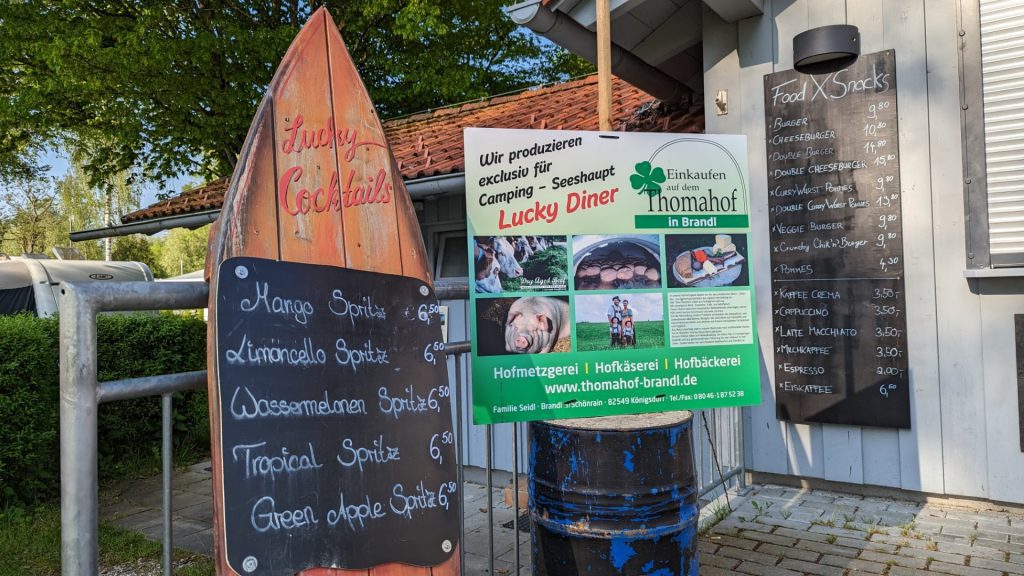 While not a hard and fast rule, I'd argue that the majority of German Campgrounds have some sort of food situation on site. It's often a smaller, Imbiss style set up (think things like Pizza, French Fries, Wursts…) but some will be more like a Biergarten or even a full on restaurant style establishment. It's great when you don't want to deal w/ campfood but want something quick, easy, and close by!
If the campground doesn't have this, then it's pretty typical to find either a little mini "convenience" store with your basics of things like potato chips, milk, etc. On one of our recent camping trips, there was neither, but there was this great vending machine that was like a mini grocery store! Wursts and eggs anyone???
Community Rooms/ Areas
Again, not at every single place, but also a pretty common thing to find is a commons area/ building. Sometimes there are board games waiting to be played, other times it's a ping pong table ready for some action. But often, there is an area that is covered and is a place to just hang out at.
Are German Campgrounds More Like Resorts?
Many campgrounds in Germany are honestly more of what I would consider a "Resort" but they are still called "Campgrounds." We are talking things like pools on site, wellness areas (Germans (and me!) sure do love their Sauna Culture!), restaurants, rental facilities (bikes, SUP, etc)
What To Expect AT A Campsite in Germany
So you've found a wonderful place to camp in Germany, you've loaded up your gear and you've arrived only to realize you aren't in Kansas anymore. Ok, ok….camping in Germany isn't REALLY that much different but there are a few things to note:
It's Sort of a Free For All With Spots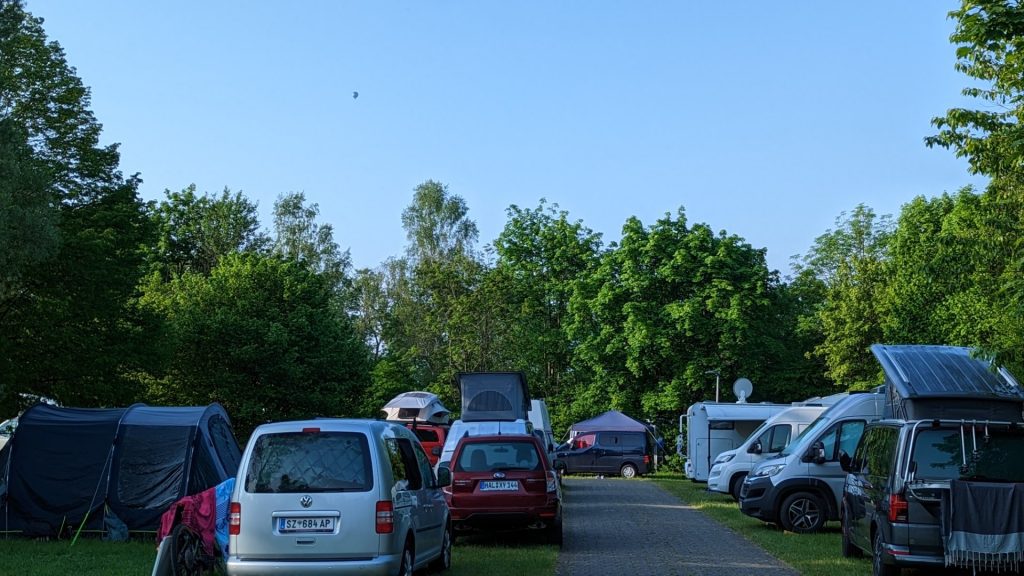 This will come down to individual campsites, but it is actually quite common that you just set up camp quite literally wherever. It's more like, "Oh, hey, here's a patch of space, I'll set up here" kind of free for all instead of "Hello, sir. You have campsite 39A. You can find that location here on the map."
Which brings me to the next point…
Don't (Always) Expect Personal Space (AKA It's Crowded)
I'm just going to keep pulling out very generalized stereotypes here, but anyone who has traveled to Germany before will know what I mean when I say that for a country that is SO amazing with the efficiency and rules of driving on something like the Autobahn I am completely flabbergasted on how there is ZERO regards for lines (and often personal space) in this country!
And that is ever so true at a campground in Germany!
As I just mentioned, many campgrounds often just have a big nature space/lawn area and you set up where you want. Sounds great! Until it's about 6pm and the campsite is getting full and those campers who just pulled in still need a space, so they wiggle their way into whatever odd shaped section is still barely available….which happens to be RIIIIIGHT next to yours. And I don't mean "that open pitch" next to yours. I literally mean, "that small section of ground that is 2 feet from you."
No Designated Pitch Spots
But yes, there are still plenty of campgrounds that DO have designated spaces for each camper. But it's often just basically an imaginary line on the ground that separates you from your neighbor. There is often VERY little personal space and distance between your camper/tent and the next person's.
You (Probably) Won't Be Immersed in Nature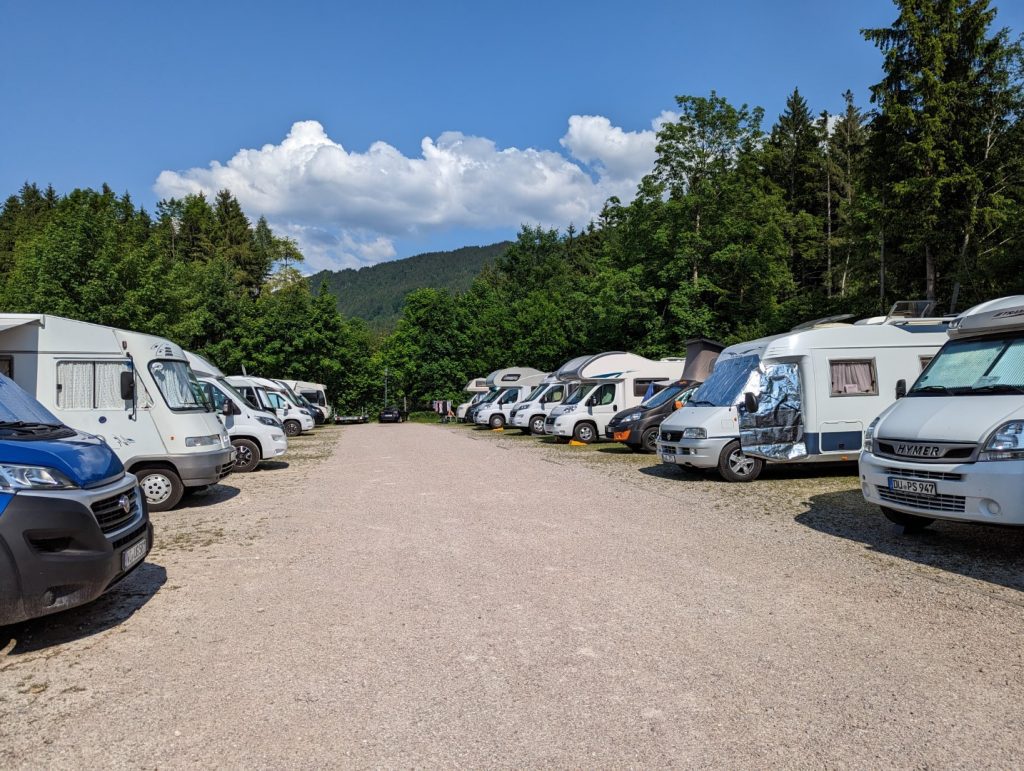 The whole point of camping for me is to enjoy laying out under stars, breathing the fresh air, and enjoying some peaceful nature. So the first time I went camping here and the accommodation section was barely more than a glorified open field, I was kinda like, "Where's the nature!?"
And while there are some pretty incredible campgrounds in Germany (Alpine mountain views in Bavaria, Lakeside in the Black Forest, literally on the beach of the Nord See) I'd argue that most aren't in the seclusion of nature.
That's not to say that you aren't incredibly CLOSE to nature. Most campgrounds are right by (even a few inside) national parks, forested areas, hiking trails, etc. However, because Germany takes the conservation of their land pretty seriously, campsites don't often have that "Deep Out in Nature" vibe.
No Bonfires or Campfires
I'm not trying to be dramatic. But this might be one of my saddest differences between camping in the US vs Germany (I know, life is tough).
But what kind of camping is it without a bonfire and some roasted hotdogs and 'mallows while you sing songs around the campfire!?
All fires (and that even includes grills and even camping stoves!) are not allowed in any nature reserves as well as in any forests in Germany. And while they are not technically prohibited on private property (which most campgrounds are considered), I have yet to stay at a German campsite that did allow for any type of contained fires.
In fact, even BBQ grills are often not allowed at many campsites unless it is in a specified "Grillplatz" area. However, I personally have a portable (mini) gas grill and many times I have simply asked if they were ok with this use. Sometimes the answers were more on the lines of "If you must" other times it was a flat out "Nein" and then there were the occasional circumstances where they didn't really care as long as the grass wasn't high. But a charcoal grills would have been a big no-no.
And an open fire on your own? Not a chance! In fact, it is in both the local State Forest Laws and the Federal Forest Act that prohibit this. There are some occasional circumstances that places like a Trekkingplatze will have a fire container, but even those are subject to permits and aren't always allowed if there is ANY risk of fires.
Clarification: Some campgrounds MAY have their own "BBQ" area set up where visitors may make a fire (typically out of charcoal) but even these will be in designated areas of the campground.
So What Do Germans Cook With While Camping?
While I will die on the hill that camping is not complete without a proper campfire, I've just had to come to accept that this won't be happening while I camp in Germany (wah wah). Most Germans will still have a camping stove (propane/butane) but since many are camping longer term, I often find that they have much of what they need in their RV, including an electric hookup for things like a tea kettle for boiling water, electric cooktops, etc.
Insider Tip: If you do find yourself at a Campingplatz that allows for grills, most Europeans don't understand an authentic 'Smore and have never even had one before! Once we start getting a few weird looks, I always love offering them up to whoever wants to come try it! They are often completely perplexed (and delighted with!) such a unique treat.
While those big, puffy marshmallows aren't super common to find, you'll be able to get them at most bigger grocery stores like Kaufland, Globus, and even at Edeka and Rewe.
Plus, it's always a different kind of treat to connect with other travelers on your adventures!
Permanent Campers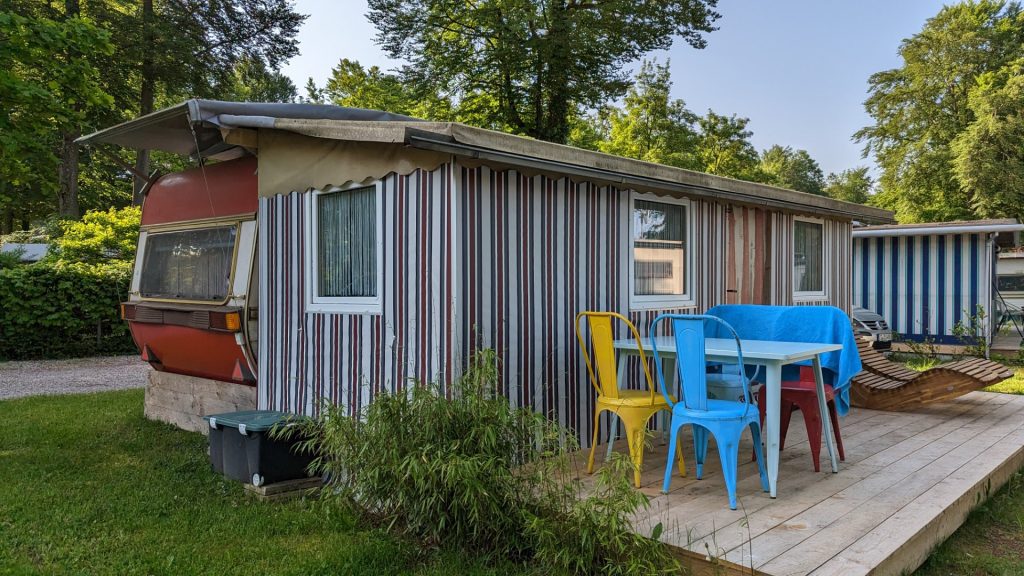 I'm not really sure how else to describe this other than "Trailer Parks." If you are from the US, just from those 2 words alone, you've probably conjured up certain images and stereotypes, am I right? But, here in Germany, at a vast majority of campgrounds, there is always a section of the campground that is for the "Dauercamper" which is simply, a "Long term camper." However, there really is no negative connotation with this and I've never seen a Dauercamp that wasn't extremely well taken care of and maintained (in true German fashion!)
A Dauercamper ranges anywhere from a long term seasonal contract to upwards of even a few years lease! But one thing is typically the same in the Dauercamper section- the trailers don't move. Some of them are very clearly (very) long term with entire patio setups and gardens while others may just be a family that chose that location for that particular season. Some people use this as more of their "Weekend" or "Holiday" home, whereas others really do seem to set up completely full time and hunker on down like home.
Family Friendly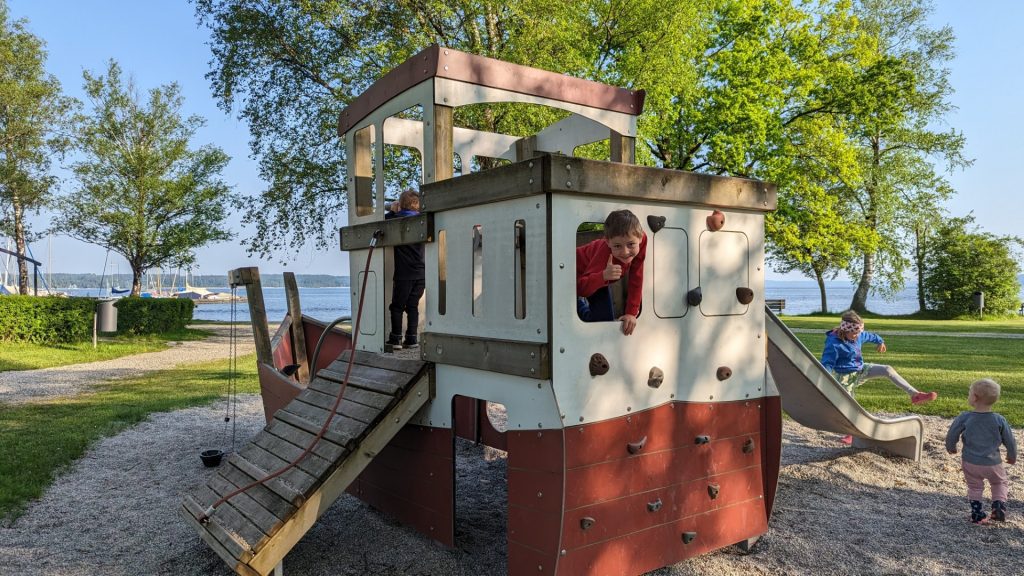 While there is a slightly strange paradox that, as a culture, Germany is pretty kid-friendly, there's also this odd expectation of kids being more "Seen not heard" in Germany. This can be seen at campgrounds as well, but the key is that your children are expected to be respectful and mindful of the other campers around them. Again, this is a tough one to explain to your 2 year old daughter that 4:30 am is not an acceptable time to wake up and want to play. Obviously, it's our choice to take our children camping, therefore it is also our responsibility to be considerate to those around us.
All that being said, campgrounds in Germany are often very family friendly. You'll find kids whizzing around on their bikes all over the place, playing tag, and doing what you should be doing when camping- enjoying being outside! And for the most part, everyone around them enjoys watching them do just that. (Within reasonable noise levels, of course!)
Playgrounds: Plenty of campgrounds will also have a Spielplatz for the kids as well!
Wild Camping Germany- Illegal??
Alright, now for the juicy stuff! Let's get into this one since I have a feeling a lot of you are here for this reason only. You want to know if the rumors are true, "Is Wild Camping in Germany Illegal?"
No matter what you call it: boondocking, dry camping, dispersed camping, free camping, or wild camping. All of it is Verboten (NOT Allowed!) And not just in a "it's the right thing to do" but as in….It's AGAINST THE LAW.
The easiest, shortest answer is YES. Wild camping is illegal in Germany.
Why Can't You Wild Camp in Germany?
Very strict conservation policies and laws, especially around protecting national parks and nature
Surprisingly, a lack of open wild space in Germany (comparatively to other countries)
2 Words: Wild Boars.
But also, Germany loves itself some thick bureaucracy, so I'm not entirely shocked that there is a plethora of rules and laws that regulate this. On the other hand, for a country that is also a very "You do what is expected of you and therefore have some nice freedoms that comes with being responsible stewards of society" it is a little contradictory that free camping is not permitted.
⛺︎ Want To Free Camp In Germany LEGALY?
👉 Check Out my Free Camping in Germany Full Guide Here
Legal alternatives to wild camping
The reasonings behind WHY it's illegal here
Best next options next to free camping in Germany
Resources to get "as close to wild camping" in Germany as possible
booo trace behind and I won't cause any issues! After all, if I just come in at night and leave by morning, who is even going to know??"
Look, all I'm saying is that the fine that can be upwards of €2500 is NOT worth it to me, personally!
So now your next question may be something like, "Ok, ok….so free camping in Germany is not allowed….what else are my options??" I've gotcha covered, my friend in my Germany Wild Camping Guide! Because not all hope is lost for primitive camping, or at the very least, not being ass to ass with your neighbors like I mentioned you most likely will be above. So, just skip to the next sections completely if you want to know how you can do a, well, let's just call it a "Germanified Wild Camping" (LEGALLY!)
But just so you know, there are actually quite a few great resources available for people wanting a more serene, secluded, or nature experience when it comes to their camping. There's the equivalence of couch surfing (but for people camping!), sites that are like AirBnbs but for private owners that have land they are willing to "host" out to campers, and there are even some new state run programs allowing for "through hike" style camping options. (All detailed in that wild camping article)
It's "Verboten." (Forbidden)- End of Story? Not Really….
This is kind of a tongue in cheek answer, but it's actually a pretty important cultural one to understand if you are going to be in Germany. There is this engrained and respected culture in Germany that when something is "Verboten" (Forbidden)…it just is! Don't question it! (within reason)
I bring all this up because if it is said that "Wild Camping is Verboten" then the vast majority of Germans will accept this as so, but more importantly, RESPECT that. You won't find (many) people trying to be sneaky about this, purposefully trying to squirt their way around the laws, or even flat out disregard the rules. This is one of the things that makes Germany so special and unique in their culture. It's (often- definitely not always!) a culture of "I give you the level of respect that I would like in return." However…each state may have a few exceptions….
You MAY Be Able To Free Camp in Certain States (With Stipulations, of course!)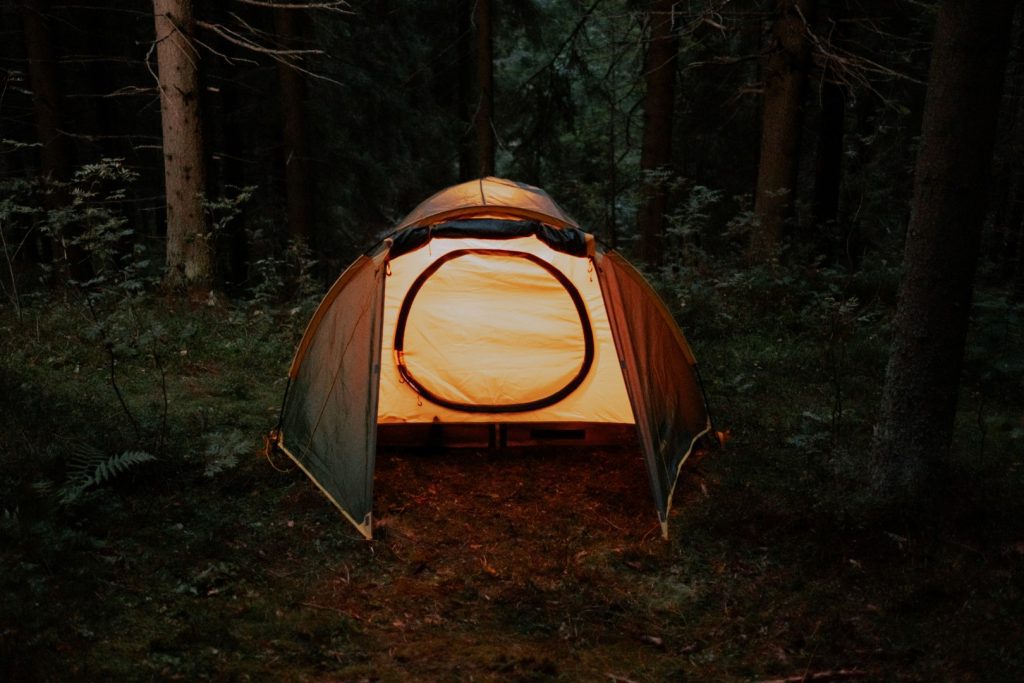 Remember that law (Betretungsrecht) that I mentioned above about the "Right to Roam" (aka…do I legally have the right to responsibly free camp?) Well, let's just say that each German state may have slightly "Looser" laws within that federal law.
Which is where you'll actually find that some German States DO allow for wild camping…but with strict exceptions and expectations!
Brandenburg One Night Wild Camping Law
For example, if you want to do some Free Camping in Germany, the state of Brandenburg in particular, is a little more flexible. The idea is that it is for people traveling through nature (hikers, equestrians, canoers, etc) may pitch a tent for one night in one location. The biggest exception here is that private landowners have the right to turn you away (and it goes without saying that you should ask for permission first).
Mecklenburg Pomerania
There are a few other states that have similar laws, but each may have its own caveat. For example, in the state of Mecklenburg Pomerania, there is a similar law allowing for one night free camping, but absolutely not on any nature reserves.
Schleswig-Holstein's "Wildes Schleswig Holstein"
The state of Schleswig has implemented the "Wildes Schleswig Holstein" which is, again, similar to the one night camping law but it is for people doing hiking or biking and there are only 16 designated and approved spots where small tents only may be erected for one night at time.
Alternatives to Wild Camping in Germany- Yes, they exist!!!!
Again I actually go into a lot of detail of each of these (including links, contacts, etc) but if you want to wild camp (or at least come close to it!) here are some options:
1) German Trekking Camps
Some states throughout Germany are setting up very specific, very regulated spots where you can spend 1 night at a time "Wild Camping." It's typically on a specific hike that will take several days, is very limited in numbers, and still has rules. However, it is primitive camping, so that's a win!
Where To Book A Trekking Camp
Bavaria: Bayern Trekking is the overall site and where you should start. However, individual regions within Bavaria may require their own booking sites:
–Franconia: https://www.frankenwald-tourismus.de/draussen/trekking
–Spessart: https://trekkingspessart.de/
–Steigerwald: https://trekkingerlebnis.de/
Trek Camping Black Forest Germany: https://www.trekking-schwarzwald.de/
Schleswig-Holstein: "Wildes Schleswig Holstein" https://www.stiftungsland.de/service/kontakt-und-anfahrt/
North Rhine-Westphalia (Eifel Region): https://www.trekking-eifel.de/de/
Brandenburg: No booking needed for one night stays for through hikers, bikers, canoeists, etc- Some regulations may apply (ie: no staying on private property)- See above information on the Brandenburg Nature Conservation Law Article 49, BbgNatschG
3) Do a 1Night Stay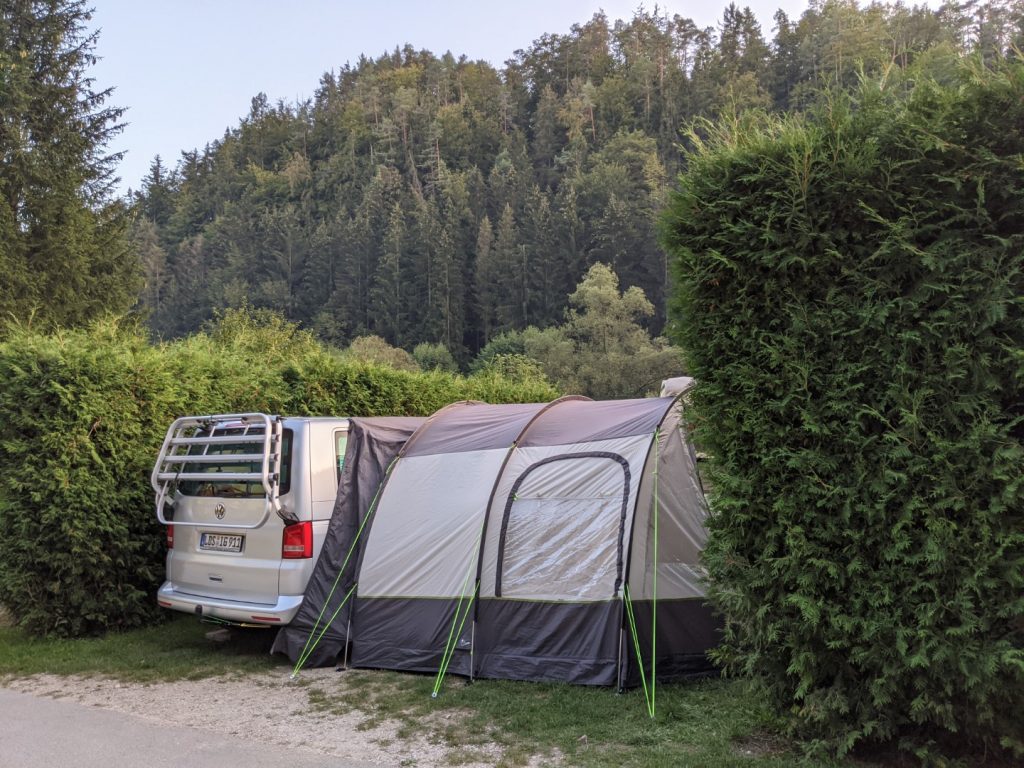 1Night Tent is this awesome, free platform that connects outdoor enthusiasts with locals who have some free space. Think of it like the Couch Surfing of the camping world in Germany! Granted, it's to be used more as a 1 or 2 night stopover, but it's a great option if you are looking for a totally free camping cost option!
Sometimes you get a spot out in a farmfield, other times with views of a mountain, and in other places, it's just really friendly people with giant "Gartens" (Backyards)!
Park4Night
Similar to the 1Night is the Park4Night platform. You can find places to camp all over Germany and in some really amazing locations and settings. The owners may charge a fee, but it is often pretty minimal (like 5 Euro!)
2) Find a Stellplatz
Literally translated to "Parking Place," a Stellplatz is a designated place where motorhomes can rest for a night. It's not a campground but it's also not a campground. There are typically little to no facilities to use and it is a "Leave no Trace" situation. However, there is usually a small charge and you are typically limited to how many nights you can stay (often between 1-3 nights)
Simply Google "X Location Stellplatz" and you'l find ones that you can use.
3) Alpine Camping Berghütten
You can probably argue that this isn't camping per-se. However, if getting out into nature is your main goal, you really can't beat time in the Bavarian Alps!!! There are some amazing Berghütten (literally "Mountain huts" in the Alps that you can stay at overnight. Talk about waking up to a view! One of the best resources for this is to go through the German Alpine Club DAV (Deutscher Alpenverein)
4) Bauernhof Camping (Farm Camping in Germany)
This is actually a pretty cool option for camping in Germany and one I really recommend! Whether you want something a bit more "Off the beaten path" or simply just not in the traditional German campgrounds that I mentioned above, doing a "Farm Camp" in Germany as a great alternative.
Two sites that i like to use for finding local farms to stay on are:
Renting Gear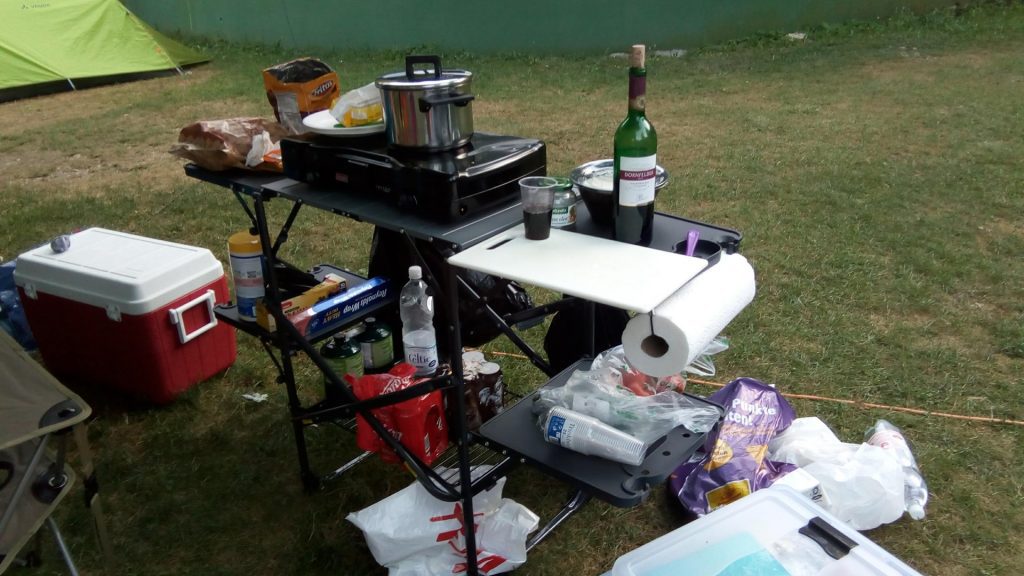 If you are traveling to Germany and are wanting to camp, this can be a bit tough. After all, half the "battle" of camping often feels like organizing all the gear, packing it up, transporting it, etc. Obviously, if you are on a vacation to Germany, you probably aren't using up your luggage allotment on packing a tent (or…..are you?? That actually may not be a horrible idea if you plan on camping a lot, actually!)
Kleineanzeige (Germany's Craglist)
The Ebay site, Kleineanzeige is the perfect way to get camping gear for a trip in Germany. It is pretty much like Craigslist, where you can filter a location and the item(s) you are looking for. Just remember this IS in German, so you'll want to use a translator app. I would also explain your situation when reaching out to someone selling a piece of gear you'd like to pick up. For example, I might say something like, "We coming on a trip from the USA and can't wait to go camping. If I can paypal/wire/etc the money to you, would you mind holding it until (Date/Time) when we can come pick it up?"
Rent Camping Gear in Germany with Globetrotter
I have not personally used this service, but I've heard good things about it. I also really like their philosophy of sustainability! The German outdoor company, Globetrotter has numerous branches that you can go into and rent gear from in Berlin , Dresden , Frankfurt , Hamburg-Barmbek , Karlsruhe , Cologne , Munich and Stuttgart.
Alternatively, you can also "order" the rental gear and they will send it to your first destination in Germany!
But here is what I really like and where that extra level of sustainability comes in. Let's say you DID buy some camping gear for your trip but don't know what to do with it at the end? You can donate it to Globetrotter and get a voucher in return. Aren't going to use the voucher? They will actually pass it along to another camper who can benefit from sustainable travel!
Camping in Germany FAQs
Can you wild camp in Germany? Is it legal to camp anywhere in Germany?
No, free camping in Germany is Illegal.
What is the fine for wild camping in Germany?
Depending on the offense and severity, if caught wild camping in a protected area with a tent or campervan, you can be charged €50-€1000 per day.
In addition, you can face fines of up to €1,000 for pollution, arson, or trespassing.
Campfires without a permit can be fined up to €5,000
Is Germany good for camping?
Germany is an extremely outdoor focused country. There are many fantastic campgrounds all throughout the country.
Where can I camp for free in Germany?
To find legal free camping places, you'll want to contact individual land owners to ask permission. Some websites like 1Night Tent are great for finding free camping spots for one night at a time. Other websites like Campspace and Roadsurfer offer more of an "AirBnB" style of hosting campers- some for extremely cheap.
Is tent camping allowed in Germany?
Tent camping is allowed at designated campgrounds and on private property with the owner's permission.
Can I sleep in my Car in Germany? Can You Park Overnight in Germany?
Yes. In fact, Germans are often encouraged when they are learning to drive that if they are tired that they should pull over to a rest stop. Granted, most rest stops have an unofficial rule of not staying longer than 8 hours in the parking lot, which is plenty to rest up and move on.
However, it is not allowed to let your engine run for more than a few minutes in Germany. Therefore, you will need a sleeping bag if you are planning on sleeping in your car in Germany in colder months. I also suggest finding a place out of the way or at designated Autohofs and Reststops rather than sleeping in your car on the side of a road in a town.
Why is wild camping illegal in Germany?
While there are many reasons, the biggest ones are for environmental protection and conservation. Also, there just isn't enough open spaces in Germany (it is actually a decently populated country) that would allow for responsible free camping.
How much does it cost to camp in Europe?
The average cost of camping in Europe will be between 30-60 Euro per night.
What is a German stellplatz?
A Stellplatz is not a campground. However, it is a place for motorhomes to stop for a night or two before moving on to their next destination.
Can you camp in national parks in Germany?
Most national parks are also nature conservation areas. Wild camping is strickly prohibited in these areas. However, depending on the national park, there may be designated camping grounds to use.